Last updated: May 21, 2021
Setting up a Copper-Mailchimp integration allows you to easily manage your Mailchimp lists from within Copper (and in some cases vice-versa). This can save you many hours of manually copy-pasting or export-importing.
And time is money. The more time you're spending on tasks like that, the less you have to be speaking to customers, honing your pitch or closing deals.
Plus, in my experience, if something is that labor-intensive, people tend to just, you know, give up.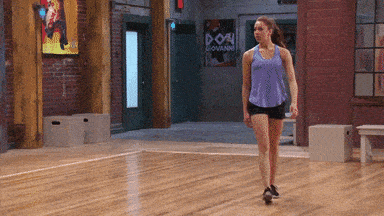 An exhausted salesperson after manually transferring data between platforms, yesterday. Image source
Which is a shame, because in our view, sales and marketing should be working together, so anything that helps one side talk to the other more effectively is a win in our book.
All is not lost though, as there are several options at your disposal to get contacts (and more) syncing between Mailchimp and Copper CRM. Here, I've explored the top 3 options to help you understand which one works best for you.
1. Use the native Mailchimp and Copper integration
It's good to know that it's not just us who believe in harmony between sales and marketing. Copper actually offer their own integration. Sounds promising.
Let's take a quick look at how the integration works.
Copper's Mailchimp integration
Easy to set up
Firstly, as it's already a part of Copper's native functionality, getting everything set up is as easy as falling off a log.
Connecting Copper to Mailchimp is a 3-step process:
Step 1: Sign up to Mailchimp and Copper (so far, so obvious)
Step 2: In Mailchimp go Account > Extras > API Keys and generate a new key
Step 3: Copy your newly generated API key, then in the Copper dashboard go Settings > Customize Copper > Integrations > Connect (next to Mailchimp) and paste your API key into the pop-up box then click Enable
(OK, granted, that's probably more like 5 steps than 3, but you get the picture).
Just create your Mailchimp API key and add it to the Mailchimp integration field in Copper. Easy.
It's free (kind of)
As this Mailchimp x Copper integration is 1st party, sending basic information from Copper, like first/last name and email is free as part of the Standard Copper CRM pricing plan.
But what if you want to see email engagement in Copper?
---
2. Outfunnel (that's us!) offers an affordable 2-way sync between Copper and Mailchimp
OK, so what if you're really interested in getting Copper and Mailchimp to play nice with each other and don't feel that the 1st-party integration does it for you? Well, thankfully there are a few options out there.
First up: Outfunnel
Reasons to take a look
Affordable
If Copper's own Mailchimp integration doesn't tick enough boxes for you, Outfunnel offers a deep Copper-Mailchimp integration that is easy to set up. The pricing starts at just $19/month, and the subscription packs more than just the various CRM-marketing integrations.
Two-way Copper-Mailchimp integration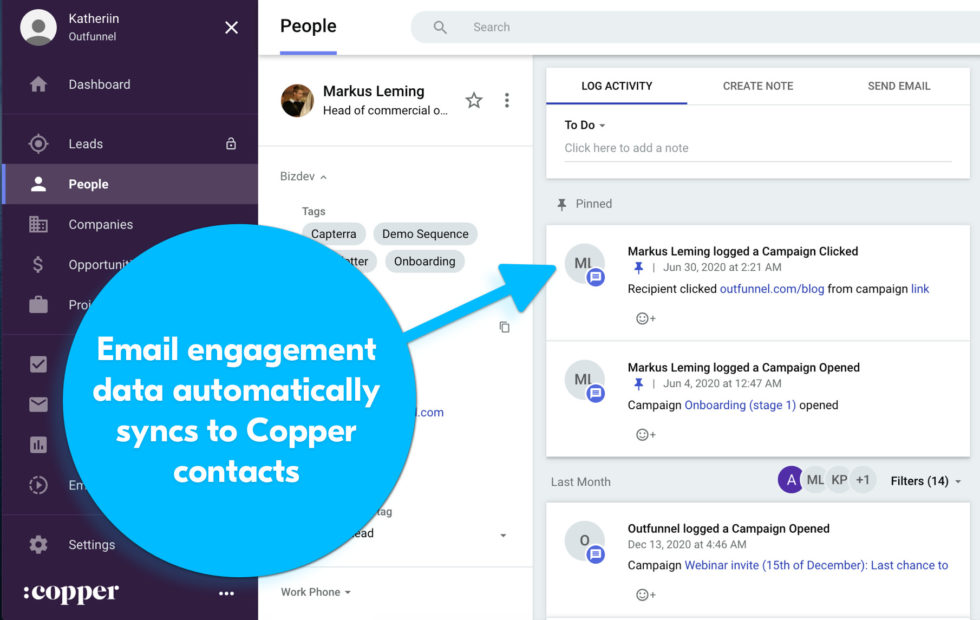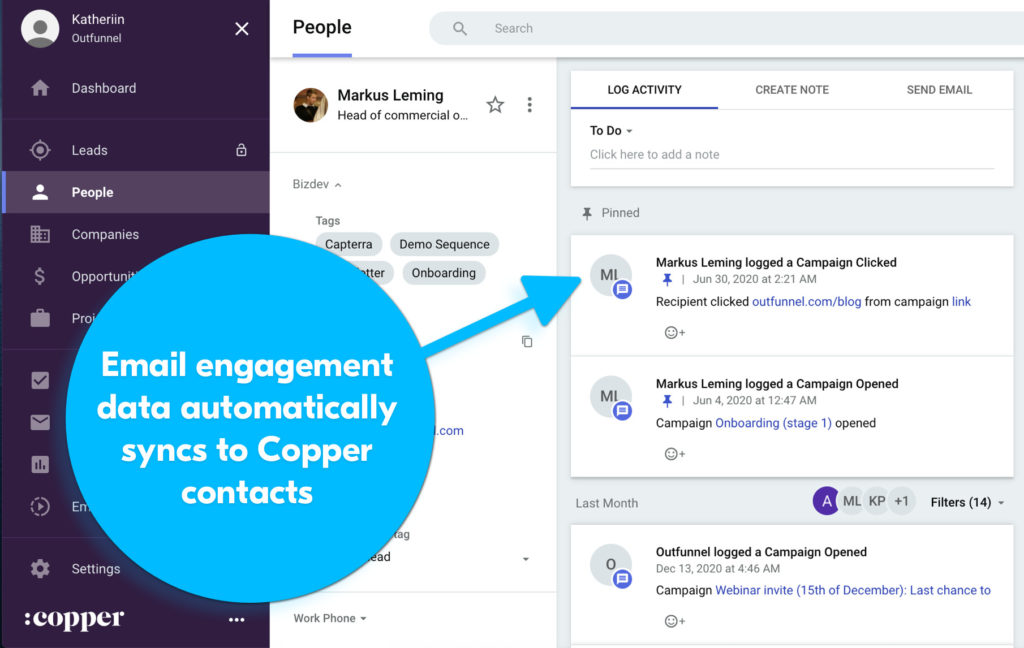 With Outfunnel you can make all Copper contacts or subset(s) you define with Tags, Lead Status or Contact Type available in a Mailchimp Audience, along with your custom fields.
Better still, you can keep the two databases in-sync going forward. E.g. if a field is updated in Copper, this is recorded in Mailchimp automatically.
Further, when people open or click on email campaigns, this data will be recorded in Copper People or Leads.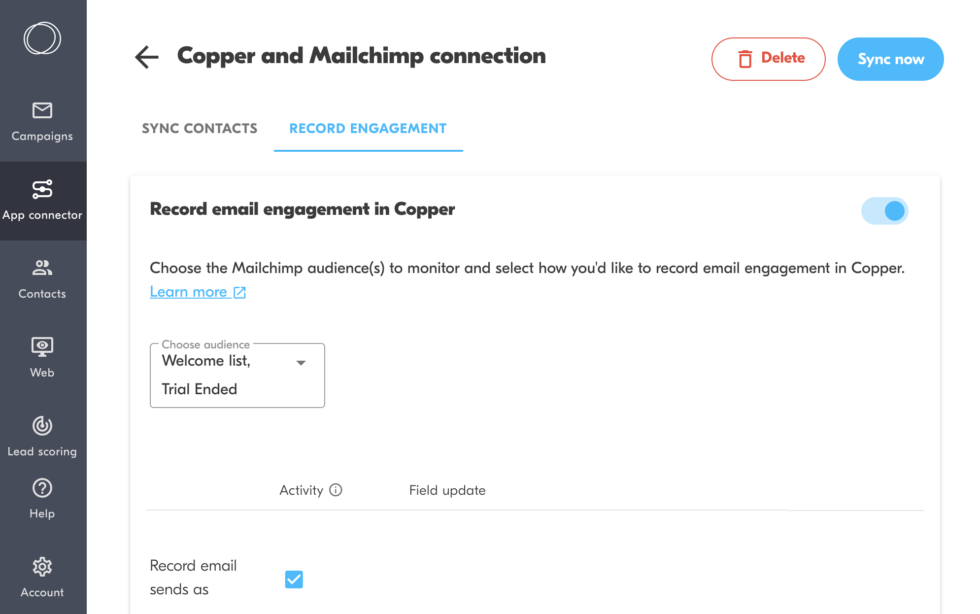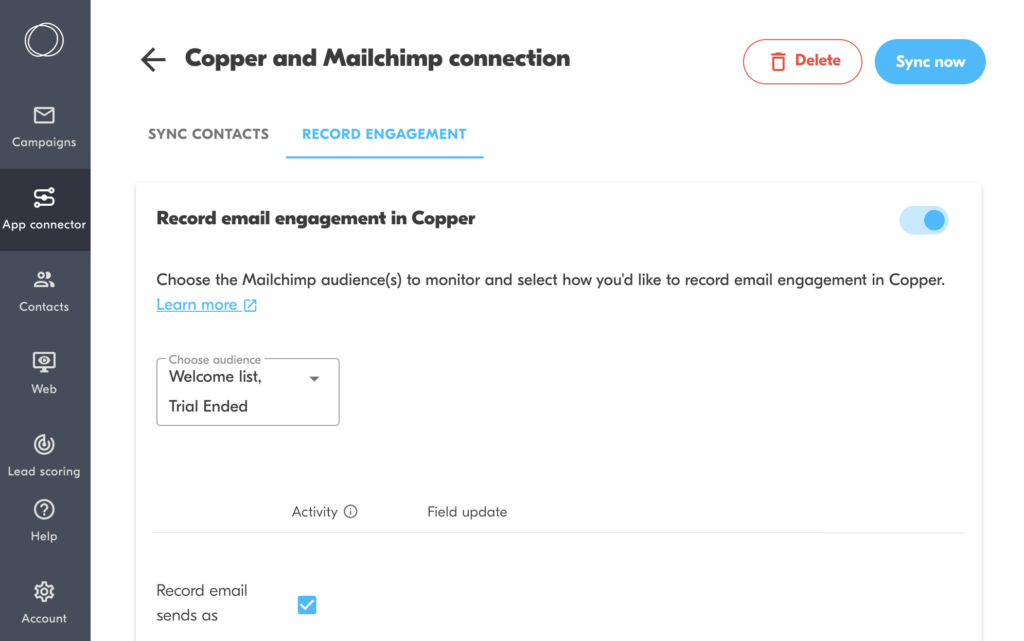 A 360-degree view and help with prioritize leads
We at Outfunnel do more than sync records between marketing tools like Mailchimp and CRMs like Copper. We also offer Web tracking and Lead scoring features, which you can use alongside linking up your sales and marketing tools.
Reasons to look elsewhere
We're biased, of course, but we can't really think of any downsides when it comes to using Outfunnel. Suspiciously good support for the price you pay?
Lead more about our 2-way Copper-Mailchimp integration
3. Piesync used to be a great option for syncing Copper and Mailchimp
Reasons to take a look
Affordable
Piesync is all about syncing contacts 2-way between your tools. The pricing starts at a reasonable $9/month, giving you access to all of the app integrations. Although, at that price, you'll be missing a few key features—more on that in a bit.
It's worth pointing out that the $9/month is for up to 1,000 contacts as their pricing scales based on the number of contact records you need to keep synced up.
Two-way contact sync between Copper and Mailchimp
Thankfully, all of Piesync's pricing plans include two-way integration. So, you can not only send contacts from Copper to Mailchimp, but you'll also be able to push contact data from Mailchimp to Copper.
Lot's of synchronization options
PieSync offers a range of pre-built rules to get data synced between Copper and Mailchimp. And, to make life even easier, Piesync includes baked-in support for Mailchimp's segmentation feature and support for custom fields (but that'll cost you extra).
Reasons to look elsewhere
May not be around for long
While Piesync is excellent at what they do, HubSpot recently acquired them. This Piesync is competing with both Copper and Mailchimp, and it's very unlikely the integration will be supported in the long run.
Custom fields cost extra
Remember when I said that Piesync includes support for custom fields? Well, indeed it does, but if you want to get access to it, you'll need to be on the Pro plan, which starts at $19/month (if you pay annually, otherwise it comes to $29/month).
Whether or not you need support for mapping custom fields between Mailchimp and Copper, really depends on your existing setup. In my experience though, many salespeople and marketers will have one or several custom fields, so it's likely to be something you'll need to get the full benefit from Piesync.
No email engagement tracking
Despite offering lots of customization options, like custom fields for contacts and synchronization workflows, it's still not possible to track opens and clicks between Mailchimp and Copper. And for salespeople, having access to that information really makes sense; they get to see which leads are hottest, without having to beg the marketing team.
Why should marketers be the only ones with those stats at their fingertips?
Piesync can also push unsubscribes to Copper by tagging contacts with "piesync_unsubscribes" but that doesn't really give you much to go by in terms of who is interested.
4. Syncing Contact data between Copper and Mailchimp with LeadsBridge
The fourth and final option on my list is LeadsBridge. LeadsBridge positions itself as a platform and suite of integrations to collect leads and close deals more effectively. It offers a lot of the same functionality as PieSync, albeit with a few minor differences.
Reasons to take a look
Two-way integration
Right out of the gate, LeadsBridge feature support for full two-way integration between Copper and Mailchimp. This means data can be pushed from Mailchimp to Copper, and vice-versa.
Creating a connection—or "bridge" as LeadsBridge calls it—between Copper and Mailchimp is a relatively simple process.
First, give your bridge a name and select Mailchimp as the source and Copper as the destination. Then set up your Mailchimp source; give it a name, choose the segmentation you want and authorize the connection. Next, you'll want to set up the Copper destination by generating an API key in Copper and setting up email notifications if you want.
Then, it's on to custom field mapping, which leads me nicely into the next reason to take a look at LeadsBridge.
Custom field mapping
Unlike PieSync, LeadsBridge supports custom fields mapping, even on the entry-level "marketer" package. When you create a bridge between Mailchimp and Copper you'll have the option to map existing fields between Copper and Mailchimp and create new, custom fields if you're missing a field you need.
Reasons to look elsewhere
Pricing
The downside of having the extra functionality over PieSync, even on the basic plan, is that the price does take a bit of a jump. As I mentioned above, the cheapest plan PieSync offers weighs in at $9, but LeadsBridge comes to $29/month (and that's if you pay annually—if you want to pay monthly it jumps to $39).
And on the topic of pricing, if you want to try LeadsBridge on for size, their trial is only 7 days (vs Piesync's 14) and you need a credit card to get started. I mention this because, at least in my experience, if you're working in a company and want to test something out before buying, having to submit credit card details (and then remembering to cancel the trial if you don't want to continue) can be a pain.
No email engagement tracking
Same deal as Piesync here. At the time of writing, I've been unable to conclude whether Leadsbridge can sync open and click-through data between Mailchimp and Copper (note: I've reached out to Leadsbridge's support for clarification, but I'm yet to hear back from them. I'll happily update this article when they get in touch with me).
So as their support article on syncing Mailchimp and Copper makes no mention of email activity, I'm going to have to say: no, Leadsbridge doesn't support syncing email activity data.
Summing up
Whether you're a marketer wanting to unsilo your marketing data and share it with your sales team, in real-time or a salesperson who wants the added benefit of knowing, in greater detail, how interested your leads are, syncing data between Copper and Mailchimp offers a lot of benefits.
Picking the tool for you really depends on a couple of things:
What features do you need?
How much are you willing to spend?
Copper's own Mailchimp integration only offers one-way syncing—so no email action data in your CRM. That does little to give salespeople access to the marketing insights they need to sell better.
We recommend checking out our offering.
What other options are there?
There are plenty of other options that we haven't covered in this article, like Zapier for instance, and newcomers like Tray.io. As the need for connecting sales and marketing data is not going anywhere, we will surely see more options appear in the future.
TL;DR
If you connect Copper and Mailchimp via an integration, salespeople know what leads are warmest so they know who to focus on.
Both salespeople and marketers save time if they don't have copy contacts and share engagement data manually.
Copper's own Mailchimp integration is pretty basic.
Outfunnel offers a great combination of power features, easy setup and affordable pricing.
PieSync used to be great value for money, but it only syncs contact daya.
Now that you've got the scoop on connecting Mailchimp to Copper, why not check out some other integrations? See our overview of the best Copper integrations out there.
Latest posts by Ben Billson
(see all)