Last updated: April 21, 2021
I got my start in email marketing in 2005. At the time, I was working for a retail chain in Canada called Bikini Village. We had created a Flash game that had gone viral. Thanks to the campaign, we had acquired over 300,000 email addresses.
And by that, I mean only email addresses.
While sometimes we had managed to capture the subscriber's first and last names, some preferences for brands, and (occasionally) the store of origin, usually the email address was all we had.
Soon thereafter, we began sending newsletters with the aim of nurturing and monetizing our 'database'.
But we were sending the same thing to all recipients regardless of:
the context—where they signed up from;
the timing—newer and older signups were handled the same way;
past purchase behaviors and purchase intent—it didn't matter what products subscribers were interested in;
their preferences; or
their behaviors.
All we were doing was a basic language split. We had one list for English speakers, and another for French.
This led to results that were OK for the time, but not amazing.
And that made complete sense to me.
Benefits were bland and generic, visuals weren't tailored to any specific segment, and messaging wasn't personal, or even relevant to most recipients.
But this was in 2005.
Sadly, these are the same mistakes that many marketers still make today.
A key reason for this is that marketers view an email or user list as a mere list. And this line of thinking leads to the idea that everyone is the same.
As a result, marketers end up sending the same messages to everyone—not thinking through each recipient's context—and using newsletters for engagement.
It's the only thing everyone will find relevant, right?
This leads to underperforming email campaigns, contacts that get burnt, and an overall under-appreciation of the value of email.
Mastering email marketing requires a change of mindset.
To be successful, you have to go from list-thinking to database-thinking—understanding that contacts have different experiences and attributes.
They may differ in terms of their signup dates, their levels of engagement, languages, preferences, spend, subscription plans, goals, worldviews, etc.
Don't get me wrong! Every single person on your lists will still be worth contacting—they just won't be worth contacting for the same reasons.
Email marketintg automation enables "personalized" communications at scale, so that you can:
send the right message at the right time to the right people;
go from list-thinking to a database and relationship marketing mindset;
move away from one-off campaigns to workflows; and
transition from "one-size-fits-all" to tailored and personal communications.
This change of mindset will help you grow performance across the customer journey and increase lifetime value. Most importantly for your users, it will improve their experience, and reduce the number of contacts and leads you burn.
Your email marketing should be relational and data-driven.
The days of the "email blast" are long gone.
It's time to change your mindset and start thinking of each and every contact for what they are: people, like you and me.
Your emails are meant to move prospects along Eugene Schwartz's "Five Levels of Awareness":

As copywriting expert Joanna Wiebe says: "It's not (supposed to be) a collection of random emails – it's a funnel."
The big book giveaway (closed now)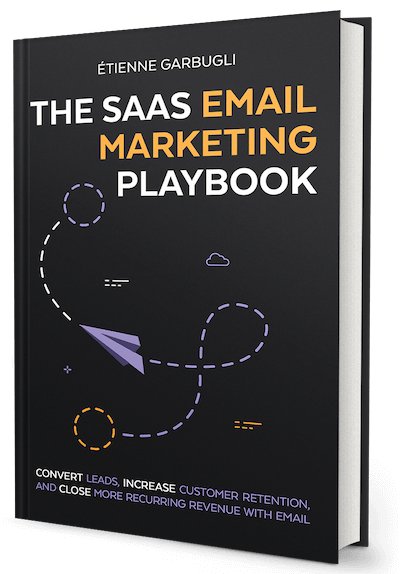 To help you master email marketing, we're giving away 10 copies of The SaaS Email Marketing Playbook. The book contains everything you need to plan, build, and optimize your email marketing program. Meant for anyone into SaaS marketing, but useful for any marketer. To sign up for the giveaway simply subscribe to our email list, and if you're already subscribed, leave a comment below.
We'll contact the first to 10 subscribe or comment to ask where to send the book.

Update June 3rd: we're now past 10 new subscribers, past the point where everyone that signs up or comments gets the book. But we'll sweepstake 3 more books between everyone that subscribes to the blog before June 15th.
Update June 17th: we've now contacted the 10 first subscribers/commenters as well as drawn 3 lucky winners from among those that subscribed later. You're still welcome to subscribe to the blog though.
This was a guest post by Étienne Garbugli.