As much as many marketing software providers wish that every customer would use every product in their suite, and not need to get software from any other companies, it's simply not realistic. Typically, companies try out new sales and marketing platforms one at a time, keeping the ones that work, booting the ones that don't, and layering on new ones to get functionalities that they feel like they're missing.
For example, a B2B software company will likely invest in a CRM very early in the life of the company. Six months later, they may also want to try out a text message and email marketing, so they onboard a new platform that does only that and teach their marketing and sales teams to use it. Eventually, they also invest in a social media scheduling platform.
Even though some companies provide all these functionalities at once, small companies (with small budgets) may only feel comfortable trying one thing at a time.
That's why integrations are so important: if all these platforms can't effectively communicate, with data being shared seamlessly and easily, employees are forced to spend a lot of time navigating each one. And some integrations are built better than others.


Enter Outfunnel and HubSpot.
Outfunnel ensures that customer data, email performance, and lead scores are perfectly synced across all platforms, every time.
And HubSpot is an all-in-one CRM that powers sales, marketing, and customer care efforts at companies of all sizes.
You can use the Outfunnel integration with HubSpot to guide sales and marketing teams with data and leverage automation to close more deals.
Three ways to use Outfunnel and HubSpot to power your sales and marketing efforts
Using a combination of HubSpot and Outfunnel has many benefits, and this post covers the main three.
#1. Sync data from other email platforms into HubSpot CRM, and sync HubSpot email data to other CRMs
Eliminate list exporting and importing across platforms, saving your team time and energy that could be better spent on virtually any other task.
In some cases, companies use email platforms like Mailchimp, ActiveCampaign, and Sendinblue while using HubSpot as a CRM. Outfunnel syncs these platforms so that all email engagement and performance data from your emails is matched to the correct contact in HubSpot.
In other cases, customers only use HubSpot for email, and they use a different CRM to keep track of all the details about their leads, prospects, and customers. For this scenario, the Outfunnel app connector syncs all HubSpot marketing email engagement data to the other CRM.
Having all email engagement metrics, no matter the source, available in your CRM, no matter which one, gives your sales reps context on what kinds of content their leads are interested in and how ready to buy they might be. By knowing which links in a marketing email a particular lead clicked on, sales reps can better tailor their pitches, whether via email, phone, or in person — helping them reach their quotas and close more deals. It also helps them better prioritize which leads to call on any given day, saving them time.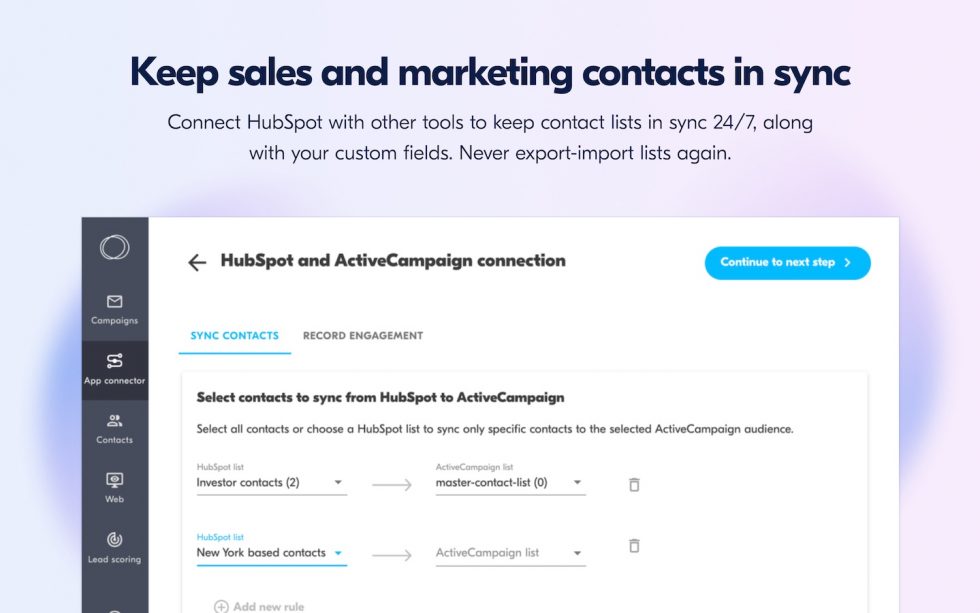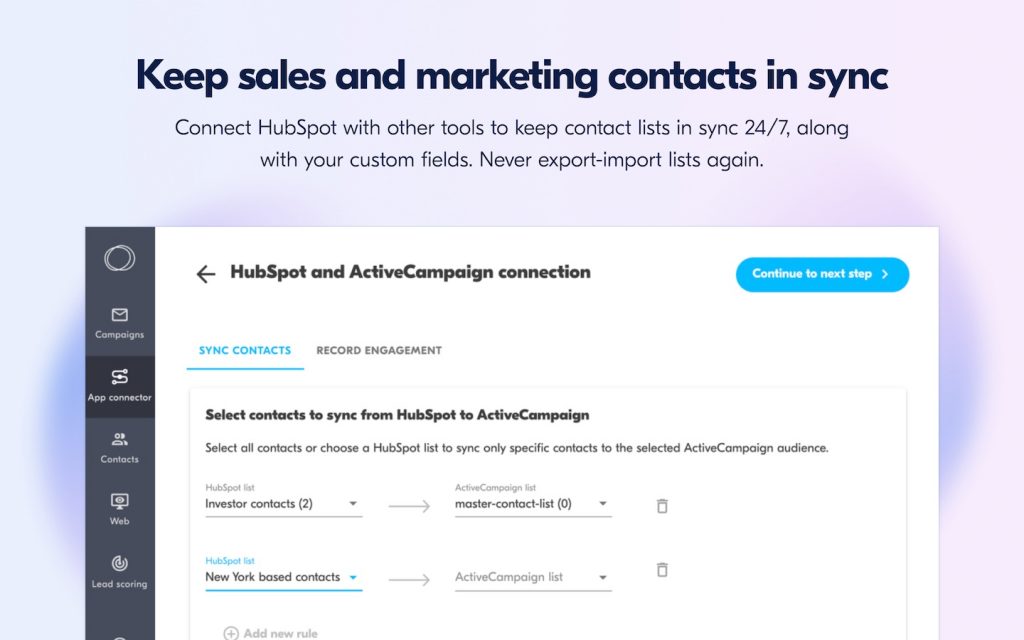 This allows companies to freely pick and choose the tools they want to use, without worrying about losing important context and lead information.
For example, consider a small, family-owned company that sells office materials. They started out with HubSpot CRM, but decided to use Mailchimp for their email marketing because their niece in business school knows how to use it. They were losing helpful lead context because the two tools weren't syncing bi-directionally, so they were advised to bring on Outfunnel to connect the two seamlessly. Now, they can be sure that all their Mailchimp email engagement data is reflected in their CRM, and they can better plan their marketing efforts.
#2. Improve lead scoring with detailed data from other platforms
Lead scoring is a complex part of sales enablement, and too many companies leave this important process to chance — or to ill-equipped platforms.
Calculating lead scores based on multiple data sources, including a third-party email newsletter tool, HubSpot marketing email nurtures, website data, and HubSpot CRM data results in more precise scores. This means sales reps don't waste time on leads that aren't ready to buy, and they can focus on tailoring the perfect message to send to their hottest leads.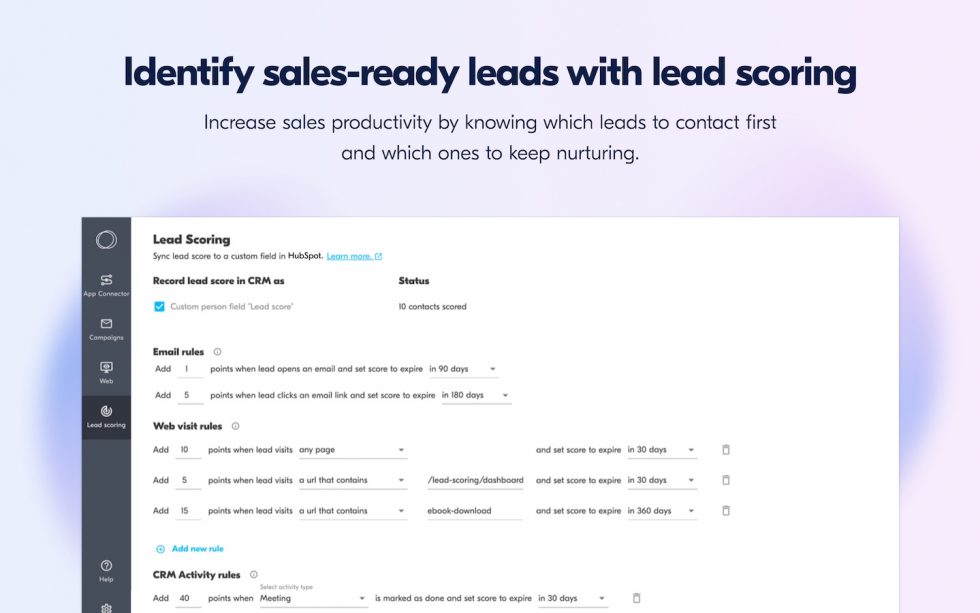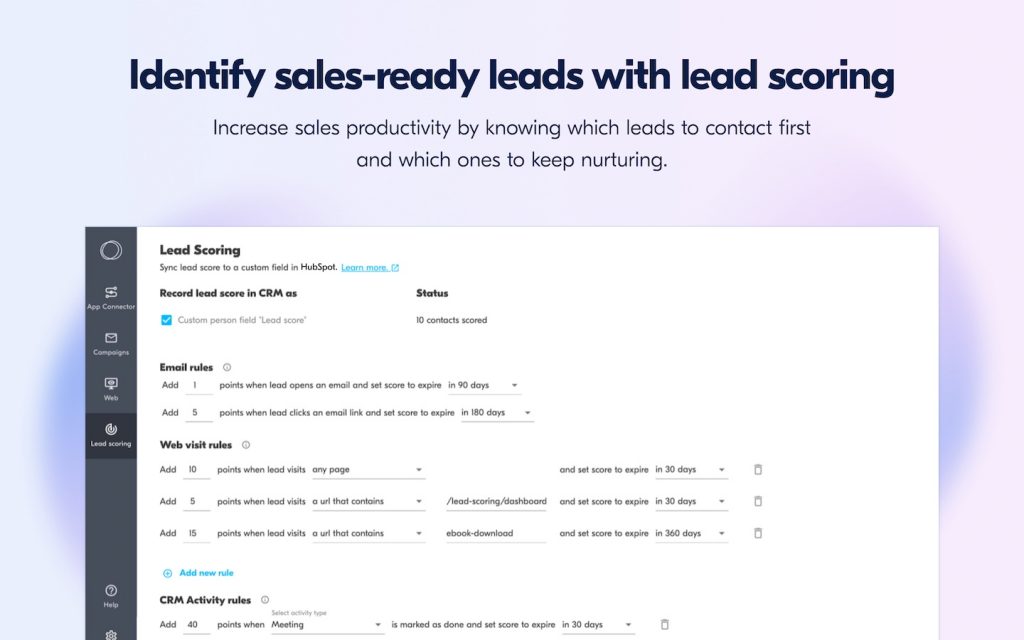 For example, imagine a B2B sales rep at a company that sells project management software getting ready to plan their day. Which leads will they prioritize today? Because their company connects all their sales and marketing tools with Outfunnel, they can get an accurate lead score that pulls from custom properties in HubSpot, marketing emails, web forms, and more — so they know exactly which leads should be at the top of their call list.
#3. Keep customer and lead data accurate across all platforms — and available for your salespeople to use
A huge time-waster for sales teams is inaccurate contact info — and when platforms aren't syncing correctly, phone numbers and emails go missing, and leads go uncontacted.
Outfunnel connects meeting scheduling tools like Calendly, as well as web forms and landing pages, directly with your HubSpot CRM. That way, your reps can be sure who they're going to be talking to and when, and they can get all the historical data and context they need about every lead within HubSpot.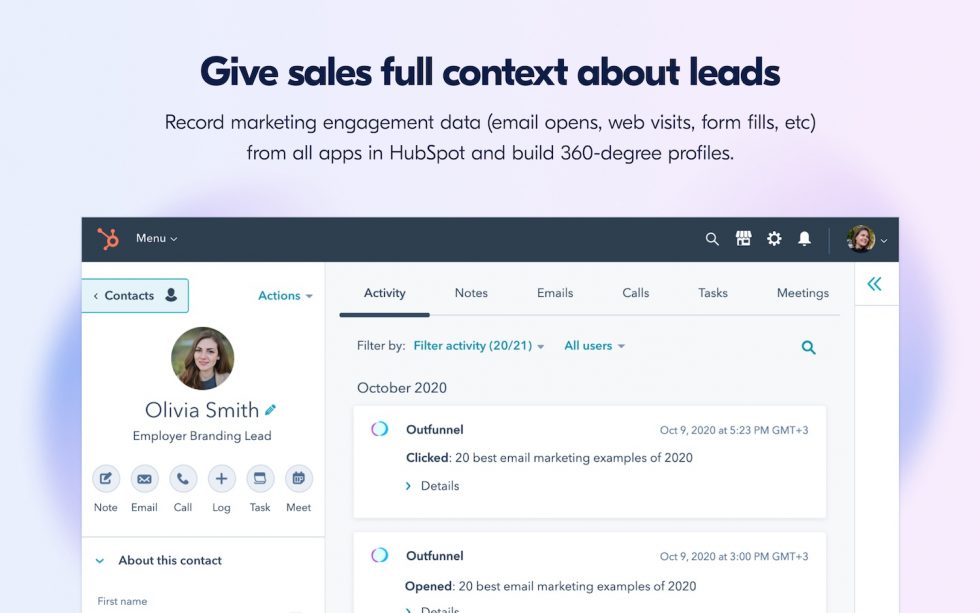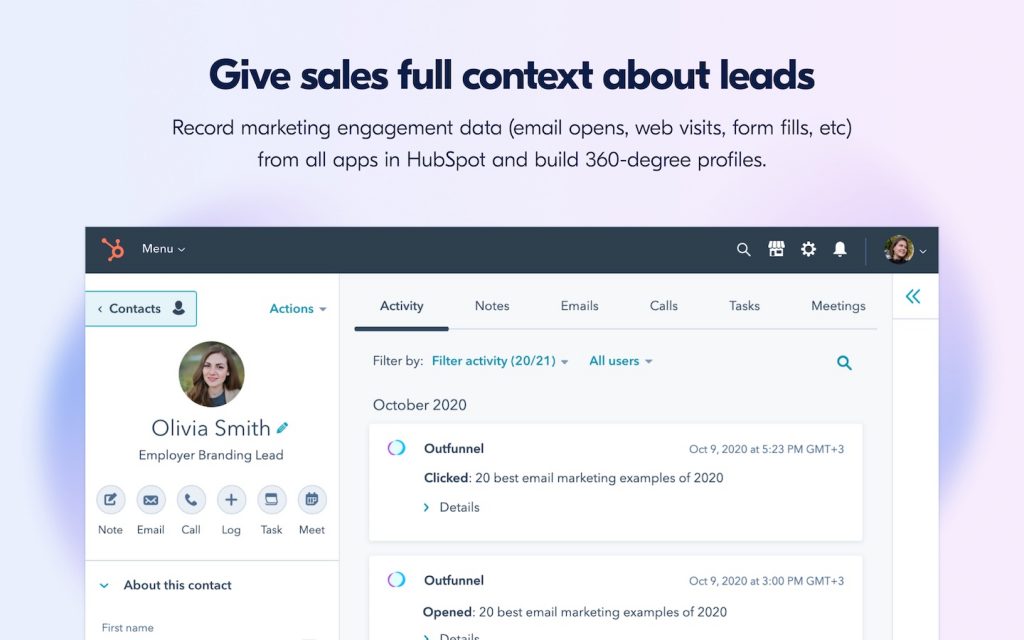 It also means that you can rest easy knowing that automated marketing efforts are always running in the background and always reaching the correct contact.
For example, a B2B sales rep at an employee benefits company is notified when a prospect books a meeting with them on Calendly. They can easily go into HubSpot and see the scheduled meeting right in their contact profile, and they can quickly find out which product they've shown interest in, which marketing emails they've opened, and if they seem ready to buy.
Connect all your tools to squeeze the most out of your sales and marketing efforts
With Outfunnel and HubSpot, you don't have to worry about un-synced, lost customer data. You'll know your leads are scored with every marketing platform taken into account, and that your sales team is spending their time working with the right leads and closing more deals.
Learn more about how Outfunnel and HubSpot work together.
This post was co-written with the HubSpot team
Latest posts by Andrus Purde
(see all)