If you're using Pipedrive, you already know that it's a superb sales CRM, allowing you to define a clear process for your clients and prospects. But what if you'd like to save even more time and effort by integrating it with your marketing as well? Let's take a look at how you can do Pipedrive marketing automation.
The smart way to do it is to use best-in-class 3rd party marketing automation tools that integrate seamlessly with Pipedrive. We've done the hard work of reviewing many possible options, so it's easier for you to decide on your stack.
Before we jump in, let's take a step back and ask: what exactly is this "marketing automation" that we're looking for?
There are three core marketing functions that most companies look to automate:
Email marketing – sending out marketing newsletters, drip campaigns and other event-triggered emails.
On-site marketing / lead generation – forms, chat, web visitor tracking, and the like.
Marketing reporting – tying it all together and seeing what generated sales/revenue, without having to manually recreate charts and graphs every time.
This isn't an exhaustive list, of course, but they're the main things most businesses are looking to do well. Simply getting these fundamentals right goes a long, long way.
Email marketing integrations for Pipedrive
Let's start with email, which is still considered one of the most powerful and effective marketing channels for any business.
Email marketing can be a broad topic, so here's a short list of email features companies are usually looking to get out of marketing automation:
Email newsletters: sending out good old emails to the whole base or a certain segment
Drip emails: email sequences to establish the first contact with leads or nurture existing leads
Triggered emails: sending an email when a lead did or didn't do a specific thing (a micro-conversion, as some call them)
Email tracking: seeing which leads clicks which email
Keeping that in mind, we've tested many tools that do email automation for Pipedrive.
Mailchimp has a great email editor and syncs with Pipedrive… but only one-way
Pipedrive and Mailchimp do work well together. Pipedrive's native Mailchimp integration lets you easily filter out a specific group of users in the Pipedrive list view, and then add them to a Mailchimp list with the press of a button.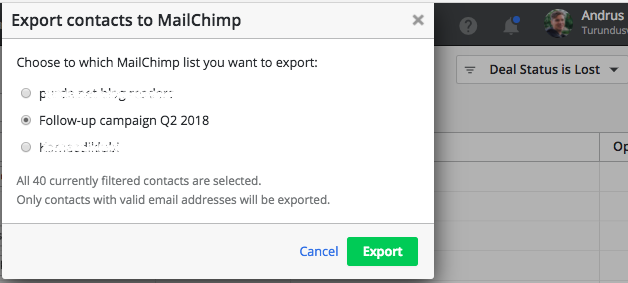 There's just one problem: the data about opens and clicks remains in Mailchimp, and does not loop back to Pipedrive.
So if your sales team wants to know who opened or clicked, they'd have to visit Mailchimp – which is an extra step they might not always take, especially if they have to first go through the marketing team.
Why we like Mailchimp:
Send one-off emails (infrequently) to segments you define with Pipedrive filters
Basic email sequences are sound
Where it may fall short:
Displaying responses to email campaigns in Pipedrive.
Triggered email sequences where email flow and content depends on Pipedrive sales stage or email behavior.
Keeping your email and CRM list in sync
Little insights, apart from campaign stats in Mailchimp.
Drip is great for elaborate event-based email sequences, but it's tedious to get data from Pipedrive into it
Drip's native integration with Pipedrive creates new Deals from your Drip subscribers based on the trigger of your choosing. For example, you may want to create a new deal for people that have completed a particular email Campaign or that have opened or clicked specific emails.
Drip itself is great for elaborate event-based email sequences, so this tool could be very handy if you have a large list of leads and enough content+ tracking to be able to provide complex email journeys.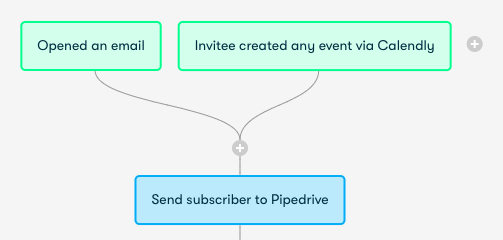 The downside is that it's not trivial to get data from Pipedrive into Drip. You can use Zapier as a duct tape between the services, create a custom integration based on API's of both products or use a 3rd party syncing tool such as PieSync.
Why we like Drip:
Triggered email sequences where email flow and content depends on email behavior, pages visited and other data (once you've figured out how to sync with Pipedrive, that is).
Creating new Deals or Contacts based on email opens and clicks.
Multi-channel flows ie. when you also need to send postcards, text messages, etc.
It's a solid leads database to compliment your customer database in Pipedrive.
Where it may fall short:
Keeping your email and CRM list in sync, unless you invest in building an API-connection or subscribe to a 3rd party syncing service.
Drip seems to have pivoted to ecommerce marketing in 2018, so it's unlikely they'll create advanced use cases for syncing data with CRM apps.
Few customization options when creating new records in Pipedrive. Drip creates a new Person each time a user triggers a certain action eg. clicks on an email. If someone clicks twice, you got yourself two identical records. If someone clicks 18 times, you'll have some cleaning up to do later.
Outfunnel (that's us!) keeps your emails and CRM tightly synced, saving you time and effort
We're a sales-centric marketing automation tool that integrates tightly with Pipedrive. One of our features is a powerful no-hassle email feature.
Send single email campaigns or multi-email sequences (aka drip campaigns) to any segment defined by your Pipedrive filters.
Record email opens, clicks and other email activity to Pipedrive immediately.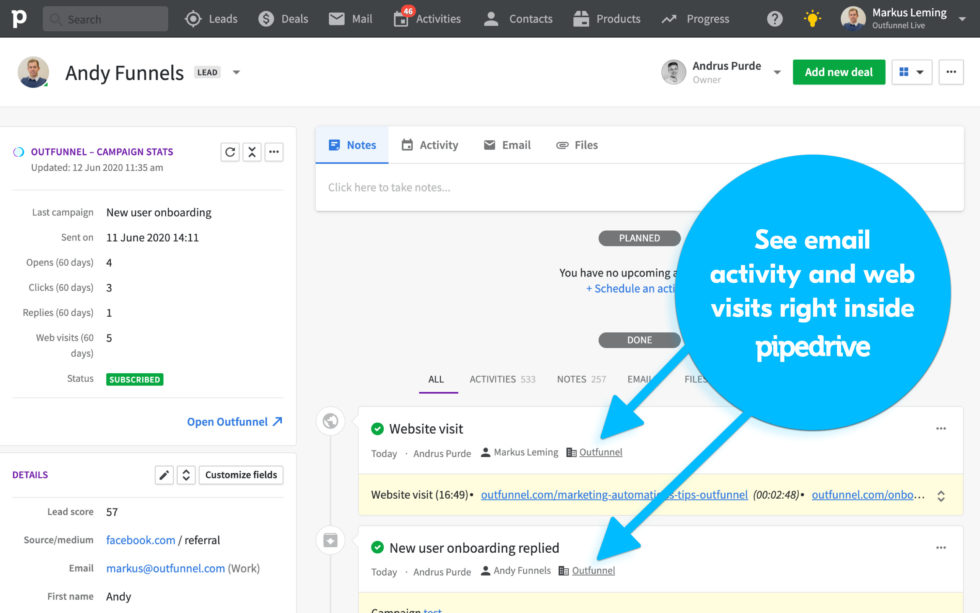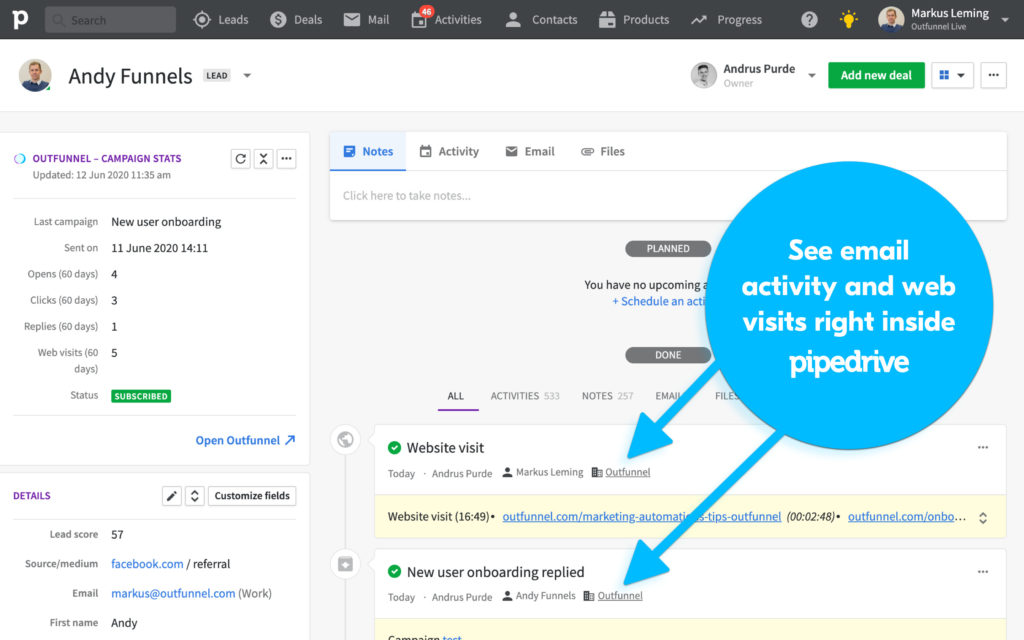 Outfunnel also offers a seamless 2-way Pipedrive-Mailchimp integration for those who want to use Mailchimp's powerful newsletter templates, as well as website visitor tracking and lead scoring which is tightly synced to Pipedrive.
>> Pipedrive marketing automation. Start your 14-day free trial <<
Other email tools that you may want to consider:
Autopilot is definitely worth taking a look at as a marketing platform that integrates with Pipedrive.
Pros: A comprehensive feature set, modern design and deep integration with Pipedrive.
Cons: Pricing limits active usage. Many negative reviews in Pipedrive marketplace.
Another email automation tool listed in the Pipedrive marketplace is ActiveDemand. It appears to do all the right things:
Pros: Creates new deals based on activity as a lead, keeps data in sync between the leads database and Pipedrive, records email clicks or opens in Pipedrive
Cons: no free trial available. The user interface doesn't look too promising.
And there's also Klenty which we haven't used ourselves, but it seems optimized for medium-volume cold email campaigns (there's a limit of emails sent per day).
Web-related integrations for Pipedrive
Once you've gotten your email marketing sorted out, what do you do next?
According to our research, here are the features marketers most frequently look to set up on the web when it comes to marketing automation:
Lead capture forms: allow leads to indicate interest in your product or a piece of content
Web visitor tracking: seeing which lead visits which page on your site
Landing pages: create landing pages for certain topics or segments
Content personalization: customize content for specific segments or individual
Chat: human or robot powered interaction with leads on the site
Our favorite web-to-lead tools for Pipedrive marketing automation
Lead capture forms are simple and effective tools for building your email list. Here are some of our favorites that play well with Pipedrive.
Pipedrive's native web forms are simple, robust and hassle-free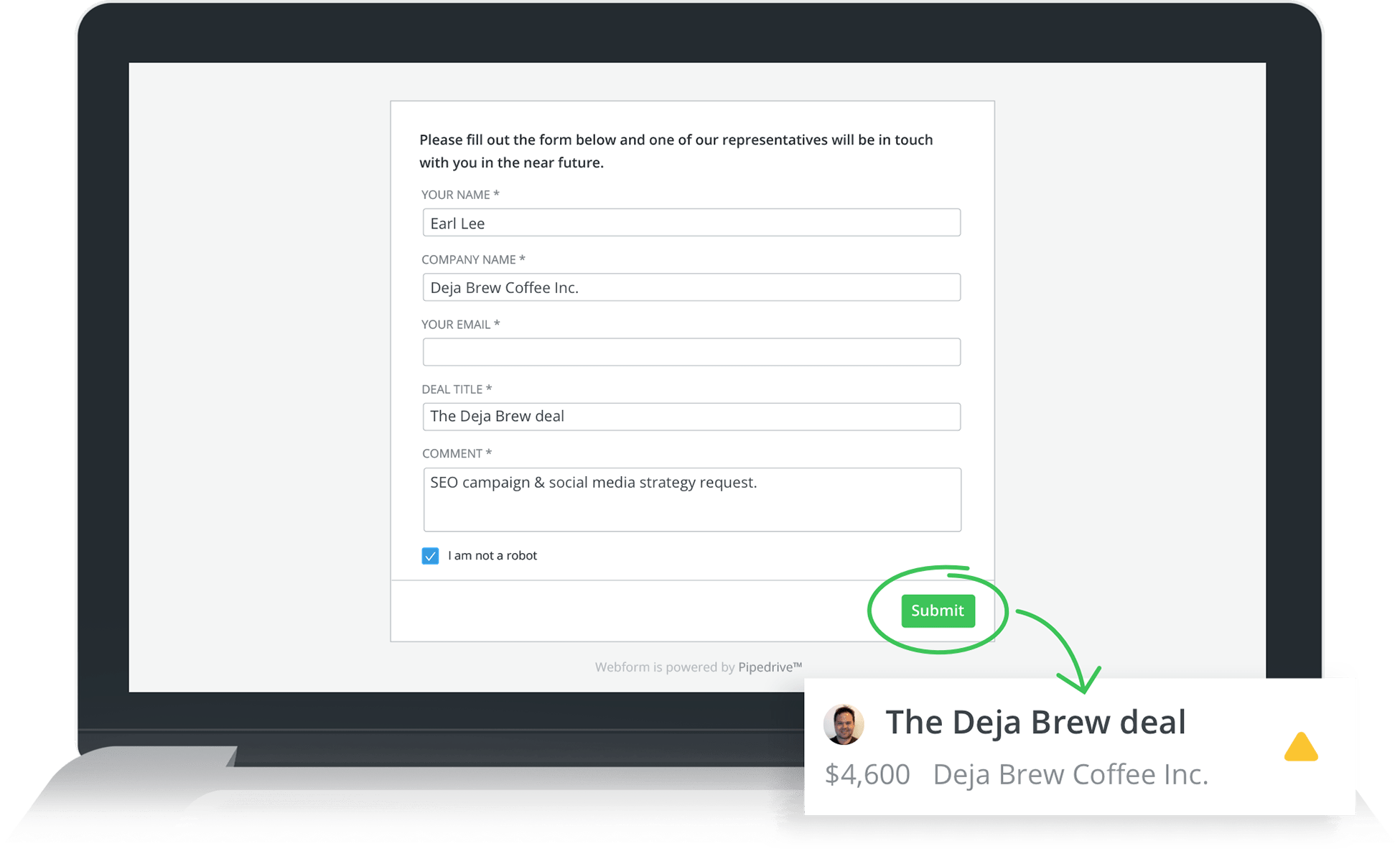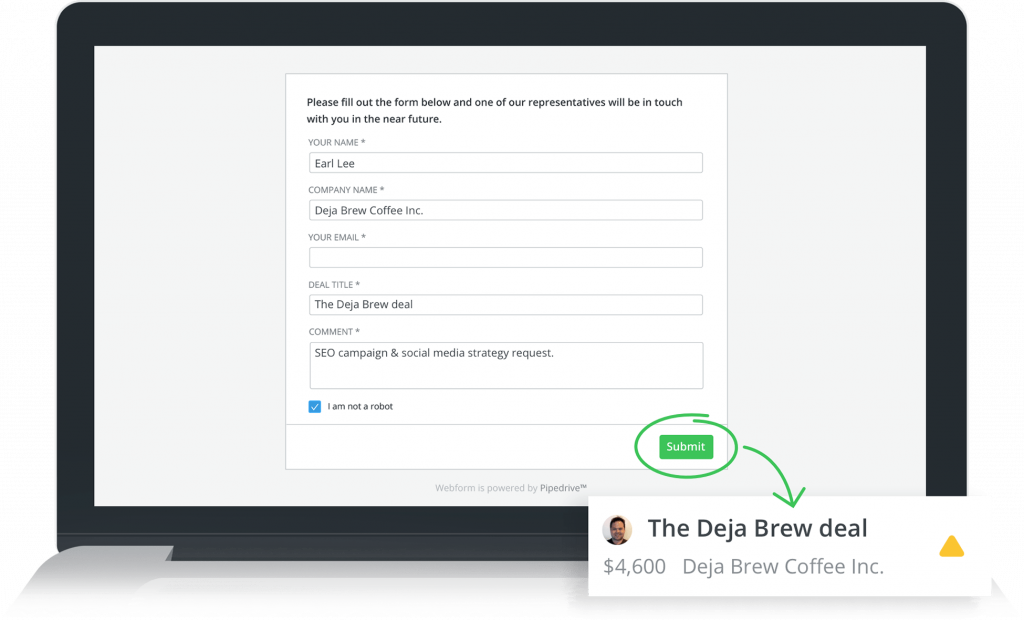 If you'd need a simple web form with minimal integration hassle, you can't go wrong with Pipedrive's own web forms.
They're customizable, robust, integrate directly to Pipedrive and they're free.
Paperform is elegant and affordable ($15/mo), but has no native integration
We would like to use Pipedrive forms everywhere, but sometimes we need a more elegant in-page experience, so after testing six different form builders we picked Paperform as our form tool.
We love the simplicity and design of Paperform, it's also quite affordable (we're using the $15 per month plan).
The only downside is that there is no native integration, so you'd need to send new leads to Pipedrive via Zapier or a comparable 3rd party syncing tool.
Website visitor tracking tools for Pipedrive
When you have a retail store that customers can walk into, you can learn a lot just from watching them. Where do they linger, what do they overlook? This can give you great insights about how you can improve the experience for them.
Outfunnel is a top rated marketing automation tool. See all reviews on Pipedrive marketplace.
Can you do the same with your website? One effective way to do this is via website visitor tracking.
Outfunnel gives your sales team detailed context, automatically
Our own website visitor tracking feature gives your sales team the context they need to prioritize leads and to know what to highlight or skip when they're doing demos.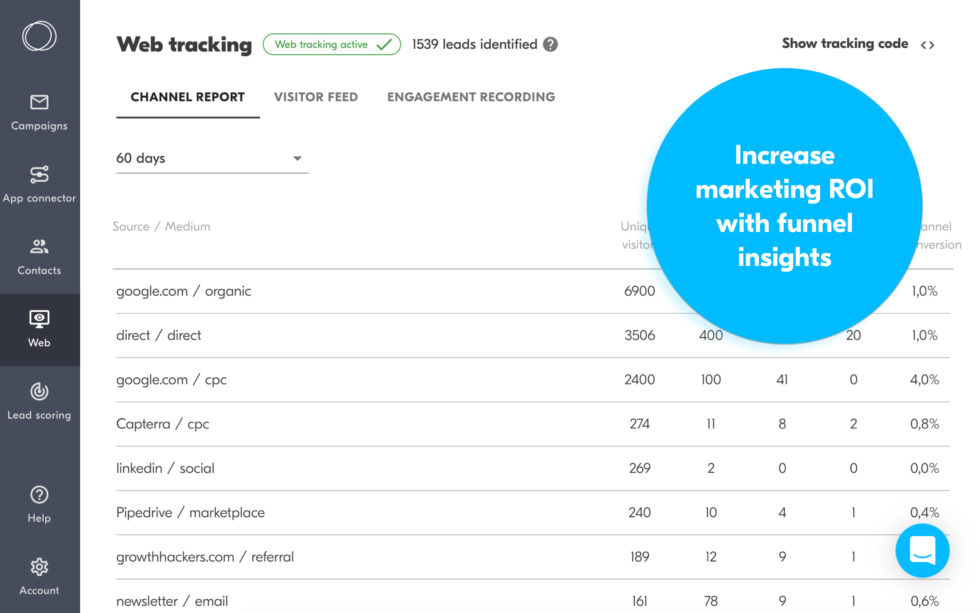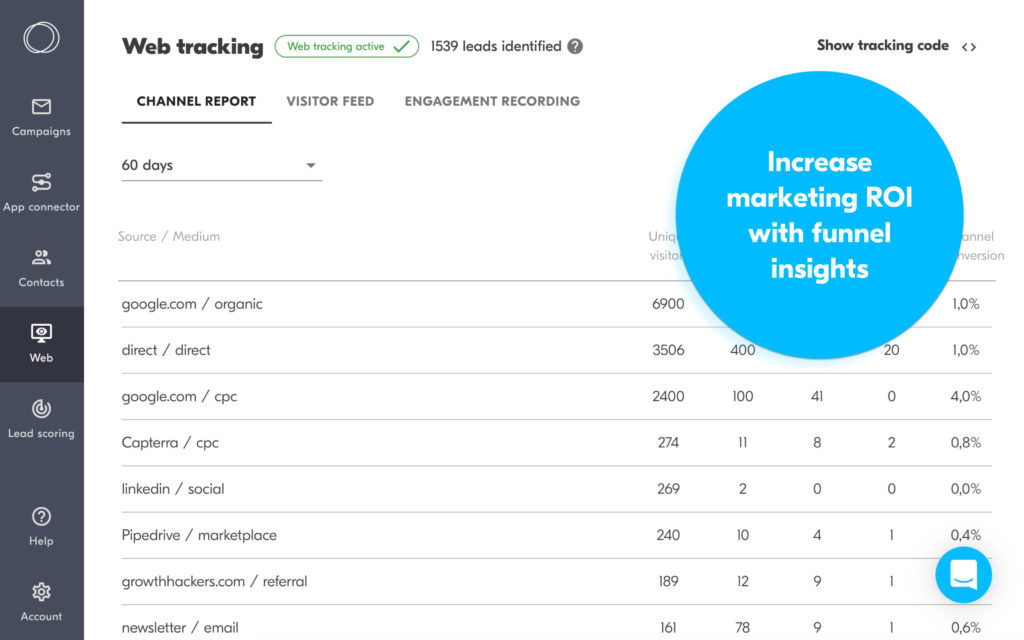 Once you've enabled website visitor tracking, you'll see who has been to your site, pages visited and the time of visits.
>> Try it out. Start your 14-day free trial now. <<
You'll see a feed of web visitors when you log into Outfunnel, and you can also set up an automation that records these visits in Pipedrive.
Other Pipedrive marketing automation integrations?
Above, we've shrotlisted key marketing automation tools that Pipedrive users can utilize. However, there are many more useful marketing integrations that we did not cover.
The thing is, we at Outfunnel are geeks about integrating sales and marketing. So much so, that half of our product is dedicated to connecting sales and marketing tools.
Below are a few additional Pipedrive integrations that we can't wait to share with you. They're coming soon, so sign up for early access via the links:
Are there any other key marketing integrations you're missing as a Pipedrive users? Do let us know in the comments below.
Latest posts by Andrus Purde
(see all)