As you may already know, we've been connecting sales and marketing data to prioritize leads and offer better sales context for a while now.
This can work like a charm. When you know that a lead who was last active six months ago suddenly spends 13 minutes on your product and pricing pages, you know they're a "hot" lead. This makes a great trigger for an automated email or a phone call from a rep.
The only challenge is that marketing engagement data is never available for all your leads. Some use multiple devices, others have never filled a form or clicked on a link and thus can't be identified, and some just …don't engage.
There's a certain type of companies that have much more data available to qualify leads — SaaS and other digital product companies. Companies like Outfunnel.
When we first started Outfunnel we built a hacky homegrown integration to sync product engagement data to our CRM that helped us to personalize onboarding emails and understand which users need more handholding.
After speaking to lots and lots of SaaS companies over the years we've decided to productize the solution we've built for ourselves.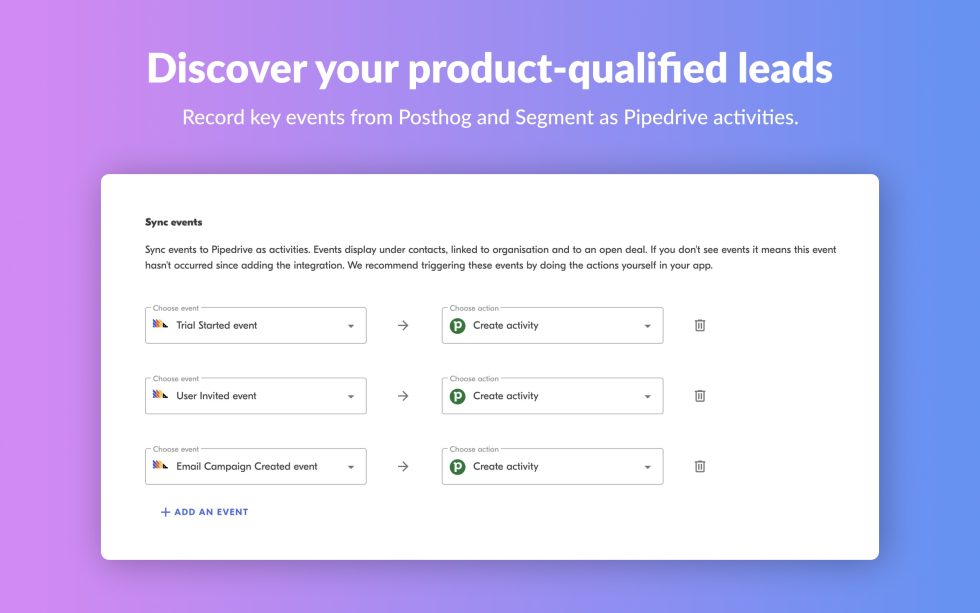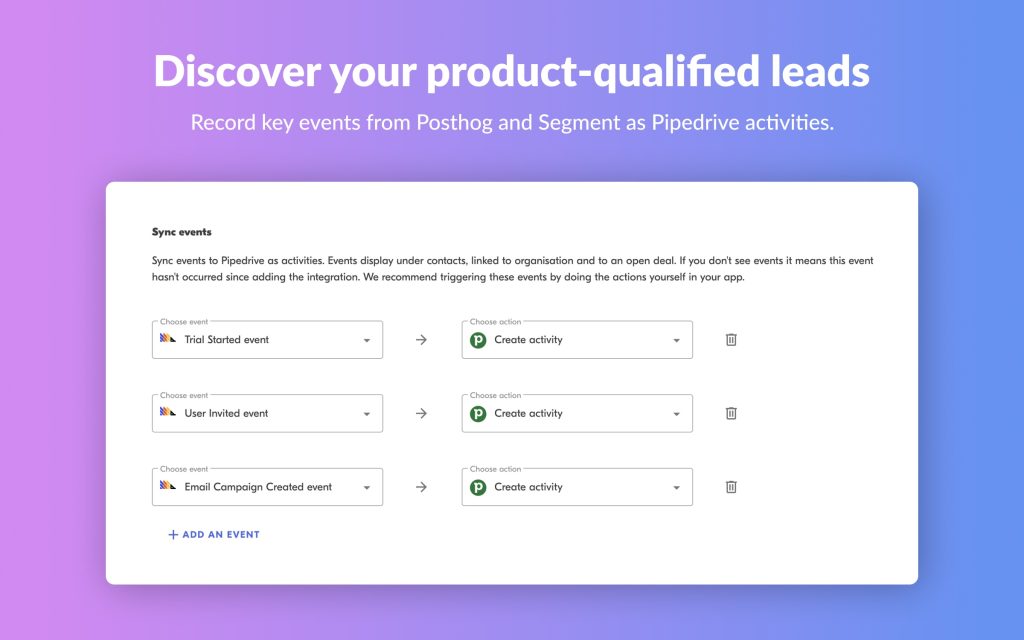 Say hello ProductSync 1.0 – a simple (but rapidly evolving) product-led sales tool
With ProductSync you can see the usage of key features right inside the CRM. For example, you could sync over events like:
Creating a free trial or freemium account
Inviting a colleague
Using a key feature such as adding contacts, creating a project, or adding an integration
Canceling or downgrading a paid subscription
Each of these activities would be synced to the CRM as an Activity that in turn could be used as a trigger for a workflow, such as adding a follow-up activity to an account manager or sending an automated email. It's great for getting started with product-led growth.
ProductSync can also sync over properties such as names, contact details, geo details, app usage quantities, or anything else you send to your product event management tool as properties/traits.
More context for sales
Syncing key product events and properties is not only good for setting up workflows. It offers good context for people in sales or customer success roles as they communicate with existing or potential customers.
For example, if a freemium user is close to reaching their account usage limits, this is super useful context for a sales rep that's about to jump on a call with them.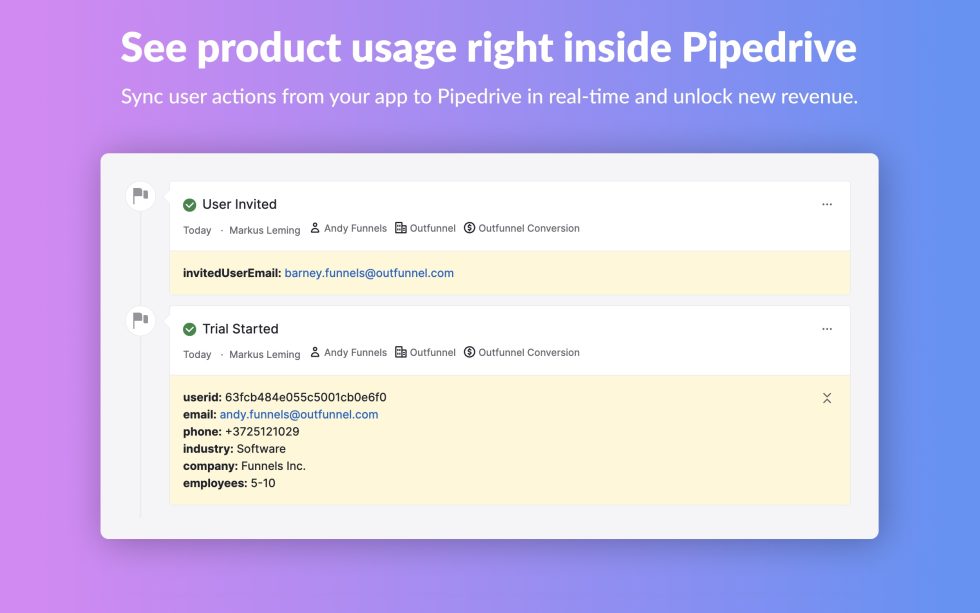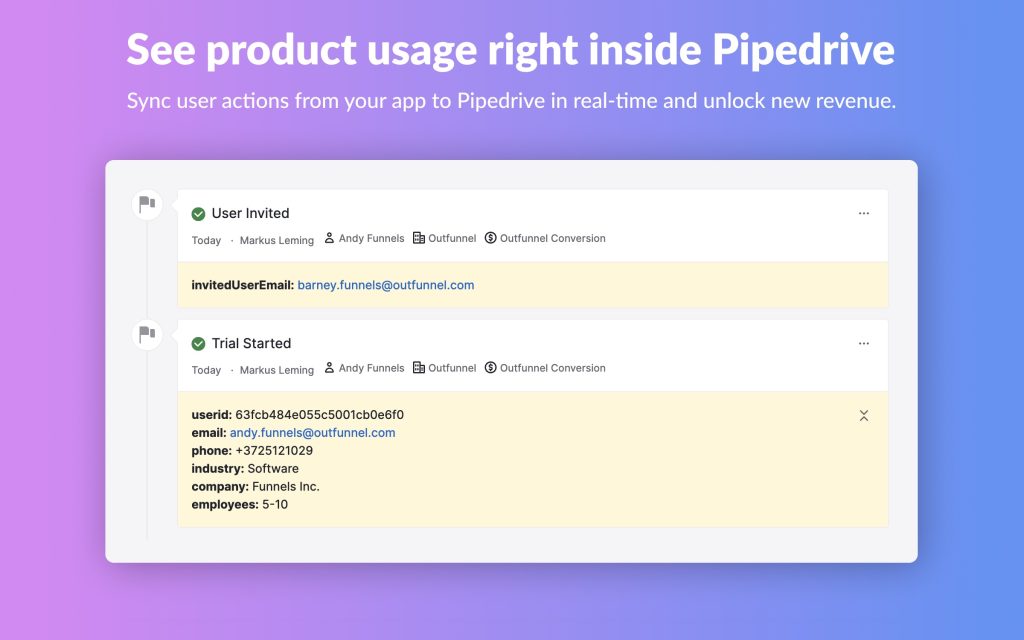 More product-led sales features are on their way
While seeing product events and usage properties in your CRM is useful already, we'll be adding more capabilities to our product-led sales tool. For example:
Assigning weights to different product events and calculating lead scores
Customizing how product events are synced to the CRM
Ready-to-use playbooks for leads in different qualification stages
Sign up for ProductSync and let us know what you think
ProductSync is currently available for Pipedrive only, with CRMs like HubSpot and Copper coming soon. And using ProductSync currently requires using Segment or Posthog as a way to manage your product events.
Start your free trial of ProductSync via the Pipedrive Marketplace or learn more about it on our support site.