With Outfunnel you can send email campaigns to any segment you've defined in your CRM.
Choosing which segment(s) to send campaigns to if you're a Pipedrive user
Outfunnel works off of Pipedrive data and filters ie. any segments you've defined with Pipedrive filters for People can be sent email one-off campaigns or email sequences. The filter visibility needs to be set to Shared (and not Private).
With Pipedrive People filters you can use person, organization, deal and activity fields as conditions, giving you powerful control over creating segments. For example, you could create filters that show you:
People who work in the software industry and have open deals
All clients who have not had any activities recorded for the past 3 months
All people who have an active deal in a specific stage and are based in New York
Please note that Outfunnel works off of People filters only and any Organisation or Deal filters can't be used as segments to send campaigns to. But also note that you can use Organization and Deal statuses and fields when you set up People filters.
For example, the People filter below lists all contacts with an open deal in a specific pipeline and stage, and with the Organisation address located in the USA.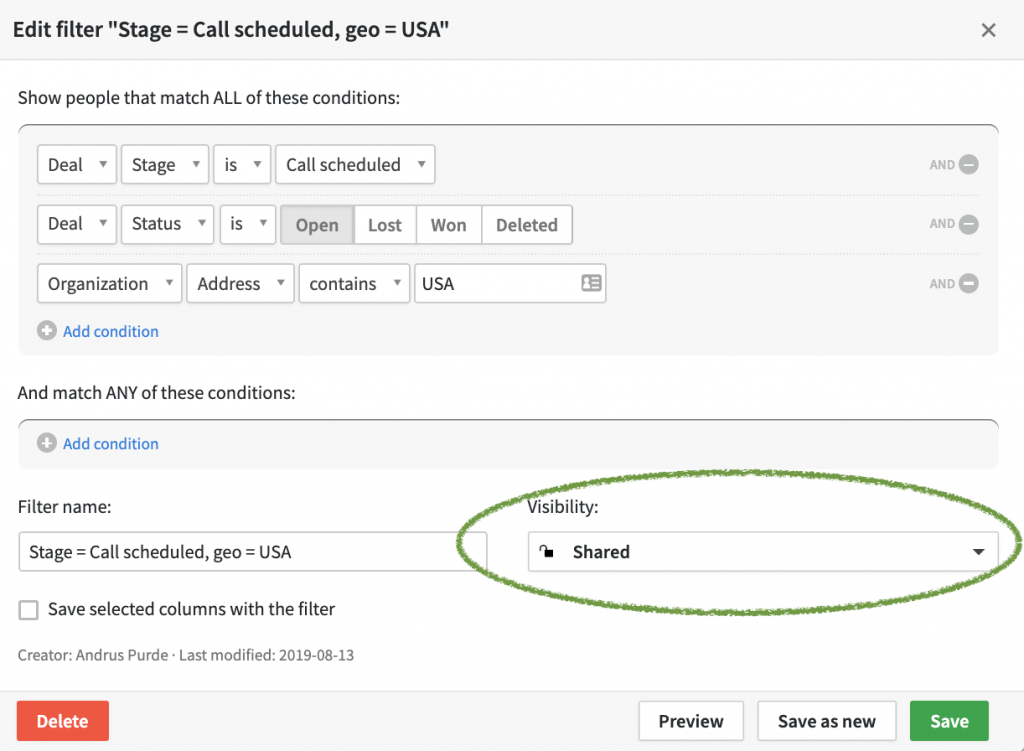 Learn more about using Pipedrive filters
Any segments you've defined with Pipedrive will be available in Outfunnel as recipients if you're creating new email campaigns, or if you're creating an automation to sync data between Pipedrive and Mailchimp.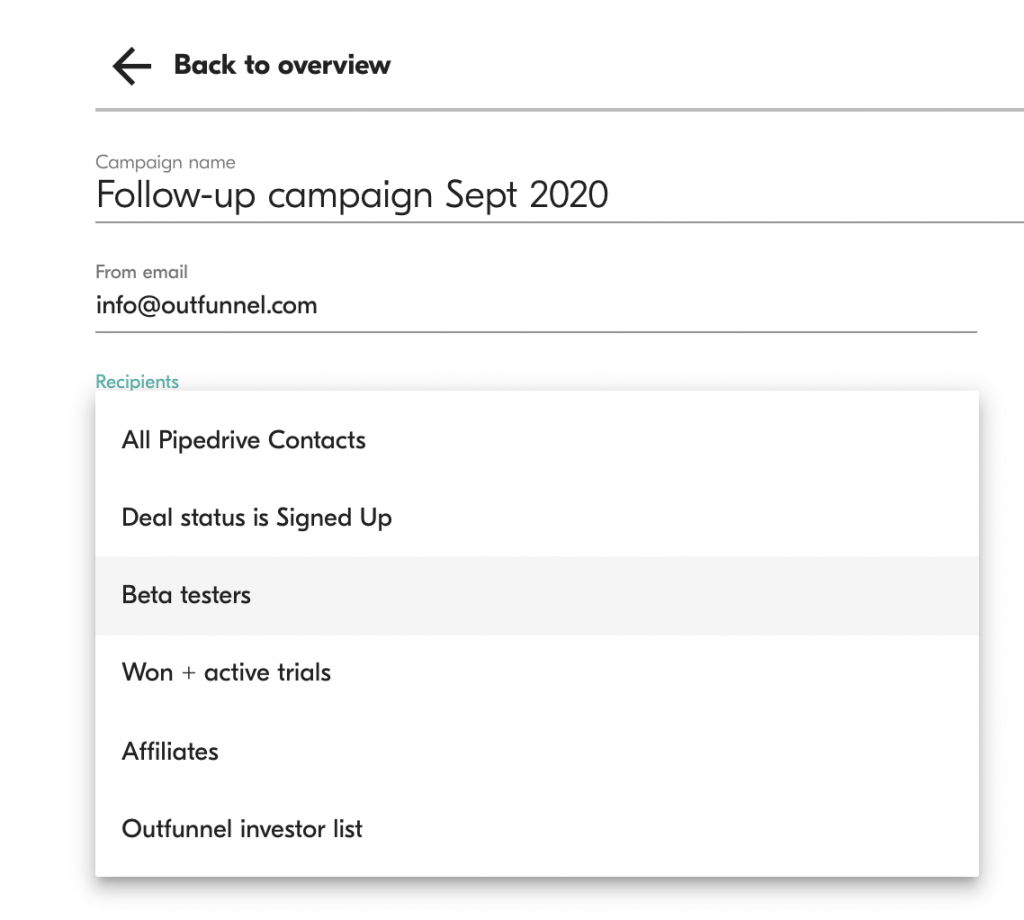 It usually takes 2-3 minutes between creating the People filter in Pipedrive and being able to access it in Outfunnel. Please make sure the filter visibility is set to Shared (and not Private).
Choosing which segment(s) to send campaigns to if you're a Copper user
Outfunnel audiences are based on data in Copper, specifically segments defined by Lead Status, Contact Type or Tag.

This gives you a lot of flexibility to create audiences based on your preferred workflow within Copper, particularly when paired with Copper's workflow automation feature. For example you could:
Focus your top-of-funnel marketing content on fresh leads, by targeting new, unqualified leads
Create an agency-focused campaign and target them with relevant content
Target all leads that are "ultra-valuable"
Each of these different approaches can be handled by using Copper's Lead Status, Contact Type and Tag options, respectively. Copper has a lot of flexibility when it comes to how you implement each.
Before diving into using any of these though, we strongly suggest you take the time to define your workflow. Make sure you're really clear about:
What each lead status represents (and whether you're going to use leads at all in Copper) – perhaps each status represents a stage in the qualification/disqualification pipeline?
What each contact type means – for example, each contact type could be show potential vs existing customer, or maybe the type of business.
What you're going to use tags for – a top tip here is: keep the list manageable and the tags themselves short and sweet
Below is an example of how a contact type in Copper appears as an audience list in Outfunnel: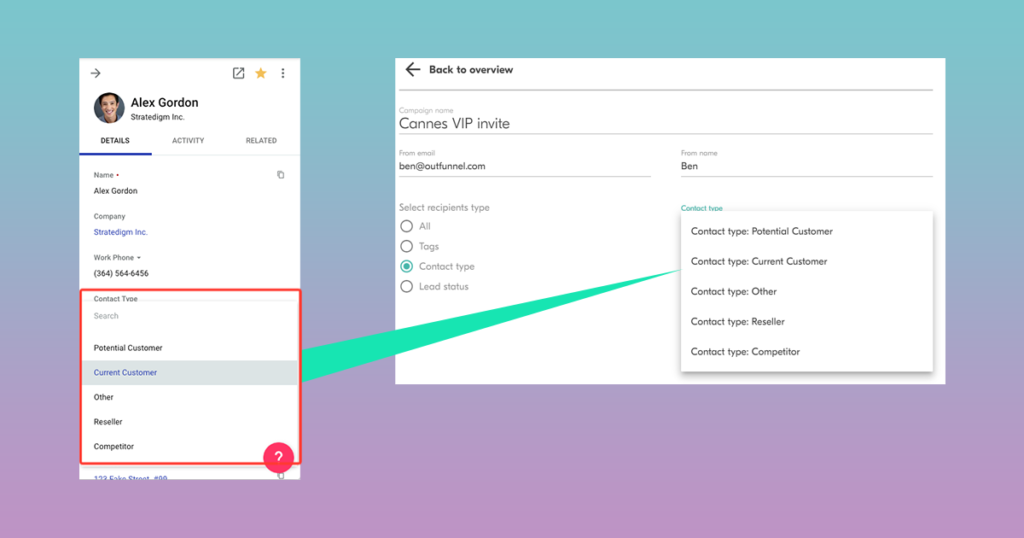 If you wanted to automate part of the segmentation process, you'll need to use Copper's workflow automation tool (note that workflow automation is available on with professional and business plans).
For example, you could tag all leads worth over $1m as "ultra-valuable" and then use that as a segment in Outfunnel. In Copper, you could create the segment by adding tags like this: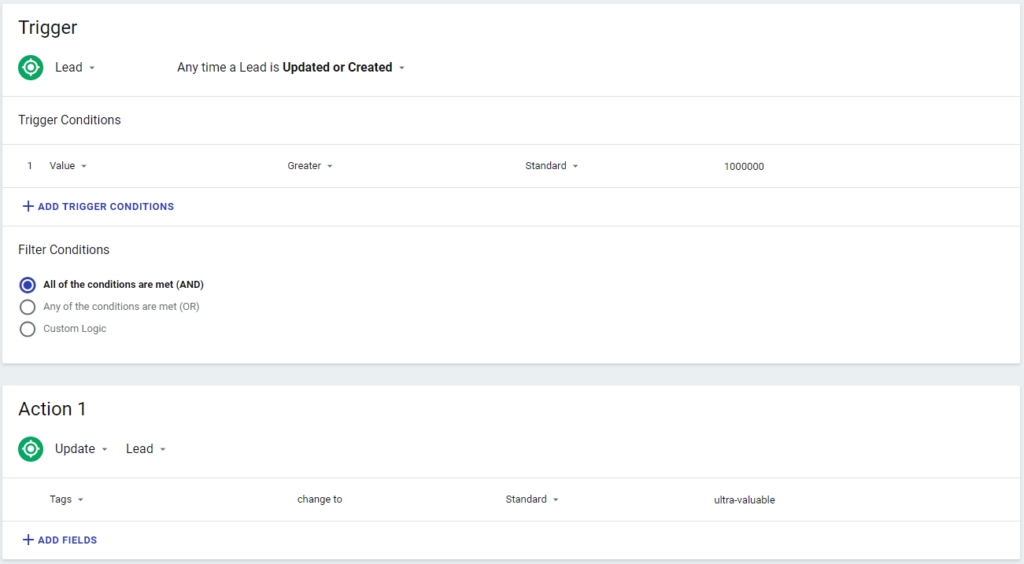 Once active, this workflow automation will then check the value of each lead and, if it's >$1m it'll tag it as "ultra-valuable". Then, if you want to invite those leads to the French Riviera for an extra-special get-together, you'd just search for the "ultra-valuable" tag in Outfunnel: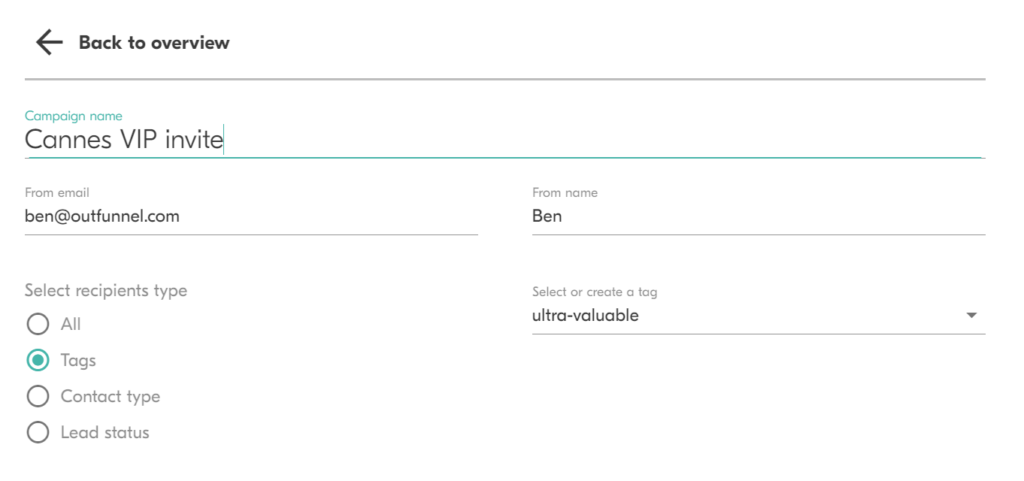 NB Sadly, due to the limitations of Copper's API there's no way to search for tags – you have to enter the tag you want to use in full. If the tag doesn't exist, just hit enter and hit enter, then Outfunnel will add that to your available tags in Copper.