Our email marketing tool lets you send simple email campaigns that are tightly integrated with Pipedrive. You can send emails to any segment defined by Pipedrive filters, and email opens, clicks and other activities are instantly recorded in Pipedrive.
You'd need an Outfunnel account and a Pipedrive account to use the email marketing feature.
Before you send out your first campaign
1. Define the recipients of your campaign with filters in Pipedrive.
Open Pipedrive, navigate to Contacts > People view and use the available filters to define the segment(s) you'd like to send a campaign to. Save the filter as "Shared". (Read more about using filters in Pipedrive)
2. Authenticate your domain (Optional)
We recommend that you verify your domain so that email providers and clients can be confident it was sent by us with your permission. This improves deliverability rates and helps to get your email past spam filters. Read our detailed instructions on authenticating your domain.
How to send out a single email campaign
1. Go to Outfunnel > Campaigns and click on the green "Create new campaign" button
2. In the Basics section you can give your campaign a name (so that you'll recognize it later), enter the name displayed as email sender and choose the recipients of the campaign. The "Recipients" dropdown lists all your public Pipedrive filters for People you've defined previously. If you add a brand new Pipedrive filter for People, it may take a few minutes for it to appear in the dropdown.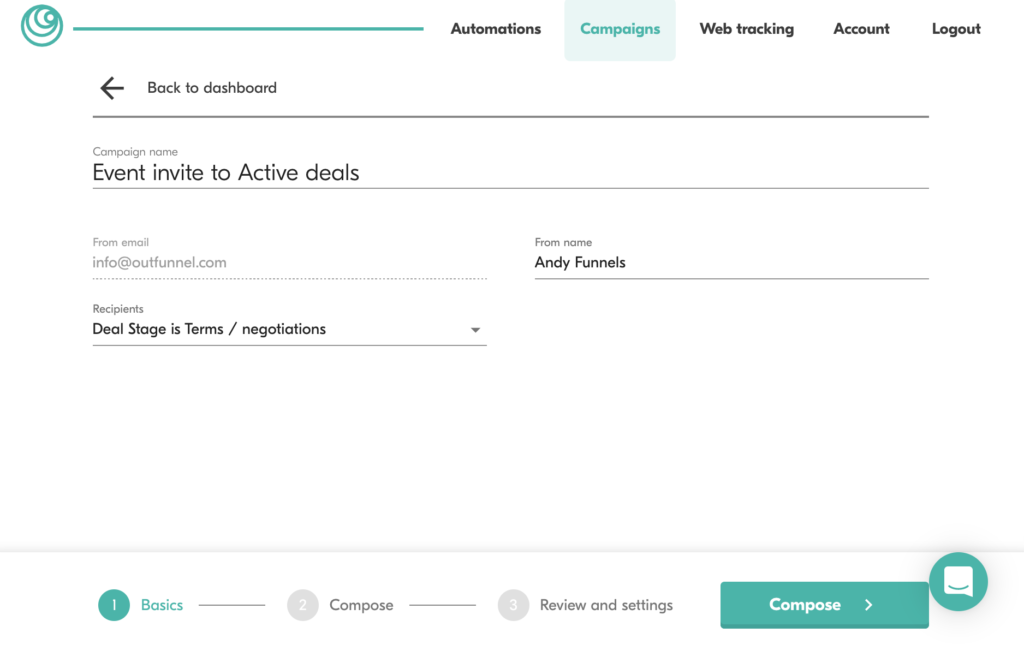 Please note that you can only use emails from the same domain that you registered your Outfunnel account with as the "from email". If you'd like to use another domain, please contact our support.
3. In the Compose section you can enter a subject line and use the visual editor to, that's right, compose the email.
You can format text, add links and images and personalize the email with "merge tags". When you click on "Personalize", you'll see a list of all your Pipedrive Person and Organization fields you can use to personalize emails with.
Outfunnel adds an unsubscribe link to the footer of each email. In most jurisdictions it's against the law to remove this link, so it's not possible to send a campaign without it. That said, you're welcome to change the wording to suit your needs.
4. Finally, if you click on "Review and settings" you can do a final review of the email. If you'd like to change anything in the email, you can go back to previous steps by clicking on the "Basics" and "Compose" links at the bottom of the page.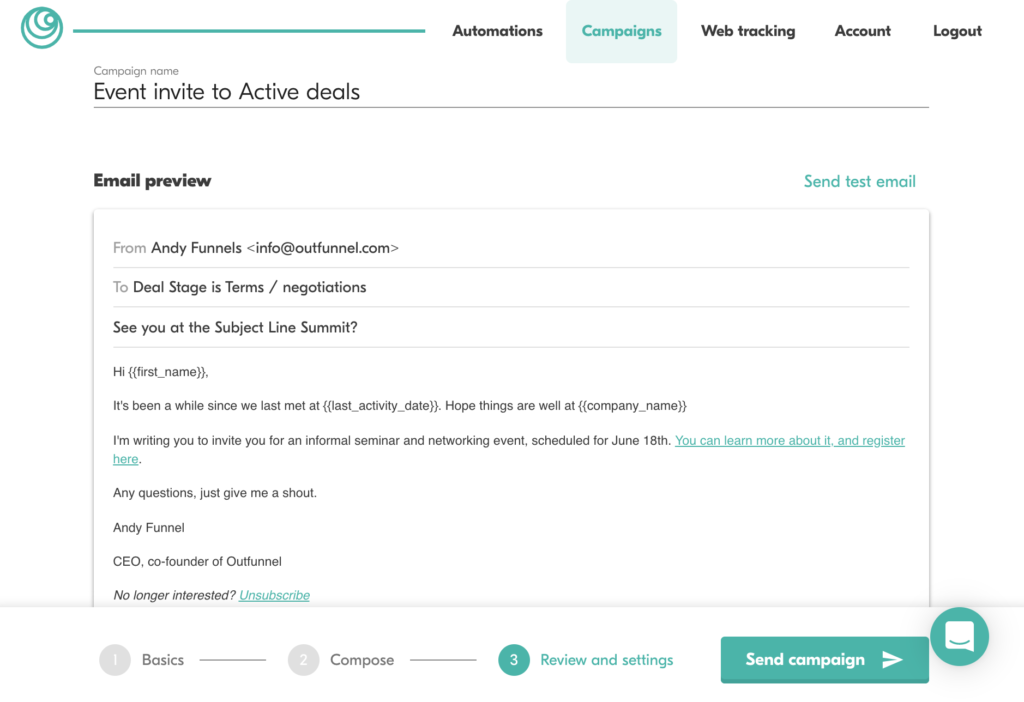 You can also send yourself (or a colleague) a test email if you press the obviously named "Send test email" link in the top right corner.
If all looks good, click on "Send campaign" and confirm this action in the dialog window that appears. That's it!
To resend a single email campaign, duplicate it from the Campaigns dashboard, and click "Duplicate" in the more options menu.
How to get insights on email campaign performance
Basic information about number of emails sent, open rate and click rate is visible in the Campaigns page for all sent campaigns. By clicking on the name of a campaign or the "More options" icon (the one with three dots) you'll get access to more detailed stats, including bounces and unsubscribes.

Information about email engagement will also be automatically recorded in Pipedrive (see below).
A couple of things to keep in mind
Use our automated email sequences feature if you're looking to create a lead nurturing or drip campaign and have the stats pushed to Pipedrive.
Outfunnel automatically records email engagement in the Contact view in Pipedrive. The default settings are:

Emails opened and clicked are recorded as a custom activity (that you can later filter in Pipedrive)
Emails sent and bounced as well unsubscribes are recorded as a Note

We strongly recommend to "warm up" your email address with Outfunnel for maximum deliverability. If you're sending campaigns to several thousand or tens of thousands of contacts at a time, we'd suggest starting with a few smaller campaigns first.

For example, with a list of 10,000 contacts, send a campaign to 250 people on week 1, 500 people on week 2, 750 people on week 3, 1300 people on week 4, etc.

Unsubscribe means unsubscribe. Any contacts that unsubscribe are automatically removed from the list of people you can send emails to via Outfunnel, even if they match the filter you'd like to send the next campaign to.
If you use Outfunnel to send emails, you can also automatically get the benefits of our web tracking feature. This way you'll see what leads do on your website, and have this recorded in Pipedrive as well.
Are you missing important critical email functionality? We hear you. We're making the email feature better every day (and that's literally, and sometimes including weekends.) If you're missing something, there's a good chance we're working on this already. If you have specific questions, please give us a shout.