Web visitor tracking for sales and marketing
The #1 challenge for every sales team is to focus their efforts on their warmest leads.
With Outfunnel's web visitor tracking, you can…
Get real-time data about people who visit your website and use this info to build a list of potential leads.
Know exactly who has visited your site, which pages, how many times and when exactly. Use this data to build buyer personas.
Prioritize who to contact first based on either when they visited your website or which pages they visited. 
Segment your leads into various categories, based on what they've read on your website and nurture them with relevant content.
Outfunnel lets you find out which of your web visitors are your warmest leads
Web analytics can tell you how many people visit your site, but that data is anonymized. It's certainly useful to help you get a general picture of what's going on with your visitors, but it doesn't tell you the specifics you'll need to make better sales calls.
Web visitor tracking tools, on the other hand, give you specific insights into what your visitors want. You can see what specific pages a particular lead was looking at, and from there you can better know which leads are most ready to buy.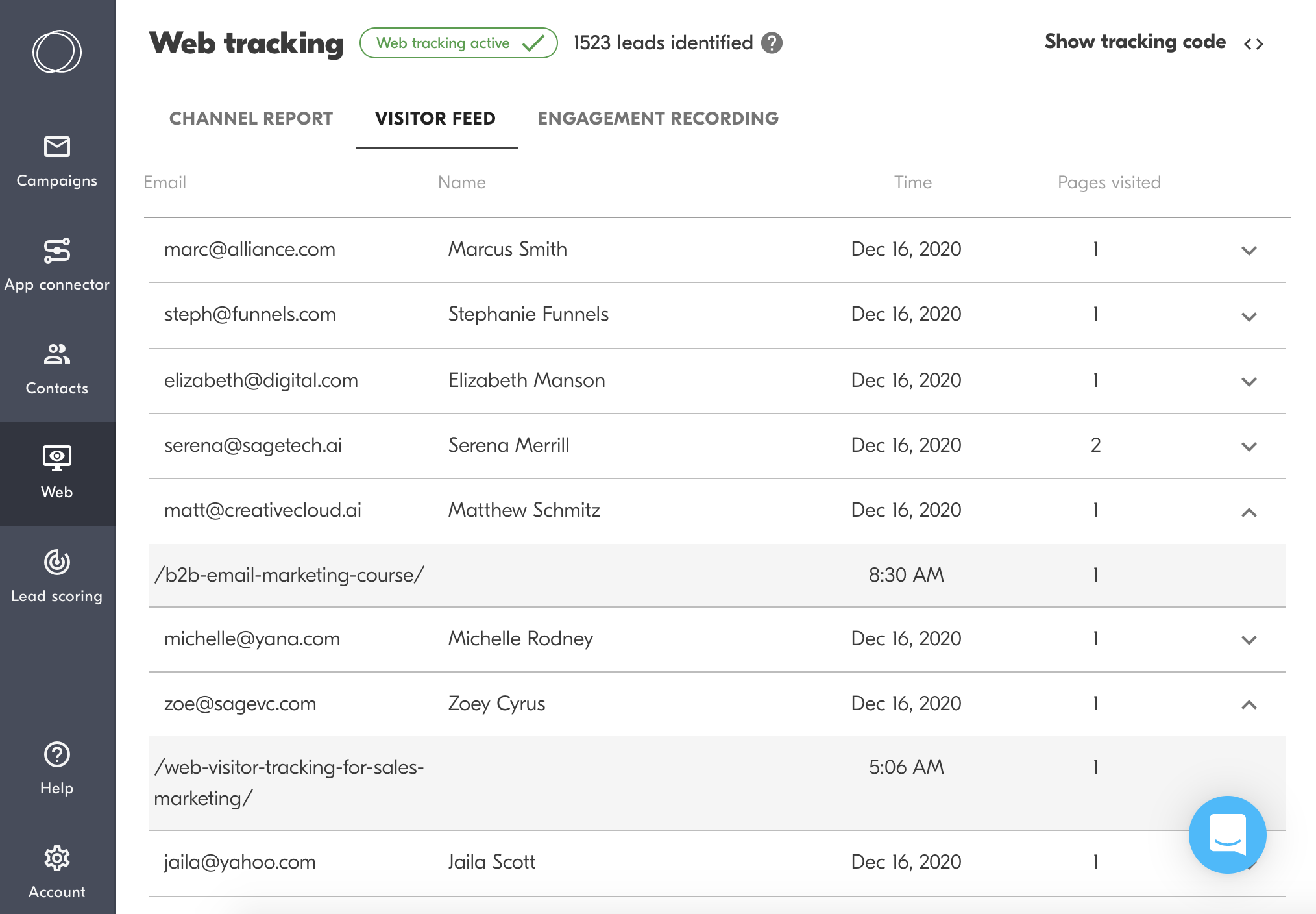 By using Outfunnel, you can see exactly:
• Who visited your site and when did it happen
• Which pages they saw
• How they found you
Moreover, you can sync all web visits with your sales CRM, enabling all of those people that were browsing your site to be filtered neatly into your CRM system, such as HubSpot CRM, Pipedrive or Copper.
Then turn that information into actionable insights for your sales team by using Outfunnel's lead scoring feature to sync visits as score values, directly to your sales CRM,
Start learning more about your visitors in 5 simple steps
To implement Outfunnel web tracking, follow these steps:
Step 1: Sign up for Outfunnel

Step 2: Add Outfunnel tracking code to your website

Step 3: Start sending email campaigns from Outfunnel or from Mailchimp. When people click on emails we can match visitors to your contacts.

Step 4: See website visits in Outfunnel

Step 5: Define how you'd like website visits reflected in your CRM
While web visitor tracking can seem like a magical crystal ball that helps you know everything about your customers, it's important to respect your visitors' consent!
If you're based in the European Union or selling to people based in European Union, make sure your website's Privacy Policy, Terms of Service or Cookie Policy covers consent to track people's website visits.
Bring your sales and marketing closer together
Start tracking web visits and syncing this to your CRM.
14-day free trial. No credit card required.