Are you tracking website visitors for your SaaS or B2B business?
No?
You're missing out.
Website tracking tools give you valuable insights into user behavior, but what you do with that data is what matters.
For starters, you'll need to run:
Serve custom content to specific segments to improve conversions.
Alert sales when a hot lead reads your pricing page.
See what parts of your website perform well, and where visitors get stuck.
…And that's the tip of the iceberg.
There's only one slight hiccup.
Choosing the right B2B website visitor tracking tool isn't a straightforward process. Each provider has different features, benefits, and pricing plans.
To help you pick the right one for your business, we've compiled a list of the best website visitor tracking tools and how real-world companies use them in their businesses. Let's dive in!
WHAT IS WEBSITE VISITOR TRACKING?
Website visitor tracking allows you to see who's on your website and what they're doing
.
Typically used by sales teams, website visitor tracking helps find and capture leads when they're warm, leading to increased sales productivity.
What's the difference between website visitor tracking and web analytics?
Website visitor behavior tracking: Helps you identify and track visitors to assist sales in identifying quality leads and personalizing messages.
Web analytics: Helps track website visitors or users' behavior anonymously. Use these tools to understand how your website is performing in terms of traffic and user experience.
10 Best Website Visitor Tracking Tools
In this article, we'll look at 10 great website tracking tools. The first six fall strictly under website visitors tracking, while the others offer web analytics type of tracking.
Outfunnel
Salespanel
Leadfeeder
Hubspot
ActiveCampaign
Kissmetrics
Google Analytics
Hotjar
Smartlook
Crazy Egg
While all of the tools mentioned in this article measure website visitors' activity one way or another, it's worth differentiating between website visitor tracking and web analytics tools.
Different requirements of B2B and B2C companies
It's important to note that the requirements of B2C and B2B businesses differ from each other.
B2C companies need holistic data for their strategies and analytics. They need website analytics for the big picture.
For example, a B2C company with over thousands of website visitors per month isn't necessarily interested in knowing what each visitor is doing on the site. But they need mass data. How many people have read a particular blog article, how many new email subscribers are there, and how many of them have purchased a product or started a service?
B2B companies usually deal with a smaller volume but higher value. They not only need to collect statistics but also gather information about individual visitors, leads, and customers since this is crucial for the sales and marketing process. So, each qualified lead is handled individually.
B2B companies can use website visitor tracking tools to identify the companies that visit their website. This helps them understand which prospects to focus on and target sales and marketing efforts towards companies that are interested in the product or service.
Sales teams know which prospect to contact first and capture them when they're warm. Marketing teams can send out better campaigns and content that's tailored to the specific needs of the prospect.
What can be tracked by website visitor tracking?
Activities
With website visitor tracking, you can track who visits your site, and the activities they make while they're on your website. You understand how they interact with your site, what pages they visit, how long they stay on each page, what links they click, and what actions they take.
Knowing that helps your marketing team qualify leads and nurture them with targeted and personalized content, and your sales team better understand the motivation of leads.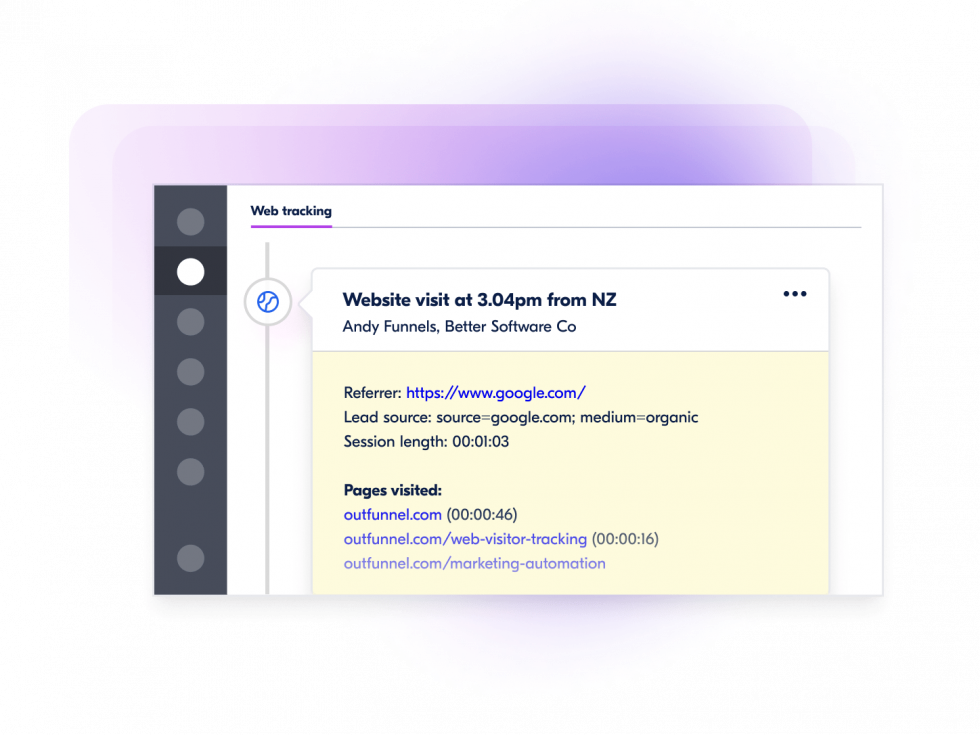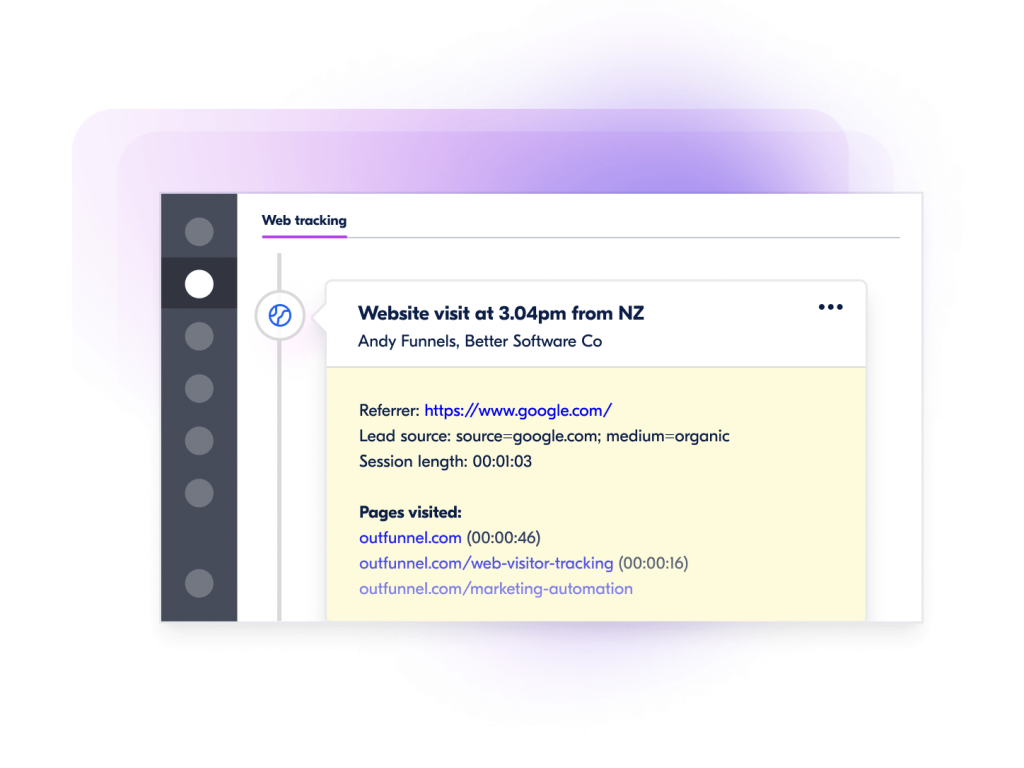 If a user of your product X is looking at the product page of your product Y, then that's a clear opportunity to upsell.
If a user is browsing your support site, it might be a good time to reach out and offer support.
Or, if an old lead is reactivated and visits your pricing or product pages after being silent for months, you can reach out to them again.
Campaigns
Website visitor tracking helps you connect your visitors to respective marketing campaigns. 
By looking at the number of visitors who come to your site before and after a campaign, you can gauge its effectiveness. You can track which channels lead them to your site and which channels convert best.
Do they land on your site from an ad campaign, Google Search, or else? Knowing that is crucial to understand their interest. If they land on your site by searching for a particular keyword, you can personalize your approach based on that keyword or feature.
You can also look at other metrics, such as conversion rate and time spent on site, to get an idea of how well your campaign performed.
Lead Acquisition
Tracking user activity on your website should capture leads from a variety of acquisition channels. Whenever a visitor fills out a form, your tracking tool should capture this information because this is where the sales process begins.
Turn anonymous visitors into identified leads with Outfunnel
Integrate with Pipedrive, Copper, HubSpot, and Salesforce
What are the benefits of a website visitor tracking tool?
Tracking activities, campaigns, and lead acquisition to better understand your visitors and leads bring some core benefits.
Understand who is visiting your website
The first step to any successful sale is understanding what your potential customer is looking for. Are they just doing research? Or are they ready to buy?
By tracking their web activity, you get a good idea of where they are in the buyer's journey and adjust your sales pitch accordingly.
With Outfunnel, all the website visits and contact source information will be synced to your CRM. This allows you to see what your lead might be interested in and makes it easier to analyze sales and marketing activity holistically.
Based on this information, you can segment your visitors and create targeted sales campaigns.
Learn more about how to use Outfunnel's website visitor tracking feature.
Get deeper insights
Once you know who is visiting your website, you can identify which leads are worth your time and target them with tailored sales messages.
As mentioned, website visitor tracking tells you which pages a lead has visited, how long they spent on each page, and where they came from. This information is extremely valuable when trying to understand your lead's needs and pain points.
Additionally, website visitor tracking can help you identify trends and patterns among your leads, which can be valuable when making decisions about your product development and marketing, and content strategy.
Overview of 10 website visitor tracking tools
Here are 10 different tools for tracking website visitors. Compare their features, see the benefits, and choose which one is for you.
#1. Outfunnel (that's us!)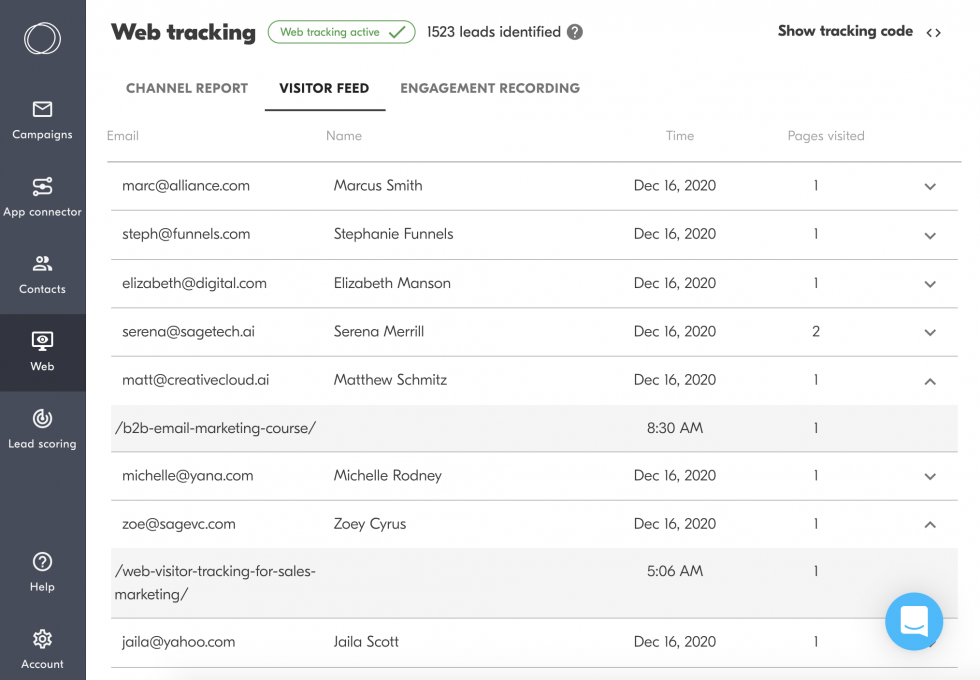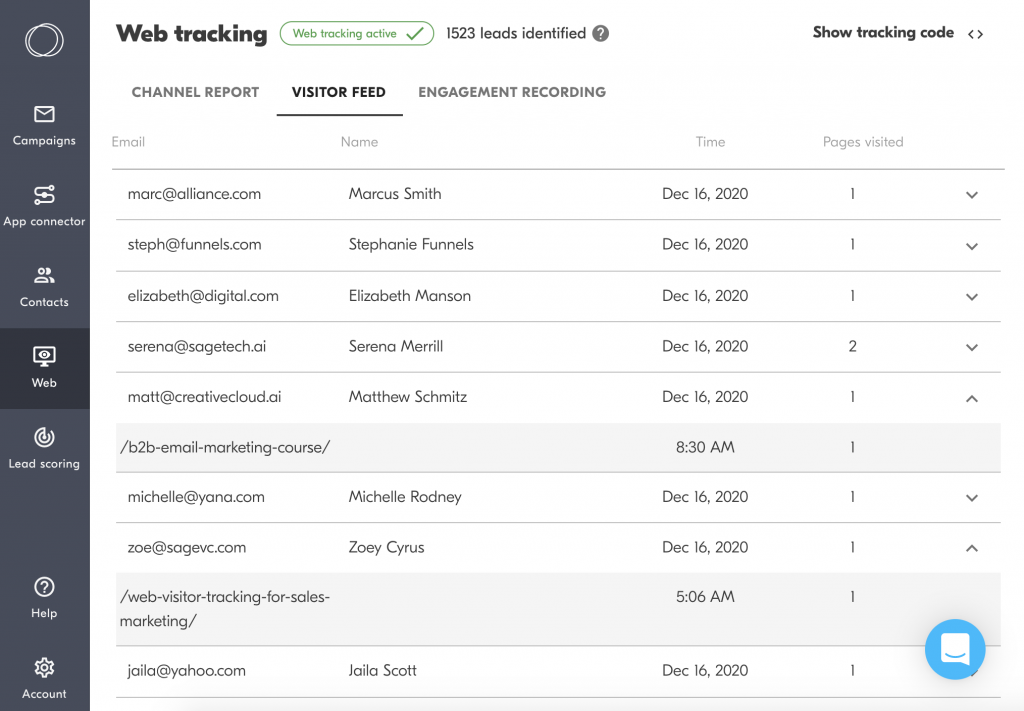 Tools like Outfunnel's web visitor tracking software are great for looking into the intent of your leads in the middle and bottom parts of the conversion funnel.
Our tool helps you easily find and focus on warm leads — the ones most likely to convert to customers.
Outfunnel's web tracking captures your leads, where they come from, which pages they visit, and for how long. Then, it syncs all this data to your CRM for the salespeople to see.
Using Outfunnel, you can also make use of our lead scoring software feature. This takes web visits and marketing engagements into account to calculate lead scores so that your sales team can focus on tailoring the perfect message to send to the highest-scoring leads and don't waste time on leads that aren't ready to buy.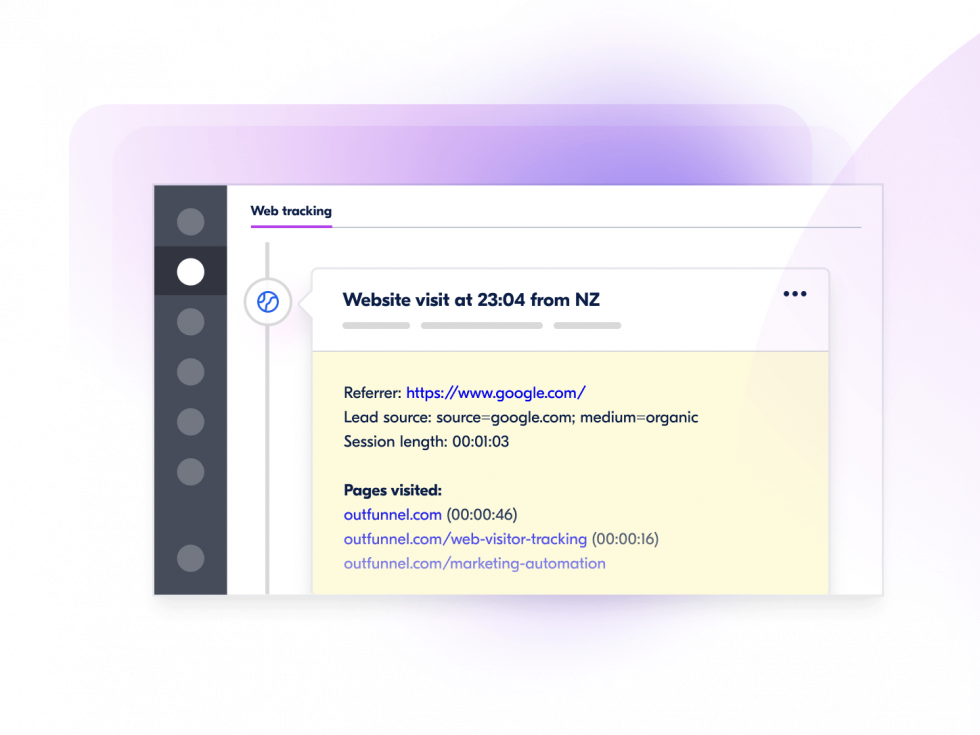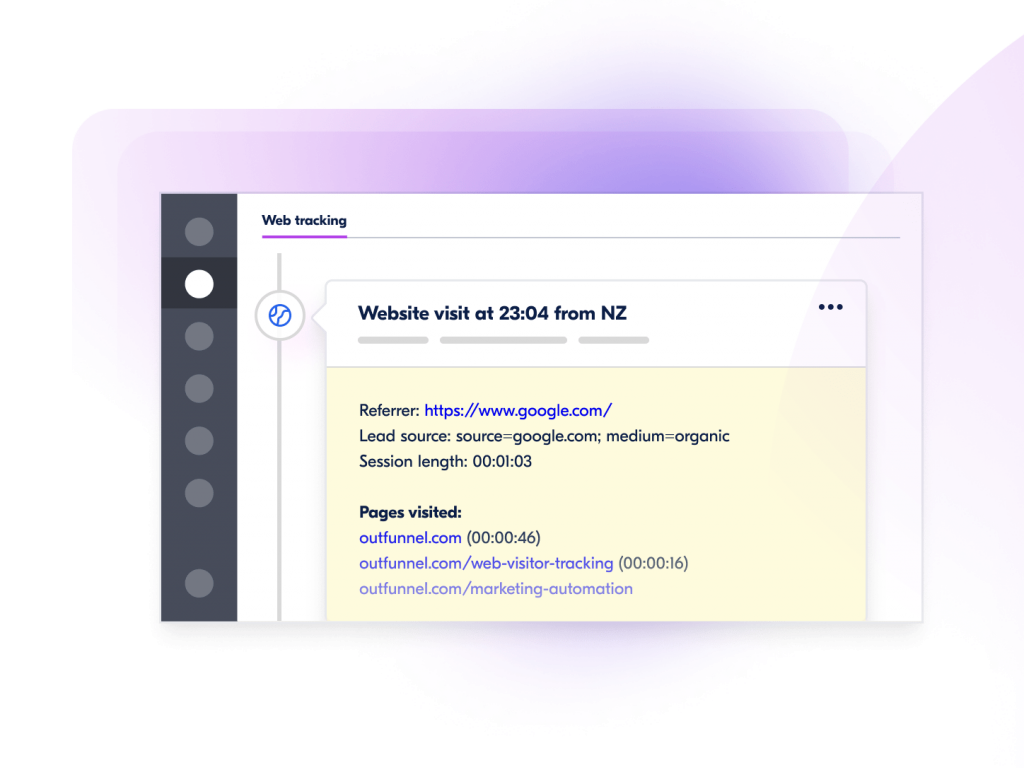 What it is: Outfunnel's web visitor tracking software tracks which pages your leads are visiting, for how long, and syncs this data to your CRM.
Main features: Capture leads from form fills, track leads' web visits, and auto-calculate lead scores, all recorded in your CRM.
Use Outfunnel to: Track your leads' visits to your site, sync these to your CRM, and give your sales team more context.
…But the million-dollar question?
Will Outfunnel work for YOU?
Consider these two unique scenarios (see which applies to your use case!):
1. You want sales to focus on the hottest leads
Your salespeople's time is precious. To maximize your ROI, reps need to focus on the leads with the highest buying intent.
The first sign of someone ready to buy?
Website visits.
With Outfunnel's web tracking, sales knows who your warmest leads are and can prioritize contacting them first. Outfunnel's web visitor tracking also plays well with the native lead scoring software—web visits and marketing engagements are considered when calculating lead scores. This helps with using the website visitor data at scale.

2. You want to personalize your content for leads
What happens when you have all these valuable insights about your leads?
Sales has more context on what collateral to send them or which topics to discuss on calls.
…That's not all.
Your marketing team will love knowing what collateral piques your lead's interest and pushes prospects further down the sales funnel.
Still on the fence?
Use your data from Outfunnel's web visitor tracking software to segment your leads into different groups based on what pages they've visited on your website.
And then, you can use these segments to send highly personalized lead nurture emails, boosting your marketing efforts. After all, personalized email marketing campaigns generate six times higher transaction rates.
#2. Salespanel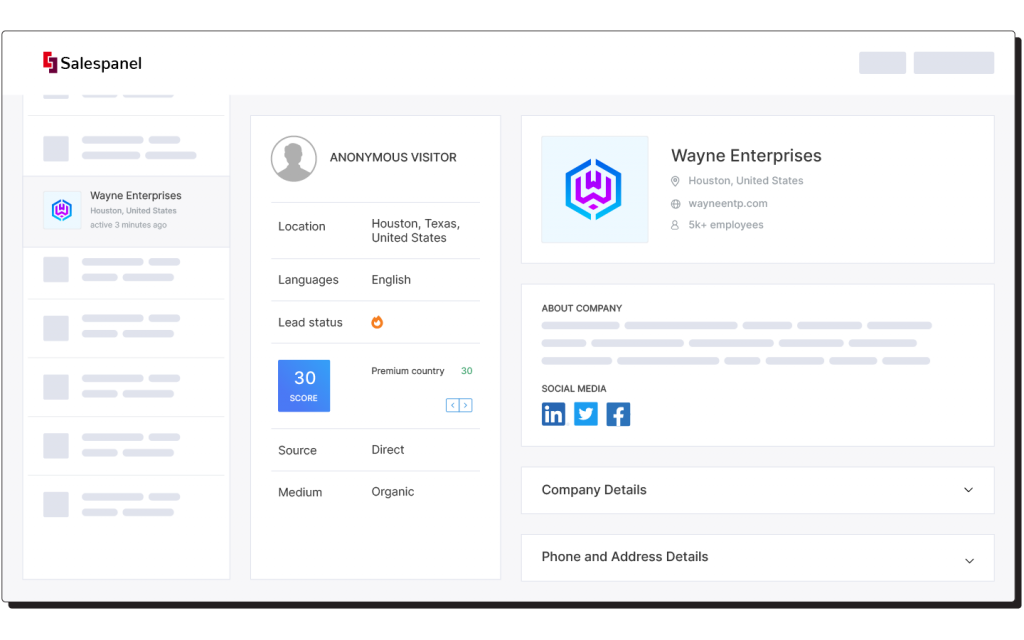 What it is: Website visitor tracking software and scoring tool.
Main features: Website tracking, visitor identification, custom segmentation, lead scoring, and automation to CRMs.
Use Salespanel to: Identify, track, and qualify your website visitors.
Salespanel is a lead generation, tracking, and data-driven marketing software that tracks all your leads. It takes them through a predictable buying process before and after signing up.
Salespanel captures leads from your forms, live chat, and email marketing tools and tracks the entire customer journey through each touchpoint. All of this works out of the box with zero configuration or coding requirements.
You can use the data provided by the software to segment individual visitors, score leads, and bring key sales intelligence to your CRM.
Salespanel also de-anonymizes visiting accounts and alerts you when target accounts visit your landing pages. You can show highly personalized content to qualified visitors, run retargeting campaigns, and create lookalike audiences.
#3: Leadfeeder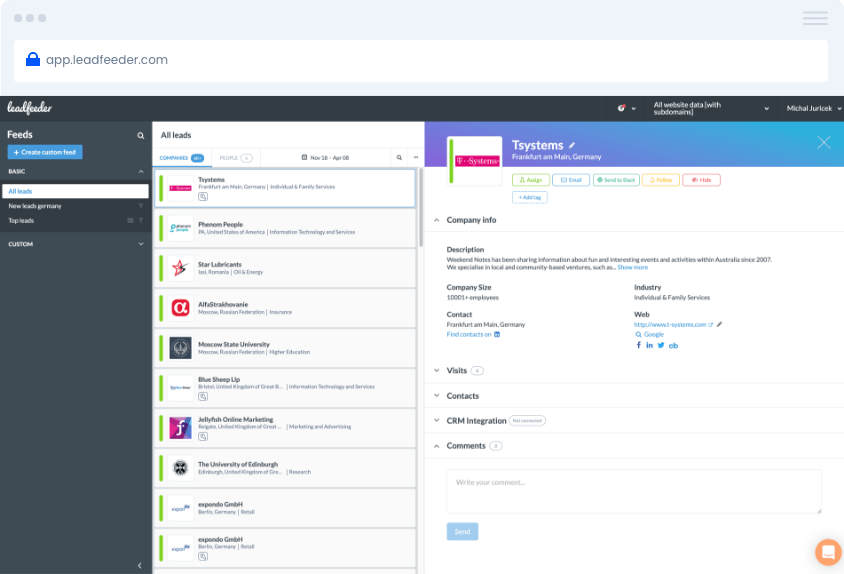 What it is: Website visitor identification tool.
Main features: Contact insights, lead scoring, and automation to CRMs.
Use Leadfeeder to: Optimize your B2B sales outreach.
Website tracking tools like Outfunnel and Salespanel are great when you want to know more about warm leads in your pipeline.
…But what if you want to attract more prospects at the top of the funnel? That's where tools like Leadfeeder come in.
You understand the prospects visiting your website and their buying intent, helping you customize your outreach for better conversions.
Take United World Telecom as an example.
The cloud-based communications company uses Leadfeeder in its sales and social media strategies.
Their sales reps review the list of companies that visit their website, research their background, and connect with the decision-makers (using a personalized note) on LinkedIn.
This rinse-and-repeat approach has worked well for them.
According to Luke Genoyer, Head of Demand Generation, they increased their new qualified business accounts from 50 to 80 in a month since adopting Leadfeeder.
All-Purpose Marketing Software That Includes Web Tracking
#4. HubSpot
What it is: All-in-one sales, marketing, and customer service software
Main features: CRM and CMS functionalities
Use HubSpot to: Attract, nurture, convert, and maintain customer relationships
HubSpot is a powerful software that seamlessly connects your data and helps you maintain the entire customer journey and grow with your business.
The only snag?
You can't integrate your other sales and marketing tools with the platform. If you want to use all of HubSpot's bells and whistles, you need to pay.
A lot.
However, if you're already using the platform, you can benefit from its built-in website visitor tracking feature.
…But it's not robust.
Hubspot tracks users anonymously.
You can't assign daily sessions to specific users and get a read on a lead's behavior.
But if you're looking for overall sentiment and aren't too concerned about drilling down to specific people, you can still benefit from the tool.
Add website lead tracking to your CRM
Track web visits of your contacts to identify sales-ready leads and understand which traffic sources perform best. Works with Pipedrive, HubSpot, Salesforce, Copper.
Try Outfunnel free for 14 days – no credit card required
#5. ActiveCampaign
What it is: Email, marketing automation, and CRM platform.
Main features: Email marketing campaigns, sales, and marketing tools.
Use ActiveCampaign to: Automate various sales and marketing activities.
ActiveCampaign is an incredible email marketing tool, but over the years, it's evolved into a robust automation product built for each stage of the customer journey.
If you're looking for web tracking but need a tool for:
Creating email funnels
Tracking events
Serving dynamic content
Landing pages
Lead scoring
Split testing
Website personalization
Basic CRM and sales automation
ActiveCampaign is a good option.
The web tracking feature lets you see what services, products, and information your visitors are interested in. Once the data rolls in, you can use ActiveCampaign's other features to nurture, convert, and grow your business.
The Best Website Analytics Tools
#6. Kissmetrics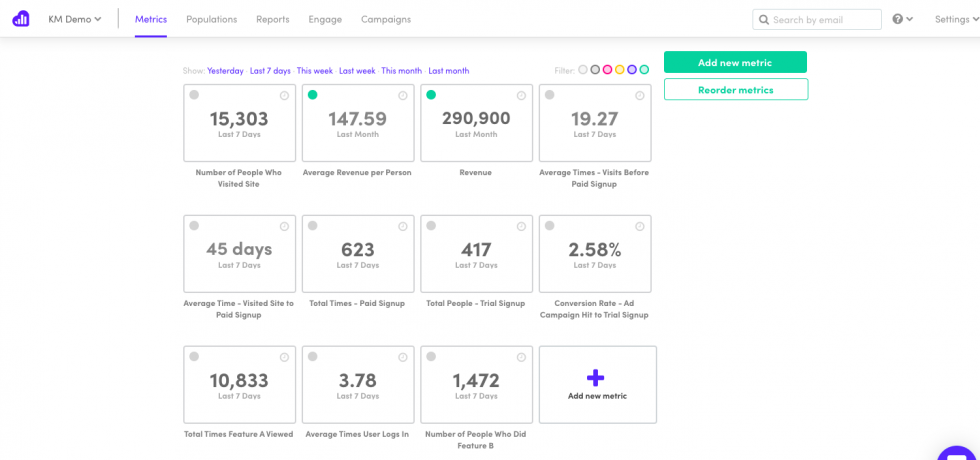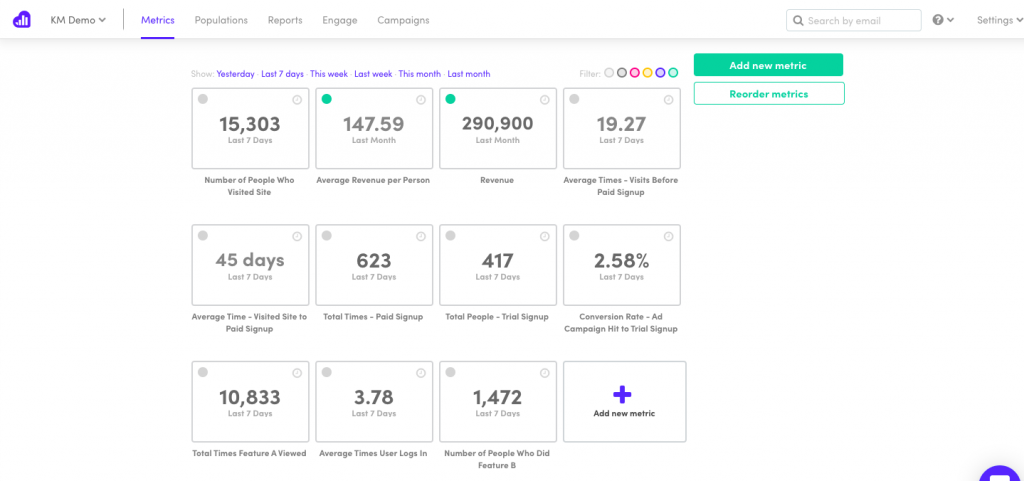 What it is: Business intelligence tool
Main features: Event tracking, real-time data tracking, reporting, and A/B testing
Use Kissmetrics to: Go beyond bounce rates and time-on-site and make business decisions based on user behavior.
Kissmetrics isn't a basic web tracking tool. It's a business intelligence tool, and it packs a punch.
The platform is perfect for product-led growth or eCommerce brands who are frustrated with the lack of insight from Google Analytics.
Instead of focusing on vague data points like "sessions," Kissmetrics ties your data back to real people and helps you understand what drives conversions and churn.
Once you're up and running, you can track your power users, identify your best features, and see how you attracted your most valuable accounts.
Using these insights, you can fine-tune your ideal customer profile (ICP) and tweak your marketing strategy to attract marketing qualified leads (MQLs) that'll convert.
#7. Google Analytics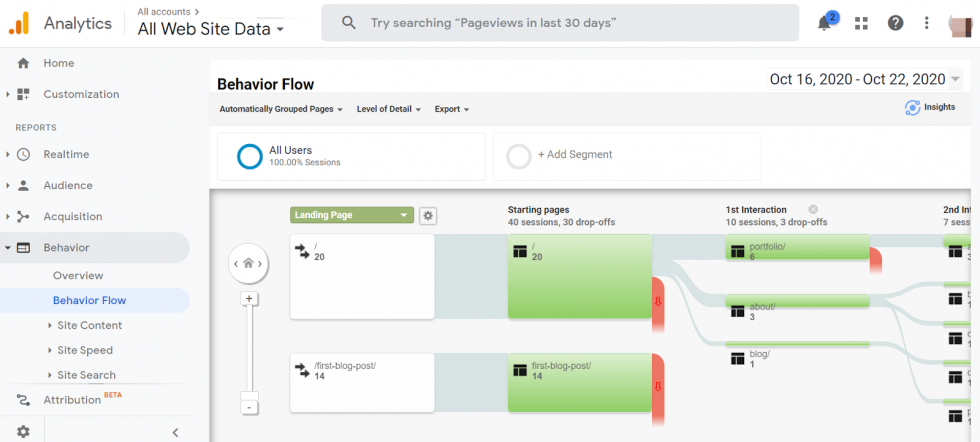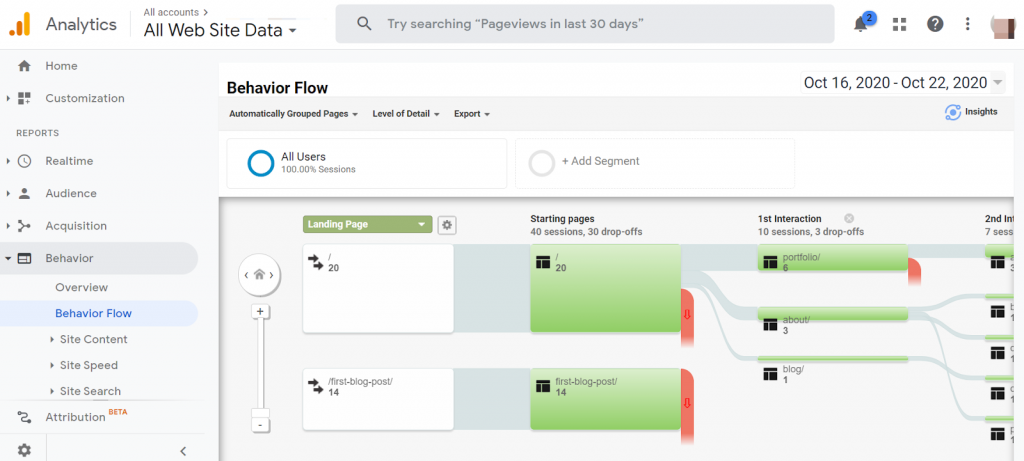 What it is: Web analytics tool best used for tracking traffic and your sales funnel.
Main features: Funnel visualization report (e.g., goal funnels, reverse goal path funnels), anonymized visit duration, and number of sessions analytics.
Use Google Analytics to: Measure and improve your sales funnel based on anonymized statistical data.
Got a leaky sales funnel?
Set up Google Analytics.
Rohan Kumar, Founder and Head of Digital Marketing at Zenergy, shares with Outfunnel: Google Analytics is a valuable web analytics tool when you want to know what stops your users from completing an action.
All you have to do is map the entire sales process (i.e., from lead generation ads to post-sales follow-up) and look for the biggest drop-offs from one step to the next.
Let's unpack a real-life example.
When Mark Hayes, Head of Marketing at Kintell, noticed one of his most critical pages was experiencing a high bounce rate, he knew something was not right.
Here's a real-life example to show you what we mean.
When Mark Hayes, Head of Marketing at Kintell, noticed one of his most critical pages was experiencing a high bounce rate, he knew something must be done.
Else, it could have stopped hundreds of people from creating an account or completing a purchase.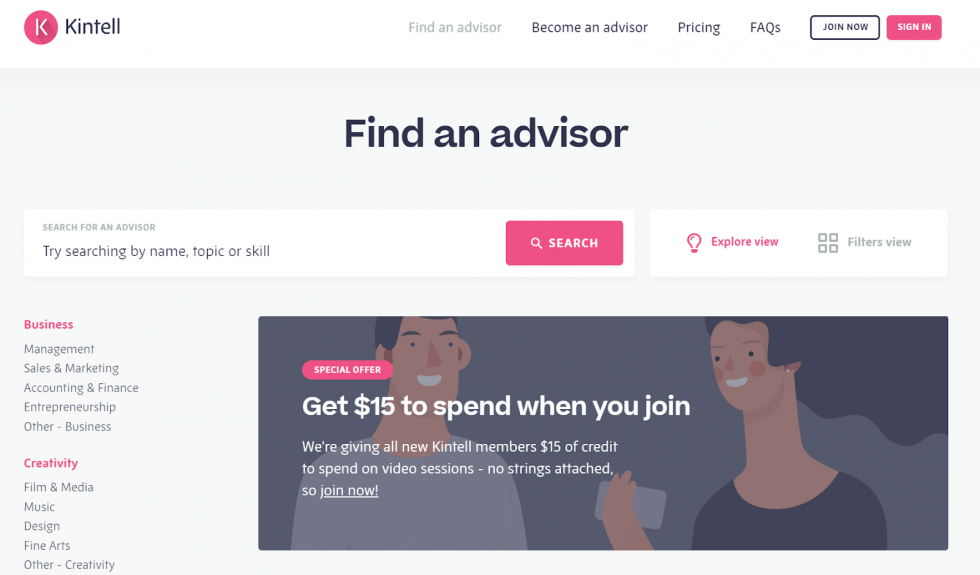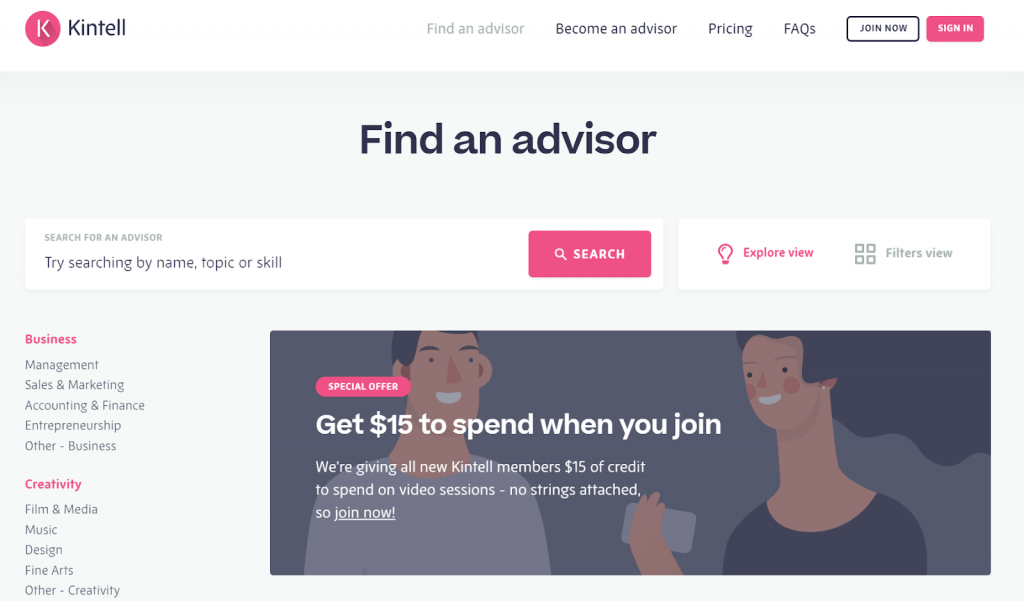 Mark looked at his Google Analytics and discovered users were abandoning the page because it loaded too slowly on their devices.
Poor optimization was the culprit behind the high bounce rate.
Kintell's bounce rate improved from 67% to 23% with a few tweaks to solve the page speed issues.
#8: Hotjar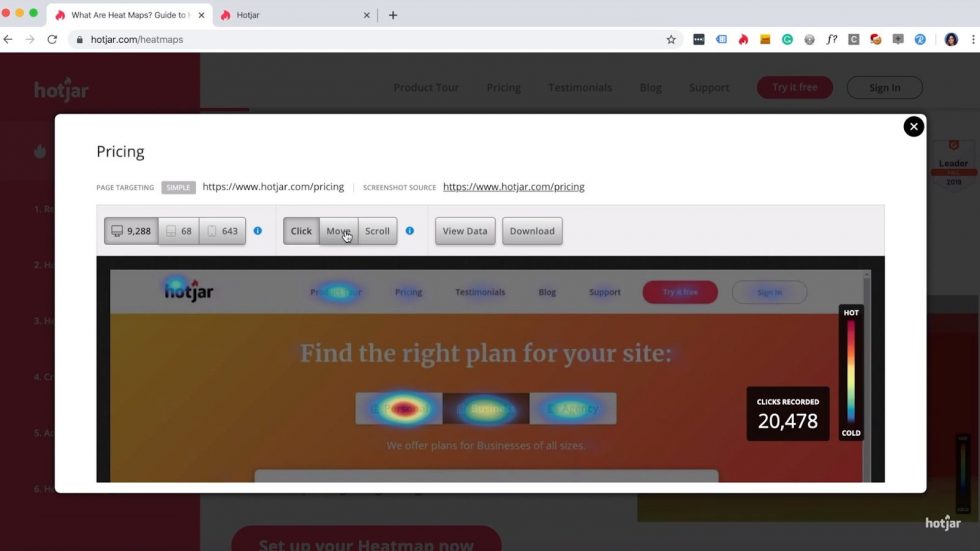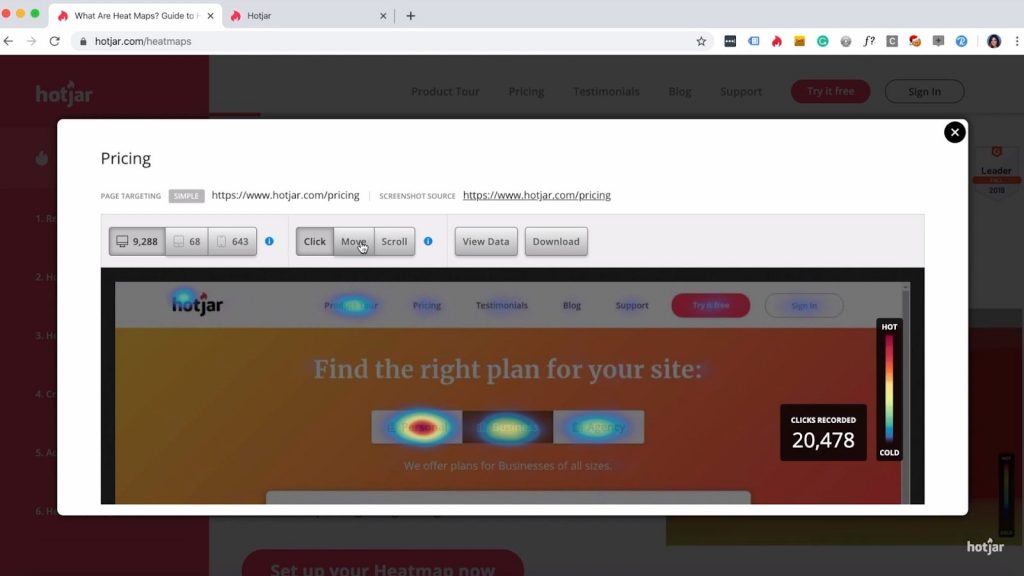 What it is: Website visitor behavior analytics tool.
Main features: Heatmaps, visitor recordings, incoming feedback, and surveys.
Use Hotjar to: Understand the majority of visitors' behavior and customer journeys and improve the entire user experience.
While tools like Google Analytics are great at identifying prospects and tracking website visitors, they don't help us understand users' behavior.
Enter: Hotjar, a behavior analytics and user feedback tool. While it doesn't track individual users, Hotjar uses heatmaps and user sessions to understand how most of your visitors interact with your site.
Consider this case study of Brand Alignment.
Co-founder Emmanuel Frost wanted to attract email leads in his long-form gated content.
But he was worried that gating it would reduce the keywords shown to crawlers and impact his website's SEO in the long term.
Frost decided to turn to Hotjar and discovered a fascinating insight: most users only skim halfway through his article.
Realizing this low engagement was likely caused by the lengthiness of the content, he created a PDF and offered it as a content upgrade for his new email subscribers.
His lead conversion went up by 150%.
That's right, not only did Emmanuel improve his users' experience on the website, but he also increased his leads at the same time.
#9. Smartlook (we're happy users of it at Outfunnel)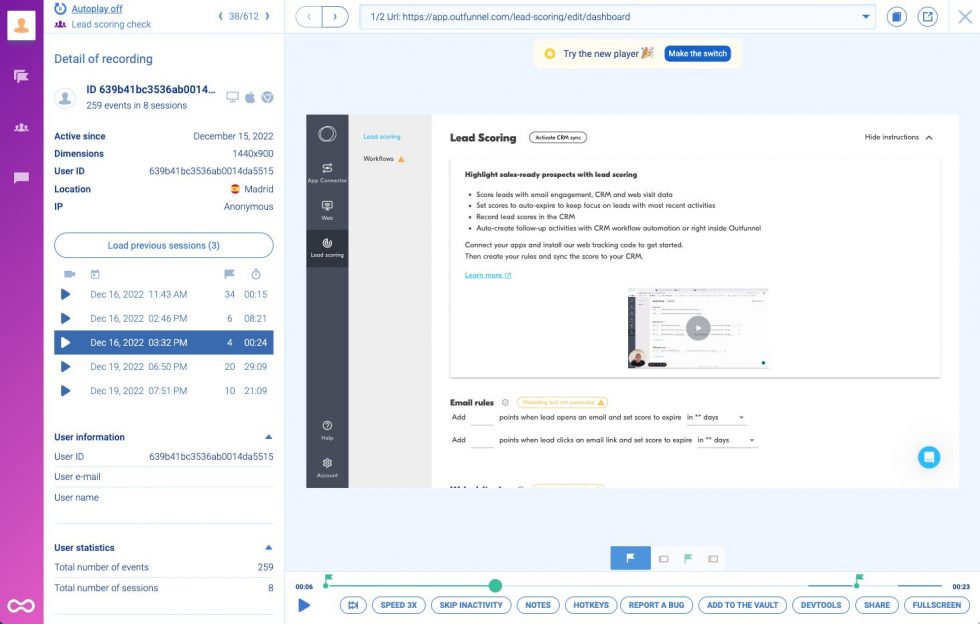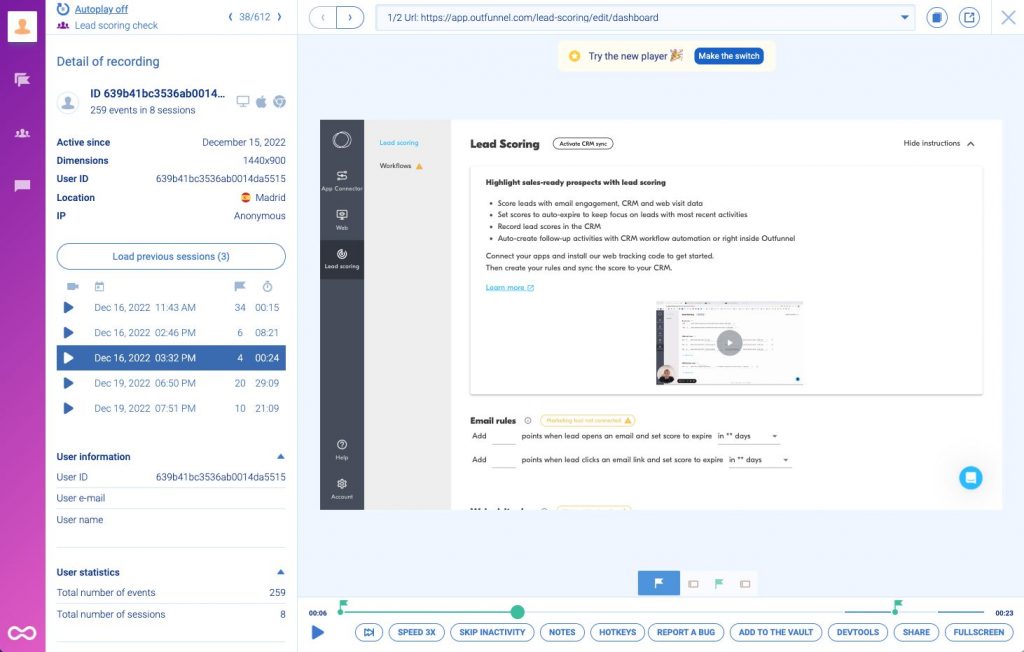 What it is: User behavior tool for PLG companies with event-based analytics.
Main features: Heatmaps, session recorder, and user journey capture.
Use Smartlook to: Understand where new trial users get stuck.
Not sure why trial users are opting out?
Turn on Smartlook and drill down to the exact moment your funnel is dealt the "It's over" card. Once you've identified the leak, fix it, and plug those money holes.
With event analytics, you can answer one of the biggest questions for SaaS B2B companies: "Are users doing what I want them to do?"
Get user action statistics that tell you the full story:
Users text inputs
Click-on-elements
Button clicks and click-based interactions
How many users are visiting key pages
Let's look at a case study by AstroPay, a digital wallet. The app decided to invest in Smartlook to:
Analyze data about the user journey
See feature adoption
Discover where users get stuck
Identify any bugs
Using the event-based funnels, heatmaps, and relevant session recordings, AstroPay was able to optimize their sales funnel, product user interface, and improve conversions by 56%.
#10. Crazy Egg
What it is: Website visitor behavior analytics tool.
Main features: Heatmaps, A/B testing, screen recordings, surveys, and traffic source analysis.
Use Crazy Egg to: Understand how to improve your website and test new ideas.
Not sure what's causing your landing page to not convert?
Crazy Egg can help you identify the culprit, switch things up, and kick form abandonment to the curb.
Using site visitor data, you can get rid of design guesswork and stop relying on industry best practices.
Instead, using features like heatmaps will show you exactly what your users want and help you redesign your site to get more sales, subscriptions, and page views.
That's exactly what happened for WallMonkeys.
The eCommerce company increased its conversion rate by 550% using Crazy Egg's heatmaps and A/B testing tool.
How to Choose the Right Web Tracking Tool for Your Business
Different tools provide very different angles to website visitor tracking, and choosing the ideal one depends on your business goals.
If you're looking to optimize your sales efforts and poach qualified sales leads, you want to check out Leadfeeder.
For measuring and boosting conversions in your sales funnel, start with Google Analytics or one of the privacy-friendly alternatives.
To understand the behavioral analytics of visitors on your website, you can't go wrong with Hotjar or Smartlook.
And finally, if you want to help your sales team save time and close your hottest leads, Outfunnel is your best bet.
See how Outfunnel helped other companies scale their sales strategy.
See the whole context with Outfunnel's website visitor tracking
Our vision at Outfunnel is to bring sales and marketing closer together and align the workflows. We build context about each lead and help you plan the best next action.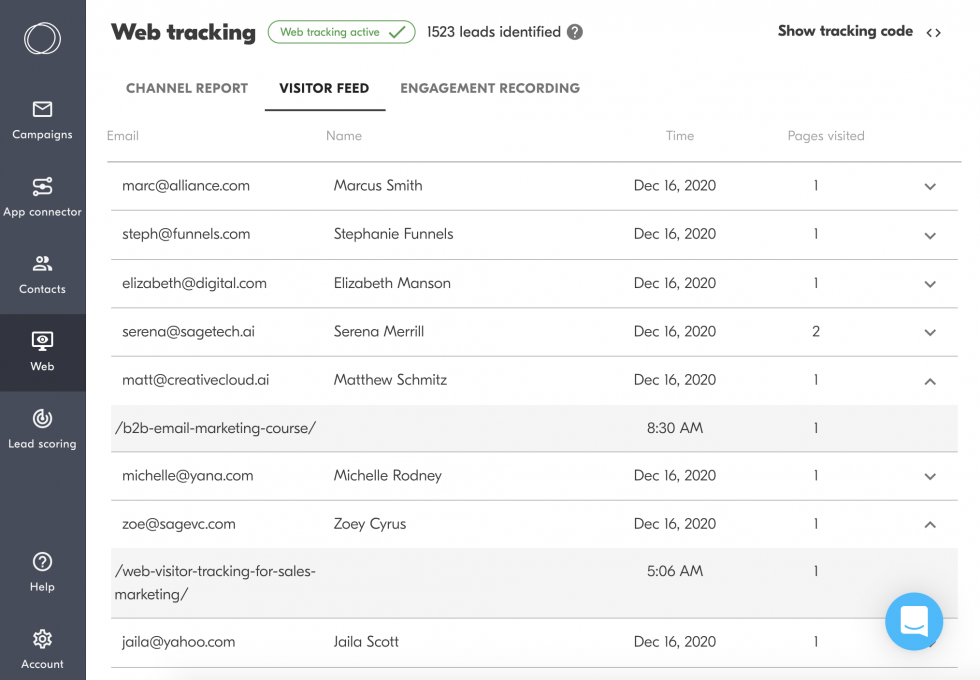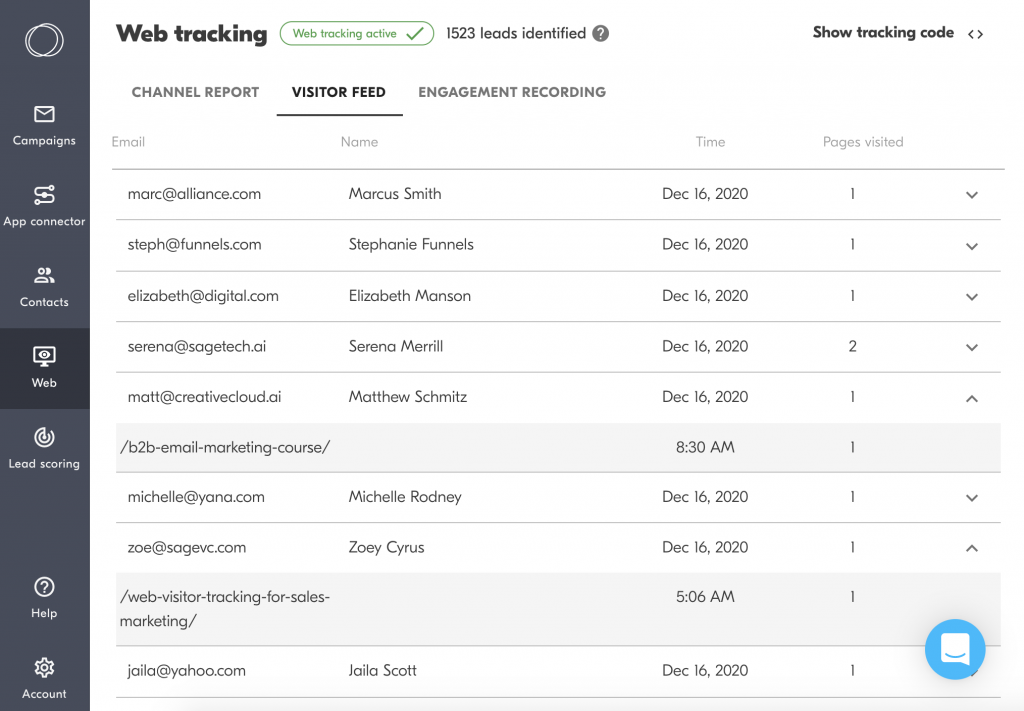 You can gather specific insights into what your leads are interested in and sync all of this data to your CRM, where it can be accessed by your sales and marketing teams to use these as actionable indicators in their workflows.
The better you understand your leads, the better equipped your sales and marketing teams will be to meet their needs and solve their pain points.
Stop selling blind. Outfunnel integrates with Pipedrive, Copper, HubSpot, and Salesforce.