Long story short: A lead scoring model is a tool used by B2B sales and marketing professionals to evaluate leads by assigning scores to each based on certain criteria.
Here is the actual story.
As a marketer, I've had the chance to work with many sales representatives for various B2B businesses. In most cases, those sales professionals used to evaluate leads based on experience and gut instinct.
Sadly, that combination wasn't enough.
On top of that, it was taking a lot of time with neverending manual processes, not to mention the poor results that were making neither the Marketing Team nor the Sales Team happy.
The number of closed deals was consistently lower than expected, and it was clear that a more solid evaluation methodology was needed.
But, how could we pinpoint the leads with conversion potential? What was the right path to bring the best leads for our business to the surface?
This is where the story gets interesting.
In fact, this is where my own story crossed with Outfunnel, where I had the chance to discover more about the revenue-changing tool for B2B businesses—lead scoring.
Before jumping into the topic, let's see what you'll learn within the next 14 minutes reading this article:
Definition of lead scoring
Lead Scoring Models: Implicit Scoring, Explicit Scoring
Negative Lead Scoring
Let's first start with what lead scoring is, and how it can help your business.
What is lead scoring?
Lead scoring is the process of identifying leads who are most likely to buy, by assigning them values. A significantly important part of lead generation.
Thanks to lead scoring, sales reps can:
weed out unqualified leads
focus on high-converting ones
discover the hidden gems
spend their time on the relevant leads
gain insights into what kind of leads they should be focusing on in the future
The lead score tells you your leads' buying intention and makes it easier for you and your team to focus on the best-converting ones.
The higher the score, the more likely they'll buy. The lower the score, the more likely they'll drop out of the process.
Here are the 3 steps to getting started with lead scoring:
Define the touchpoints in your customer journey.
Assign numerical values (scores) to each of the data points.
Track and nurture the best-qualified leads with a lead scoring tool.
Want to get started? Here is how Outfunnel can help you with that.


The way you define the touchpoints and data points for your business depends on your ICP (ideal customer profile).
Are companies from certain regions more likely to buy? Is there a specific industry your company focuses on?
Or is it the number of website visits that determine if a lead converts or not?
How can you prioritize one attribute over another?
Not sure?
If yes, it's finally time to discuss the lead scoring models.
What are the lead scoring models?
Lead scoring models define the context to assign the values to each lead. In general, the lead scores are based on a point range of 0 to 100.
Let's dive into the lead scoring models:
Explicit Scoring
Implicit Scoring
While you can use both of them and create your own fusion model, the attributes you will pick depend on your company's conversion funnel, personas, and goals (which you will be hearing a lot throughout this article).
Let's start with explicit scoring.
Lead Scoring Model 1: Explicit Scoring
Are you using website forms? If your answer is yes, chances are you're asking some questions about the lead's company, company size, region, etc.
All this information you receive directly from the lead is called explicit scoring.
Demographic and firmographic data fall under this category and include attributes such as:
Job Title – Level of seniority & Experience in the industry
Region/Location
Company Type: Size, Industry, Revenue
Job Title & Level of Seniority
There is a reason every marketing professional underlines the importance of personas as one of the first steps to creating a solid marketing strategy.
Chances are you are a marketing or sales professional interested in learning more about lead scoring models, so you're here.
I assume that you already know quite clearly what kind of companies you are selling to. You know their size, type, location, and maybe even revenue.
Here comes the one-million-dollar question: you know what kind of companies are buying from you, but, do you know who's buying from you?
Who's making the decision in your target companies? Head of the relevant department? Marketing Specialist? Sales reps? IT? HR? The answers vary depending on the product and service as well as your target company type.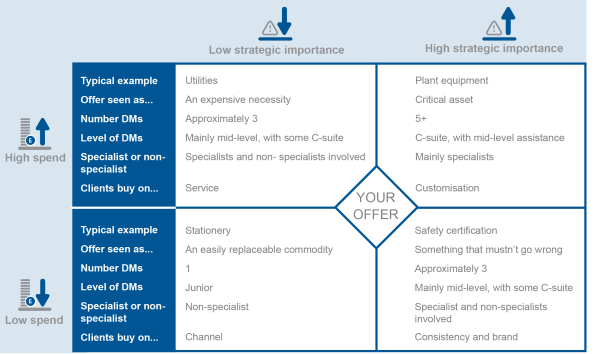 When deciding if the job title and seniority level matter for your business, spend and strategic importance matter. According to B2B International, in order to surface the decision-maker in your target company, you should know if your product or service is either:
Low-spend, low strategic importance (example: stationery)
Low-spend, high strategic importance (example: safety certification)
High-spend, low strategic importance (example: utilities in a service company)
High-spend, high-strategic importance (example: plant equipment)
Once you know which category your product or service falls under, it becomes easier to assess the decision-makers in your sales cycle.
Start scoring your leads and increase led-to-win conversion rates by 25%
Deep integrations with CRMs like Pipedrive, HubSpot, Copper, Salesforce
Region/Location
Here at Outfunnel, our product has seen the most interest from the English-speaking markets—the US, Canada, the UK, and Australia.
With that being said, we do not limit ourselves to that list, since the marketing automation software industry has more to do with how a B2B company operates rather than where it operates. Plus, marketing automation software is a highly-growing sector in parallel with B2B marketing worldwide.
But it may not be the case for a PaaS company offering tax software to certain regions and countries.
If their product is designed to answer the needs of Latin American countries, then it would not work for the European market.
That's why that company would need to assign a higher score to LATAM countries and use negative scoring for the other leads (we will come to negative scoring soon).
Long story short, for some businesses, the geographical area where the product is marketed can change the whole story when assigning scores.
Company Type: Size, Industry, Revenue
Is your product suited to small-to-medium-sized companies? Or is your service a better fit for the enterprise operating in a particular sector?
If you're selling to a niche market or have a certain definition of your target markets and industries, you'll certainly benefit from these two attributes.
Is your company operating in the Cybersecurity industry? Chances are your product or service is in the "high-spend, high-importance" category.
In this case, you need to target companies of certain revenue to generate high-quality leads.
Here is an example of a lead scoring formula created by using explicit scoring attributes.
Source: Cognism
Cons of Explicit Scoring: Have you come across some of the web forms filled with nonsense data? People are not always entirely truthful about the data they share. They may make up titles or put in fake contact information.
With that being said, there are countless valuable data that can be obtained from explicit information, as mentioned before.
Let this be our soundtrack for this blog post playing in the background—there are no right or wrong lead scoring models, only relevant ones.
Speaking of the explicit scoring model, have you noticed that we do not focus on explicit scoring attributes here at Outfunnel?
Which attributes are we using then, if not demographic or firmographic?
This leads us to…
Lead Scoring Model 2: Implicit Scoring
Implicit scoring attributes refer to the data points based on observed behaviors and inferred information such as online actions.
According to DemandZen, the idea behind implicit lead scoring is that people who buy your product or service will perform certain behaviors showing their intent to purchase (or not).
The most common implicit scoring attributes are:
Email Activity: Subscription, Opens, Click-through rates
Website visits
Website form fills
Demo calls
Free signups
Downloads: E-book, White paper
Webinar attendance
Trade show attendance
Social Media Interaction: Follows, Likes, Engagement
Email Activity
Whether a person is interested in receiving news from you or reading your expert articles can help you decide how to score a lead.
For most businesses, open rates and click-through rates are good indicators of potential customer interest.
In my experience, tracking email activity and assigning higher scores to email attributes based on data perform well, especially for low-spend B2B products or services.
Website Visits
A person's visits to your website can show potential interest. What matters here is the page being visited.
Here at Outfunnel, a lead visiting our pricing page or three feature pages has a higher score than the one visiting any other page on our website.
To us, this shows a higher intention, and that the lead is closer to purchase.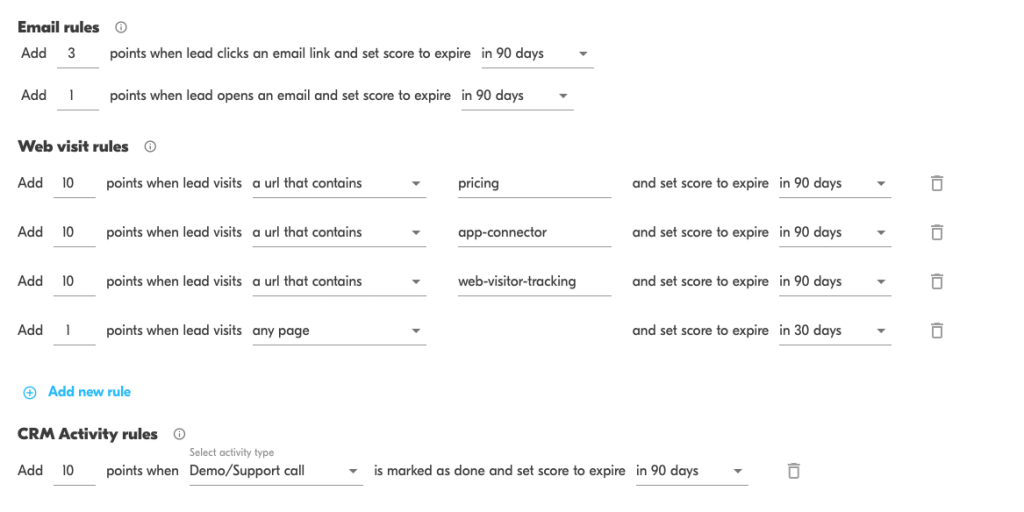 Website Form Fills
A lead filling in a form is likely to convert for most businesses as long as the data shared on the form is accurate.
This shows high interest and may refer to the urgency of the need. For some businesses, a new client may be on the way!
Demo Calls
Has the lead shown interest in having a demo call? Or even better, have they attended the call?
The good news is that person is showing all the signs of a sales-ready lead.
If it's a free trial, you should do your homework and follow up with the lead, so that they can finally hit the "purchase" button on your website.
Free Signups
A free trial gives your potential customers (AKA leads) partial or complete access to your product for a specific period of time.
One of the most common lead generation mistakes is missing out on this very important tactic.
The goal here is to encourage prospects to use your product, get the most out of it during the trial period, and hopefully make a purchase decision at the end.
For some subscription-based businesses, one of the attributes that work well is free signups.
Downloads
In today's B2B landscape, one of the tactics is to build thought leadership. To realize this goal, you need to share valuable content with your prospects.
Meaning e-books, white papers, and any other content asset that comes to mind. For free.
That way, you not only get more emails and grow your lead database but measure how likely those leads are to convert. If the results are satisfying, you can add a higher score to downloads.
Webinar & Trade Show Attendance
When a person is in the MOFU (middle of the funnel) stage, the chances are they will want to learn more about your product or service through webinars or trade shows.
Depending on the industry you're operating in, your best leads may be awaiting you in an exhibition hall or on Zoom.
Both show interest from your leads and deserve higher points in your own lead scoring formula IF the conversion rate is higher from this segment.
Social Media Interaction
The way your leads communicate with your brand through your company's social media channels can help you form the best-performing lead scoring formula for your business.
Views, clicks, shares, and likes show interest from your leads.
Using data from your channels, you can decide to assign or subtract high scores to your prospects.
Confused when you read "subtracting high scores"?
Let me explain…
What is Negative Scoring?
You assign a score to an email subscription if this has proven to be a good conversion channel for your business.
What if someone unsubscribes?
Or, let's say, there are leads pouring in from certain regions out of your target markets, and you do not want to spend time on them.
This is when negative scoring comes into play.
You can eliminate the irrelevant touchpoints in your marketing funnel such as a person visiting your website but the career page by assigning each a negative score. 
Score degradation helps you refine your lead scoring strategy by reducing a lead's score over time after defined periods of inactivity.
If a prospect subscribes to your email list, but does not interact with your emails, does not visit your website or shows no activity for over a certain period of time, you can assign a negative score to them.
So, where to begin?
How can you determine the most important data points in your conversion funnel and choose which ones to use?
We will be sharing more insights about that soon. Now, let's add more substance to the topic with some real-life examples from different types of companies and industries.
Example 1: AutoLeadStar
AutoLeadStar is a marketing automation platform for car dealerships. They have a laser-sharp focus on helping car dealers easily create and run ads, capture and convert leads as well as gain insights into campaign performance.
Demo calls are a key part of our client AutoLeadStar's sales process.
So, when they use lead scoring, chances are they will assign more points to demo calls than social media visits or webinar attendance.
But please keep in mind that all these decisions are based on data which are likely to change by time with the help of, well, again, data.
None of these attributes are set in stone. In this case, if AutoLeadStar starts seeing more value from the leads who have visited a certain page on their website, they'd reevaluate their lead scoring model and make necessary changes.
Example 2: Userlike
Our client Userlike is a live chat software for websites and messaging apps.
They have an inbound-based strategy. That's why white papers and demos make up most of their marketing strategy.
Meaning these two assets help them reach high-quality leads, and their lead scores will reflect that.
You can see that the first thing we do here is to identify which channels bring us the highest number of the sales-ready leads.
Next is mapping out all these touchpoints and assigning each of them a value, based on their importance.
Maybe it's email opens or pricing page visits for your business. Maybe it's event attendance.
Revealing data points can vary depending on the company type and industry, as well as your sales cycle and personas.
So what can we conclude?
At the end of the day, all the sales reps prefer focusing on high-converting leads rather than not-that-ready ones to close deals. No one wants to spend hours in calls or meetings where there'd be no outcome at all.
Lead scoring is a great methodology to focus on the right leads, helping sales reps save time and energy, not to mention increase revenue.
When it comes to which model to implement, you do not have to use only implicit or explicit lead scoring models to be successful.
Although explicit attributes are considered to be a fresher approach than lead scoring, best practices should take the nature of your business and your target audience into consideration, since every conversion path is unique.
You can pair data from both models and formulate your own lead scoring model.
How can Outfunnel help you with lead scoring?
Our Lead Scoring software helps you turn your marketing and sales data into qualified leads. It's quite simple to use and pretty straightforward.
If you get started with Outfunnel, these will be the benefits you'll get right away:
identifying sales-ready leads
automatically calculating lead scores based on engagement
weeding out the not-that-great leads
recording lead scores in the CRM, so sales have full context
Interested in trying Outfunnel for free right now? Sign up now and enjoy Outfunnel free for 14 days.