Last updated: September 15, 2021
Userlike offers a customer communication solution for web and mobile. Started in Germany in 2011 and initially just a live chat tool for web support, it now also supports Facebook Messenger, WhatsApp and Telegram, too, with more supported platforms coming soon.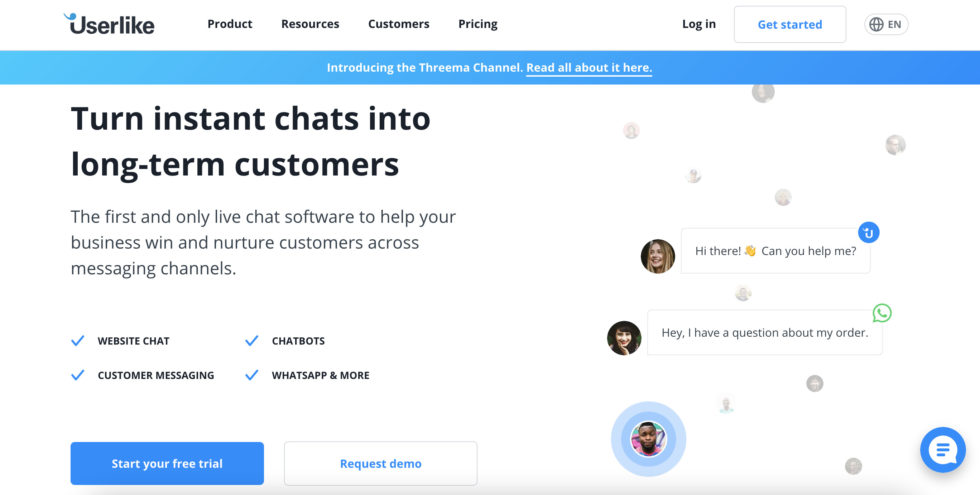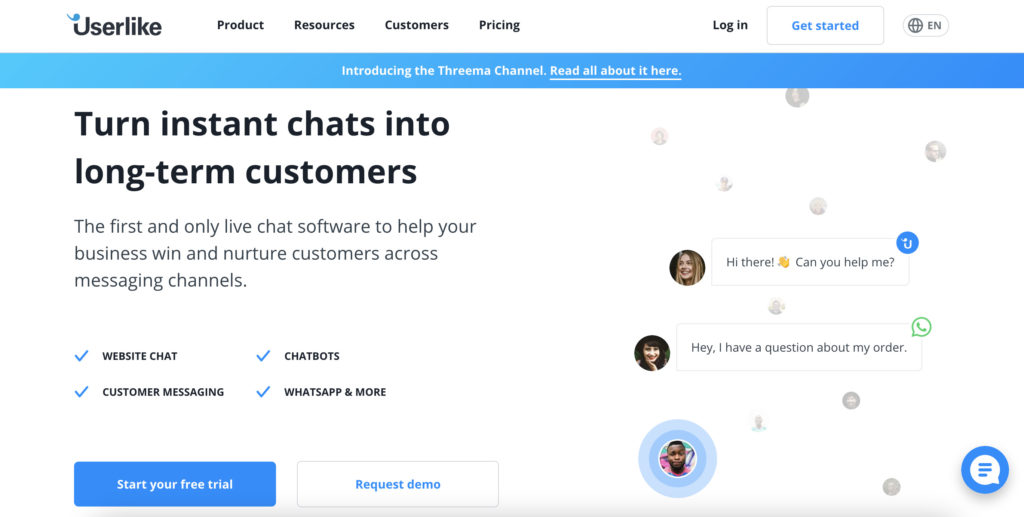 The company serves 1500 paying customers and more than 5000 free users, ranging from one-person teams to big brands like Nivea and Daimler. I had a chat with Pascal van Opzeeland, the company's marketing director, to find out how they've run sales and marketing to get to this place.
What does Userlike's marketing funnel look like? How do you get leads?
Our marketing is inbound based. We've tried many things, from searching for web shops and cold calling them outbound. But we've ended up focusing on our blog, on creating content for customer support and, more broadly, customer communication (including sales). We then offer white papers, downloads and demos alongside content to generate leads.
We've ended up focusing on our blog, on creating content for customer support and, more broadly, customer communication (including sales). We then offer white papers, downloads and demos alongside content to generate leads.
We've also started doing more with video marketing which generates a good amount of leads. It's a less competitive medium still. In the beginning of this year we also started a podcast. While we're happy with the way it turned out, it's kind of hard to estimate what the payout is there.
What numbers are you comfortable to share?
The blog gets 150,000 unique monthly readers, and this generates 100 direct signups, which is decent. But in general, content marketing is a long-term play, and there's also indirect payout that is hard to measure.
If you look at Kissmetrics only, our YouTube channel seems to perform much better, but our blog is the backbone of many things we do in marketing. It influences the videos we produce, even the product. That's why I don't judge the blog as "harshly" as our other channels.
There's also the overall SEO benefit from the blog, for instance in Germany we rank well for "live chat software" which would have been very hard to pull off without the blog.
Any other channels you're using?
We also run some Google ads alongside landing pages. Another important channel is review sites like G2Growd, Capterra and Alternative.to. We're quite active in asking our customers to leave us a review on those sites. And we buy ads on Capterra, because it comes up on top for keywords like "best live chat software".
We picked Capterra after running a process where we plugged URL's of review websites to Moz and compared their performance for keywords most relevant for us.
How do you qualify which signups that you generate need to be passed to sales?
We have both inbound and outbound sales functions. The inbound team goes through signups, and they look at business name and the responses to the optional qualifying question of "how big is your service team". They reach out to the most promising ones and offer a 1-1 live demo and extra support. 
The challenge with our sales process is that it's not always clear who's responsible. It could be in the hands of customer support, website manager, marketing or customer experience. Ideally, we'd get all stakeholders on the call.
The next stage after the demo is a physical meeting where specific requests and requirements are taken care of. And there's a paperwork stage after that.
And we have recorded webinars for smaller companies. If many would like to get a demo, we do a webinar for them together. Otherwise, we direct them to a recorded session.
What's the cut-off point, is there a number of users that determines whether someone goes through the self-service or demo track?
The most important criteria is whether you have a dedicated service or support team. With a product like live chat, you have to be online to offer live support.
There is no one thing we look at when qualifying. The tricky thing is, sometimes the user doesn't know themselves how many seats they need. And large customers sometimes want to implement the solution in a very specific small area of the website. So we look at the number of seats indicated, but also the company size overall and whether they have a dedicated service team.
For outbound sales we're more focused, we're aiming for at least €10,000 as the deal value. Our outbound team uses the BANT+O framework: Budget, Authority, Need, Time, Obstacles. These are the questions that need to be answered to decide whether to pursue a deal or not.
What tools do you use to manage this sales and marketing funnel?
There seem to be many moving parts. Have you experienced any issues in connecting sales and marketing, or is everything going like clockwork?
There's the cliché that sales and marketing should be best friends. In our company, that's literally true because I'm best friends with Timoor, who's in charge of sales. That really has improved communication, up and down, on the job and off the job.
Marketing is focused on signups as the One Metric That Matters. Sales is focused on customers, revenue and upselling. Every team needs a single metric to be effective, but this increased the need for communication.
We've had to formalise communication. Two years ago we started a bi-weekly "synergy meeting", attended by people from marketing, sales and support.
On the one hand, it's to inform marketing on things like what customers are interested in, what are their problems and desires? This guides the blog posts and videos we produce. For example, last year chatbots were a big topic, and when sales surfaced this topic, marketing decided to write more about that.
On the other hand, sales needs specific content to close deals, and these needs are also discussed in the synergy meeting. For example: when case studies are needed for a particular industry.
The synergy meeting is attended by representatives of each meeting, not whole teams. It's altogether 5-6 people.
We also have a quarterly discussion evening, where different departments present what got done, and why. This is attended by the entire company, 40 people in one room.
There's also a weekly call between the sales and marketing leads which is a bit less formal. For example, we might discuss using various tools there.
What kind of goals do you set for sales and marketing and what are your KPIs?
Setting goals is basically planning. We do a top down plan once per year, using the pyramid of clarity from Asana. This starts from mission and strategy, and goes on to business objectives, product objectives and internal objectives, and down to specific projects and activity goals to reach these objectives.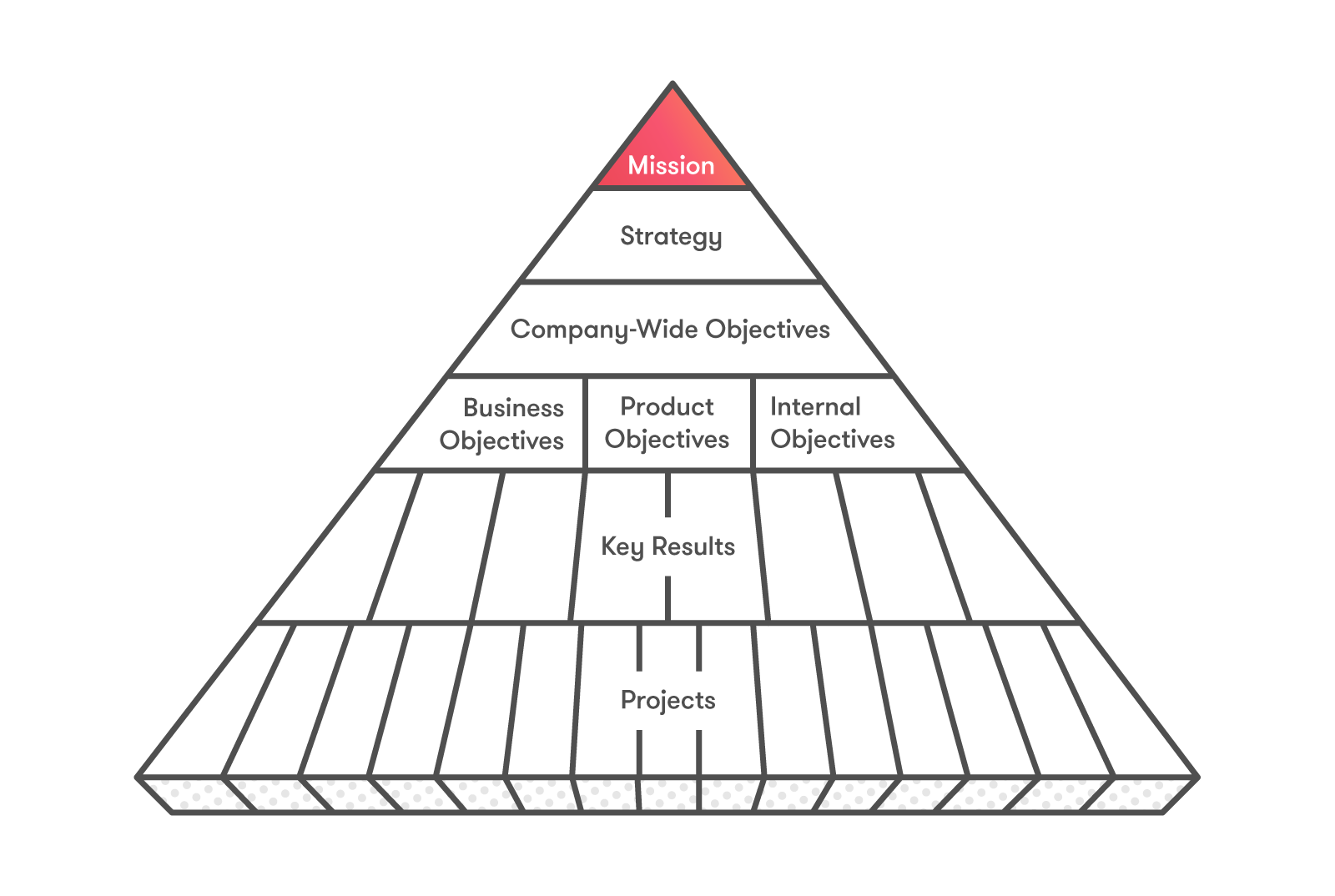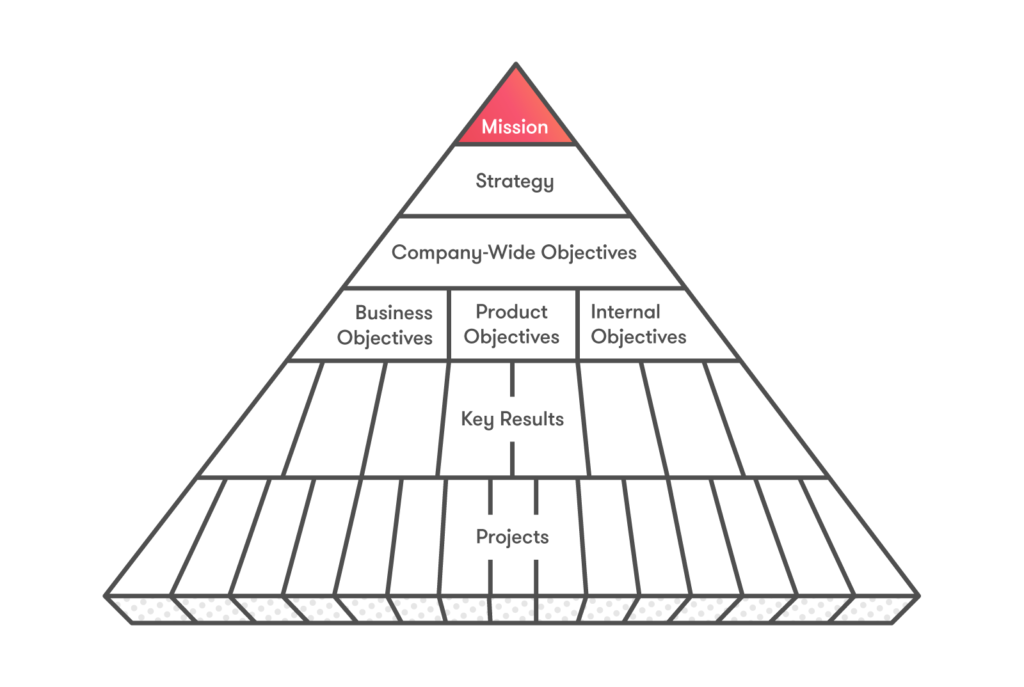 Coordination and adjustments are important. For instance for outbound sales we changed the goal from 50 outreach messages per day to 50 demos per month, because this was better correlated with driving results.
We refer back to pyramid all the time, for example in the quarterly meetings.
Any parting recommendations, or reading recommendations?
Anyone interested in a better customer communication solution, is welcome to check out Userlike. We also have useful content on our blog.
A couple of posts that caught my eye there: