Our vision is to bring sales and marketing closer together. Our first step to do this was to connect Pipedrive and Mailchimp, giving Pipedrive users at-a-glance access to their marketing data, direct within their CRM.
Not to blow our own trumpet, but this has put plenty of smiles on salespeople's faces—as is evident from our Pipedrive Apps Marketplace reviews.


Our first product enabled salespeople to do some pretty advanced stuff. Things that are normally reserved for big, expensive platforms. Like, automatically sending an email once a sales lead reaches a particular stage, or automatically creating a new sales opportunity when someone clicks on an email.
This is all brilliant, and there's little that makes us happier than making our customers happy. But, only acting as a connection between other apps means we're constrained by the limitations of other tools.
The pricing of these apps, the functionality they offer, the flexibility of their API. All of these things become limiting factors. Only by adding capabilities of our own, we're able to provide a richer – and ultimately more useful – experience.
Email marketing, tightly synced with your CRM
The first of our "home-grown" features was web tracking. This allowed Pipedrive users to sync web visits directly to their contacts.
Now, we're pulling back the covers on our very own email marketing tool.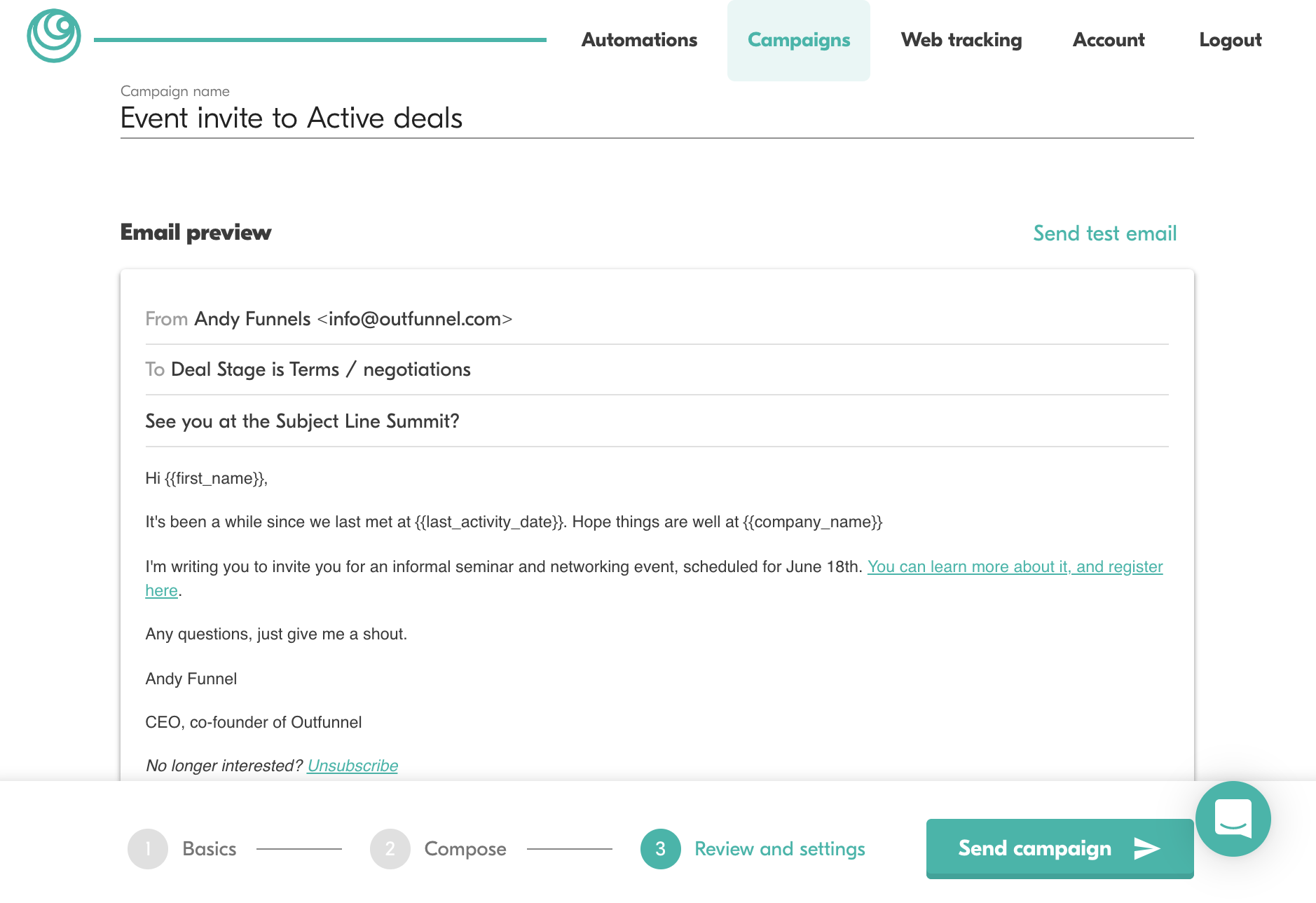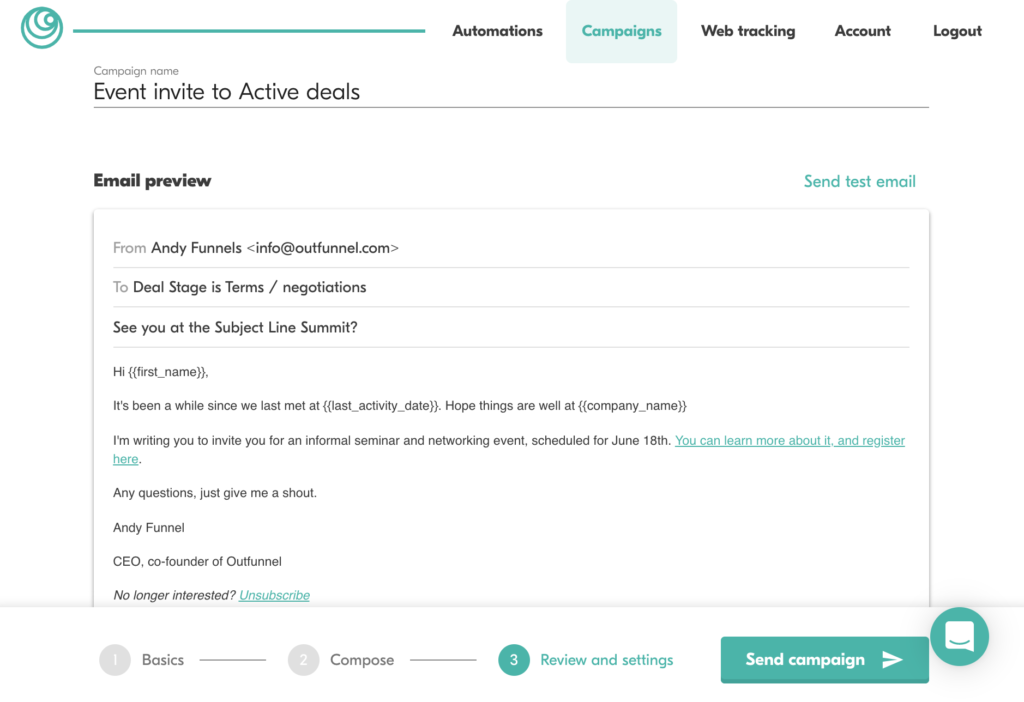 So, it's officially-official: sending triggered email sequences (aka drips) or one-off email campaigns are now possible with Outfunnel.
The real jewel in Outfunnel's email marketing crown – and why you might want to consider it over another email marketing platform – is deep CRM integration. Sending emails based on triggers in Pipedrive and Copper is breathtakingly simple.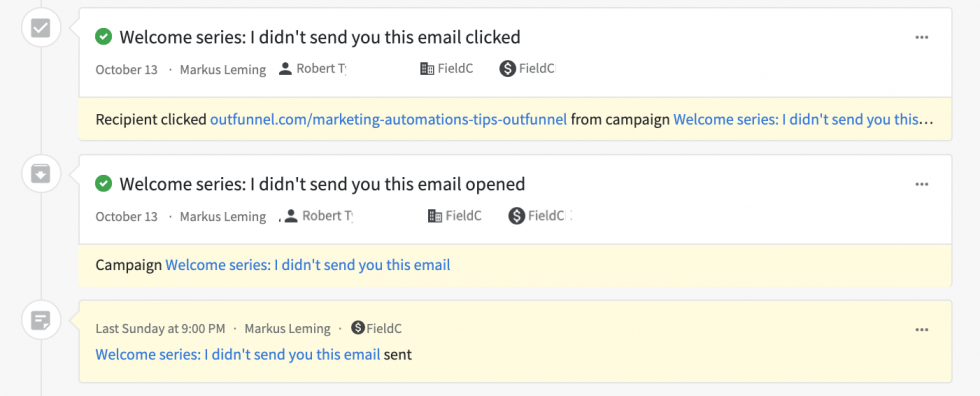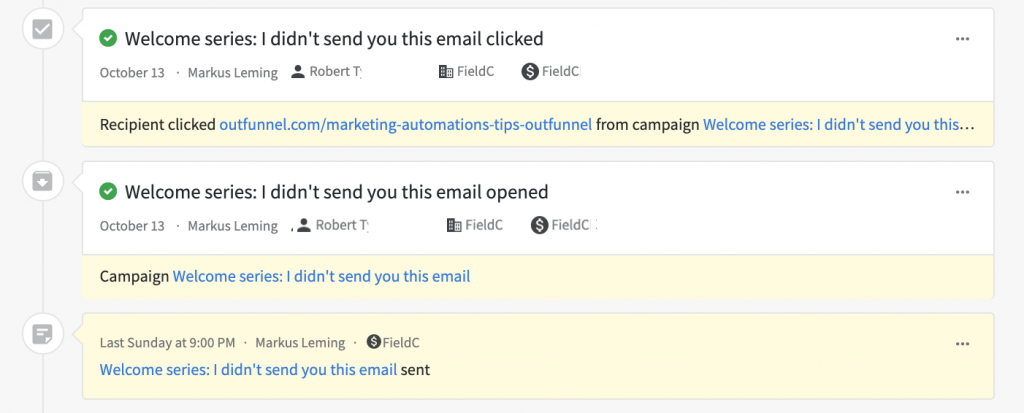 Then, all of the valuable data is synced where you need it: in your CRM.
Perfect for personal emails & tracking web visits
Outfunnel is perfect for sending simple, personal-looking emails. If you're interested in sending more traditional newsletter-type mailings, or if AB testing is critical for you then we'd recommend Mailchimp. Our Mailchimp-Pipedrive integration won't be going anywhere, so you're welcome to use either of them or both in parallel — all email activity will be synced to the CRM in either case.
What's more, if you have website tracking enabled on your site and send an email with Outfunnel you'll also have web visits synced whenever someone clicks on a link.
What's next for our email tool, and for Outfunnel?
Officially, our email tool is still a "beta". It's fully-functional and has been in active use, by us and a handful of customers since June. We're constantly adding improvements, optimizing user experience, and rolling out updates. So expect the product to get better every week if not every day over the next couple of months.
Finally, keeping email marketing in sync with the CRM is not "mission completed" for us. It's just another building block in bringing sales and marketing together. We're already planning features that would let you use email engagement to score leads, and reporting that would let you assess the effectiveness of your (email) marketing in the context of sales opportunities created or influenced.
So, want to take Outfunnel's new email tool for a spin? If you don't already have an account, sign up for a 14-day free trial (no credit card required).
And if you're already using Outfunnel, head over to the Campaigns tab in the app to start bringing your sales and marketing closer together. Sending emails from Outfunnel is included in your subscription.