With Outfunnel, sales and marketing can grow revenue together
Use email marketing power features, in sync with your CRM

Connect web and email events to sales results
Surface the hottest leads and increase sales productivity

Automate and reduce unnecessary manual tasks
Email marketing built to drive revenue
Send automated drips or one-off campaigns to segments defined in your CRM and sync email engagement back

Track email replies in addition to clicks and opens
Send personal-looking emails for highest deliverability, or use custom HTML for richer looks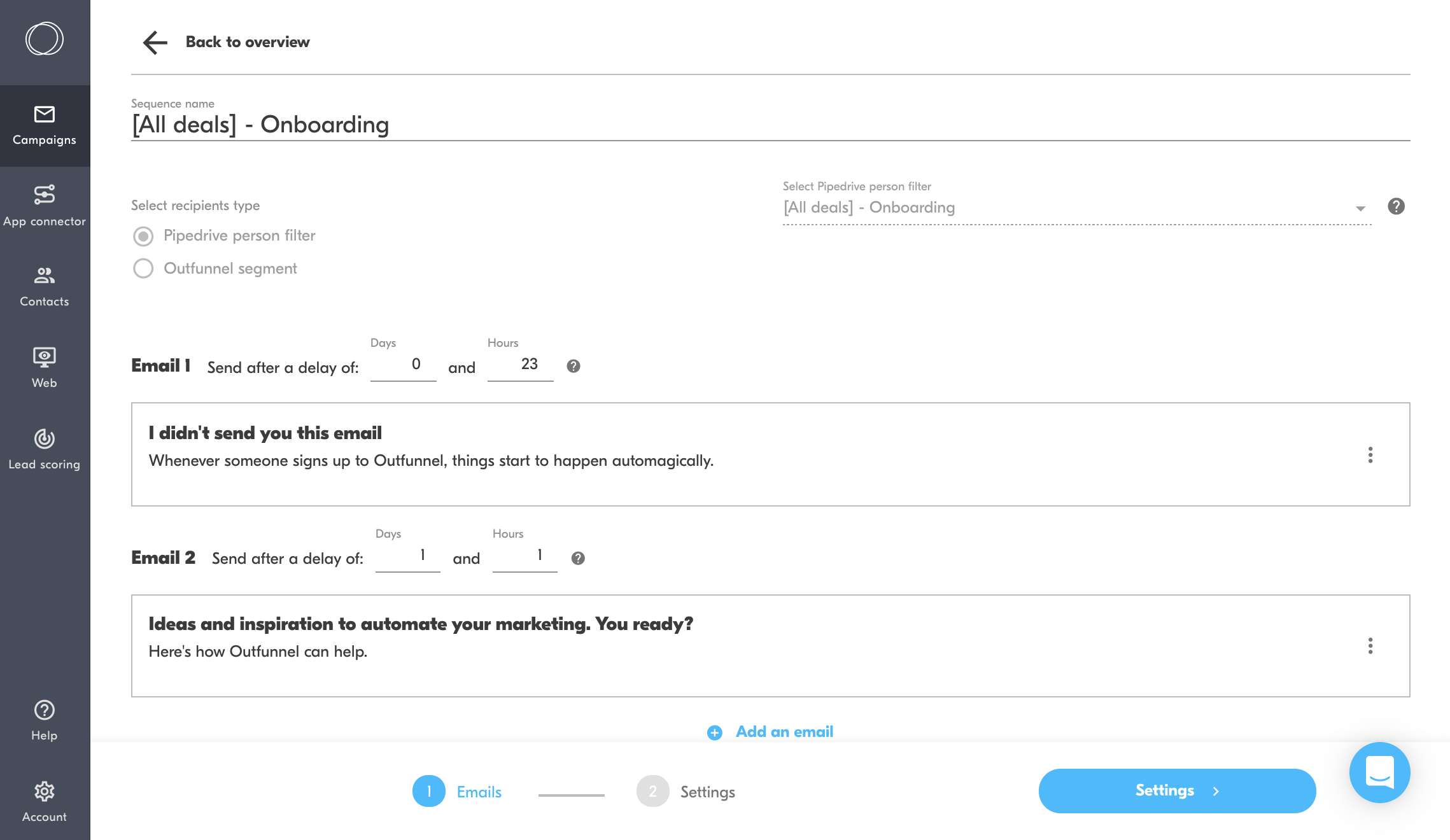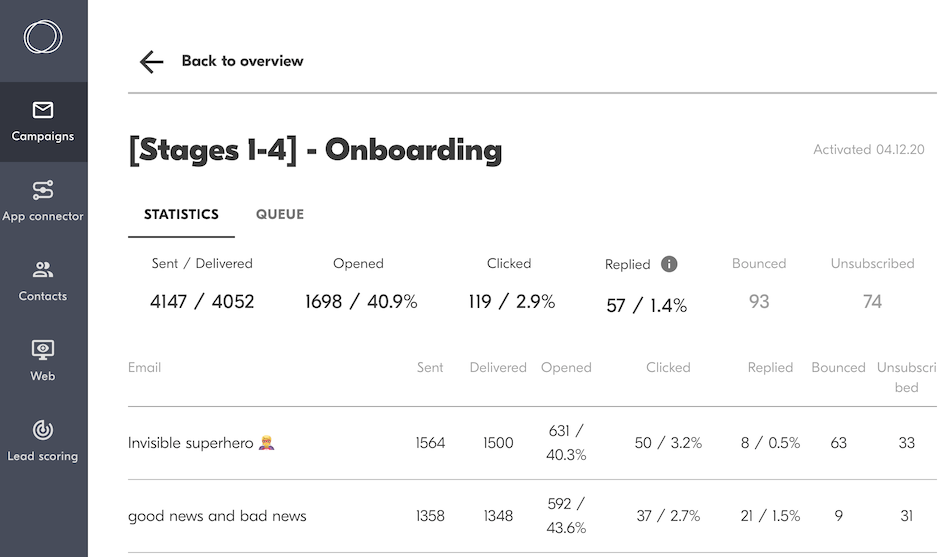 Build smart workflows based on how people respond to previous messages

See opportunities created and revenue closed with campaign reporting that goes beyond clicks
Use dynamic sender information to build those relationships
Learn more about email marketing that drives revenue
"Outfunnel solves a really complicated problem – syncing and sending out mail-sequences based on activity in a CRM (in our case Pipedrive) – very elegantly. The interface is wonderfully clean and the information it adds to the CRM is really useful."
Michiel Klonhammer, Founder and CEO of LearningStone
Prioritize your hottest opportunities with web tracking and lead scoring
Use email and web engagement data to auto-calculate a customizable lead score for each contact.

Get notified when leads visit your site and see what they're interested in.
Sync lead scores to your CRM, and design workflows to get to your hottest leads at the right time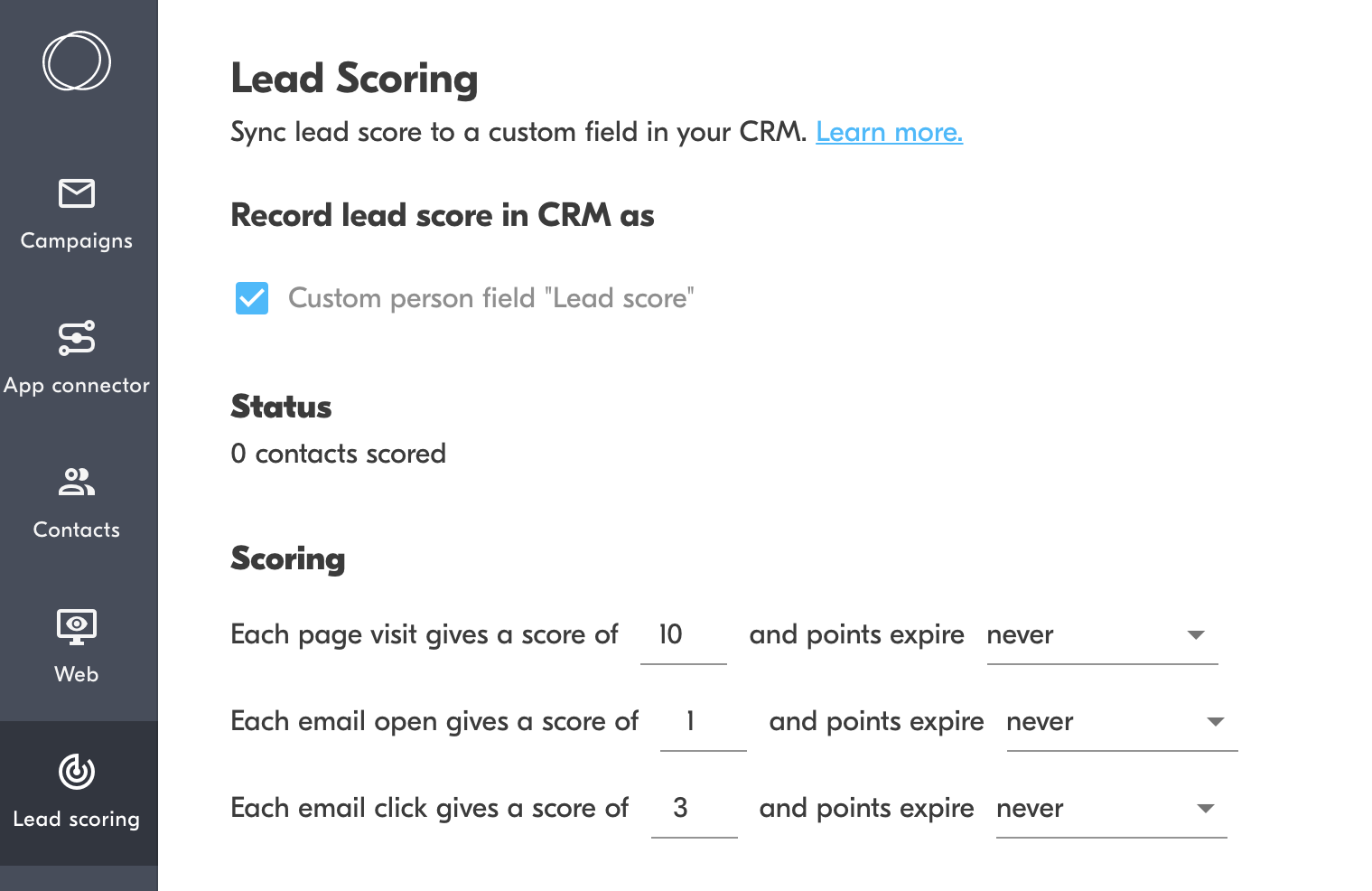 Learn more about prioritizing leads for sales
Uniquely powerful CRM integrations
Use data from your CRM to trigger email campaigns and populate merge fields.

Record email and web engagement back to the CRM automatically.
Loved by CRM users: Outfunnel is one of the top-rated apps on Pipedrive marketplace and a Copper-recommended integration.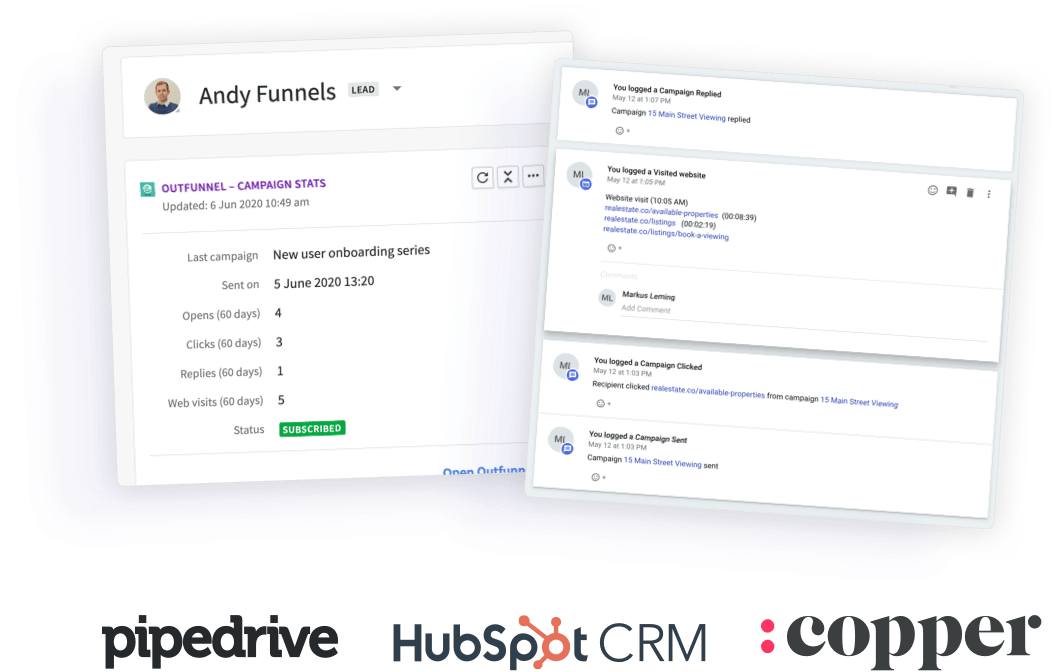 Increase marketing ROI with funnel insights
Automatically capture traffic sources for new leads.

See the revenue impact of each email campaign you send.
See which campaigns, traffic sources and content pieces lead to new opportunities or closed revenue.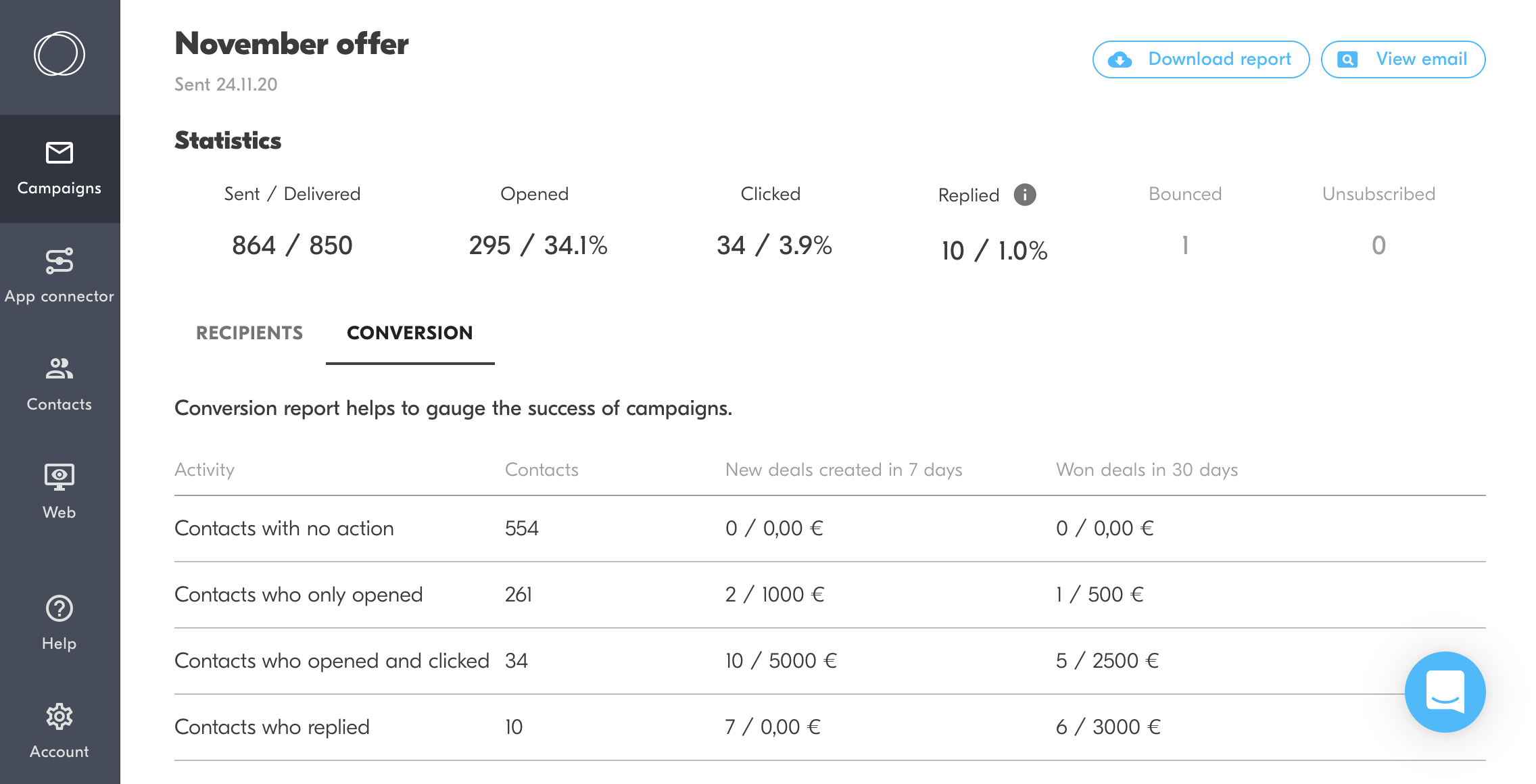 Learn more about our marketing and revenue insights
Seamless 2-way CRM and Mailchimp integration
Automatically sync contacts from your CRM to Mailchimp audiences 24/7 and never worry about keeping mailing lists up-to-date.

Create new Contacts or Leads in your CRM when people sign up via Mailchimp forms.
Record Mailchimp sends, opens, clicks and unsubscribes in your CRM automatically.
Use data from Mailchimp to calculate lead scores in Outfunnel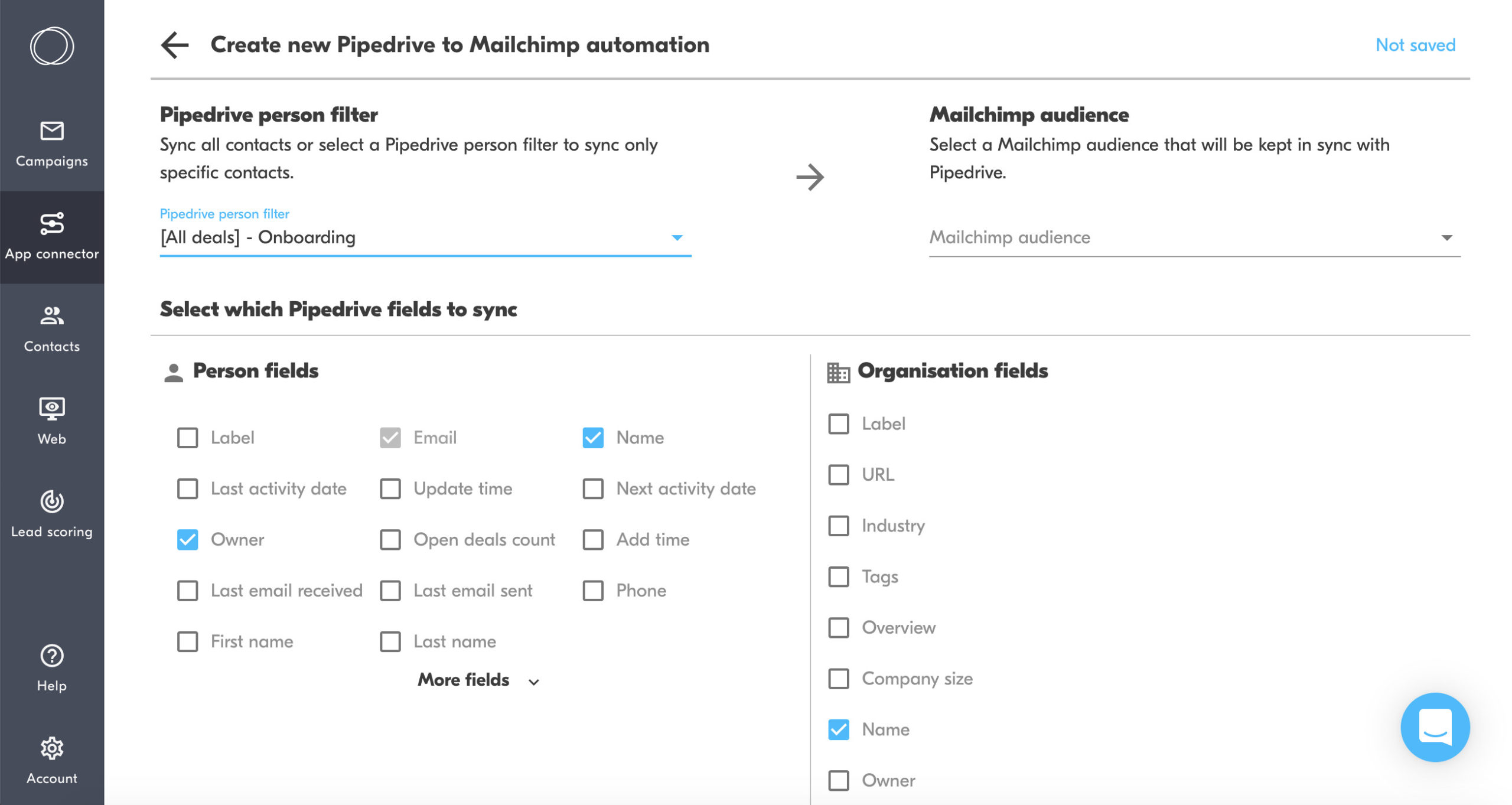 Learn more about our Pipedrive-Mailchimp integration
Copper-Mailchimp integration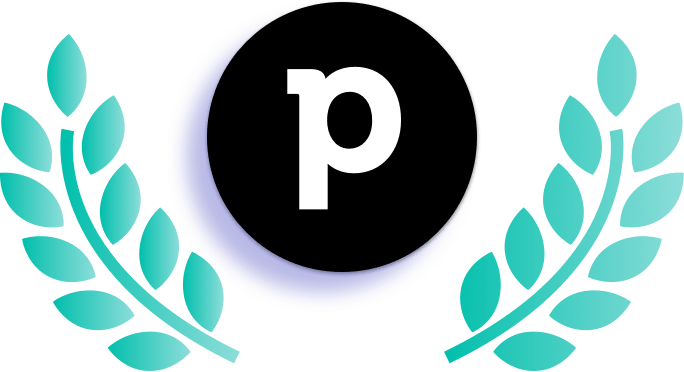 #1 rated app on the Pipedrive Marketplace
Sales and marketing, finally together
Revenue marketing automation, perfectly in sync with your sales process
14-day free trial. No credit card required.