Last updated: March 22, 2022
In tough economic times, new revenue is essential. Companies are increasingly aware of the need for a dedicated focus on revenue growth. As part of the objective to drive revenue, the role of Chief Revenue Officer (CRO) has grown in popularity.
But what exactly does a CRO do? How important are they? And do you need one to manage the revenue cycle at your company? Let's find out.
What is a Chief Revenue Officer?
As you might expect, a CRO is responsible for all things relating to revenue. Their focus often transcends individual departments, aligning and unifying them on the common goal of revenue.
If a department has anything to do with generating revenue, it's the CRO's job to ensure they're working together and that all the revenue streams across the company are optimized for growth.
​​​​​​​As a result, a CRO will be heavily involved in the marketing and sales teams. After all, research has shown that companies with aligned sales and marketing teams see more revenue growth.
And executive buy-in has a role to play in aligning sales and marketing. According to the Revenue Marketing Report 2021, 78% of companies where revenues grow year-on-year report that their executive team encourages sales and marketing alignment. At the same time, only 55% of those that saw revenues decrease report exec buy-in.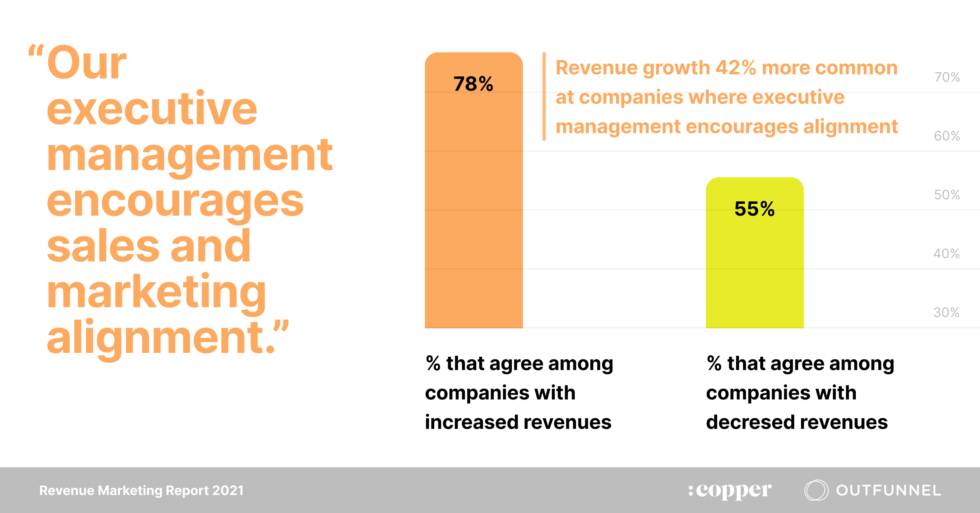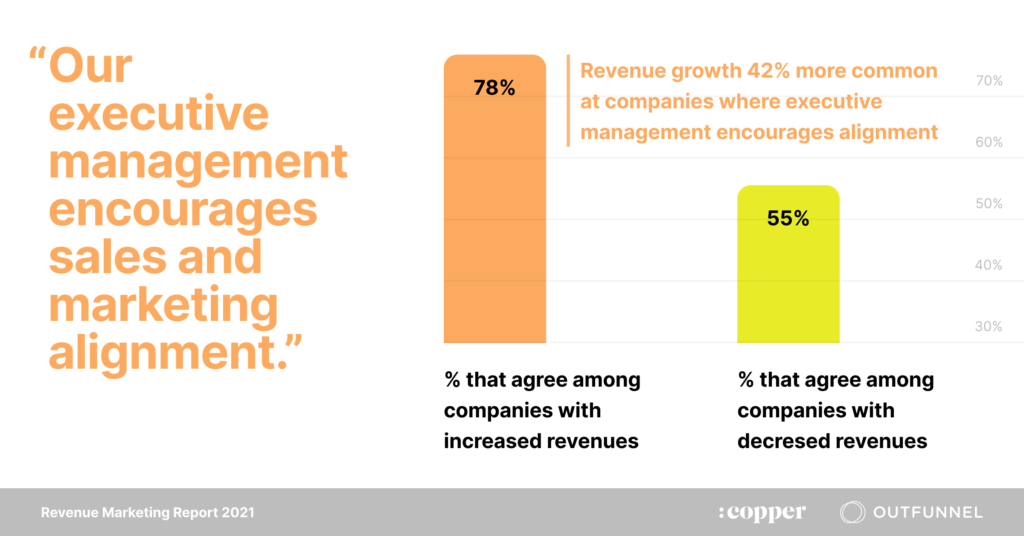 Such encouragement sounds a lot like the work a CRO does!
However, with the increased recognition of customer success and the part it plays in generating revenue, it's now likely to be included in the CRO's responsibilities as well.
On your organizational chart, the CRO will sit immediately below the CEO, with the VP of Sales, the Chief Marketing Officer (CMO), Chief Financial Officer (CFO) and any other relevant department heads reporting directly to them.
As a senior team member, they are responsible for overseeing and articulating the company's revenue strategy, go-to-market strategy (GTM strategy) and execution.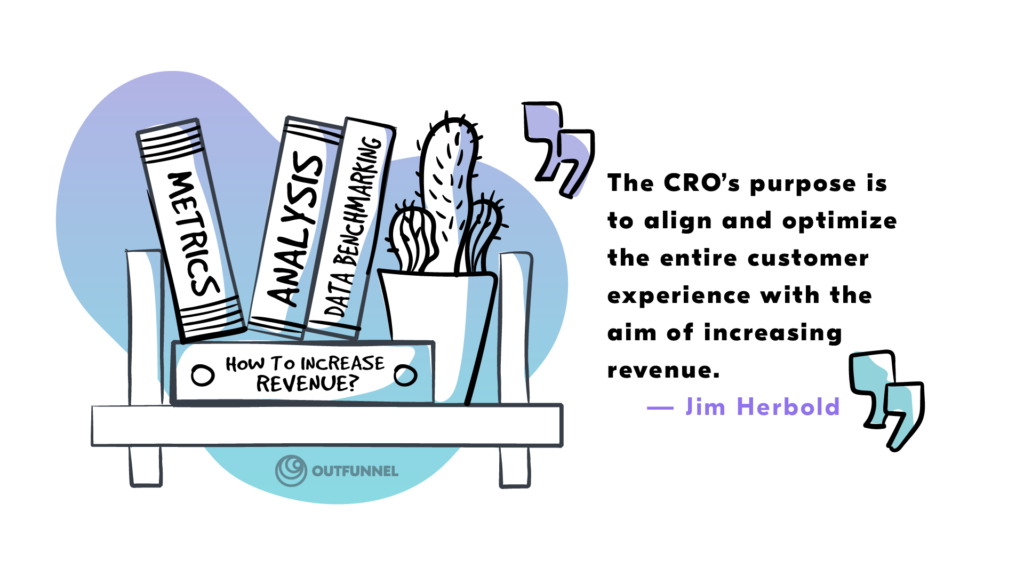 Is CRO just an expanded role for the VP of Sales/CMO?
Many companies have worked perfectly well without ever having a CRO on the senior team. Revenue generation is often a shared responsibility of the CMO and VP of Sales.
However, having a dedicated Chief Revenue Officer on the team has its advantages.
Firstly, the CRO will typically look at revenue generation with a long-term perspective and is less likely to be side-tracked by going for quick wins. Sales departments, in contrast, are usually focused on the quarter in front of them and making sure there is enough pipeline to keep the sales rolling in.
Secondly, they are responsible for revenue generation across the business, not just an individual department. It would be logical to assume that if each department is doing its best to maximize revenue generation, then it would be maximized across the company. However, with a CRO, there is a Gestalt approach, where the whole is greater than the sum of the parts.
Primarily, this means departments are not just working to the best of their ability, but that they're also all pulling in the same direction. This alignment of both purpose and strategy produces the best revenue results.
Sales, marketing, and customer success teams traditionally operate in their own silos, with their department heads reporting directly to the CEO. In contrast, if the CRO is armed with visibility into every part of the organization, they can ensure that these departments are working in harmony.
And companies are realizing these advantages. Chief Revenue Officer is no longer a niche job title at a handful of Silicon Valley companies, but a recognized and valued role in the C-suite.
What does a CRO actually do?
As you can imagine, the broad goal of maximizing revenue can cover a lot of specific tasks, covering everything from brand new business to customer retention.
According to the consultancy company Revenue Architects, typical CRO job description might include:
Defining ideal buyers and market segments;
Setting revenue-related goals and metrics;
Working on product management with product teams to define offerings;
Optimizing value props and positioning;
Establishing go-to-market models, pricing strategies, and more.
It's no surprise then that anyone who fills this pivotal role needs to have a strong background. Experience in finance and management along with proven knowledge of sales and marketing strategies is the perfect mix for CROs.
A successful Chief Revenue Officer needs to keep their finger on the pulse. Keeping up to date with the newest marketing channels, the latest sales strategies, trends in customer acquisition, product development and more will help them succeed.
Does your company need a CRO?
Bearing in mind the value of a holistic approach to revenue generation, shouldn't every company have a CRO? Should you drop what you're doing and prioritize hiring finding a CRO for your leadership team?
Most likely, the answer is no.
For most SMBs, the Chief Executive Officer will fill the role of CRO. In a company's early days, they will often naturally focus on revenue strategy, and it's straightforward to align the different departments to this common purpose.
As the company grows, however, it'll become more difficult for the CEO to keep this focus, on top of all the other strategic challenges that come with running a business. At this point, many CEOs will traditionally rely on their Chief Marketing Officer to take responsibility for the overall strategy and to align the sales and marketing teams.
It's usually enough if the CMO implements a revenue marketing strategy. If this is done well, there's no need for a CRO in the company. Revenue marketing aligns your departments around a common goal—revenue generation. This can happen if there's a continuous feedback loop between your sales and marketing teams, and data from both is used to support the customer throughout their entire lifecycle.
As your company grows further, it may reach a point you need someone to take on the responsibility of overseeing all revenue operations. From experience, there are two key signs that you've reached the point where you should consider hiring a CRO.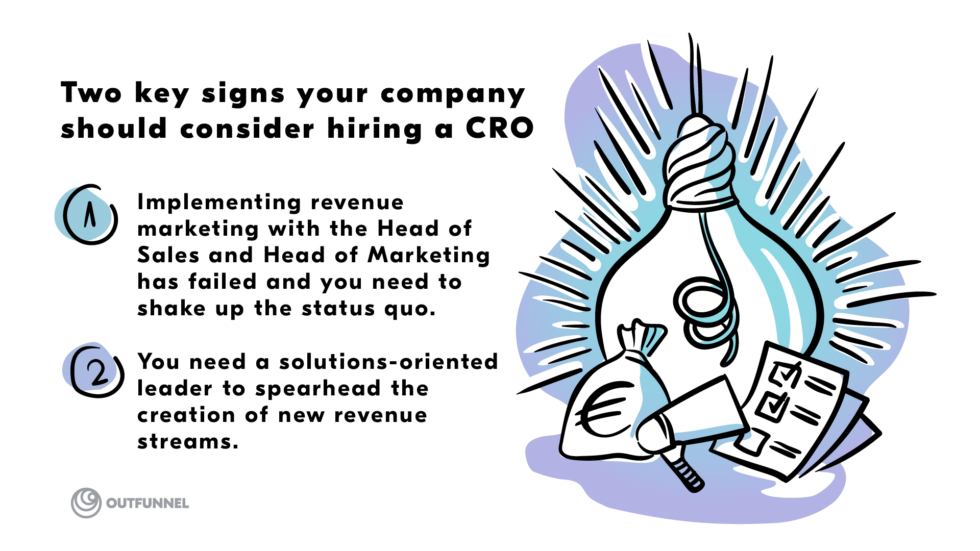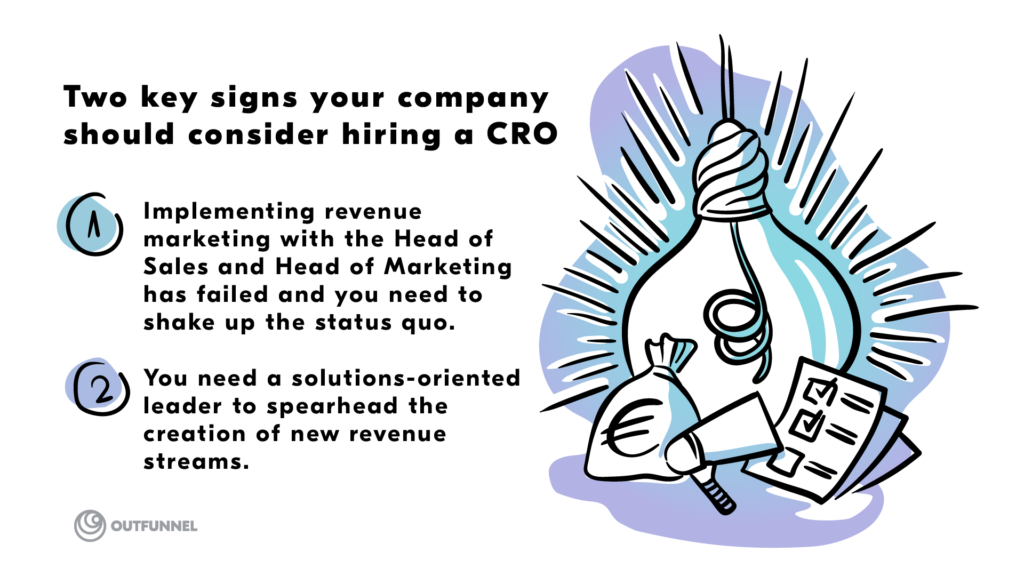 1. Implementing revenue marketing with the Head of Sales and Head of Marketing has failed and you need to shake up the status quo
Revenue marketing is a powerful strategy. But it will fail if it lacks CEO support or there's inadequate collaboration between the different departments.
Maybe the CEO doesn't see the need for alignment or is unable to enforce it properly. As a result, the company won't reach the final stage of revenue marketing evolution in the company.
Likewise, it may be the case that sales and marketing teams ignore the strategy. It's not uncommon for sales and marketing to make growth decisions in isolation, or blame each other for the lack of alignment. In those cases, it'll be impossible to succeed with a revenue marketing strategy.
2. You need a solutions-oriented leader to spearhead the creation of new revenue streams
If you've reached a point where revenue growth has stalled, a CRO can help you get past those roadblocks and take your company to the next level. Rather than each department focusing on its own success, a CRO's high-level understanding and multi-dimensional approach can breathe new life into a struggling business.
Great CROs will analyze your departments and see what other services and products you can offer. Then, they can then make smart decisions and take the lead in implementing them.
According to Adam Williams, former CRO at Takumi, this cross-department alignment is essential:
"None of us are a success if none of us are talking. It's all about making sure we're communicating on a weekly or daily basis to work out how we improve, and also, when we're listening to our clients, what can we then use to translate into the rest of the company."
What makes a successful CRO?
If you've decided that now's the time to bring on a Chief Revenue Office, it's important to get the right person for the job.
Let's look at a few people with a good CRO track record, who have successfully filled this role at other companies. Reviewing how they've overcome the many challenges along the way, you can see the kind of person you need.
Run sales and marketing workflows across all tools
Sync data, score leads, and trigger the best next step with each lead.
Seamless integrations with Pipedrive, HubSpot, Salesforce, and Copper.
Before Jim Herbold became the CRO at Infer, he was the Executive VP of Sales at the SaaS company named Box and had a long history of VP of Sales positions. According to him, CROs cannot be "one-trick ponies"​​​​​​. Rather, they have to seek out and take the lead on initiatives to grow revenue, whatever field these may be in.
In the age of Big Data, that means an in-depth knowledge of metrics, analysis, and data benchmarks. According to Jim, "The CRO's purpose is to align and optimize the entire customer experience with the aim of increasing revenue."
Jim accomplishes this by looking for opportunities for improvement:
"I'm always looking for friction in the current process. I'm always asking customers how we could deliver more value over time. I'm always asking my people what they would do if they were CEO of the company. I end up with a never-ending list of things to get done. Many can be nailed quickly, and over time you start to pattern-recognize consistent themes."
Luca Lazzaron is the CRO at Sprinklr. In the past, he's held a variety of sales and management positions. For him, revenue growth can only be accomplished with the right people in the right place:
"I spend most of my time building the best possible team and focusing on people: hiring, coaching, developing, retaining and promoting. I also ensure that my team has a consistent way to execute on a common process and playbook."
As part of his typical day, he spends a lot of his time on calls with customers or fellow employees. With that knowledge, he's able to prioritize whatever will have the biggest impact on their revenue goals. To achieve this, he emphasizes the need for a growth mindset.
Conclusion
For businesses to get past the post-pandemic slump, they will need to focus on revenue growth. That might mean adding new revenue streams, figuring out revenue cycles, maximizing existing ones, and ensuring all the departments work together in close alignment.
Having a clear goal of continually improving your revenue across departments will help your business grow and thrive. Whether you need to bring on a Chief Revenue Officer or implement revenue marketing strategies is up to you.
PS. Successful revenue leaders make sure their sales and marketing data is synced up and that teams are more productive with useful workflows. Learn how Outfunnel can help.