In the world of business, contact management refers to a system of recording, updating, and keeping track of your leads, prospects, and customers. You can think of it as an upgraded version of your address book or a database with essential information about your business contacts.
Contact management systems help you:
Organize information: Add relevant contact information, arrange contacts in alphabetical order, and more to keep your files organized
Find information quickly: Reclaim hours lost searching for specific information as organized data is easier to sift through
Depending on the size of your business, you may be better suited to a more or less complex contact management system. Let's look into three broad categories and some examples of tools that match each use case.
Best methods and tools for managing contacts
Managing contacts can be as detailed a process as necessary for your business. Is your business brand new, with one employee that needs to keep track of clients? There are tools for you. Or maybe your company is bigger, with separate sales and marketing functions and contact lists? You'll also find systems and software for your needs.
Let's start with the simplest tools, move on to more complicated tools, and then cover some best practices. Click on the links to jump to the appropriate section or keep reading!
Personal contact management with dedicated tools
Personal contact management is the basic level of managing contacts. At this level, the main benefit is organizing contact information. This system of managing contacts works for maintaining personal relationships, such as with your friends and family.
Google Contacts and Contacts+ are examples of personal contact management tools. Google Contacts automatically adds people you email to your contact list, including their email addresses. There are also fields to add their phone numbers and company information. You can also create personal email groups if you often email the same set of persons simultaneously.
Contacts+ works the same way but connects several of your personal address books to create a unified contact list. Most personal contact management systems—including both Google Contacts and Contacts+—also allow you to search for duplicates, merge contacts, and label them for better organization.
Business contact management with CRMs
For SMBs, personal contact management tools just won't do. The best practice is to use a customer relationship management (CRM) tool. These tools do more than manage contacts; they manage your relationships with your contacts. Popular CRM tools that SMBs typically use are Pipedrive, HubSpot and Copper CRM.
CRMs are designed to track lead, prospect, and customer behaviors as they move through the sales funnel. For example, when a prospect signs up for your email newsletter, your CRM notes that information next to their contact details. Over time, when the prospect clicks on links, interacts with your customer service team, and or makes a purchase, all that information will automatically be entered into your CRM.
In addition to handling the role of your contact management tools, CRMs help you:
Monitor customer interactions: People value personalization. 62% of customers will gladly share their email addresses with a trusted brand just to receive personalized offers. CRMs help you understand each prospect or customer so you can send marketing materials and sales offers tailored specifically to their needs.
Know your audience: CRM, especially when integrated with your marketing data, will help you easily identify engaged audience members and target sales and marketing efforts accordingly.
Provide multi-team access: Allow members of your sales, marketing, and customer service teams to access contact details as needed—especially if you're using a cloud-based CRM. We're big fans of having CRM as your central system of records.
In-depth analytics: A CRM tool helps you see what's working and what's not through detailed analytics reports. For example, you can keep track of how often customer service has to deal with a specific issue or how prospects respond to specific email subject lines. If you also sync marketing engagement and interactions with your CRM, then your marketing team can keep track of what works and what does not!
Managing contact data across platforms
If you decide to start using a CRM, you'll need to integrate your CRM with other arms of your marketing and sales efforts. That's where data connectors and automation tools like Outfunnel and Zapier come in.
We're biased but we can promise that Outfunnel makes it easy to keep sales and marketing data in sync. It ensures that your CRM tool connects with the rest of your sales and marketing stack. For example, if you connect your marketing automation tool with your CRM with Outfunnel, here's what will happen automatically:
CRM and marketing tool contact lists will be kept in sync
New email subscribers can be synced to your CRM
All email marketing engagement will be recorded for your contacts in the CRM (email opens, unsubscribes, clicks, etc)
Web visits get recorded for your contacts in the CRM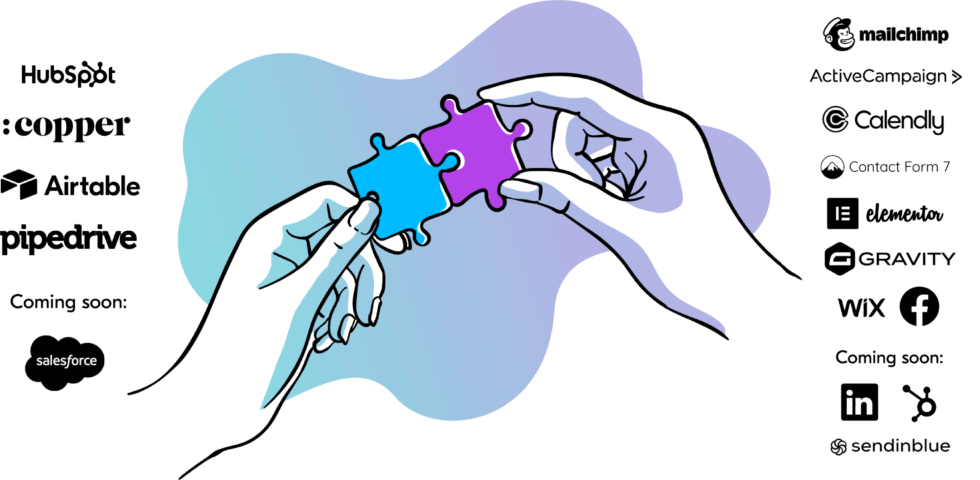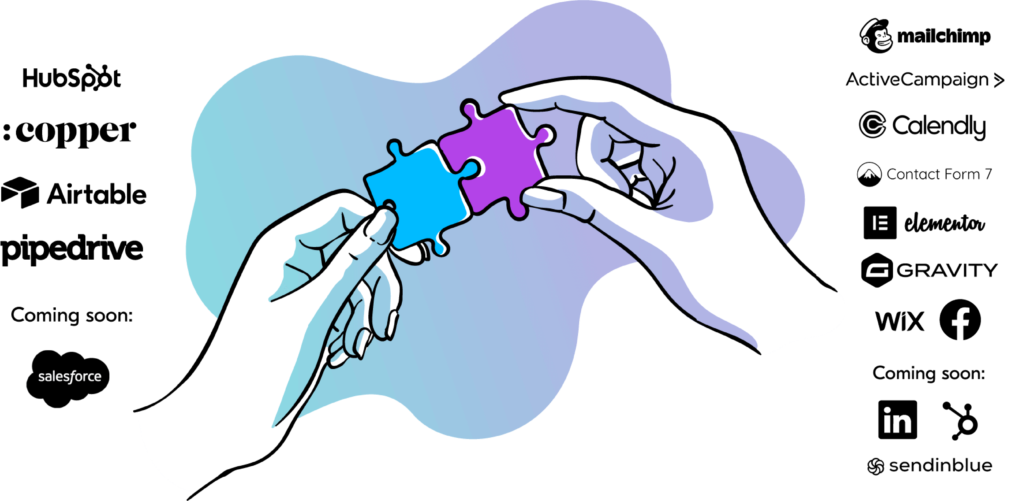 Outfunnel integrates with several popular CRM tools, including HubSpot, Pipedrive, and Copper CRM. These integrations keep your CRM updated with all your marketing efforts and progress—and keep your sales department in the know.
Using Outfunnel or other automation tools like Zapier, Integromat, and Automate.io will save your team a ton of time and help marketers do their work more efficiently.
How to make the most of your contact management system
Business contact management with a CRM is most effective when you do these three things:
Keep your data up to date
Although you can automate a lot of your data syncing, you may still need to do some occasional manual updates. Removing unsubscribers from your lists, merging duplicates, and correcting the odd error in customer information are some common ones. Keeping your data up to date and free of dead leads and errors will make your CRM function more efficient.
Use your analytics data
Data is only useful if you do something with it. If you're going through so much hassle to get contact information, track lead activity, score them, etc., then make sure you're harnessing that data. Allow the data to guide your marketing and sales decisions and keep your eye on trends that signify that your marketing strategies are working.
Train your employees
Finally, teach your employees and team members how to use these marketing and sales power tools. Show them how to update contact information when needed and how to use support tools to sync data across platforms. This helps ensure that you get the most out of your CRM. If you're not a pro yourself, consider organizing webinar-watching parties with your team to get to know the tools better—most all tools offer product webinars these days.
Know your customers by using top-notch contact management tools
So, what have we discussed?
Systematic contact management is a no-brainer for SMBs. And to reap real benefits from contact management, you'll need to make use of a CRM.
CRMs, especially when connected with your marketing tools, provide detailed customer tracking and analytics to help you better nurture your leads to sales readiness. Data connectors like Outfunnel make sure that your sales and marketing teams remain up to date as you manage contacts across platforms.
Ready to make the most of your CRM? Check out the contact management options available with Outfunnel.
Latest posts by Afoma Umesi
(see all)