Are your team members feeling stretched because information is scattered all over? Are you manually doing things in various different pieces of software and wish that you had a single-source-of-truth (e.g. your CRM)? This article on Copper CRM tips may help you solve some of these pain points.
This week we sat down with Alex Bass, the Founder & Head of Product at Efficient App, an automation and integration consultancy that currently operates out of Austin, Texas.
Below, Alex shares five simple ways to make Copper CRM more cohesive for businesses, and reduce data fragmentation. Keep reading for some quick takeaways that can save you hours per week.
"If setup right, Copper can be the backbone of your company."
You have seen dozens if not hundreds of Copper accounts, what are common themes that you've seen among businesses using Copper?
Alex Bass: Most of the time, we find that Copper users love using Copper. Often, they've used other CRMs in the past, and they seem to appreciate how sleek the interface is over competing CRMs on the market. They like that it lives within Gmail and that it integrates seamlessly with their other Google Workspace tools (Drive/Docs/Sheets).
Even with how user-friendly Copper is, companies often reach out to us because they want to get more out of it, they just don't know how, or what improvements would actually be a good investment of time. They know it's an integral piece of their business, but they are using 2-3 additional pieces of software, and they are having to manually input data into multiple locations. Work that's annoying for humans to do, and is often error-prone, but work that computers are great at consistently solving.
With human error, comes inconsistent and fragmented information, and tons of wasted time from trying to find information from one software to another from constant context switching.
What are some easy ways for clients to remove some friction and fragmentation?
Alex Bass: There are some really easy starting points that can help. Here are a few that come to mind:
1. Create a URL field within Copper to link to client-related folders you are regularly accessing from your other software stack
We have a financial services client who uses Box (for file storage) and Sharesight (stock portfolio tracker). We suggested that they create a custom URL link within Copper software that links back directly to that client's folder within the other software.
While it might seem like a minor change, think about the amount of time spent opening up other software, clicking around, and searching for the client you're looking for. Now all just a single click away. Multiplied by everyone on your team accessing the record within Copper.
We personally use Google Drive in our business. Here is how it looks within our Copper Opportunity record:
2. Keep your project management/onboarding process within Copper
Some businesses use external project management tools to keep their teams organized, which can further lead to fragmentation as you're now jumping in-between tools, alongside Copper to manage your customers.
In some businesses, you can simply use a Copper Pipeline to manage your projects. Using stages for steps throughout the process. It can be quite powerful when used in conjunction with Copper's task workflow automations and serves the purpose of keeping your team on the same page.
To achieve this, follow these steps:
Create a Pipeline specifically for your Project Management (separate from your Sales Pipeline)
Name Pipeline stages according to specific steps in your project process
Use Copper's Workflow Automations to create and assign automated tasks to team members as the project moves through the various stages
Note: This is not to be confused with Copper's Project Section! The Copper Project Section is a feature we don't often recommend as it's more task-focused instead of process-focused, and you can achieve a better-streamlined approach with Copper's Pipelines as described above.
3. Integrate basic apps when you can
The idea is that you want data to flow in and out of Copper as much as possible so that your entire team is working directly out of Copper software. For example, if someone books a call with your team via Calendly, the Outfunnel integration is super simple to set up, allowing you to view the new lead's information all from right within Copper.
Let me guess, you're currently creating a new lead from the Calendly confirmation email when someone new books, copy/pasting each field over? These are the types of integrations that will save your team time, and allow for more consistent data across your tools.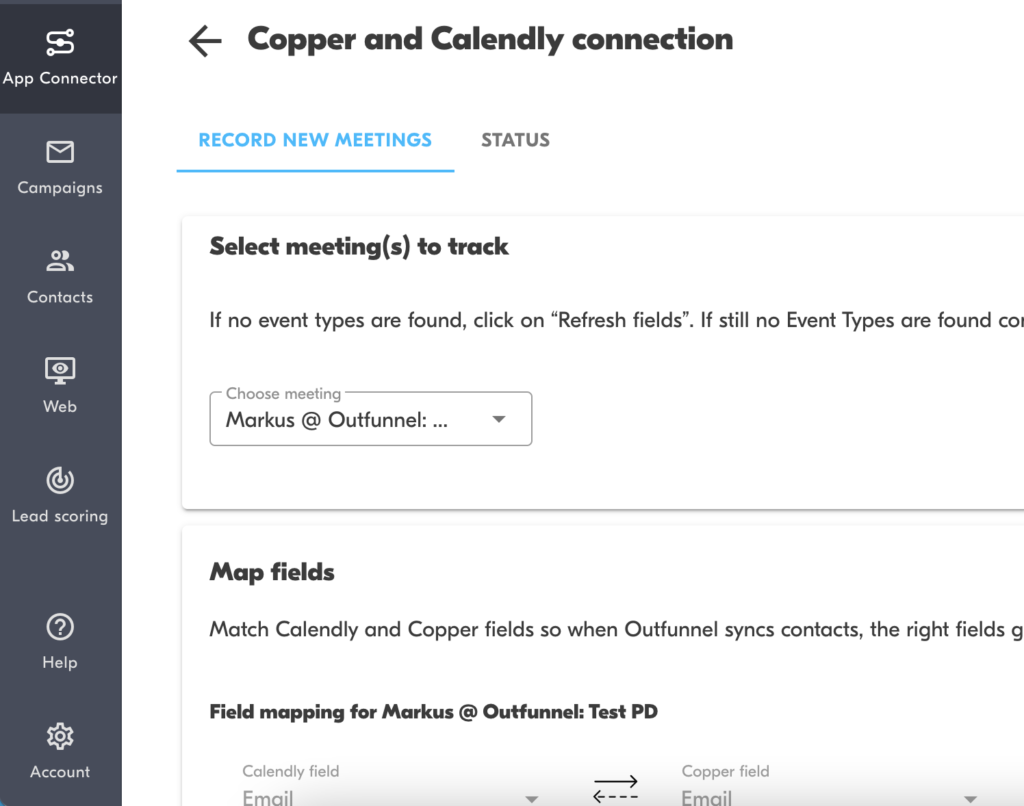 4. Use filters to stay organized
Filters are often overlooked within Copper but they can add so much organization to your workflow. If you want to only see a particular type of lead (e.g. leads that submitted a website form or leads that are cold from outbound outreach), use a filter to segment them.
You can also use filters combined with Copper integrations, like for example, setting up a filter that allows you to view all your leads that booked an appointment via Calendly, right alongside your other leads. This makes it super easy to keep track of your leads within Copper software, and in most cases, you shouldn't need to context-switch and log into Calendly to check meeting times or question responses, it's all right within Copper.
5. For more complex Copper integrations, hire an expert
This only comes into play when the cost of fragmentation is becoming a large pain. Are your team members feeling stretched because the information is scattered all over? Do you have compliance issues you're worried about, and you dread the thought of being audited and having to organize all your data? Are you manually doing things in various different pieces of software and wish that you had a single-source-of-truth (e.g. your CRM)?
As an example, we have a client who was manually creating dozens of invoices a week, and sometimes a day. They ideally wanted an invoice to automatically generate in QuickBooks Online when an Opportunity was moved to a specific stage in their Pipeline. Their accounting team was spending 10-15 minutes manually creating each invoice (calculating coupon code discounts, government fees, etc.)
So multiply this by 40 times a week, and you have a real problem on your hands that could be solved with automation. This scenario was taking their team about 6 hours each week, not to mention the 2-3 invoices a week sent out with a mistyped discount or value. Throw in a few more hours to communicate these mistakes to their customers and fix them. This is a case in which it would make sense to contact someone like us to build a proper solution.
How else can businesses get more out of Copper?
The companies that have the most success with Copper software put a lot of thought into their processes. Something you might want to start thinking about is: "What are all of the steps that your team needs to complete when taking a lead from pre-qualified to qualified, to won?"
Write them down, and then figure out how you can map those specific lead statuses and opportunity stages within Copper so that everyone at the company is on the same page.
---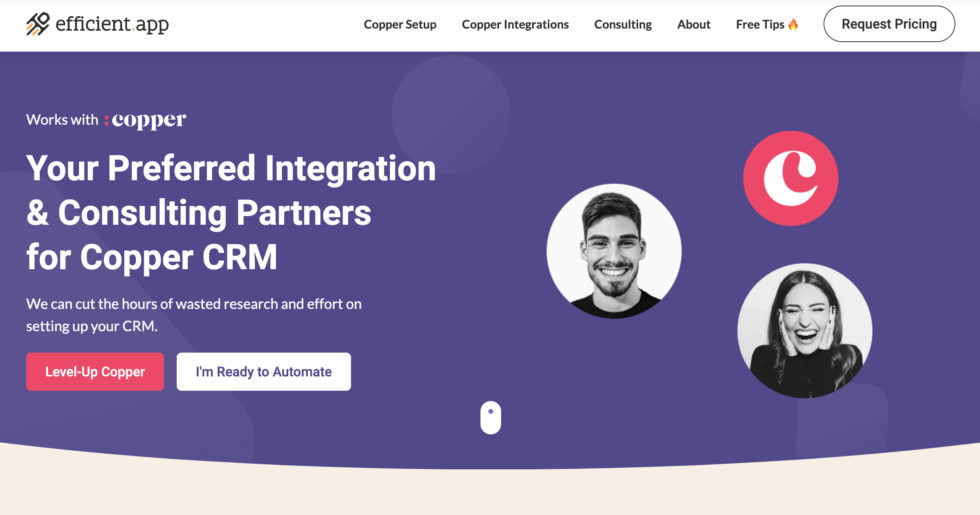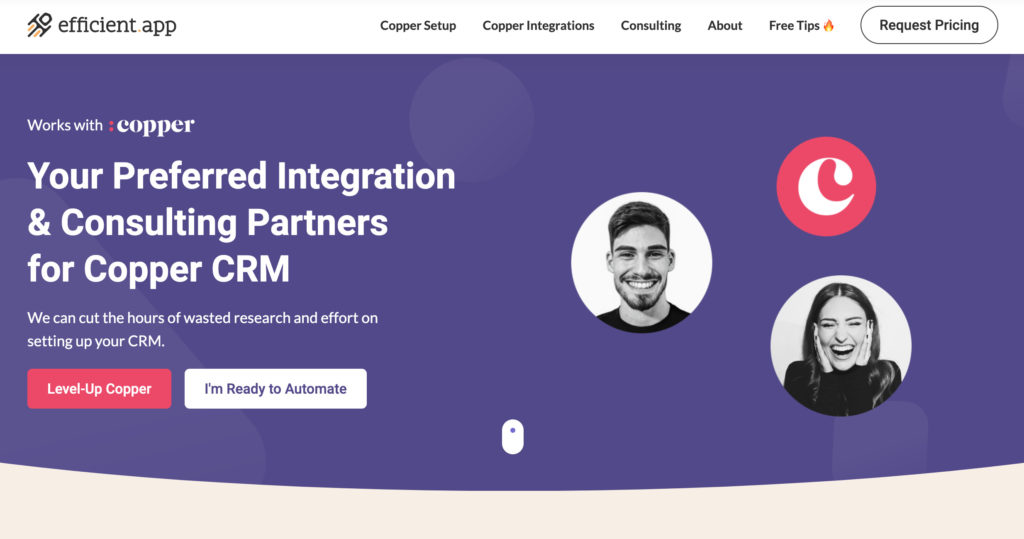 Efficient App helps companies become more efficient by streamlining operations and leveraging automation and integration. They are best at helping companies who are doing $1.5m+ per year in revenue. Learn more