Product-led growth has become a buzzword in the world of business and startups.
In recent years, it has become an increasingly popular approach, as it helps businesses create sustainable growth without relying heavily on traditional sales and marketing tactics.
So in this article, we will explore ten of the best examples of product-led growth companies and how they have successfully implemented this strategy to achieve phenomenal growth and success.
From well-known startups like Dropbox and Slack to lesser-known but equally impressive PLG companies like Miro, we will examine how they have leveraged their products to build thriving businesses.
Let's dive into PLG examples!
1. Dropbox
How Dropbox operates is a perfect example of how product-led growth works, making it one of the best product-led companies out there. A friend sends you a link to the photos you took together. You click on the link to see the photos and voila, you're already a user of Dropbox. Everything went smoothly and you found it's an easy way to share files, so you keep using it for sharing your own files as well.
The result? Dropbox becomes the fastest company to go from 0 to 1 billion users (in only 10 years).
Takeaway:
Build a product that is easily shareable and easy to start with. People who receive and open the Dropbox link are instantly new users without even noticing!
"Figure out how to marry your sales motion with your product-led motion."

Rachel Wolan, VP & GM at Dropbox
2. Slack
Slack is a collaboration platform for teams to ease communication. It offers several ways for connecting with team members, including messages, video and audio, and a collaboration tool "Canvas". You can even invite people from outside of your organization, making Slack the only communication tool you need to work.
Slack offers a 90-day free version and after that, all your messages will be lost which creates FOMO for the users.
In two years, Slack grew from 0 to $1 billion evaluation.
Takeaway:
Give users the freedom to enjoy your product for a certain time without paying. Meanwhile, let them invite team members so the more they do, the more likely they'll start paying after the free trial.
"I tell my team members that their gold standard is not whether customers bought a product, but did they recommend us? It's a higher bar and a different standard. We also don't see marketing's role as getting customers in the door and then wiping our hands and going on to the next one. Marketing's role is about recommendation".

Bill Macaitis, former CMO of Slack
3. Calendly
Calendly's PLG approach is similar to Dropbox because all the users are like affiliates. They share a link to find a suitable meeting time, and it gets new users without even advertising.
With fewer than 250 employees, Calendly is a unicorn valued at $3B, with almost $100M in revenue. Interestingly, they were struggling at the beginning, so they made their first 100K by manually fulfilling their customers' needs to retain them and later automated the process.
Takeaway:
Listen to your customers and apply the most in-demand features manually at first if needed. Also, try to create a product that needs to be shared in order to be used and make it as simple as possible to make it to this list of the top PLG companies.
"PLG, for all its virtues, doesn't mean that you can skip GTM functions. Virality, as much as it remains the X factor, won't be enough in the long term. Sales and IT aren't the enemy, but instead maximizers of growth."

Patrick Moran, CMO at Calendly
4. Zapier
Zapier is a workflow automation and integration tool. Its self-serve pipeline proved to be effective in reducing any obstacles between customers and the product. Furthermore, aligning the product and sales teams has proven to be advantageous, as it has led to several benefits. They are also introducing new features to the customers by explaining why they need them.
The self-serve model has helped Zapier reach a revenue of $140 million.
Takeaway:
A self-serve model removes unnecessary friction. But if you see that the numbers are not getting better, consider hiring a sales rep to support it.
"At Zapier, we have self-service primary visits. It's a primary source of all of our revenue. Later, we started layering on sales as an incremental tool on top of our already burgeoning business. So for us, we knew that by accelerating — by using sales as a lever to accelerate self-serve — we would always feed that learning kind of content back into the product and back into marketing because we knew that's where the scale was. We knew that's where millions of users were really going through the products."

Steeve Vakeeswaran, Head of Sales at Zapier
5. Miro
Miro is a whiteboarding tool that helps teams collaborate and brainstorm together. Its freemium product even has templates including "Daily Stand-Up Meeting template", "Strategy Map Template" and so much more from different categories that give ideas and show customers how their product can be used. When you create a cheat sheet in Miro, you can share it with others and get a quick overview any time you need. It can also be used for presenting ideas to customers.
In just two years between 2020 and 2022, Miro was able to grow its revenue by almost 3x and hit $165M in 2022.
Takeaway:
A freemium product with templates helps users discover the value of the product quicker and gives them more ideas on how to use it.
"Product-led growth has helped us to onboard and retains users and customers. It drives acquisition, drives our viral loops, and word of mouth whilst building our acquisition competitive muscle."

Yulya Malysh, Head of Self Serve Business & Growth at Miro
Become product-led with our product-led sales platform.
See the usage of key features right inside your CRM – Pipedrive (HubSpot & Copper coming soon)
6. Trello
Trello is a product-led growth company that offers a visual and easy-to-use project management tool with a freemium version. The idea is simple: once you start using it and moving all your tasks and to-do lists inside, switching is pointless because it would take a lot of time to re-add all the tasks inside another tool.
In 5 years, Trello was able to onboard more than 25 million users.
Takeaway:
Consider creating a freemium model for a product that is used by teams. It gives them a reason to try the software at the same time and if they already incorporate the tool in their daily workflow, it's unlikely that they will test another software.
"At Trello, we believe that our product should speak for itself. That's why our product-led growth strategy is focused on creating a product that people love to use and that delivers real value."

Justin Gallagher, Head of Product Management at Trello
7. Notion
Notion is a connected workspace with templates for different use cases from to-do lists to marketing calendars. To support their product-led growth model, they have a free version that offers a limited set of features to users. Secondly, Notion has a highly intuitive and customizable user interface that allows users to organize their content and workflows in a way that suits their needs.
In addition to Notion's product-led approach, they also have a community-led strategy. It means that they have implemented a successful affiliate program that lets affiliates earn 50% of all payments in the first 12 months.
All this has led the company to a $10B valuation, with 20 million+ users logging into Notion to take notes, track projects, and coordinate work. This makes Notion one of the best product-led growth examples today.
Takeaway:
Use a community-led strategy with an affiliate program to bring in more leads and then a product-led approach to convince them to purchase.
"For Notion to grow, users need to see it as a valuable tool for more than personal note-taking. They also need to invite others to Notion so it becomes collaborative, as working together is how much of the product's value is unlocked."

Rachel Hepworth, Head of Marketing at Notion
8. Airtable
Airtable is a platform for collaboration that empowers users to create customized applications without requiring any prior coding knowledge. Their free version with example templates gives users ideas about how to use their product and a satisfying feeling of creating something on their own and getting value out of the product right away.
In 2022, AirTable hit $142M in revenue with 1054 employees, making it one of the largest product-led companies in the market.
Takeaway:
If your product can be used in different ways, make sure it has templates to give users a headstart and show them how they can improve the processes they are already doing. Plus points if you can optimize the templates for SEO, so they bring in more leads organically.
"Our growth strategy is focused on building a product that solves real problems for our customers and delivers so much value that they can't help but tell their friends about it."

Howie Liu, CEO, and Co-Founder at Airtable
9. HubSpot
HubSpot is a CRM platform to connect marketing teams, sales, and customer success teams. It is using a hybrid of product-led sales and a sales-led model. They have a free self-service version and once you switch to the paid version, you'll probably implement more of their features and products because it's easier than bringing in totally new software.
By 2021, HubSpot achieved $1 billion in annual recurring revenue with the aid of this hybrid approach, so it definitely deserves a spot on this PLG companies list.
Takeaway:
It doesn't have to be one way or the other. You can go product-focused and still be sales-led at the same time. So make decisions based on your product needs — not what others are doing.
"Our product-led growth strategy is based on building a platform that people love to use and that delivers real value to their businesses. We're constantly iterating on our product based on customer feedback."

Dharmesh Shah, CTO, and Co-Founder at HubSpot
10. Outfunnel
Outfunnel unites your sales and marketing data, helps prioritize your leads, and allows you to get started with a product-led strategy. Outfunnel started out by manually copying product usage data to its CRM and contacting all new leads. As more leads came in, Outfunnel created workflow automation with Pipedrive CRM and automated the email-sending process for low-engaging leads.
Switching to automated product-led onboarding saved over 80% of the time spent on onboarding and increased product engagement and conversions.
Takeaway:
It's OK to do manual outreach at the beginning when you have a few leads coming in. But when lead volume increases, it's only logical to automate the process and manually contact only those leads that have the potential to become customers.
"We knew where trial users got stuck, we had started syncing key usage events and stats to Pipedrive (the CRM we were using), we had set up automated emails, and saved more than 80% of the time needed for onboarding trial users — freeing up time to work with the most promising accounts. Our first product-led sales playbook was live!"

Andrus Purde, Co-founder & CEO at Outfunnel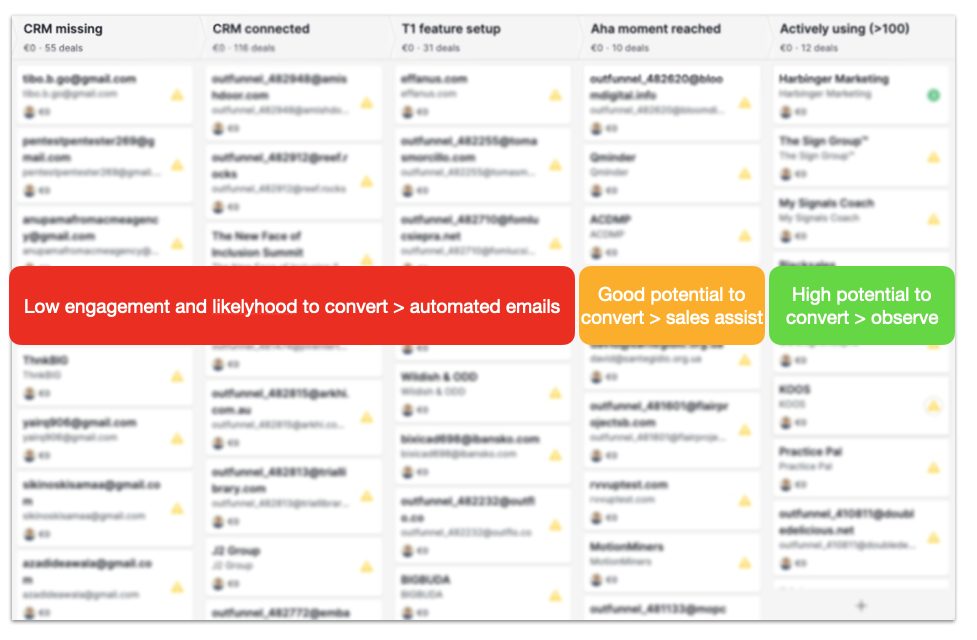 Use Outfunnel to track your product usage and prioritize your leads
One of the main aspects of product-led growth is making decisions based on product usage. For example, the sales team can prioritize leads, and product teams can make decisions about feature updates based on what's in demand. And Outfunnel makes this simple by offering the full context about product usage right inside your CRM. It has deep integrations with popular CRMs like Pipedrive (HubSpot and Copper coming soon). So if you use one of these and want to become a product-led company, try Outfunnel free for 14 days — all features included!