Revenue Marketing Report 2021 sheds light on the state of sales and marketing alignment in SMBs and examines the strategies that top performing companies—those seeing revenues increase year over year—practice to stay successful.
Released by Outfunnel and Copper, the report found that companies where sales and marketing teams cooperate effectively are 70% more likely to see revenues grow year over year. However, nearly half of respondents report they still don't feel well aligned.
Read on for a teaser of the key findings or download the report now.
Nearly half of sales and marketing professionals still don't feel they are well-aligned.
46% of respondents rate the quality of communication between the teams as 'Poor,' 'Fair' or 'Good,' and 45% rate their alignment of goals with the same low-to-average terms. Company size plays a role here; SMBs with 51-100 employees are less confident about alignment than smaller and larger subgroups.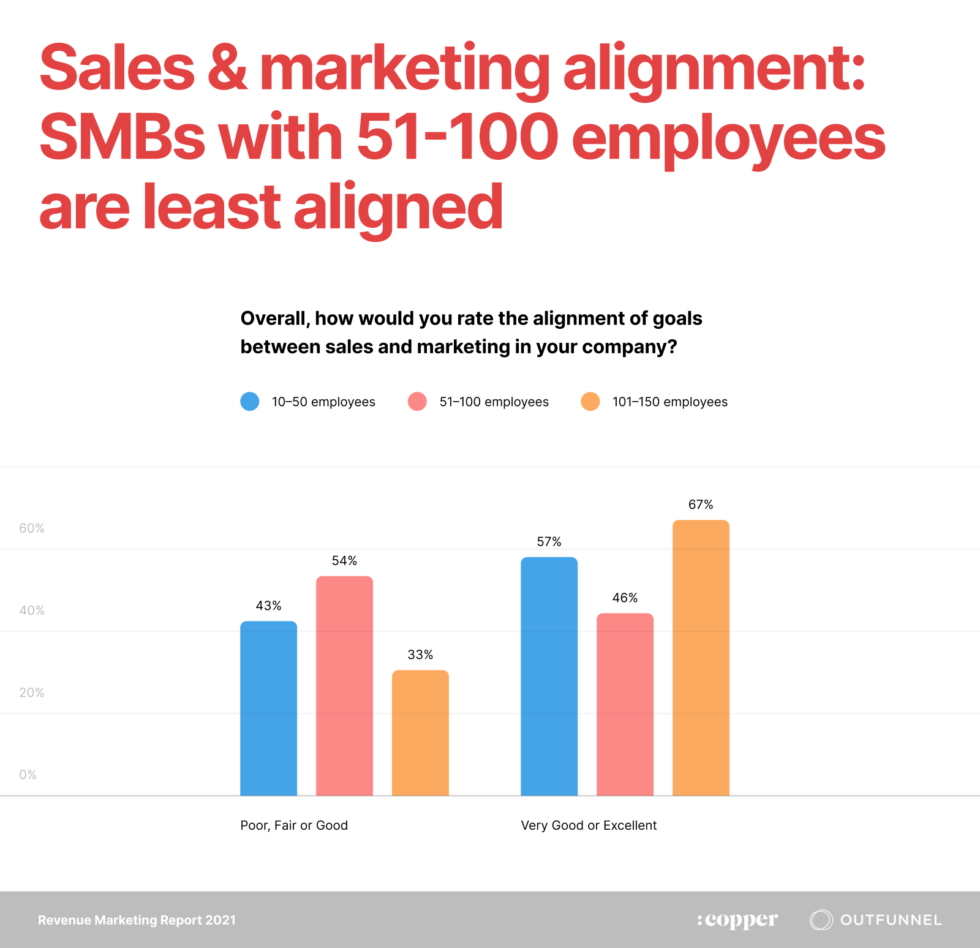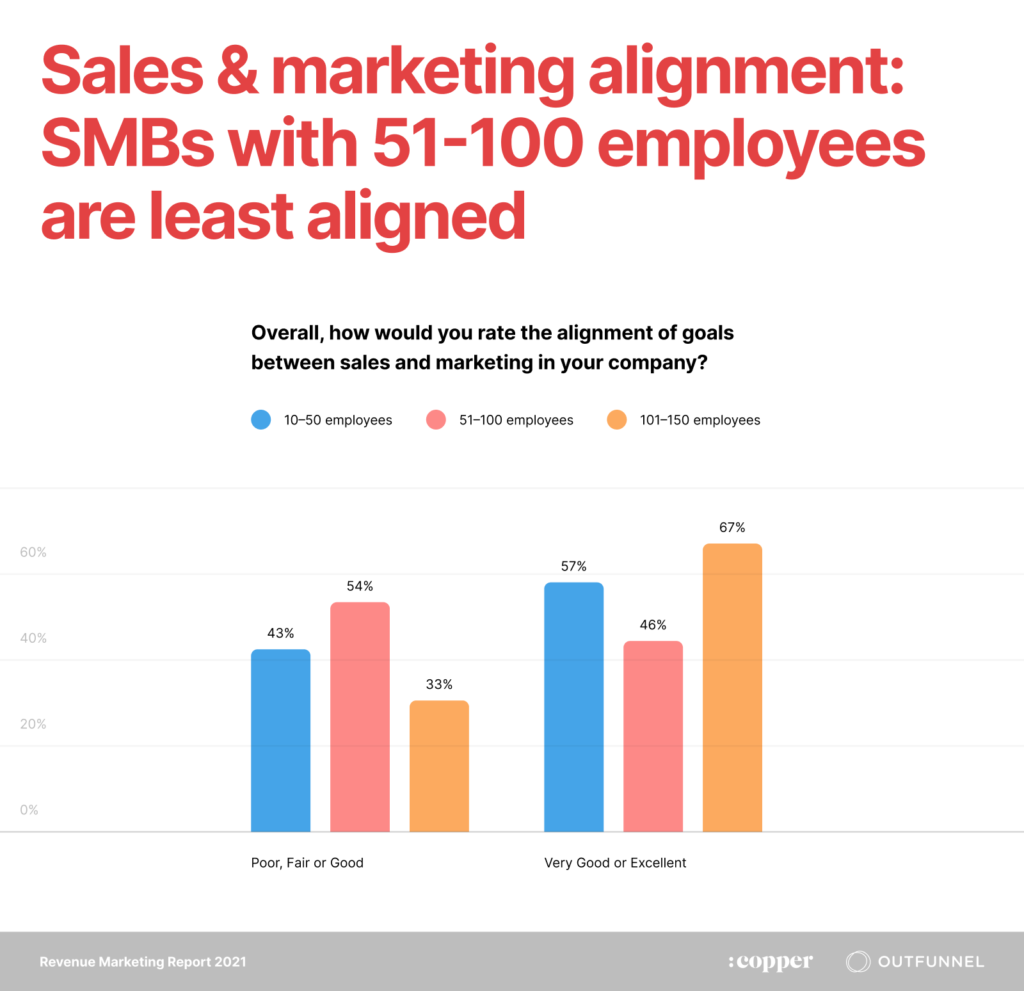 The teams' attitudes towards each other reveal disagreement regarding each other's contributions.
Nearly half (46%) of marketers feel that their sales counterparts don't understand what's important to the marketing team. Sales teams have slightly more confidence, with less than one third (31%) perceiving a disconnect between the two teams.
Further, splitting the responses about sales and marketing alignment by role revealed that salespeople are a lot more confident about alignment than marketers.
58% of salespeople strongly agree that their marketing and sales teams cooperate effectively, as compared to just 43% of marketers.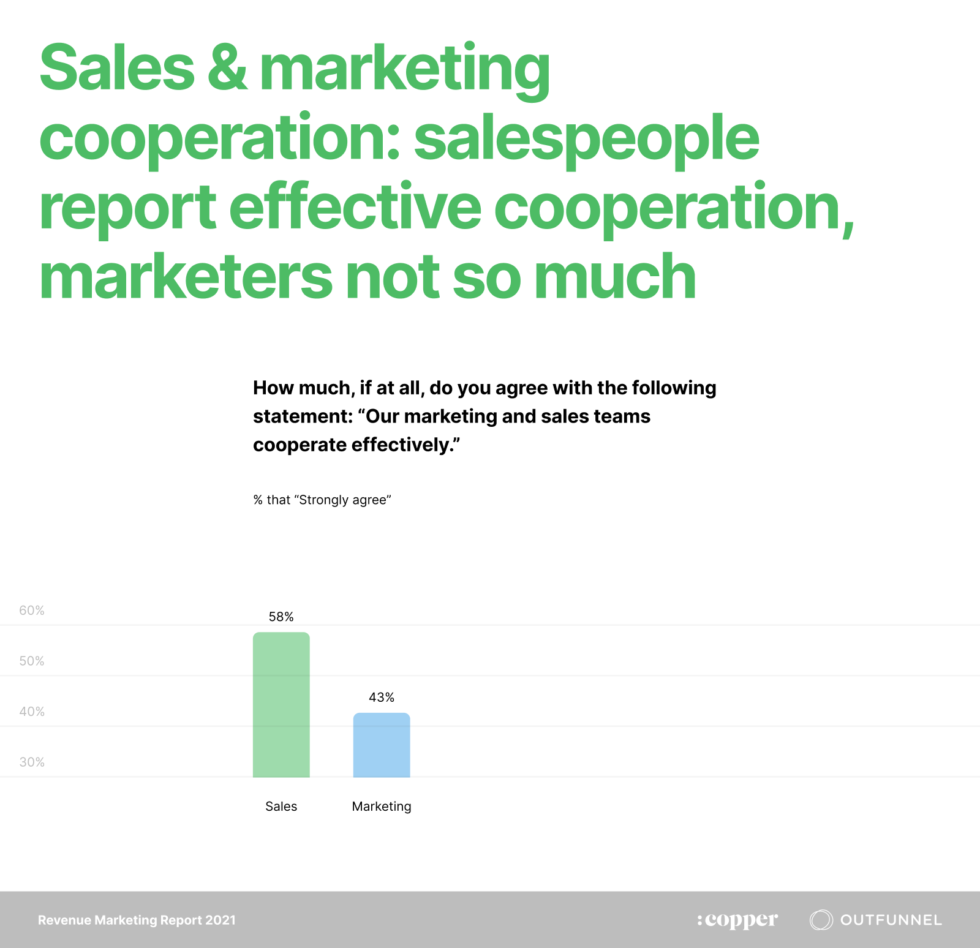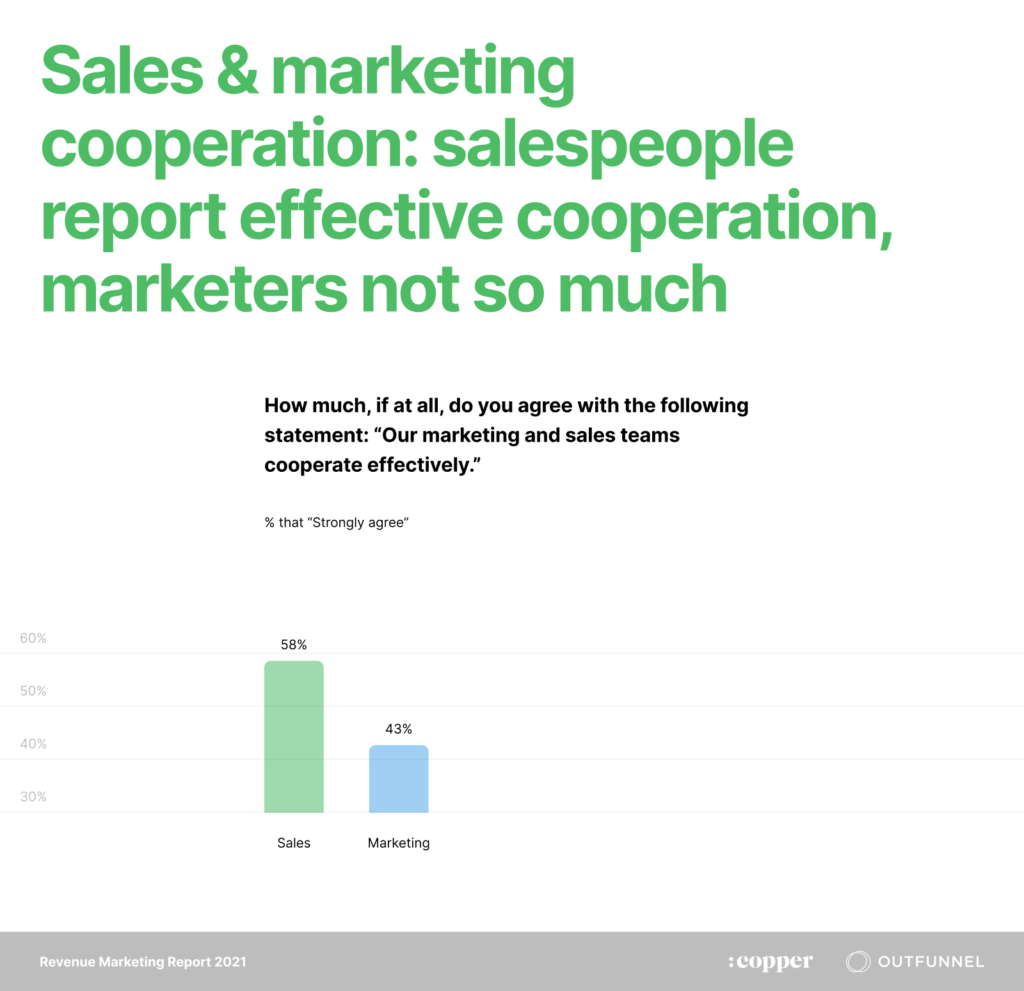 The dysfunctional relationship between sales and marketing is hurting business' top lines. It's clear that companies still have a lot to do to improve their internal relationships, both for alignment and revenue-driving purposes.
Taking the time to build, foster and maintain relationships between sales and marketing teams is now more important than ever as buyers are engaging sales later in the buying process. Focusing on relationship dynamics will help companies operate more effectively internally and in turn, better service their customers and create high-value engagements.
Companies with seamless sales and marketing collaboration see more revenue growth than organizations with ineffective sales and marketing alignment.
Revenue growth is 70% more common among companies where sales and marketing cooperate effectively.
Among those who strongly agree that their sales and marketing teams cooperate effectively, 73% saw revenues increase year over year.
Companies where sales and marketing teams do not cooperate effectively are falling behind. Among respondents who think their teams cooperate ineffectively, only 43% saw revenues increase.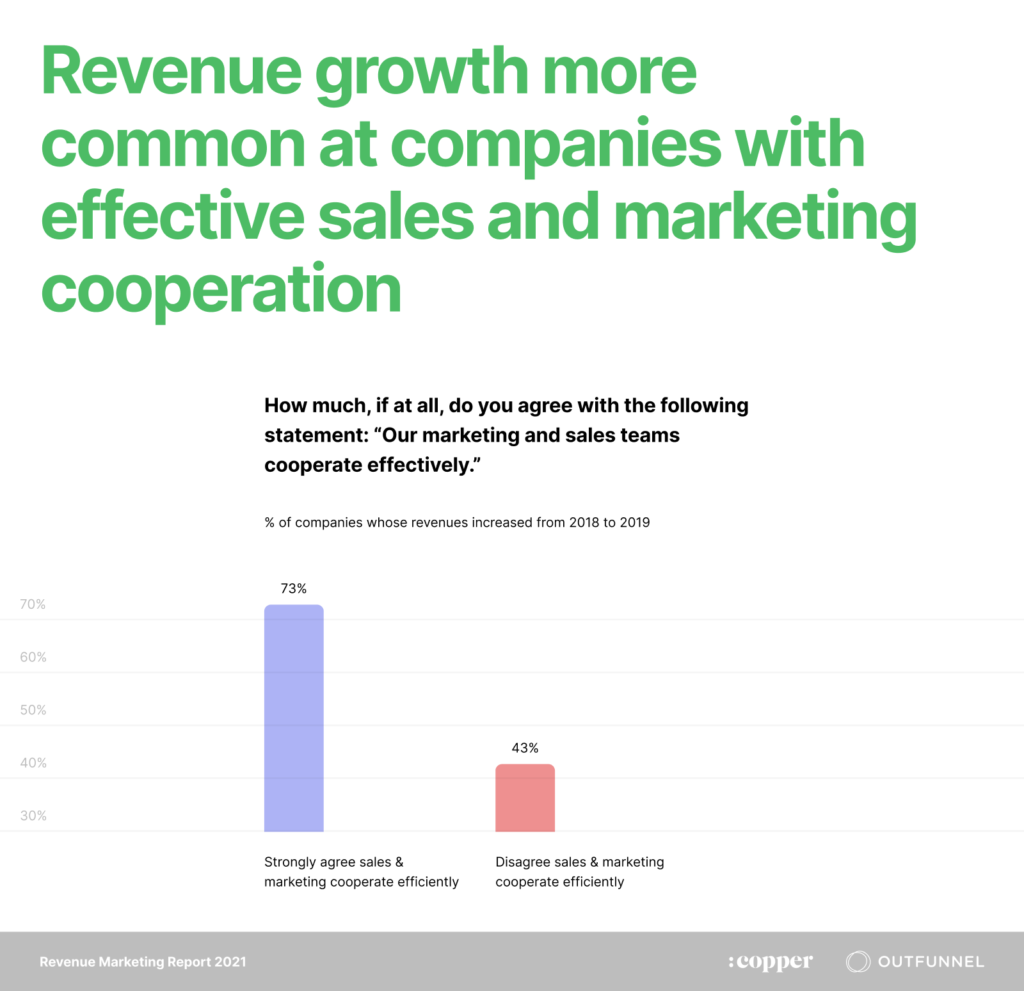 The survey found the best form of alignment is when both teams cooperated on strategic and tactical initiatives, like executive buy-in, regular joint meetings and shared KPIs. While these are essential for those practicing revenue marketing, many companies are still falling behind.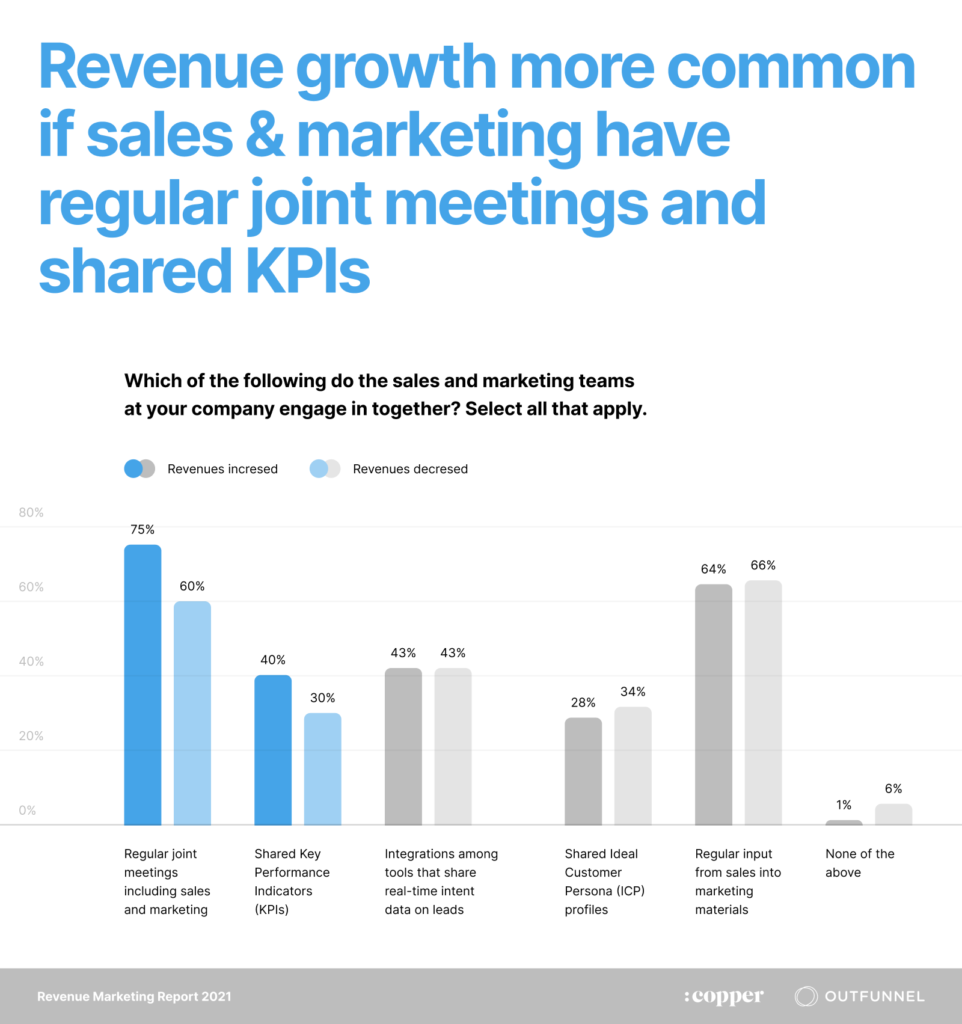 The importance of technology was another focus of the report, as Outfunnel and Copper look to bridge the gaps between sales and marketing.
More than one third of respondents are dissatisfied with the tech available for aligning marketing and sales teams.
36% of respondents rate the usefulness of sales tech and martech tools as poor or average. Nearly half of all respondents (47%) agree that these tools would be more useful if they could be easily integrated, and 40% agree they'd be more useful if they would be more affordable.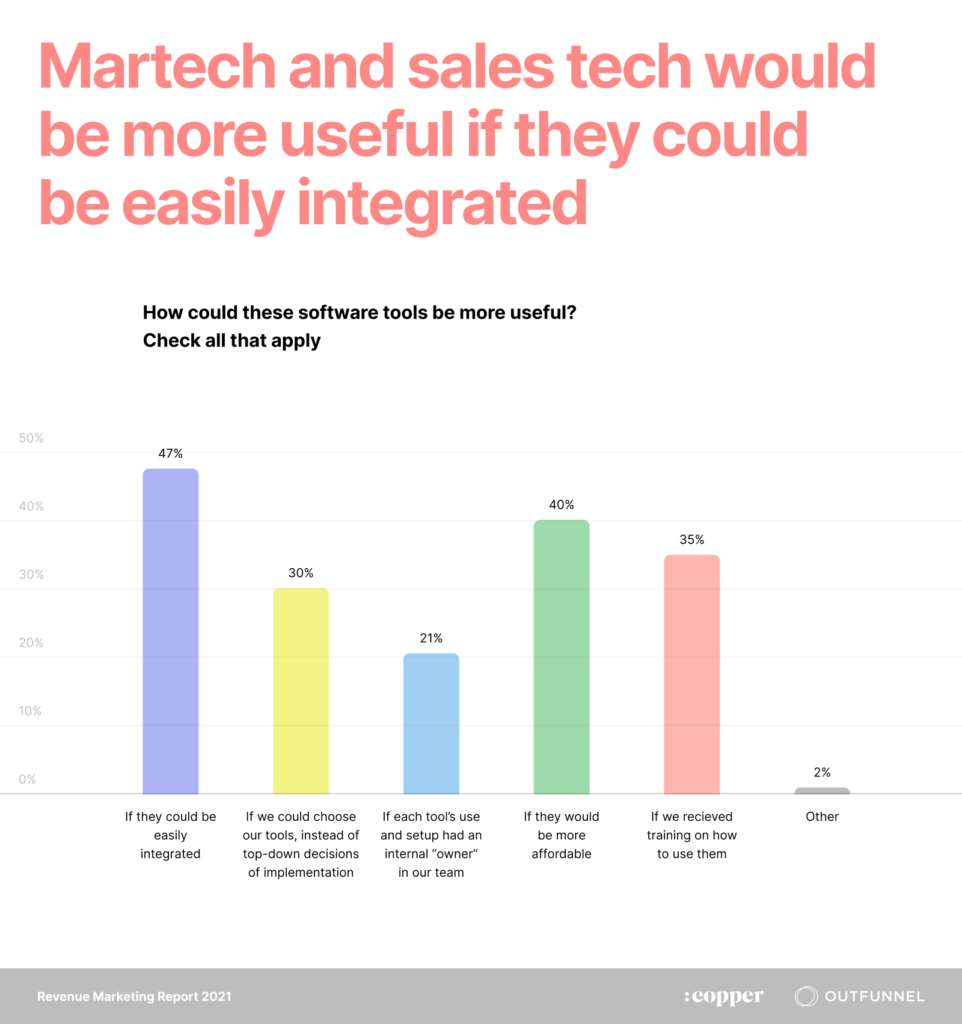 The ever-increasing number of sales and marketing tools are useful for aligning sales and marketing. However, these tools are too expensive for many SMBs and nearly half of respondents agree they'd be more useful if integrating the tools would be easier.
More than half of B2B companies report that the COVID-19 pandemic had a negative impact on their revenues and on aligning sales and marketing.
51% of the respondents reported that COVID-19 had a strong or somewhat negative impact on their company's revenue. 53% of respondents agreed that the pandemic has made it more difficult to align sales and marketing goals.
To prepare the report, Outfunnel and Copper surveyed 302 sales and marketing leaders from SMBs across industries in December of 2020. Nearly half of the respondents (47%) worked at companies with 10-50 employees, 36% worked at companies with 51-100 employees and 17% at companies with 101-150 employees.
Get the free 24-page report with dozens of findings about the state of revenue marketing at the start of 2021: Revenue Marketing Report 2021