Last updated: June 18, 2021
When you've worked in marketing for 21 years, been responsible for lead generation and new revenue for about half of that time… and have had the privilege to work for high-growth companies like Pipedrive, you're bound to pick up some good marketing approaches and techniques.
Here are my lead generation tips, condensed into one neat post. I hope you'll find them useful.
Lead Generation Tip 1: Get personal or "give before you get" with cold emails
Email, when used right, is still a great way to establish a relationship between a seller and a prospect. Owing to a lack of time or skills, companies often send a generic sales pitch or a newsletter as the first email, but this is missing a big opportunity.
A more effective approach is to make the pitch personal to the recipient.
Explain exactly why should they want to take a call or meet with you. This could be something the prospect has communicated on LinkedIn or Twitter, some aspect of your product or service that is particularly suitable for their company or vertical, or some aspect of the company you've become aware of thanks to your research.
Another beneficial approach establishes a relationship by giving away something useful first. This can be a unique, well-researched piece of content, a free analysis or consultation session, or simply a unique point of view.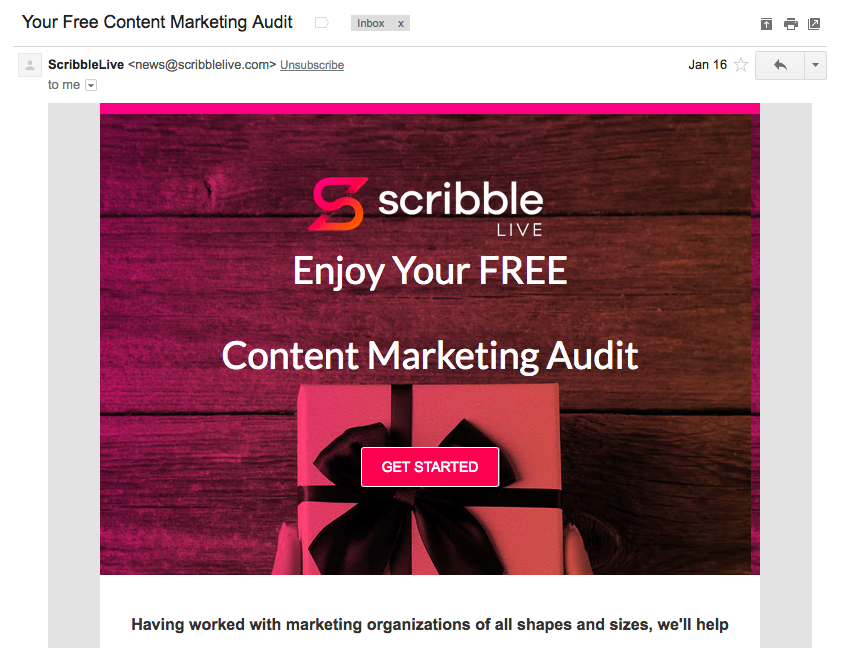 Neither of these approaches is novel but they're not trivial either. Most companies send a ton of generic emails rather than improve their targeting and research, and in the game of "who can send more email," we all lose.
Companies that send fewer, but better emails, can reap substantial benefits.
Read more about how to get really good results with cold email.
Lead Generation Tip 2: Use email engagement as a signal for lead "warmness" and create new Deals from email clicks
If your marketing emails are any good, people tend to engage with them. You can then use these signals for lead qualification. For example, if you have 1,000 people in your newsletter list and 15 clicked on a "Check out this new service" link, these 15 are probably your warmest leads.
When I started lead generation for Outfunnel, the very first thing we did was set up a simple email signup form. Only if people properly engaged with the emails that followed were the new leads added to Pipedrive. This meant fewer people to follow up with, but more qualified people to follow up with, saving both me and the prospects from unnecessary conversations.
Pro tip: with Outfunnel, you can get new Pipedrive Deals created from Mailchimp email opens or clicks.
Lead Generation Tip 3: Set up a Facebook lead ads campaign (using lookalike audiences)
Facebook remains the social platform with the biggest reach. However, the number of ad options and formats can be a little confusing. Staying up to date with them is a full-time job.
One format that many businesses continue to find effective is Facebook lead ads. It's an ad like any other, but it ends with you getting the recipient's email address rather than a click or a like. It's frictionless because Facebook already knows that person's email address. And hey, it's a great GDPR-compliant way to (re)build your email list.
Many ad platforms have a feature that creates new audiences based on people that have previously bought from you. Facebook calls such people "lookalike audiences." On Google Display Network they are called "similar audiences." It's easy to test whether this is an effective way to generate new leads.
Here's how to set this up on Facebook.
Step 1. Create a Pipedrive filter of people from your "won" deals, or deals that have reached a particular stage – however you record purchases. Because a business email may differ from a personal email, you may want to add Name and Location as columns because Facebook can use this data to match your list to its users.
Step 2. Export that list from People view.
Step 3. Add that list to Facebook as a Custom Audience (here's how).
Step 4. Create some Lead Ads and target them to the lookalike audience you have created.
Please note you can use Zapier to make your new Facebook leads appear directly in Pipedrive. (Soon, you will also be able to easily do this with Outfunnel's Pipedrive-Facebook Ads integration.)
Lead Generation Tip 4: Find new leads on Twitter (without logging on to Twitter)
Twitter can entertain you by reflecting the ignorance and narcissism of certain public figures, but it can also generate leads. Because the former can suck you in for hours, the trick is to use Twitter without logging on to Twitter.
Here's a good approach.
Step 1. Brainstorm queries that indicate that someone might like to hear about you or your service. If you're selling recruiting services, a good query might be "webdesigner+recommendation+ireland" or "hiring+designer+dublin". You get the gist.
Step 2. Set up a zap that searches for these queries and adds new matches to a spreadsheet or sends them to you as an email or Slack message. Then follow up with ones that sound relevant and where you can add value.


These were the four lead generation tips I've used, and am still using today. The list, of course, isn't exhaustive, but my suggestions are both highly practical and available to all. Have I missed any important ones?