LinkedIn is one of the most powerful platforms for B2B lead generation and targeting potential customers. In today's competitive business landscape, understanding the most effective strategies for generating leads on LinkedIn is more important than ever.
With over 700 million users consisting of target audiences, potential customers, and qualified leads, the potential for success on LinkedIn is immense. However, it's essential to have an effective generation strategy in place to achieve meaningful results.
According to a recent study conducted by HubSpot involving over 5,000 businesses, LinkedIn emerged as the top-performing platform for visitor-to-lead conversion. With an impressive conversion rate of 2.74%, LinkedIn outperformed Twitter (0.69%) and Facebook (0.77%).
In this article, we'll explore what LinkedIn lead generation is, how it works, and the strategies and tools businesses can use to create effective lead generation campaigns and grow their customer base on the platform.
What is LinkedIn lead generation?
Using LinkedIn for lead generation refers to the process of using LinkedIn as a platform to identify, connect with, and nurture potential leads for your business. LinkedIn, as a professional social platform for networking, provides a wealth of opportunities for businesses to generate leads and engage with professionals in their target audience.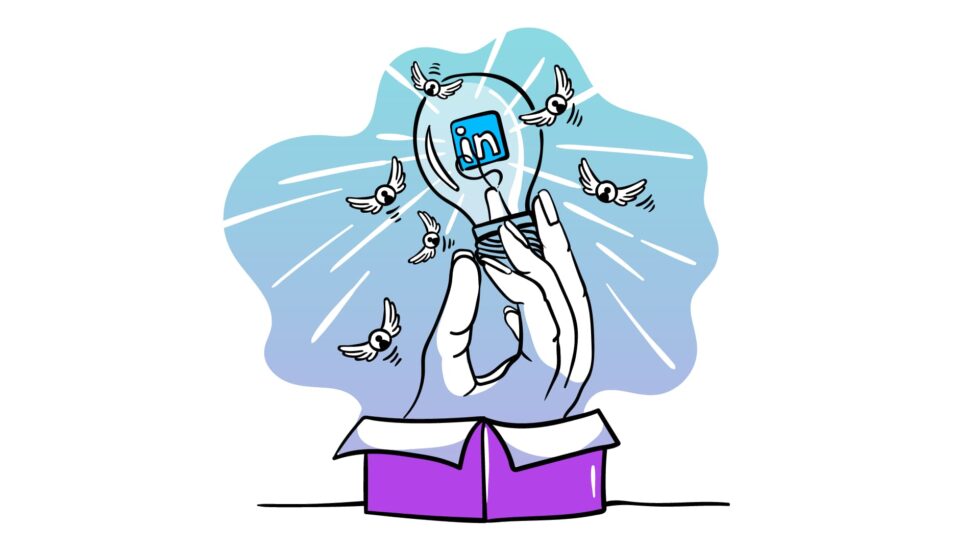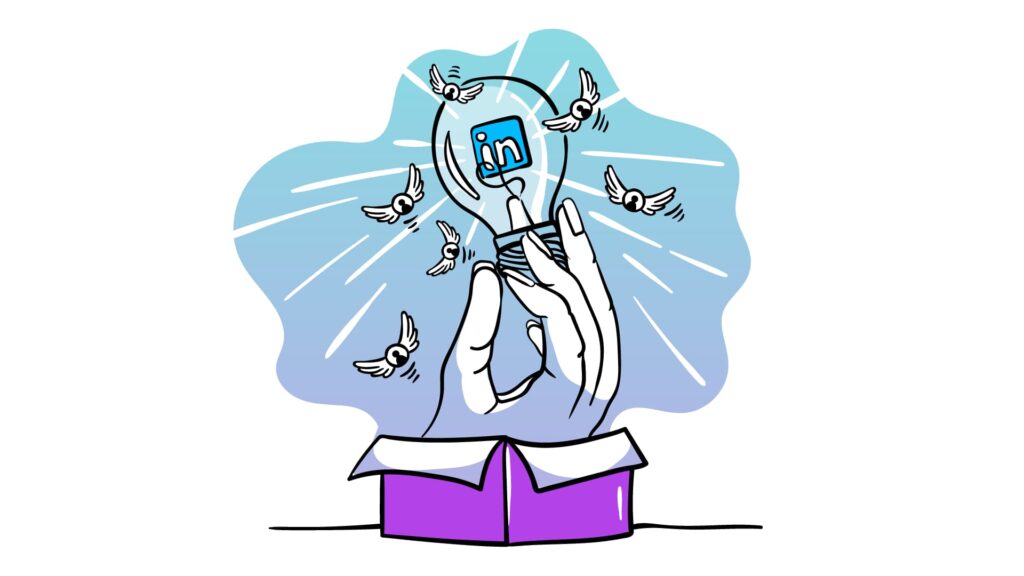 Why use LinkedIn for B2B lead generation?
LinkedIn has become a definitive professional network where businesses and individuals can connect, communicate and collaborate at a deeper level. As a result, LinkedIn has emerged as an ideal platform for lead generation for businesses of all sizes.
According to HubSpot, LinkedIn is 277% More Effective for Lead Generation Than Facebook & Twitter.
But why is LinkedIn so effective for lead generation? Let's explore the key benefits of LinkedIn B2B lead generation:
Professional Network:
LinkedIn has over 900 million business professionals which sets it apart from other social media channels. It is a platform where professionals go to connect with other professionals, thereby creating an ideal environment for B2B lead generation. When compared to other social media platforms such as Facebook or Twitter, LinkedIn leads the pack in generating high-quality leads.
Conversion Rates and Buying Power:
LinkedIn users are generally professional and educated, making them valuable prospects for businesses that are trying to generate qualified leads. In addition, research shows that LinkedIn users make a higher average salary than users on other social media platforms. This buying power further enhances the potential for generating quality leads and converting them into buyers.
The benchmark for conversion rate on LinkedIn can range from 5% to 15% due to the wide variance in how different companies define and measure conversions, such as clicks on specific buttons or form-fills on their websites.
Different Tools:
LinkedIn's features such as the Sales Navigator, Lead Generation Forms, and LinkedIn Ads provide businesses with a variety of ways to target potential customers. With these tools, businesses can create personalized messages and compelling ad campaigns that resonate with their ideal audience persona. LinkedIn also provides valuable data on its users, such as their company size, job role, and industry, which can be used to target qualified leads effectively.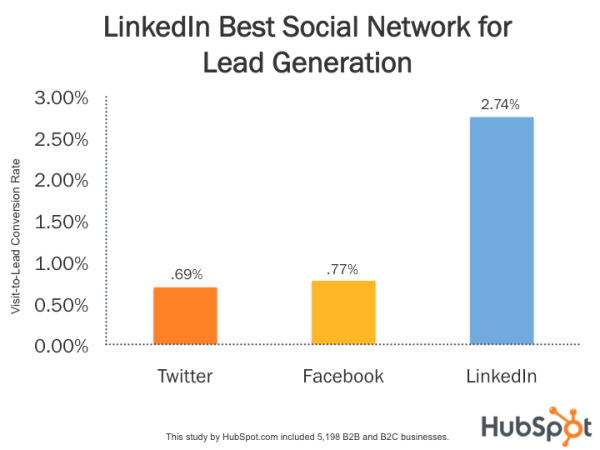 How to generate B2B leads on LinkedIn?
LinkedIn is an essential tool for businesses seeking to generate leads. As the platform continues to grow and evolve, it's vital to stay up-to-date with the latest and most effective lead generation tips and strategies. Below are ten top strategies to consider for LinkedIn lead generation:
Optimize your profile: This means showcasing your unique value proposition and highlighting your expertise to attract the ideal audience. By focusing on building a strong brand and giving users a reason to connect with you, you can maximize your chances of getting relevant and qualified leads. To make a great first impression, you should:


Visually display your value proposition on your banner
Have an appealing profile picture
Create a clear and compelling headline
Highlight your best posts to showcase your expertise
Present your value proposition in the About Section


Create valuable and educational content: Content marketing remains a top strategy for lead generation on LinkedIn. Share articles, blog posts, whitepapers, infographics, and case studies that educate your target audience on industry trends, best practices, and thought leadership. High-quality content is an excellent way to attract potential leads and convert them into customers.
"Content is the fuel for your lead generation efforts."

Dayna Rothman, CMO at Censys
Personalize your outreach messages to potential leads: This involves tailoring your messaging to the specific needs of your target audience, and ensuring that your messages are not generic or spammy. You can also use automation tools to streamline your outreach efforts and ensure that your messages are sent at the right time to the right people. Use the power of LinkedIn to research your potential client's background, interests, and activities. This information will allow you to tailor your message to their needs and interests, increasing your chances of a successful outcome.


Implement an effective follow-up system: Following up with individuals who have expressed interest in your content or services can significantly increase conversion rates. By implementing an effective follow-up system, businesses can ensure that leads don't slip through the cracks. Use LinkedIn's built-in messaging system or CRM to follow up with potential customers and schedule meetings or calls.


Run LinkedIn Ads: LinkedIn Ads are an effective way to get your business in front of the right audience. By using LinkedIn's in-depth targeting options, you can create ads that speak to your ideal customer. LinkedIn Ads offer cost-effective targeting by job title, seniority, company size, industry, and more. The global average CTR for LinkedIn Ads is between 0.44%–0.65% with an average CPL of $75.

When running a lead generation campaign, by default, LinkedIn collects new leads within their platform, requiring manual exporting and importing to your CRM and marketing automation tools.
With Outfunnel, you can seamlessly automate syncing LinkedIn Lead Forms submissions to your CRM, saving valuable time and increasing sales productivity. Key features include the automatic addition of leads to your CRM (Pipedrive, Copper, Salesforce, or HubSpot CRM) and comprehensive field mapping.
Get LinkedIn leads automatically to your CRM
Deep integrations with Pipedrive, Copper, Salesforce, and HubSpot CRM
Use LinkedIn Sales Navigator: This tool provides insights into your potential leads' interests, behaviors, and company size, allowing you to tailor your outreach efforts and target the right people. By leveraging LinkedIn Sales Navigator along with valuable content and personalized messaging, you can significantly improve your conversion rate and attract high-quality leads to your business.


Leverage LinkedIn groups: LinkedIn Groups are a great way to reach potential customers or build relationships with peers and colleagues. By joining relevant groups in your industry, you can establish yourself as an expert and connect with users in your target audience. You can also start your own LinkedIn group, offering insightful and engaging conversation topics to attract your ideal customer profile. Engage with group members by sharing valuable content, answering questions, and addressing concerns.


Use automation tools: Automation tools for outreach in LinkedIn lead generation campaigns are a must-have. By automating repetitive tasks such as connection requests and messaging, businesses can save valuable time and focus on achieving their goals. LinkedIn automation tools such as LinkedHelper, Dux-Soup, and Expandi provide customizable sequences to help businesses build targeted and personalized outreach campaigns.


Organize LinkedIn events: Hosting a webinar directly on LinkedIn allows you to gather the LinkedIn profiles of your prospects.


Analyze & optimize: Understanding what works and what doesn't work is essential to improving your LinkedIn lead generation efforts. Make use of LinkedIn analytics to gain insights into what types of content drive engagement, such as likes, comments, and shares. Additionally, you can track your conversion rate and set up conversion tracking to understand which campaigns are generating high-quality leads.
"There's a delicate balance between offering what I'll call practical content geared towards the practitioners and presenting forward-thinking thought leadership. Both are essential for capturing the attention of your prospects and customers."

Jim Habig – Vice President Marketing at LinkedIn
Simplify your lead generation efforts on LinkedIn
LinkedIn offers a powerful platform for generating high-quality leads, but it requires an intentional approach to succeed. By optimizing your profile, utilizing LinkedIn marketing tools, providing valuable content, and building meaningful relationships with connections, you can boost conversion rates and achieve greater success in lead generation.
With Outfunnel, you can make sure all your new leads get added to your CRM helping you save time and drive more sales. Here's what it does:
Automatically add new leads from Linkedin Lead Gen Forms to your CRM (Pipedrive, Copper, Salesforce, or HubSpot) — no more manually exporting-importing lists.
Map custom fields, so all the necessary data is synced to your CRM — and sales teams can easily create custom filters or lists to categorize the incoming leads accordingly.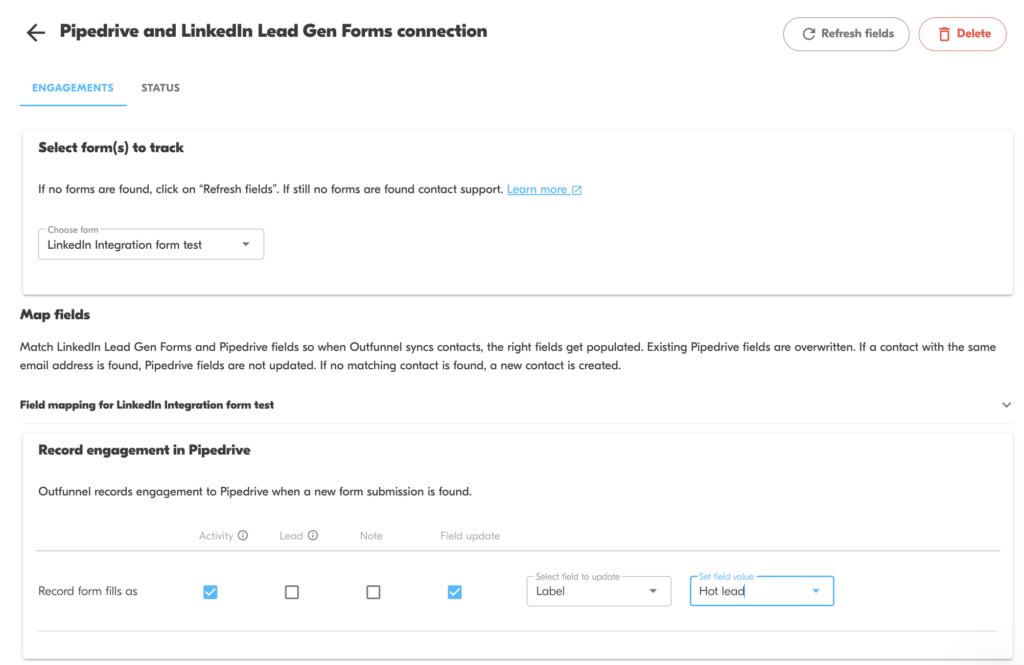 Learn more about our LinkedIn Lead Forms and CRM integration