Last updated: March 31, 2022
While it might seem obvious that sales and marketing should be on the same page, for a lot of SMBs that truth often still feels like a distant, utopian dream. According to a recent report by Outfunnel and Copper, 46% of SMBs face sales and marketing alignment challenges.
But why? Why do SMBs struggle with sales and marketing alignment?
According to the report, the 5 main sales and marketing alignmnent challenges SMBs face in 2021 are:
Lack of strategic and tactical cooperation
Misaligned goals
Patchy awareness of each other's contribution
Limits of technology
The COVID-19 pandemic
Let's take a closer look at each of these challenges, and explore how you can tackle them at your company.
1. Lack of strategic and tactical cooperation
As we said in the opener: aligning sales and marketing seems like a no-brainer.
So, it's not remotely surprising that this notion is born out by the numbers (that notion being "effective sales and marketing alignment = revenue growth").
Revenue growth is 70% more common among companies where sales and marketing cooperate effectively.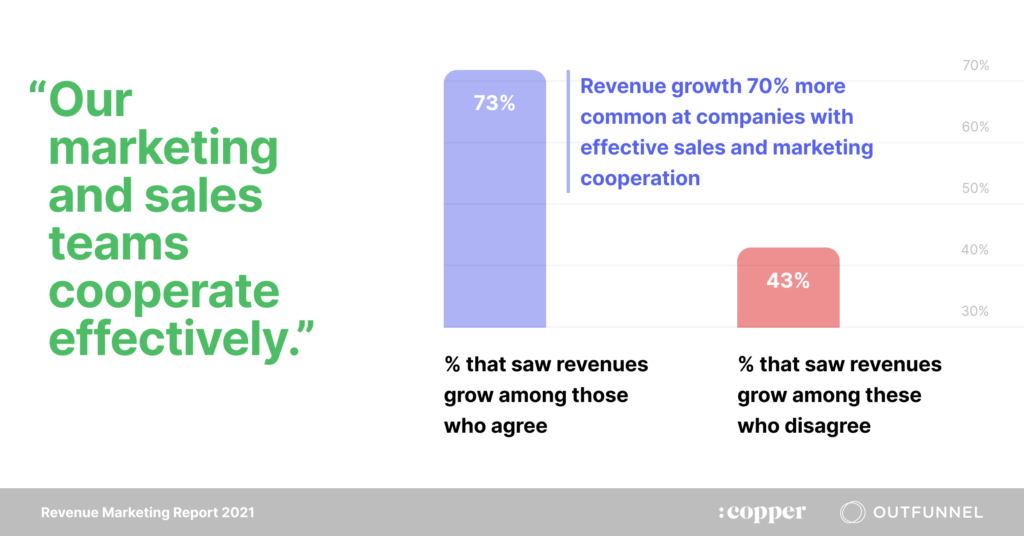 So, how can sales and marketing cooperate more effectively?
The revenue marketing survey found that effective cooperation most commonly involves using shared KPIs, holding joint meetings, and having both teams work together when putting together strategic and tactical initiatives.
Even if your team is not too big, you can follow ABM-like practices to make sure all the customer-facing teams are on the same page. Additionally, using tools like Gong, Avoma and Scribe will help with asynchronous alignment.
2. Misaligned goals
When we talk about sales and marketing alignment, what we're really talking about is goals.
An interesting finding here was that, if you break down businesses by size, it's the medium sized teams that struggle with aligning sales and marketing goals the most.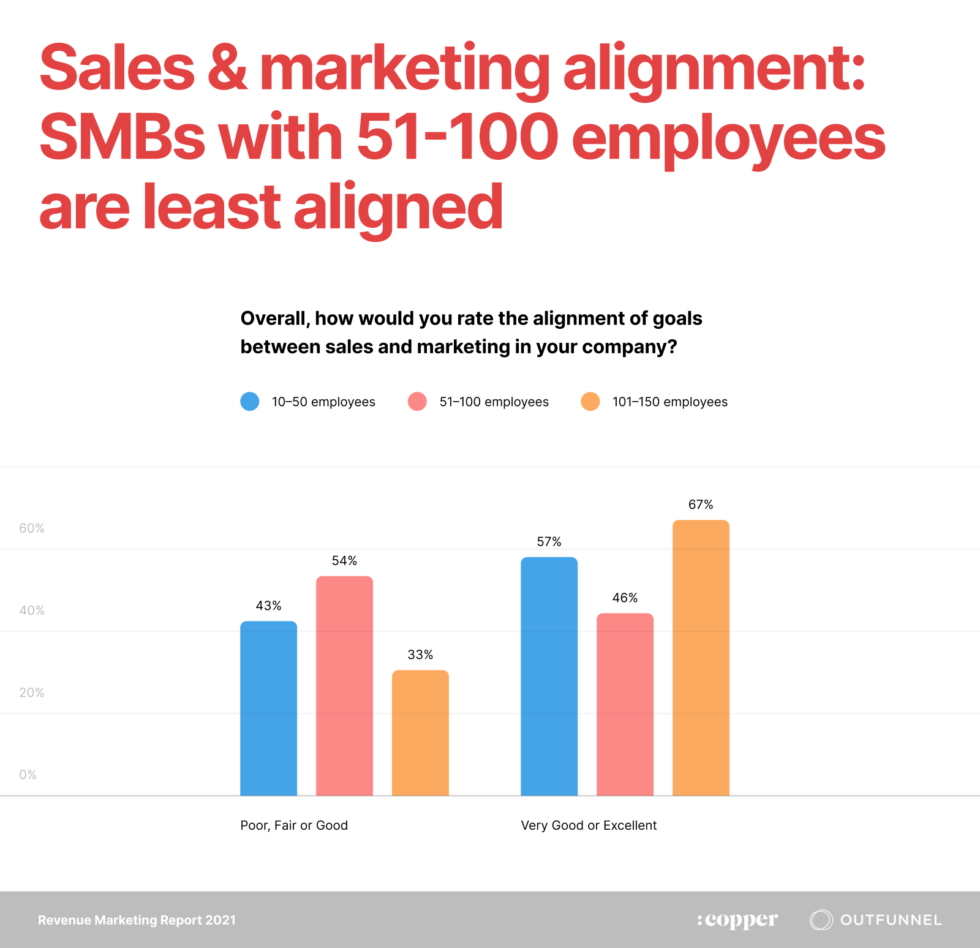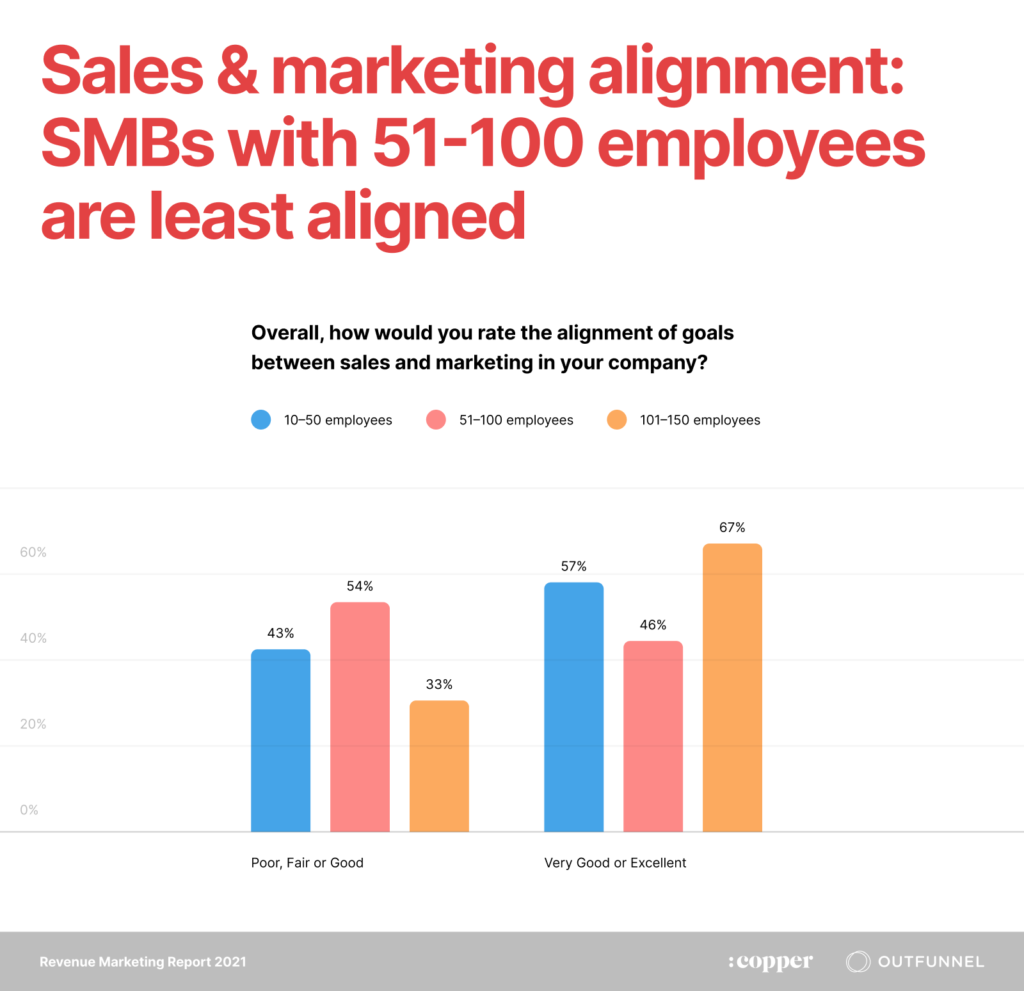 This actually makes a lot of sense.
Small teams (10-50 people) don't need a lot of procedures or tools in place to stay aligned. The org structure is pretty slim and, generally, anyone can talk to anyone else to stay in the loop and get things done.
Conversely, larger businesses (101-150 people) have the financial clout to put together dedicated revenue ops teams and make use of ABM tools.
That leaves the medium-sized companies (51-100 people) stuck in this awkward transition phase. They are too big for fluid communication and collaboration, so they struggle to get their sales and marketing goals aligned. And they're too cash-strapped to have the resources for expensive ABM tools and dedicated revenue operations teams.
Thankfully, there are tools like Outfunnel that offer affordable ways to align sales and marketing around shared goals. Such tools aren't beyond the reach of medium-sized businesses, while still offering features that embarrass some enterprise-grade platforms.
3. Patchy awareness of each other's contribution
Sales and marketing often have a "finger pointing" attitude when it comes to collaboration.
The problem is, these attitudes are only counter-productive. Yes, there should be responsibility and acceptance when things go wrong but, in reality, the emphasis should be on learning "what and why" rather than "who and when".
And these attitudes are born out by the data.
Nearly half (46%) of marketers think that their sales team doesn't understand what is important to the marketing team.
On the other hand, sales is more confident, with just 31% of salespeople believing that marketing doesn't "get" their needs.'
This challenge likely stems from long-held, culturally-enforced attitudes of a "sales vs marketing" structure, or lack of collaborative tools and procedures.
How to overcome this challenge?
Having sales and marketing work together on initiatives and introducing cost-effective, revenue marketing tools would definitely ve steps in the right direction. Kelsey Raymond from Influence & Co. shares another simple tactic that will help keep the teams aware of each other's contributions:
"A simple thing our company Influence & Co. has done to better align sales and marketing is a monthly meeting where we talk through a few recent sales and what pieces of content were used, why they were helpful, and what the result of the conversations were. This allows the marketing team to get real-time feedback on what is working and not working in the sales process."
4. Limits of technology
It seems that, when it comes to martech solutions, there's an embarrassment of riches. Sales platforms, less so, but the choice is hardly slim.
According to Scott Brinker of Chiefmartec.com, the marketing technology landscape is home to about 8,000 tools.
The sales tech population is about 10% of that – around 950. Way less than the martech ecosystem, but still, a solid number.
That said, according to the revenue marketing report, more than one third of respondents are dissatisfied with the technology available for aligning sales and marketing teams.
Nearly half of respondents (47%) agreed that these tools would be much more useful if they could be easily integrated.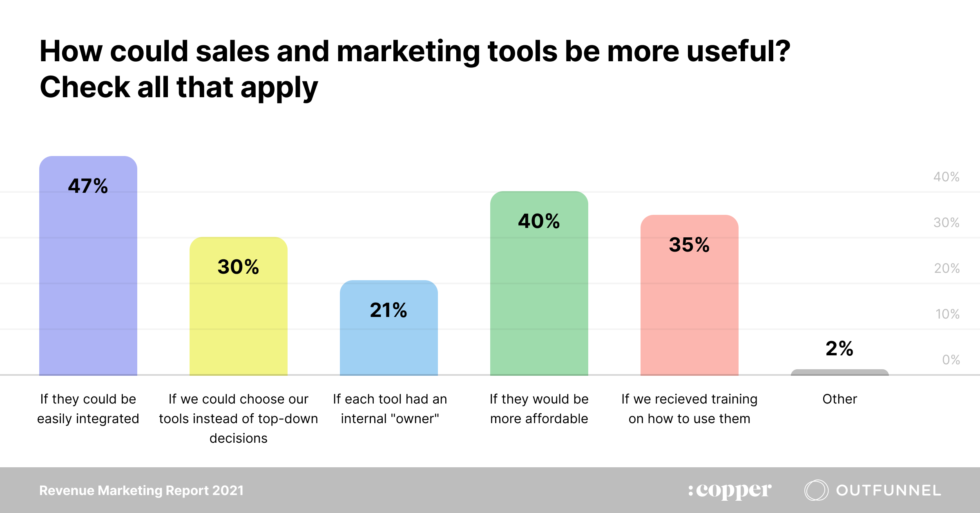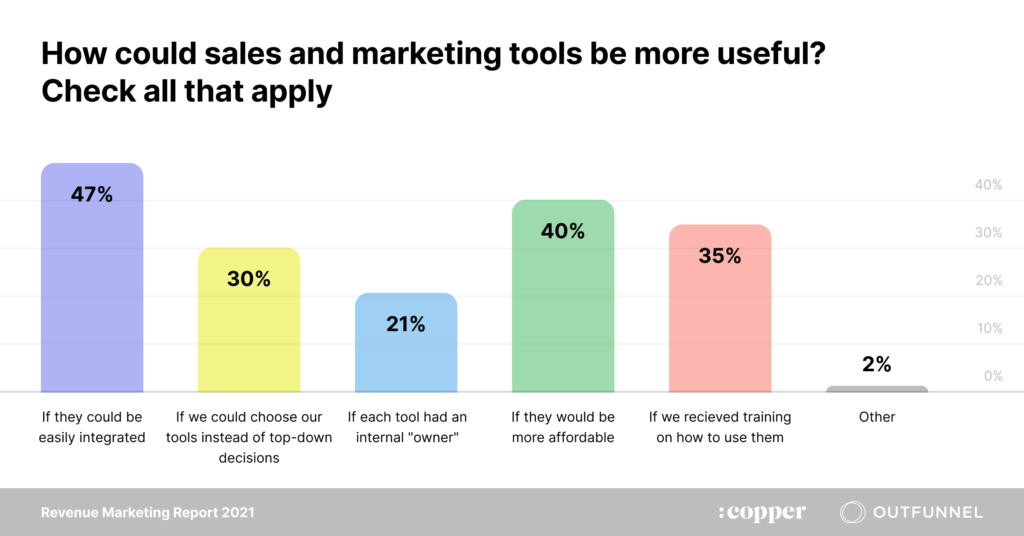 The solution here is to adopt tools that are built with sales and marketing integration in mind. Ali Schwanke from Simple Strat elaborates on this below:
"Sales and marketing alignment isn't something that's done once and then implemented. It's an initial strategy that requires ongoing communication and structure. At the end of the day, both teams should be focused on revenue, which spans the entire customer journey.
Adopting a strong "smarketing" (or what's now called RevOps) approach means the marketing team taps into the sales team for content creation and the sales team looks to marketing to see what the buyer behavior looks like prior to engaging in a sales conversation—something that tools like Outfunnel make possible.
Defining customer lifecycle stages and conversion definitions are a great place to start. That way your database has meaning and you can have shared conversations about how to turn those potential contacts into customers."
5. The COVID-19 pandemic
2020 was, well, you know.
We don't need to remind you that, for a lot of businesses, it was a bloodbath. Yes, while some businesses were able to turn the "new normal" to their advantage, many were just focused on making ends meet.
More than half (53%) of the businesses we surveyed reported that the pandemic made it more difficult to align sales and marketing goals.
Anecdotally at least, this could be down to the pressure of remote work. While a lot of businesses have certainly been moving that direction anyway, the sudden, enforced shift, meant many had to adopt remote work almost overnight.
But, as is often the way, times of adversity often produce creative solutions.
Below is an example of how sales and marketing teams can join forces when faced with a challenge like the COVID-19 pandemic, and become more aligned as a result.
One NY-based B2B marketer, working in the education sector mentioned that marketing took over their live chat, to take the pressure off sales, and ultimately this gave them a lot more insight.
"During the pandemic, marketing took over live chat to take pressure off sales, and we all learned a lot from this experience."
In Summary: Better Tools, Changing Attitudes
The revenue marketing report paints a picture of a shifting sales and marketing landscape, partially shocked into action by the recent pandemic.
Forced to experiment with new approaches that, in many cases, have led to deeper insights and renewed appreciation for their colleagues' work.
While this is a positive step, many teams still struggle with a lack of reliable, cost-effective tools to guide their journey to revenue marketing utopia.
And, of course, all the tools in the world won't make a difference if sales and marketing don't get away from the counter-productive finger pointing BS that has held back meaningful collaboration for so long.
Find out more about the state of sales & marketing alignment: Revenue Marketing Report 2021.