Last updated: April 20, 2021
Livestorm is a sleek webinar and virtual meeting app that has started to conquer the market, if you'll excuse the pun, by storm. Founded in 2016 after being frustrated with webinar tools available at the time, the company now features customers like Intercom, Instapage, Chargebee, Autopilot, Pipedrive and even big corps like Bosch and WPP.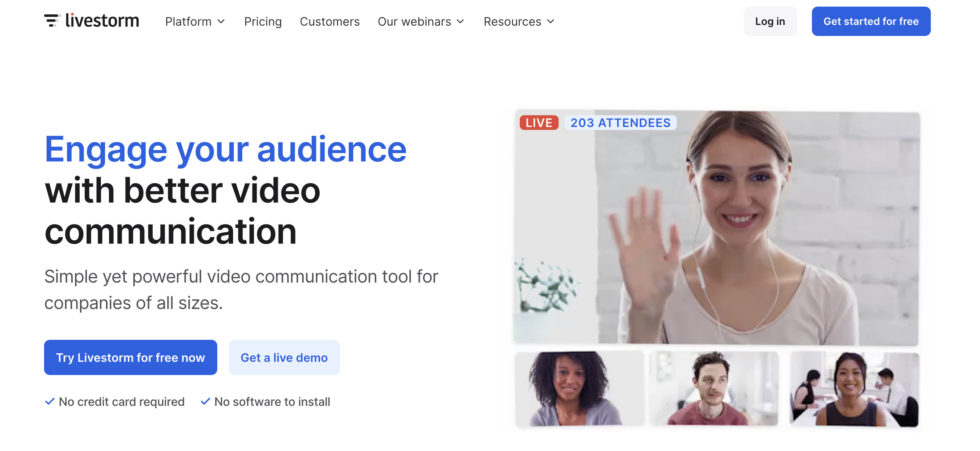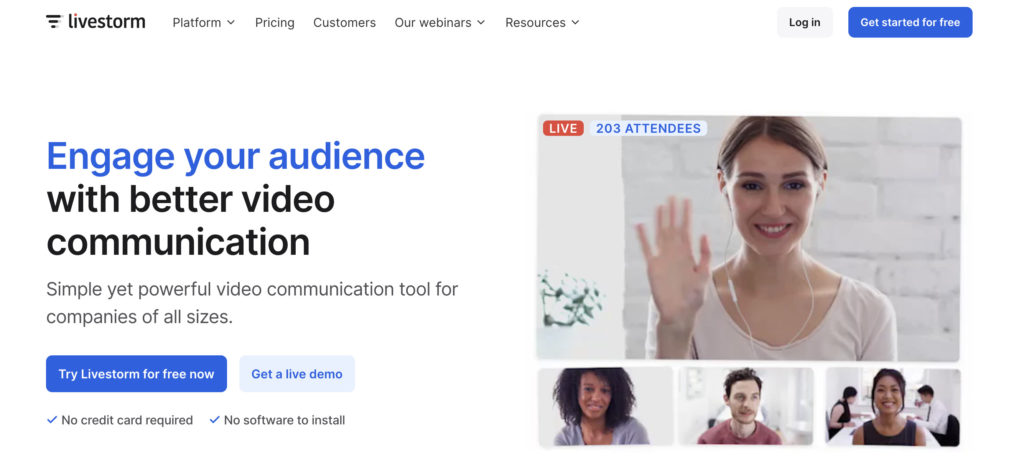 The company tripled their annual recurring revenue (ARR) in 2018.
I've kept an eye on the company since I first had a chat with the founder Gilles two years ago (unsurprisingly we chatted over Livestorm and the recording is available here).
I knew the company was doing something right with their sales and marketing, so I chatted to Thibaut Davoult, their growth engineer and the company's first ever marketing hire.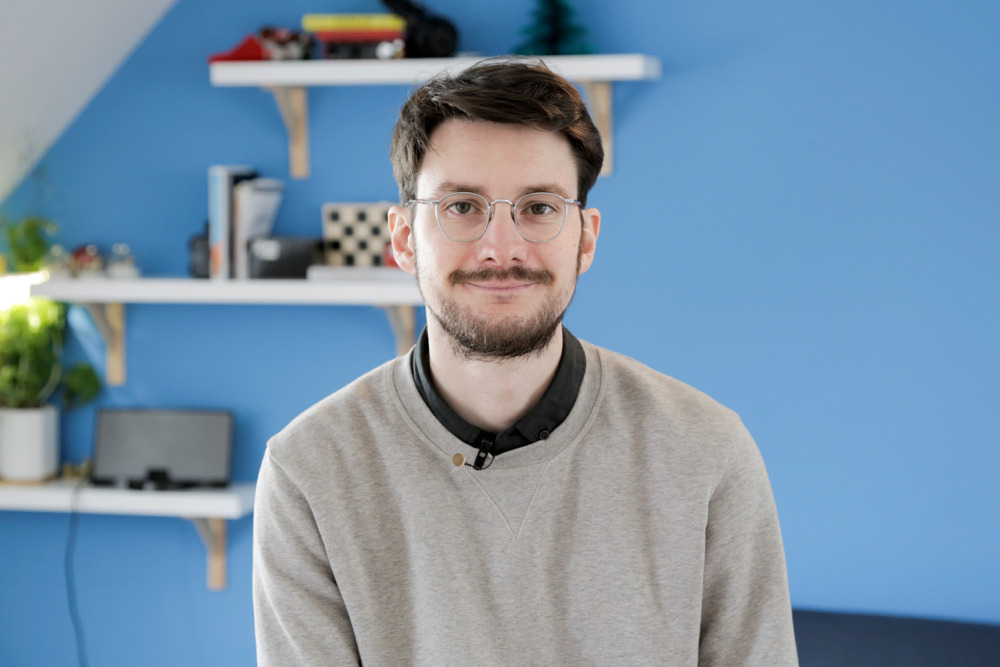 Here's the round-up of our chat: a proper sales-marketing case study based on Livestorm.
What does your marketing funnel look like: how do you get leads and keep track?
Our "marketing DNA" has been focused on inbound so far. We started out producing content on our blog posts as well as "evergreen" content on our website. Coupled with that we've made SEO efforts around getting backlinks and optimizing the website.
For example: one of the things which worked for link building was first listing all the software we used in our tech stack and emailed them all offering to write a customer story or review on their site. The success rate was about 30% which is pretty massive, and it landed us great backlinks.
We've worked hard to increase our presence on review sites like Capterra and G2Crowd. We've also done co-marketing webinars with brands that target a similar audience and been quite active in pursuing partnerships. On the paid side we've run Google Search Ads mostly.
And we've also experimented with getting more leads among people who come to the site but don't sign up. We use Leadfeeder to identify site visitors and we run the following workflow:
Export the list of company names from Leadfeeder
Run them through a script that matches company names with email addresses of people from these companies
We then sometimes filter the results, leaving only those with a specific job title (e.g. containing the word "marketing").
Finally, we send the list to our email marketing tool that starts an outreach sequence.
We've had mixed results with the latter tactic eg. sometimes filtering only specific job titles cuts the list of leads too short. But our plan is to keep experimenting to find the right "recipe".
And on the sales side, what does your sales pipeline look like?
If the role of marketing is to drive relevant traffic and leads, sales takes over from the point of qualifying whether someone is a qualified lead or not.
We do qualification by adding specific questions to webinar or product signup process (eg. team size and whether they already plan to use webinars) and by enriching signup data with sources like Clearbit.
We then keep conversations going with leads we've identified as good fit using the various lead qualification methods. And the last stage of our sales process is keeping customers happy, measured by NPS (Net Promoter Score) and LTV (Life-time value).
It's worth pointing out that since we're a relatively young company, our CEO Gilles has been doing most of our webinars since we started. But we finally brought on our first dedicated salesperson in early 2019, to complement our two full-time Customer Success people.
What kind of goals do you set for sales and marketing and what are your KPIs?
Our main goal is MRR (monthly recurring revenue) growth, which is kind of obvious for a SaaS company. So far, we've had an average monthly growth of 20%, obviously this was a lot easier to reach than it is now after 2 years of existence.
In addition to MRR we break this metric down by components and by function. This table summarises the key stages of our sales and marketing funnel, and the KPI's we track:


What's your sales and marketing stack like?
Oh man… where do I start?
We're of course big users of our own product. It only makes sense to learn about a webinar product via a webinar.
On the analytics side we use Google Analytics for overall stats, Attribution to track, well, attribution of different channels that drive leads and Amplitude for product stats.
We get data connected and enriched, using Segment, Zapier and Clearbit.
We use LinkedIn Sales Navigator and Anyleads to identify leads for our outbound efforts. And we mostly use Prospect.io to manage our outreach campaigns to leads. And I already mentioned the role of Leadfeeder in our growth processes.
We use Pipedrive as our CRM and most messaging to various segments is handled via Customer.io, though we also use Intercom for some specific emails. Then of course our live chat and support as a whole goes through Intercom.
Overall, what's worked for you in keeping sales and marketing in sync?
Sharing data between all tools and creating automations between tools is key. As well as making data easily accessible. We all look at various dashboards that we've built. E.g: try to gain insights from Amplitude.
Communication, or even over-communication is super important. We communicate in following ways:
Friday written review (keymetrics post on Slack)
Monday teamwide meeting
Feedback on sales calls
Improving our process
And it's also about the people. I would never start over-optimising traffic that doesn't convert, even if "my" goals are more related to overall number of leads rather than leads that converted to a paid subscription. What matters is the bottom line, not increasing one metric at the detriment of the rest.
People tend to share goals if there's a culture of sharing goals. And one of the things you can do to influence this culture is by hiring the kinds of people that look beyond their individual KPIs and keep the bigger picture in mind.
I hope you found this sales-marketing case study useful. You can follow Thibaut on Twitter and check out Livestorm here. And check back here soon or sign up to be notified of new posts, because we aim to bring you more case studies like this soon.