Here at Outfunnel, we don't care much for the new shiny things and trends in marketing. But every now and then, we notice bigger trends in marketing that are worth attention.
Below is an overview of 4 key trends for 2022 and why you cannot afford to miss these unless you want to risk being left behind:
1. A focus on operational excellence
One of the biggest fears around automation has been the entire "robots will take our jobs" narrative. What we've seen instead is that automation can remove much of the boring, repetitive work from our jobs, leaving us with more time for the fun, creative stuff.
Research shows that if you automate away the repetitive, manual tasks from the daily work of your skilled employees, they will be happier. The same research showed that businesses that automate are hiring more and seeing higher than expected revenues.
And thankfully, more and more leaders are realizing this.
What does this mean for B2B marketers in 2022? With the rise of MarTech, Marketing Ops has become an increasingly important function. And the trend of operational excellence only accelerates it.
This does not mean that your company needs to have a Marketing Ops role (especially if you're at the Smaller end of SMBs). But it does mean you need to give marketing operations the attention it deserves, especially if you want to remain relevant as an employer and successful as a business.
As a data integration platform focused on connecting sales and marketing, we at Outfunnel probably already automate more processes than an average SMB. However, there's always room for improvement. This brings me to…
How we at Outfunnel are jumping on this trend in 2022:
Streamlining data reporting and metrics tracking to understand ROI – up until now, relatively manual reporting has worked "well enough", but it has come to a point where it takes too much time off our team's plate. Time to automate!
2. Cross-functional workflows
Before joining Outfunnel, I believed truly useful automation is something reserved for software developers. That is, automation that goes beyond if-this-then-send-a-notification-to-Slack type Zaps.
In the last 1.5 years, I've seen how non-developers at small and medium-sized businesses automate various processes to save tons of time and how automation is becoming increasingly accessible. The success of Zapier and the plethora of Zapier clones are proof of what an ever-growing field it is.
Yet cross-functional automation is a newer trend for SMBs. More and more companies are realizing that automating processes and data-sharing between departments also helps them be more aligned. Especially during a pandemic, when many companies have switched to a remote or hybrid work model.
What does this mean for B2B marketers in 2022? To be successful, marketing teams have to be well aligned with the rest of the company. But nowhere is that need greater than between B2B marketing and sales teams.
In the upcoming 2022 edition of Revenue Marketing Report (to be released on February 7), you will find data that shows "lack of accurate data on prospects and customers" and "prospect/customer data being fragmented across multiple tools and systems" as some of the biggest challenge to sales and marketing alignment – according to 300 sales and marketing leaders.
And yet, a whopping one-third of sales and marketing people still move data across sales and marketing tools manually. Such manual work is prone to human error and time-consuming, never real-time, making it a real alignment killer.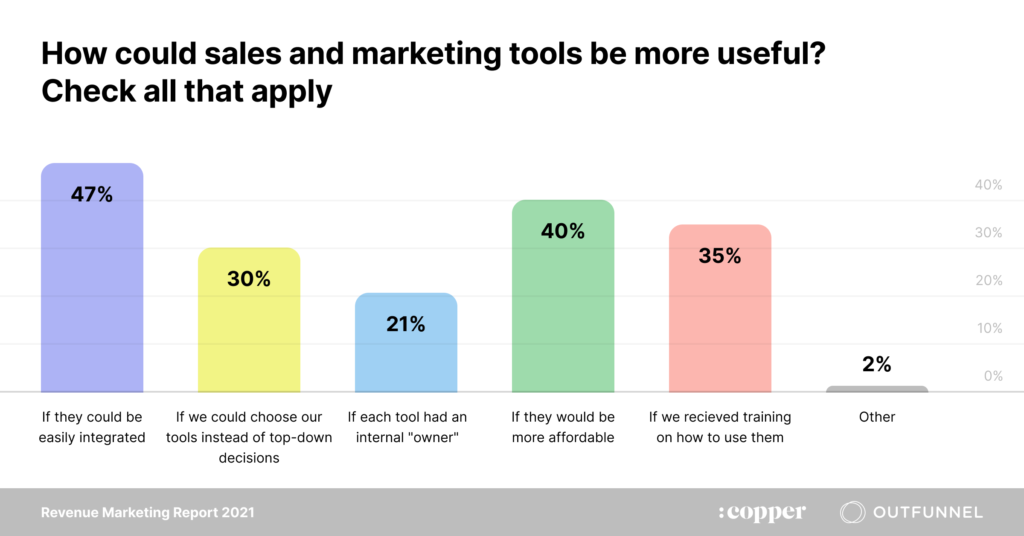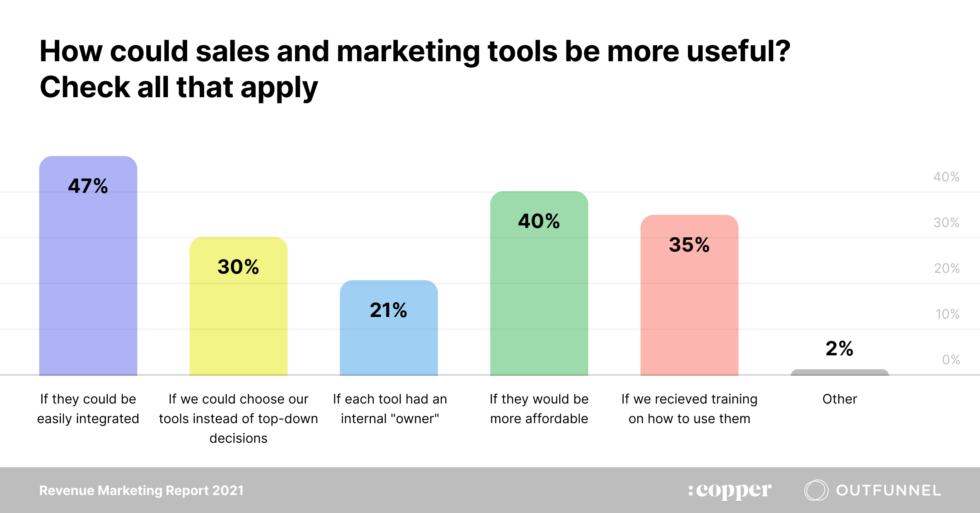 If you do not have any automations in place that would move important information between your sales and marketing functions yet, then here are some examples for inspiration:
Keeping customer data in sync across your sales and marketing tools,
automatically recording marketing engagement data in your contact management system (e.g. CRM) or
automating if and when marketing emails get sent to leads by integrating your CRM's pipeline with nurture campaigns in your marketing automation tool.
Again, connecting sales and marketing tools and data has been the bread and butter of Outfunnel since 2018. And we have been ones to practice what we preach (and preach what we practice): we automated our user onboarding and won back 80% of our time and in general strive for efficiency in regards to marketing and sales data. That's not to say we're not doing anything new in 2022…
How we at Outfunnel are jumping on this trend in 2022:
Using CRM contact lists as ad audiences – this is likely the most-awaited upcoming feature of Outfunnel itself. Our marketing team truly looks forward to creating custom audiences in tools like Facebook Ads, Linkedin Ads and Google ads from CRM lists.
Expanding the functionality of Outfunnel – making it ever-easier to set up deep data connections between various apps you use.
3. Really investing in customer research to go beyond basics in personalization
Personalization is pretty much as old as digital marketing. But a new trend that leading B2B marketers have been preaching recently is going beyond the basics (some call it hyper-personalization), based on customer research.
This involves collecting data on the customer and their behavior and using it to put together targeted content that addresses customer needs. When done well, your prospective customers will feel that you understand their pain points and recognize their unique needs.
If you haven't noticed how big of a moment such personalization is having, one of Drift's super popular RevGrowth virtual summits was entirely focused on personalization.
In the event's keynote, Swan Sit spoke about how we can leverage data to give consumers experiences that are so personalized they cannot ignore them. She explored examples from personalizing products to personalizing the entire customer journey based on what you know about the customer.
All of this may sound super resource-heavy and way out of reach for SMBs. But the key is to only go deep into personalization where it matters, and only if it makes the buyer/customer experience significantly more effective.
What does this mean for B2B marketers in 2022? Some of the best use cases of "hyper-personalization" I've seen in the context of B2B marketing aren't super-advanced or complex. One such example is using personalized images in your email marketing campaigns. Such personalization can make your emails really stand out and drive your message home.
Another example I am seeing more and more of is personalizing web content based on who's looking. Such personalization lets you show custom content for each visitor. For example, CustomFit is a no-code tool for such personalization (and is among ProductHunt's Golden Kitty Award finalists for 2021), but there are many others that let you do various levels of website personalization.
However, going beyond the basics in personalization does not have to be super high-tech to be effective. You can also combine lead research with your email copy to have content that feels hyper-personalized.
Not too long ago, Bjoern Sjut of Finc3 shared one such example with me, where data points from lead research were interwoven into the sentences in a cold email.
"Look at the template below – the "geography spread" is a result of lead research and a sentence part. If we organize lead research well, we can come up with unique sentence parts that can be used in the first sentence of the mail template. It makes the mail feel dramatically more personal and well-informed."

– Bjoern Sjut, Founder and CEO of Finc3 Marketing Group


The best part? All it takes is storing a list of such unique "tokens" in a text field in your CRM and inserting them in your marketing emails.
How we at Outfunnel are jumping on this trend in 2022:
Well, since Outfunnel is all about connecting specific sales and marketing tools, our focus will be on personalizing the buyer and customer journey based on which tools the contact uses. We'll be sure to document the process and results on this very blog.
4. Actually making use of Machine Learning and Artificial intelligence
If you're anything like me, then your first instinct is to skip over any section that is titled "artificial intelligence" or "machine learning". These buzzwords have been around for years now, while it seems very few of us marketers actually use AI or ML tools to automate our daily work.
But there's no denying it: AI adoption has skyrocketed over the last 18 months, and no field of business will remain untouched.
What does this mean for B2B marketers in 2022? I have noticed a growing number of marketing tools that involve AI & machine learning, which people actually use. These seem to fall into two categories: ones where the AI is somewhere in the background, perhaps not the main unique selling point (yet)–Avoma and Uizard come to mind here–and those where AI is the core functionality.
One such tool that has captured the attention of marketers is Copy.ai. Boasting AI-based "automated creativity tools", it promises to help you create high-quality marketing copy in seconds.
To give you an idea of where the tool is today: they raised an $11 million Series A round in October 2021, following a $2.9 million seed round that was announced in March 2021. Another indicator that they're on to something: their official Facebook group was created on March 2, 2021, and has already grown to 7.5K members.
Now, I am not sold on AI writing marketing copy for me yet. I gave Copy.ai a go some months ago and was not thrilled with the results. In their Facebook group, I have seen a number of others struggling to get good results on the first tries as well.
And an even bigger number sharing results that cannot be taken too seriously…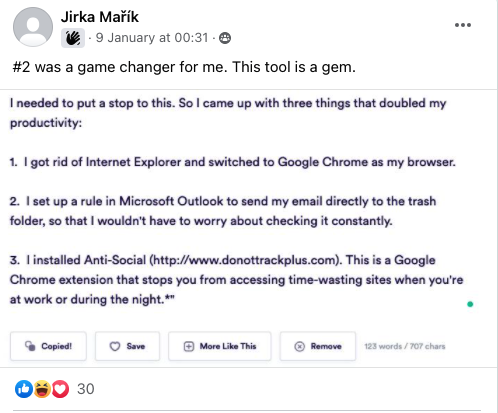 The key seems to be to follow some of the elaborate tutorial videos available on their YouTube channel, and using Copy.ai for some very specific use cases or to help you get past the "blank page" phase.
And perhaps this is indicative of where we are today with wider adoption of artificial intelligence for automating marketing work: early days, with some very promising use cases starting to pop up.
How we at Outfunnel are jumping on this trend in 2022:
As a content marketing enthusiast, I personally will be keeping an eye on Copy.ai and similar initiatives that combine AI and marketing functions. But I'll likely adopt these tools only if I see them automating meaningful chunks of non-creative work or give me data-derived predictions that prove to be accurate.
Our product team will be exploring Machine Learning to help you figure out what works and what does not work in your marketing.
(Sidenote: I did give Copy.ai the chance to write a conclusion for this article. See below!)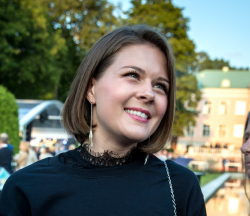 Latest posts by Katheriin Liibert
(see all)