Last updated: May 13 2022
Zapier is the market leader for no-code and automated integrations between web apps, but it's not for everyone.
While it works for many users, there are alternatives that better meet your needs.
This comparison post explores six Zapier alternatives, sorted according to their unique strengths.
In this article, let's explore these tools measure up based on a specific use case: connecting your HubSpot CRM and Mailchimp to sync marketing contact lists with sales. I'll be looking at their functionality, ease of use, as well as the quality of customer support.
Zapier alternatives for specific sync use cases
1. Outfunnel
Best for: connecting your CRM with your marketing automation tools like MailChimp, ActiveCampaign, Sendinblue, and Hubspot Marketing.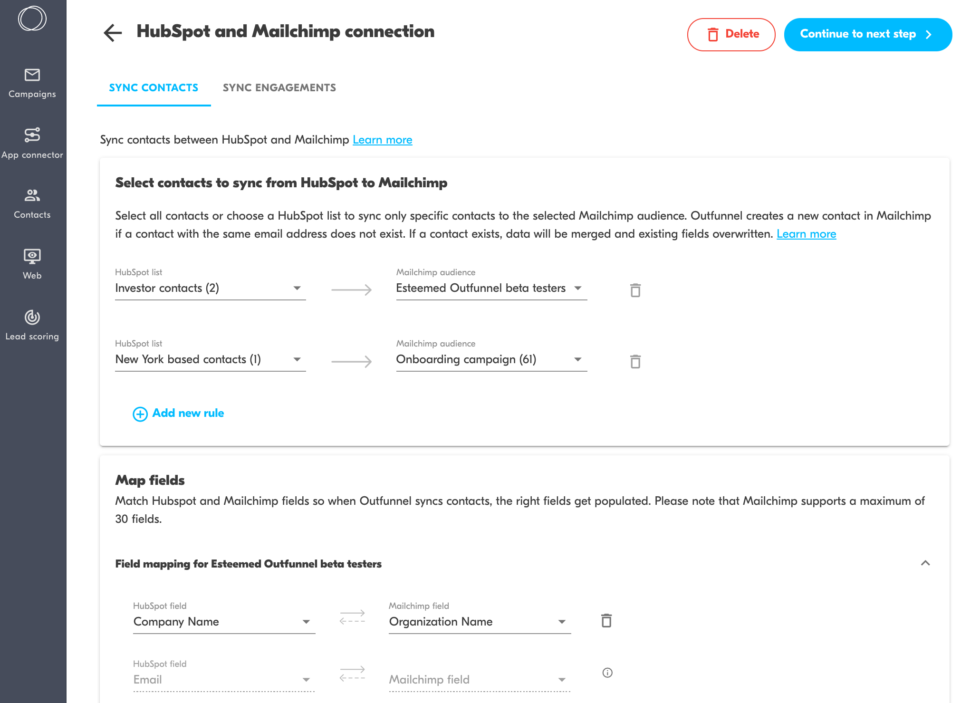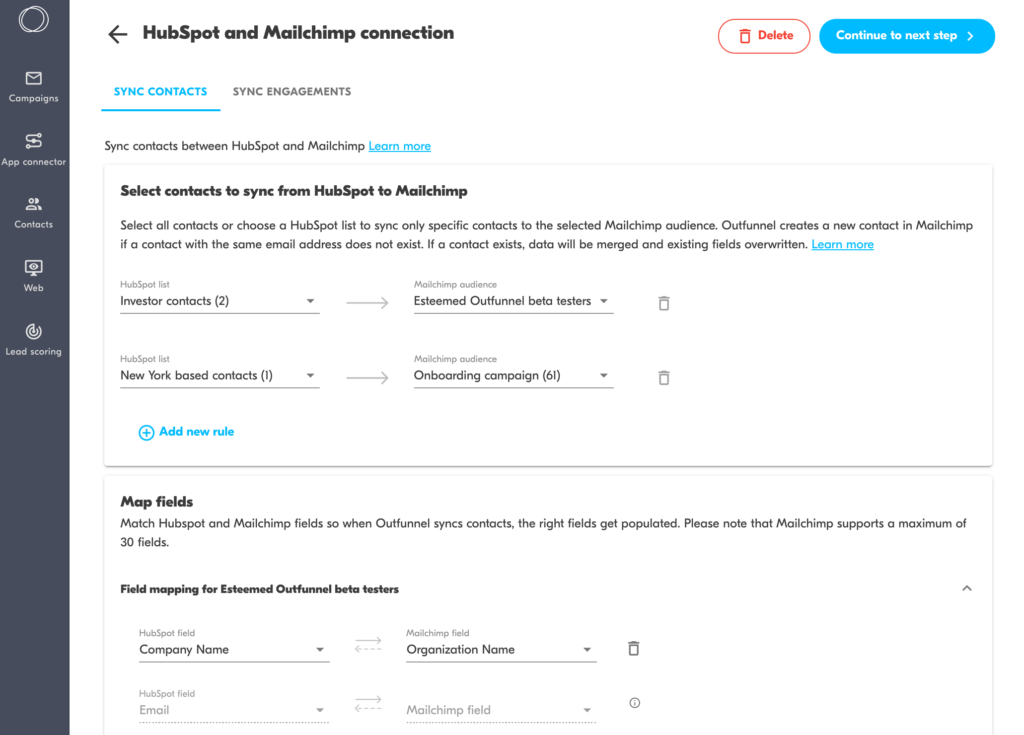 According to research, revenue growth is 70% more common among companies where sales and marketing cooperate effectively. So, if you want to connect these two departments to skyrocket your revenue, look no further than Outfunnel.
Outfunnel's core functionality is an App connector for connecting data between your customer relationship management platform (CRM) and marketing tools. Additionally, Outfunnel offers web visitor tracking and lead scoring to keep sales and marketing aligned, and can help with marketing attribution.
Its biggest advantage over Zapier revolves around integrations that are designed for sales and marketing workflows. We're talking about powerful integrations like syncing new contacts and meeting activities from Calendly to Pipedrive or automating when certain campaigns in your email marketing app get sent out to lead lists defined in your CRM.
Ease of set-up
⭐⭐⭐⭐⭐/⭐⭐⭐⭐⭐
It's insanely easy setting up a connection on Outfunnel, as I knew exactly what to do:
1. Click HubSpot CRM and Mailchimp under App connector.
Authenticate both apps to create a connection. Outfunnel offers a straightforward and intuitive interface. Right away, I knew how to connect HubSpot CRM with Mailchimp.
2. Match Mailchimp fields and HubSpot properties to populate the proper fields.
Mapping fields on Outfunnel is a clear-cut process
3. Activate connection. 🎉
What's great about the HubSpot-Mailchimp connection by Outfunnel is that after just a few minutes of setup I can now easily send relevant emails to these contacts from Mailchimp, and have their marketing engagement recorded in HubSpot CRM. (Note: This user data is accessible to both marketers and sales reps.)
Customer support
⭐⭐⭐⭐⭐/⭐⭐⭐⭐⭐
How did Outfunnel perform at this stage? I'll let you be the judge of that.
Maarja Mägi, Outfunnel's customer support (CS) specialist, replied within two hours.
Outfunnel earns a point for offering to consider my suggestion as a feature request. You can see how Maarja has personalized her response, noting the specific pages I want to target and recommending how to proceed.
When I didn't reply, Maarja emailed again to see if I needed further assistance.
Outfunnel gets another point for closing the loop
In case you're wondering, no one from the CS team knew who I was. Rest assured that I didn't receive any preferential treatment. 😉
Don't believe me? Check out these user reviews on Capterra. Outfunnel scores an impressive 4.9 stars for customer support.
Bonus: you can also use Outfunnel to connect your web forms and CRM, to automatically sync form submissions to HubSpot CRM as contacts.
I installed Outfunnel's WordPress plugin so that when a user subscribes to my email list via Mailchimp, Outfunnel will automatically add them to my HubSpot CRM, along with their online activity and source/medium info details.
I submitted a form through Mailchimp as a test, and sure enough, the new contact is reflected in HubSpot CRM within minutes.
Pricing: 14-day free trial, with paid plans beginning at just $6/month.
Overall score
⭐⭐⭐⭐⭐/⭐⭐⭐⭐⭐
Outfunnel's field mapping intimidated me in the beginning.
Fortunately, it took only a few seconds to grasp how it works. It's incredible how I can deeply connect my CRM and marketing automation platform in less than 15 minutes. It would have taken several multi-step Zaps to set up anything similar with Zapier. If ease of use is your top priority, try Outfunnel.
Outfunnel works with most popular CRMs (e.g. Pipedrive, Salesforce), web forms tools (Wix Forms and most WordPress forms), Calendly, marketing automation tools geared at SMBs, and lead ads of social media giants, such as Facebook Lead Ads.
2. HubSpot's Operations Hub
Best for: Keeping contacts in sync across revenue operations, if you use HubSpot
Do you remember PieSync? Well, HubSpot acquired PieSync and turned it into Data Sync, which is at the core of Operations Hub now.
While PieSync could be used to connect many different CRMs to hundreds of business apps, Data Sync is only available for HubSpot CRM users. Due to this, many have started seeking PieSync alternatives for their contact syncing needs.
But let's talk about what you can do with Data Sync and Operations Hub, HubSpot's latest offering, built for revenue operations (RevOps) teams.
This tool automates repetitive tasks and syncs and cleans customer data. Core features include data sync, programmable automation, and data quality automation.
Unsurprisingly, you can use it to sync email marketing contacts to HubSpot CRM, e.g. from Mailchimp to HubSpot CRM.
Ease of set-up
⭐⭐⭐⭐⭐/⭐⭐⭐⭐⭐
HubSpot Operations Hub offers two-way contact data sync with Mailchimp.
This big player in the marketing and sales world boasts a straightforward interface. I knew how to set the sync rules and default field mappings. Once everything was done, all I had to do was save the settings and set it live.
Likewise, testing went smoothly. The new record popped up after a few minutes.
Customer support
⭐⭐⭐⭐+/⭐⭐⭐⭐⭐
HubSpot excels in customer support. I managed to hear back from the CS agent in under five minutes.
Tyrone from HubSpot went beyond the mile to help me with my set-up. Note how he offers to provide relevant resources and connect me with a growth specialist.
The CS agent was prompt in his response, but the same thing can't be said for the growth specialist. It has been five days since I heard from them.
Pricing: There is a free plan, but if you want custom field mapping or more advanced functionalities, paid plans start from $49/month. A 14-day free trial is available for the Professional plan ($800/month).
Overall score
⭐⭐⭐⭐+/⭐⭐⭐⭐⭐
It was straightforward syncing contacts with HubSpot CRM and Mailchimp. They even pose it as a native integration, but you do need to pay up if you want to take it beyond a basic contact sync.
Based on the data syncs offered, Operations Hub is best suited for RevOps teams that want to streamline operations within their organizations. For instance, the FreshBooks and HubSpot integration works great for sales and customer support departments.
3. Highways.io
Best for: Customer chat workflows
Do you use your conversational marketing platform to qualify leads? If so, Highways.io is it.
Highways.io supports 30+ connections. On the live chat front, there are Zendesk, Drift, and Intercom. Whereas for CRMs, there are HubSpot, Keap, and Pipedrive.
Its main features include sync data attributes, activity tracking, and transcript syncing.
Ease of set-up
⭐⭐⭐⭐⭐/⭐⭐⭐⭐⭐
Since Highways.io is a conversation-centric automation tool, our scenario will be different in this walk-through.
I'll briefly share what it's like to sync Intercom with HubSpot CRM.
It takes seconds to sync both apps. All I had to do was choose a workflow and map the chat and CRM attributes with a few clicks.
Highways.io's data syncing is lightning fast. When I submitted an email address on Intercom as a test, it instantly showed up on HubSpot CRM.
Customer support
⭐⭐⭐⭐/⭐⭐⭐⭐⭐
I received Highways.io's email the next day.
Note how co-founder Colin positions Highways.io as the better alternative when it comes to integrating chat tools with the rest of the tech stack. Zapier is great for simple workflow automation, but Highways.io enables powerful automations between chat tools.
Pricing: 14-day free trial, with paid plans starting $49/month.
Overall score
⭐⭐⭐⭐/⭐⭐⭐⭐⭐
It's super-duper easy setting up a chat workflow in Highways.io. Although customer service wasn't the fastest, the personal touch of hearing from the co-founder adds a unique touch to the user experience.
Zapier alternatives that are free and low-cost
4. IFTTT
Best for: Basic 1-2 step integrations
Source: IFTTT
IFTTT is one of the most popular automation tools among beginners, and for a good reason.
Its 700+ service templates (i.e. automation recipes) show an eclectic range of workflows (think Fintech, subscription services, smart home, and energy appliances). Pick your desired workflow, tweak it, and set it live.
Ease of set-up
⭐⭐⭐⭐⭐+/⭐⭐⭐⭐⭐
There's no doubt that IFTTT has the easiest set-up in this list of integration platforms. See it for yourself below.
Yep, that's exactly how it looks when you build a workflow on IFTTT. The interface screams simplicity.
If you explore the automation recipes on the IFTTT website, you'll notice that many of its workflows (called "Applets") focus on lifestyle use cases and connecting the physical world and cloud applications.
These are mostly quite imaginative one-way automations. Fun fact: I even spotted an Applet that reminds your neighbor to mow your lawn!
Since IFTTT doesn't offer any integrations with HubSpot, we'll do this a little differently. Let's explore what it's like to connect Mailchimp with Google Sheets.
Easy right? All I did was use an existing template, connect my apps, and click this button to set it live.
It took less than a minute to connect Google Sheets with Mailchimp. IFTTT features such a ridiculously easy interface that I'm sure any beginner can master it within seconds.
Customer support
⭐⭐⭐⭐⭐/⭐⭐⭐⭐⭐
IFTTT replied after one working day.
Its response stands out from the pack, as the CS agent was upfront about the tool's potential shortcomings. Note how he talks about IFTTT is better suited for lifestyle-based automations.
IFTTT's support email doesn't beat around the bush. Right away, the CS agent shares its pros and potential limitations.
Pricing: Starts free, with paid plans scaling $3.40/month.
Overall score
⭐⭐⭐⭐⭐/⭐⭐⭐⭐⭐
I wouldn't pick IFTTT for marketing and sales workflows, as it's far too basic. However, it's hands down my number one choice when it comes to personal use and home automation. And it should be yours too.
5. Automate.io – (NB! Ending service in 2022)
Best for: Basic to advanced automation workflows
Automate.io is a modern workflow automation platform that works with hundreds of apps.
Its sleek drag-and-drop interface is ideal for newbies. Automate.io recently added a collaboration tool, making it a perfect fit if you're looking to amp up your business productivity across teams in your company.
Top features include pre-built automation templates, data encryption, rest API connector, and shared folders.
Ease of set-up
⭐⭐⭐⭐/⭐⭐⭐⭐⭐
Automate.io features an easy-to-navigate user experience. Select your trigger app and action app and tweak your settings. It's relatively easy to create simple and advanced automation.
In this case, I wanted to add a new contact on HubSpot each time a user subscribes to my email list on Mailchimp. Note that if you want to sync contacts vice versa (i.e. from HubSpot to Mailchimp), you need to create a separate workflow and include a unique identifier to prevent Automate.io from creating a loop.
Everything went smoothly in terms of the connection. Almost immediately, a record appeared on HubSpot.
However, Automate.io still leaves a lot to be desired in its two-way data sync. For instance, it's currently impossible to sync your Mailchimp subscribers' email activity within HubSpot CRM.
One thing that stands out about Automate.io is that it prompts you to test your newly created connection during set-up.
It's the little things that make the big difference, and Automate.io scores high in this area.
Customer support
⭐⭐⭐⭐⭐/⭐⭐⭐⭐⭐
I've heard great things about Automate.io's CS, so I had high hopes.
And I wasn't disappointed.
Check out this email. The CS specialist replied in five minutes!
After I failed to respond, the CS specialist followed up the next day. Suffice to say, Automate.io sets the gold standard for customer service.
Pricing: Starts free, with paid plans scaling $9.99/month.
Overall score
⭐⭐⭐⭐/⭐⭐⭐⭐⭐
Automate.io provides an excellent customer experience for users.
This Zapier alternative is great for simple to slightly advanced workflows, but if you're looking to connect your marketing and sales data deeply (e.g., record leads' landing page details on CRM), it might not be the best choice.
NB! Automate is ending their service later in 2022, so you may want to pick an alternative to Automate.io.
Zapier alternatives for really complex workflows
6. Make (previously Integromat)
Best for: Complex multi-step integrations
Make is almost like the opposite of Zapier; it's more powerful and more complex to set up.
Users like the 3000+ free templates, highly visualized interface, error handlers, and routers. Right off the bat, you can tell Make is not for beginners. However, the tool is an incredible asset if you know your way around automation services.
Ease of set-up
⭐⭐⭐/⭐⭐⭐⭐⭐
Make's onboarding process is impressive.
During registration, it prompted me to select my industry and job role. Make then suggested several apps in its drop-down list. They were so freakishly accurate that I wonder if it was spying on me (it wasn't).
Unfortunately, this excellent user experience was short-lived. When I landed on the workflow editor, I felt overwhelmed immediately.
As I was building my first connection (called "Scenario"), I had to hover over each icon to learn its function. Make must have anticipated the learning curve involved because when I logged in the next day, a tutorial pop-up showed up on my screen.
Despite this, I failed to set up the integration.
If you're new to automation, I highly recommend you to check out Make's academy courses to dig into their app integrations and conditional logic. The numerous templates are also another great starting point. For instance, you can create a note on HubSpot CRM if a Mailchimp contact unsubscribes or add a tag to a Mailchimp subscriber whenever a HubSpot CRM deal stage changes.
Customer support
⭐⭐⭐⭐/⭐⭐⭐⭐⭐
Make responded after a day. I wasn't expecting a reply as I deliberately asked a question ("What makes Integromat a better option for a freelance writer than Zapier?") that it'd partially answered in its blog.
Make excels in customer support. The responsive CS specialist shared a relevant piece of content that helps answer my questions.
Pricing: Starts free, with paid plans scaling from $9/month.
Overall score
⭐⭐⭐++/⭐⭐⭐⭐⭐
If I were an automation expert, Make would rank at the top of my list. Its multi-step workflows and multi-app workflows are unbeatable. And when set up right, you can see in real-time how your integration works.
Make also has other advanced features. Take the error handling tool. It stops your workflow automatically if it spots even the tiniest error.
However, as powerful as Make is, it's too overwhelming for users new to workflow automation. Unless you're willing to put in the time to master the tool, it's best to look elsewhere.
*BONUS* 7. Custom integrations
There's always the option of using development resources to build custom integrations that do the business process automation work for you. In fact, more than one-third of SMB sales and marketing leaders report they have the luxury of using development resources for integrations.
And by all means, if you have the resources, there are many benefits to custom integrations or bots built between your favorite apps. You can design the setup specifically for your data transfer needs, and dive into the specifics without getting bogged down by limitations.
However, the biggest downside is the high cost. As small businesses grow into ones with complex needs, maintaining and updating custom integrations will get more expensive over time.
If you run an SMB with a modest budget, opt for an existing integration tool. After all, there are many user-friendly, affordable web services available for exactly that. It'll save you a lot of resources in the long run.
Summing up
There is an ever-growing number of Zapier competitors that fall into the iPaaS category (integration platform as a service).
Some of the apps we did not cover here include Leadsbridge, Zoho Flow, Workato, Microsoft Flow, Tray.io and eCommerce-specialized Wyzebulb. If you have great experiences to share regarding any of these tools, let us know in the comments!
In the end, choosing the right tool boils down to your main goal.
If you use HubSpot and want to sync contacts and streamline operations across your marketing, sales, and customer support teams, consider HubSpot's Operations Hub. Its app marketplace's got you covered.
Do you use live chat platforms to acquire leads? Highways.io is the way to go, as it offers tighter integrations with chat tools than Zapier.
For basic one-way, trigger-action automations for personal use and home automation, IFTTT is your best option.
If you know your way around automation, go with Make. It's fantastic for building complex workflows.
Finally, if you want to:
Record your leads' web and email activities back to the CRM
Keep your sales and marketing lists in sync two-way based on specific conditions
Capture lead source data for all new contacts
… so you can identify which lead generation efforts are driving your biggest sales, then give Outfunnel a shot. Sign up for your free 14-day trial today.