With more businesses than ever using various cloud applications, department heads are managing numerous data sources to keep their departments running. As a result, more people are interested in integration and automation software to take repetitive tasks off their hands.
If you're in the technology industry, you've likely heard of Saas (software as a service) and maybe even PaaS (platform as a service). But, have you heard of integration platform as a service (iPaaS) software?
In this article, we'll introduce you to iPaaS, help you understand what it really means, and show you how iPaaS software and integration processes can make data management easy as pie.
What is iPaaS software?
An integration platform as a service–or iPaaS as it's called–is a platform that helps organizations connect different applications to manage their data and processes.
Essentially, iPaaS software allows companies and businesses to manage application programming interfaces (API), collect and store data from multiple apps, and automate business processes.
With cloud-based iPaaS software, companies can set up integration flows so their numerous apps to "talk to each other," sharing and managing real-time data between themselves, with little or no effort from humans. This is especially useful for organizations managing large amounts of data.
iPaaS solutions serve as connectors between on-premises tools (Microsoft, Oracle, etc.), cloud-based apps (Salesforce, Marketo, etc.), data warehouses and cloud services (AWS, Azure, etc.) allowing for efficient business integration processes.
Most iPaaS solutions offer enterprise integration. Gartner has put together a thorough Magic Quadrant resource that compares key enterprise iPaaS vendors, such as Boomi, Informatica, MuleSoft, Oracle, and SAP to give an overview of the ecosystem.
While such tools are out of reach (and unnecessarily complex) for SMBs, there's an increasing number of affordable and simple to use connectors available that fall under the iPaaS category as well: such as Outfunnel (yes that's us!), IFTTT, Make, Zapier and other similar tools.
iPaaS vs Saas: What's the difference?
iPaas, SaaS – aren't they both just software? Well, not exactly.
The term SaaS (software as a service) refers to applications provided over the internet as a service. Because these applications are hosted on the vendor site, you can often easily access them without downloading any files to your computer. As a result, SaaS tools are often referred to as being "on-demand."
The functionality of SaaS tools can vary widely. The software can be used in different industries, from accounting to HR to marketing. For example, Calendly is a popular scheduling SaaS tool and Wave Apps is an accounting SaaS tool.
On the other hand, iPaaS solutions are cloud-based applications provided as a service, much like SaaS tools. However, iPaaS software is only used for data and cloud integration purposes. Unlike SaaS tools, iPaaS platforms connect on-premises applications with cloud-based apps and services.
This means that some iPaaS tools can also be SaaS tools, but not all SaaS tools are iPaaS solutions–only a small fraction, like Outfunnel and Zapier, for example.
How about iPaaS vs ESB?
Another term commonly confused with iPaaS is the enterprise service bus (ESB). ESB is a part of service-oriented architecture (SOA) and is similar to iPaaS in that it connects multiple applications or services but in a slightly different way.
ESB is middleware software that acts as a sort of translation center helping applications understand the messaging of other applications. For example, a new lead generated can trigger multiple software responses as it is added to the CRM, tracked by an analytic tool, and perhaps sent a welcome email newsletter.
All of those processes may involve the use of several formats or app languages (XML, CSV, etc.). This makes it harder to connect them using API. In this case, the ESB is the vehicle that ensures that all three applications receive the required information to carry out the documentation.
In contrast, iPaaS is less complex and allows multiple software solutions to be connected enabling data flows and integration throughout the organization.
It's also worth noting that ESBs are on-premise solutions, as compared to cloud-based iPaaS. As such, they are a reliable option for on-premise use, typically legacy systems.
Curious about deploying iPaaS for your business? Let's consider some benefits of using iPaaS solutions in your business.
7 Benefits of iPaaS software for your business
We all love a good tech stack, but if you're not sure whether iPaaS solutions are worth the spend for your business, here are 7 benefits of iPaaS software:
1. It's collaboration-friendly
Few things are more frustrating than restricted data flows within and across teams. Using effective iPaaS solutions can help to mitigate this challenge and prevent data silos (having information that can only be accessed by a specific team or individual).
For example, most marketing, sales, and customer service teams need to share information across departments. An iPaaS tool with data integration and cloud integration functionalities would allow teams to maintain databases, sync resources, and have the most up-to-date information available to all team members at all times.
2. It's no-code
One of the biggest obstacles that iPaaS helps businesses avoid is the need for complex integrations with custom code. Apps integrate with each other using API, and while it is possible to manually create scripts that let applications communicate with each other, that's an incredibly tedious route.
With iPaaS software, API management and application integration are nearly effortless and can even be automated without needing to learn any programming language.
3. More productivity
Doing fewer manual tasks frees you and your team up for the more important billable work. A study by Workflow showed that 80% of employees report feeling more productive when repetitive tasks are automated.
With good iPaaS software, companies can perform repetitive data exchanges between different SaaS applications without losing time or having to grow their teams. This can also help the business save on hiring expenses. Considering that the pricing plans most iPaaS software are SMB-friendly, it's a no-brainer.
4. Improved scalability
When companies first start, they may get away with using spreadsheets and manually copy-pasting data, but as their customer base grows, those systems won't hold up.
iPaaS software offers the benefit of automated tasks, which allow businesses to scale even without massive manpower. If you're looking to keep your team lean, the automation benefits provided by deploying iPaaS solutions can help.
Now, instead of spreadsheets, sales departments can use customer relationship management (CRM) tools like Salesforce, Pipedrive, and Copper to keep track of leads and customer lifecycle. They can then connect those applications to other sales and marketing tools using tools from iPaaS providers.
Similarly, manufacturing companies use resource planning software (ERPs) like Katana, and can use native integrations or iPaaS to make sure it is in sync with the rest of their tools.
5. Better customer service
Want to serve your customers better? iPaaS solutions can help! By keeping useful data up to date and keeping team members abreast, iPaaS software helps you keep track of customer behaviors.
For example, a CRM that is regularly updated with efficient data integration is invaluable when the customer service team is fielding messages from customers. They can view all of the customer's interactions with your team as well as any tickets associated in one glance. This helps you provide personalized services that can enhance customer retention.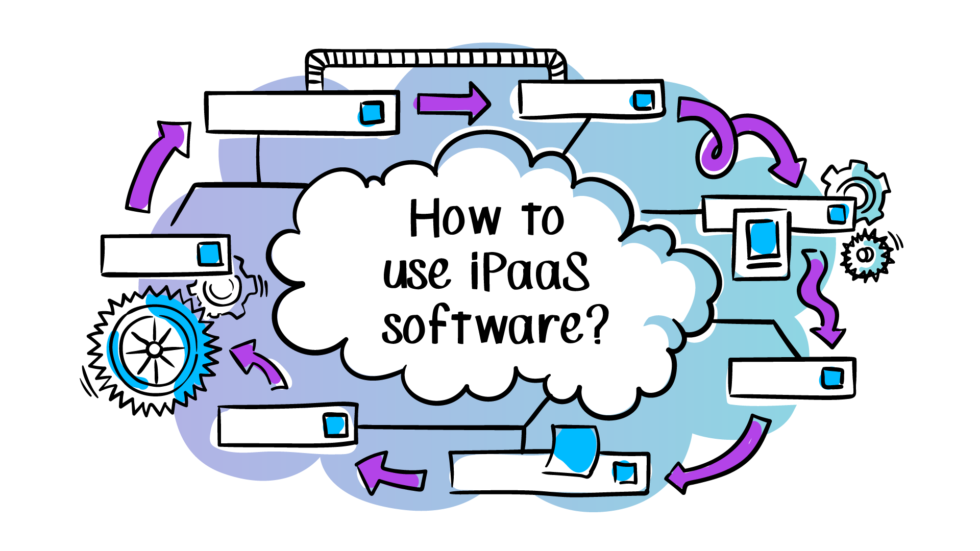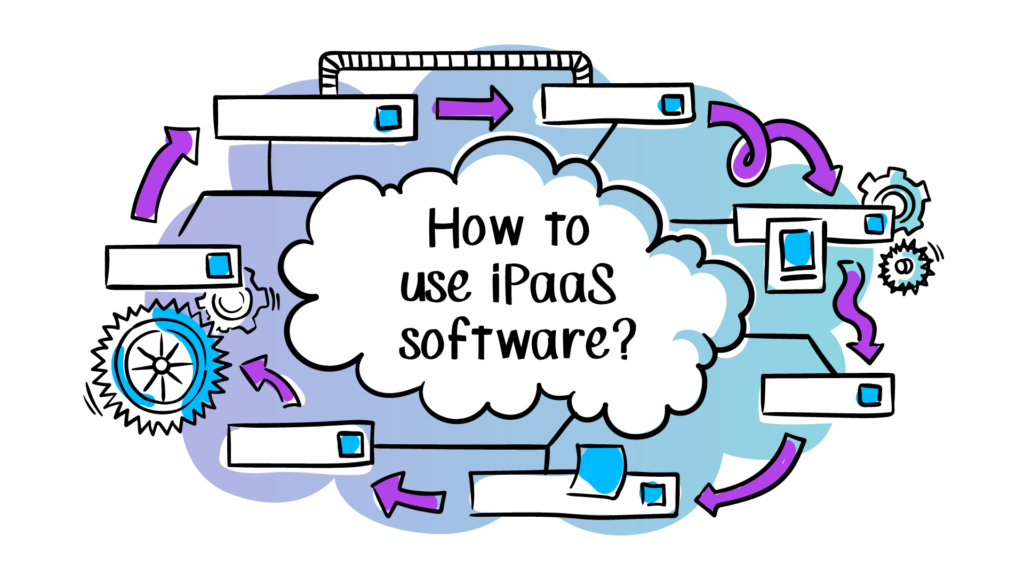 Ways to use iPaaS software for integration
The many benefits of B2B integrations may have left you wondering how to put iPaaS providers to work for your business. The first step would be to figure out what use cases of iPaaS fit your business.
The most common use case for SMBs is contact management. iPaaS tools can help you manage contact data by integrating your CRM or customer data platform with other applications your teams use.
For example, our App connector tool is specially designed to solve sales and marketing integration needs. With this tool, you can automate sales and marketing processes with ease and ensure the customer data and touchpoints are kept in sync across your tools.
So, don't just run after the next hype of integration solutions – for example, Internet of Things (IoT) integrations sound cool but may not help alleviate any real pains in your business. (That said, if you find a truly useful IoT integration, something that's more than making your coffee machine make a latte through a Slack /command, let us know in the comments!)
Ready to connect your sales and marketing tools? Start your free trial of Outfunnel now.