Last updated: October 12, 2021
Want to work at that up-and-coming startup but not sure how to get a marketing job? What strings to pull and skills to hone? This post may be able to help.
Says who? I've hired more than 30 marketers on three continents and I've been hired as the first marketer to join a hot startup twice.
This post is meant for junior or mid-level marketers that want to make a leap in their career. I'm aiming this at anyone who wants to be the first marketer in a startup that's hot already, or destined to be. But it's probably a useful read in the context of different and/or smaller leaps as well.
The 3+1 fundamentals: Relationships, Skills, Reputation/Resume (and Luck)
These are the primary 3+1 things that get you hired (or stop you from getting hired.)
If you've got a superb resume, you probably don't need this post because headhunters have turned your LinkedIn inbox borderline unusable.
If you're counting on relationships to get you your dream job, my advice is simple: do great work (see the rest of the post) and don't be a dick. There's plenty of networking and relationship building advice out there to tell you exactly the same but in more words.
This leaves skills as the bulk of this post. More specifically, being somewhat strategic about acquiring skills and wrapping your unique blend of skills and achievements in a package that makes you irresistible on the startup job market.
(There's also luck, of course, but you don't really need a blog post if you're counting on luck.)
Start with homework and "positioning" yourself
"I think I'm a creative person. I'm active in social media, but I also like branding and I'd like to practice my writing skills. Oh, and I'm a great communicator".
You already know how important positioning is for products and services. It's equally important for your good self on the job market.
Bruce Lee recommended to "be like water". This is a great approach in martial arts, but horrible advice for career planning.
I've sat through dozens of chats with smart people who think it's other people's job to psycho-analyze their career paths and future wishes.
If you're not clear about what you're great at, or even what you want to become great at, you're just like that light green bottle of shampoo in a supermarket aisle, next to 80 other bottles of shampoo.
Do your homework. Is it product marketing and communication that gets you excited? SEO? Maybe you're especially keen on automated email marketing? Get some experience or at least talk to other marketers or entrepreneurs before you start interviewing. Have a vision for what you'd like to do (and what to avoid).
How to get a marketing job: 6 ways to get the relevant experience and skills (before you start interviewing)
Many job openings expect you to have relevent experience in order to qualify. This is typically the biggest hurdle for anyone early in their career. So, how can you gain such experiences and skills? Let's take a look.
1. Demonstrate that you are able to move a needle. Any needle.
Job interviews will go well if you have accomplishments to talk about. This could be anything from revenue growth in your previous company to raising money for a charity, or traffic you've generated for your friend's online store.
If you simplify it: ultimately, every person in a team is hired to move some needle. This is especially true in a hot startup. You want to show that being responsible for results is not new to you.
2. Identify a particular skill or a channel that you can be exceptionally good at
The next best thing after getting results is deeply learning a skill or a channel. This often correlates with results and accomplishments but it doesn't have to, because the results could have come from a broader team effort, or perhaps the product was crappy or you ran out of money.
Demonstrating mastery of a skill or channel conveys that you have "gone deep" on something at least once and that you can be the "go to" person for at least one thing. At a hot startup, your teammates will want to be able to count on you to figure things out and to be trusted with some responsibily.
3. Learn to speak to customers
Every business is ultimately in the business of serving customers. No matter what you do, customers and users will always be a source of inspiration and useful feedback. Learn to conduct customer interviews and crafting questionnaires. Bonus points for learning more specific research skills and concepts, such as jobs-to-be-done or putting together customer personas.
Showing your future employer that you're comfortable putting yourself in their customers' shoes (and can advocate for their interests!) takes another little anxiety off their plate.
4. Read and stay curious
Hot startups operate at the cutting edge, and they're always looking for undervalued opportunities to take advantage of. If you can show that you're a curious person who's keeping up with the changes, you'll be a valuable addition to the team.
Since you asked, my own favorite resources are books, Moz top10 newsletter, Growthhackers, 8 or so podcasts that I rotate, and whatever Twitter throws my way. Your mileage may vary.
5. Work with a mentor or consultants who can accelerate your learning
If you're already active in marketing, mix learning by yourself up with working with people that have done it before.
My first marketing job came about in a company where I worked in sales after school at the tender age of 17. I thought our ads sucked, and so I had written some new ones that I had shown to our CEO. Coincidentally, a week later our head of marketing quit and the CEO asked whether I wanted to become a marketing assistant, and he hired an experienced marketer to coach me as a consultant for the first couple of months.
This, and working with a mentor later as head of marketing at Pipedrive, really accelerated my learning and my career.
The next best thing is working with consultants and smart freelancers, and not blindly outsourcing work but working with them to learn their methods and processes. Building a network of fellow marketers is another great long-term strategy that successful marketers swear by.
6. Fail at least once
This one is hard to explain. I've made many big blunders over the years, and each time I've both become a better marketer and a better person. (After some reflecting and feeling horrible if not mildly depressed)
Fail, have a chip on your shoulder. The fact that you'd like to unload that chip and have something to prove might send a very positive signal.
Also – you'll inevitably encounter failures at work, especially at a hot startup that's fast-paced with lots of experiments. It's good to know that you have some experience with that, and to know that you can survive them.
Ready for interviews? Start from making yourself findable
In marketing lingo you probably need to do outbound activities to get hired, but it doesn't hurt to do the basics for inbound as well.
The easy first thing to do is to update your LinkedIn profile so that it comes up for relevant searches (for example if someone is searching for a "startup marketer" or "growth marketer berlin").
The harder but potentially substantially more effective thing to do is to build your personal brand (mini-brand in the early days) by creating and promoting content related to the thing you want to be doing. This used to mean starting a blog, but now there are so many different mediums to pick from that literally anyone can find their "home channel" whether it's LinkedIn, a podcast, Snapchat, meetups or YouTube.
I think the trick is to focus on one channel rather than spread your energy thin between different mediums. I've focused on my blog and our friend Visakan is big on Twitter.
The thing to "hack" when applying for a marketing job: cover letters
Here's the strange thing: it takes at least five years to create an impressive resume and it takes just 30-60 minutes to create an impressive cover letter, and they're equally important. You can get around not having an impressive resume by putting serious effort in the covering letter.
Sell yourself. Explain why you want the job and why you're the best person for the job. Show that you're not mass-applying to dozens of companies but are deliberate in your search. If you're lacking relevant qualifications or experience, indicate how you'd overcome that.
You always get bonus points if you include facts about the company you may get from its website, social profiles or from tools like SEMrush or Ahrefs. You'd be surprised how few people take the effort to do this, and this sets you apart from most applicants.
And of course, even if you have the perfect resume, you still may want to put in the effort to write a solid covering letter.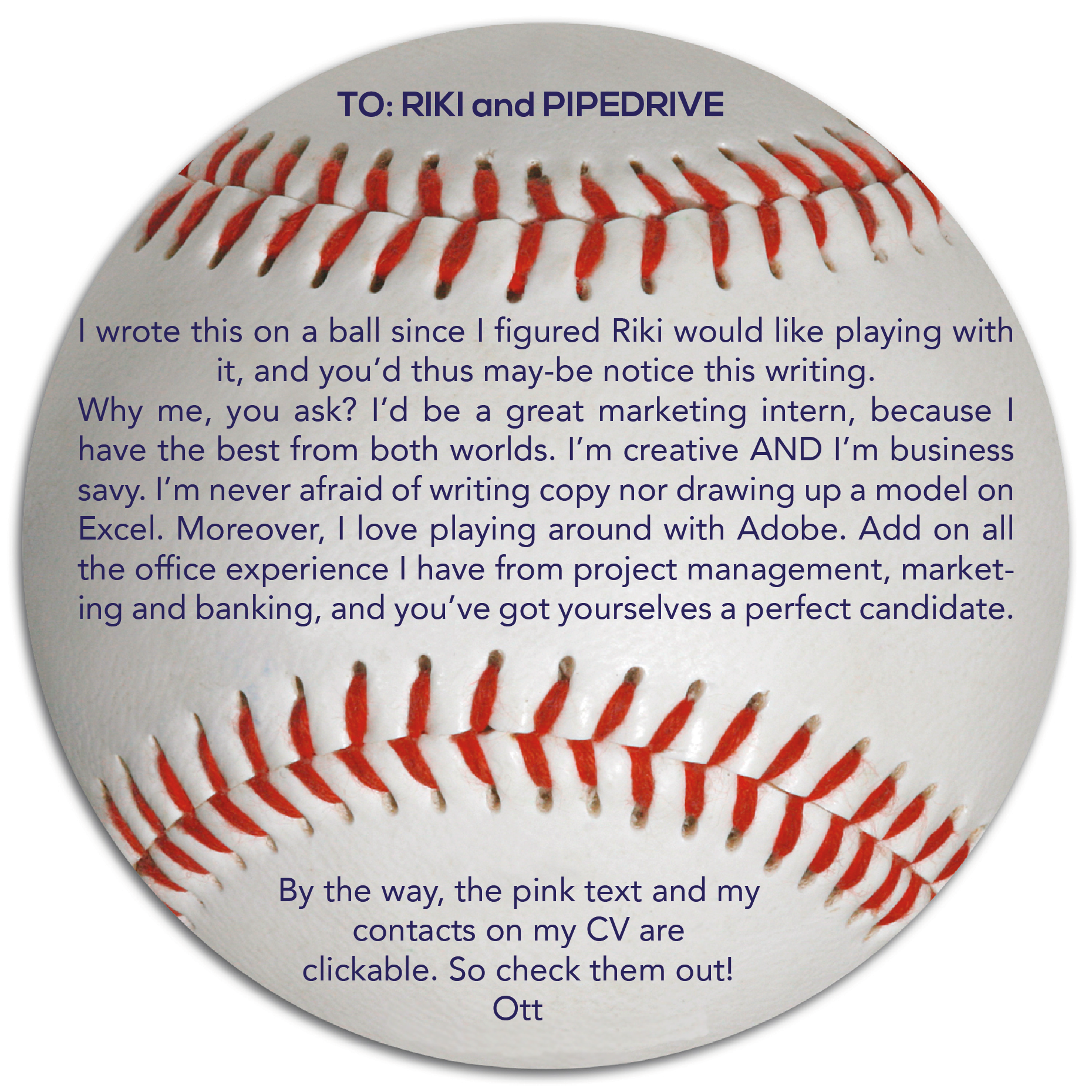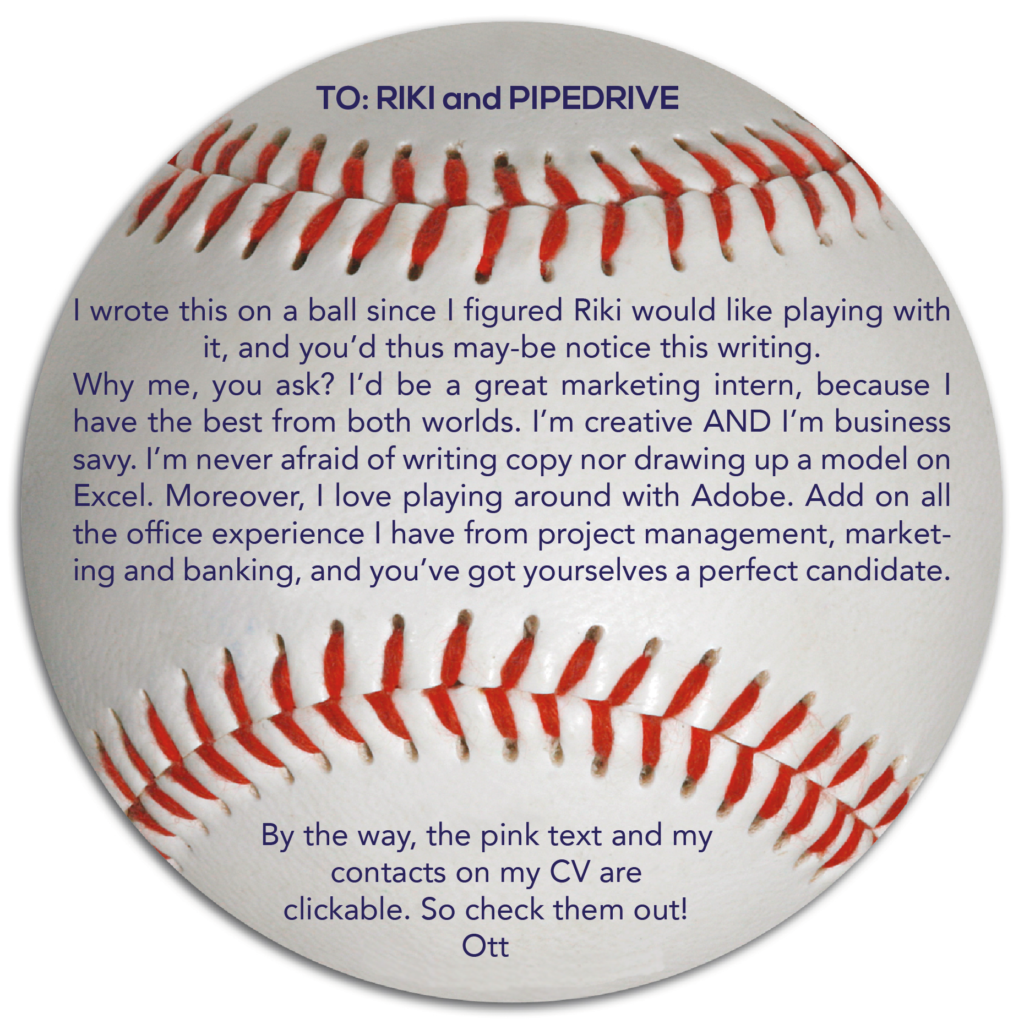 Doing free work for the company, an analysis or audit of some sorts, is also a sure way to get extra attention to your application.
And last, two interviewing tips to land that marketing job
I'm not one foolish enough to advise on what to say during interviews. Do some homework and be yourself, that's it.
But on both sides of the table, there's a particular attitude I've found useful: aim to take one substantial worry off their plate. The worry is usually not worded as a "worry" but rather as a goal, KPI, task, result or process, but behind that jargon is a worry on someone's mind.
If you're applying for a CMO role, you'll take the worry about getting new business and making the company famous away from the CEO. If you're applying as an intern, you'll take away a worry doing some (probably mind-numbing) task.
An interview is a chance to talk about the "worry" and assess whether the person applying wants to claim that worry as their own. If you understand what the worry is and are sure you're the best person for the job, communicate how you can take it away.
(I guess I just broke the record of most times the word "worry" has been used in a business post.)
Lastly, be mindful of the balance of doing vs leading. I've once badly failed an interview when I left the impression that I can do whatever that's needed, hands on. To me, this seemed like a good thing but the person I was talking to was thinking 6-12 months ahead and assessing whether I would be capable of building and leading a team, rather than doing things, hands-on.
Guess that's it. Happy hunting for a marketing job! While we are not looking for more marketers at Outfunnel at the time of writing this post, this will surely change.
PS. I recently wrote the flipside of this post: how to hire the first marketer for your team or startup.