One of the most popular CRMs around today, Pipedrive is known for its ease of use and focus on sales. It can be a huge asset to any sales team, something that I know all about.
Not only do I use Pipedrive in my own business for tracking prospects, but I've also helped 250+ companies get more out of Pipedrive.
Below are my favorite Pipedrive tips and tricks for getting the most out of the platform.
Pipedrive tip #1: Always have at least one activity reminding you what to do next
Pipedrive is a very activity-centric product, always encouraging you to schedule activities and reminding you what you need to do next. Sometimes you'll be waiting on your customers or clients (perhaps waiting for their response to a quote or proposal), but even then you should still have some kind of activity reminding you to follow up.
This simple best practice means that leads are far less likely to slip through the cracks because you always have a reminder or an activity reminding you what you need to do next.
I recommend working from the Activities tab daily. Using the Today view, you can see any emails, calls, contracts and other activities you need to work on. Then, as you complete each of these activities, you can also schedule the next action you'll need to take.
Pipedrive tip #2: Use Workflow Automation to create activities based on the deal stage
Don't think you have enough time to create new activities all the time? Rather than having to manually schedule an activity, you can set up a Pipedrive automation to do the work for you. They have templates for a variety of scenarios, including creating an activity when a deal is moved to a new stage.
Here's one example of how it can work:
Under Trigger configuration, set the automation to kick in whenever a deal moves to the Contract Sent stage
Set the type of activity to Email
Set the due date to two days
Set the activity subject to "Follow up on contract"
On the next page, set it so that the automation can be triggered by any user in your account
Use a descriptive workflow title, such as "Stage: 'Contract Sent' > Create Activity"
Finish off by testing the automation to ensure it works as planned
Pipedrive tip #3: Use the 'expected close date' to forecast your upcoming sales
Switching from the main pipeline view to the Forecast view helps you understand what revenue or sales you're likely to receive each month based on when you expect to close a deal.
When you are fairly close to getting a decision on a deal — maybe you've had verbal confirmation that they're going to sign a contract — add the expected close date to the deal. It will then show up under your expected sales.
This helps you understand what sales or revenue you're likely to receive for any given month. In turn, that understanding helps you know which deals you should prioritize and follow up with.
Pipedrive tip #4: Track deal source with a custom "Referred by" field
Using a custom field to track your referrals, whether they're from specific people or particular channels, can give you valuable insights into your marketing.
When I talk to a lead for the first time, I generally start my sales conversation by asking how they found me. I then record that information in this custom field. Then, when I win the deal, I can easily see what channels and referral partners are generating business and double down on them.
Note that you need to be on the Pipedrive Professional plan to segment your reports based on a custom field. Considering that this additional data can make your marketing much more effective, the upgrade may be worth it!
Pipedrive tip #5: Use Outfunnel to sync your contacts to your email marketing tool
This next tip is great if you want to nurture leads in your pipeline over the long term. With Outfunnel, you can synchronize your contacts from Pipedrive to your mailing list in one of the supported marketing automation service providers.
For example, using Outfunnel's App connector, you can set up a connection between Pipedrive and Mailchimp, ActiveCampaign, Sendinblue or HubSpot Marketing.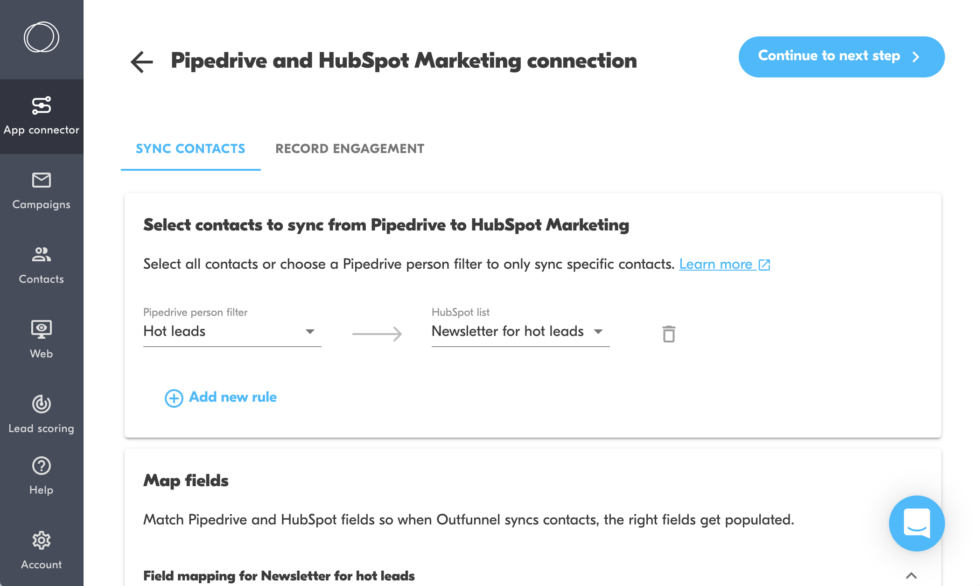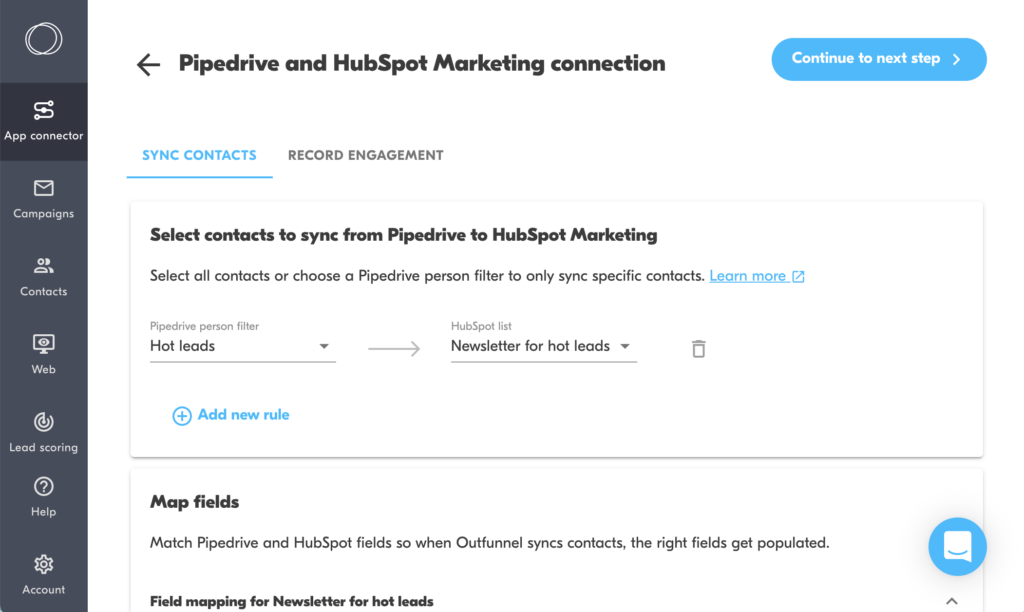 As you can see, you can use filters to choose which specific Pipedrive contacts you want to sync and which Mailchimp list you want to use. This can also work the other way, synchronizing contacts from Mailchimp back to Pipedrive as well. So, for example, when somebody joins your Mailchimp audience, you can have a new contact or deal created for that particular user.
One of the cool things about Outfunnel is that it lets you record email engagement in Pipedrive. When an email you've sent is opened, if a link is clicked, if the email bounces because it's a bad address or if someone unsubscribes, you can track and see all of that engagement in Pipedrive in one place.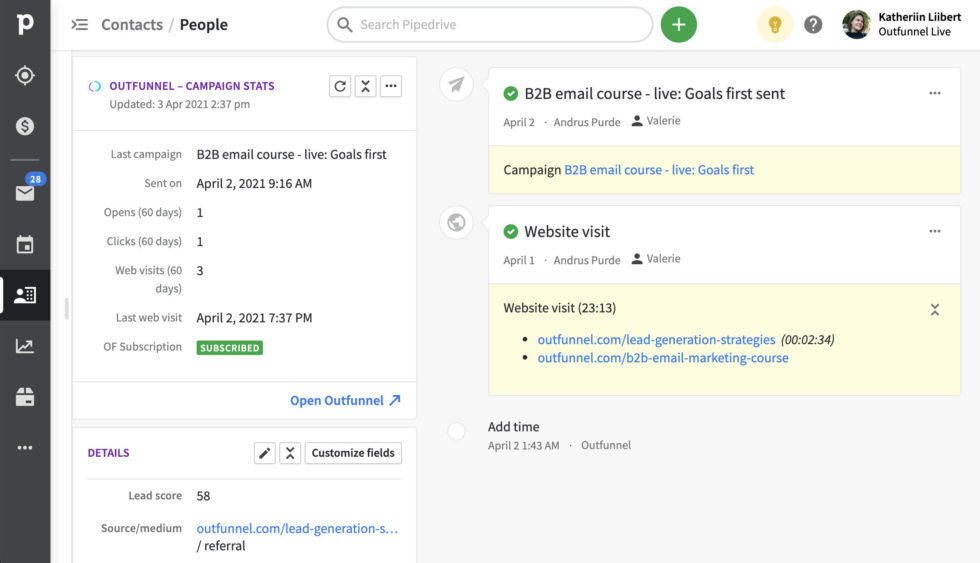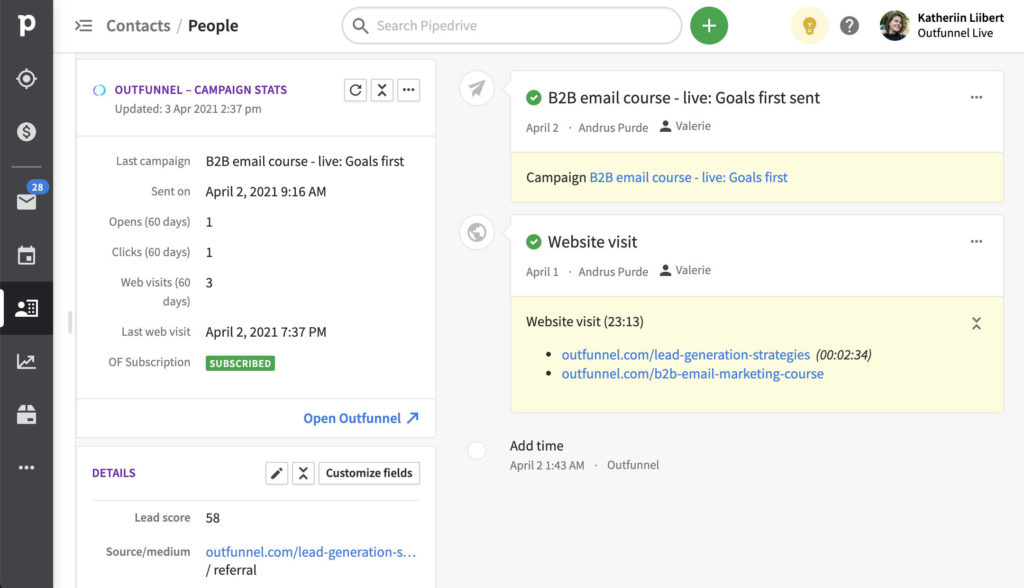 Outfunnel also gives you the option to create a deal if an email is clicked. Let's say you send an email to your newsletter list with a call to action (CTA) link at the end. That would be a great way of getting new deals into your Pipedrive pipeline for the more engaged, active subscribers that you have in your email CMS.
Outfunnel's Lead scoring is another useful feature. For example, a page view could be worth ten points, opening an email could be worth two points and an email click five points. When a subscriber takes one of these actions, Outfunnel tracks what they're doing and increases their Lead score in Pipedrive. 
By filtering your contacts based on Lead score, you can target the leads who are most engaged with your content and emails.
Pipedrive tip #6: Customize your lost reasons
Unfortunately, not every deal is going to close successfully. However, tracking why those deals aren't closing will allow you to see any emerging patterns and respond accordingly. By customizing your Lost reasons, every time you mark a deal as lost you'll be able to choose from a preset list of reasons. These can be edited in your company settings.
Here are some of the common ones that I often set up with clients:
Client wouldn't respond
Price too high
Went with another option
Went with a competitor
Bad timing
No specified reason
Once you've set up your list of reasons, I recommend disabling the option to allow free form entries. This means your sales team has a definitive list of reasons to choose from. You can then generate a report to show the number of deals lost over a particular time frame and why. This helps you understand any weaknesses in your sales process and where you can improve.
Pipedrive tip #7: Sync your product usage stats to Pipedrive
If you're selling software that features a free trial or a freemium component, wouldn't it be handy to see product usage for each lead right inside Pipedrive? This is effortless with ProductSync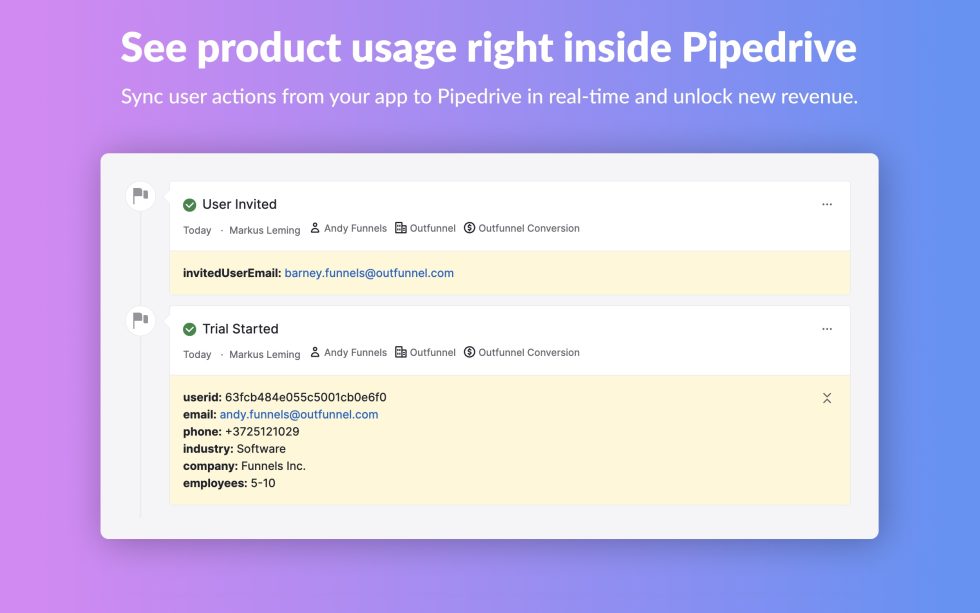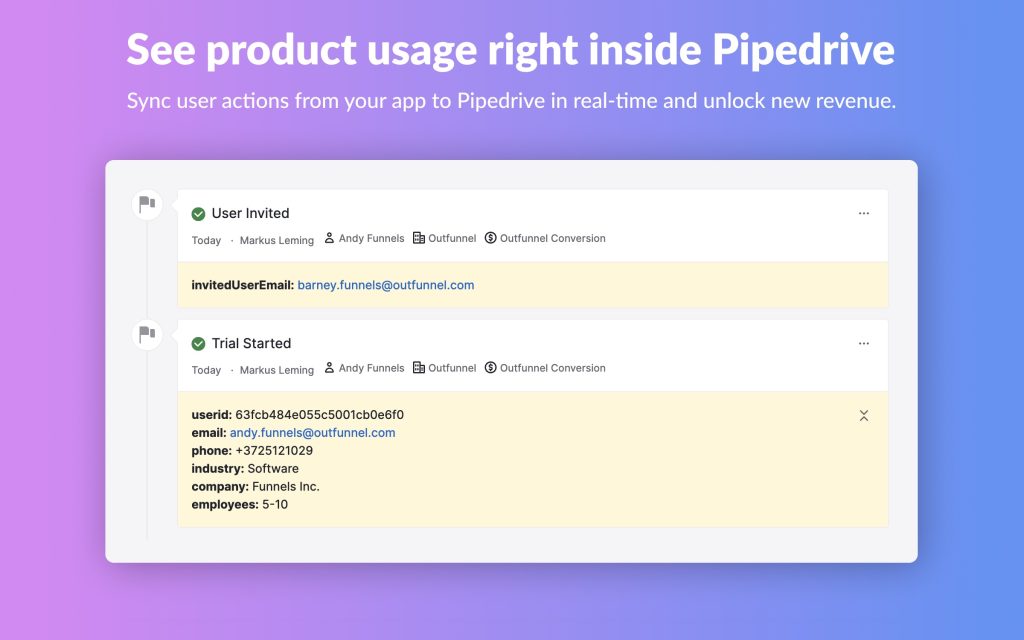 Easily access all your product events and usage properties via Segment or Posthog.
Sync key product usage events and properties to Pipedrive and trigger the right workflow for each account.
Offer context about the usage of specific features for salespeople right inside Pipedrive.
Learn more about syncing product usage events to Pipedrive.
Want 3 more Pipedrive tips?
Add your email and access the full article
Paul Minors is a virtual productivity consultant and was Pipedrive's Global Partner of the Year for 2021. If you want to learn more about Pipedrive or need one-on-one support setting up your account and training your team, get in touch with Paul today.