When we first started Outfunnel we also built a hacky homegrown integration to sync product engagement data to our CRM that helped us to personalize onboarding emails and understand which users need more handholding.
We always had a hunch we were not the only company with this issue, and should probably add this to our product offering (sidenote: an early version of our product-led growth tool is now available) but before starting to build we wanted to sense check this with the SaaS community. So we had a conversation with 50 SaaS companies about their product-led growth needs and tools.
The companies were mostly based in Europe and weighed towards early-stage. Not representative, but indicative.
Here's what we learned.
7 out of 10 SaaS companies need some kind of product-led growth solution
Out of the 50 SaaS companies we spoke to 35 had a need for something that would make product usage data accessible for sales and support teams. This sounded promising and we'll get into the details below.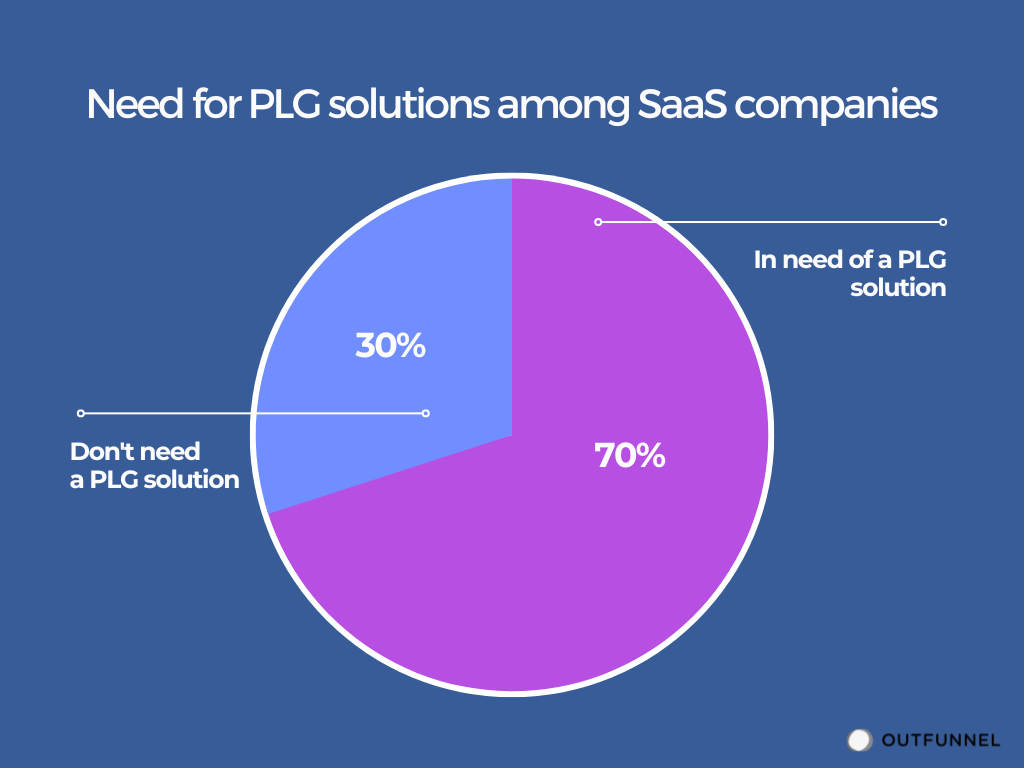 Of the 15 remaining companies, common reasons for not having a need for a PLG tool or solution were:
6 have a small volume of high-value leads and customers. They either have a 100% sales-driven model or have so few active leads that it's not a problem to review product usage from a backoffice tool when there's a sales or success engagement coming.
For 5 companies, the ideal customer profile (ICP) and go-to-market strategy were still unclear. While a need for a PLG solution arising is probable, this wasn't a priority right now. These were mostly companies at a relatively early stage or companies that had recently undergone a pivot. 
2 companies had a 100% self-serve product and there was no sales team, so no need for product-led growth.
40% of SaaS companies have a PLG solution in place, and more than half of these have "rolled their own"
20 companies or 40% out of the companies we spoke to have some kind of tool or integration in place that supports their PLG efforts.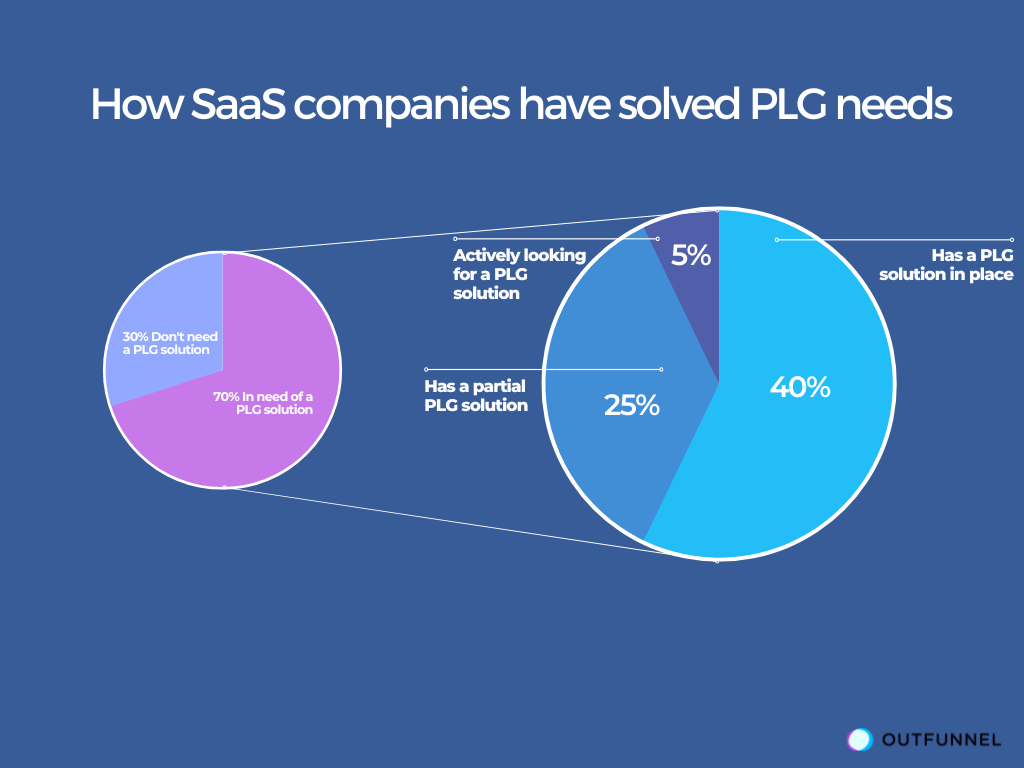 What were the popular solutions?
8 companies (or 40% of those with a PLG solution in place) had built a custom integration to send product usage events and stats to their CRM.
6 companies (or 30% of the subtotal) had built their own homegrown backoffice or "CRM" tool that displayed product usage stats among other things.
2 companies (10% of the subtotal) were using one of the product-led growth tools
Finally, 2 companies were using a first-party integration for sending product data to a CRM. In both cases, the companies were using HubSpot as their CRM, Segment for storing product data, and the native integration between the tools.
It's worth pointing out that some of the in-house tools had some pretty elaborate functionality. For example, a lead scoring view that listed freemium users, ranked by usage activity, or built-in functionality to send (marketing) emails.
Pros and cons of custom solutions
We were surprised to see the relative popularity of custom/homegrown solutions for PLG needs. Naturally, we were interested in pros and cons of building in-house rather than using one of the existing solutions.
Pros of building a PLG-solution in-house:
Works exactly as needed
Low cost of maintenance if go-to-market processes and the product don't change frequently
Cons of building a PLG-solution in-house:
Hard to integrate with other SaaS tools
Delay times due to scarcity of engineering resources when there's a need to change either the product data used or how it is actioned
Some functionality that's standard for off the shelf products was missing. For example, reporting and statistics were usually quite poor.
Things break when CRMs make changes to their APIs.
If I could comment on the sentiment of companies we spoke to then those with relatively unchanging go-to-market strategy were quite happy with their in-house CRM or data syncing integration. 
But companies where the product (and the relevant usage data) and/or sales processes were changing agilely clearly felt the pain of delays in making the right data available to the right people, or changing their product-qualified lead (PQL) definitions.
There were two companies that were exceptions – agile companies where go-to-market processes changed frequently but where there were dedicated engineering resources to support revenue teams.
25% of SaaS companies had a PLG solution in place that kinda worked but there were acknowledged issues
About a quarter of the people we spoke with had a solution in place but they were conscious that it was suboptimal.
9 companies (18% of our total sample) had chosen to look up usage in their product analytics tool such as Mixpanel (3 companies), Amplitude (2), Looker, Hotjar, or other.
There were two typical workflows. In about half the companies only a sales manager or sales assistant had access to a product analytics tool and they passed information to reps or account managers for follow-up. The other option was making the product analytics tool available to everyone in the sales and success teams.
The "solution" either involved lots of switching between tabs or missing important information. Most people we spoke to were conscious that too much manual work was involved and that information got lost but fixing this didn't feel to be the most pressing issue.
The remaining few companies in this subset mentioned data being messy, or only having some PLG use cases covered with some that needed a better solution.
Last but not least, 5% of companies are actively looking for a solution
Two companies in our sample were actively looking for a PLG solution. Actually, it was three but the last one opted to build its own solution as the $40,000 per year quoted by one of the PLG platform vendors was a serious turn-off.
We agree that while paying 5 digits for a PLG-solution may be ROI positive it's a lot of money. We now offer our own simple PLG solution and we aim to keep pricing affordable for (early-stage) startups.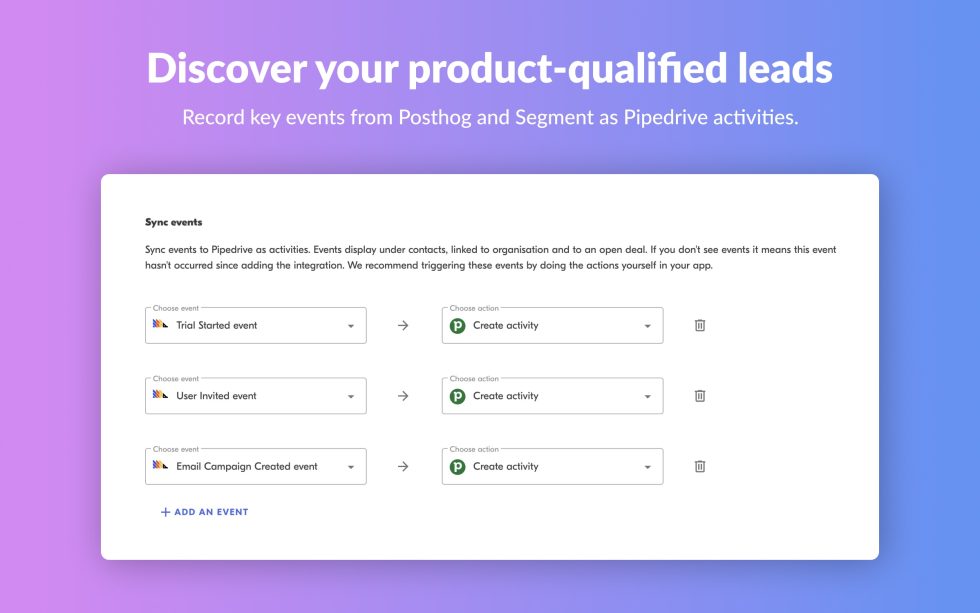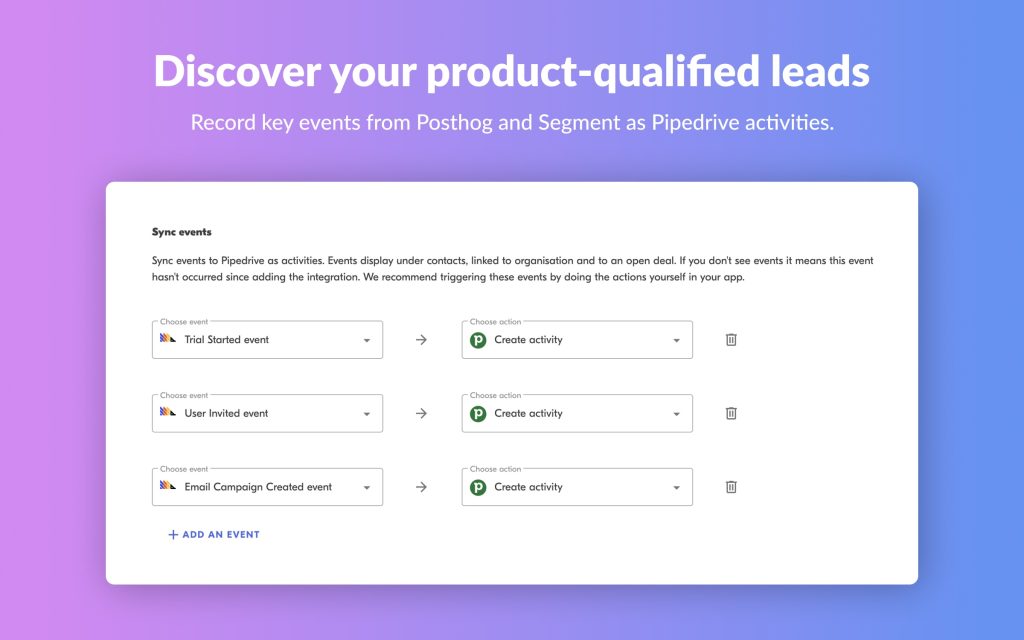 If you're using Pipedrive as your CRM you can sign up for early access here.
What else we learned about product-led growth tools and needs
Approximately 45% of companies we spoke to use product usage data for sales only, and a similar share uses it both in sales and success efforts. Only 2 companies we spoke to use product engagement data for success only.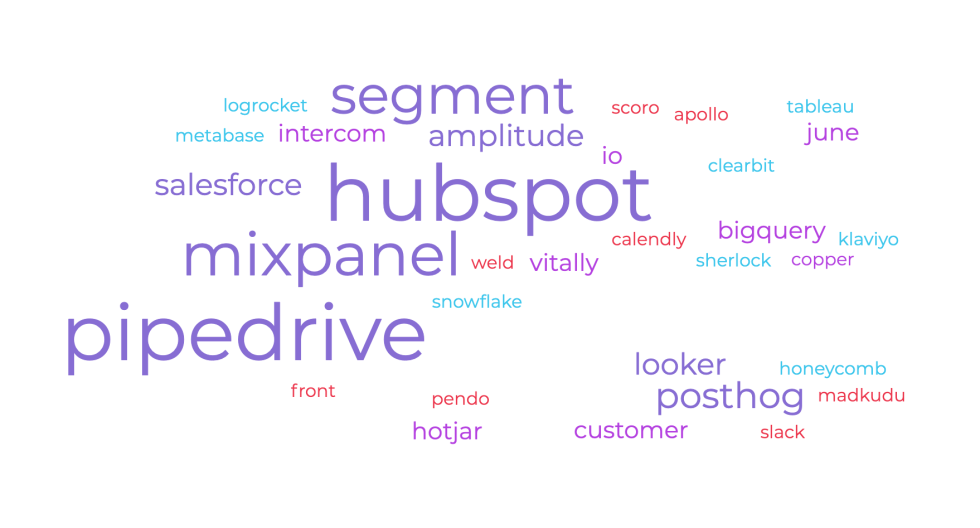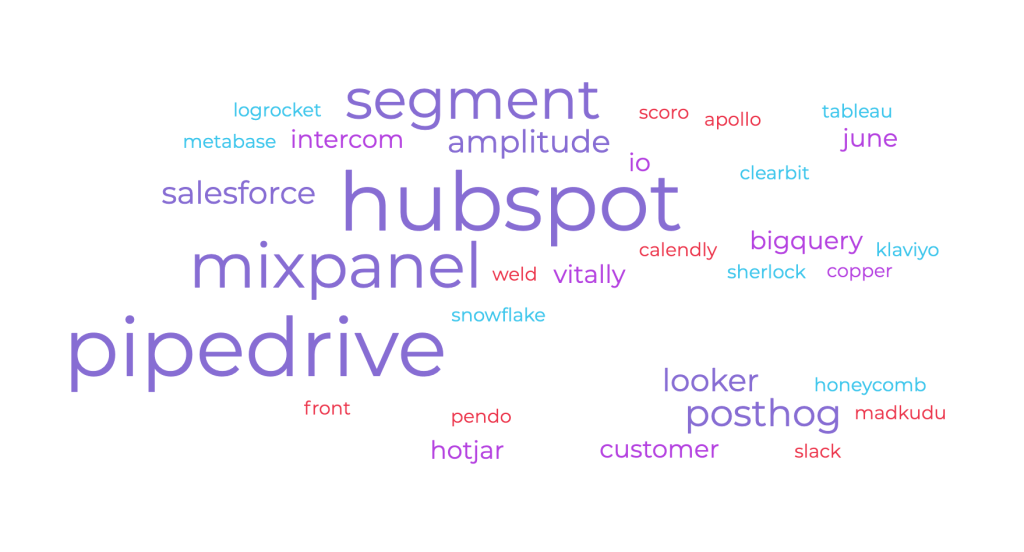 Roughly 25% of companies use a CDP or another product events management tool. Segment was mentioned 8 times, Posthog 4 times. And sentiment indicates Posthog is clearly on to something.
Nearly half of the companies we spoke to use a tool for tracking product usage. 8 used Mixpanel, 5 Amplitude, 2 Hotjar, 3 Looker, 3 Customer.io
Use Outfunnel to get started with product-led sales.
Spend 35% less time on dead-end leads by using product usage data right in your CRM.
Deep integration with Pipedrive. (HubSpot, Salesforce, and Copper coming soon)