If you've been following Outfunnel, you already know we're all about we've been all about syncing sales and marketing data. Getting data from a CRM to a marketing automation tool or vice versa, or getting new leads from your website into your CRM.
Some of you have loved this (and we're always happy to read positive feedback like this or this tweet below.

But the one question we've been asking ourselves is: is syncing data helping our customers win more business? Are we helping to generate more leads, or to close them faster? 
The answer seems to be "yes" but we're confident we can do a better job at that. We can also do a better job at explaining the value of having sales and marketing data in sync, and I'd like to start doing that with this post.
There's a key difference between Outfunnel and tools like Zapier
Lots of tools sync data between different tools, you see. If you'd like to sync a new Calendly lead to Copper there are dozens of tools like Zapier that let you do that.
We've been saying that, compared to these alternatives, our integration is deeper — but what does that mean?
It's not about "syncing data".
It's about having all the marketing history in one place.
It's about using all email, web, and other marketing engagement data in one place to be able to confidently say when a lead is ready to buy and when they need more nurturing.
Finally, it's about easily taking the next best action with each lead. To add someone to a nurturing campaign, for example, or to remove someone from a nurturing sequence and scheduling a follow-up task for a colleague in sales.
Did you know we offer lead scoring and web tracking (to help you understand your leads better)?
Over the years, we've added two nifty features to help our customers get a better sense of their leads. We initially built them as experiments and because our customers have liked them, we've kept them and made them better over time.
The first of these, Web visitor tracking software lets you see which of your leads are visiting your website and what pages they navigate to. We also capture the source of each visit which makes it easier to analyze sales and marketing activity holistically.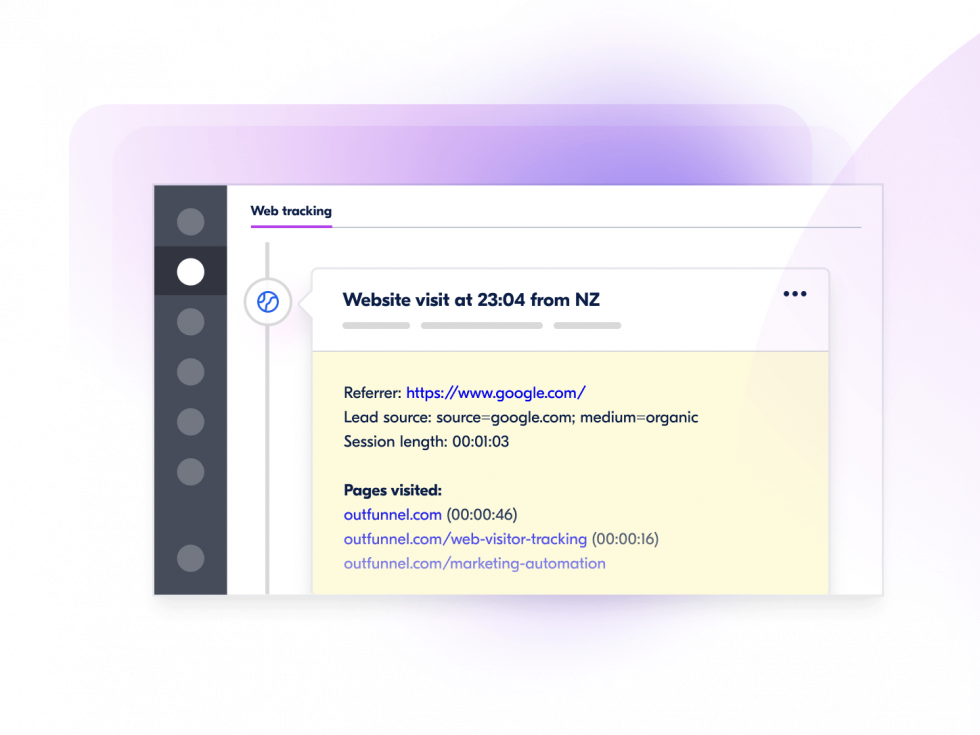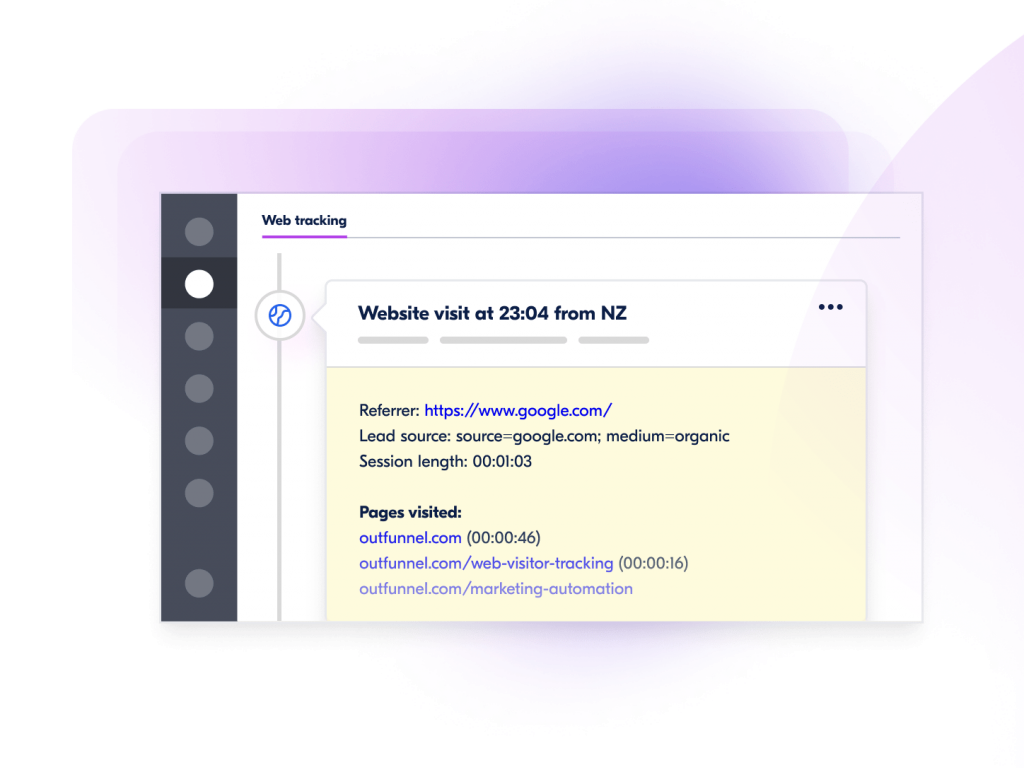 Then there's our Lead Scoring Software that lets you calculate a score based on email engagement (from any marketing tool we integrate with), specific web pages visited, and — the latest addition — activities that have been completed in the CRM. For example, having visited a booth at a trade show or participated in a sales call. The scores can auto-decay and all, it's really useful for highlighting the most engaged leads.
We offered these features without an extra charge because they were quite basic. But they're both proper tools now, used by an increasing number of companies.
We've realized we're not a "data syncing" tool but a sales and marketing workflow tool
Let's recap.
Outfunnel has allowed you and will continue to allow you to sync sales and marketing data. We do this in a secure, hassle-free way.
Based on the synced data, you can create complete contact profiles with website behavior, email engagements, lead source information, and more right in your CRM (or in Outfunnel). 
You can then do lead segmentation and lead scoring based on cross-platform contact and engagement data.
And once you know who's a warm lead and who's not, you can trigger workflow and marketing automation based on segmentation and lead scores.


One important detail about the latter is that the workflows can be cross-platform, not tied to only your CRM or only your marketing automation tool. For example:
Changing the status of a contact from "lead" to "customer" in your CRM can trigger a workflow that removes them from the leads newsletter list in your email marketing tool and starts an email sequence designed for customers.
Clicking on a link in a newsletter that is sent from a marketing automation and visiting your website can change someone's lead score to be more than X, and this can trigger a workflow in your CRM that adds a "Follow-up" activity in your CRM for the right salesperson.
What's changing: our "value metric" and pricing tiers
So hopefully you'll agree our product has come a long way from syncing data from tool A to tool B, and it was about time our pricing reflected that.
Starting from today, we're changing the main "unit" of pricing from Events to Active contacts. A contact is counted as an Active Contact if any of the following is true for the given billing period:
The contact is part of a contact sync
An email or other marketing engagement has been recorded for the contact
The contact has visited your website
The contact has a lead score
The Active Contacts number is easier to understand and calculate, and it's a number that's well-aligned between us and our customers. The more someone has Active contacts, the more data we have to process to create full profiles and the more value we create for customers.
We're also changing our price tiers.
Outfunnel is at its most useful when you can sync data in different ways, see what leads do on your website with web tracking, calculate lead scores and initiate cross-tool workflows. We're bundling all our revenue marketing features into our Professional plan for these users. And we promise to make this suite increasingly useful.
We have many users whose only need is syncing contacts between tools, and we're introducing a more affordable Basic plan for them that is designed to sync contacts only. It's great for syncing your CRM segments over to a marketing automation tool, or for syncing new web leads in your CRM. 
The new pricing tiers, value metric and prices are live for new customers already. There are no changes for existing customers at this stage but we'll start migrating them to the new plans in the coming months. If you'd like access to the new plans (and the features they include) sooner, please contact us via the in-app support messenger.
Last but not least, we're introducing two new features today: dashboard and lead scoring based on CRM activity – you can read about both here.