While Salesforce is among the most powerful customer relationship management software available, it can be difficult to navigate when you're new to the tool, let alone use it to its full ability.
Salesforce is certainly a powerful and complex tool, and even the basics take time to get to grips with. That is why we decided to put this Salesforce for dummies guide to help you manage your overall sales process better.
In this guide, we will cover the basics of Salesforce navigation, its principal features, and what the CRM can do for your business. We will also show you how to integrate your marketing efforts with Salesforce so your sales and marketing efforts are aligned.
First, let's get started with a bit of Salesforce background and how it solves a range of business challenges.
What is Salesforce?
Before learning more about Salesforce, you should understand customer relationship management (CRM).
CRM explained
It was in 1954 that Peter Drucker laid down the foundations for retaining customers, something he believed was the primary goal of a business. Today, keeping customers satisfied is far more complex than it was in Drucker's time, going beyond the need to schedule business appointments.
Digital CRM tools were developed out of necessity, providing forecasting tools and outstanding customer service for modern businesspeople.
CRM manages upcoming sales and any existing and potential customer interaction. Said interactions can become incredibly complex when they consist of numerous fields spread out across a large customer base.
CRM encompasses the full spectrum of processes and systems that aid in maintaining customer interest and dedication. When a CRM like Salesforce is adequately implemented, your customers' needs are put first.
However, before the advent of CRM platforms like Salesforce, CRM solutions were mainly limited to businesses' private servers. This was, understandably, a costly and time-consuming process.
Salesforce to the rescue
Salesforce was born to ease the enormous capital and human effort needed to maintain a CRM system. This innovative Software as a Service (SaaS) tool used Cloud Computing to cut long installation times.
But this SaaS did so much more than just ease the CRM burden on companies. It allowed the crafting of accurate projects that drive sales with unprecedented convenience and efficiency.
This revolutionary CRM service provides solutions for companies that need to streamline the sales funnel and pipeline. With Salesforce, companies can consolidate lead and customer data in one accessible place.
With more than 10 million members, Salesforce is integral to developing the modern business world. It's also an excellent place to consolidate all your sales and marketing tools and channels.
Salesforce is also a superb tool for programmers who can focus on building apps at lightning speed with a comprehensive interface with apps.
Other Salesforce benefits include:
A speedy, simple, and effective experience: Salesforce's world-class solutions can be implemented in under a month with the right plan, with even less time spent figuring out how it all works and fits in with your business goals.
A cloud-based experience: Given that Salesforce is a SaaS, you can access it anywhere in the world with a reliable internet connection.
Scalable capacity: Salesforce was designed to scale with businesses' growths, providing for any level of complexity and customer base size.
3rd-party integration: Your business probably uses a host of apps, and you can integrate Salesforce with a myriad of accounting, communication, and design apps. We'll also have a Salesforce integration for dummies guide out for you soon.
Excellent ROI: While Salesforce can become expensive with its more demanding membership types, many small-to-medium businesses see seriously good return on investment from implementing Salesforce.
Now that you understand Salesforce's benefits better, we can get started with the first step in our Salesforce.com for dummies hands-on guide.
How to navigate the Salesforce home page
Like many professional services, Salesforce's home page can be somewhat confusing for the uninitiated. Let's start with the basics and learn how to find our way through Salesforce.com's website.
Remember that your Salesforce homepage can be tailored to your personal business's functions, tasks, and data.
Tabs

Image Source: Salesforce
The first thing you will see when you log into Salesforce is a selection of ordered tabs.
These tabs are your primary navigation function, so it's important that you get accustomed to all the different ones. When you select a table, a sub-list will appear, and you can choose the specific function you need.
Each tab will have a neighboring downward-facing arrow that will reveal relevant interactions, allowing you to access recent documents.
The Reports tab is essential, as it is your central hub for dashboard and custom report creation and review. This is where you will monitor your key sales performance.
Search
The Salesforce Search function allows you to hop into specific pipeline tools or marketing processes. You'll find it on top of the navigation tabs.
Simply type in the specific keywords into the search bar, and then browse through the search results page that will load for your specific record.
Settings
Salesforce is an incredibly customizable SaaS that caters to various business demands. You can calibrate Salesforce to suit your specific needs with the Settings function (found beneath your user logo).
You can use the Setup function for your preferred configuration and customization if you are an administrator.
News
Staying up to date with all the relevant business updates is important, so Salesforce included a News section in its interface.
Today's events
The Today's Events section is incredibly useful as it allows you to keep track of all your current appointments within Salesforce. You can sync your Google Calendar or Microsoft Outlook accounts to ensure that all your appointments are integrated.
Today's tasks
Much like the Today's Events tab, the Today's Tasks section allows Salesforce users to stay on top of their daily objectives. Think of this as your to-do list.
Recent records
Rather than sifting through the Search function for your recent records and having to create a report from scratch, Salesforce has a dedicated archiving department for you to return to documents worked on in the past few days.
Salesforce Help
The Salesforce Help function will put you into contact with the relevant documents or customer support agents.
How do Salesforce's services work?
Salesforce's primary function is to help its users manage their customer relationships while progressing through the sales funnel.
You can consolidate your online marketing efforts with Salesforce by integrating your sales and account management departments. When everyone is communicating with leads and clients in the same stream, the chances of confusion or even alienation are significantly reduced.
Let's examine how this streamlined approach is achieved with Salesforce's primary services.
Manage your contacts
Firstly, we need to import our customers to Salesforce, along with detailed standard and custom objects.
Salesforce gives you a bird's eye view of your customer base that you can hone in on in detail. You can browse through individual contacts' interaction histories and review past conversations.
Once you've finished adding our contacts, you can enjoy an incredibly detailed overview of each one.
The broader customer relationship captured by Salesforce is further detailed with your social media exchanges.
Given that Salesforce operates through the cloud, all of this customer data can be inspected with your smartphone so that you always stay in touch with these convenient mobile solutions.
Automate your digital marketing
Prospecting and lead management are two of the most time-consuming and administrative efforts of the customer development process.
Salesforce will automate this aspect of customer relationship management, identifying the clients with a high potential to become legitimate prospects.
This automation is powered by a capable marketing mogul artificial intelligence that will collate your customer interactions data and provide a comprehensive analysis.
As a result of such in-depth automation, personalized messages will be sent to your contacts with their profiles "in mind."
Stay on top of customer service
A responsive and comprehensive customer service setup is essential for keeping customers happy and dedicated to your business.
Salesforce allows you to manage your customer complaints and queries by keeping your customer service team intimately connected with clients.
Your customer service agents will also benefit from insights generated by Salesforce to improve your agents' performance, as well as your marketing and sales team members' abilities.
Manage your opportunities
Can you imagine a complete view of your teams' hottest deals? Salesforce's Opportunities service is an effective tool that provides precise reports on your opportunities.
You can then pinpoint which contacts are ready for advanced marketing interactions and the most beneficial way forward.
You can further tailor an opportunity record to filter your teams' hottest prospects. Your team's efforts will no longer be wasted on ambivalent contacts.
Get started with app building
Did you know that you can build your own apps from scratch with Salesforce? Each business has its unique challenges, which is why Salesforce provides the tools needed to make solution-oriented apps.
Managers can collaborate with developers in real-time through the Salesforce App Cloud, providing their exact needs through every step of the app development process.
That being said, you might find that your needs will be solved by one (or a few) of the many tools available in Salesforce's AppExchange.
What are Salesforce's main features?
Salesforce's emphasis on customer relationship means that its features aim to accommodate all your contacts' needs. Beyond creating a standard report from scratch, some services stand out from this beefy repertoire.
The Customer Cloud
Salesforce puts a big focus on helping e-commerce business owners manage their customers. Your enterprise clients will be automatically slotted into the right order-placing sections through the Customer Cloud.
The Customer Cloud will cater to your customers' online shopping preferences, simplifying the entire process so that they can focus on learning more about your product details. You can manually personalize your e-commerce setup to best suit your customers' needs.
The Marketing Cloud
One of Salesforce's handiest and most reliable applications is the Marketing Cloud, which provides a fully customizable and automated email address system.
The AI-powered Marketing Cloud not only sends out emails with customer updates but will also determine the customers that are most likely to interact with your services.
This application usability also extends to ready-made templates that will do much of the marketing legwork for you, so that you can concentrate on closing deals. Let's check out some other secure high-performance Salesforce solutions.
Workflows
Salesforce might be geared toward marketing, but that doesn't mean that your more rudimentary tasks can't be automated, too. You'll find quite a satisfying experience with the Workflows service as it takes care of many complex conditions.
Simply set up your "if/then" conditions and automate as many tasks as you deem appropriate. For example, if someone signs up for your website's promotional emails, they'll be added to the Potential Clients field.
Collaborative Forecasts
Salesforce also acts as a sales performance oracle of sorts with the Collaborative Forecasts function. This report wizard will reassess your business goals to better organize your future sales pipeline based on your recent performances.
Managers can establish a "forecast hierarchy" that ranks employees' individual forecasts' importance and potential profitability. This way, the most productive pipelines take priority.
AppExchange
Last but not least is the AppExchange. Salesforce provides a superb foundation for advanced marketing efforts, but you might find that there are plenty of apps out there that further your sales and marketing efforts.
The AppExchange increases Salesforce's potential by giving you access to countless powerful apps that will build on Salesforce's operations. Remember that you will need to pay for some apps, which might take time to get to grips with.
Why do I need Salesforce?
We've covered most of Salesforce's primary services in this Salesforce.com for dummies guide, but let's now dig a bit deeper into what the CRM platform can do for your business in general.
A comprehensive platform
While Salesforce is generally considered a marketing and sales-focused platform, it is geared to accommodate many of your businesses' departments, including IT, marketing, customer service, sales, and commerce.
The point of Salesforce is to become accessible to all your employees, where many of your pertinent operations, customer data, and general business resources are consolidated.
Complete customizability
Salesforce puts a significant emphasis on customizability. You can customize most of the provided features and services with new modules, personalized workflows, and opportune sales strategies.
Your customer and reporting data will never be lost, even at a high level of customizability. Salesforce grows alongside your business, organically adapting to increasingly complex sales pipelines and workflows.
Join the ecosystem
Salesforce's broader ecosystem comprises consumers, developers, and partners focused on optimizing business insights.
The Salesforce Success Community allows users to contact Salesforce's extensive employee base for personalized guidance and suggestions.
If you feel like your company needs better development, Salesforce has plenty of resources to match you with the appropriately skilled developers.
Learning with trailhead
Trailhead is a superb learning resource from Salesforce that helps employees and candidates meet their career goals. You can learn more in-demand skills and resume improving credentials with Trailhead.
The Trailblazer Community is brimming with inspirational and talented individuals that are passionate mentors. You can join the Trailhead for Slack channel and access the most relevant and beneficial content.
Foolproof security
Salesforce has a range of security features that ensure its users can work with peace of mind. You can adjust the security settings to cater to your safety needs and set appropriate permissions for your team.
Malware and phishing: If you encounter any suspicious irregularities during your Salesforce experience, please report them to security@salesforce.com. Salesforce provides real-time security and performance-related data for full transparency.
Auditing: Auditing is an essential part of any proper potential security issue diagnosis as it allows for a comprehensive case study. Please note that your dedicated IT members will need to help Salesforce with this process.
Security health check: If you are the admin of your team's shared Salesforce account, then you can run a Health Check to isolate any possible chinks in your security setup. Once the check is complete, you will receive a security score to compare to the average Salesforce security baseline.
Salesforce Shield: The Salesforce Shield comprises three security tools that help developers and admins alike stay on the right side of compliance and trust. This trio consists of Field Audit Trail, Shield Platform Encryption, and Event Monitoring.
How to get help
Salesforce's design is relatively straightforward, but if you do run into any issues, these are the best way to get back on track quickly.
Get in touch with your system administrator for a hands-on guide.
You can find the Salesforce Help function throughout most Salesforce pages and tasks. It takes the form of a question mark symbol and provides a page-relevant and accessible guide for many related issues you might be having.
Then there is the Salesforce Trailblazer Community, where you can see what other users have to say on an issue and look for commonly asked questions. If you find that your issue is slightly more complex than the resources on offer, don't be afraid to write a detailed post.
Social media platforms, specifically Twitter, are another excellent resource. Try tweeting your question with the hashtag #askforce and you're likely to be quickly responded to by official and unofficial Salesforce professionals.
Finally, 90% of the time, Salesforce is implemented with help from an expert partner agency or consultant. If you're not working with a partner already, you can find one on Salesforce's directory.
How do I integrate my apps with Salesforce?
While Salesforce is incredibly capable, we know sales and marketing people often prefer to pick and choose their favorite tools instead of going for an all-in-one platform.  This is where Salesforce integrations come into play.
If you use apps like Mailchimp or ActiveCampaign in your marketing efforts, or Calendly to schedule calls, then you might want to sync your customer life cycle activity across the board. 
This is where we come in. Outfunnel is basically a Salesforce integration for dummies service. It syncs your contacts' data across a variety of essential apps. This effective CRM integration solution ensures that your sales and marketing data is connected and in sync 24/7.
This level of integration saves salespeople and marketers even more time, allowing them to work on leads at a greater capacity.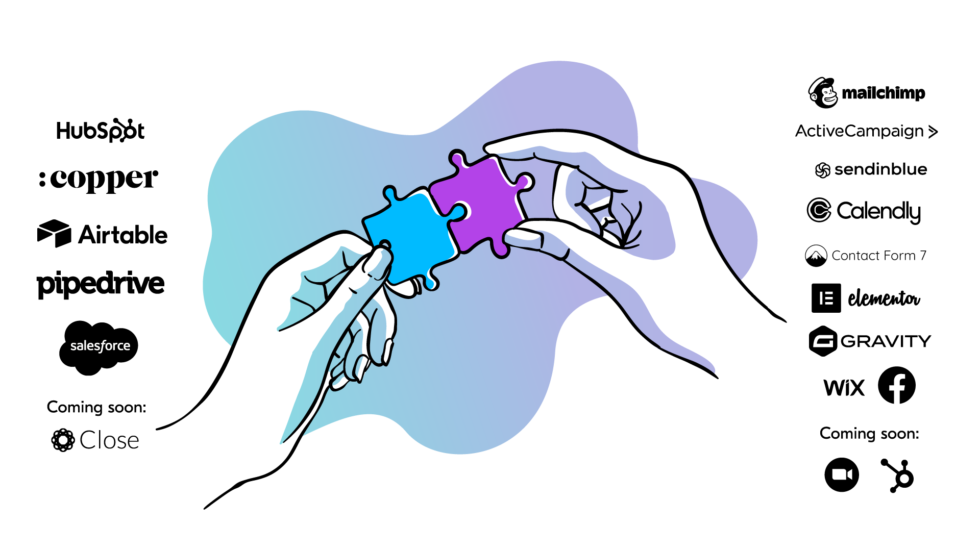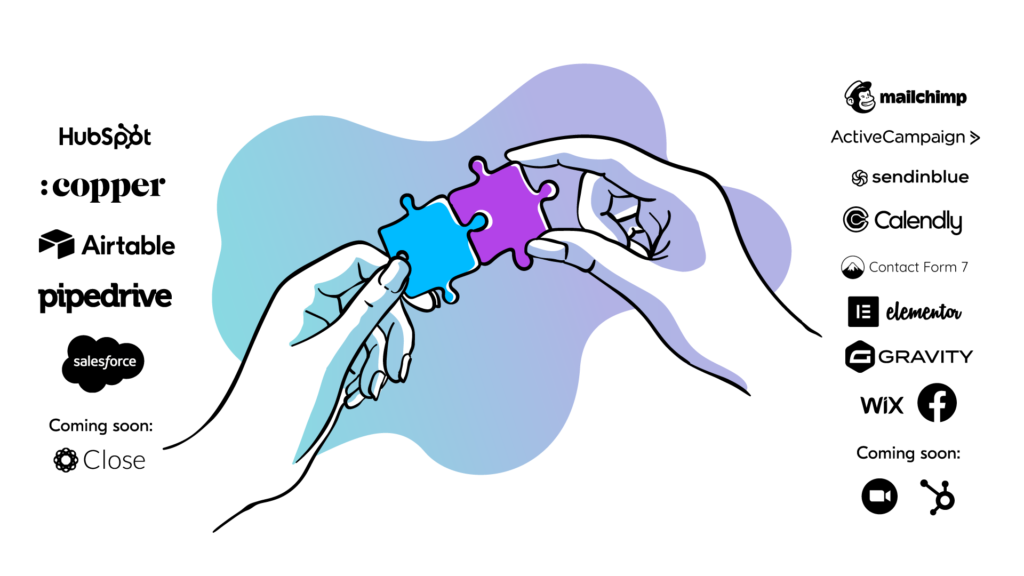 The best marketing campaigns are well-targeted to specific customer segments. Unfortunately, this level of personalization typically means a heavier admin load. Outfunnel will automate much of this manual work, so your teams can focus on creative work.
While there are other third-party integration app options for Salesforce (such as Zapier and its alternatives), Outfunnel is the only one designed for connecting sales and marketing apps. Built by marketing and sales pros, the integrations are both deeper and easier to set up.
In conclusion
Salesforce allows you to work with your team at a streamlined level and deliver a more connected customer-focused service. Automating and integrating your workflow takes the drudgery out of the working day.
We hope that this Salesforce for dummies guide helps you get started with the CRM system. Remember that Salesforce's broader community resources, like The Trailblazer Community, are an excellent place to go if you have any further queries or just want to expand your understanding.
Ready to integrate Salesforce with the rest of your sales and marketing stack? Get started with a free trial today.