Last updated: March 25, 2023
We are excited to announce that we will be adding lots of Salesforce integrations in 2023! To kick things off, we're going to tell you all about the integrations we will be offering, plus give you a list of our favorite integrations to use with Salesforce.
Linking Salesforce with your other external services is a no-brainer because we know sales and marketing people like the freedom to pick their own preferred tools.
And here at Outfunnel, we're all about helping salespeople and marketers save time and automate processes with integrations.
This article will give you a detailed overview of different Salesforce integrations, including what they do, how they integrate with Salesforce, and why your sales and marketing team needs them. Read on or jump to the sections that strike your fancy:
What does Salesforce integrate with?
Salesforce is the leading customer relationship management (CRM) platform that also offers marketing, customer service, and data integration features.
And it is not reserved just for enterprise sales! According to the Revenue Marketing Report 2022, where 300 sales and marketing professionals based in the US were surveyed, a whopping 49% of the respondents reported that they use Salesforce:
Salesforce is a powerful tool. It offers some pretty impressive features for businesses like the Salesforce Commerce Cloud, Salesforce Connect, Salesforce Trailhead, Salesforce AppExchange, and the Salesforce Service Cloud.
And it gets even more powerful if you use integration solutions and Salesforce apps. So, let's talk about how you can use external applications that Outfunnel integrates with to further your Salesforce workflows.
Salesforce has 2,500+ integrations and applications that you can use to build on its already impressive functions.
Integrations create a connection between one system or database to another, so Salesforce integrations act as a connector for Salesforce and any external services you might use. There are many, many methods of integration such as bidirectional sync, API integrations, and event-driven integration. We'll be touching on as many as we can in this article.
You can connect Salesforce with Google Workspace, Slack, LinkedIn, and countless other applications that you likely use every day. But don't just take it from us; check out Salesforce's information on their integrations.
Salesforce's Mulesoft Composer, part of the Mulesoft Anypoint Platform, enables connections across channels, platforms, and internal departments with API-led integration. With integration templates, legacy system integration, and programmatic tools, Mulesoft Composer is an excellent connector for Salesforce.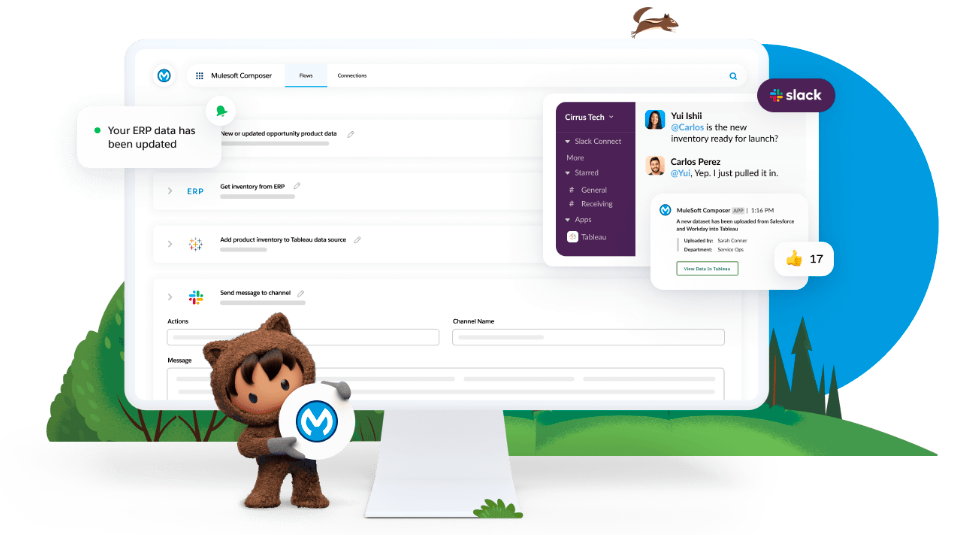 Salesforce AppExchange is a marketplace with ready-to-install apps, consultants, and salutations that you can use to connect your digital services with Salesforce. This integration strategy uses complex logic and programmatic tools to ensure that your workflows are as efficient as possible.
But there are plenty of other integration options as well, beyond Salesforce AppExchange and Salesforce Labs.
Salesforce Labs is a platform that you can use to find countless business applications ready to sync with Salesforce using AppExchange. Salesforce Labs is constantly updating and regularly releases new applications.
Let's talk about the main integration strategies you can use with Salesforce.
How integrations work
Integrations are essential to help you decrease your manual workload and connect your most-used apps together to improve your workflow. Still, even we will admit that integrations can be complicated to understand sometimes.
With so many integration solutions, it can get confusing. Before we get into recommending specific Salesforce app integrations, let's make sure we're on the same page about integrations in the big picture.
Here are the main types of integrations you need to know:
Native integration: A native integration is one that is offered by the software you're using.
Third-party integration: A third-party integration is one that is built by an external data integration service. The most commonly known examples would be Zapier or Automate.io.
When it comes to integrations-related lingo, here are a few useful terms to help you better understand the world of integrations:
Real-time integration: Real-time integration is precisely what it sounds like, a transfer of data between systems as soon as a change or update is detected. Integrations of this type are typically used to sync data between external systems quickly.
Bi-directional sync: Bi-directional sync joins together two datasets and enables them to act as one. Whenever changes are made in one of the datasets, the other one is updated as well.
Batch integration: This type of integration is a standard method for data integration between source systems. With a batch integration, updates can be scheduled to update in just seconds or as long as weeks.
Process integration: Process integration stands for sharing data and events between digital channels, typically in real-time.
Whew, that was a lot to take in.
Just know that no matter which integration solution you choose, you'll find that integrated experiences will change the way you work on a daily basis.
And don't worry if those integration strategies above sounded complicated to you, you're going to love how easy our App connector is to use. 
The best Salesforce integrations for sales and marketing teams
There are many integration tools and apps that can act as a connector for Salesforce. Sure, we're a little biased, but we do think our platform is one of the best for sales and marketing integrations out there. After all, Outfunnel is the only data integration tool designed for sales-marketing integrations.
However, there are several other great Salesforce integrations out there as well. So, let's first take a look at the ones Outfunnel offers and then a number of other useful integrations.
Salesforce-web forms integrations
The simplest and most useful integration you will set up is between your web forms and Salesforce. Such integration will automatically sync contacts from form submissions to your CRM, along with key fields, and record the form submission on the contact profile. This saves time you would otherwise spend on managing contact data (read: exporting-importing lists) and gives useful context to your sales reps, right in the CRM.
That is why web form integrations are the first ones we built for Salesforce.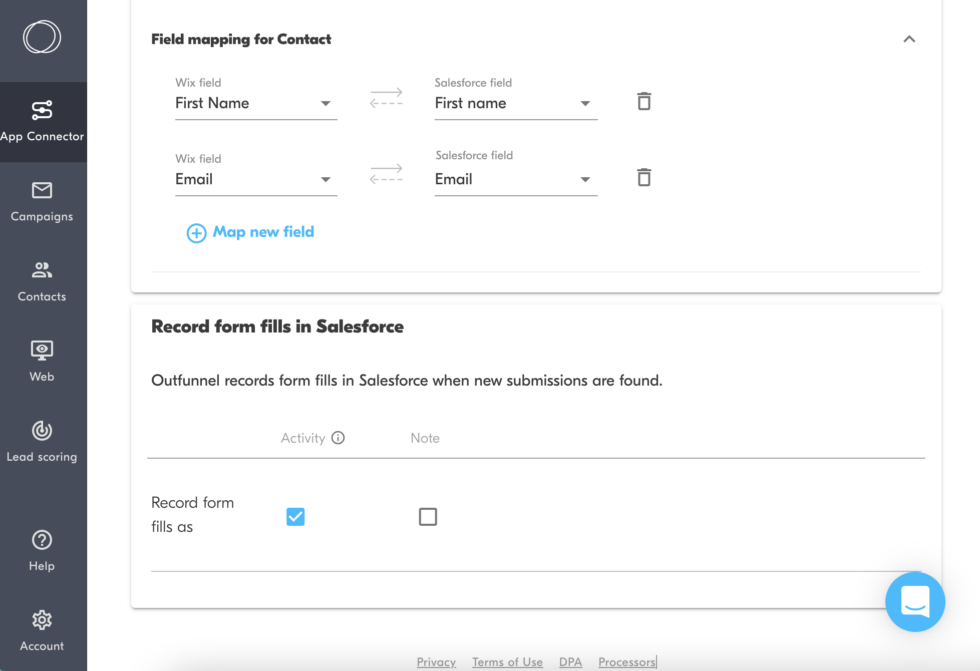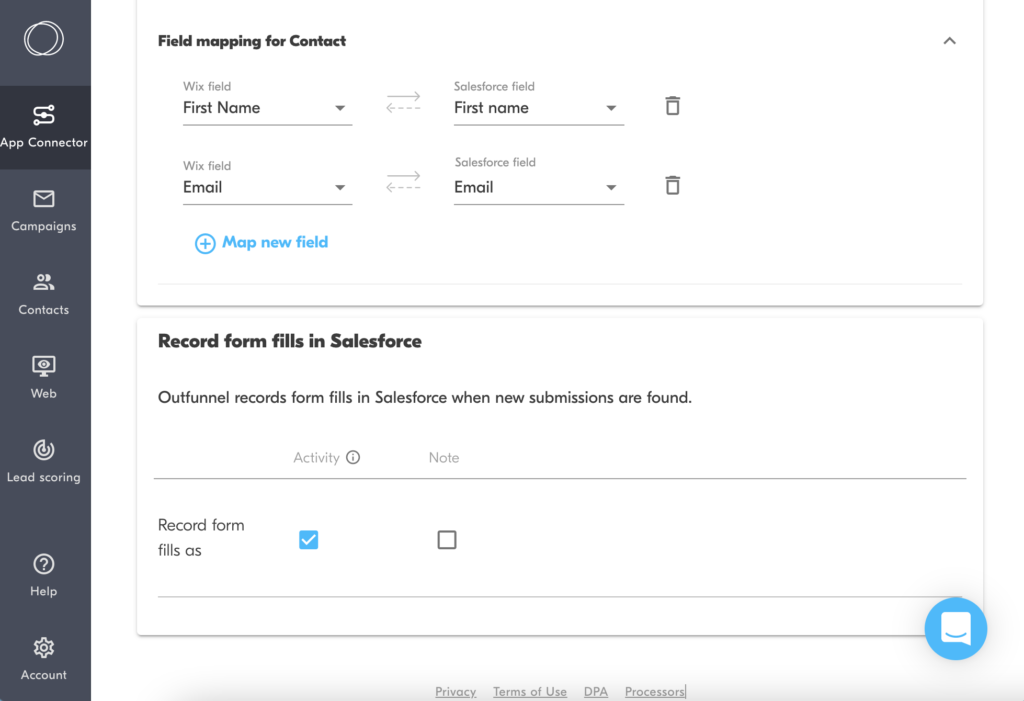 Currently, we offer integrations between Salesforce and the following web forms:
These integrations allow you to
Automatically create contacts in Salesforce from web form submissions (no duplicates will be created if the contact already exists)
Map web form fields with custom fields in Salesforce
Record source/medium data for your contacts, so you know where leads are coming from
Additionally, you can make use of Outfunnel's Lead scoring software and Web visitor tracking software.
With plans starting at 59 USD/month, our platform already powers over 1,000 businesses worldwide in connecting their CRM and marketing tools.
Integrating Outfunnel with Salesforce can be a huge boost for your sales and marketing team and make working with Salesforce and Outfunnel more efficient.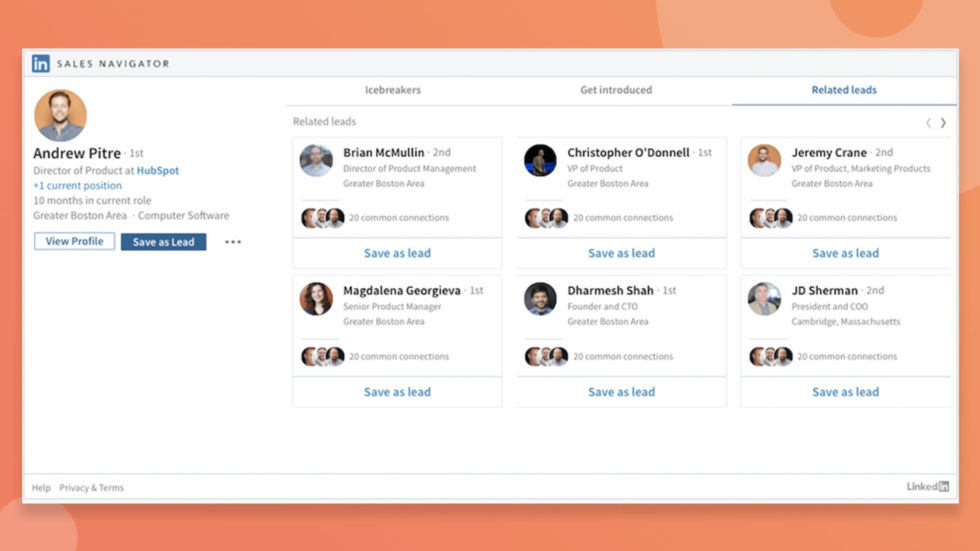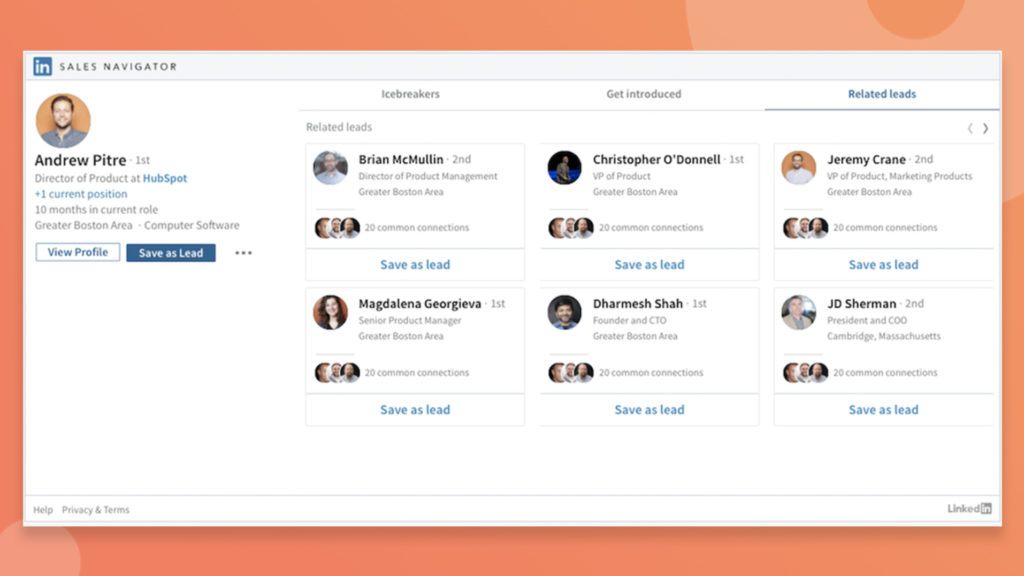 LinkedIn is a professional social media website that can function as a digital resume.
As the largest professional online network, LinkedIn is free for anyone to use. If you're not already using LinkedIn for your personal or business use, it's probably time to start.
LinkedIn is the perfect place to create connections, post ads for your business, or create B2B content for industry peers. Plus, LinkedIn offers excellent paid advertising options that are easy to use and track.
LinkedIn's networking abilities are one of their most crucial features. If you want to become an industry expert on any topic or engage with people in your industry, LinkedIn is the place to start.
LinkedIn-Salesforce integration
This integration helps your sales and marketing team identify and target leads and decreases the time spent on manual lead entry.
LinkedIn and Salesforce can be integrated through native integration, third-party integration, or API integration. And coming soon, you will be able to connect Salesforce and LinkedIn Ads through our App connector.
One of the most popular use cases for connecting the two platforms is making sure that your LinkedIn Sales Navigator and Salesforce data are in sync. This gives your sales reps a seamless prospecting experience (if they use Sales Navigator already) and records relevant communications for the contacts in Salesforce.
Plus, your sales team will receive "suggested leads" that combine information from Salesforce and LinkedIn to help improve their lead prospecting and efficiently identify your ideal customers.
Sales and marketing teams will love this integration between a well-known social media platform and Salesforce.
P.S. Keep an eye out for our Salesforce-LinkedIn Ads integration, coming soon.
Calendly is a scheduling platform that is taking the digital world by storm.
We all hate the monotonous back and forth of setting up meetings, going back and forth via email or Slack to find a time that works for both parties.
With Calendly, you can create a schedule for yourself of your availability, and Calendly will create a shareable link that co-workers or clients can use to schedule a time that works for you both.
This is a major time saver for busy professionals and eliminates needless back-and-forth emails when scheduling, rescheduling, or canceling meetings. Calendly does it all. They even send out reminders and create an embed for your website.
Calendly-Salesforce integration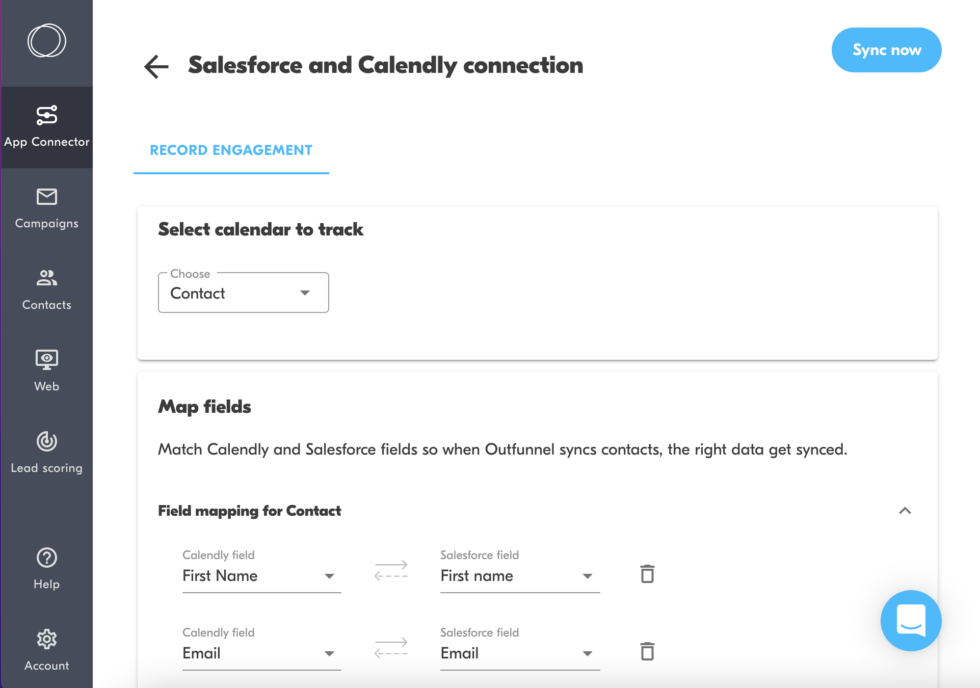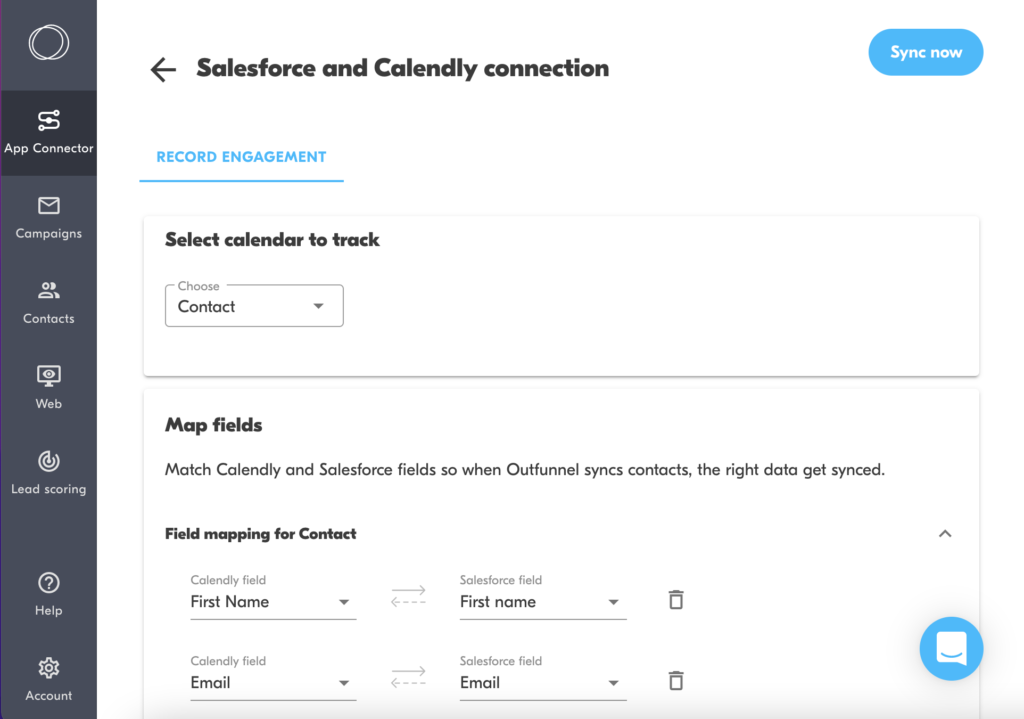 Like the other integrations on this list, integrating Calendly with Salesforce will save you time and money by decreasing your manual entry workload. When a new prospect books an appointment on your Calendly, the contact will be created in Salesforce automatically. If the contact already exists, no duplicate records will be created. 
Additionally, whenever meetings is scheduled in Calendly, the event is recorded in Salesforce. You will then always be able to see past and upcoming Calendly events in Salesforce, and customize your flow to sync your leads, contacts, and opportunities automatically.
This integration is a must-have if your team is already using or considering using Calendly for scheduling.
The first option you have here is the native integration offered. Installing Calendly native integration is straightforward but once installed it's confusing where to edit things.
Essentially, there is a thing called "Flows" in Salesforce which allows you to tailor the entire workflow. This makes it very powerful, but also very complex and confusing unless you're a Salesforce expert.
See a screenshot of the "wiring" of this integration below.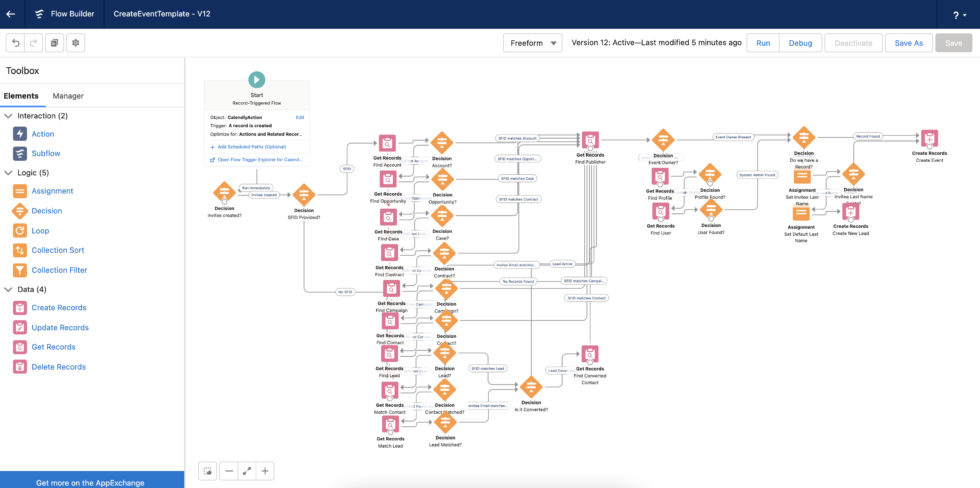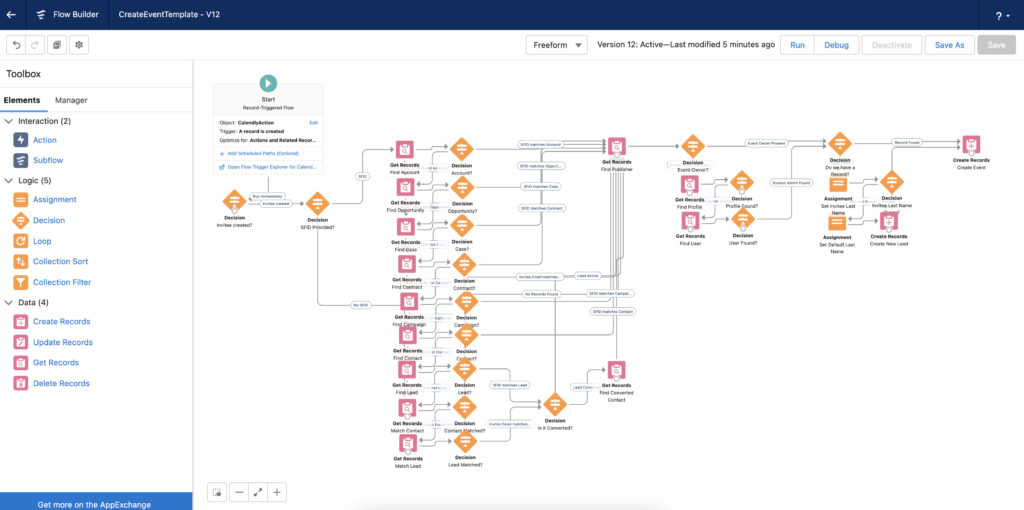 The workaround to this complexity? Outfunnel's upcoming Salesforce-Calendly integration will make the setup super easy, as it's designed for keeping key data in sync between sales and marketing tools.
Read more and sign up for early access: Salesforce-Calendly integration.
HubSpot Sales Hub is a big player in the CRM industry. Their Sales CRM enables your sales team to gain insights that can ultimately help them turn marketing leads into sales. If you're considering using HubSpot for your CRM, they have a great onboarding process, including tons of training videos through their HubSpot Academy.
But there is no competing with HubSpot when it comes to marketing: their Marketing Hub is a clear market leader. HubSpot Marketing can help your team organize a complete inbound marketing campaign that increases traffic and identifies more leads.
Regardless if you use the Sales Hub or Marketing Hub, HubSpot is considered easy to use and offers excellent customer support.
HubSpot-Salesforce integration
Connecting HubSpot and Salesforce can be a game-changer if your sales team uses Salesforce and your marketing team uses HubSpot Marketing.
Syncing HubSpot Marketing and Salesforce creates a strong integration between your marketing communications and sales assets. This means you can easily transfer data between the two without entering information into both manually.
A Salesforce-Hubspot bi-directional sync enables all changes and updates in one system to be automatically sent to the other. Plus, you can send information like lead data, lead scores, and more from Hubspot to Salesforce.
You can see the Salesforce integration that HubSpot offers or sign up for early access to our Salesforce-HubSpot Marketing integration.
DocuSign is the best electronic signature integration for Salesforce out there. With DocuSign, you can easily automate your entire electronic signature process.
Using DocuSign to send, save, and sign your documents is a huge time saver for teams that send and receive documents regularly. And DocuSign isn't a one-trick pony, either.
They offer other services, including contract lifecycle management, enabling your marketing and sales teams to automate their contract workflow. And, you gain access to critical contract analytics that your sales and marketing team can use when creating documents in the future.
DocuSign-Salesforce integration
This integration can help your team send, track, and save documents more efficiently by connecting DocuSign and Salesforce. To activate it, simply turn on the Salesforce integration option inside of DocuSign with their one-click integration.
Once this integration is activated, you can run your electronic signature workflows from Salesforce and create documents with your Salesforce contacts. You can also take payments from partners and customers during the signing process and store their information in your Salesforce system.
Salesforce documents can then be saved electronically into your records. Plus, you will receive real-time reporting from Docusign into Salesforce Chatter.
Any team that wants to save time and try out an electronic signature software will love this integration with Salesforce.
Woopra is one of the lesser-known tools in this list of sales and marketing giants, but we think that it can be an invaluable asset for your team.
This analytics platform leverages both historical and real-time data to deliver valuable customer insights to your sales and marketing team. Woopra was created to help companies improve their customer experience and customer journey.
With Woopra, businesses can easily understand and improve customer journeys to boost their conversion rates. Plus, Woopra's AI technology analyzes countless customer interactions to enable marketers to improve their user interface and get better results.
The platform is specifically catered to helping organizations improve their customer life-cycle. With live, granular behavioral data, you can get meaningful insight into how individual customers behave and learn how you can better serve them.
Woopra can be integrated into any system you use, including Salesforce.
Woopra-Salesforce Integration
The Woopra Salesforce integration can help your team improve their sales analytics reporting and combine that information with Salesforce data to get a complete picture of your customer journey.
Using this integration, you can analyze each step of the customer journey by combining data from salesforce with Woopra's behavioral data. This is a perfect way for your team to better understand how customers interact with your website, emails, and other touchpoints.
Woopra's Trigger features and People Export can give Salesforce the data it needs to create essential customer data. You can track detailed information like logins and most used features for each individual customer.
Your sales and marketing teams will love this integration and the powerful insights they get from combining these two impressive tools.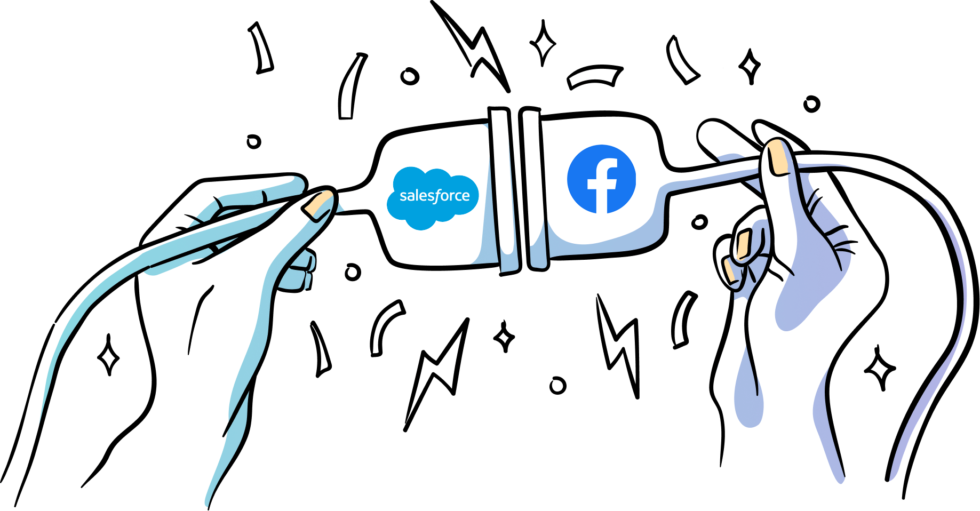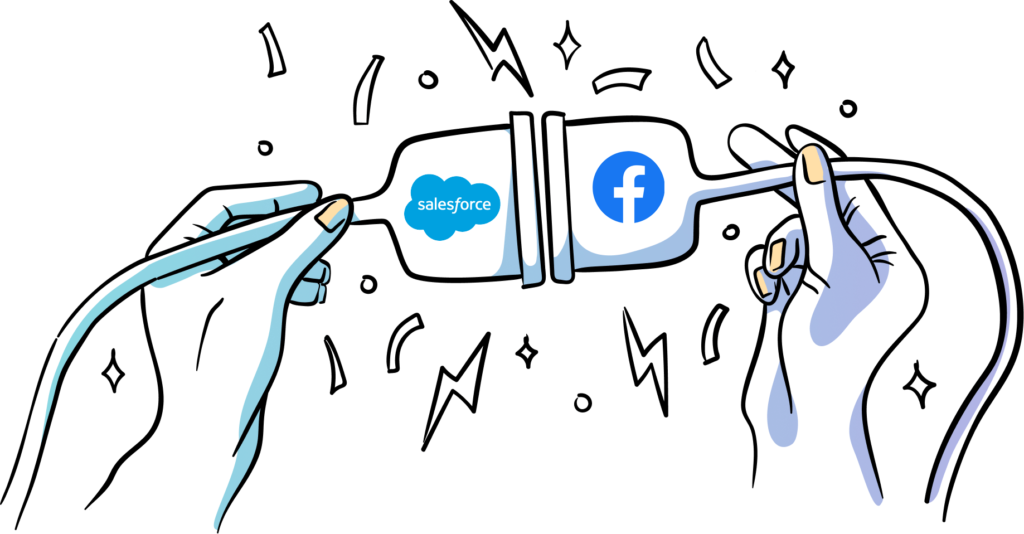 Facebook or Meta, as they're calling themselves these days, has an advertising feature that is perfect for small businesses. Unless you've been living under a rock, you've probably heard of the social media giant Facebook (ahem, Meta).
With Facebook Ads, you can create and manage ads on desktop and mobile for your business. Paid ads used to be complicated and require the help of a professional, but Facebook makes it easy for small businesses and brands to get their name out there.
Facebook Lead ads are ads that feature a form. Whenever a customer clicks on one of your lead ads, they are prompted to fill out the form, which will submit their contact information to you.
And since Facebook (Meta) now owns Instagram, you can create and manage ads for both in one place: The Facebook Ads Manager. The Ads Manager helps you with Facebook, Instagram, Messenger, or Audience Network ads, and it has excellent customer feedback.
Plus, you can track how your campaigns are performing with Facebook's analytics tool. This helps you determine how well your campaigns are doing and if they need to be adjusted.
Facebook (Meta) Lead Ads-Salesforce integration
With our Salesforce Facebook Lead Ads integration, you can automatically add any new leads from Facebook directly into Salesforce. Goodbye, manually importing lists!
Plus, you will have the ability to map any custom fields enabling your sales team to create custom lists and filters to prioritize and sort leads. This integration will be a must-have for sales and marketing teams using Facebook Lead Ads for their marketing campaigns.
Setting up this integration takes just minutes and zero coding skills. Like the other integrations on this list, this integration will help your team save time and drive more sales.
Learn more about it: Salesforce-Facebook Lead Ads integration
Now that we've covered the best integrations for sales and marketing teams let's talk about the Salesforce integrations we will be offering soon.
Upcoming Salesforce integrations
Here at Outfunnel, we know for a fact that integrating your tools with Salesforce can be a massive boost for your business. Throughout 2023, we will be launching Salesforce integrations that let you to connect your key marketing tools with Salesforce and keep data in sync.
With our upcoming Salesforce integrations, you'll have the ability to record your marketing engagement and sync all your new subscribers. Plus, we'll give you complete control over which contacts are synced and the ability to select custom objects and fields.
Let's jump right in.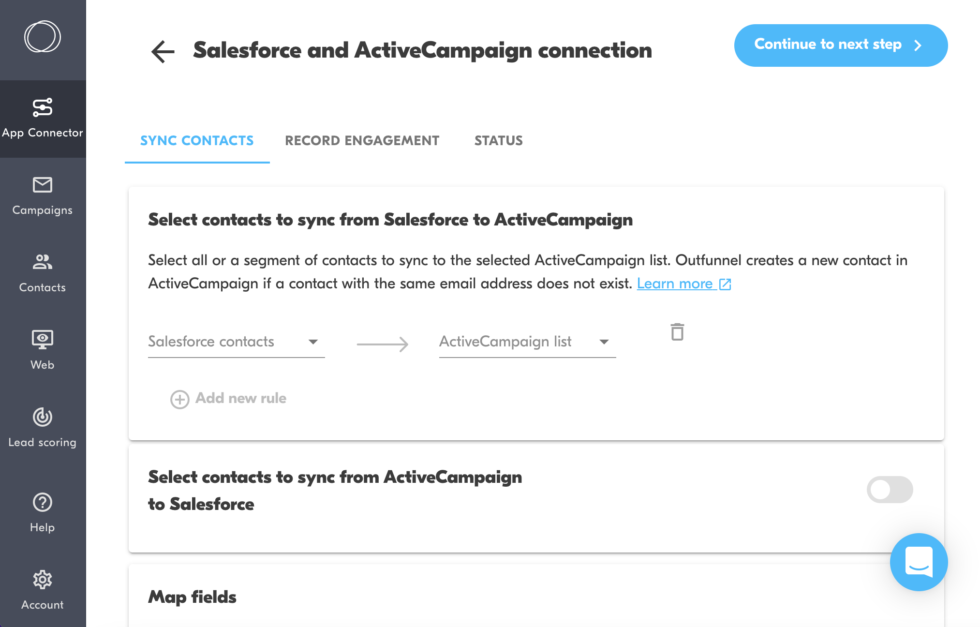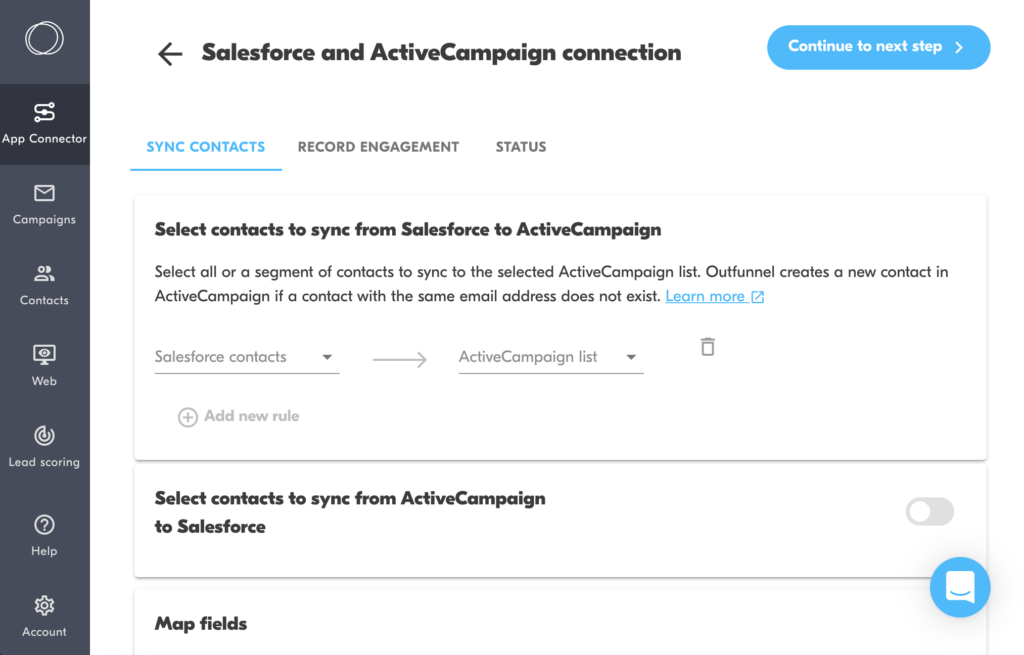 ActiveCampaign is a software platform that combines email marketing, CRM services, and sales and marketing automation to create more connected customer experiences.
With plans starting at $29 per company per month, this is a pretty affordable investment for your sales and marketing team. They also offer a free trial with no credit card information required.
With ActiveCampaign, you'll have a 360-degree view of your customer journey and can use that information to create a better customer experience. Their targeting will help you create optimized marketing assets and discover better leads.
You can create personalized calls to action with ActiveCampaign that will help encourage your customers to move forward in their buying journey. Active Campaign can handle an impressive volume of transactions, and you can use them to create a personalized user experience for each customer.
Connecting ActiveCampaign and Salesforce can jumpstart your business growth by creating automated 1:1 experiences across channels. If your marketing activities live in ActiveCampaign and sales processes in Salesforce, then your teams need this integration to improve the buyer and customer journey.
With our upcoming ActiveCampaign and Salesforce integration, you will be able to sync contacts and segments between Salesforce and ActiveCampaign. Plus, you can keep all tags, custom fields, and statuses in sync, ensuring your campaigns can start and end automatically.
The integration will also record email engagement (e.g. email opens, clicks, unsubscribes) for contacts in the CRM. Your salespeople can then use email engagement as lead signals–and know when leads are hot and what they are interested in. Furthermore, you can use Outfunnel's lead scoring and website tracking to better understand your customer journey and improve customer experiences.
You're going to love this deep integration through our App connector when it is available in Q2 of 2022.
Learn more and sign up for early access: Salesforce-ActiveCampaign integration.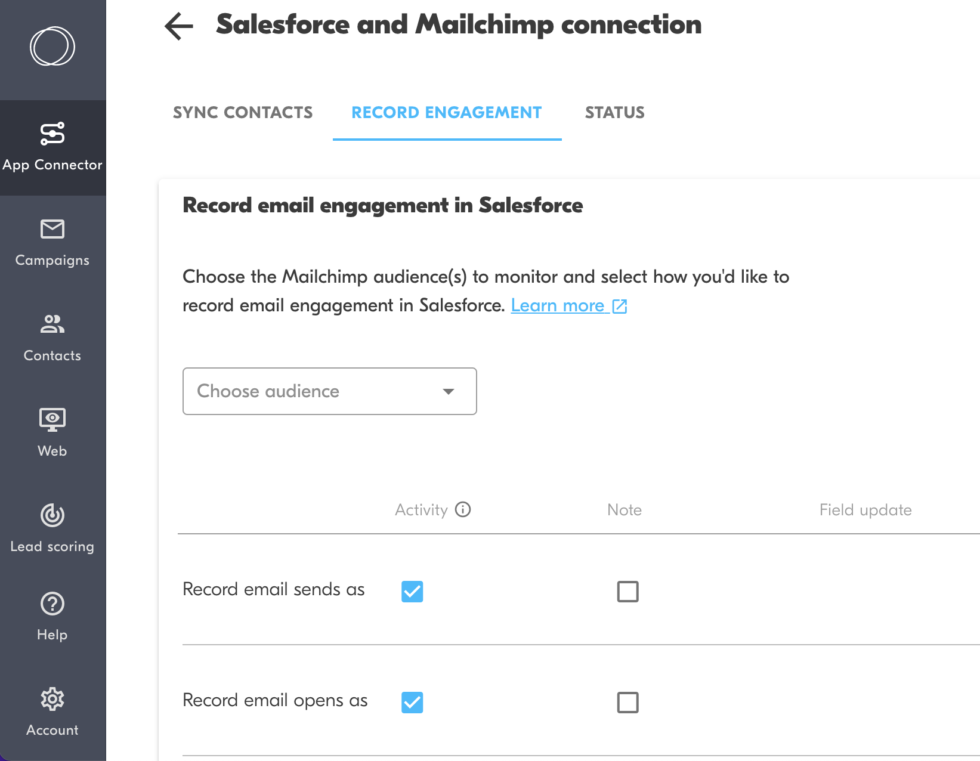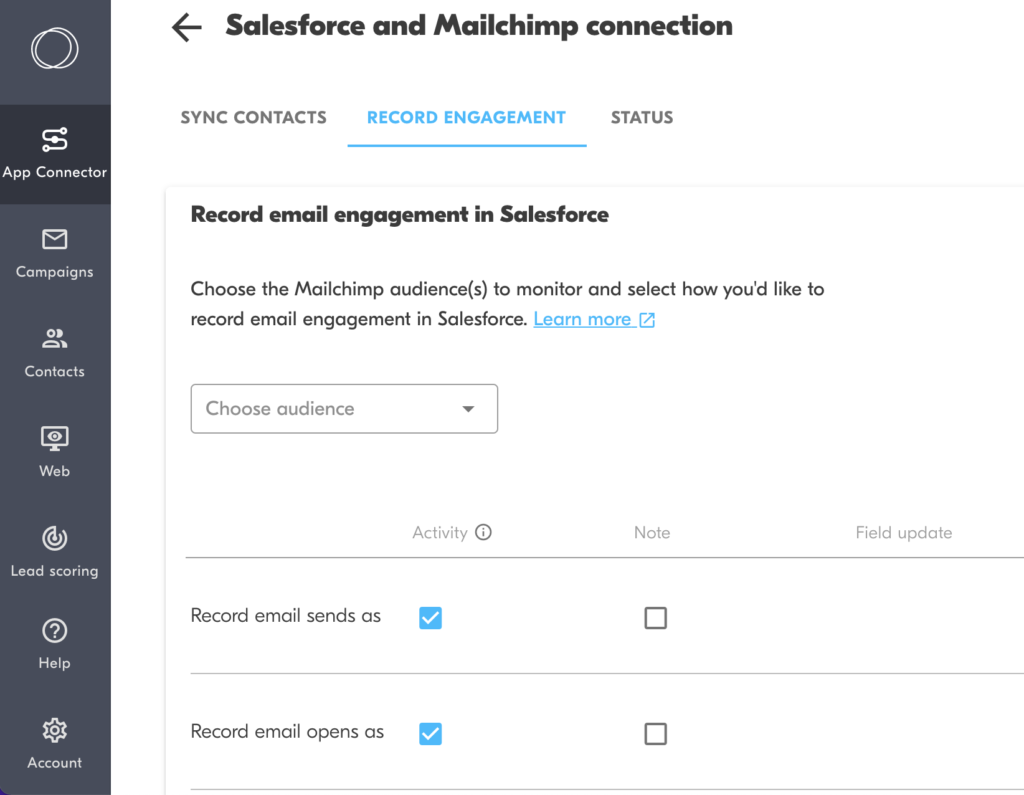 Mailchimp is a marketing automation tool for automating your marketing communications, sales processes, and your email campaigns.
Mailchimp is easy to use and has tons of templates and an AI assistant that can enable you to create designs and content in seconds. Their analytics are powerful and can help your sales reps and marketing team improve their processes.
Integrating Mailchimp and Salesforce will sync your email marketing lists and Salesforce contacts: an invaluable combo for sales and marketing teams.
With our upcoming Mailchimp-Salesforce integration, you will be able to sync all your subscribers to Salesforce, including new subscribers and those who engage with campaigns.
You will also be able to curate marketing data is shared with the sales team, to help them discover and nurture leads. Plus, set up workflows for sales based on the recorded engagement data.
This is more than a basic sync; you will have complete control to customize precisely which contacts are synced. This integration is crucial because it saves your marketers time and gives salespeople more data so they can make informed decisions. Your marketing and sales teams will go bananas (pun intended) over this integration when it is live and will love the robust sync between email marketing data and Salesforce contacts.
Find out more and sign up for early access: Mailchimp-Salesforce integration
Time to pick your integrations!
Business users are always looking to cut down on manual tasks, connecting
Using event-driven integration, smart logic, and pre-built connectors, you will be able to make sure data is always synced between external services and Salesforce.
The powerful integrations we have outlined in this article will help with marketing campaigns, project management, and creating more unified buyer experiences.
See the complete list of Salesforce tool connections we offer here or request any sales-marketing connections you prefer via this form.
We're here to be a source of truth about how you can genuinely improve your workflows using Salesforce integrations. And because we're constantly expanding our integrations, you can rest assured that more integrations will be coming.
Salesforce not your thing? You may want to explore Salesforce alternatives instead
Ready to connect your web forms and lead ads with Salesforce? Get started with a free 14-day trial today. Setup takes 15 minutes and requires no coding skills.