Last updated: July 29, 2021
With each passing year, more people around the world are becoming freelancers and solo entrepreneurs. What is the biggest challenge that they're facing?
Their #1 challenge: freelance lead generation that's automated and brings new business.
There are multiple different articles that all converge on this point:
"The hardest part for many freelancers and consultants is generating new business." – DoubleYourFreelancing.com
"Every freelancer always feels overwhelmed by the task of continuous networking he/she has to undertake […] Prospecting for new clients is one of the major challenges for every freelancer." – QuantumFly
"The time has come where freelancers need to be more creative than ever before in seeking out new work." – Xolo
So naturally, whenever we talk to freelancers and solo entrepreneurs who use Outfunnel, we want to hear about how they deal with this challenge.
Today, let's look at how Happy Desk manages lead generation.
Happy Desk is a one-man web design shop based in Brussels, Belgium that has built sites for clients ranging from cosmetics companies to hotels and restaurants.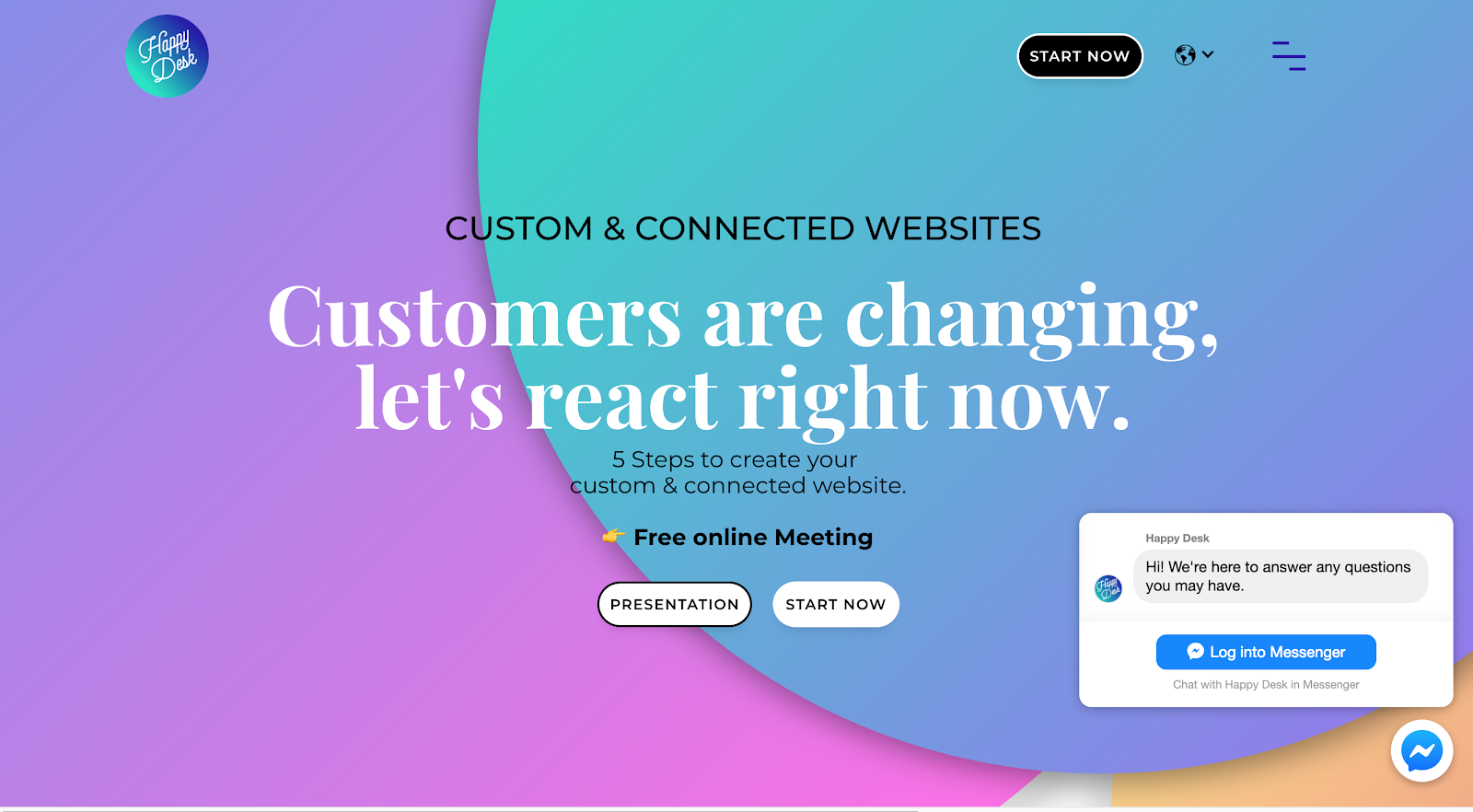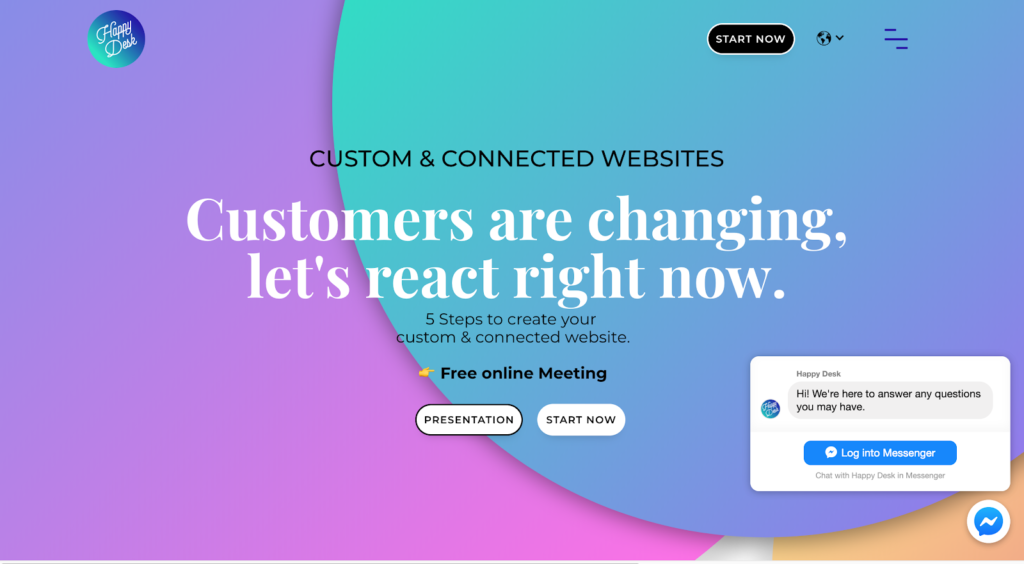 Kevin Palombo is the founder-CEO of Happy Desk. He handles everything from marketing and generating new leads to personally designing, developing and launching websites for his clients.
Needless to say, he is one busy entrepreneur, with a lot on his plate!
Here is a dilemma that Kevin faces, which should be familiar to every freelancer:
Kevin's most valuable skills are in web development, and walking his clients through his elegant 5-step process.
To make the most of those skills, he needs to avoid spending too much time on lead generation, and spend as much time as possible doing (1) as he can.
However, he can't avoid doing lead generation work altogether, since you need leads in order to have clients to work with.
This is a challenge that every freelancer deals with. How do you address it properly? The current consensus seems to be: one should automate the lead-generation process as much as possible.
What does that look like in practice?
A central challenge for Happy Desk is to do freelance lead generation in an automated way. How do you get predictable new business scheduled on the calendar?
Like any small business owner, Kevin wants to make sure that there is always work ahead.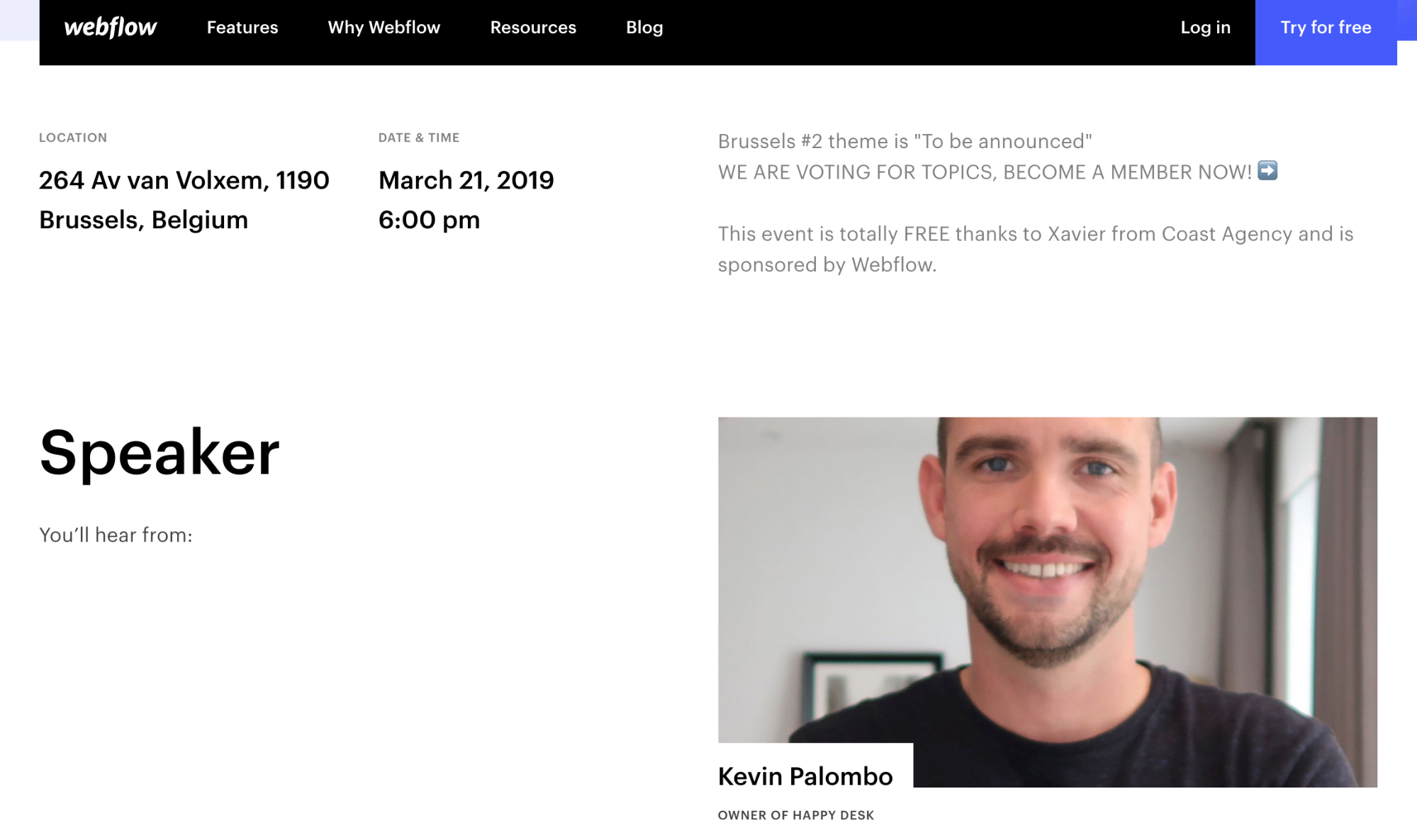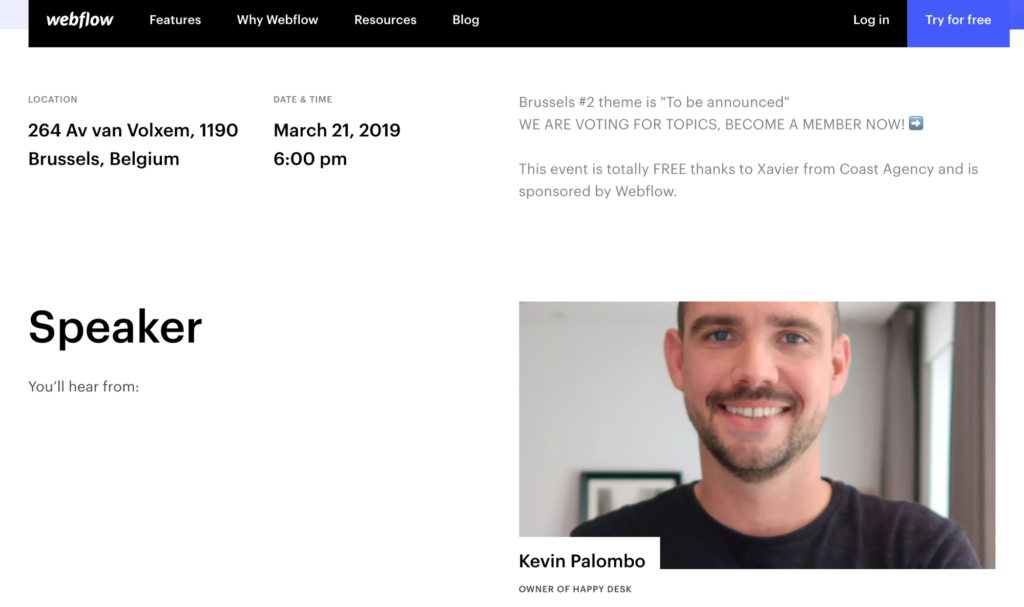 Here are some of the tactics that Kevin uses to get more leads for Happy Desk:
He looks for relevant postings on various job sites and platforms and adds them to his Pipedrive.
He organizes local meetups in Brussels for freelancers and Webflow users.
He writes content on the HappyDesk blog that's relevant to business owners and web developers.
He's started a YouTube channel to share his experiences and expertise.
All of these channels generate traffic. Kevin's goal is to convert that traffic into leads, and then convert those leads into appointments, demos and ultimately, paying customers.

To save precious time when converting traffic into leads and demos, Happy Desk uses a series of automations.
First of all, Kevin uses Pipedrive, a solid CRM for consultants, to reduce overhead when managing his leads.
As an occasional consultant myself, I was curious to know how he decided on using a CRM at all. His answer:
"I needed the CRM when I had 2-3 clients at the same time, and needed to follow-up on multiple offers and emails. It quickly became clear that there had to be a better way of doing things. Pipedrive was within my budget, very useful and easy to use. In fact it's not possible for me to work without Pipedrive right now – everything I need is in there!"
Next, Kevin uses a Mailchimp-Pipedrive integration to set up automated email flows for his leads.
When Kevin adds a lead to Pipedrive, a "Deal" is created.
If this Deal meets certain parameters (as decided by Kevin), Outfunnel adds that contact into the relevant Mailchimp campaign.
Mailchimp then sends a sequence of emails to these leads.
Here's the first email you will get from Happy Desk if you input your email on the site: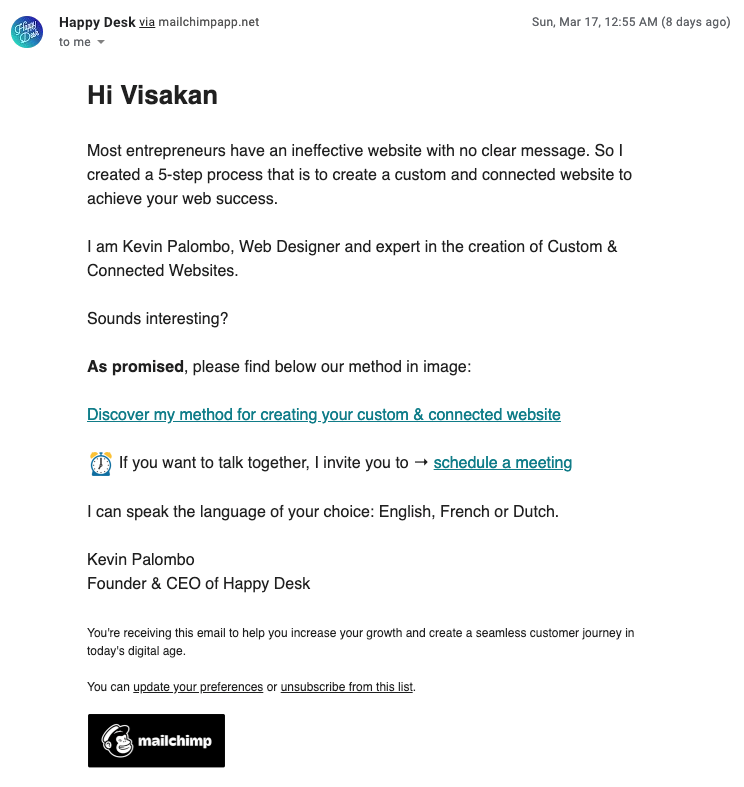 If you schedule a meeting, you won't receive any more emails.
If you didn't click anything, you'll receive a followup email—and then one final email if you don't respond to that either.
All the data on email opens and web visits are pushed to Pipedrive via Outfunnel, so Kevin can simply look at his Pipedrive dashboard to decide who he ought to be following up with next.
Happy Desk uses Outfunnel to get useful information from Mailchimp into Pipedrive, which help to identify the warmest leads to follow-up on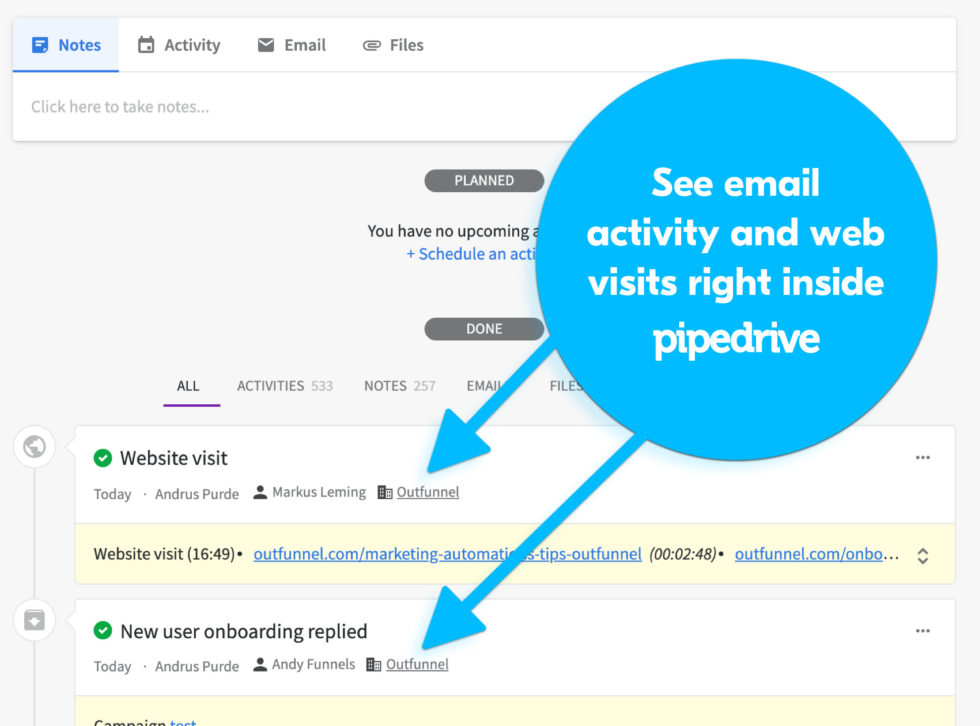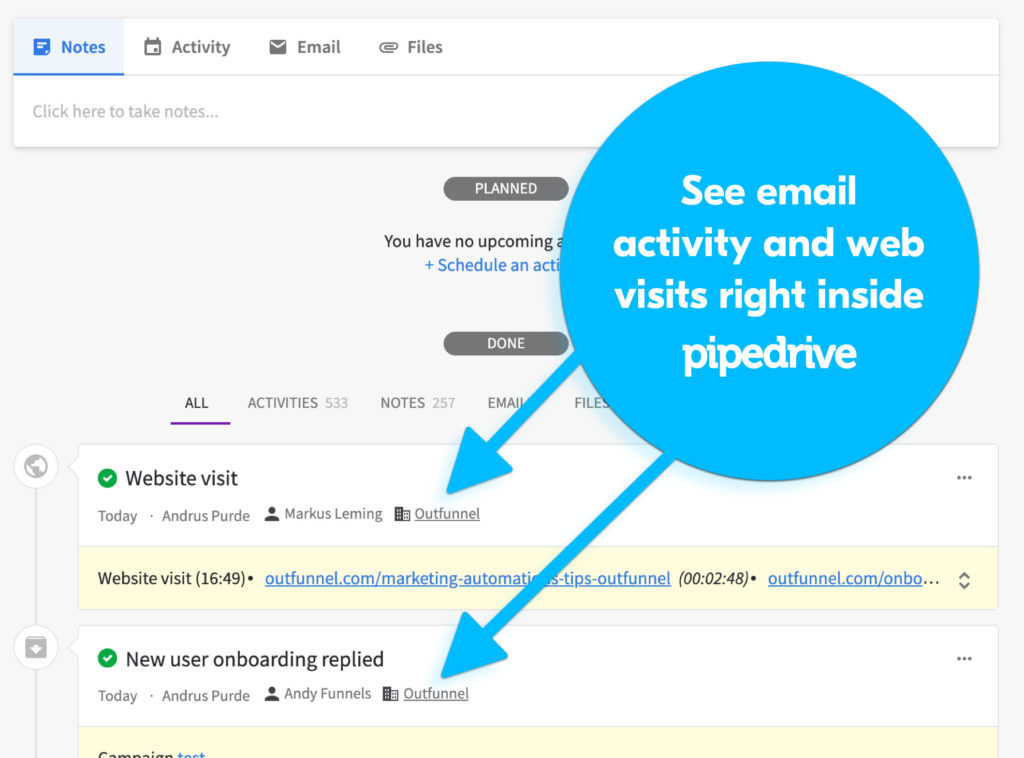 Kevin implemented Outfunnel a few months ago to integrate his Mailchimp and Pipedrive accounts and data.
It's running, and it "just works", so much so that he doesn't even have to look at it.
"It's easy with Outfunnel to get some insight about who opened my emails, who clicked the links. I see the results right in my Pipedrive, where I'm evaluating my leads. "

– Kevin Palombo, Happy Desk founder

Other tools that Happy Desk uses to save time and be more productive:
Webflow – Kevin is such a big advocate of using Webflow to make and design websites that he's even independently organized meetups in Belgium to share it with other freelancers and web developers.
Mailchimp – Kevin started out using the free version of Mailchimp over 5 years ago. How did he decide to choose it? It had a free tier so it was easy to experiment with, it's familiar, lots of people use it, it's user-friendly and powerful.
PandaDoc – Kevin uses this for invoicing his clients. In his own words, "Make my life easier and more productive."
Calendly – As an entrepreneur based in Belgium with clients all over the world, Kevin finds Calendly incredibly useful to schedule calls with clients from different timezones. (Calendly is a big help to Outfunnel, too – learn more about that here!)
Conclusion: It's never been easier for freelancers to build out a lead-generating system that's predictable, automated and cost-effective
In my conversation with Kevin, I found it interesting and compelling how many times he used a phrase along the lines of, "if it makes my life easier, if it makes me more productive, I buy it."
Not all entrepreneurs are this comfortable spending money—but as we've established before, tools that save you time can end up saving you a lot of money.
Tools like Pipedrive, Calendly and Outfunnel allow freelancers and solo entrepreneurs to get more automated leads, allowing them to focus on what they really love—doing great work and making a difference to their clients.
Are you looking to automate your freelance lead generation machine? Try Outfunnel free for 14 days to see how it can save you time and surface valuable information to your sales team!