If you work with a range of software for your business, it's likely that you use one or more of them in tandem. This often requires integration and automation–two functions that depend heavily on cloud software like integration platform as a service (iPaaS) tools.
However, finding the right iPaaS tool for your company, processes and budget can be a lift. Most iPaaS tools cost up to thousands of dollars per annum. You want to make sure you're making a solid choice that's sustainable for your business. This post will help you figure out what to look for and highlight 15+ iPaaS vendors worth looking into.
How to choose the best iPaaS vendors
Before you commit to that annual subscription, here are five things to keep in mind while choosing an iPaaS vendor or integration solution:
Ease of use
Think about how user-friendly you need your iPaaS tool to be. If you have developers on your team, you might be able to choose more complicated options. If not, do you have the bandwidth and resources to train the employees who will use the software?
For companies that answer no to both of those questions, it would be best to choose user-friendly, no-code options. Look out for iPaaS tools with templatized workflows and integrations that work for self-service.
Performance
Choose an iPaaS vendor whose tool can support your data needs and allow you to scale without growing pains. Ideally, your iPaaS software should be fast, reliable, and regularly updated for optimal performance.
Another performance criterion to watch out for is hybrid integration. Ensure that your iPaaS provider offers seamless integration between on-premise and cloud applications. This increases the range of connections possible.
Use case match
With a wide variety of iPaaS solutions available, the best iPaaS vendor for you is the one that matches your use case. For example, Outfunnel's App connector tool is designed specifically for marketing and sales app connections. It may not be the best choice if you had to accomplish data integration processes in departments outside of sales and marketing.
Think carefully about what you want your iPaaS solution to do for your business and pick the best match (we're sharing our top choices soon!).
Data security
Any data management tool you choose should be able to store your data securely. Make sure that all the data in your ecosystem is encrypted and your employees store passwords securely to maintain data security.
Data governance is also an essential feature of good iPaaS vendors. Your tool should allow you to regulate access among employees and teammates enabling you to streamline roles and monitor data usage.
15+ Top iPaaS vendors to help scale your business operations
Now that you're armed with the essential criteria, it's time to review your options. Here are 15+ of the best iPaaS vendors to consider:
Boomi
Mulesoft by Salesforce
IBM Cloud
Snaplogic
Celigo
Jitterbit
Make (previously Integromat)
Informatica
Workato
Tray.io
TIBCO
Oracle Integration Cloud
Zapier
Automate.io
Outfunnel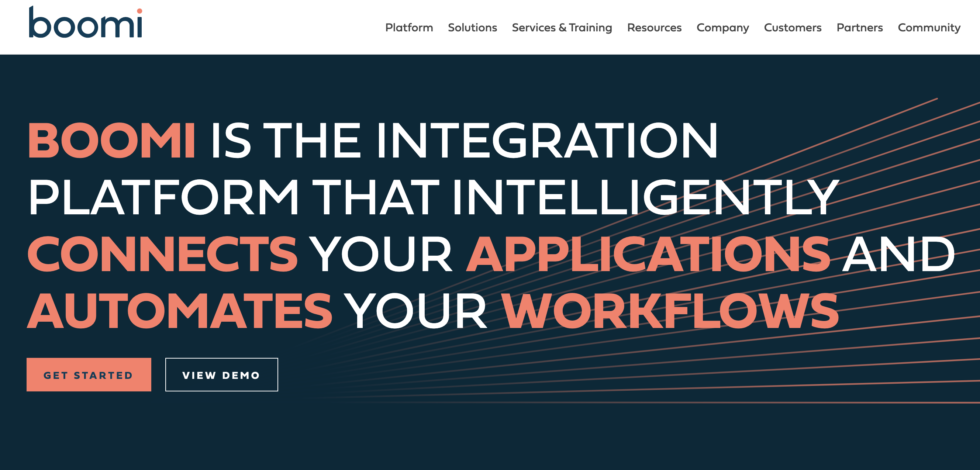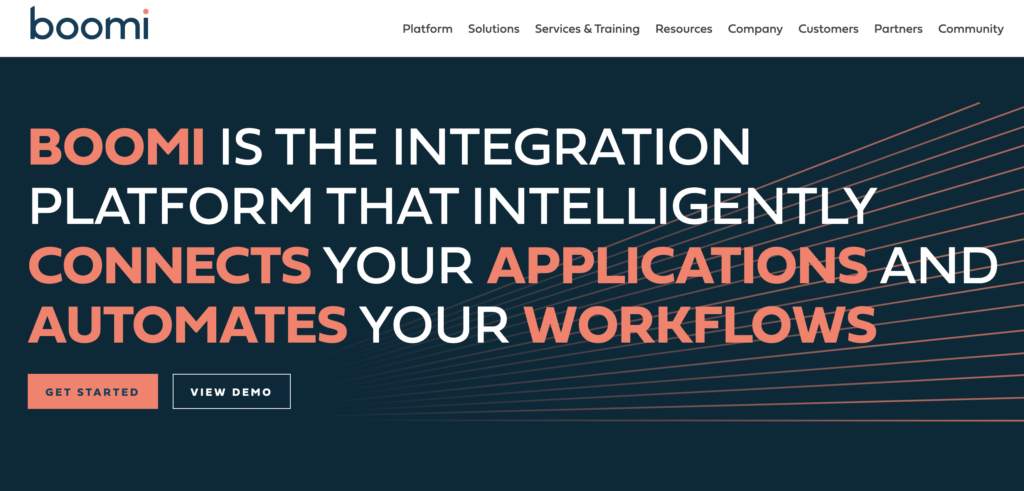 1. Boomi
Boomi is a powerful iPaaS solution for enterprise integration across a range of industries from IT to finance and analytics. The software allows users to connect applications like Amazon, Microsoft Azure, Shopify, and Workday amongst others.
Pros
Cloud-native platform providing scalability and regular updates
User-friendly, low-code drag-and-drop interface
Wide range of automation and integration capabilities including API management and B2B/EDI management
Impressive data security standards
Cons
May still be complex to use for untrained users
Some reviewers find the regular updates tedious
2. Mulesoft
Mulesoft is an application from Salesforce that offers an iPaaS solution called Anypoint Platform. As a Gartner Magic Quadrant leader, Mulesoft's Anypoint Platform is a trusted iPaaS vendor in a variety of industries, from financial to retail.
Pros
Provides reusable templates, APIs, connectors, and integration assets
High performing platform processes more than 60B transactions with 99.99% uptime
Offers API management
Cons
Steep pricing
Some users find the drag-and-drop interface tough to use
3. IBM Cloud
IBM is a cloud integration software for connecting applications using artificial intelligence (AI), repeatable templates, and low-code systems. This enterprise iPaaS tool works for small businesses to larger corporations, helping them manage data in public, private, and hybrid cloud environments.
Pros
Budget-friendly; IBM has a free Lite pricing tier for starting customers
Closed-loop feedback system allows users to improve their integrations using operational data
Top tier data security
Cons
Some customers report slower software operation at peak hours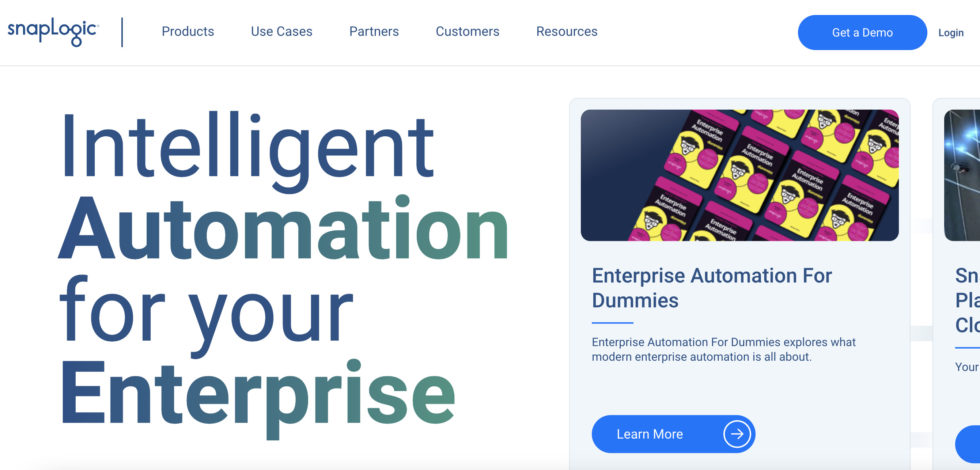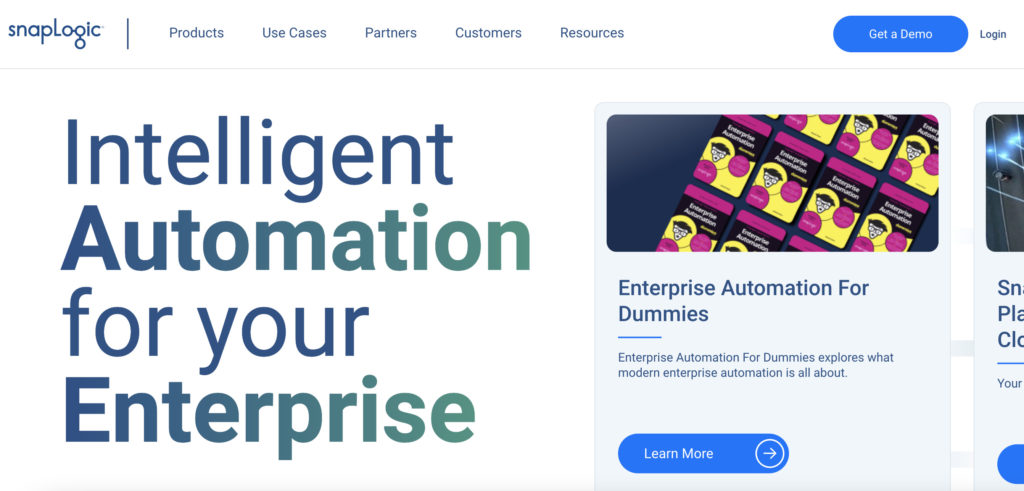 4. Snaplogic
Snaplogic is another iPaaS solution focused on providing workflow automation and facilitating integrations between a host of applications like Salesforce and SugarCRM. It also helps businesses connect their SaaS applications with cloud services and on-premises solutions.
Pros
An appealing user interface with helpful Iris AI makes this solution easy to use
API management feature allows businesses to create and govern APIs
Visual ETL (Extract, Transform, Load) and ELT (Extract, Load, Transform) processes help scale data transfer
Cons
Limited range of authorized applications and data sources
5. Celigo
Celigo is focused on automating business processes in an accessible way for business people who may not be IT skilled. This iPaaS solution is designed to allow data governance while helping users connect an array of applications and data channels at scale.
Pros
Low-code iPaaS tool designed for non-IT users
Application-agnostic solution allows for flexibility with connected applications
Stay in charge of your data with access controls, data compliance, and high-grade data security
Cons
Some users report running into repeated connectivity errors
6. Jitterbit
Jitterbit is another low-code integration platform for linking applications like Oracle, AWS, and BigCommerce. It's also used to design and manage cloud, mobile, and on-premises applications.
Pros
Robust integration capabilities and automation services
Point-and-click configuration is easy to use
Reviewers rave about Jitterbit's customer support
Cons
Limited integration recipes for some platforms
Some users report that Jitterbit's interface is not intuitive to use and took some adjustment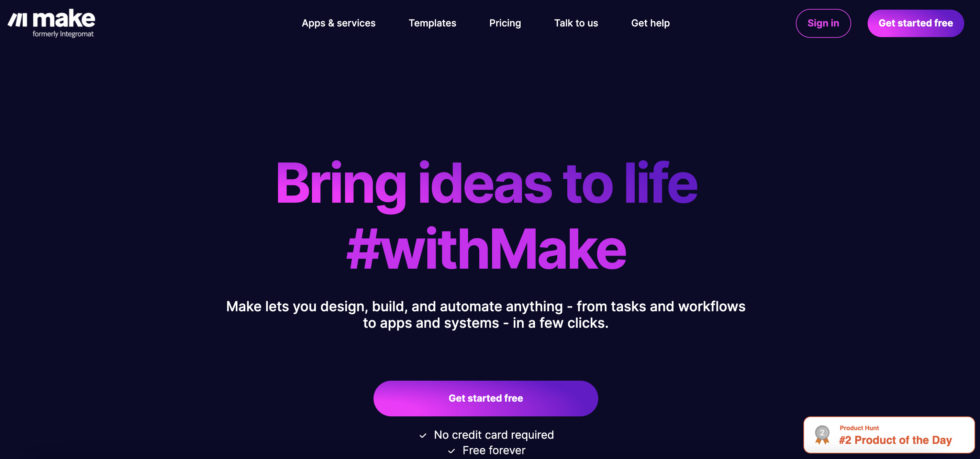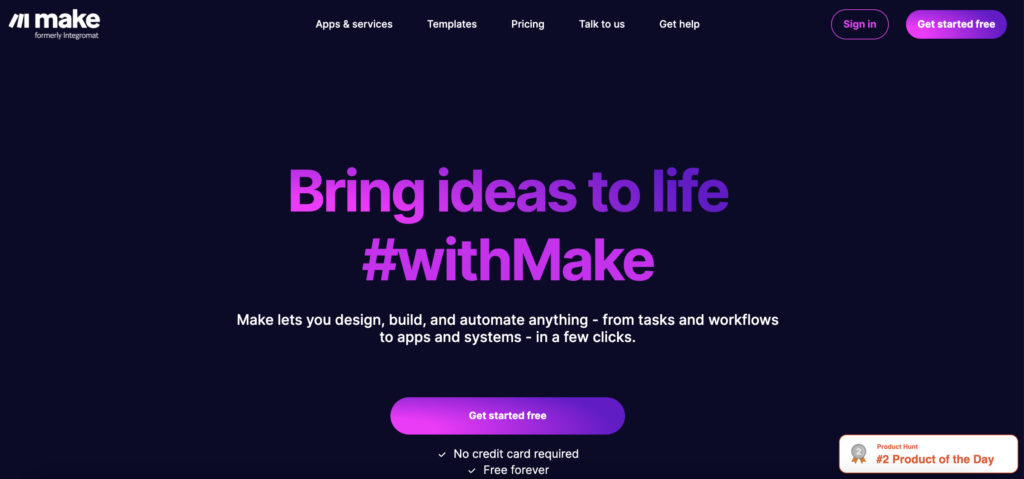 Make is an integration tool that connects applications and automates integration between them. It is a less intimidating tool than many of the other iPaaS vendors and can easily be used by freelancers and small businesses as well as large enterprises.
Pros
Inexpensive iPaaS platform
User-friendly tool with a graphic no-code interface
Reliable iPaaS solution with scheduling features that prevent users from exceeding API limits
Cons
Could use better support documentation
Some users would prefer more flexible pricing, instead of tiered options
8. Informatica
Informatica is a "big-data" iPaaS vendor for integrating cloud and on-premises applications. Because of its high-performance nature, this tool can be used for a variety of purposes including API management, digital transformation, and B2B/EDI management.
Pros
High-performing iPaaS tool can manage large amounts of data with ease
Self-service user interface for non-IT users
No-code API and Application Integration
Cons
Users report that the error messages are hard to understand
Poor support for complex SQL issues
9. Workato
Workato is a hybrid integration iPaaS tool that connects cloud services and on-premises tools for data integration flows.
Pros
No-code platform with user-friendly templatized data flows
On the cheaper end of the spectrum compared to other iPaaS tools
Highly rated technical support team
Cons
Where templates are unavailable, it's tough to develop new integrations on your own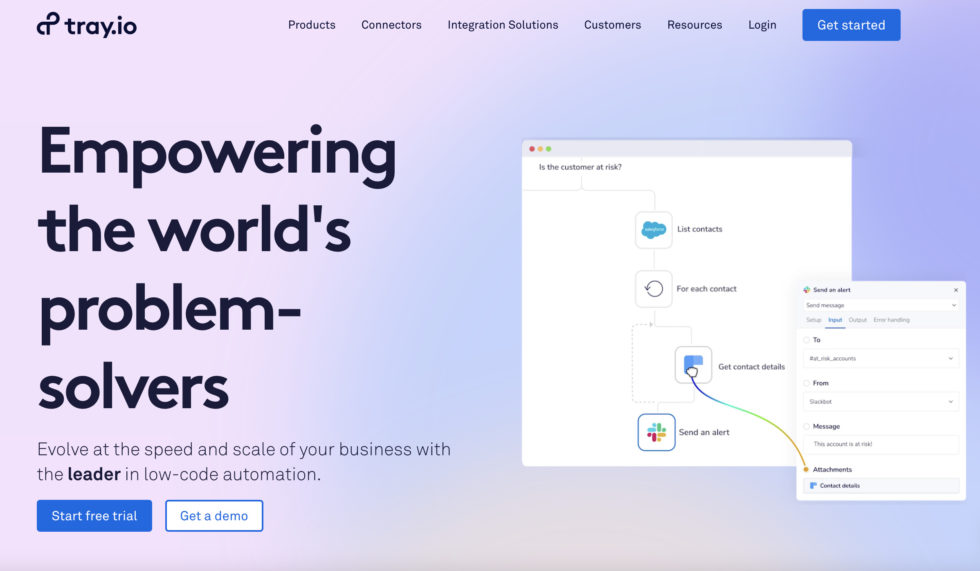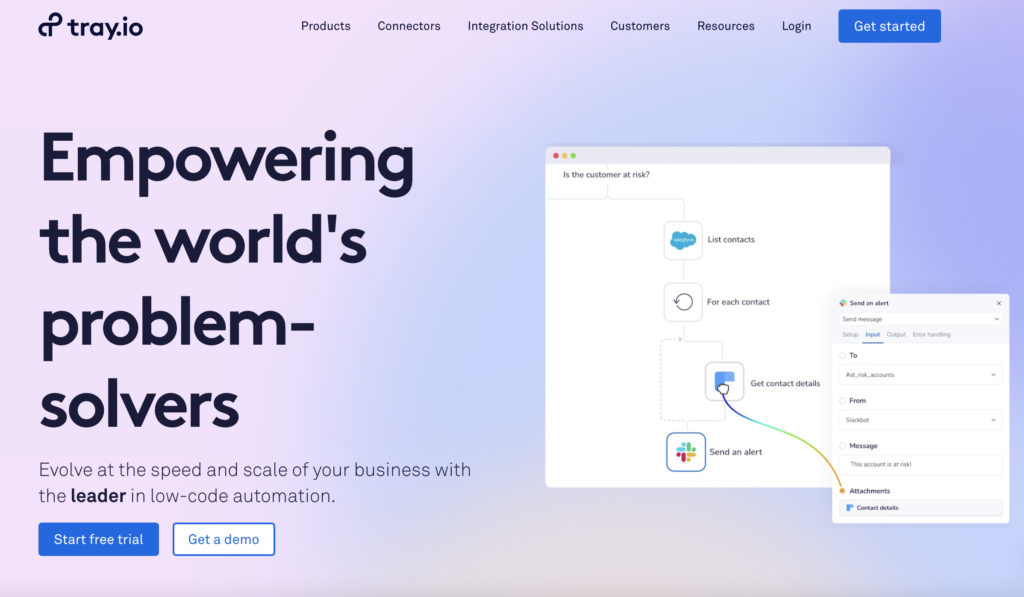 10. Tray.io
Named a challenger in the 2021 Gartner Magic Quadrant, Tray.io is an integration platform that connects a range of SaaS applications. Tray.io is designed to help your team automate repetitive tasks across departments.
Pros
Very easy to use–even for non-IT-savvy employees
Built to help businesses scale by automating monotonous tasks
Visual workflow editor means there's no need for code
Cons
Limited integrations
Not as high-performing as some other iPaaS tools
11. TIBCO Cloud
TIBCO Cloud Integration is one of the many services provided by TIBCO Cloud. This platform supports "API-led and event-driven integration" to facilitate data and application integration both for cloud services and on-premises applications.
Pros
Comes with pre-built connectors for easy integration–no code necessary!
Has Rest API development capabilities
Customers say the tool is easy to debug
Cons
Some reviewers mention that the platform can be slow and unreliable at times
12. Oracle Integration Cloud Service
This cloud platform combines machine learning, pre-built integrations, and API management to form a high-powered data integration tool.
Pros
Extremely user-friendly interface
Easy-to-use integration platform with intuitive pre-built templates
Detailed log capture
Cons
Customers report that the cloud speed is slower than preferred
Limited adapters for on-premises applications
13. Zapier
Zapier is an accessible iPaaS vendor designed to integrate applications and automate business processes. It is popular with freelancers and small businesses.
Pros
Very easy to use and offers real-time automation
Integrates with a vast array of SaaS applications
Inexpensive
Cons
May not be the best choice for larger corporations with heavier data integration needs
14. Automate.io
Automate.io is a Zapier alternative commonly used to automate marketing processes. Zoomshift digital marketer Saurabh Wani uses the tool to keep track of mentions of the company on social media. He then automates the information to be recorded in a Slack channel.
Pros
Top-notch data security
Integrates with 100+ applications
Users love the overall user interface
Less expensive than alternatives
Cons
Most users only wish there were more integrations
Ending service later in 2022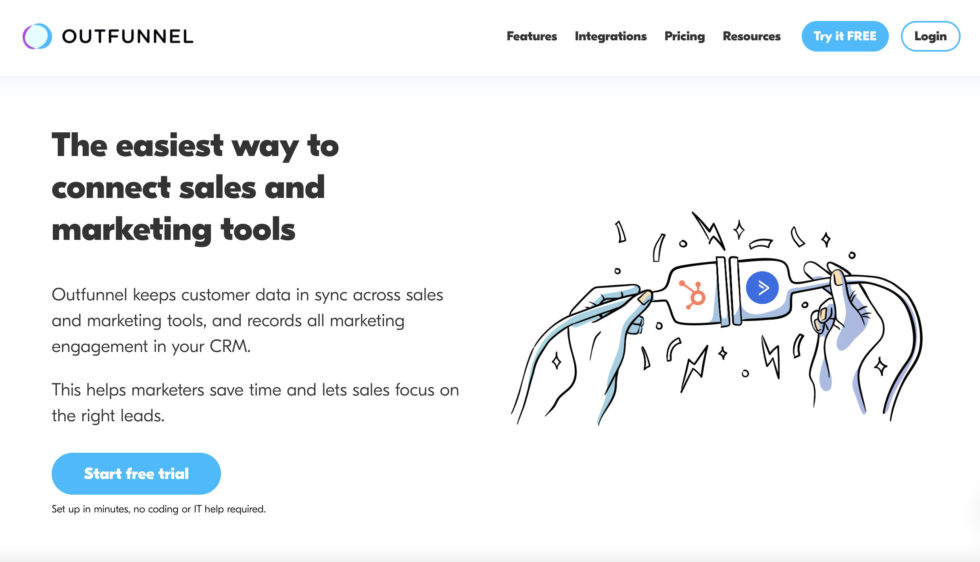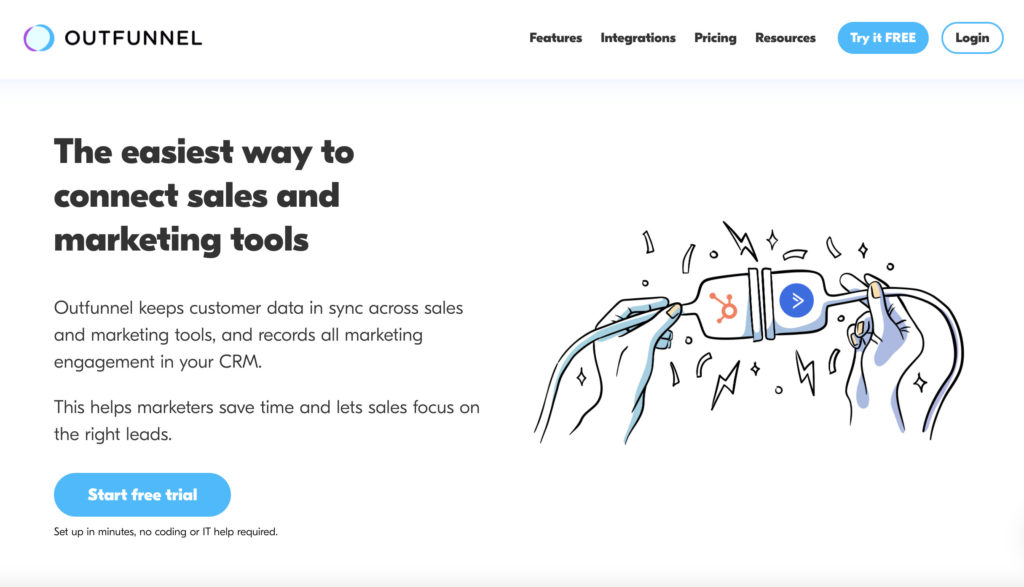 15. Outfunnel
Outfunnel (hey, that's us!) is the #1 iPaaS tool for connecting your sales and marketing tools. It shines particularly because it serves a focused audience and facilitates seamless connections between your favorite sales and marketing tools like Hubspot, Salesforce, Pipedrive, and more.
Pros
Lightning-quick set up
Effective middleware that allows sales and marketing teams to share data super easily
Reliably sync CRM, email, and sales data with no personnel effort
Cons
Only supports sales and marketing workflows
Best practices for using iPaaS vendors
We all agree: iPaaS vendors are highly efficient for taking busy work out of the hands of busy teams. This is especially so if you use your iPaaS tools well. Here are three tips for making the best of your iPaaS software:
Define your integration goals: Ensure that you choose a tool that matches your use case and will help you reach your goals using a single platform. For example, if you're in sales or marketing and looking for a tool to connect both departments, Outfunnel's App Connector is your best bet. You won't need to worry about maintaining a more cumbersome tool or learning to use it.
Train staff: When you've chosen your tool and decided which staff will have access to it, invest in training sessions to make sure they know the ins and outs of your iPaaS platform. Otherwise, you might miss on some crucial features and leave money on the table.
Choose a sustainable solution: Finally, choose a solution that will scale with you and that you can afford in the long-run. It's annoying to have to change vendors every few months, so do your research (with posts like this one!) and choose a long-lasting solution.
Start connecting your sales and marketing apps with Outfunnel
iPaaS is a rapidly expanding software field with a growing number of options worth exploring. Still, we think there are few options specifically for sales and marketing teams in SMBs who want to prevent data silos and run seamless sales and marketing operations. If you're in that camp, try Outfunnel.
Ready to connect your sales and marketing tools? Start your free trial of Outfunnel now.