If you're looking for actionable (and satisfying) lead generation examples, we've got seven nifty recommendations for your next campaign.
---
Lead generation is one of the hardest parts of any sales funnel. Finding innovative ways to turn your winning features into a high-converting landing page is no cakewalk, especially today.
We read a recent Ruler Analytics survey that showed lead generation vexes over 37% of business owners. This is an unsurprising level of content marketing difficulty, given the various challenges in the modern inbound marketing game.
We identified a few challenges in snagging your next potential customer, from our experience and a telling 2021 Wpromote report.
36% of B2B digital marketing professionals struggled to secure enough staff and budget for their efforts.
37% of marketing teams aren't aligned with their sales colleagues.
And, perhaps most concerningly, 37% of lead generation channels are ineffective.
It's a sad possibility knowing that your next lead generation campaign will be obsessively optimized internally, only to flop as soon as it hits your social media channels.
According to Terrill Christians, a business consultant we interviewed for this piece, your lead generation strategy needs to do three things:
"You should contain your strategy on three different levels. The first is viral, the second should build an emotional bond with a company, and then, of course, something that's quite educational and evergreen."
But, what are the tactics that can help our marketing efforts turn visitors into leads?
Ahead are seven lead generation examples that'll help you reach your prospective customers better:
Create an interactive tool
Offer a free trial or freemium version of your product
Publish original data and industry reports
Create an online course
Go after highly relevant long-tail keywords
Use a quiz as a lead magnet
Offer free webinars
Bonus: Using LinkedIn
Example 1: offer a free trial or a freemium version of your product
Do you know what users can't resist?
Free stuff.
There's something about getting something for nothing that feels like a reward. It inspires customer loyalty, sprinkles a dash of positive brand sentiment, and entices a potential lead to hand over their email address.
Tap into this powerful emotional trigger by offering a free trial or freemium version of your product.
It's a hallmark of the product-led growth strategy (PLG)—only one of the best-performing growth strategies for SaaS companies.
The PLG market capitalization went up from $1 billion in 2012 to $687 billion in 2020, showing no signs of slowing down.
Why does a free trial or a freemium product work so well?
Well, it serves two purposes.
It builds an instant connection and creates product stickiness.
It capitalizes on the law of reciprocity.
According to Robert Cialdini, a social psychologist, humans are hard-wired to return favors. We want to treat others as they've treated us.
How can a free trial or freemium version help your business?
If you give your leads a glimpse into how your product can solve their problem and transform their lives, you're incentivizing them to hit that "add to cart" button.
We use this strategy at Outfunnel to lure in leads. Users can sign up for a free trial and give our product a whirl for 14-days.
By giving users a chance to see the value in our one-of-a-kind tool, we not only attract leads but prospects self-qualify and convert themselves at the end of the trial. It's a great way to build social proof.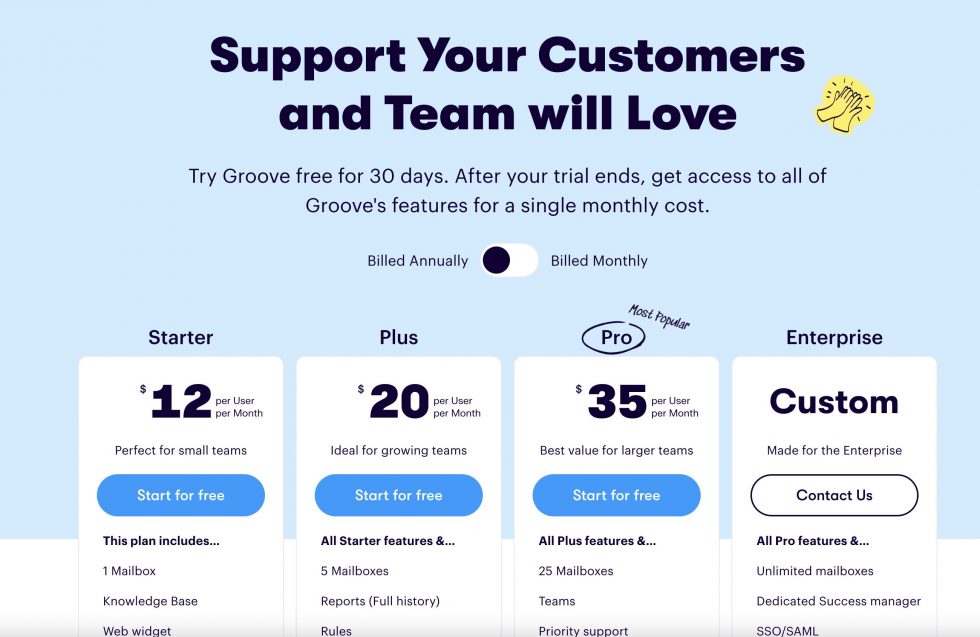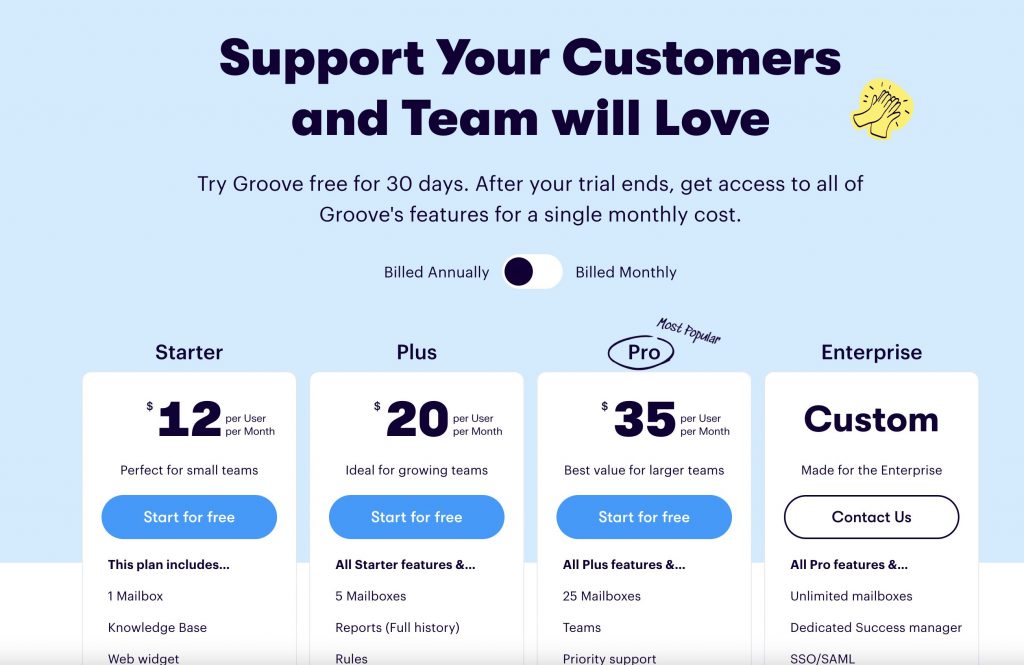 At Outfunnel, our free trial enjoys a 15% – 20% conversion success rate. We've got a solid grip on free trial design, but we thought we'd walk you through a few other impressive examples:
GrooveHQ got creative with their pricing models to best suit their users' needs. Their freemium model scaled flexibly, converting 358% more free trial users.
Growth Rock cooked up some value-focused copy for Wedbud's CTA that expressed their service delivery rather than a generic free trial hook. This shiny new CTA enjoyed 139% more clicks.
Surge Labs drafted and A/B tested three versions of BigContacts' outdated pricing page and cut any arbitrary copy and elements. BigContacts' free trial visits then surged by 76%.
Example 2: create an interactive tool
Continue to tap into the powerful emotional trigger of free stuff by creating an irresistible interactive tool that'll give users a quick win.
Industry heavyweights Neil Patel, HubSpot, Moz, and Shopify, are all using this lead generation tactic to fuel their pipeline with boatloads of qualified leads.
For example, Neil Patel created UberSuggest, a free keyword research and backlink checker tool.
How does it work?
Enter a keyword you want to research.
UberSuggest will load a limited amount of results and only have three free daily searches.
Users are prompted to sign up for a free account to unlock more free insights, daily keyword tracking, and personalized SEO recommendations.
It's why UberSuggest is one of the most popular free keyword search tools, and its Chrome extension has over 300,000 users.
By giving users a small taste, it creates a curiosity gap. They're starting the process of researching keywords and are this close to honing in on some low-hanging fruit.
All they need to do is take one tiny step (create a free account), and that's it.
The only downside?
Developing a free interactive tool is no easy task. If you don't have the time or human resources to bash out some code, you may want to try one of these other lead generation examples.
Example 3: publish original data and industry reports
In a world where everyone claims to be "the best," what is your company doing to "show the receipts"?
When done right, thought leadership content is a powerful lead generation example. It can differentiate your business from the masses and establish you as the "go-to" brand for a specific problem.
One of the best ways to demonstrate your expertise, drive traffic to your site, and scoop from a new source of leads is to publish original data and research reports.
At Outfunnel, we use this tactic by publishing our annual Revenue Marketing Report. It's an in-depth 26-page report with findings from over 300 sales and marketing leaders across industries.
A beefy marketing report also serves as clean, rich fuel for your lead generation tools.
Today, our Revenue Marketing Report 2022 has 119 live backlinks and 40 referring domains, according to Ahrefs.
For SMBs, it's a hard-to-resist piece of content upgrade, and all you need to get your hands on it?
A single email address.
To encourage leads to go further down our funnel, we include a checkbox for users to join our monthly newsletter.
Talking about our newsletter…
Don't be a stranger
Once a month, we'll share a roundup of our top marketing and sales tips. No spam, ever.
It's a roundup of our best sales-qualified and marketing tips, helping to further establish Outfunnel as a thought leader and priming prospects to buy by building the know, like, and trust factor.
What are our results so far?
Now, this lead generation strategy isn't a quick fix. It will take time to send out surveys and collate responses into a valuable piece of content, but the payoff is worth it.
You'll reap the long-term rewards of:
backlinks
brand exposure
thought leadership
Example 4: create an online course
What do you do really well?
Have you mastered the art of writing social media captions that convert, or are you a whiz at cold pitching?
Turn whatever industry knowledge you have and create an online course.
Educational content is one of the best lead generation examples because it does three things:
drives brand awareness
attracts quality leads
adds value for existing users
Last year, our CEO Andrus Purde used his 20+ years of experience in B2B marketing to create a robust email marketing course.
After only a few months of going live, the course delivered 400+ high-quality warm leads.
Today, nearly 1,000 people have taken our course, with a 60.7% open rate.
Example 5: go after highly relevant (but neglected) long-tail keywords
It's 2022. We know the drill.
Do your keyword research.
Select keywords that have a high search volume but low competition.
Create a blog post.
Rinse and repeat.
There's only one tiny thing wrong with that strategy.
Everyone's doing it.
So how can you side-step your competitors and get high-quality leads flocking to your website?
Focus on long-tail keywords that are:
relevant to your potential customers
neglected by your competition
don't receive a huge volume of searches
Let's look at an example.
Imagine you're a new SaaS startup that offers an appointment booking app like Calendly.
You have two options:
Go after a broad keyword like "appointment booking app." It receives an average of 2k monthly searches, but the keyword is saturated and ultra-competitive.
Go after a less broad phrase like "free online salon booking system" or "patient appointment booking software." Both keywords receive less than 1,000 searches per month but are easier to rank for and speak to a specific user.
Even though you won't get a ton of traffic, the visitors that land on your site will be high-quality warm leads who are more likely to convert.
At Outfunnel, we took this route with the keyword "sales and marketing integration." Currently, we hold the #2 spot on Google, and while it doesn't receive thousands of monthly visits, it's highly relevant to what we do.
Anyone searching that phrase who clicks through to our blog post is exactly the type of user we want to attract and entice to give our free trial a whirl.
Example 6: use a quiz as your lead magnet
Not seeing results from traditional lead magnets? Try out an online quiz.
Since the dawn of the Internet, users have been logging in to discover "which Harry Potter character will you marry" or "what crystal are you."
…But what makes answering questions about yourself so irresistible?
Humans are self-centered creatures.
Humans are curious.
How can you capitalize on this for your B2B business and boost your lead generation efforts?
Create a quiz that intrigues, segments, and naturally qualifies your website visitors.
Your job is to keep users engaged throughout the process and use the results to position the next step with your business. You want to empower the user to take action and grab the ultimate transformation you offer.
But what type of results can you expect from quizzes?
Amy Porterfield uses multiple quizzes that have brought in tens of thousands of leads and generated millions in revenue.
Jenna Kutcher has grown her mailing list by over 100,000 people in one year, thanks to quizzes.
Jen Olmstead of Tonic Site Shop added 2,000+ subs to her email list within two months of launching her quiz and made over $20,000 in sales.
"An email marketing campaign focused on educational content is a great starting point for building awareness and trust."
Terrill Christians – Business Consultant
Let's take a closer look at some winning quiz examples.
Two examples of lead magnet powerhouses
Big Cat Creative crafts tailored Squarespace website templates for their customers. Any guesses as to what kind of quiz they then created?
The company put together a quick and tailored quiz for potential leads to establish their preferred type of website. This quiz not only helped Big Cat Creative's visitors prioritize their specific needs but provided examples and solutions too.
Big Cat Creative's value-delivering quiz deserved its whopping 74% conversion rate.
Quiz-building service Interact helped life coach Candy Motzek build a quiz that not only enjoyed a 60.7% completion rate but also ranked superbly well on Google's front page for several keywords.
Candy's quiz was designed in a way that helped its takers better understand their professional strengths, and how Candy could improve them.
This intimate and empathy-based bit of marketing goodness was followed by a wholesome nurture sequence consisting of several informative emails and PDFs based on the quiz-takers' results.
What are you waiting for? Grab your creative hats and brainstorm what quiz you could create that'll set your business apart and delight your visitors.
Example 7: offer free webinars
Free webinars are one of the best lead generation machine examples.
B2B marketers consistently rank it as the best way to generate high-quality leads, and with 73% of total attendees becoming leads, it's easy to see what all the fuss is about.
But why are webinars so effective?
Well, for the lead, it's a no-brainer. They have a problem and are keen to learn from an industry expert how to solve it. For free.
From your perspective, it's – relatively – an easy way to pull in hundreds of qualified leads and position yourself as an expert in the industry.
Hello thought leadership!
At Outfunnel, we've used webinars to introduce users to our product and hone in on specific topics like marketing attribution.
Our formula for delivering impact webinars that convert is:
insightful lessons from our data [the problem];
educate attendees on how to replicate our success [the transformation];
ask for the sale or introduce the next steps with Outfunnel [the solution].
We covered our webinars' effectiveness in a recent article. Some of the results from our webinars include:
46.7% of registered attendees converted
14.8% of those that registered but didn't attend converted
13.4% of those that didn't interact with our webinar at all converted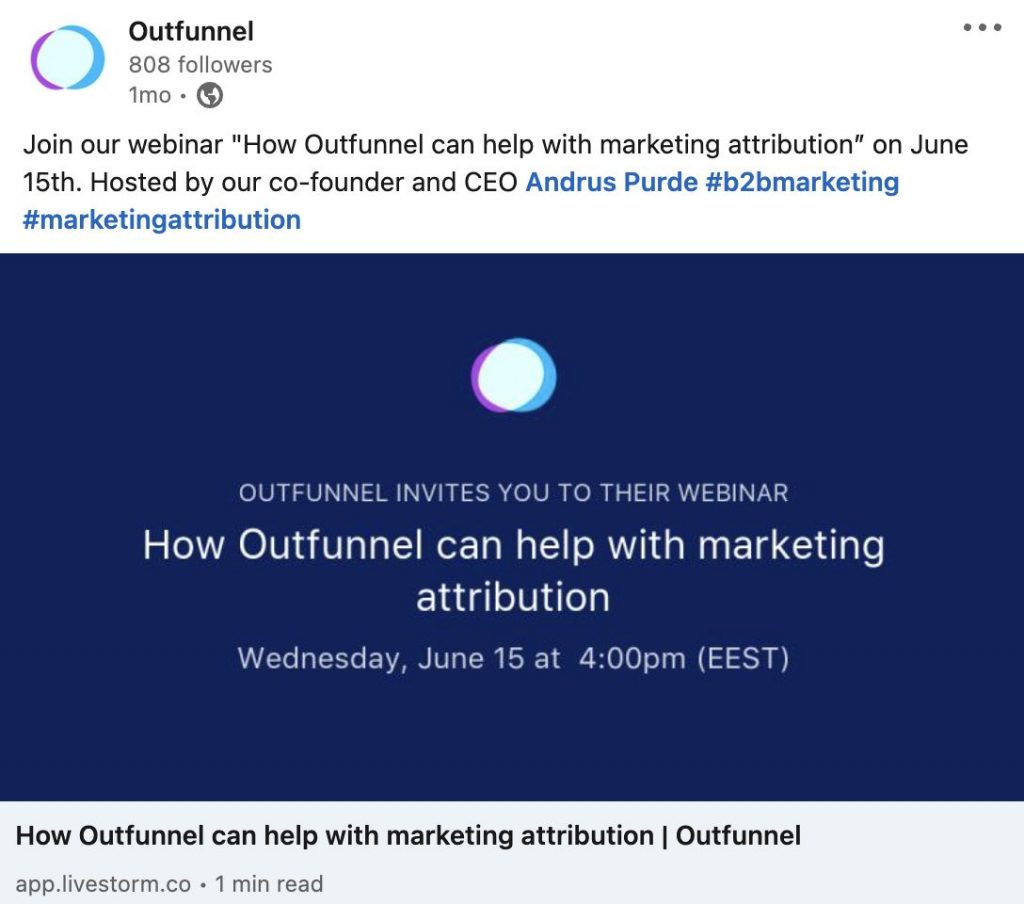 Those that attend a webinar have a tripled likelihood of converting.
We're happy with our webinar performance, but we're bound to pull a bigger crowd if we offer time slots that better suit our international userbase.
Bonus point – LinkedIn is a great starting point
Many marketers believed that social media would be a speedy remedy for their lead generation woes. The effects of the COVID-19 pandemic disrupted these expectations.
Rather, LinkedIn became one of the go-to places for driving traffic toward B2B sites. Almost every content marketer worth their salt uses a professional social media platform.
LinkedIn is nearly 300% more efficient for lead generation campaigns than other social networks like Twitter or Facebook.
You've probably used LinkedIn at some stage in your marketing and lead generation efforts. You also know that this mass exodus to the business-oriented platform hasn't made anyone's professional life easier.
LinkedIn lead generation specialist Este Pretorius maintains that you must clarify your lead generation approach and intent.
Why have you chosen to approach a business rep, and what do you want from them?
Whomever you're talking to will know whether you merely want to sell to them almost instantly.
"When you start engaging in any aspect, ask yourself, how can I make the person I'm engaging with feel like they are the most important person in this conversation."

Este Pretorius, LinkedIn Lead Generation Specialist

Outfunnel empowers you to automate your LinkedIn lead integration process, by automatically syncing leads from LinkedIn to your CRM (such as Pipedrive, Copper, Salesforce, or HubSpot CRM). No more manual importing and sales has the full context of the lead.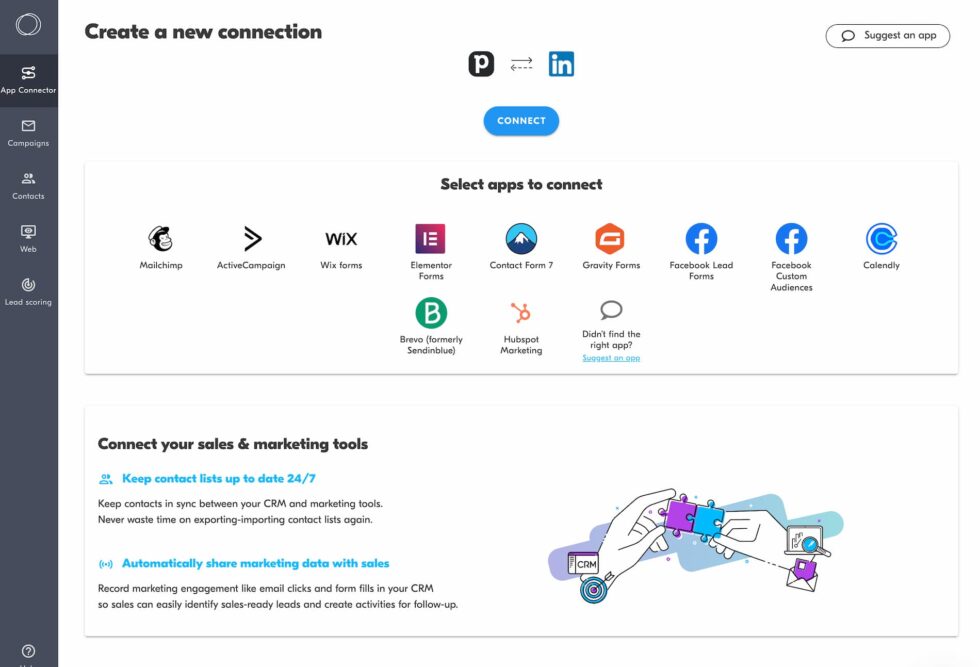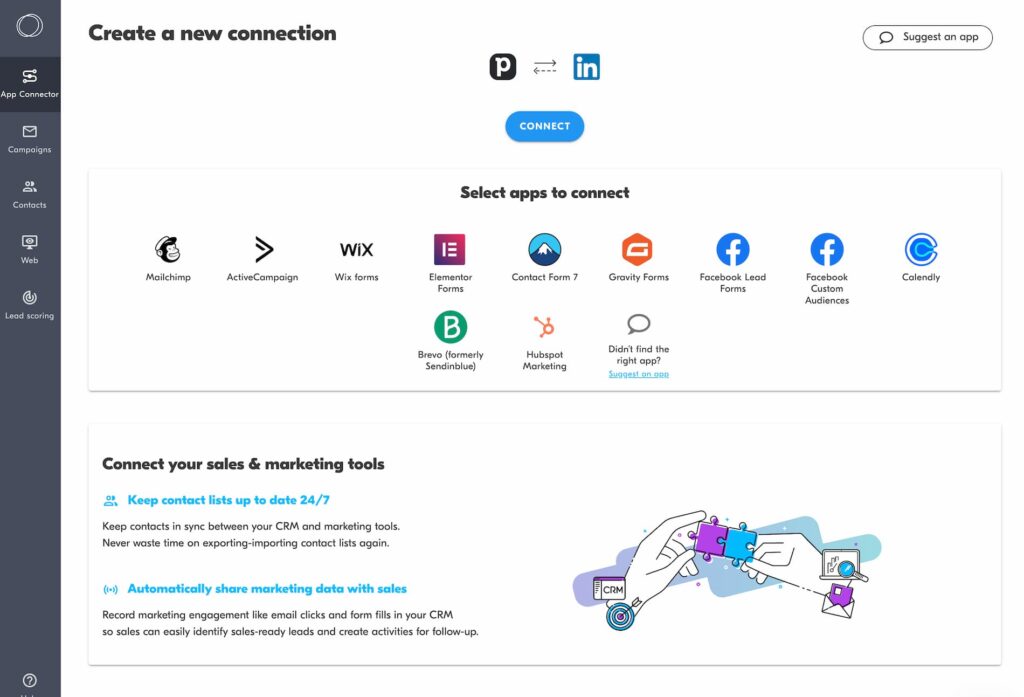 Conclusion: Find your winning lead generation formula
There's no one-size-fits-all formula for creating a lead generation strategy. You need a custom build to fulfill your needs and run your programs without any glitches.
The same applies to lead generation. You need to try a few of these examples and slice and dice these strategies to see which ones work the best for your business and target audience.
Level up your sales and marketing workflow with Outfunnel
Finding high-quality leads is only one part of the game. The next step is syncing your sales and marketing efforts for better conversion which you can easily do using Outfunnel's Lead Scoring Software.
Sign up for a free trial today, and you can:
use web and email engagement to highlight qualified leads
automatically calculate lead scores based on engagement
record lead scores in the CRM so the sales team can have full context
And stay tuned – we're currently working on some Outfunnel features that would let you analyze leads and lead sources.
Looking forward to welcoming you to the Outfunnel community soon!