Pipedrive is a superb sales CRM but you need to connect to another tool if you'd like to benefit from marketing automation as well. We've done the hard work of reviewing many possible options, so it's easier for you to decide on your stack.
Before we jump in, let's take a step back and ask: but what is this "marketing automation" that we're looking for? Techopedia says this:
Marketing automation is the use of software and Web-based services to execute, manage and automate marketing tasks and processes. It replaces manual and repetitive marketing processes with purpose-built software and applications geared toward performance.
This sounds smart, but also seriously generic. Do they mean all marketing tasks and processes? Perhaps we'll get there with the AI revolution one day but according to our research the main components companies look to automate in 2018 are:
Email marketing
Web – forms, chat, visitor tracking, and more
Reporting –  tying it all together and seeing what generated sales/revenue.
Please note this isn't an exhaustive list as you can define marketing automation in various ways.
Email marketing automation tools for Pipedrive
Email marketing can be a broad topic, here's a short list of email features companies are usually looking to get out of marketing automation:
Email newsletters: sending out good old emails to the whole base or a certain segment
Drip emails: email sequences to establish the first contact with leads or nurture existing leads
Triggered emails: sending an email when a lead did or didn't do a specific thing (a micro-conversion, as some call them)
Email tracking: seeing which leads clicks which email
Keeping that in mind, we've tested the tools Pipedrive lists on their integrations Marketplace.
Mailchimp
Mailchimp doesn't need an introduction and Pipedrive sports a native integration with this email platform. This lets you easily filter out a specific group of users in the Pipedrive list view and then add that group of leads or customers to a Mailchimp list with the press of a button. Alas, that rather manual feature is all there is, so data is not kept in sync and there is no loopback to Pipedrive ie. if you want to know who opened or clicked, you'd need to visit Mailchimp.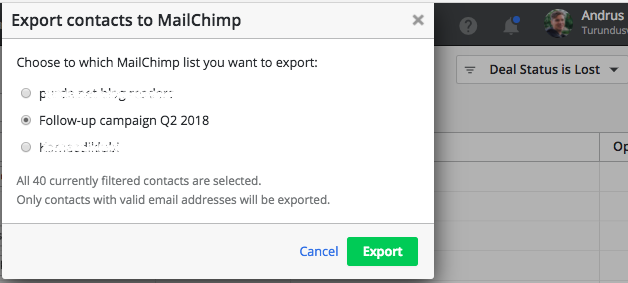 Why we like Mailchimp:
Send one-off emails (infrequently) to segments you define with Pipedrive filters
Basic email sequences
Add new email subscribers to Pipedrive as Contacts or Deals (available via Zapier)
Where it may fall short:
Displaying responses to email campaigns in Pipedrive.
Creating new Deals or Contacts based on email opens and clicks.
Triggered email sequences where email flow and content depends on Pipedrive sales stage or email behavior.
Keeping your email and CRM list in sync.
Little insights, apart from campaign stats in Mailchimp.
Drip
Drip's native integration with Pipedrive creates new Deals from your Drip subscribers based on the trigger of your choosing. For example, you may want to create a new deal for people that have completed a particular email Campaign or that have opened or clicked specific emails. Drip itself is great for elaborate event-based email sequences, so this tool could be very handy if you have a large list of leads and enough content+ tracking to be able to provide complex email journeys.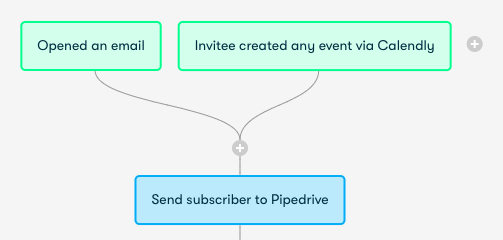 The downside is that it's not trivial to get data from Pipedrive into Drip. You can use Zapier as a duct tape between the services, create a custom integration based on API's of both products or use a 3rd party syncing tool such as PieSync.
Why we like Drip:
Triggered email sequences where email flow and content depends on email behavior, pages visited and other data (once you've figured out how to sync with Pipedrive, that is).
Creating new Deals or Contacts based on email opens and clicks.
Multi-channel flows ie. when you also need to send postcards, text messages, etc.

It's a solid leads database to complement your customer database in Pipedrive.
Where it may fall short:
Keeping your email and CRM list in sync, unless you invest in building an API-connection or subscribe to a 3rd party syncing service.
Drip seems to have pivoted to e-commerce marketing as of early 2018, so it's unlikely they'll create advanced use cases for syncing data with CRM apps.
Few customization options when creating new records in Pipedrive. Drip creates a new Person each time a user triggers a certain action eg. clicks on an email. If someone clicks twice, you got yourself two identical records. If someone clicks 18 times, you'll have some cleaning up to do later.
Outfunnel
*Top rated marketing automation tool. See all reviews at Pipedrive marketplace.
We're a marketing automation & insights tool that integrates tightly with Pipedrive. One of our first features is a powerful 2-way Pipedrive-Mailchimp integration.
Mailchimp sends, opens and clicks are recorded in Pipedrive, so the sales team knows whom to call first.
When people engage with lead nurturing campaigns, new Deals are created in Pipedrive.
Add Pipedrive contacts or deals to Mailchimp as subscribers, keep databases in sync 24/7.
Use Pipedrive filters to define which contacts are synced, so you don't need to worry about exceeding contact limits on Mailchimp side.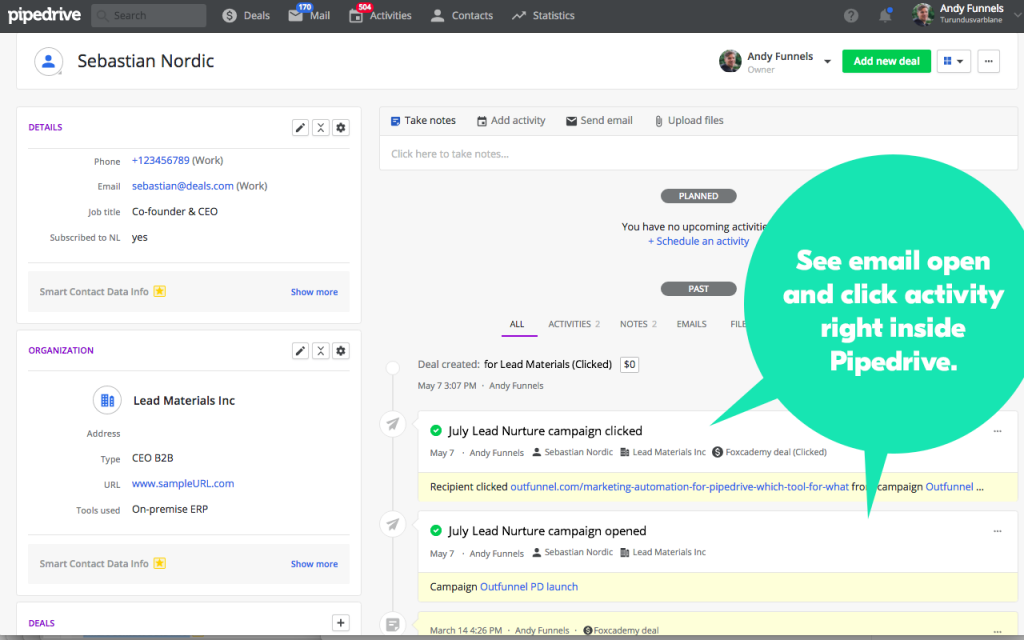 In addition to the seamless 2-way Pipedrive-Mailchimp integration, we also offer website visitor tracking which is tightly synced to Pipedrive. More to come!
Other email tools*.
Another email automation tool listed in Pipedrive marketplace is ActiveDemand. It looks to do all the right things:
Creates new deals based on activity as a lead (eg. downloading a whitepaper)
Keeps data in sync between the leads database and Pipedrive
Records things like email clicks or opens in Pipedrive
Alas, the tool doesn't have a free trial available. We think it's rather important to be able to use a tool without having to go through a sales process and we wouldn't recommend tools that don't allow this. The user interface also doesn't look too promising.
Web tracking/automation tools
According to our research, here are the features marketers most frequently look to set up on the web when it comes to marketing automation:
Lead capture forms: allow leads to indicate interest in your product or a piece of content
Web visitor tracking: seeing which lead visits which page on your site
Landing pages: create landing pages for certain topics or segments
Content personalization: customize content for specific segments or individual
Chat: human or robot powered interaction with leads on the site
Our favorite lead capture forms for Pipedrive
Pipedrive's native web forms
If you'd need a simple web form with minimal integration hassle, you can't go wrong with Pipedrive's own web forms.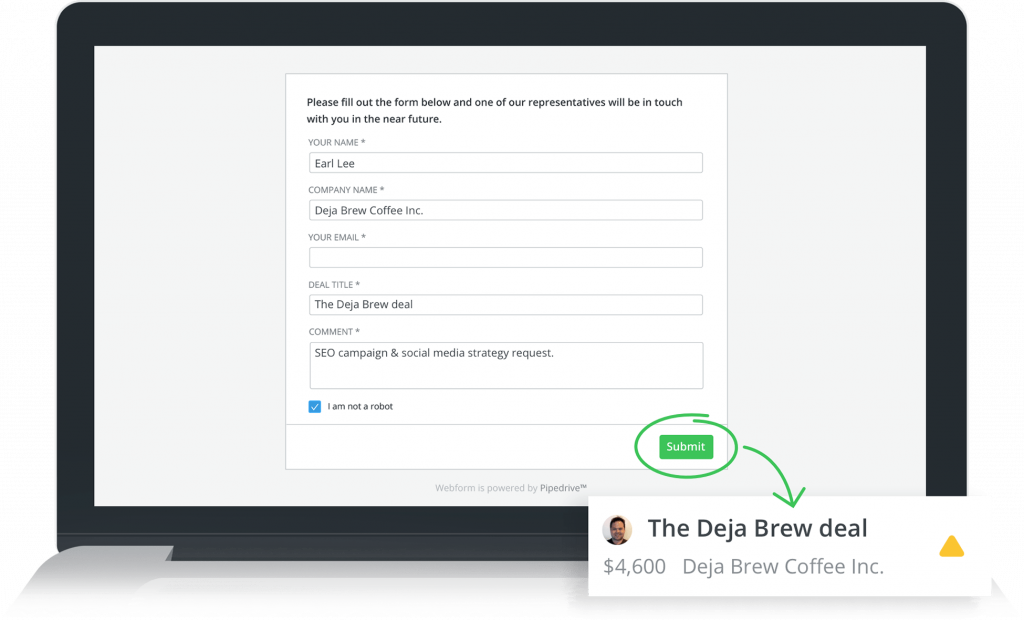 They're customizable, robust, integrate directly to Pipedrive and they're free.
Paperform
We would have used on our beta signup page, but we wanted a more elegant in-page experience, and we didn't have a huge amount of coding and design resource available, so after testing six different form builders we went with Paperform.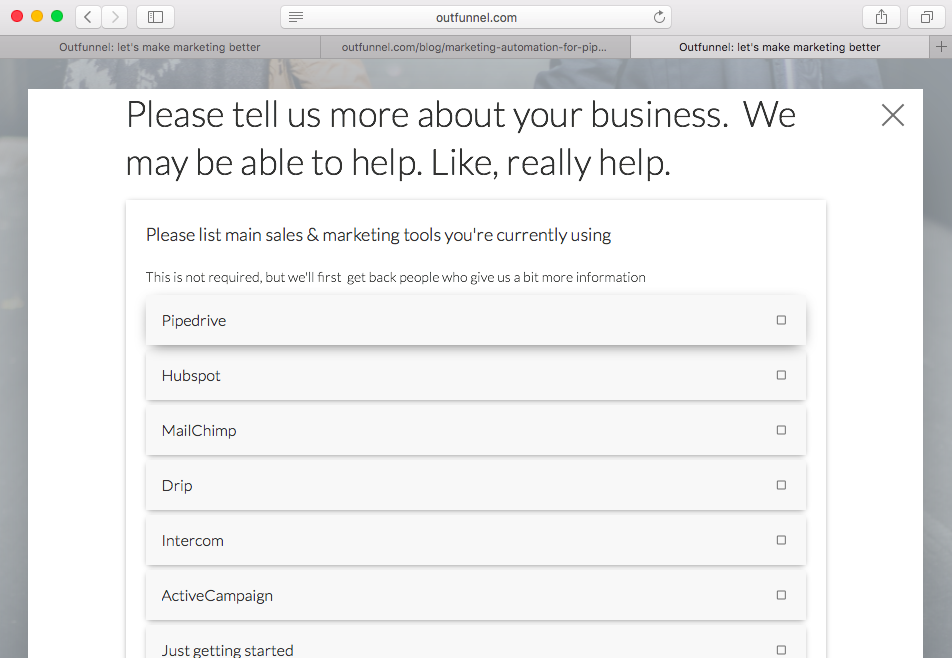 We love the simplicity and design of Paperform, it's also quite affordable (we're using the $15 per month plan).
The only downside is that there is no native integration, so you'd need to send new leads to Pipedrive via Zapier or a comparable 3rd party syncing tool.
Website visitor tracking tools for Pipedrive
Outfunnel
Our own website visitor tracking feature gives your sales team the context they need to prioritize leads and to know what to highlight or skip when they're doing demos.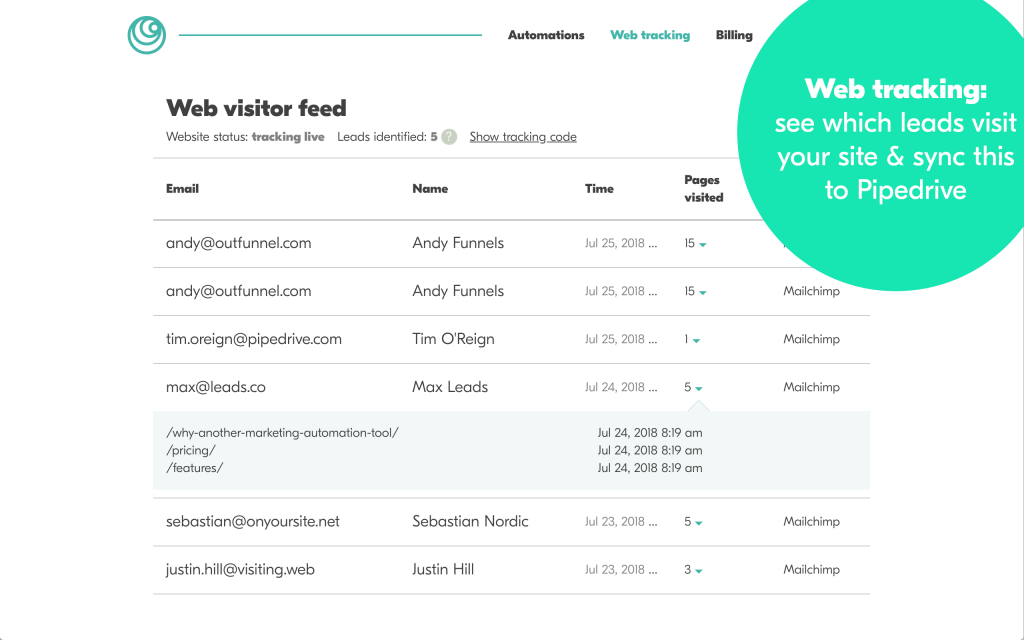 Once you've enabled website visitor tracking, you'll see who has been to your site, pages visited and the time of visits.
>> Try it out. Start your 14-day free trial now. <<
You'll see a feed of web visitors when you log into Outfunnel, and you can also set up an automation that records these visits in Pipedrive.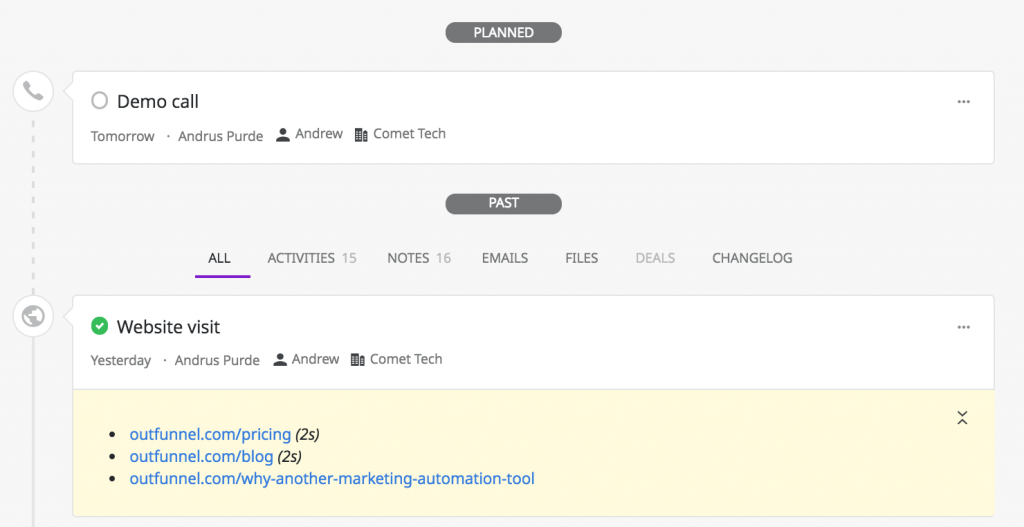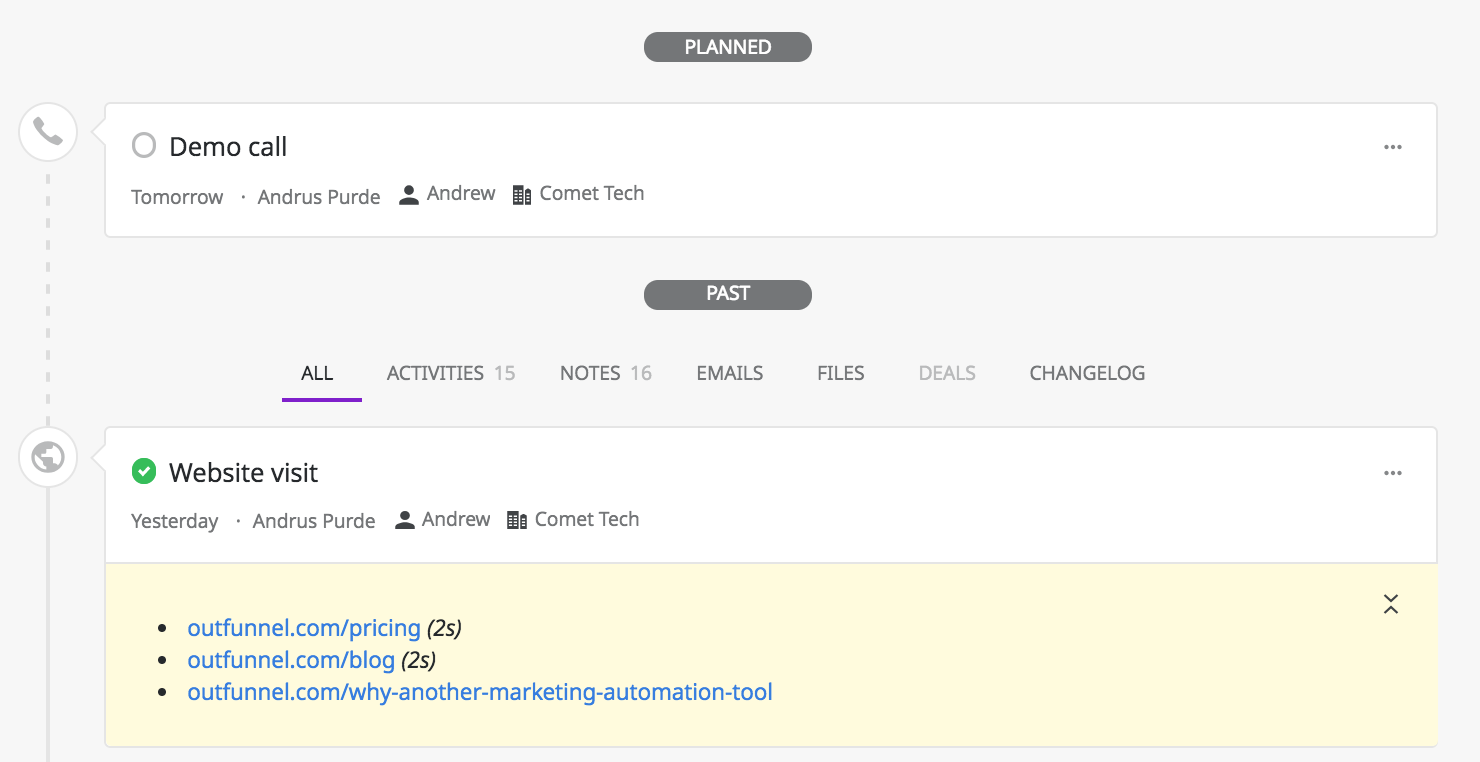 Don't miss out on our blog post for Pipedrive users: 4 lead generation tips, hacks and tricks