Today, we're pleased to officially announce the newest marketing automation tool you can easily connect with your CRM: Klaviyo, the popular marketing automation tool used by more than 100,000 companies. This integration lets you use Klaviyo in tight tandem with CRMs like Copper, Pipedrive, and HubSpot. Support for Salesforce and Capsule is coming soon.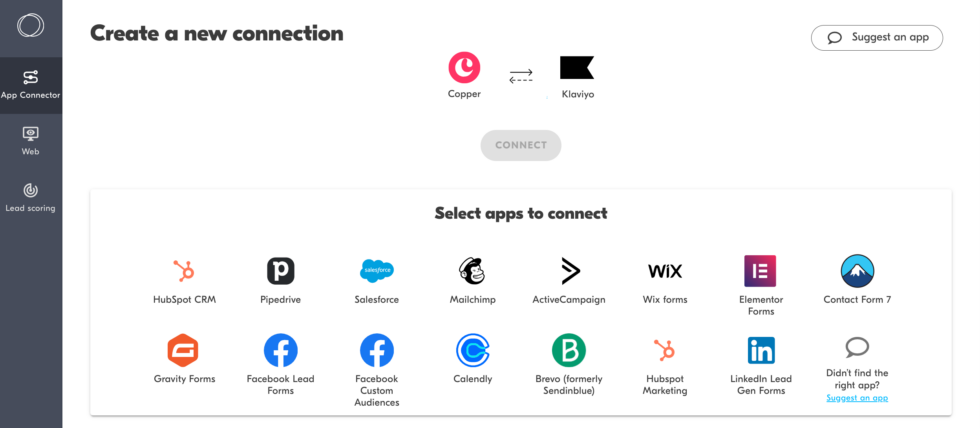 If your marketing team uses Klaviyo to send automated email campaigns, then here's how you'll benefit from the integration:
Automatically keep contact lists in sync — make all CRM contacts or subsets available in Klaviyo lists, along with all custom contact and company fields. And then keep the databases in sync, so that if data changes in your CRM it's instantly updated in Klaviyo as well.
Give sales more context on leads — automatically record Klaviyo email opens, clicks, and unsubscribes in the CRM for the salespeople to see. You can also use our website visitor tracking software to understand what leads do on your website after clicking on an email.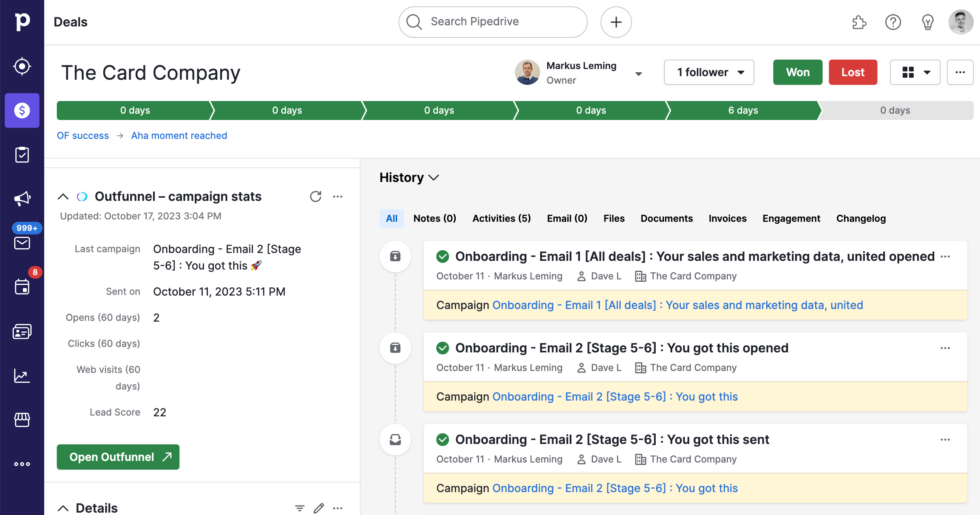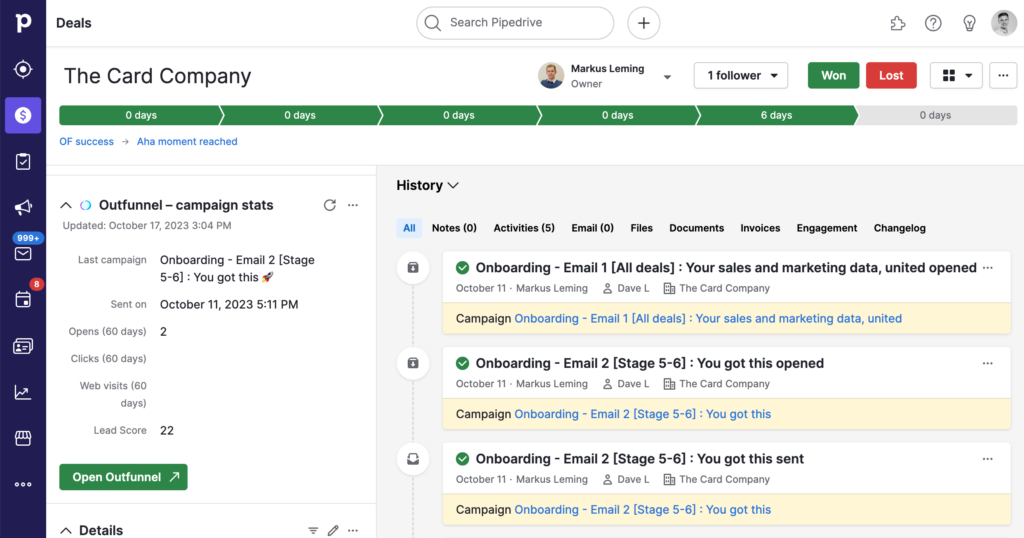 Some of you probably cheered and are on your way to signing up for a free trial.
And some of you are wondering why should you use Outfunnel for this, instead of other connector tools. If you're among the latter, read on…
Why should you connect Klaviyo and your CRM with Outfunnel?
There are a number of tools that you can use to integrate Klaviyo and your CRM. So why should you choose Outfunnel for this?
We're not a typical generic data connector tool, you see. Outfunnel is designed for connecting sales and marketing apps. Built by marketing and sales pros, our integrations are both deeper and easier to set up.
Here are a few key ways in which our Klaviyo-CRM integration stands out from the crowd:
Set up in minutes to sync contacts from your CRM to Klaviyo and record email engagement for contacts in the CRM. No complex workflows or zip-zapping around.
We're focused on connecting sales and marketing apps, so we've built in many features that cause headaches with generic integration apps: easy unsubscribe management between apps, avoiding duplicate contacts, linking activities to the relevant contacts and organizations, and more.
Track web visits of your contacts and record the visits in the CRM.
It's affordable: plans start from $29 per month.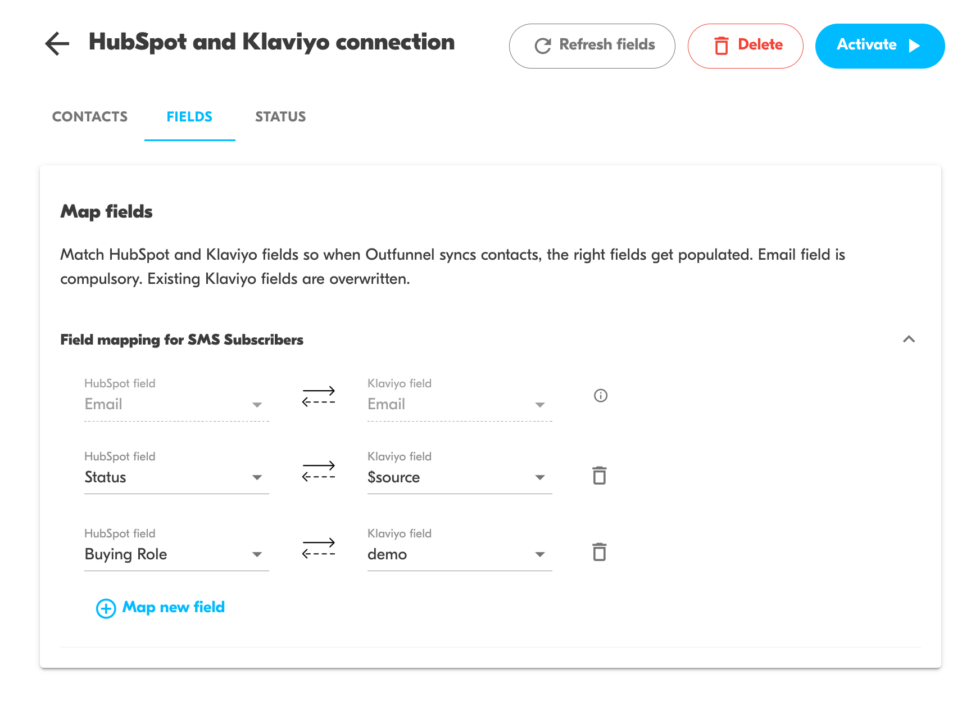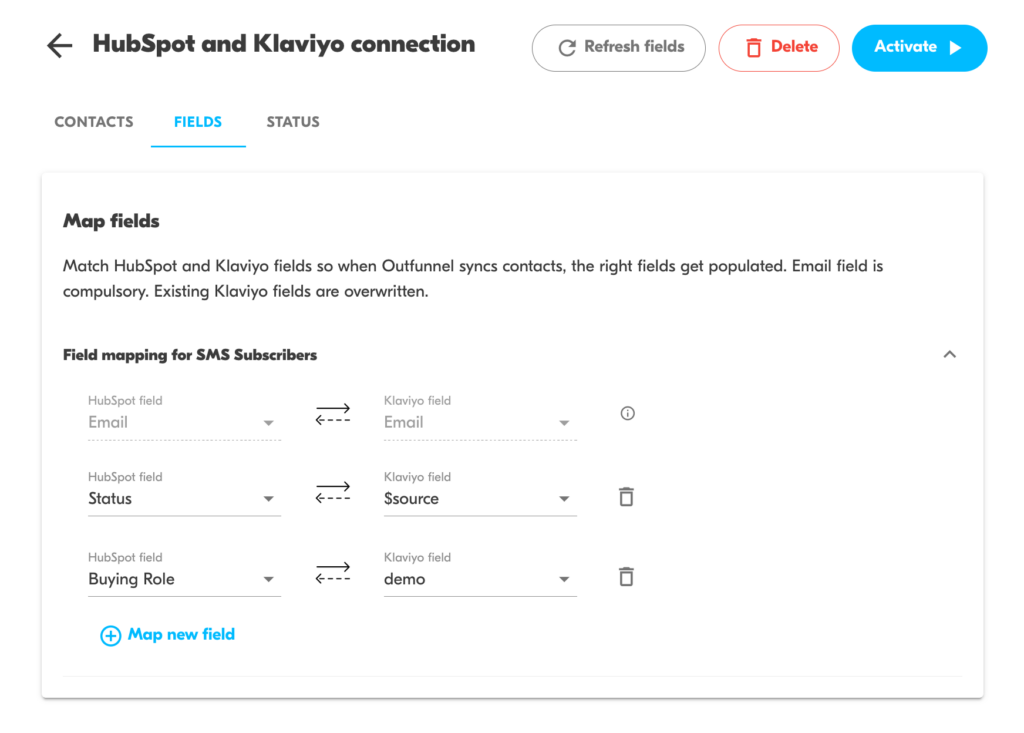 Find out more about our Klaviyo-CRM connections:
Ready to connect Klaviyo with your CRM? Start a 14-day free trial of Outfunnel today and get started in a matter of minutes.