Last updated: October 28, 2021
Before starting Outfunnel, I worked at a well-known CRM vendor. Our customers loved the product but one thing that kept coming up in customer feedback was the lack of good marketing integrations. For companies where sales and marketing needed to work together, there simply was no workable way to connect email marketing with the data stored in the CRM. 
This puzzled me because this CRM had integrations available with big marketing players like Mailchimp, ActiveCampaign, Drip, and many others.
I then decided to use these integrations and came to understand this frustration a lot better. The integrations were super lightweight. One of them just let you manually export a list from one tool to another. If you had new people added to that segment the next day, you needed to manually repeat the process. Every. Single. Time.
Another integration I tested created a new Deal in the CRM every time a prospect opened or clicked an email. So far so good. But if they opened or clicked twice, the integration would create a second deal. And then a third one. Then fourth. You get the gist. 
Alas, this wasn't an exception. Having worked with various sales and marketing integrations for nearly 10 years on both sides, I've come to know that first-party integrations are limited by design. Not purposefully made to disappoint, of course, but limited by the way companies operate. 
Where we are today: more tools, more data, but limited integration
More than 60% of marketers use 20+ marketing tools on a regular basis according to Airtable. At the same time, according to Mulesoft, only 28% of tools a company uses are integrated with other tools. More tools, more data, but limited integration—can you spot the issue here?
The main implication for sales and marketing leaders: integrations are more important than ever. 
Nearly half of sales and marketing leaders claim that the tools would be more useful if they could be easily integrated, according to our research. Ease of integration is often the one key thing holding users back from getting the most from their tech stack.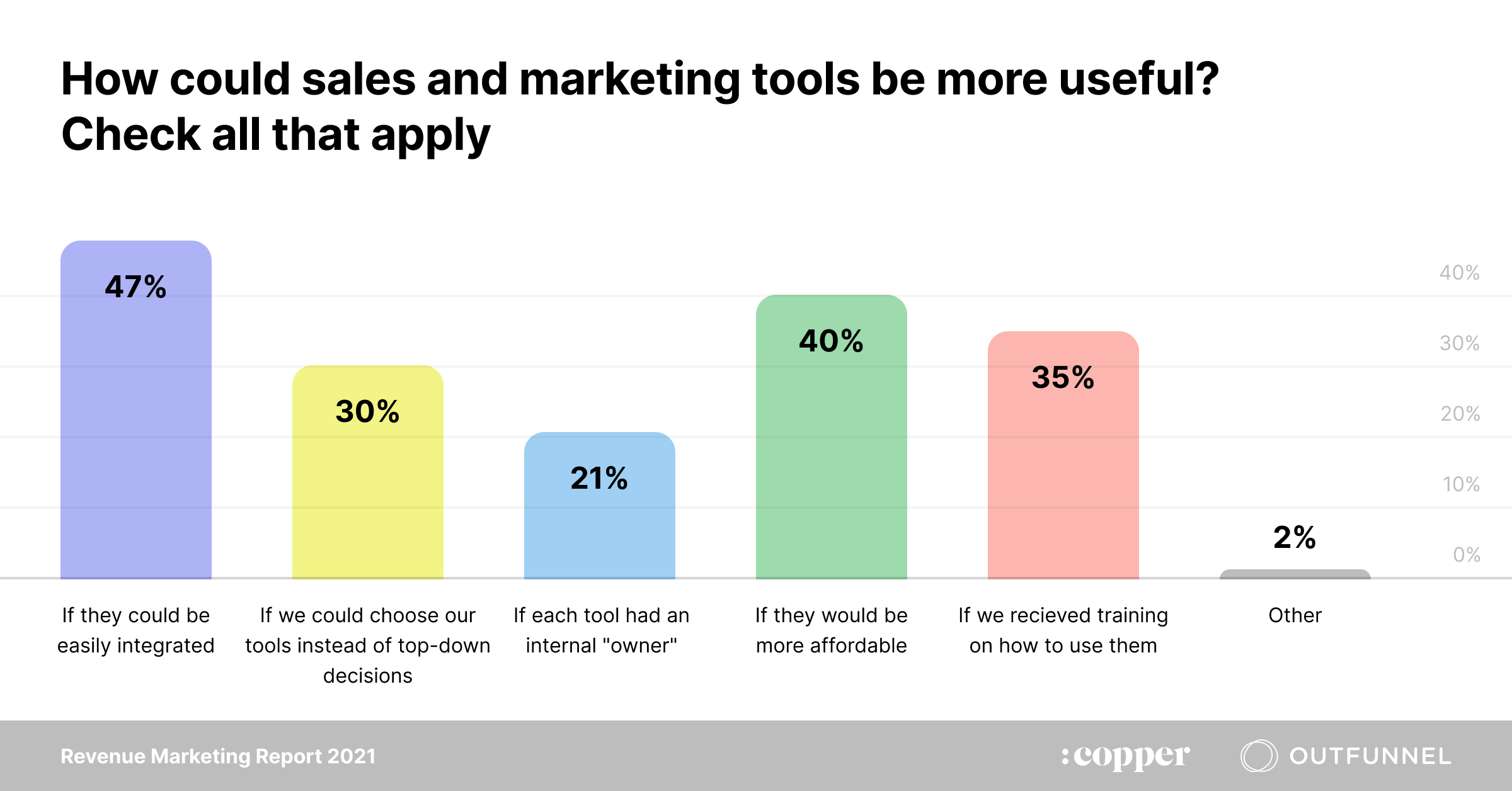 The solution? Data integration tools specifically designed for sales and marketing
Most companies don't have development resources to build their own data connections between apps. Native integrations are often too lightweight, big platforms too pricey and complex. 
I'm not entirely unbiased in my views, but the best way for most companies to get their sales and marketing data to sync up is using purpose-built third-party integrations.
Universal app connectors like Zapier and Automate.io are great for setting up light connections quickly. Such tools often cover hundreds (if not thousands) of apps, so you can connect pretty much any apps you like. 
However, more sophisticated use cases can get complex and pricey very quickly. For example, if you need to check whether a contact is already receiving other campaigns, or stopping a sequence when someone takes a particular action. 
Then there are contact syncing tools like HubSpot Operations Hub (previously known as Piesync) that keep contacts in sync between apps, but ignore actions like email opens or website visits. 
There's a new category of tools emerging that give you the benefits and insights of an integrated suite while using best-of-breed tools. Purpose-built app connectors like Outfunnel can connect sales and marketing data deeply and easily.
Say goodbye to blindfolded marketing
If sales and marketing tools are not fully connected, it takes too many clicks to make sure that campaigns are sent to the right people. Next thing you know: marketing has turned into spamming.
If sales and marketing tools are not deeply connected, you'll end up missing opportunities, for example not knowing that a sales lead you spoke to 5 months ago and then went cold has read every product feature page in the last 24 hours.
If sales and marketing tools are disconnected, you'll end up with no visibility into results because reports need to be compiled manually.
Our vision is to bring sales and marketing closer together, at least when it comes to tools and data. To allow small businesses to manage and practice revenue marketing. Fortune5000 can already do this today, spending a small fortune on it. But every small business can and should benefit from marketing tools talking to sales tools.
Connect your sales and marketing data with Outfunnel
We're building a data integration tool that connects your sales and marketing data deeply and easily. Pick and mix your favorite sales and marketing tools, and Outfunnel will give your stack the "all-in-one" feel, without the "all-in-one" price tag.
Outfunnel already works with modern CRMs like Pipedrive, Copper, HubSpot, Salesforce and Airtable as well as marketing tools like Mailchimp, ActiveCampaign, Sendinblue, Wix, Facebook Lead Forms, Elementor, and many more. See the full list of CRMs and marketing tools Outfunnel works with here.
You can also find your warmest leads with our native Web tracking and Lead scoring features. Finally, our simple email campaigns tool is great for getting started with marketing automation.
If we do our job well, Outfunnel will help you outsmart and outsell the competition.
Questions?
Latest posts by Andrus Purde
(see all)