Last updated: March 21, 2022
Most sales teams rely on several tools to help move leads along their pipeline. The ability to easily sync data across these platforms can be a bit of a pain. To make life that little bit simpler though, we've compiled a list of the best Copper integrations (formerly Prosperworks integrations).
From integrating your marketing stack to managing sales documents, these are the top 5 apps that integrate with Copper, right out of the box, with no need for digital duct tape like Zapier.
Some of these Copper integrations are native, meaning you can install them directly from the integrations panel in Copper, and for some of them you'll need to create a Copper API key and then manually add that to the other platform.
Copper Integrations #1: Outfunnel (that's us!)
What's it for? Connecting your marketing tools with Copper.
Outfunnel's dream world is one where sales and marketing work hand in hand. To help make that dream a reality, we created an App connector that lets you set up tight integrations between CRMs like Copper and marketing tools like Mailchimp, ActiveCampaign, Sendinblue, a number of web forms and advertising toola.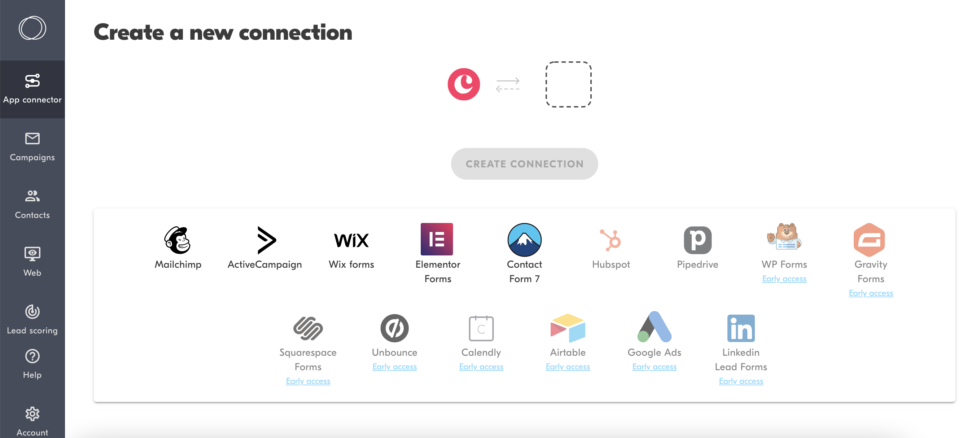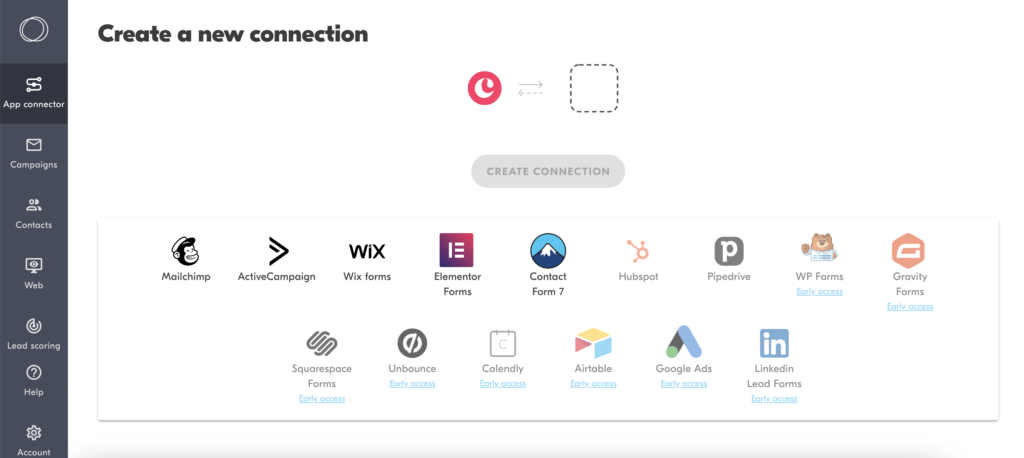 You can use Outfunnel to connect any and all of your marketing tools with your CRM. Here are the main benefits of using the Outfunnel integration:
Keep Copper and your marketing contact lists in sync 24/7. Never waste time on exporting-importing lists again. Works with Mailchimp, ActiveCampaign, Sendinblue and HubSpot Marketing Hub.
Record marketing engagement data (email opens, clicks, etc.) in Copper. Sales has more context and can sell smarter.
Automatically sync contacts from web forms to Copper, along with custom fields and key data about the web visit (such as source/medium data). Record the form fill on the profile in Copper. Currently works with Elementor Forms, Contact Form 7, Gravity Forms, Wix Forms as well as Facebook Lead Ads.
Sync new meeting contacts and event activities to Copper. Works with Calendly.
Additionally, you can easily highlight sales-ready leads with Outfunnel's Web tracking and Lead scoring features, as these plug into Copper nicely.
Further, Outfunnel's simple email campaigns tool is perfect for getting started with marketing automation. Use it to create single email campaigns and multi-email sequences (drips) and send them to your Copper contacts. Email sends, opens and clicks will be synced to Copper as activities.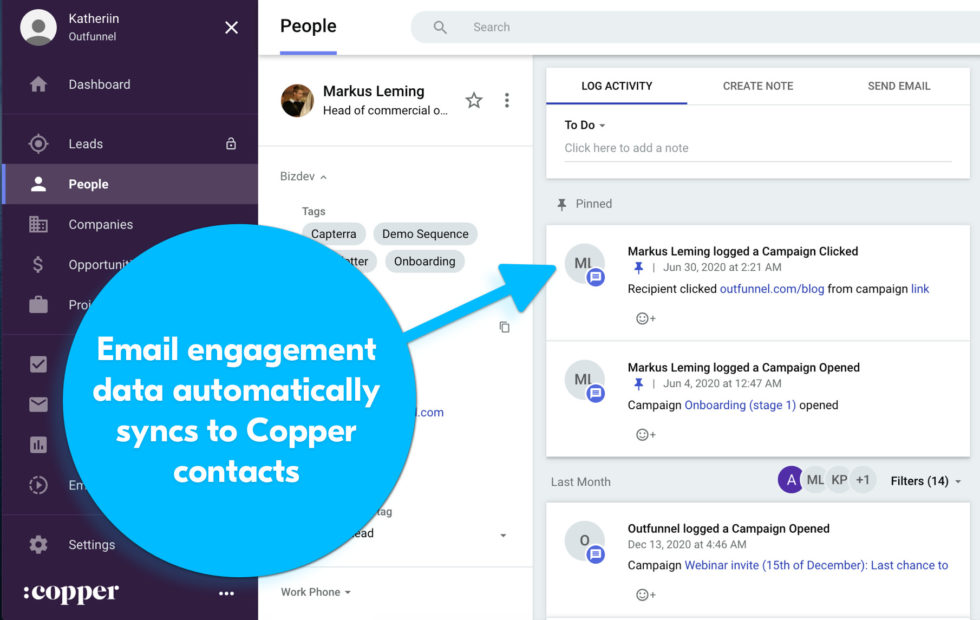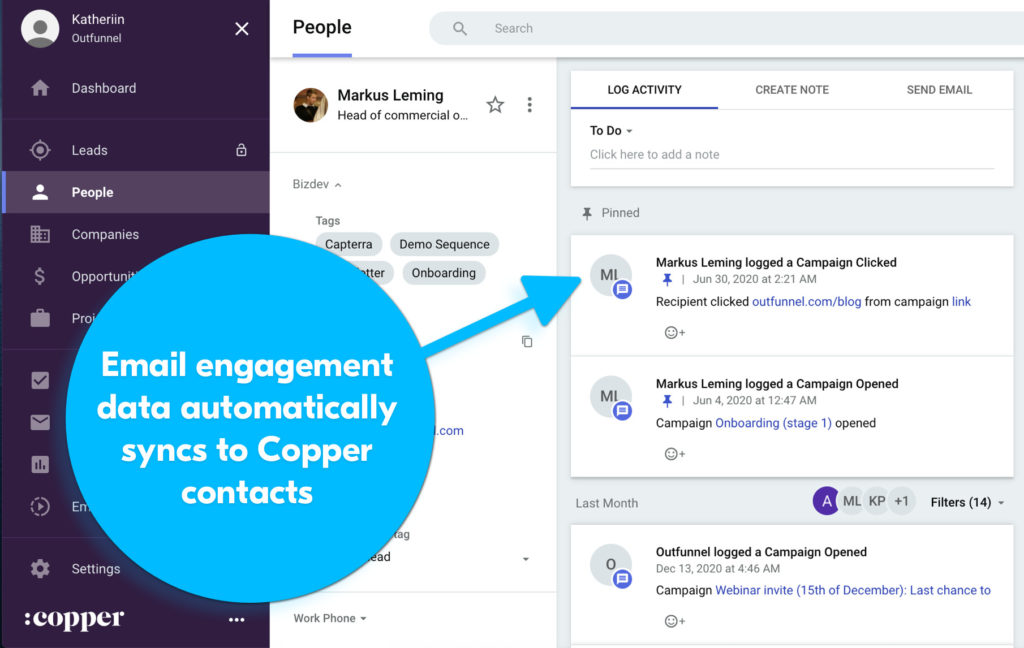 So, you'll be able to see what email campaigns they've been sent and whether they've opened, clicked or unsubscribed.
Outfunnel's Copper integration is API-based, so all you need to do is create a Copper API key, and then paste it into the Outfunnel dashboard.
How much does it cost?
Outfunnel's pricing starts at $6 / month for the Lite plan. That gives you access to web form and lead ads integrations, with up to 2 app connections 250 events synced per month.
If you're looking to connect marketing automation apps and/or Calendly, the next tier is Starter at $19 / month for access to all apps, with up to 5 app connections, 2,500 synced events as well as Web tracking and Lead scoring features.
The last tier is Growth from $49 / month, which gives you everything included in Starter and unlimited app connections, 15,000 events per month, as well as access to Outfunnel's simple email Campaigns feature for sending marketing emails to your Copper contacts.
Regardless of which plan you decide to go with, you can try out Outfunnel free for 14 days.
<< Try Outfunnel free for 14 days >>
Copper Integrations #2: Aircall
What's it for? Sales phone calls
Despite everything being online, or chat/email-based, a big chunk of sales relies on the brave men and women on the frontline, picking up phones and having a good, old-fashioned conversation.
The main draw of Aircall is being able to get set up quickly, without the need for (sometimes ludicrously) expensive hardware then integrating with your existing tools.  On top of that, there's another huge benefit:
Tracking.
You can track individual or team performance and then start seeing what needs work and what to focus on.
The Aircall Copper integration process is a breeze and it's all handled from within the Aircall dashboard. I was able to get it set up in less than two minutes.
How much does it cost?
The entry-level paid plan is €30 / month per user, and that also includes access to integrations, like Copper CRM. If you're looking for features like unlimited concurrent calls or maybe a dedicated account manager, then the next plan comes to €50 / month per user.
You can try Aircall on for size with a 7-day free trial, no credit card required.
Copper Integrations #3: Salespanel
What's it for? Behavioral tracking and lead qualification
Salespanel is a lead generation, tracking, and qualification platform that can help you bring key marketing data directly inside your Copper workspace in real-time.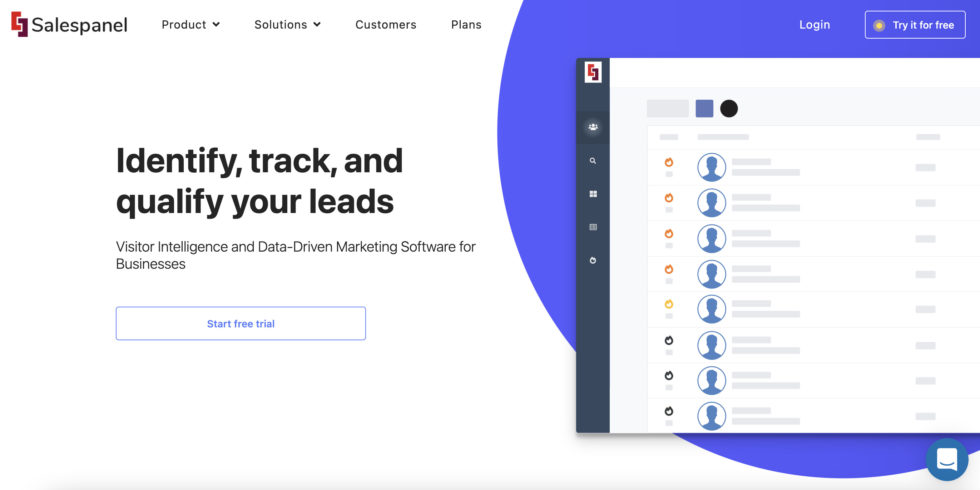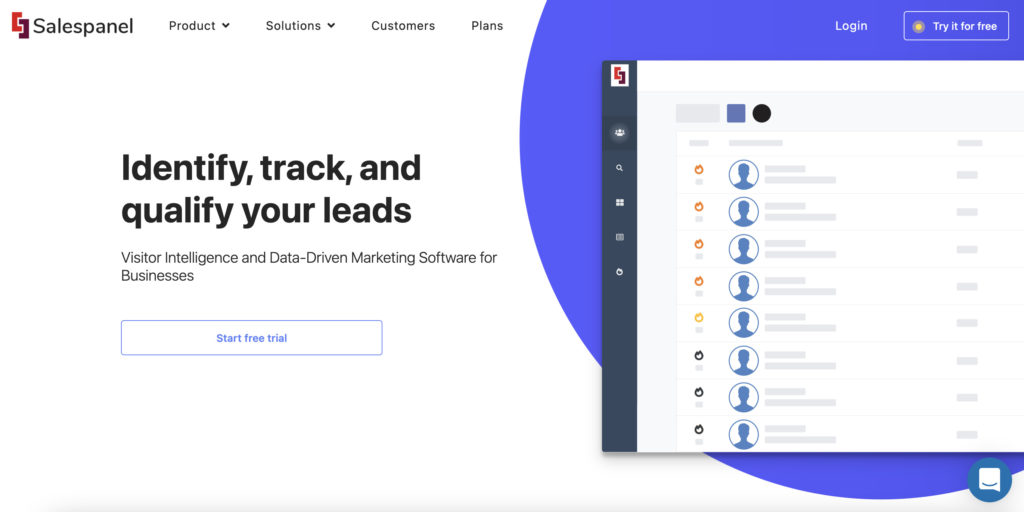 Here are the main benefits:
Capture leads from different acquisition channels (forms, live chat, email campaigns, etc.) and sync their activity on Copper.
Qualify leads and sync lead scores to Copper in real-time.
Track sales email engagement on G-Suite and get the data on Copper.
How much does it cost? 
Salespanel's plans start at $49/month for tracking 1000 unique visitors. There are no limitations on data sync. You can try it out free for 14 days!
Salespanel also features a free plan for basic website tracking.
Copper Integrations #4: Xero
What's it for? Invoicing and accounting
Xero is small business account software that makes recording keeping invoicing and payroll a breeze. It offers bank connections and reconciliations, so transactions flow automatically and you keep track of your money with daily updates.
With Xero's native Copper integration, your sales team can view Xero invoices and their status from within Copper. In this way, there's no need to bug the accounts people for an update on payment.
How much does it cost? 
Xero's starter plan is $25 per month, but that imposes some limits on a few core areas. For example, you can send 5 invoices and bills per month.
If, like many of us, you'll need to send more than 5 invoices a month, you'll be looking at Xero's standard plan. This costs $50 per month and completely removes the cap on sending invoices and bills. All of their plans come with app integrations as standard.
You can try out Xero's invoicing and accounting features for free, for 30 days, no credit card required. 
Copper Integrations #5: PandaDoc
What's it for? Creating and managing sales documents
PandaDoc streamlines your document process by allowing you to create, send e-Sign and store documents all in one location. You can create and send quotes, have clients sign agreements, collaborate with colleagues and lots more.
PandaDoc's API-based integration will allow you to create, send and track documents from Opportunities, People and Company objects in Copper.
By centralizing all of these tasks, and allowing Copper to sync with PandaDoc, you'll be spending less time playing librarian and more on closing.
How much does it cost?
If you want Copper CRM integration (which, let's face it, chances are you do, given the topic of this article) you need to opt for Pandadoc's Business plan. This weighs in at $49 / user per month and also gives you access to super-handy productivity features, like approval workflows and a content library. PandaDoc offers a 14-day free trial.
Copper Integrations #6: Zendesk
What's it for? Customer support
Zendesk is one of the biggest names in the customer support business, offering features like live chat, support ticket tracking, knowledge base, and call center software.
Their native integration is accessible from the Copper CRM integrations dashboard, so it's really easy to set up. Once you've got them connected, you'll be able to see ticket history in the activity feed, add tickets to any record (lead, person, company or opportunity) and sync new, open, pending and solved tickets to Copper.
This ability to sync ticket info to a CRM is incredibly useful. It allows sales and account managers to stay in the loop about any issues their clients are facing, and focus on sending the right messages at the right time
How much does it cost?
At first glance, the pricing structure can be a little bit confusing. You can go for the Zendesk suite option, which includes all of their cornerstone products (those are: – support, guide, chat, and talk). 
Or alternatively, go for the pick-and-mix approach and only grab what you need. So, that first-glance complexity gives way to flexibility once you get your head around it.
The cheapest plan that includes the Copper integration is Team plan, which starts at €19 / agent per month. Zendesk offers a generous 30-day free trial, no credit card is required.
Other Copper integrations?
In this article, we just shared a shortlist of the 5 top integrations. In fact, there are many other useful Copper integrations that can boost your sales productivity.
At Outfunnel, we are all about connecting the best sales and marketing tools. Below are a few additional Copper integrations that are coming soon. Sign up for early access via the links:
Do you have any requests as to which tools you'd like to connect to Copper? Let us know in the comments section below.
Conclusion
Sales teams work better when they have access to the right information. And so does marketing, and support and pretty much every other part of the business.
Choose the right Copper integrations and help your sales reps sell smarter.
Ready to connect your marketing tools with Copper? Start a 14-day free trial of Outfunnel today.