Last updated: April 1, 2022
Pipedrive is a sales CRM that allows you to manage your sales pipeline and measure your salespeople's performance. It's a great customer relationship management platform for SMBs. And Pipedrive CRM integrations make it even better.
While Pipedrive packs a lot of functionality, you can really make the most of the CRM when you integrate it with other tools you use. And if you're here, you're probably wondering…
What does Pipedrive CRM integrate with?
There are 200+ Pipedrive integrations on the Pipedrive Marketplace of apps. That's quite a lot!
These integrations work out of the box, which means you don't have to spend development resources to connect Pipedrive API to all other tools you use.
To help you choose, we've put together a list of the best Pipedrive CRM integrations for SMBs, with all the details you need to get started. Let's jump right in!
Pipedrive CRM Integration #1: Outfunnel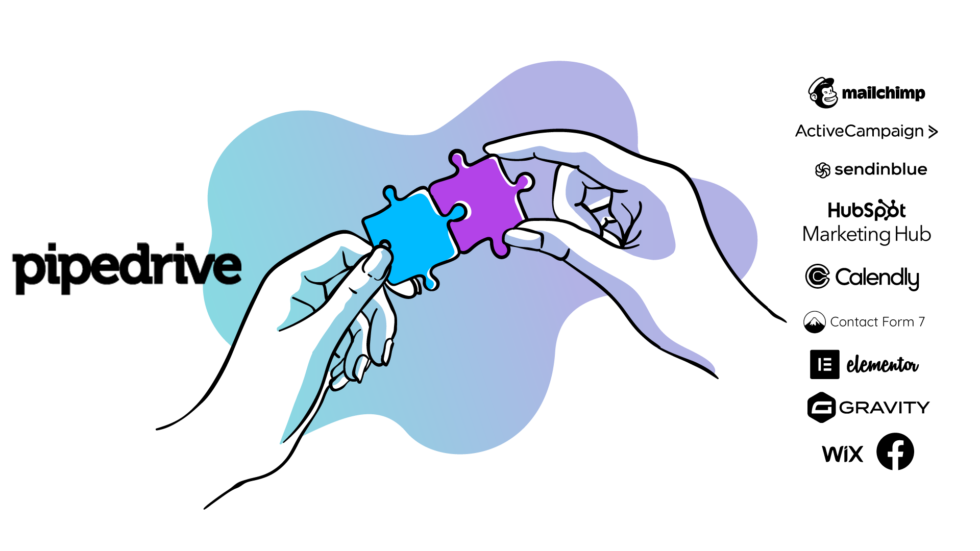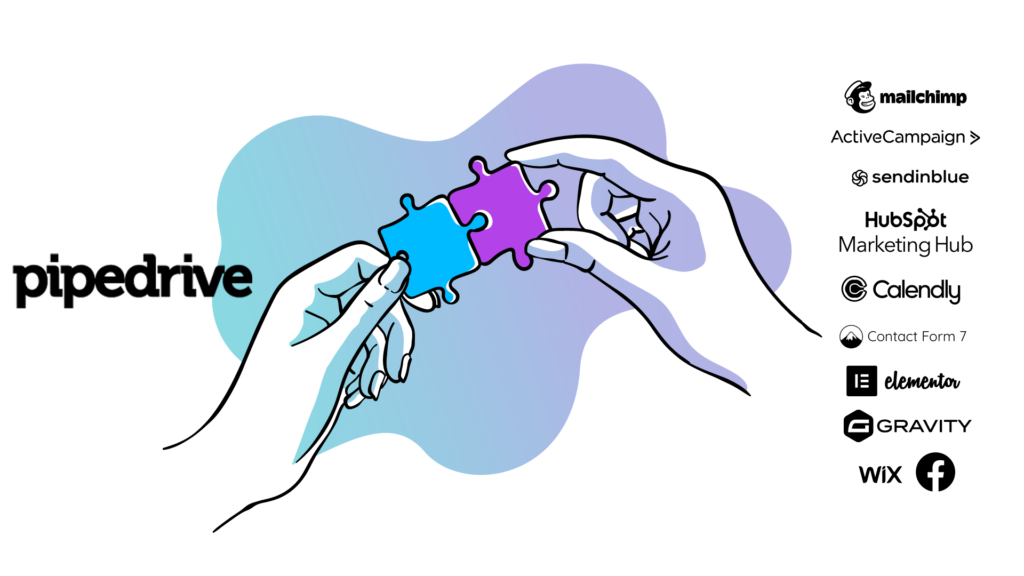 Yes, that's us. Born from the idea that sales and marketing are better together, Outfunnel offers the easiest way to connect your Pipedrive account with your marketing tech stack.
Pick your favorite marketing tools, and have Outfunnel sync key data between Pipedrive and the marketing tools. You get the "all-in-one" experience, without the "all-in-one" price tag.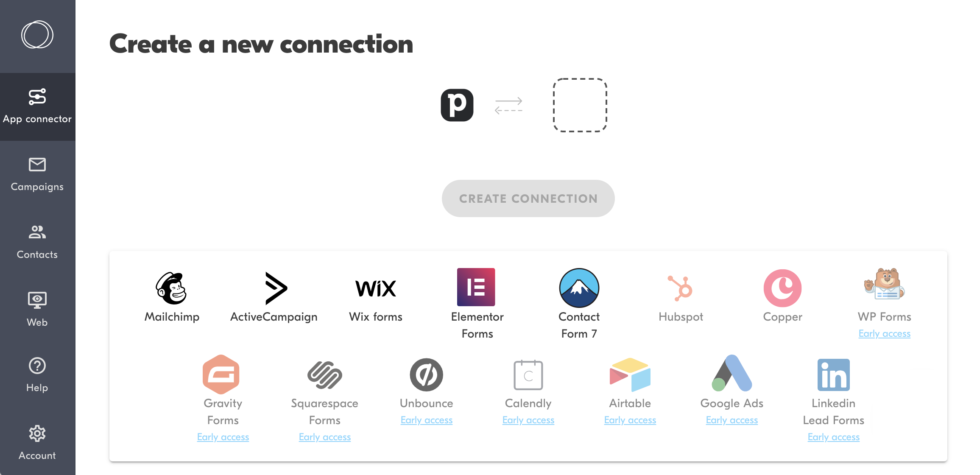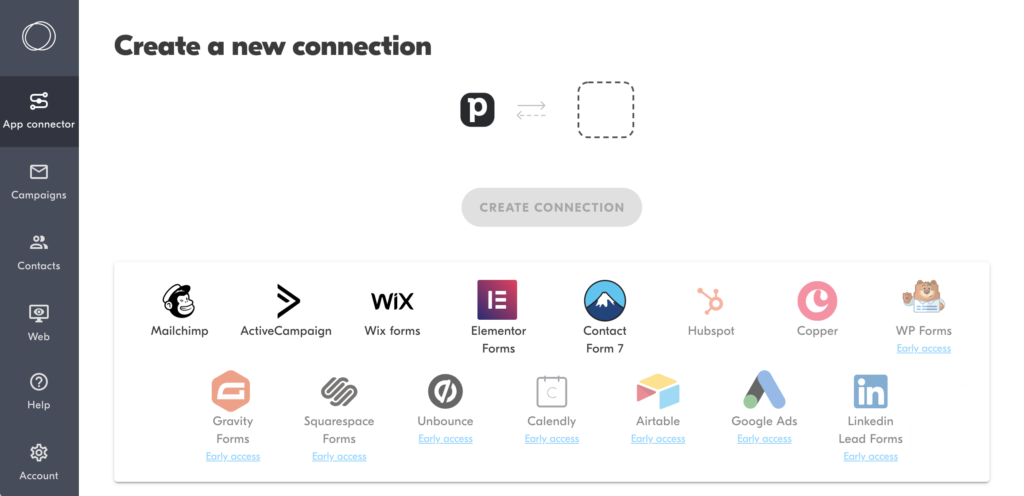 Here's what you can do with the integration:
Keep Pipedrive contacts and your marketing automation tool audiences in sync 24/7. Never waste time on exporting-importing lists again. Works with Mailchimp, ActiveCampaign, Sendinblue and HubSpot Marketing Hub (click on the tool names to learn more about each integration).
Record email marketing engagements (email opens, clicks, etc.) in Pipedrive as Activities or Notes. Sales has more context, so they can have better conversations and close deals faster!
Sync contacts from lead forms and landing pages to Pipedrive automatically, along with custom fields and key data about the web visit. Record the form fill on the profile in Pipedrive. Currently works with Elementor Forms, Contact Form 7, Gravity Forms and Wix Forms, as well as with Facebook Lead Ads.
Sync new meeting contacts and event activities to Pipedrive. Works with Calendly.
Surface sales-ready leads with Web tracking and Lead scoring software. Never miss warm opportunities again.
Use Outfunnel's simple email campaigns tool to get started with email marketing, in sync with Pipedrive. Many Pipedrive users love this feature as it's near-ideal for conversational B2B email marketing, such as automatic follow-ups for Pipedrive deals as they move through your pipeline stages.
We're certainly biased, but we're not the only ones who think Outfunnel is great. It's currently the #1 top-rated app in the Pipedrive CRM integrations marketplace.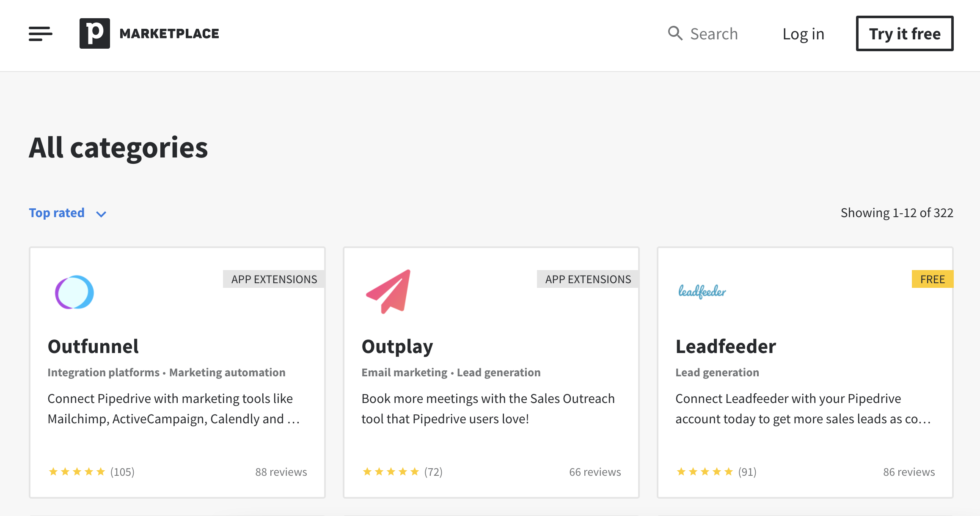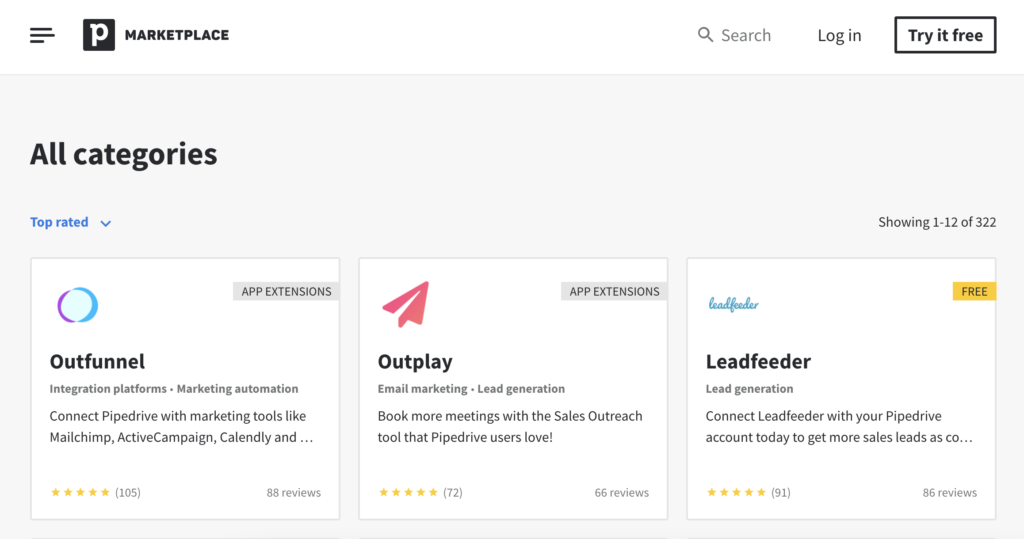 Outfunnel's pricing starts at $6 per month for the Lite plan, which gives you access to web forms and lead ads integrations. Get access to all integrations with the next tier, Starter, priced at an affordable $19 per month. Regardless of the plan, you can give it a go with a 14-day free trial.
Pros
Connect your web forms and lead ads with Pipedrive to automatically sync new leads to the CRM
Keep sales and marketing contact lists in sync
Record email marketing engagement data (e.g. web visits, email opens, clicks etc) in Pipedrive automatically
Lead scoring and Web tracking, completely in sync with Pipedrive
Excellent and fast support
Affordable: plans start at $6 per month
Cons
Not suitable for large enterprises
Pipedrive CRM Integration #2: Leadfeeder
Every SMB would like a consistent flow of leads, but finding those leads can be a bit trickier. The good news is that you don't have to hit the Yellow Pages to start finding leads. Leadfeeder helps by tracking your website visitors, showing you which companies are visiting your site, where they came from, and what they're interested in.
With the Leadfeeder Pipedrive CRM integration, you can automatically add qualified leads (based on your designated criteria) directly to Pipedrive for your sales team to reach out to. Organizations, Deals, and Activities are also created for you. 
Once those leads are in Pipedrive, all their activity on your website is recorded there too, so you can see at a glance which leads are warm. If you're using an Account-Based Marketing or Account-Based Experience strategy, you can upload a list of the accounts you're targeting, then get a notification as soon as they visit your website.
There are lots of options to set it up according to your business model, whether that's finding new leads for your sales team or seeing how existing leads interact with your site. Either way, you can use that data to reach out to your leads at the perfect time for them.
While Leadfeeder has a free plan, to access all features (including that all-important CRM integration) you'll need the Premium plan, starting at €55/mo.
Pros
Easy to set up and use
Qualified leads are automatically added to your CRM
Supports both Account-Based Marketing and Demand Gen strategies
Cons
Need to be on the paid Premium plan to use CRM integration
Pipedrive CRM Integration #3: QuickBooks/SyncQ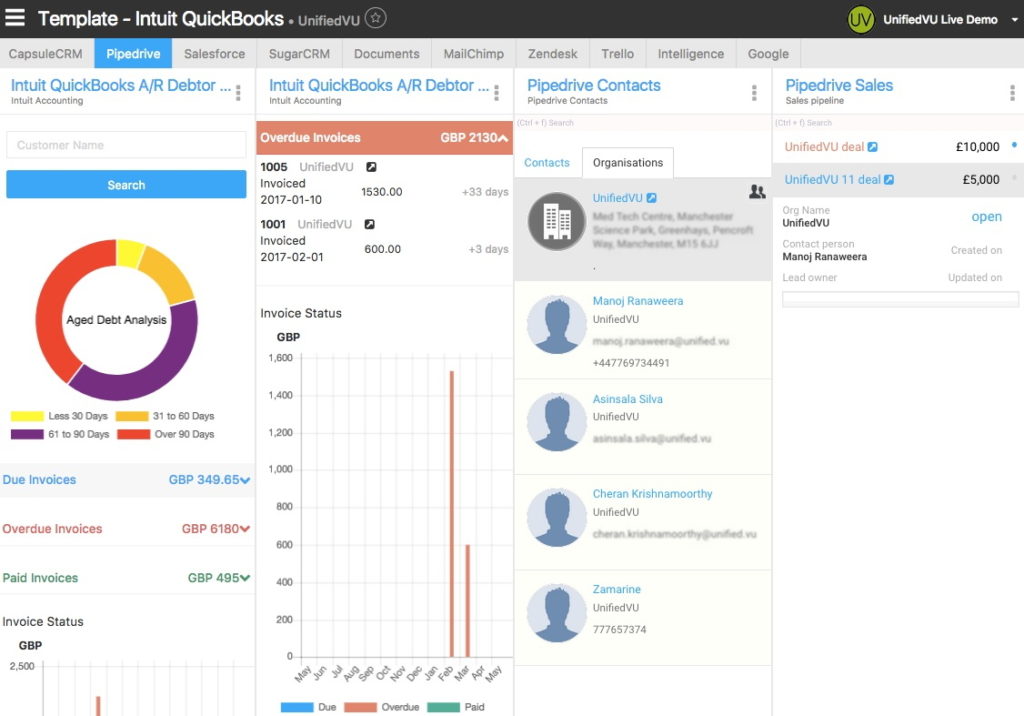 For any business that wants to grow, accounting software is essential. Invoicing customers, keeping tabs on cash flow, and staying on top of your taxes are all important—as well as potentially stressful—for the health of your business. To make this a little less stressful, many businesses rely on QuickBooks.
With the official QuickBooks integration, you can create invoices within the deal's detail view without having to copy and paste data across from Pipedrive. You'll also get invoice updates, making it easy to keep track of what's been paid and what's overdue.
If you're interested in more advanced features, you should also check out SyncQ. Details are automatically synchronized instantly, so you always have the latest information. If you're in Pipedrive, you can also view all your estimates, invoices, payments, and receipts without having to log in to QuickBooks.
While it's not the official integration, security is regularly evaluated by Intuit, so you can be confident your data is safe.
The official QuickBooks integration is free to use, while pricing for SyncQ starts at $12 USD per Pipedrive user per month per QuickBooks Company. You'll also need a QuickBooks account, which is normally $25/mo (although you'll often find promotions where you can save big on your first few months).
Pros
Save invoices and keep track of their status from your CRM with the official integration
Plenty of advanced features available with SyncQ
Excellent support from the SyncQ team
Cons
Currently limited functionality with the free official integration
SyncQ can be complex to set up without assistance
Pipedrive CRM Integration #4: PandaDoc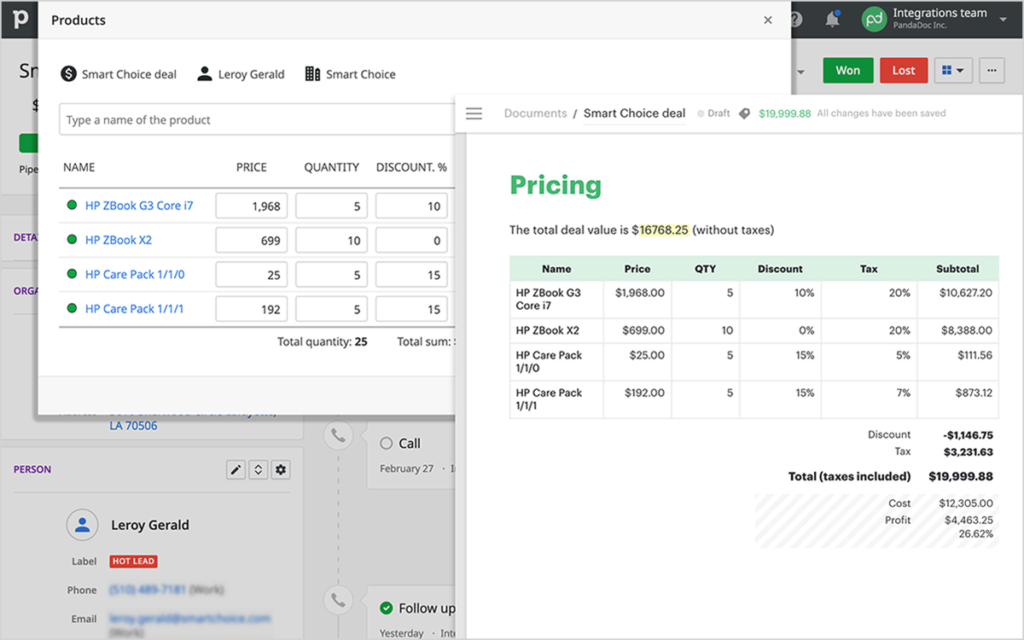 Do you still find yourself typing out proposals in Word? Do you need your prospects to print your proposal out, sign it, scan it, then email it back to you? If so, you owe it to your customers to check out PandaDoc, a sales document automation tool.
When you integrate Pipedrive with PandaDoc, you can easily manage all the documents needed throughout the sales cycle. That means creating proposals and contracts within Pipedrive, populating them with all the data you already hold in your CRM, then sending the documents to your prospect for a legally-binding eSignature, all without jumping between platforms.
You can also track your documents, see how your prospect interacts with them, then follow up at the optimal time.
While PandaDoc has a free plan for getting documents electronically signed, you'll need to go for the business plan ($49/mo per user) if you want to connect your CRM and take advantage of the automation.
Pros
Get eSignatures without leaving Pipedrive
Interactive quotes using Pipedrive data
Cons
Some customers have complained about stability issues
Pipedrive CRM Integration #5: Asana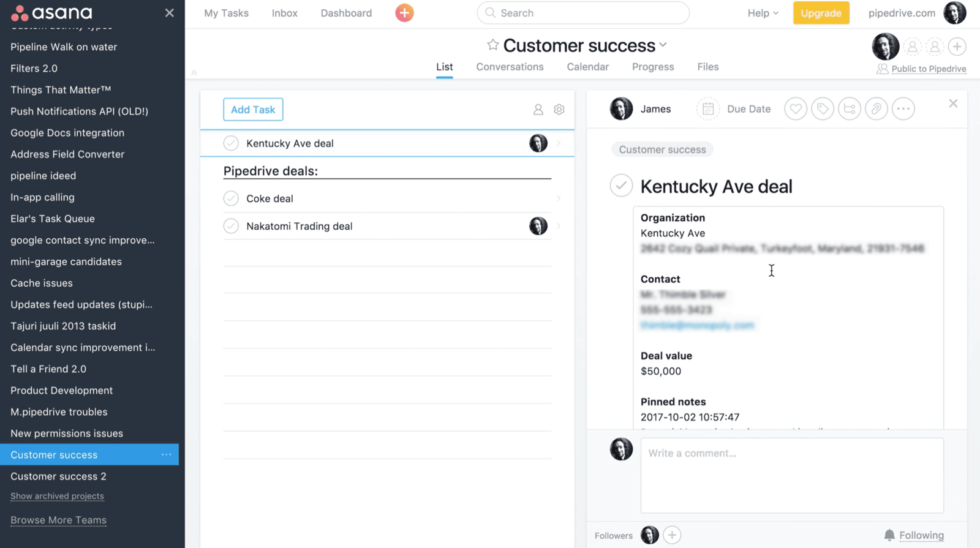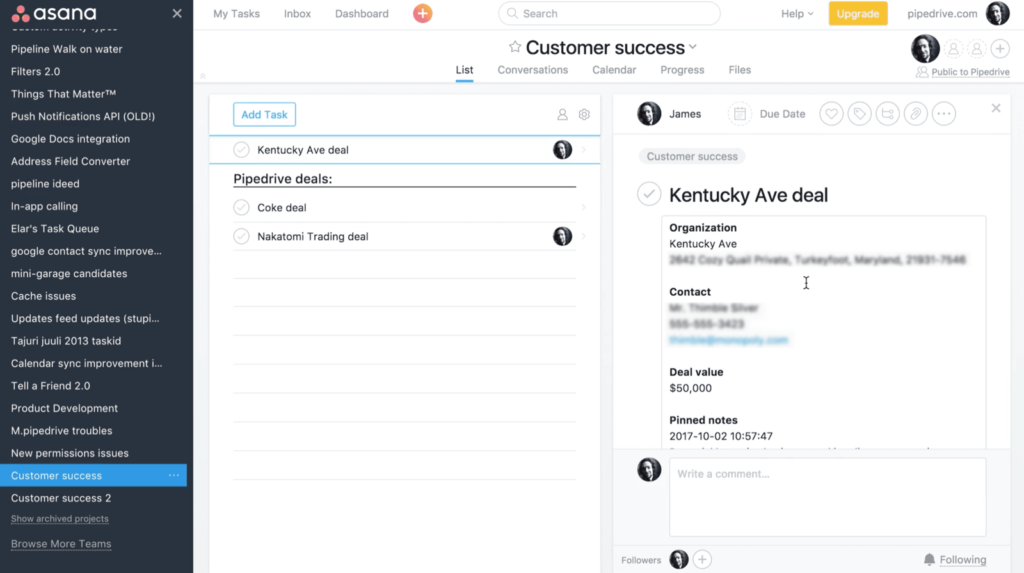 As amazing as Pipedrive is, it's important to remember that your CRM isn't the same thing as your project management software. With all those moving parts in your business, keeping organized is a daily necessity and, if you're relying on sticky notes and scribbled to-do lists to keep on track, staying effective becomes much harder.
Far more than just a list of what needs to be done, task management tools come with a whole host of helpful features such as quickly assigning tasks across your team, setting tasks and deadlines, and tracking progress. One of the most popular options out there is Asana. Hey, if it's good enough for NASA, it's good enough for me.
As you'd expect, Asana is one of those Pipedrive CRM integrations that opens up plenty of new features. Its biggest benefit is keeping all the relevant people informed at key stages in a deal to make sure the necessary work is done. Closing a deal involves more than just your sales team—exchanging details and collaboration between teams is essential. 
Asana tasks/projects can be automatically created as a deal moves through the various stages of the pipeline. For example, if you need to bring in Accounts, Legal, or Customer Success teams at certain stages of a deal, they can all be automatically informed at the appropriate stage.
You can also set up default assignees and make sure they get the details they need from Pipedrive. As well as saving time, this kind of automation ensures no tasks or teams are forgotten, keeping everyone up-to-date and providing a smoother experience for your customer.
The great news is that, unlike many of the other integrations out there, Asana's Basic plan allows you to set up integrations. This free plan allows you to collaborate on tasks with up to 15 teammates, meaning smaller teams can get this Pipedrive integration up and running without spending a cent.
Pros
Free for smaller teams
Automatically creates tasks based on deal stage
Cons
Doesn't currently synchronize Pipedrive tasks with Asana tasks
Doesn't support templates for created tasks
Pipedrive CRM Integration #6: Zapier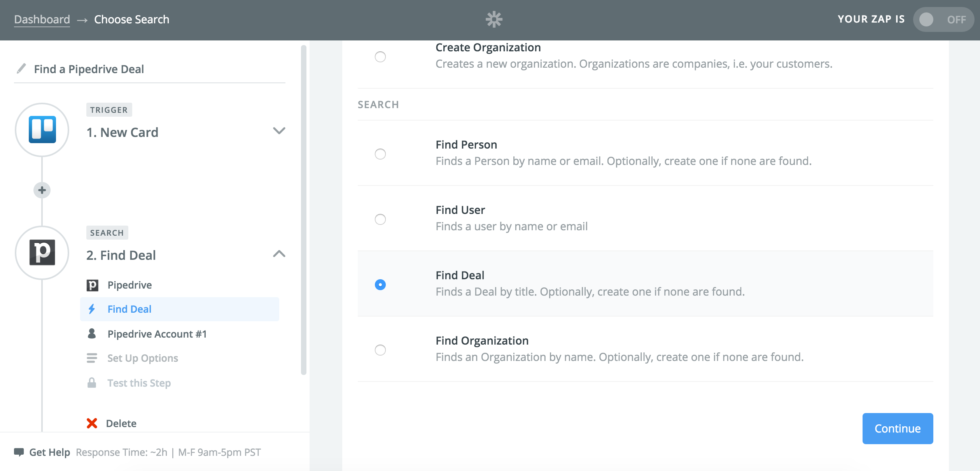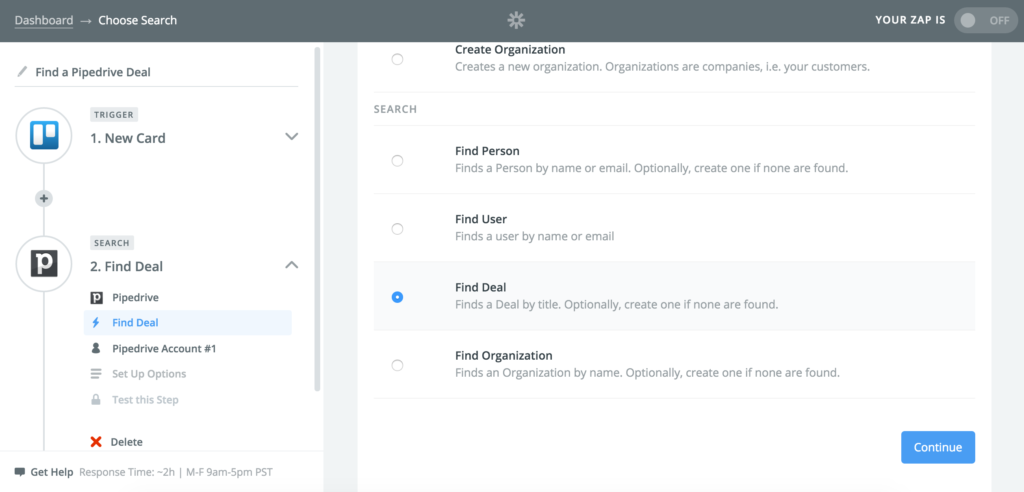 It's impossible to talk about integrations without mentioning Zapier. While most other integrations allow two apps to share information, Zapier opens up thousands of opportunities by connecting apps and creating workflows across multiple apps that may not have native integrations.
From Google Analytics to Xero to Microsoft Outlook, there are over 2,000 apps supported. So chances are that Zapier automations can integrate whatever apps you're using with Pipedrive.
Once you've selected the apps you want to integrate, you can then pick your triggers and resulting actions. For example, you could set up so:
Whenever a new deal is opened in Pipedrive, an email is sent to your team via Gmail.
Whenever a deal reaches a specified stage in Pipedrive, an SMS message is sent via Twilio.
Whenever a Zendesk customer support ticket is opened, create a new Pipedrive Deal.
My favorite thing with Zapier is how easy they make the whole process. The only problem is it's too easy to spend hours looking through all the potential integrations, looking for interesting new Zaps (their term for workflows) you can use. There is so much choice! For example, there are currently as many as 625 possible integrations, just between Pipedrive and Trello.
You can get started with Zapier for free, which covers up to 100 tasks/mo and 5 different Zaps. However, if you want to integrate any of the premium apps, or if you want to take advantage of multi-step Zaps, you'll have to go for one of the paid plans (starting at $19.99/mo with annual billing).
Pros
Thousands of apps supported
Easy to create Zaps, no coding required
Free to get started
Cons
Premium apps and multi-step Zap options require a paid plan
Setup can get clunky and unreliable for more complex workflows
While Zapier has the lion's share of the generic any-app-to-any-app integration market, there are also several great Zapier alternatives on the market that may serve your use cases better.
Pipedrive CRM Integration #7: DealBot for Slack
Unless you've been living under a rock, you will have heard of Slack. It's the market-leading communication platform that brings all your company's conversations together in one place. And if you use Pipedrive as well as Slack, you will want to consider using Dealbot as well.
Dealbot for Slack keeps your team updated about closed deals in real-time. Whether you need to coordinate multiple people to help close deals, or simply want to keep everyone in the company informed about a deal's status, the Dealbot will automatically handle it in Slack. Here's what it can do:
Update about new Pipedrive deals added
Update about closed deals
Send personal deal updates
Help search for a deal, person, or organization
Built and maintained by Pipedrive, it is completely free to use and set up.
Pros
Keep everyone informed
Super easy to set up
Free to use
Cons
Pipedrive CRM Integration #8: Surfe (ex-Leadjet)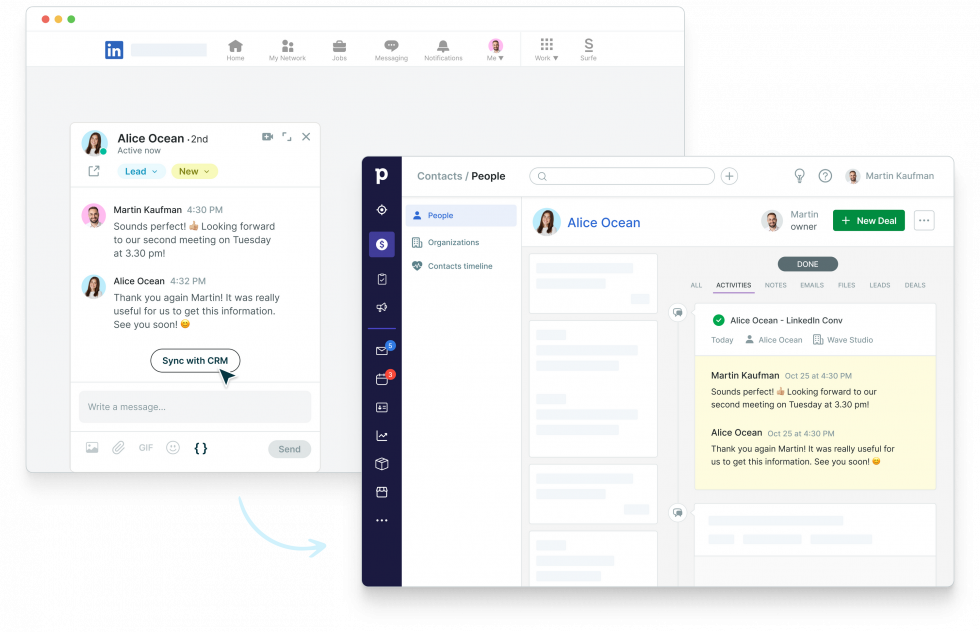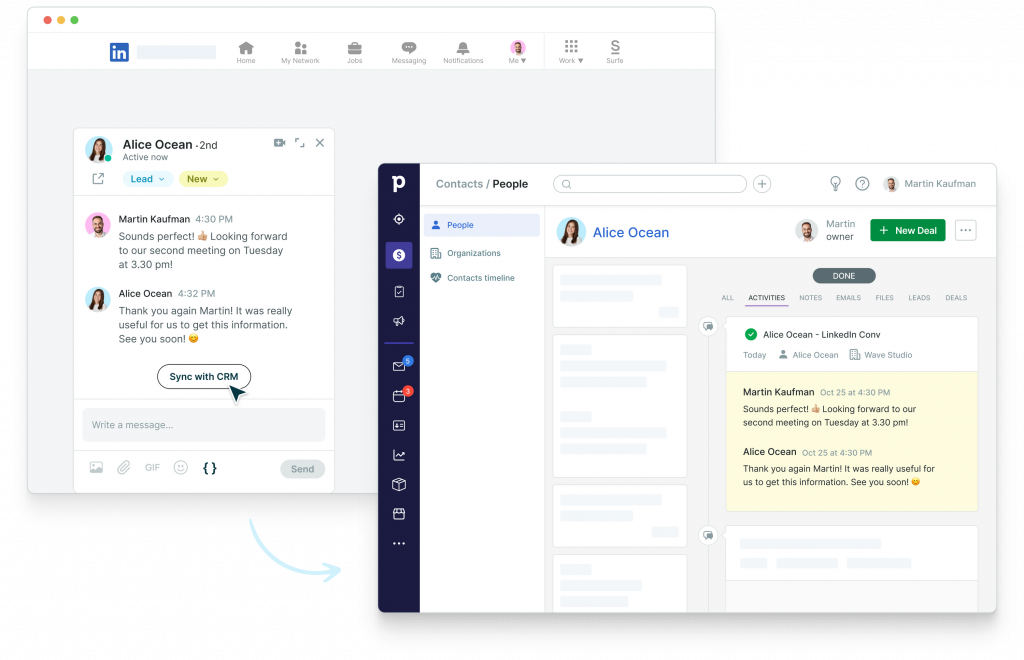 Sick of copy and pasting information between LinkedIn and Pipedrive all day? Say goodbye to manual data entry and hello to Surfe. Surfe is a chrome extension that connects your LinkedIn and CRM, allowing you to create and enrich contacts, find qualified emails, and synchronize LinkedIn conversations directly from your prospect's LinkedIn profile to your CRM in a single click.
With Surfe, you can also receive notifications when Pipedrive contacts become outdated (and update them accordingly), embed fields in LinkedIn and edit from there, leave notes and labels on LinkedIn profiles, create and view deals in LinkedIn, export contact lists from LinkedIn to Pipedrive, and personalize outreach messages using customized templates – all of which is synchronized directly to Pipedrive.
Stop wasting time on manual lead capturing and data entry and instead, reallocate the time that is saved with Surfe to closing deals. Surfe maintains data hygiene by keeping Pipedrive up to date, ultimately eliminating hours off of your workweek. Source prospects, nurture your leads, and streamline your workflow with confidence knowing that your CRM data is 100% accurate with Surfe.
Pricing starts at 23 euros per month (when paid annually).
Pros:
Also connects to HubSpot, Salesforce, Salesloft, Copper, and SalesNavigator
Features are customizable to better suit your needs in the Leadjet dashboard
Tracked analytics
100% GDPR compliant
Cons:
Strictly for LinkedIn users
Conclusion: Pipedrive CRM integrations automate manual work and help with sales productivity
Running a business is hard work. There are millions of tasks on your to-do list, all top priority. The good news is that you can integrate technology to streamline your sales process and automate more of the mundane work.
We hope you've found some ideas in this post for how you can utilize integrations to rid yourself of repetitive tasks. Whether it comes to connecting web forms with Pipedrive, automated emails or other Pipedrive automations, integrations will save more of your valuable time and help you optimize your sales funnel.
Here at Outfunnel we're geeks about sales-marketing integration. That's why we've put in years to build integrations between various sales tools like Pipedrive and a number of marketing tools.
We're currently working on a number of Pipedrive integrations—follow the links below to sign up for early access:
Want to try out the #1 top-rated Pipedrive CRM integration? Connect Pipedrive and your marketing tools with Outfunnel today and see the results for yourself. Get started with a free 14-day trial (no credit card required).