Last updated: June 18, 2021
In my work as a marketer, I've always preferred to solve things quickly. When there's a goal or a problem I just roll up my sleeves and get going. In the graph below I used to be the blue line, almost always.
But as I found myself thinking "I should have automated this" more and more frequently and as sales and marketing automations have become available for non-techies like me, I've increasingly found myself on the red line. And you know what, I like it much better over there!
Below are four Pipedrive automations (or "hacks", if you will) to power up your sales and marketing setup. Roll up your sleeves, it's time to save time, sell smarter and make sure the right messages reach the right people.
Pipedrive Automation 1: Automate follow-ups to "lost" deals (so they could be "won" one day)
In most sales situations you lose more deals than you win, and a "no" really means "not right now". Good salespeople have a habit of setting up a reminder for the next check-in. This may be in 6 or 12 months, however, and you may want to be somewhat visible between now and then.
The solution? Automate relationship nurturing with people who didn't say "yes" right away.
The way to do is to first agree on how follow-ups are handled in Pipedrive. This may be either:
Marking a deal "Lost" and setting a future Activity to check in
Moving a deal to a separate "Lead nurture" pipeline
Marking a deal "Lost" and marking the need to follow up with a custom field (that can be later used in combination with Filters and/or Contacts Timeline)
Moving a deal to a specific "Follow up later" stage in your pipeline (this one is somewhat unorthodox in pipeline management. Each time a customer does this, a Pipedrive product manager squeezes a stress ball. The stress balls looked pretty worn in that corner of the office, so you know).
However you've defined the "Lost but follow up" segment, you can then use this event as a trigger to start a lead nurturing sequence. And here I don't advocate dumping all leads into a generic newsletter list but really add value with your content.
Please note it's easy to ask permission to send a few infrequent and relevant emails between now and the next conversation. And of course, you need to make it easy to unsubscribe from these emails at any time.
Automated email marketing for Pipedrive can easily be set up with Outfunnel (yep, that's us, the #1 top rated app on Pipedrive's app martetplace) or with almost any popular email tool via Zapier.
Pipedrive Automation 2: Automate setting up sales meetings, success calls or research interviews
I've frequently needed to schedule lots of calls with people for research or sales purposes. Independent of the reason, finding a suitable slot across timezones is always a hassle. Or at least it was a hassle before I started using Calendly. Calendly is amazing!
When you set it up, you can connect your existing calendar (such as Google Calendar) and define when people can schedule meeting times with you. For example you can choose to only allow people to book times with you in the afternoons with the exception of a particular weekday where you take calls all day long.
You then get a personal link you can add to your emails and email signatures. When people book a slot, it automatically appears in both you and the other party's calendar along with joining details.
Calendly's free plan goes a long way, paid plan offers more features and a Zapier connection. With the latter, you can automatically have a new Pipedrive activity created once someone has scheduled a meeting. (Our upcoming Pipedrive-Calendly integration will also do this!)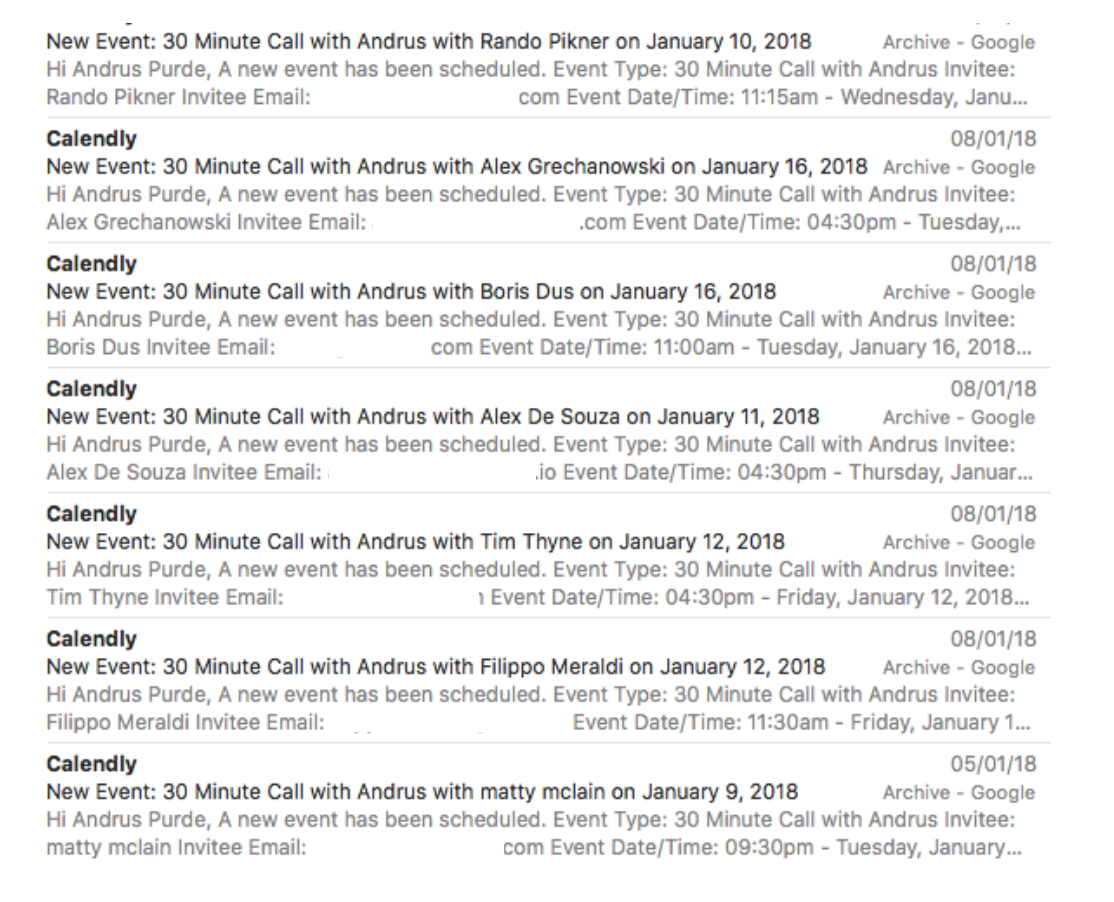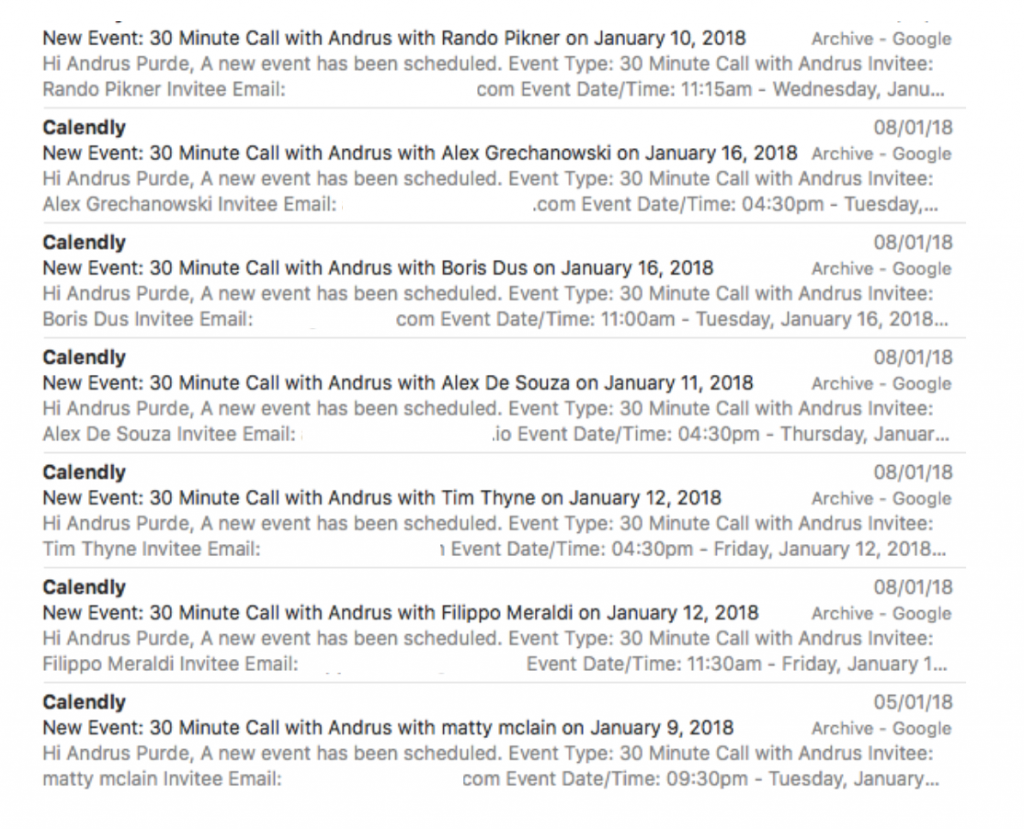 Pipedrive Automation 3: Don't send marketing messages to the wrong people (in an automated fashion)
Isn't it annoying when you receive an email to buy product X shortly after completing the purchase? Or when you're in the middle of a heated conversation about contract terms with a company and then receive a generic email which advises you to "book a demo" among other things?
Sometimes, the best marketing is no marketing and marketing at an unwelcome time is also known by the name of "spam".
Here's what every company should do:
Step 1. Define the pipeline stages and other contextual information that suggests that someone should NOT receive your usual campaigns, newsletters or other marketing activity. For example:
Stages "Offer sent" and "Contract negotiations"
45 days after a deal has been won
etc.
Step 2. Take the five minutes it takes to make sure your Pipedrive filters that you use to define campaign lists reflect that. For example, add a condition Deal stage is not "Contract negotiations".
Step 3. (Optional) You can automate excluding people at certain pipeline stages or statues with tools like Outfunnel or Zapier that can synchronize your pipeline leads with your marketing tool.
Pipedrive Automation 4: Stop adding deals manually
Historians have looked fallen civilizations from Old Kingdom of Egypt to Mayans to Abbasid Caliphate to understand what caused their fall. The consensus is that, in the context of rapidly expanding economies, they still added new leads manually into their CRM system.
Jokes aside, the truth is that there is no reason why anyone should add deal information manually into Pipedrive. And yet that's what many do, wasting precious time and probably making a few typos along the way. Surely one of the following options takes care of that:
If new leads arrive as email, use Zapier's email parser or Mailparser and connect them to Pipedrive, so new contacts and/or Deals arrive without you moving a finger.
If new leads arrive via your website, set up Pipedrive's web forms or connect any web form builder to Pipedrive with Zapier or Outfunnel. Typeform and Paperform are great and you can connect them with Zapier. Outfunnel's web tracking identifies leads from many forms natively.
If new leads arrive via business cards, there are plenty of business card readers that connect to Zapier, and through that, to Pipedrive.
The good things about all of these "hacks" is that they're quick to set up and very affordable, compared to buying a monolithic large tool that does a little bit of everything.
Here's to using time productively, to more sales and to less spam!
Latest posts by Andrus Purde
(see all)