How much time do your reps spend on the wrong leads?
You know the type.
The incompatible ones who don't match your ideal customer profile.
The indecisive who aren't ready to commit to a paid plan.
The stagnant ones who are no longer "fresh."
If you don't have a solid lead scoring tool in place, it's easy for marketing to fall into the trap of passing along bad-fit MQLs and even easier for sales to chase after leads that'll never convert.
No matter how many meeting invites, discounts, or emails you send.
What is Lead Scoring for B2B?
Lead scoring is a methodology sales and marketing teams use to determine how likely a lead will convert into a paying customer.
Each lead is assigned a score (usually 1-100) based on demographic and firmographic data as well as specific actions.
For example:
Location
Company size
Job title
Website visits
The higher the score, the higher the buyer intent.
Why Do You Need Lead Scoring Tools?
Think of lead scoring like the filters on a property rental site.
If you can only afford $500 per month and want a 2-bedroom apartment with a garden in a specific neighborhood, you don't want to see the other listings that don't match your criteria.
Why?
It's a waste of time.
Rules-based scoring uses the same principles. By assigning values to data points that match your ideal customer profile, you can:
Filter out bad-fit customers.
Improve the efficiency of your sales funnel.
Nurture your leads on a large scale.
Without scoring rules, you open yourself up to avoidable revenue loss and missing hot leads, making lead scoring one of the most valuable features of automation software.
Improve Your Sales Accuracy
When you have new leads coming into your CRM every day, it's overwhelming without a scoring system.
Which leads have high purchase intent?
How should you prioritize each one?
Who fits your customer profile, and who doesn't?
What is the likelihood the lead will convert?
Your reps rely on gut feelings to answer these questions instead of focusing on their job – closing the deal.
Lead scoring tools are data-driven.
What does that mean?
The formulas aren't based on emotions.
Only cold, hard facts.
These tools easily and accurately sort leads, giving your sales team focus and shoving guesswork out the door.
Improve Your Sales Efficiency
Imagine this.
Your sales reps no longer have to evaluate each new lead painstakingly.
Instead, you have an automatic workflow that grades each prospect, pushing those most likely to convert to the top of your rep's inbox.
By defining and tracking your lead data, you spend less time on the wrong leads, reducing your sales cycle and improving your sales efficiency.
Analysis of Performance and Lead Scores
Struggling with a stagnant sales pipeline?
When you plug one into your data into a lead scoring tool, it can help you figure out what's causing the bottleneck and answer one of the toughest questions:
Is it poor sales rep performance or poor lead quality?
Here's an example.
Let's say you want to evaluate how many leads you're getting from different sources like Facebook, and you want to analyze the quality of those MQLs.
You notice LinkedIn is bringing in high-quality leads with a high conversion rate.
On the other hand, Facebook sends across a decent volume of traffic, but those leads hardly convert and don't match your ideal customer profile.
The conclusion?
It makes the most financial sense to focus less on marketing your B2B company on Facebook and spend more resources investing in MQLs from LinkedIn.
The Best B2B Lead Scoring Tools
Let's face it – choosing the right lead-scoring tool for your business can be challenging.
There isn't a "one-size-fits-all" solution.
It's like online dating.
You need to set up your preferences before you start swiping. If you do, you'll spend a lot more time with the right people.
You need to find a tool that meets all your requirements, like:
Ease of use
Seamless integrations
Scalability
Affordability
Being hyper-aware of everything you need will help you find the best lead-scoring software for your business.
Outfunnel: Best for Utilizing Data From Multiple Sales and Marketing Tools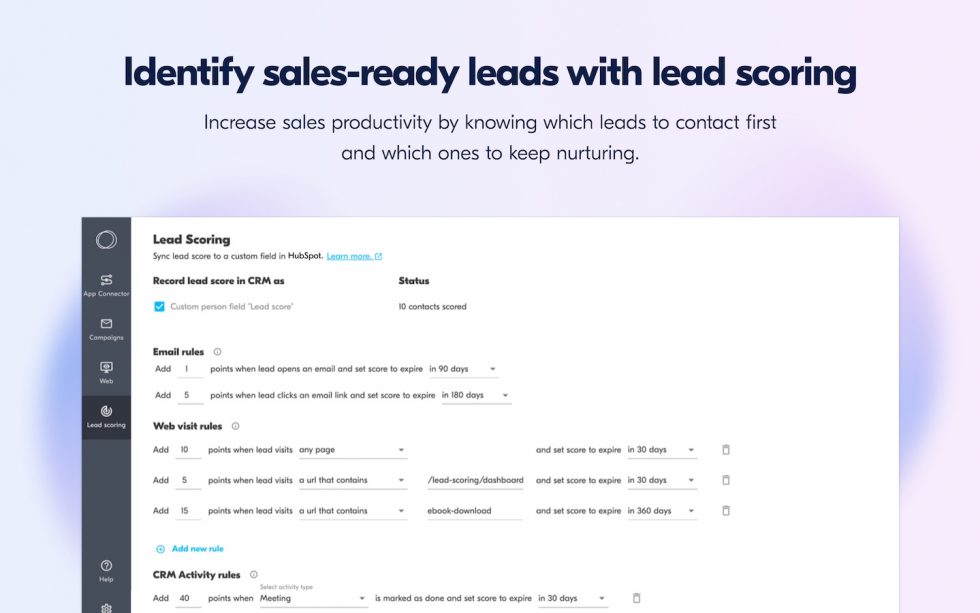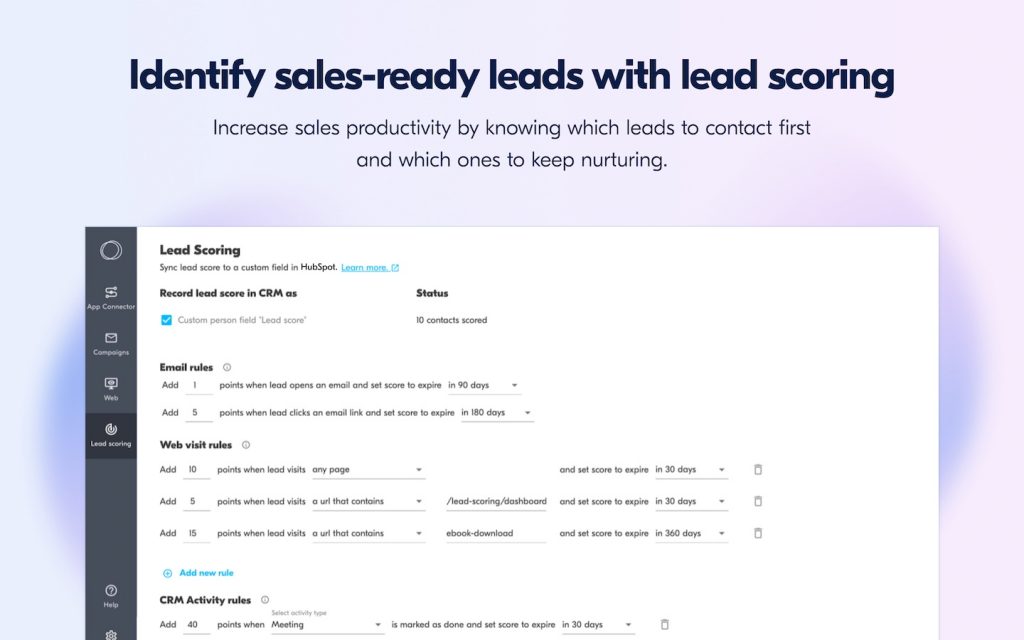 What happens when you integrate your sales and marketing data from dozens of tools into actionable lead-scoring insights?
Revenue acceleration.
You'll never have to worry about nurturing leads who aren't interested again. Instead, your sales team will prioritize your hottest leads in real-time.
How does Outfunnel's lead scoring software work?
Intuitive scoring rules: When a key sales activity is completed (like signing up for a free trial) or a lead has a specific job title, the score increases. If a lead unsubscribes from your email list, the score decreases.

Time decay: It keeps your scores up-to-date as your prospect moves through your funnel. The algorithm will add or subtract points to ensure your team always has the freshest leads with high buying intent signals.

Integrations: Outfunnel integrates with CRMs like Pipedrive, HubSpot and Copper, email marketing platforms like Mailchimp, ActiveCampaign, HubSpot, and Sendinblue, as well as other sales tools like Calendly to give you the full picture.

Website visitor tracking: See which pages users spend the most time on, forms filled, and all pages visited. It helps your sales team understand what potential customers are looking for and when is the best time to reach out.

Audience segmentation: Create highly targeted marketing campaigns and initiative sales workflows.
Who should use it?
Are you using Salesforce as your CRM? Mailchimp for emails? Calendly for booking meetings?
Outfunnel is ideal for B2B sales and marketing teams with a multi-tool set-up.
Our customizable scoring tool brings all those data sources together inside your CRM, helping you sell to the right customer at the right time.
Cost: Lead scoring is only available on the Professional plan at $119 per month
MadKudu: Best for B2B Enterprise Product-Led Companies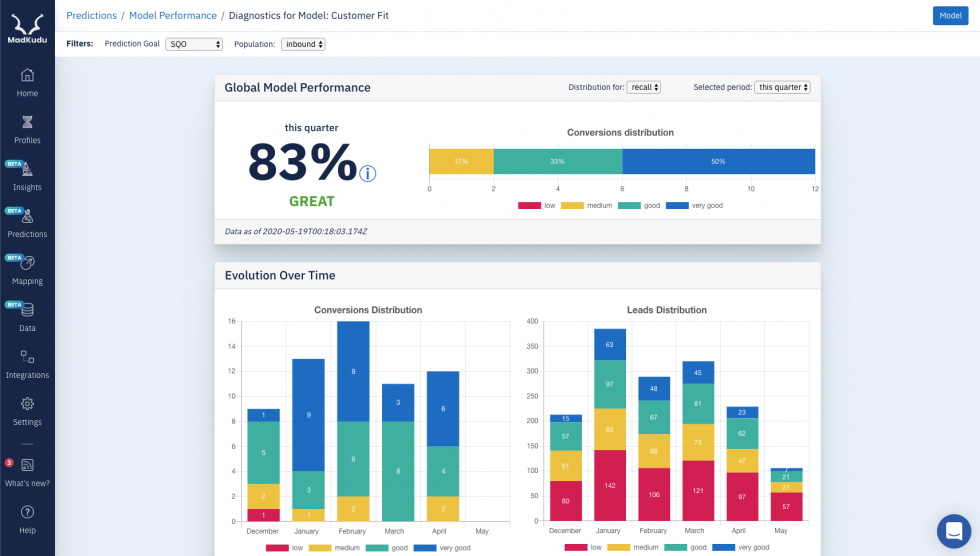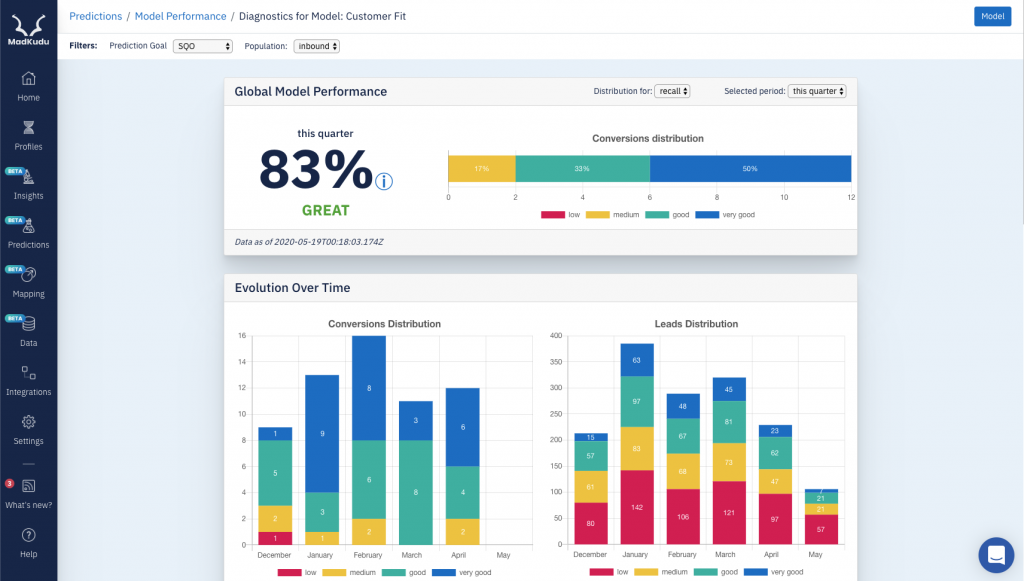 Gut feelings.
Incomplete contact cards.
Vague introduction and follow-up emails.
Sound like your revenue team?
Then, it looks like you have a data science problem.
MadKudu takes the guesswork out of lead scoring, kicks data silos to the curb, and gives your PLG team everything they need to run go-to-market motions backed by your data.
With a one-time set-up, the algorithm crawls thousands of data points in real-time. It breaks down lead behavioral activities across every channel, identifies those ready to buy or upsell, and recomputes your firmographic, demographic, and technographic signals to your ICP.
The result?
You spend more time on qualified sales leads, boosting your deal velocity.
Who should use it?
MadKudu is an excellent option for established B2B Enterprise product-led (e.g. SaaS) companies.
With plans starting at $1,999 per month for 2,000 leads and $3,499 for 6,000 contacts, it's not the best fit for early-stage start-ups that have a limited amount of leads or data (yet) and can't justify the expense.
Cost: From $1,999 per month for the Growth Plan
Pocus: Best Product-Led Sales Platform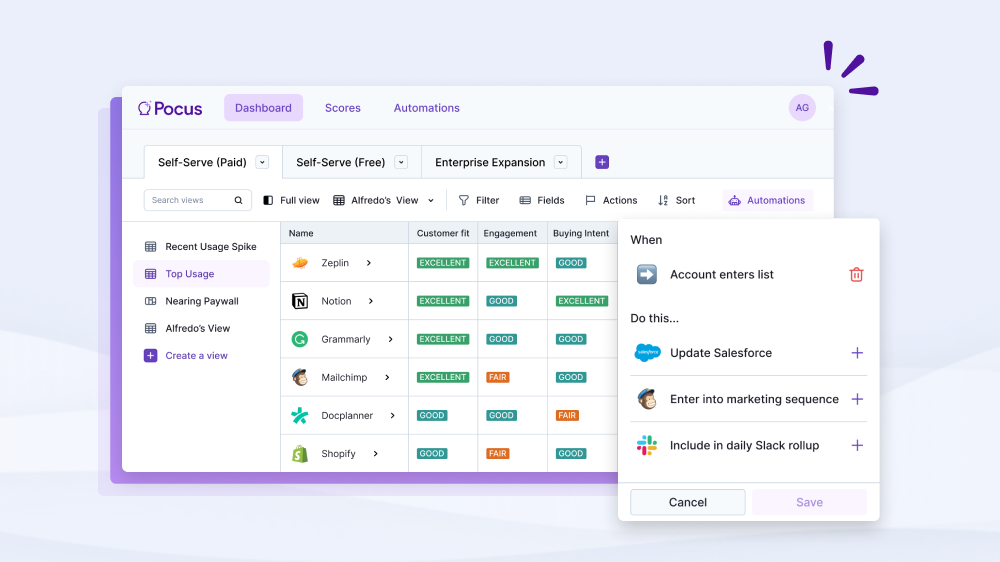 Bibbidi-bobbidi-boo!
You, too, can abracadabra your way to a 360° view of your hottest opportunities with Pocus, a product-led sales platform.
For PLG companies, lead scoring continues after post-sale. Your team needs real-time product usage and customer data to prevent churn and predict the next best action without a crystal ball.
How does Pocus work?
Your inbox becomes a data-powered to-do list. The best opportunities go to the top, and an alert is sent to Slack to ensure you never miss a hot lead again.

Create Playbooks for your sales team. It removes the guesswork with clear instructions and the ability for reps to automate workflows based on pre-defined trigger criteria.

Build multiple flexible and transparent lead and customer scores. Create a new score, select your signal, and rank its importance. When you're done, Pocus seamlessly groups leads that match your criteria.
Who should use it?
Pocus is an incredible lead-scoring tool for RevOps in PLS companies. With no code required, it's a great fit for non-technical G2M teams who want to hit the ground running.
Cost: On request
Breadcrumbs: Best for Recency and Frequency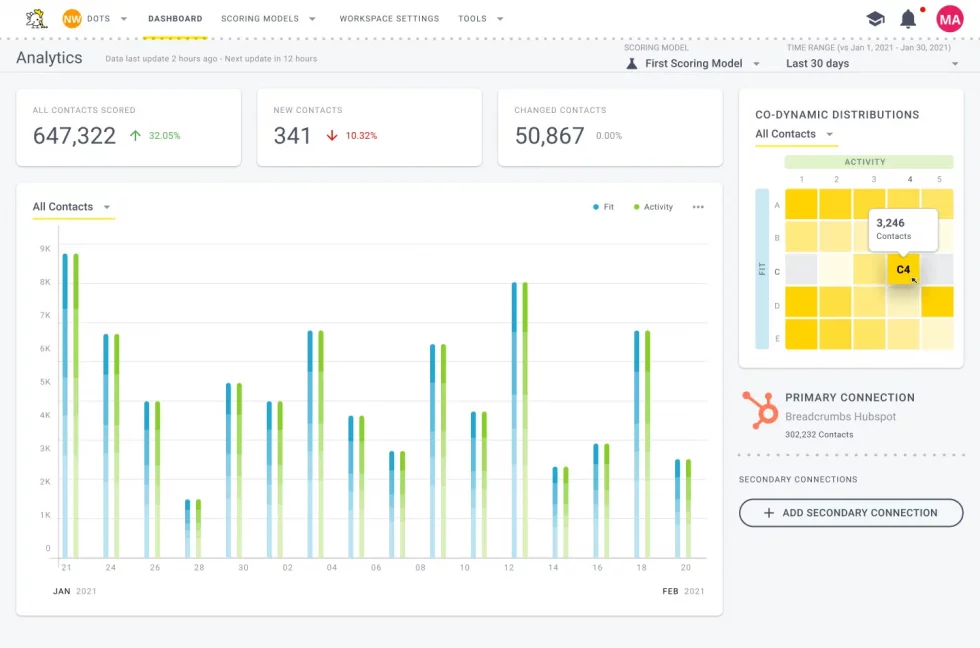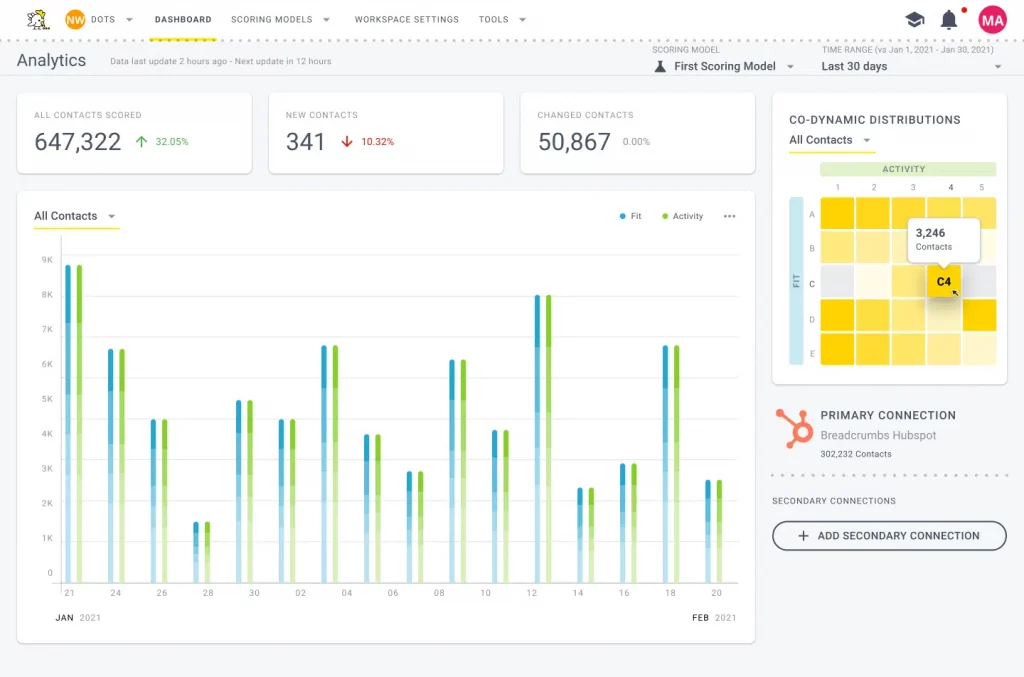 Don't get me wrong.
Lead scoring is great and all, but there's one small problem…
Context.
Without it, the scores don't hold that much business value.
That's where Breadcrumbs fits in.
The platform helps you make better decisions by delivering on context. It combines real-time intent signals with traditional contact scoring to push your most active and qualified leads to the top of your inbox.
What are you left with?
A curated list of ready-to-buy leads.
…But wait! There's more.
Sick of lead-scoring models with a one-size fits all approach? Breadcrumbs allows you to fully customize your model to fit your unique goal or goals.
Use Breadcrumbs Reveal to analyze your marketing, sales, and product data. You'll get a detailed view of what attributes and actions are the best predictors of revenue in your business.
Cha-ching!
Who should use it?
Breadcrumbs has a free annual plan for up to 10,000 contacts.
It's perfect for early-stage start-ups who want a robust lead-scoring tool but aren't ready to invest in a platform that costs $1000+ per month.
Cost: $0 for your first 10,000 contacts, $1,599 for the lowest price tier with 2,000 contacts per month.
Salespanel: An Simple B2B Lead Scoring Tool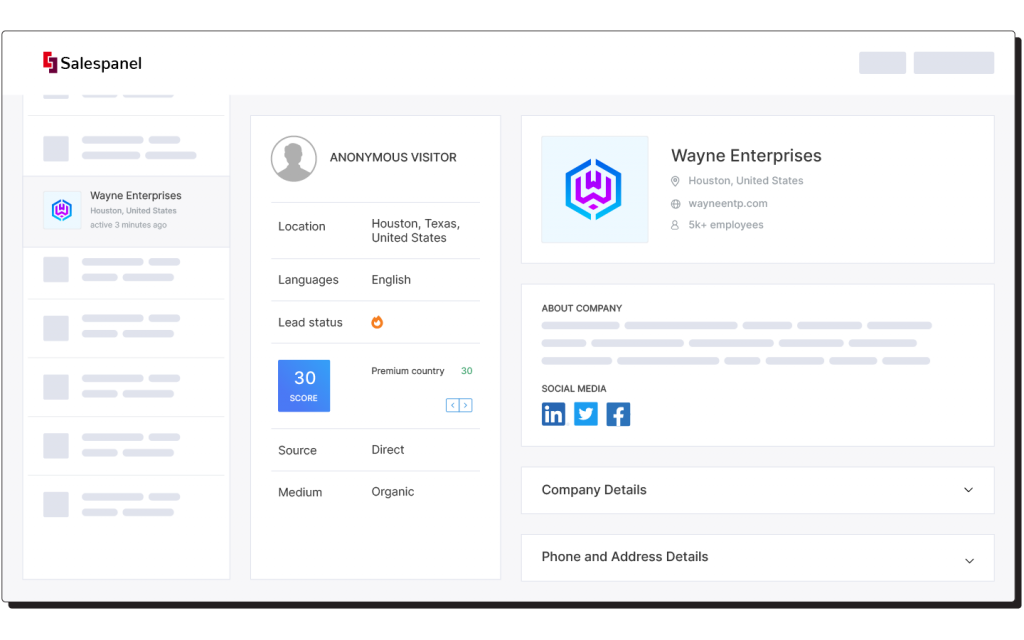 What's your approach with leads?
If you're leaning towards quality over quantity, Salespanel helps you filter out the noise and focus on the leads that match your buyer personas.
Combining it with first-party intent data, you'll have a framework based on your lead's real-time individual attributes.
Got someone ticking all the right boxes? Salespanel will:
Automatically send your MQLs to sales and sync with your CRM in real-time.
Move the lead further along your funnel with personalized content.
Product qualify your leads as they complete key product milestones.
Help sales pick high-value freemium leads and nurture prospects to convert into a paid plan.
Who should use it?
B2B businesses looking for an affordable lead scoring tool.
With a simple set-up process (drag and drop your tracking snippet onto your site), you can start tracking those user-level data points you're missing and loop in your CRM within minutes.
One small hiccup?
The real-time lead scoring feature is only available on the Growth plan.
Cost: $499 per month for the Growth plan.
The Best CRMs With Lead Scoring Features
Looking for a CRM that does it all?
Here are some of the best CRMs with lead scoring capabilities.
HubSpot Marketing Hub: Best for All-In-One Marketing & Sales CRM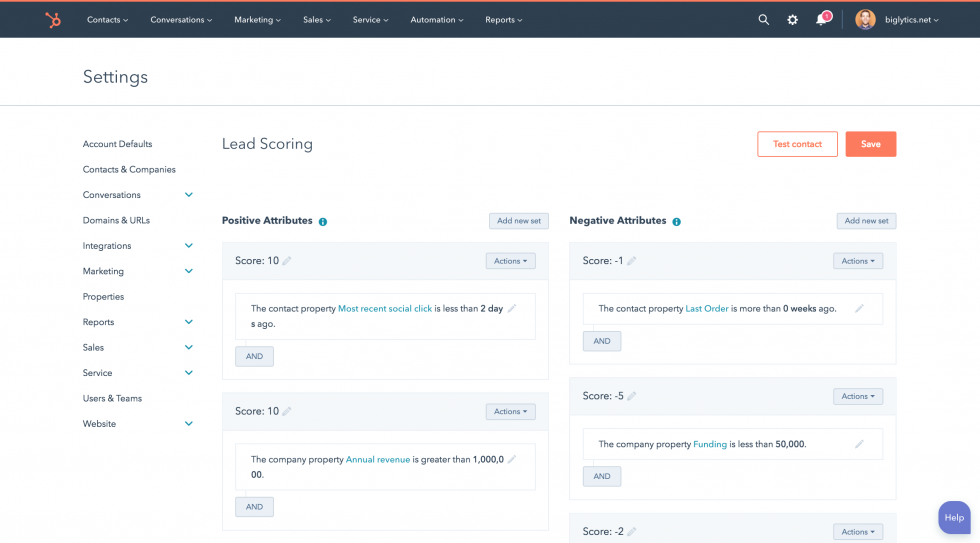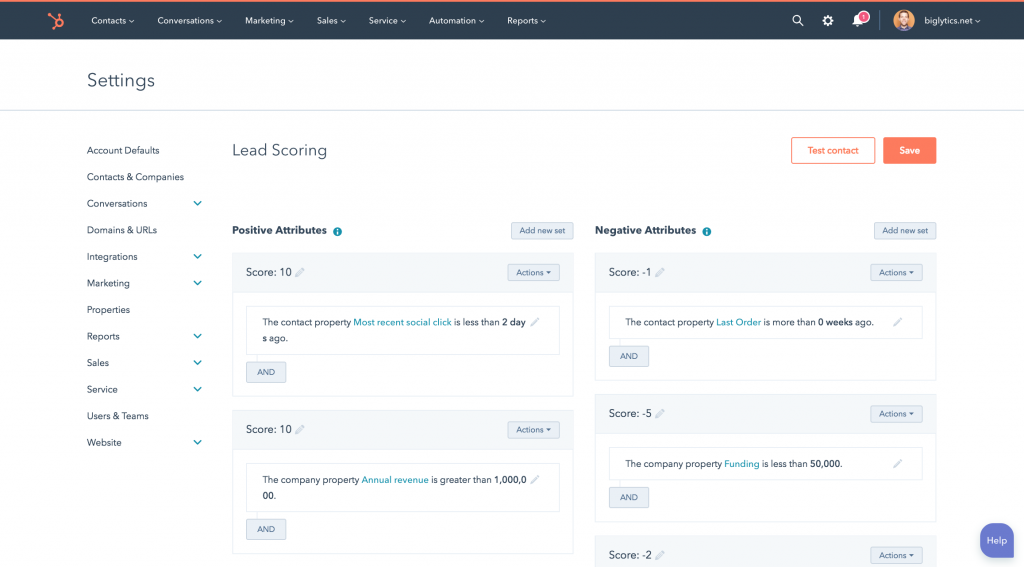 HubSpot Marketing Hub is one part of the complete Hubspot CRM platform.
It's designed to:
Automate your inbound marketing tasks.
Give you full control over content management.
Improve your targeting and sales with its manual and predictive modeling capabilities.
Using machine learning, Hubspot analyzes your data, generates a score based on custom criteria, and identifies your best leads – so you don't have to.
Hubspot is best for Enterprise marketing teams who need advanced marketing features as well as scoring capabilities and you already use the Hubspot ecosystem.
With lead scoring only available on the Enterprise plan, it's hard to justify the $3,200 monthly price tag.
Especially when there are more affordable and effective scoring tools that outperform HubSpot.
Cost: $3,200 per month for the Enterprise Plan
Zoho CRM: Best Multi-Channel Lead Scoring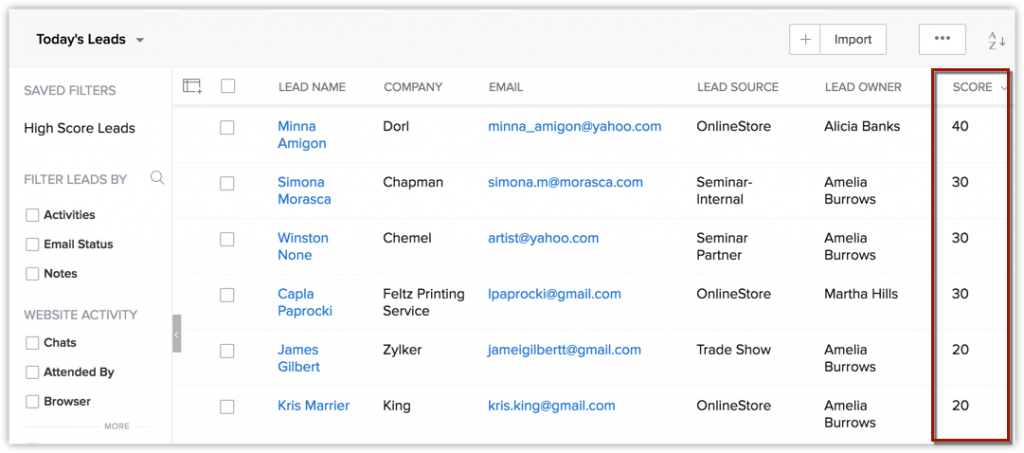 Zoho is an all-in-one CRM for teams who need control and customization. If you're starting out, the amount of things you can do with the platform is overwhelming.
Lead scoring is available on all the paid plans, but you can only use the feature with the entire Zoho platform.
What does that mean?
You'll need to move everything to Zoho if you have a multi-tool set-up. You can't integrate your data from other platforms.
Cost: $14 with lead scoring is available on the Standard, Professional, Enterprise, and Ultimate plans
ActiveCampaign: Best Email Marketing With Lead Scoring Functionality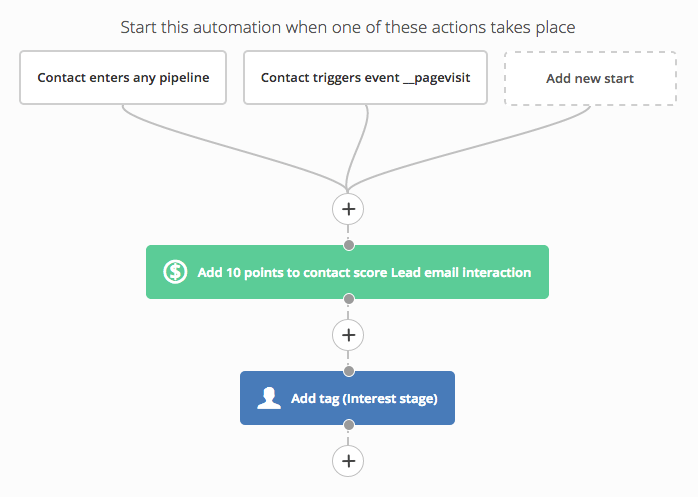 ActiveCampaign's core strength is its email marketing campaigns, but it's far from basic.
Combining emails, marketing automation, and CRM tools, you can create an incredible customer experience.
There's a dash of lead scoring thrown in for good measure.
The catch?
You must use their CRM and marketing features to access the lead scoring tool. Like Zoho, you can't integrate your other sales and marketing tools with the platform.
Another thing to keep in mind is it's not a full-on CRM. It lacks several powerful features that platforms like Salesforce offer.
Cost: Lead scoring is included in the Plus, Professional, and Enterprise plans. Prices start from $49 per month.
Freshsales: Affordable CRM with lead scoring
Freshsales combines everything you need from a CRM with powerful artificial intelligence to help you focus on the best leads and generate more opportunities.
The AI's name? Freddy!
The downside with Freshsales?
Like the other CRMs mentioned above, you can only access the lead scoring feature if you use the entire system. Freshsales only has a few integrations with other platforms and isn't the best option for multi-tool teams.
It's a great option for companies who want automated workflows for lead and deal management and don't need integrations.
How to Choose a Lead Scoring Tool
Before you purchase a lead scoring tool, here are a few questions to ask before making a final decision.
Does it easily integrate with your stack? If integrating data from the tools you already use may become a medium-sized IT-project, you may want to keep looking for a solution with better connectivity.

Does the tool offer traditional or predictive models? Traditional lead scoring is not sustainable when you have a large volume of leads. It's manual and requires a ton of grunt work. Predictive lead scoring is the way to create a streamlined sales and marketing workflow. It saves time and makes your business more money as reps focus on closing deals instead of tedious admin.

Can you import your data into the lead scoring tool? If you're investing in your first lead scoring tool, you might have your data in an Excel spreadsheet, or you might be using another less robust tool. Whatever your situation, choose a lead scoring tool that allows you to integrate with your current tech stack and import your old data.
Wrapping It Up
Finding the best lead-scoring tool depends on your unique business structure and needs. See the lead scoring best practices and examples here.
Are you a fledgling start-up with only a handful of leads each month? A CRM with lead-scoring capabilities might be the best option if you want to consolidate costs and keep everything under one roof.
Do you have a tech stack you love and don't want to change it? A tool like Outfunnel makes the most sense because it integrates with dozens of sales and marketing platforms. You don't need to migrate your entire business to a single platform and risk losing data.
No matter which tool you end up choosing, good lead-scoring software is going to grow your business. It stops reps from wasting time on poor-quality leads, surfaces the best prospects, and helps guide you to nurture leads to convert.
And that, my friend, are the qualities of an indispensable business tool.
Ready to align your sales and marketing and surface your hottest leads? Try Outfunnel for free for 14 days.