Automating your marketing can save you time and hassle, and give your sales team useful information about leads, so they know whom to talk to, and what to pitch.
The good news? Marketing automation for Pipedrive is easy with Outfunnel. It takes less than 30 minutes to implement everything described in this post.
Here's what Outfunnel can do for you:
1. Have more context for sales: see email engagement right inside Pipedrive
As a salesperson, wouldn't it be great to see which emails people that I want to speak to have received, opened and clicked?
Unbelievably (read: predictably), this is one of the things you get with Outfunnel.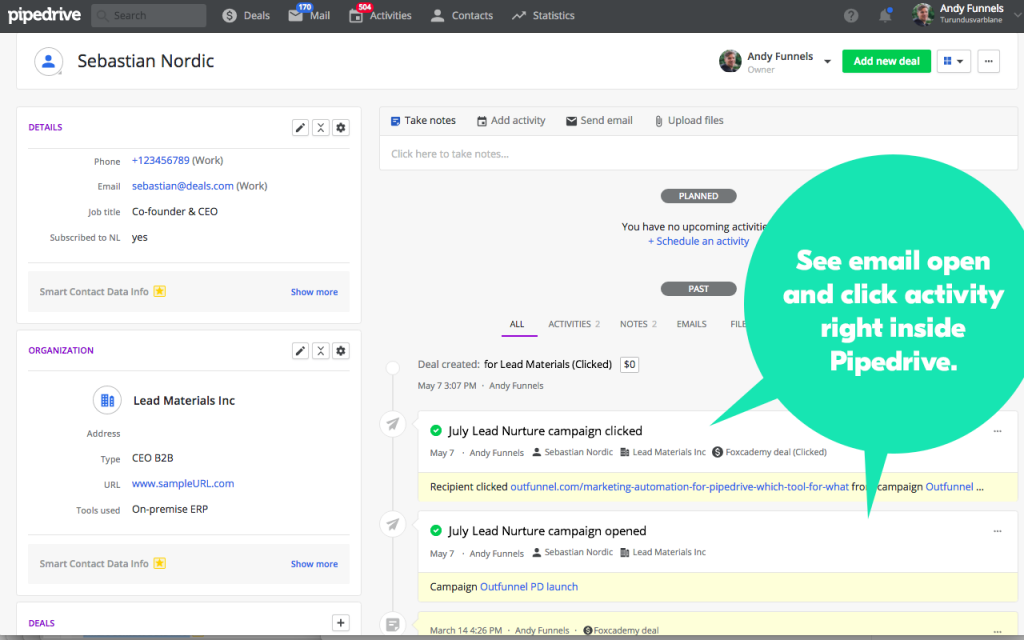 When you set up a Mailchimp to Pipedrive automation, you can:
Have a Note created if people receive, open or click emails, or when they unsubscribe
Have a custom activity "Newsletter sent", "Newsletter opened" or "Newsletter clicked" added when these things happen
Have unsubscribes and even bounces recorded in Pipedrive, so you can plan follow-up activities.
The default setting is syncing all Mailchimp audiences (or Lists, as they were known previously), but you can also send email activity from specific Audiences only.
2. Save time and hassle: create your newsletter list only once
Usually, when you need to send out a newsletter, there's a bit of last-minute scrambling to extract the list. You'll want to exclude people that you've parted ways with, include recent customers and maybe also exclude the very VIP customers that get their information from Account Managers over a lush dinner. You'll also need to account for people that have changed jobs or email addresses, and that have unsubscribed from your marketing emails.
With Outfunnel you can define the newsletter list once and then forget about the need to ever need to extract another list. Here's how:
Step 1. Define the list of People that should receive your newsletter with a Pipedrive filter (On that, check out tip #7 below)
Step 2. Set up a new Mailchimp audience you'll be using for your newsletter going forward
Step 3. Sync the filter you've defined in Step 1 with the audience you've selected in Step 2 with Outfunnel.
Then, whenever you need to send a newsletter, just open Mailchimp and send away, the mailing list is up to date even if customers have come or gone or changed statuses recently.
Read more about using our Pipedrive-Mailchimp integration.
3. Web visitor tracking: see what pages and blog posts your leads have seen before you talk to them
Our website visitor tracking feature, or simply Web tracking as we call it, shows you which of your leads are visiting your website, and which pages of your website. This way you'll know who appears more interested in your products and services, more ready to buy.

Oh, and you can have this information automatically added to your Pipedrive deals and contacts as well.
Read more about our web tracking feature.
4. Use email engagement as a signal for the "warmness" of a lead and create new Deals from email clicks
If your marketing emails are any good, people tend to engage with them. You can then use these signals for lead qualification. For example, if you have a 1000 people in your newsletter list and if 15 clicked on "Check out this new service" link, these 15 are probably your warmest leads.
With Outfunnel you can automatically create new Deals when people click on links in your newsletter.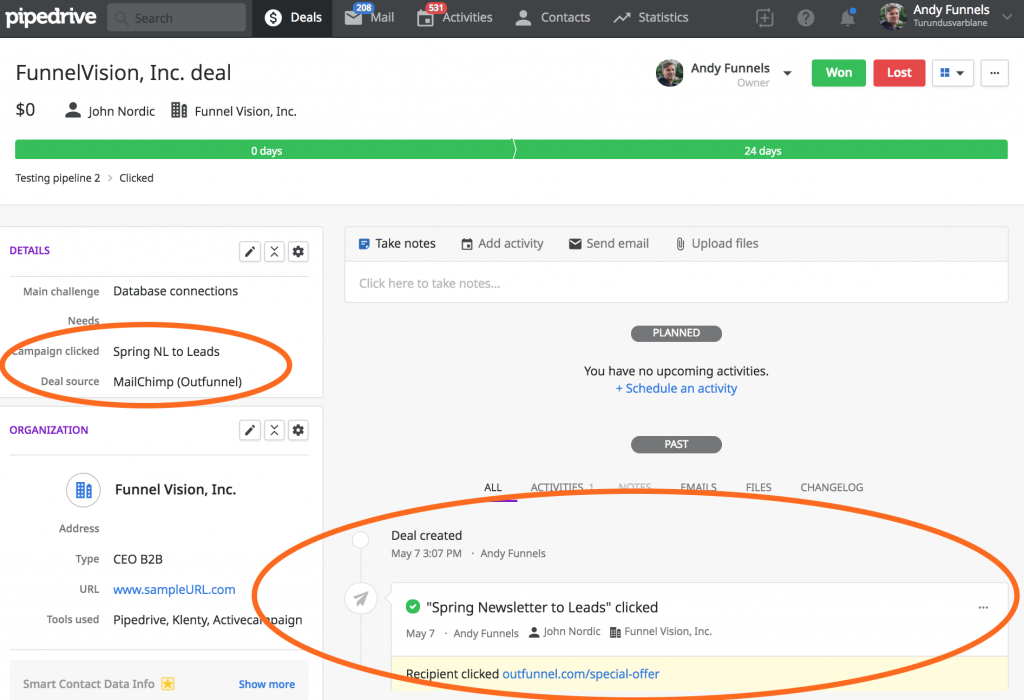 Step 1. Log in to Outfunnel and go to Connections and set up a new MailChimp to Pipedrive automation.
Step 2. Choose whether new Deals are created from all Lists or a particular one, and the Pipeline and Stage new Deals should appear in. (Set up multiple automations, if you'd like Deals from different Lists to go to different Pipelines or pipeline stages.)
Step 3. Tick the "Create new deals from email" checkbox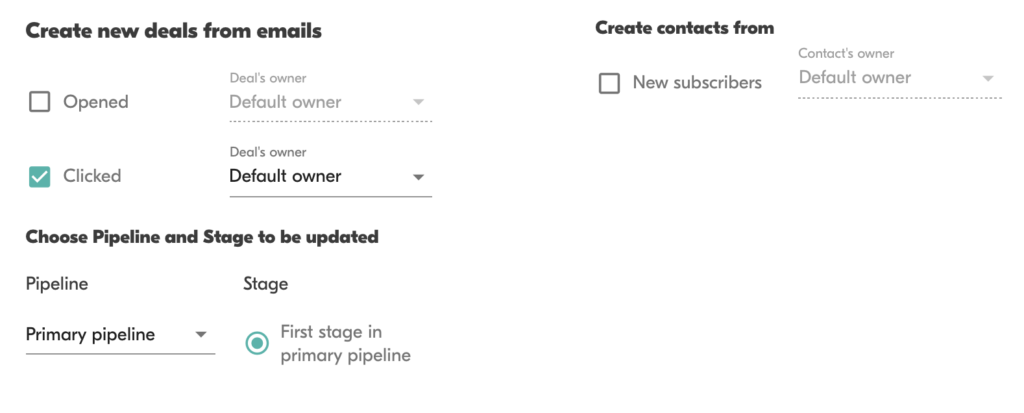 Step 4. Send email campaigns from Mailchimp the same way you've always done, and take advantage of new Deals appearing in Pipedrive.
5. Set up lead nurture emails for specific stages of your sales process
Wouldn't it be nice if an email or a series of emails went out if a Deal reached a certain stage in your pipeline? And you'd like the email drip to end once they've moved on from that stage? Automated email marketing for Pipedrive? Well, you can make this happen with Outfunnel.
Step 1. Set up a Pipedrive filter for People who you'd like to receive the campaign. For example "Deal Stage equals "Demo agreed" in the "Canada Sales" pipeline"
Step 2. Set up a new Mailchimp audience and name it something you recognize later, such as "Canada pre-demo education"
Step 3. Set up a Pipedrive to Mailchimp sync that automatically adds people you've defined in Step 1 to audience you defined in Step 2.
Step 4. Lastly, set up a Mailchimp automation campaign you'd like the relevant people to receive, where you set "people join or imported to your list" as the trigger.
6. Build call lists by filtering out people who clicked or opened a particular email, or visited your site,
Smart salespeople find ways to qualify leads even before having a conversation, and prospects clicking on marketing emails or visiting your site is a great proxy.
If you've configured Outfunnel to record email opens/ clicks or website visits as Custom activity in Pipedrive, you can later use Activity filters to build a call list. Simply navigate to the Activities tab, define the date range and choose either "Newsletter Opened", "Newsletter Clicked" or "Website visit" as the activity to be filtered.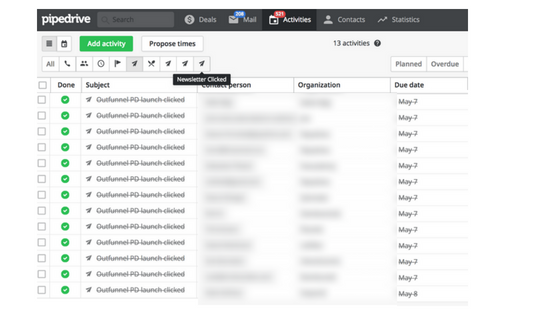 7. Automate follow-ups to "lost" deals (so they could be "won" one day)
In most sales situations you lose more deals than you win, and a "no" really means "not right now". Good salespeople have a habit of setting up a reminder for the next check-in. This may be in 6 or 12 months, however, and you may want to be somewhat visible between now and then.
The solution? Automate relationship nurturing with people who didn't say "yes" right away.
Step 1. Agree on how follow-ups are handled and recorded in Pipedrive. This may be either:
Marking a deal as "Lost" and setting a future Activity to check in
Moving a deal to a separate "Lead nurture" pipeline
Marking a deal as "Lost" and marking the need to follow up with a custom field (that can be later used with Filters and/or Contacts Timeline)
Moving a deal to a specific "Follow up later" stage in your pipeline
Step 2. However you've defined the "Lost but follow up" segment, you can then use this event as a trigger to start a lead nurturing sequence. And here I don't advocate dumping all leads into a generic newsletter list but really add value with your content.
An automated follow-up sequence can easily be set up in lots of different ways, using the same steps I've outlined above (see: Set up lead nurture for specific stages of your sales process)
8. Cut back on "spam": use Outfunnel to make sure only the right people receive your emails
Isn't it annoying when you receive an email to buy product X shortly after completing the purchase? Or when you're in the middle of a heated conversation about contract terms with a company and then receive a generic email which advises you to "book a demo" among other things? Sometimes, the best marketing is no marketing and marketing at an unwelcome time is also known by the name of "spam".
Here's what every company should do:
Step 1. Define the pipeline stages and other contextual information that suggests that someone should NOT receive your usual campaigns, newsletters or other marketing activity. For example:
Stages "Offer sent" and "Contract negotiations"
45 days after a deal has been won
Step 2. Take the five minutes it takes to make sure your Pipedrive filters that you use to define campaign lists reflect that.
Step 3. Set up a new Pipedrive to Mailchimp automation to keep your mailing list and this exclusion filter up-to-date.
All of the above automations (or "hacks" as some call them) are quick to set up and very affordable, compared to buying a monolithic large tool that does a little bit of everything.
Here's to hours saved and additional leads generated!