We had the pleasure of hosting the inaugural SaaS Growth Morning last week. The idea was to get together SaaS professionals in Tallinn (where most Outfunnel team members are based), get caffeinated, listen to a couple of pragmatic talks, and end the morning by comparing notes and networking.
What a great morning it turned out to be!
First up we had Kätlyn Nõmm from Klaus share her observations of growth operations. Klaus is a customer service quality management platform used by the likes of Soundcloud, Bolt, Epic Games, and Pipedrive. 
How Klaus accelerated revenue growth with outbound, and the three growth ops pillars behind it
Klaus has accelerated their revenue growth by focusing on outbound sales recently. Growth operations has been instrumental there. More specifically, Kätlyn stated three pillars behind their growth: processes, technology, and data. 
Regarding processes, Kätlyn has a habit of defining physical workflow maps for key lead processes. For example, what exactly should happen if a new inbound lead comes in? Do they get an email from marketing? When exactly does someone from sales get in touch?
I also liked her example of managing account renewals that had started to fall through the cracks at a time. After defining a clear workflow map, renewals are now pushed to a specific customer success pipeline 60 days ahead of the renewal date. 
Regarding technology, Kätlyn made good points about the need for a single source of truth rather than having different databases and data sets scattered across the stack. 
And I found Kätlyn's habit of doing annual reviews for the tools used a useful one. With so much change happening in technology, the toolbox we use shouldn't be static or stagnant. 
Finally, Kätlyn shared her suggestions for managing data: setting holistic lead definitions, picking the right metrics to track, automating reporting, and more.
You can see her full talk below.
I'd also suggest listening to Kätlyn speaking about growth ops on the Restart podcast (in Estonian only)
We then had Oliver Vesi, a marketing and growth consultant, talk about acquisition and share his experiences of growing Katana from 0 to series B.
How Katana drove growth by nailing capturing demand, not by creating it
Katana is a cloud manufacturing tool used by 1500+ companies around the world.
Oliver's main thesis for starting Katana's marketing programs was to focus on capturing demand rather than creating it. This way the ROI is higher and the results are quicker to come in.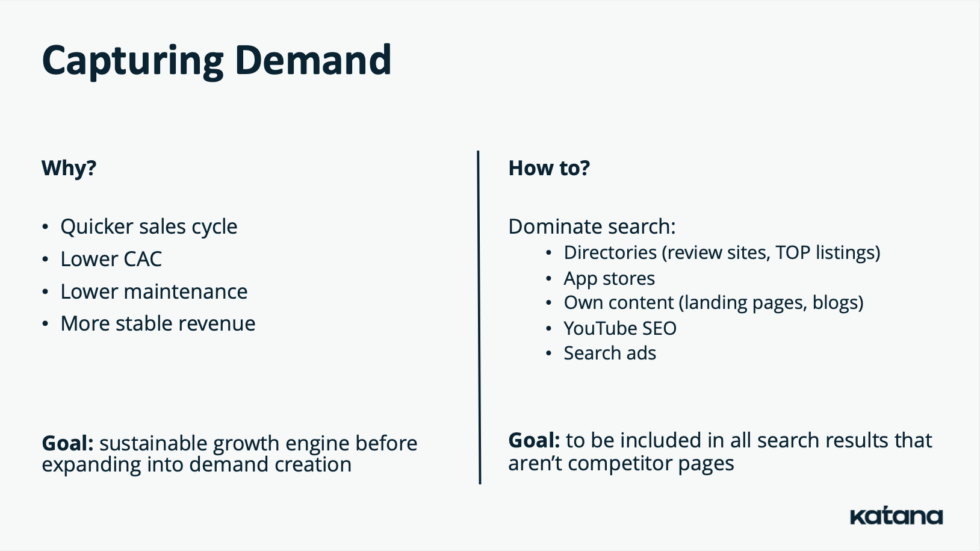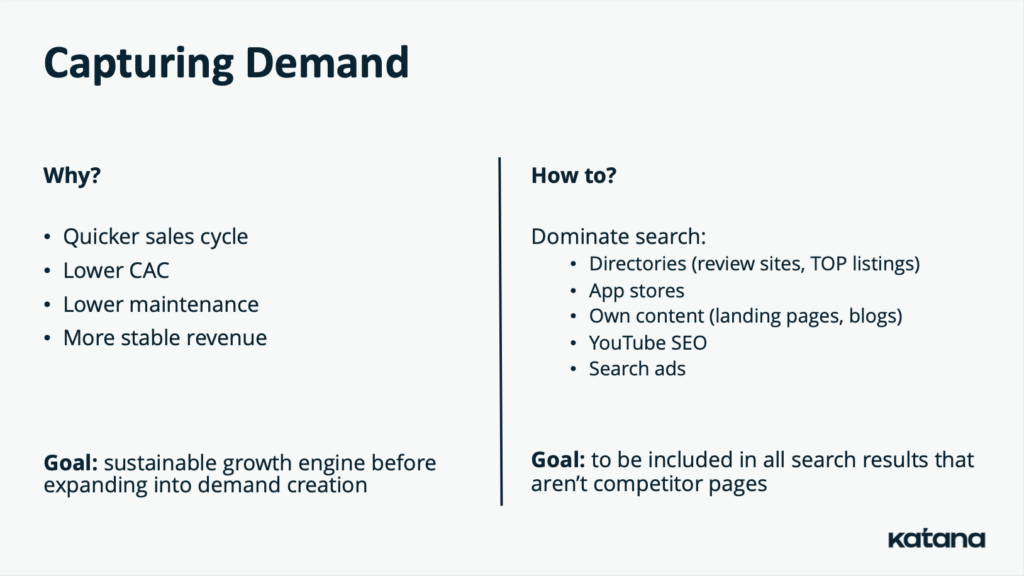 Oliver then shared his specific tips for capturing demand. 
Get on shortlists. All customers research their options online and build shortlists of tools they'll want to try out. In order to make it to the shortlists, you'd need to be present in all or most of the tool lists that appear on the first page of Google. 
In Oliver's experience, being featured in all third-party listings that appear on the first page of Google is more important than getting your own piece of content to rank for the same keyword. His reasoning was that this is due to the fact that prospective buyers use multiple sources to build their shortlist. (And I'd also assume that a list that's published on a software vendor's own site may appear less credible to some)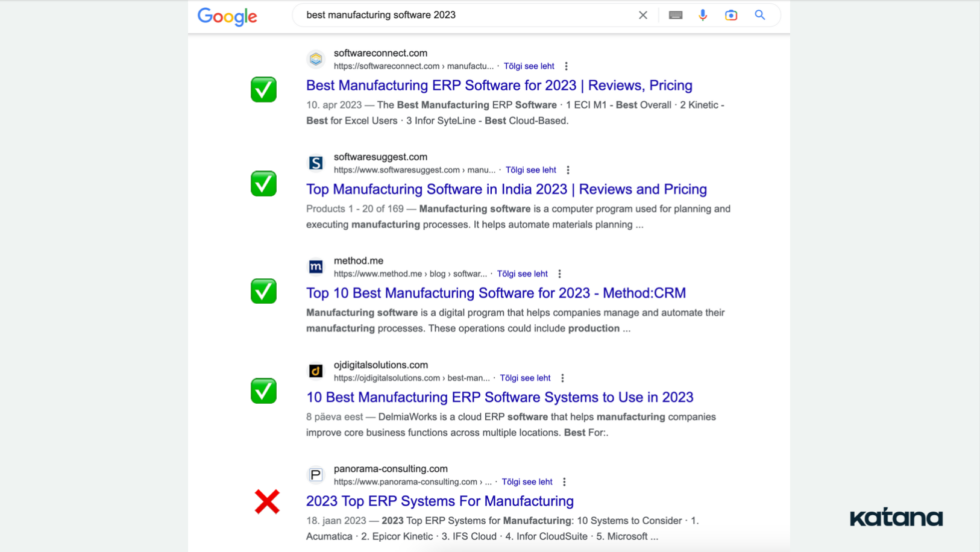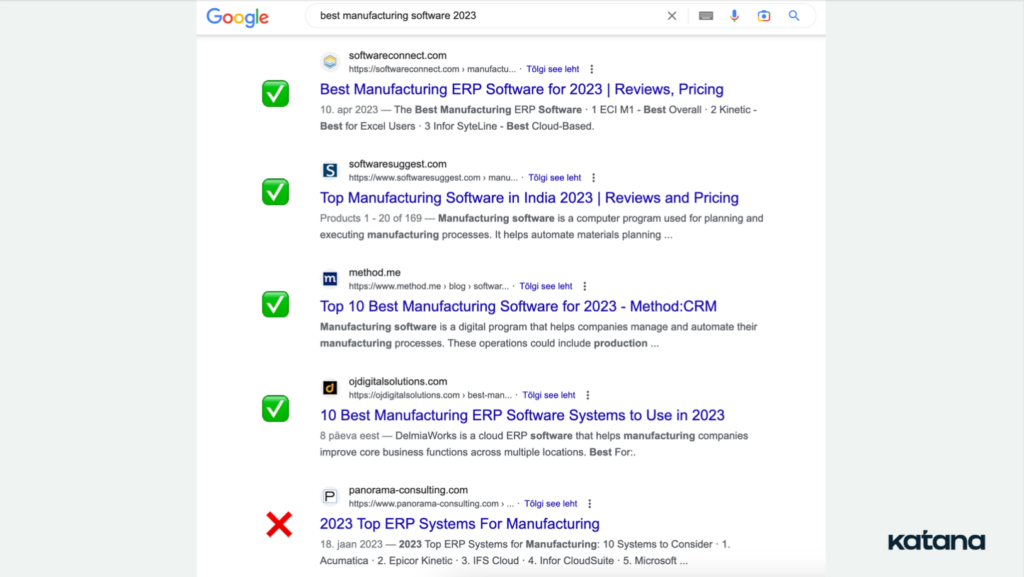 Have a strategy for driving reviews. Many sites that appear in searches like "best manufacturing software" are review sites like Capterra and G2. In order to rank there, you'll need to have a decent product and a strategy for driving positive reviews. The review sites usually strictly prohibit paying for positive reviews (for good reasons) but there are still things creative SaaS marketers can do to boost the number of reviews. 
Balance commercial content with informational content (or bottom-of-funnel content top and middle of the funnel). For example, while getting Katana's own landing page to rank #1 for "best manufacturing software" didn't make a significant impact, getting a "raw materials management" guide to rank was more impactful as it created a solid retargeting segment. 
Getting started with product-led sales: the stacks and solutions startups use
Finally, yours truly shared our observations about product-led growth stacks, and Outfunnel's own story of going from a labor-intensive manual process of onboarding new users to an automated one, saving us 80% of the time.
I hope you found these SaaS growth lessons insightful.