When it comes to analyzing marketing efforts, reviewing website traffic is an important indicator of success.
Unless you are a unicorn, you convert some 3% of web visitors into registered users. Great, right? No, not really, because 97% of the traffic you worked so hard to get is lost.
Ask yourself, what would happen to your business if you could recover lost website leads.
How web visitor tracking can grow your sales
Your sales team probably spends time building lists of potential leads. That's time spent on leads that (maybe) haven't even visited your website. It's hard to reach out to them, even harder to get them interested since they haven't thought about your before. 
People who have visited your website have at least some interest or knowledge about your business. They're already "warm". Identifying who these warm leads are early on, is the key to higher conversions. 
With website visitor tracking you can grow your sales in several ways:
Get real-time data about people who visit your website and use this info to build a list of potential leads.

Know exactly who has visited your site, which pages, how many times and when exactly. Use this data to build buyer personas.

Prioritize who to contact first based on either when they visited your website or which pages they visited. For example, people who were looking at the pricing page right after you sent out your email campaign, are most probably thinking of buying.

Segment your leads into various categories, based on what they've read on your website and nurture them with relevant content. 
With the name and the email address of the person that just visited your site but didn't convert, there's a huge advantage over other businesses. 
What's the benefit and how to implement web visitor tracking
By using web visitor tracking, there's another level of information gathered that standard web analytics just doesn't cover.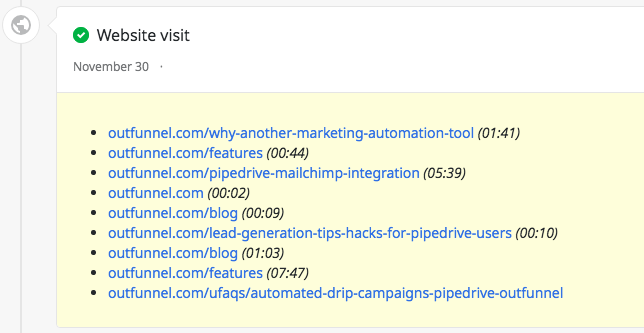 For example, when you log into Outfunnel, you can see exactly who visited your site, so their name and email address, which pages they saw, and how they found you.
The great thing is, you can sync all web visits with your sales CRM, enabling all of those people that were browsing your site to be filtered neatly into your CRM system, such as Pipedrive. 
To implement Outfunnel web tracking, you need to add Outfunnel tracking code to your website. 
What's more, it's available to all users, regardless of their feature plan.
Don't forget though – if you're based in Europe, you need to comply with GDPR laws. Ensure that all of your web visitors know exactly what data you're collecting, and why, so they can choose whether they'll continue browsing or not.
Latest posts by Andrus Purde
(see all)