If you're in sales, you know: The more you know about your prospects, the better your chances of closing a deal.
These days, there's no shortage of data available on potential customers. But just because someone visits your website doesn't mean they're ready to buy. In fact, most people aren't. They might be visiting your site to browse job openings. Or they might compare your offer to your competitor's. You don't know why they're on your site unless you're using website visitor tracking.
Sifting through all that information yourself can be time-consuming and overwhelming. And that's where a website visitor tracking tool comes in. By integrating website visitor tracking into your sales workflow, you get all the context about your lead before you reach out.
In this article, we'll show what it is and how you can use it to align your sales and marketing teams.
What is website visitor tracking?
Website visitor tracking allows you to see who's on your website and what they're doing.
It's a great tool for understanding the intent of your leads in the middle and bottom of the funnel.
But it's worth differentiating between website visitor tracking tools and web analytics tools and the different requirements for B2C and B2B companies.
Difference between website visitor tracking tools and web analytics tools
Website visitor tracking tools help you track and identify your visitors.
Web analytics tools help you track your visitors' behavior anonymously and how they interact with your website. These tools focus specifically on website traffic and usability and provide you with quantitative data, such as stats and metrics.
You can use this data to improve the user experience, boost your conversion rates, fix bugs by identifying areas where users are getting stuck, improve your website's design, functionality, etc.
Different requirements of B2B and B2C companies
As mentioned above, it's important to note that the requirements of B2B and B2C companies differ from each other.
B2C companies need holistic data for their strategies and analytics. They need website analytics for the big picture.
For example, a B2C company with over thousands of visitors per month isn't necessarily interested in knowing what each visitor is doing on the site. But they need mass data. How many people have read a particular blog article, how many new email subscribers are there, and how many of them have purchased a product or started a service?
B2B companies usually deal with a smaller volume but higher value. They not only need to collect statistics but also gather information about individual visitors, leads, and customers since this is crucial for the sales and marketing process. So, each qualified lead is handled individually.
B2B companies can use website visitor tracking tools to identify the companies that visit their website. This helps them understand which prospects to focus on and target sales and marketing efforts towards companies that are interested in the product or service.
Sales teams know which prospect to contact first and capture them when they're warm. Marketing teams can send out better campaigns and content that's tailored to the specific needs of the prospect.
What can be tracked by website visitor tracking?
Activities
With website visitor tracking, you can track the activities of your visitors while they're on your website. You understand how they interact with your site, what pages they visit, how long they stay on each page, what links they click, and what actions they take.
Knowing that helps your marketing team qualify leads and nurture them with targeted and personalized content, and your sales team better understand the motivation of leads.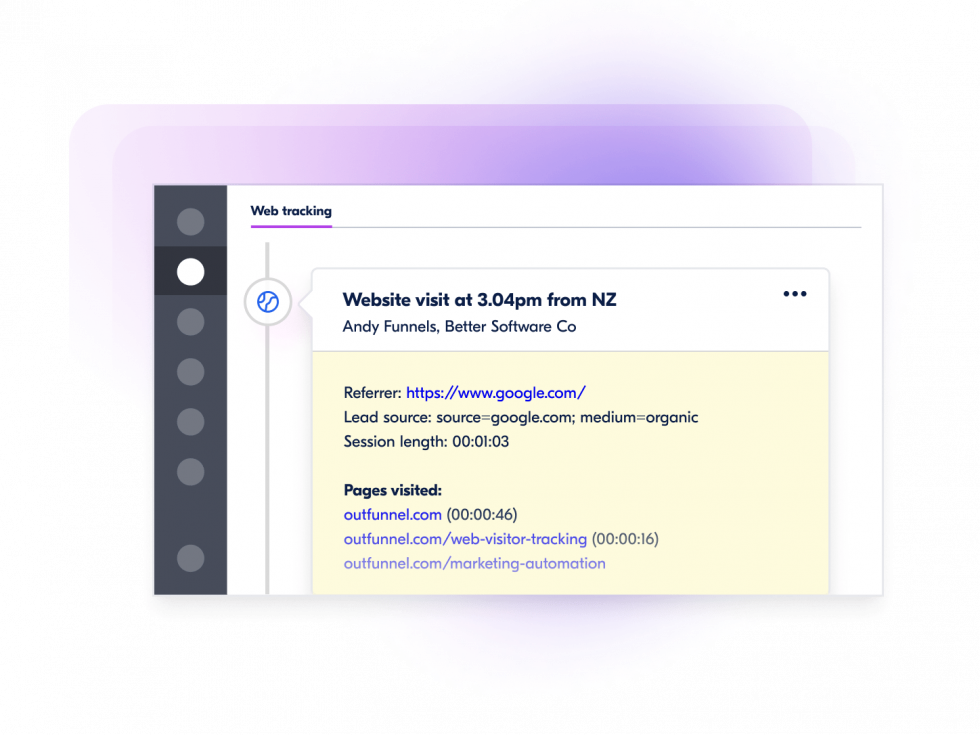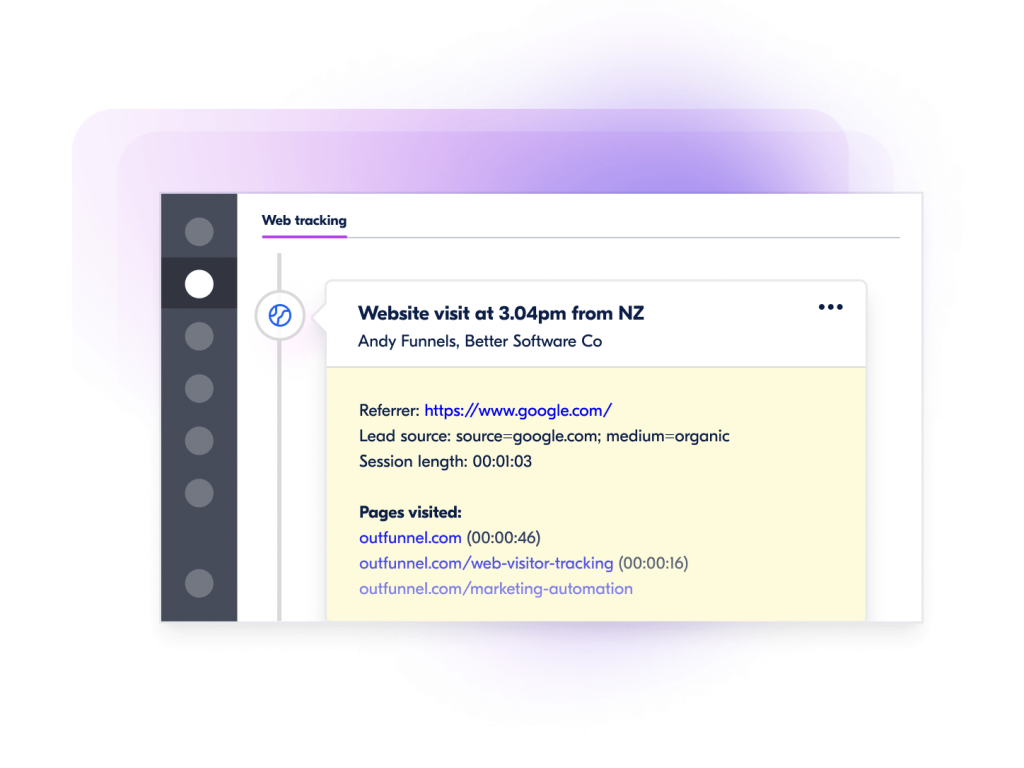 If a user of your product X is looking at the product page of your product Y, then that's a clear opportunity to upsell.
If a user is browsing your support site, it might be a good time to reach out and offer support.
Or, if an old lead is reactivated and visits your pricing or product pages after being silent for months, you can reach out to them again.
Campaigns
Website visitor tracking helps you connect your visitors to respective marketing campaigns.
By looking at the number of visitors who come to your site before and after a campaign, you can gauge its effectiveness. You can track which channels lead them to your site and which channels convert best.
Do they land on your site from an ad campaign, Google Search, or else? Knowing that is crucial to understand their interest. If they land on your site by searching for a particular keyword, you can personalize your approach based on that keyword or feature.
You can also look at other metrics, such as conversion rate and time spent on site, to get an idea of how well your campaign performed.
Lead Acquisition
Tracking your website visitors should capture leads from a variety of acquisition channels. Whenever a visitor fills out a form, your tracking tool should capture this information because this is where the sales process begins.
What are the benefits of a website visitor tracking tool?
Tracking activities, campaigns, and lead acquisition to better understand your visitors and leads brings some core benefits.
Understand who is visiting your website
The first step to any successful sale is understanding what your potential customer is looking for. Are they just doing research? Or are they ready to buy?
By tracking their web activity, you get a good idea of where they are in the buyer's journey and adjust your sales pitch accordingly.
With Outfunnel, all the website visits and contact source information will be synced to your CRM. This allows you to see what your lead might be interested in and makes it easier to analyze sales and marketing activity holistically.
Based on this information, you can segment your visitors and create targeted sales campaigns.
Learn more about how to use Outfunnel's website visitor tracking feature.
Get deeper insights
Once you know who is visiting your website, you can identify which leads are worth your time and target them with tailored sales messages.
As mentioned, website visitor tracking tells you which pages a lead has visited, how long they spent on each page, and where they came from. This information is extremely valuable when trying to understand your lead's needs and pain points.
Additionally, website visitor tracking can help you identify trends and patterns among your leads, which can be valuable when making decisions about your product development and marketing strategy.
With Outfunnel, you can turn anonymous visitors into identified leads. By connecting anonymous web visitors to real leads based on form fills and email clicks, you are able to deanonymize users and enrich their CRM data with behavioral history later.

Using Outfunnel, you can also make use of our lead scoring feature. This takes web visits and marketing engagements into account to calculate lead scores so that your sales team can focus on tailoring the perfect message to send to the highest-scoring leads and don't waste time on leads that aren't ready to buy.
Create better content and send personalized lead nurture emails
Once you've identified a lead, it's time to start nurturing them with relevant content down the funnel.
With Outfunnel's website visitor tracking, you can segment your leads into different groups based on the pages they've visited.
Segmentation and lead scores combined can trigger workflow and marketing automation to send personalized lead nurturing campaigns. And these workflows can be cross-platform.


For example:
If the status of a contact changes from "lead" to "customer" in your CRM, it can trigger a workflow that removes them from the leads newsletter list in your email marketing tool and starts an email sequence designed for customers.
Or, if a customer clicks on a link in a newsletter that is sent from a marketing automation and visits your website can change the lead score to be more than X, and this can trigger a workflow in your CRM that adds a "follow-up" activity in your CRM for the right salesperson.
See the whole context with Outfunnel's website visitor tracking
Our vision at Outfunnel is to bring sales and marketing closer together and align the workflows. We build context about each lead, and help you plan the best next action.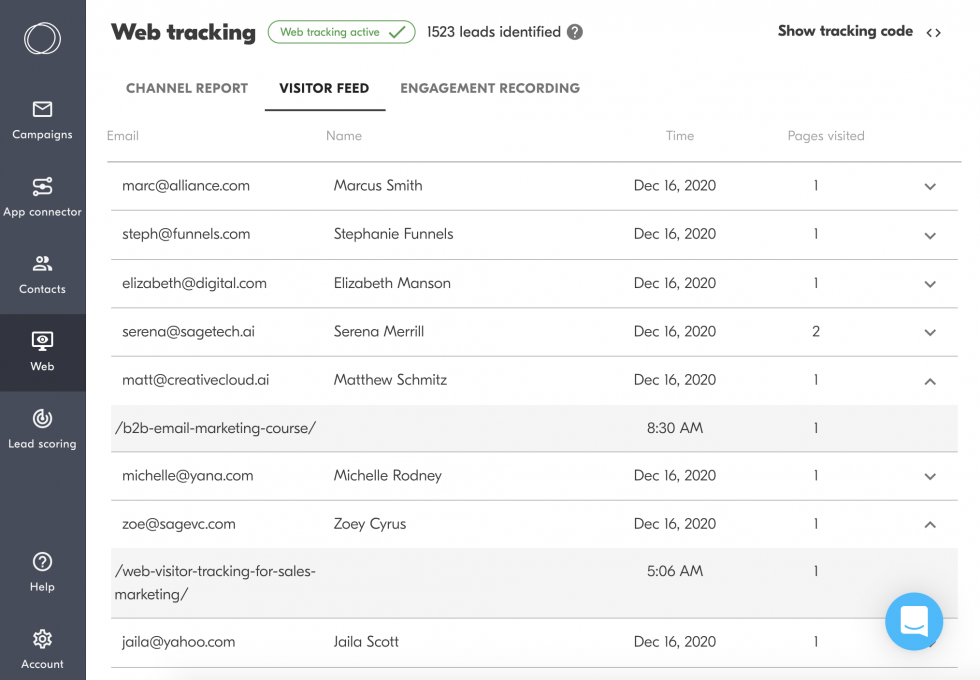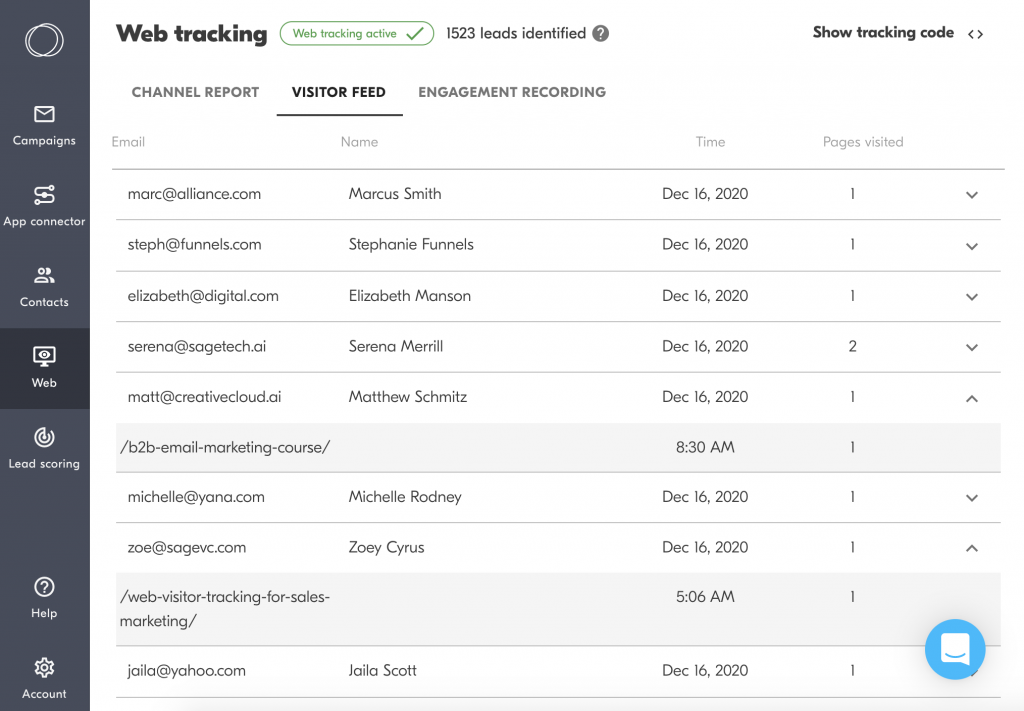 You can gather specific insights into what your leads are interested in and sync all of this data to your CRM, where it can be accessed by your sales and marketing teams to use these as actionable indicators in their workflows.
The better you understand your leads, the better equipped your sales and marketing teams will be to meet their needs and solve their pain points.
See how Outfunnel helped other companies scale their sales strategy.
Stop selling blind. Outfunnel integrates with Pipedrive, Copper, HubSpot, and Salesforce. Try Outfunnel free for 14 days!
Latest posts by Andrus Purde
(see all)