Last updated: May 4th, 2023
ActiveCampaign is a beast.
On top of being a highly-rated customer experience automation platform, it's also known for its powerful integrations and apps ecosystem.
But with 850+ apps, it can be difficult to find the ActiveCampaign integrations that best work for your business. Where does one even begin?
Fortunately, that's what you'll learn today. This post will introduce you to six popular ActiveCampaign integrations that will improve your workflow and automate your marketing and sales.
Need to segment and nurture subscribers after downloading a lead magnet?
Want to write a sales follow-up email based on your lead's web engagement?
Wondering how to identify your highest converting channel so you can allocate the appropriate marketing budget?
These seven ActiveCampaign integrations will show you how to "power up" your set-up.
Best ActiveCampaign Integrations For B2B SMBs (Ft. Use Cases)
1. Outfunnel (yup, that's us!): connect ActiveCampaign with your CRM
Pricing: Plans start at $59/month.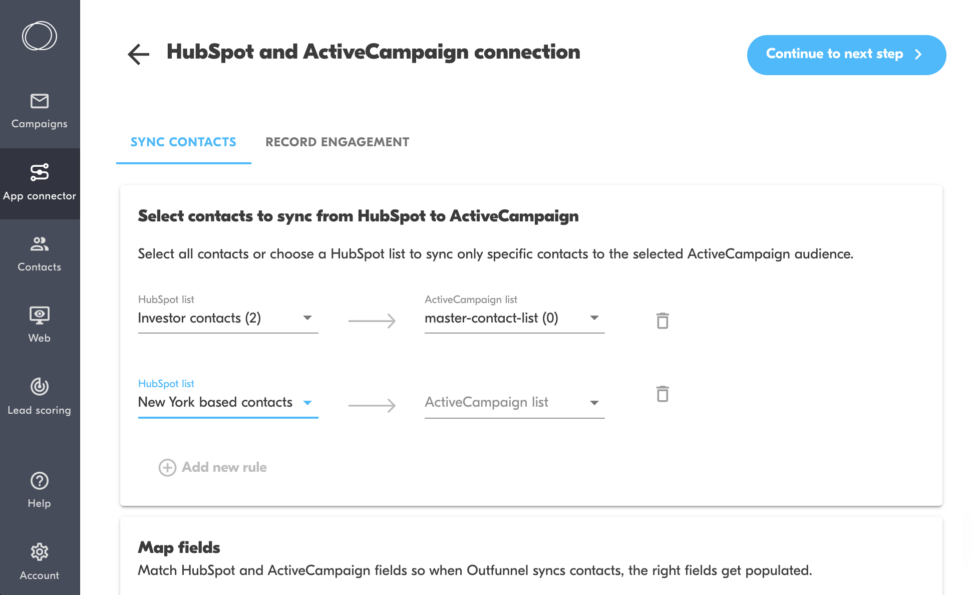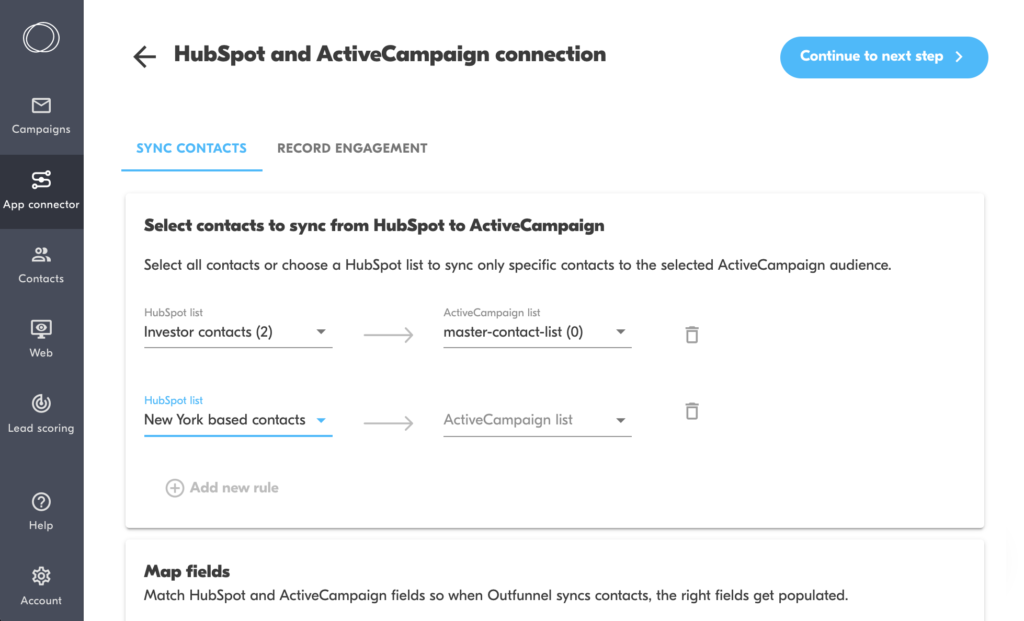 Outfunnel connects your sales and marketing tools, deeply and easily.
You can use it to connect ActiveCampaign with your CRM – works with Pipedrive, Copper, Airtable and HubSpot CRM. Salesforce support coming soon.
Outfunnel syncs your sales CRM and ActiveCampaign contact lists 24/7 to save you time—set up your campaigns once and they will run automatically based on data changes in the CRM.
Further, all marketing engagement data (opens, clicks, unsubscribes, etc.) gets recorded in your CRM, so sales have full context and can sell smarter.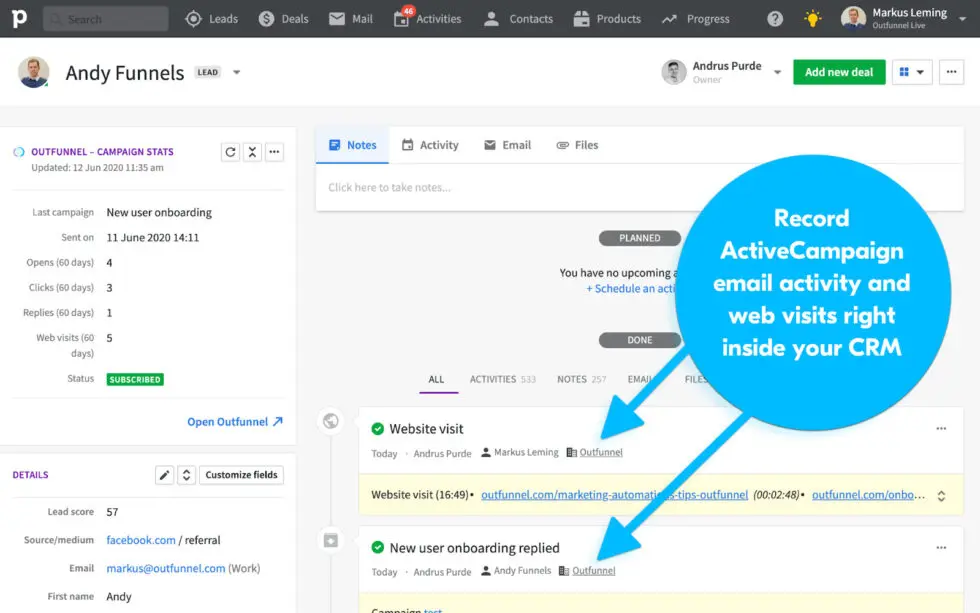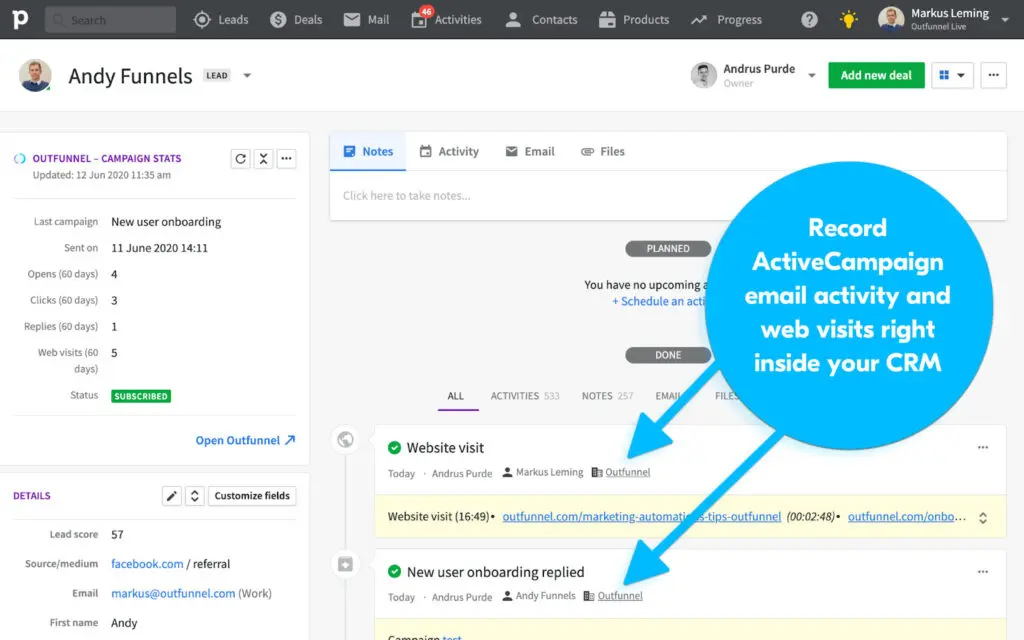 Read more about the tool-specific use cases:
How B2B SMBs Use ActiveCampaign With Outfunnel: Connect Sales and Marketing Data
Keeping sales and marketing data in sync can be a real pain for SMBs. The "all-in-one" suites are prohibitively expensive, while native integrations and zip-zapping with digital duct tape offer superficial connections that make it impossible to utilize the full capabilities of both tools.
That's where Outfunnel comes in. Offering deep, but easy to set up, integrations between sales and marketing tools is our bread and butter.
Typically, Outfunnel's users connect tools like ActiveCampaign with their CRM for two main use cases.
First is the contact sync: sales and marketing teams define their target segments in their CRM using lists or filters and set up a connection with ActiveCampaign so that they can easily send automated marketing campaigns to the segments defined in the CRM. No more exporting-importing lists between tools.
The second key use case is making marketing engagement visible in the CRM: with Outfunnel you can automatically record marketing engagement data (email opens, clicks, website visits, etc) in the CRM, so sales have full overview of what leads are interested in and can sell smarter.
So, by integrating your CRM and ActiveCampaign via Outfunnel, you can ensure two things: segments of leads will receive timely and relevant marketing campaigns and the sales team can strike effectively when the leads are warm.
2. Zapier: automate and streamline repetitive tasks
Pricing: Starts free. Paid plans begin at $24.99/month.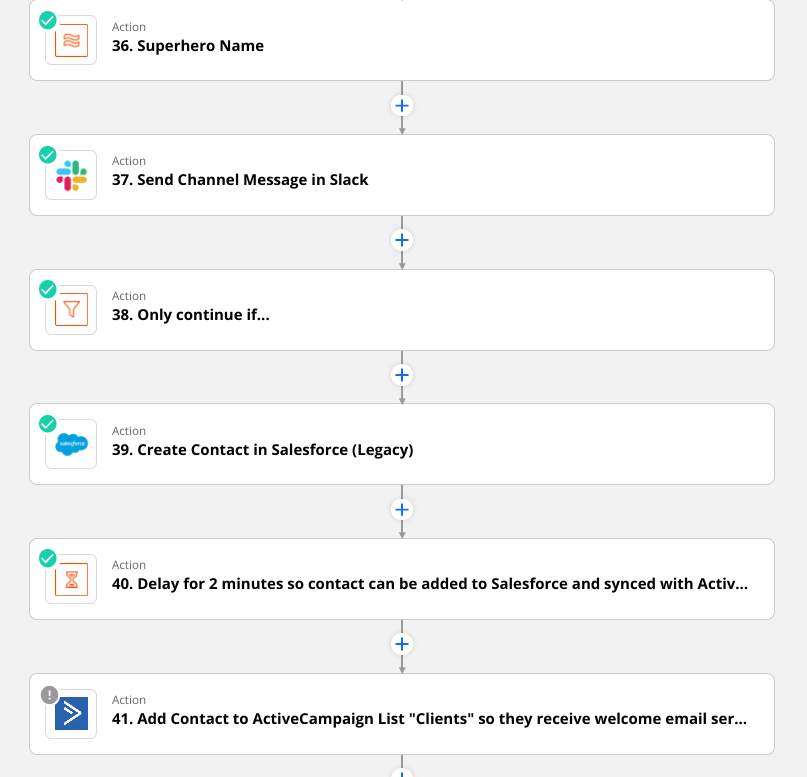 Zapier connects your favorite apps to automate and streamline repetitive tasks.
This online automation tool offers over 3,000 integrations. Watch out for the hefty price tag, as Zapier charges by task steps. Several users also report it can be unreliable and complex to set up.
If you're using Zapier to support critical processes (e.g., a message from a high-quality lead fails to send through to your CRM), this "breakage" can cause serious damage to your pipeline and business.
How a B2B SMB Uses ActiveCampaign With Zapier: Collect Audience Data
Ajay Pondicherry, co-founder of Block Party, uses ActiveCampaign with Zapier to pull in detailed information about his leads' online behavior.
Consisting of a whopping 41 steps, Ajay and his team sort their leads in specific lists based on lead type. He says, "This 41-step Zap is powerful for creating complex email campaigns with precise rules as they're based on a variety of dynamic factors."
By integrating a myriad tools (e.g., Slack, Salesforce, Full Contact Intercom) via Zapier and ActiveCampaign, Ajay can ensure two things: Leads will receive emails at the right time and the sales team can act on incoming lead data.
Zapier is a great generic connector, but there are other similar tools that may serve your use case even better. Read more about Zapier alternatives.
3. ClickFunnels – send contacts from ClickFunnels to ActiveCampaign
Pricing: From $97/month.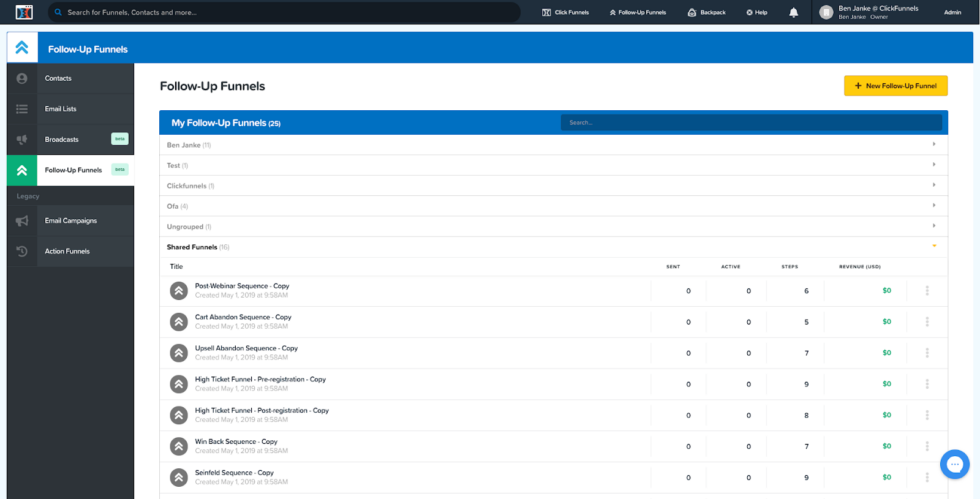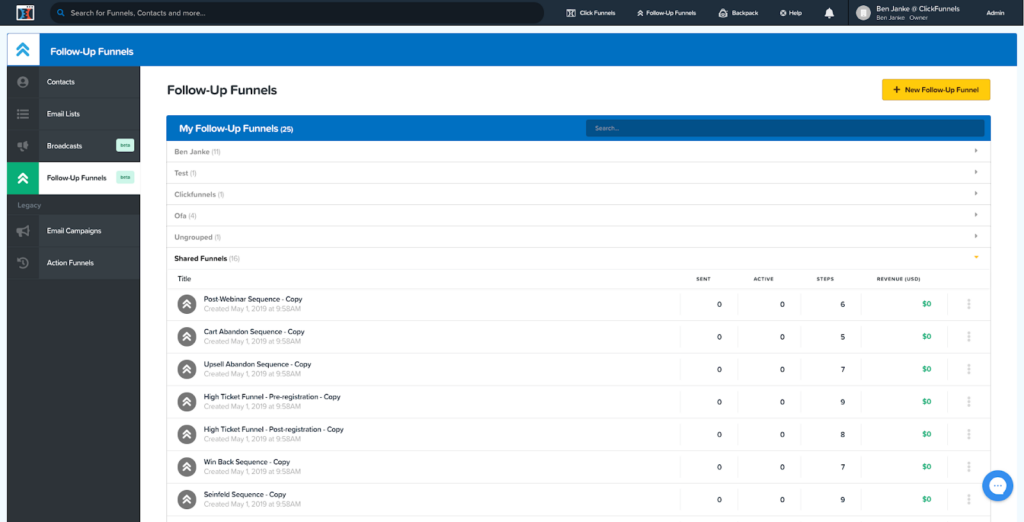 ClickFunnels is a website and sales funnel platform. Entrepreneurs and SMBs often use it to automate their marketing and sales processes (e.g., plug new leads into deal pipelines, send logic-based emails for nurturing).
Many users like how easy and seamless it is to integrate with ActiveCampaign.
How a B2B SMB Uses ActiveCampaign With ClickFunnels: Tailor Sales Follow-Up Emails
Zachary Hanby, the communications and marketing manager at Fisher Stone, P.C., uses ClickFunnels with ActiveCampaign and WordPress to track retainers and keep the business at the top of mind with potential clients.
"Our law firm focuses on business formation and residential real estate, which are two highly competitive fields in New York," says Zachary.
"By integrating ClickFunnels with WordPress and ActiveCampaign, we can track where a client paused or stopped in the customer journey and tailor our follow-up emails."

Zachary Hanby on the ClickFunnels-ActiveCampaign integration
4. Pipedrive: manage leads and create deals in Pipedrive
Pricing: Begins at $12.50/user per month when billed annually.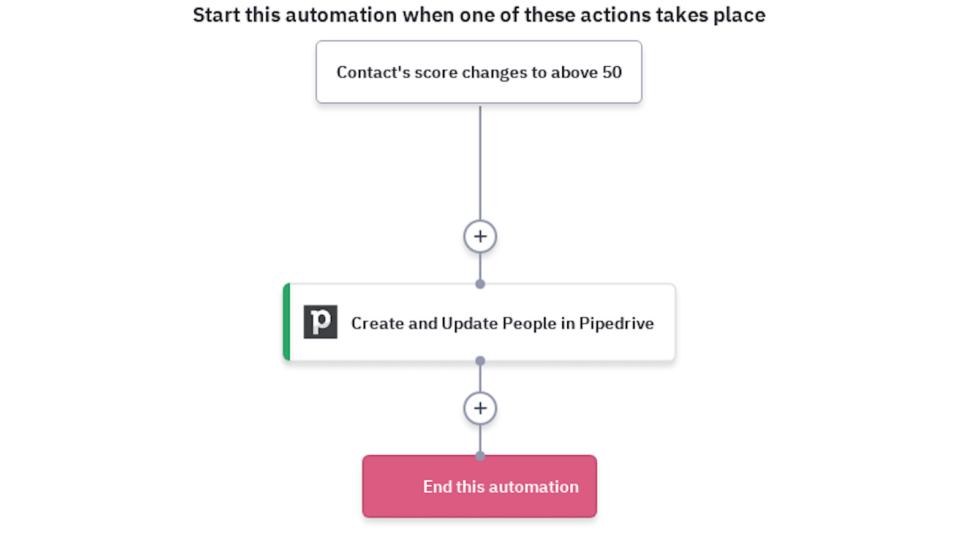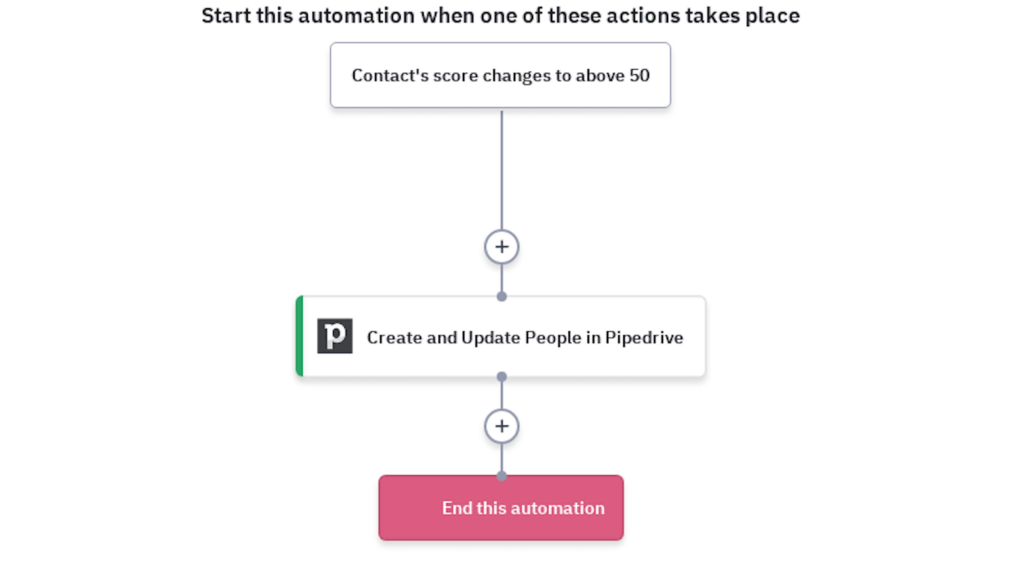 Pipedrive is a sales CRM and sales pipeline management tool.
Its integration with ActiveCampaign works great for managing leads and creating sales deals. Whether you want to track a lead visiting a pricing page or take action on a highly engaged lead, this ActiveCampaign and Pipedrive integration can help you accomplish them all.
How a B2B SMB Might Use ActiveCampaign With Pipedrive: Update Record For Sales-Ready Leads
Picture it: You're a sales rep at an accountancy firm. You're looking through a contact's profile and wondering, is this lead ready for sales?
Using the ActiveCampaign integration with Pipedrive, you create an automation: Whenever a contact reaches a lead score threshold, its record gets updated on Pipedrive.
For every action a contact takes, they earn points. Opening a marketing email? That's five points. Clicking a link inside said email? That's another ten points. Once they reach a lead score of above 50, Pipedrive will prompt you to take action.
5. Unbounce: pull contacts from landing pages into ActiveCampaign
Pricing: From $72/month when billed annually.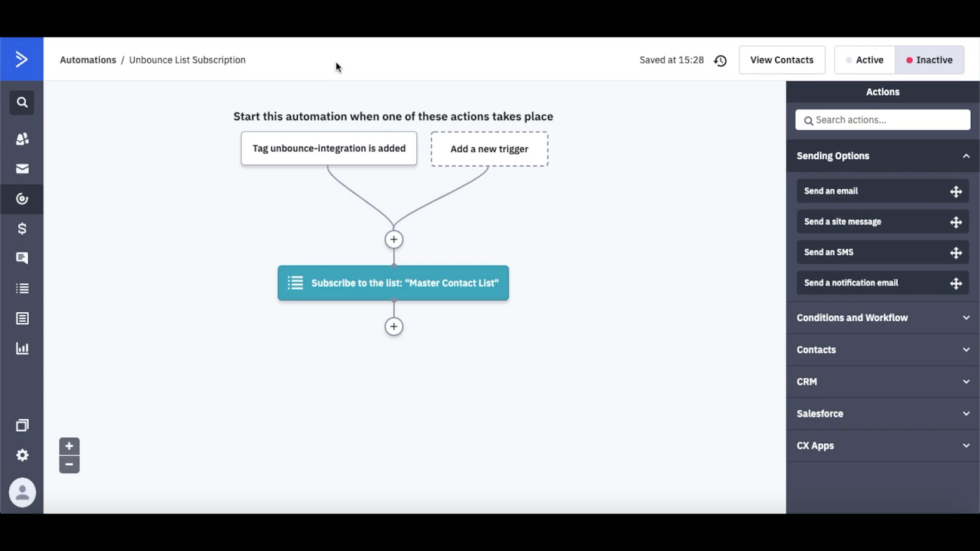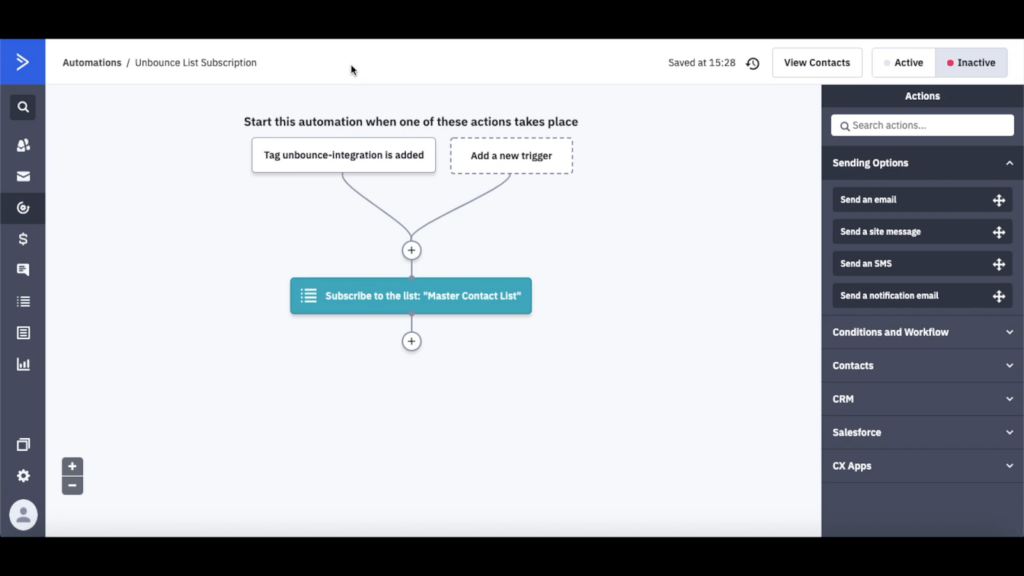 Unbounce is a popular landing page builder and platform with over 15,000 users. It integrates with ActiveCampaign seamlessly.
One small limitation? You can't integrate ActiveCampaign with Unbounce's pop-ups and sticky bars. Currently, the integration only supports Unbounce's landing page.
How a B2B SMB Might Use ActiveCampaign With Unbounce: Identify Most Successful Marketing Channels
Now imagine you're a marketer who works at an accountancy firm. To promote your latest bookkeeping solutions, you create a landing page on Unbounce. You begin guest blogging, emailing newsletters, and running PPC ads to drive targeted traffic.
After several weeks, you decide to allocate your marketing budget to the highest converting channels.
Using ActiveCampaign's attribution feature, you start exploring the touchpoints that attracted the biggest sales. Here's what you learned: Your PPC ads drove almost zero conversions, while your guest posts attracted tons of new customers.
With this new insight from ActiveCampaign's integration, you prioritize guest blogging, no longer wondering if you've made the wrong decision.
6. Google Analytics: track campaign and goal conversions
Pricing: Free!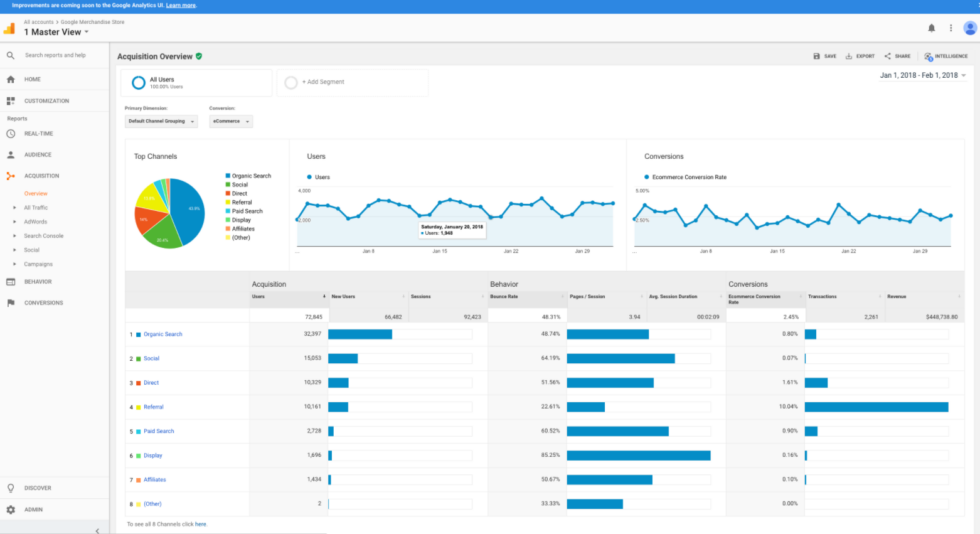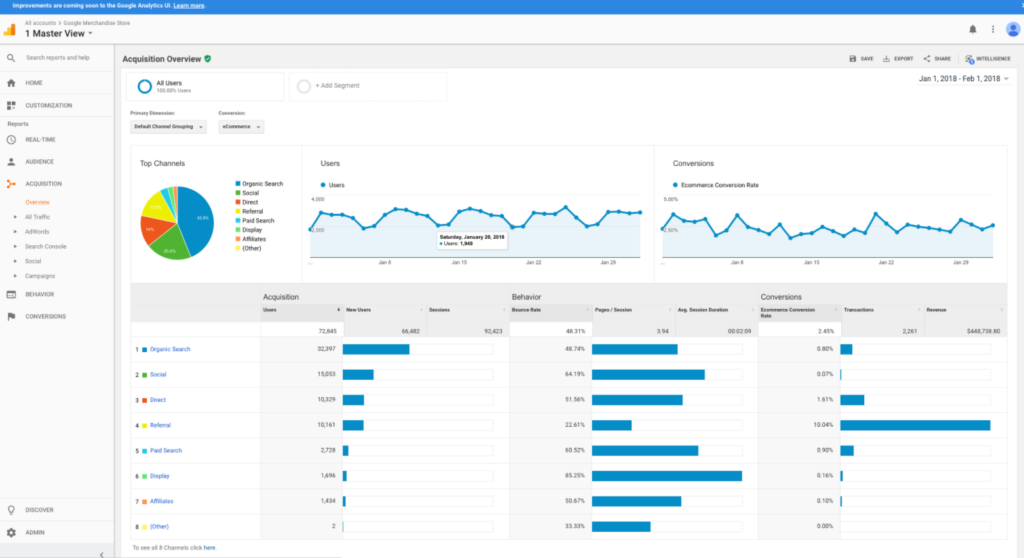 Google Analytics (GA) is a tool that tracks website activity, including traffic source, pages per session, and bounce rate.
It's a must-have for marketers who want to make better strategic decisions and have a clearer picture of the customer's journey. With GA, you can easily track user's online behavior and follow up accordingly.
Best of all, it's free.
Watch out for the initial set-up, as it can get complicated. You might need to make some tweaks on GA (e.g., add tracking ID to page settings will require some coding knowledge) to properly track your campaigns and click-through rate.
How a B2B SMB Uses ActiveCampaign With Google Analytics: Track Campaigns And Conversions
At Procure Analytics, Heather Cooprider integrates ActiveCampaign with Google Analytics to track her campaigns and goal conversions.
On the ActiveCampaign front, Heather uses it to set up landing pages and lead capture forms for the PPC campaigns.
The marketing manager is a fan of GA's tracking as it helps her easily track conversions from paid campaigns and identify the specific links and email campaigns that attract the most number of web visitors.
7. WordPress: easily add ActiveCampaign features to your WordPress site
Pricing: Starts free. Plans for small businesses cost $25/month when billed annually.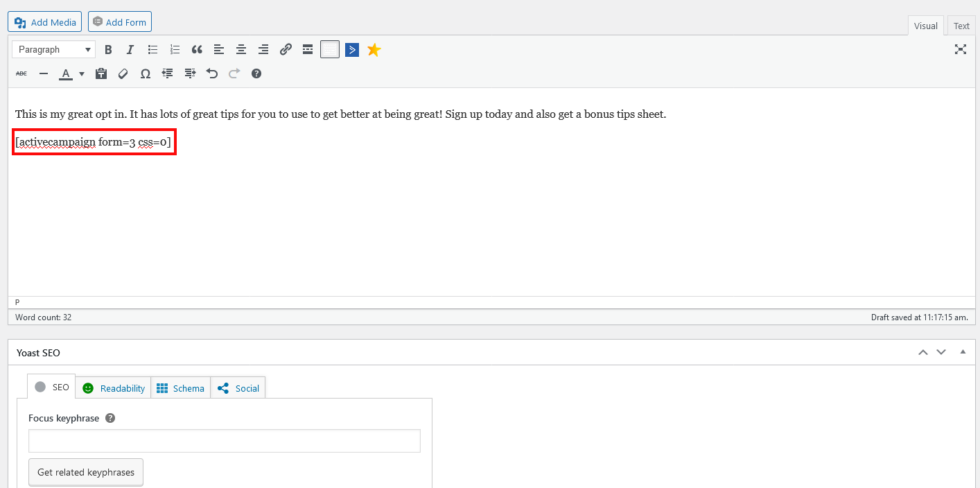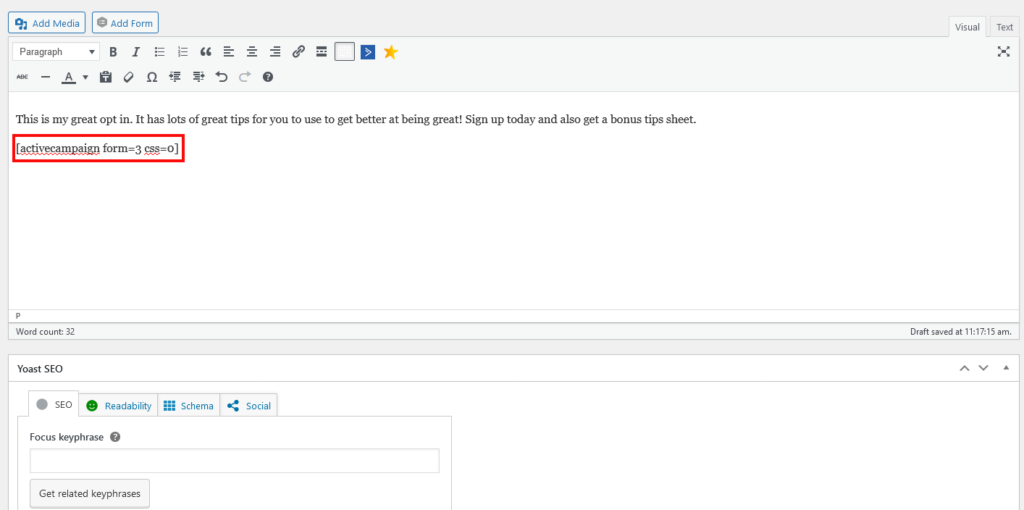 WordPress is a top-rated website builder and content management system (CMS). B2B SMBs that integrate ActiveCampaign with WordPress often use it for advanced email segmentation.
Many users love the marketing automation plugin. Embed ActiveCampaign forms directly on a WordPress site; and WordPress will automatically update any changes you make (e.g., form design, tags).
Better yet, if you're using a web builder like Elementor, you can easily reuse the same landing page for different lead magnets with a few quick changes. Simply swap the ActiveCampaign form ID number, and you're ready to go live!
A word of caution: This integration can get laggy when adding new forms. It's also tricky to target the CSS formatting code of ActiveCampaign.
How a B2B SMB Uses ActiveCampaign With WordPress: Segment And Nurture Email Subscribers
Alison Knott uses ActiveCampaign with WordPress to segment and nurture her email subscribers.
The rebrand and web consultant at Alison K Consulting sees this integration critical in B2B lead generation.
"A seamless download experience means leads can dive into your content instantly, while ActiveCampaign's powerful automation and segmentation help you qualify leads more effectively."

– Alison K Consulting
(Tip: If you're looking for tips on closing sales-ready leads, check out our lead scoring guide.)
To identify your "money-making" pages to inform your marketing strategy, consider this excellent tip from Alison:
Direct prospects to a thank you page (note: you can easily create this on your WordPress site) whenever they submit a form.
"Use the thank you page URL to set up a destination goal in Google Analytics," instructs Alison.
"This will allow you to capture value intel such as which pages drive the most signups, and which channel (e.g., types of traffic) prospects come from."
Connect your sales and marketing data today
These ActiveCampaign integrations give you many options to start streamlining your workflows.
But if you're looking to deeply integrate your marketing and sales data, be sure to look at Outfunnel's App connector and connect ActiveCampaign with your CRM—it just takes a few minutes to set it up.
Ready to tear down sales-marketing silos once and for all? Sign up for a 14-day free trial of Outfunnel today.