Last updated: March 21, 2022
Marketing automation is key to really scaling your small business.
Not only do certain automation tools and strategies allow you to take a step back and get a bird's eye view of your campaigns, but they can also free up valuable time, allowing you to work on more important aspects of your business.
In this piece, we'll compare some of the more well-known marketing automation tools with others that you might not have heard of, and suggest things that you should consider when looking into marketing automation.
What is marketing automation software?
Marketing automation software refers to a technology-driven solution designed to streamline and automate repetitive tasks involved in marketing activities. It allows businesses to optimize their marketing efforts by enhancing efficiency, increasing conversion rates, and achieving better results. 
One of the key benefits of marketing automation is audience segmentation, enabling companies to target specific customer groups with personalized content and tailored messaging. By eliminating manual and time-consuming daily tasks, such as email campaigns, social media posting, lead generation, and lead nurturing, marketing automation empowers marketers to focus on strategic initiatives and creative endeavors. Additionally, these powerful tools minimize the risk of human error, ensuring consistent and accurate execution of marketing campaigns, ultimately leading to improved productivity and overall success.
What should you look for when selecting marketing automation software for your small business?
You will never have all of the information you need in order to make a perfect decision for your business. What should you be looking out for, so that you can make good decisions?
Know your requirements: With all the choices out there, it can be overwhelming trying to pick the right tool. With all the different features, it's easy to get confused about which tool does what you need. You may even end up with feature fatigue. To avoid this, be crystal clear about what features you need to fulfil your marketing strategy before you start your search. That way you can avoid being distracted by solutions with fancy-sounding but unnecessary features.
Look for the right product DNA: Lots of different tools have very similar powerful features listed on their respective feature pages. To tell them apart, you want to get a sense of the priorities of the company. Spend some time on their site, read their blog, and find out what makes them different at their core. That way you can have more confidence they'll continue to be a good fit for your business.
Be mindful of time and ROI: Cheaper is generally better, but not always. You want to be clear about how much time you're spending on your marketing tasks, and how much time you will save automating them. A slightly more expensive tool that saves you time is a good deal, as it will increase your marketing efficiency.
Look for a solution that's easy to use: It doesn't matter how powerful a tool is; if it's too complicated, it won't get used. If there's a steep learning curve and your team has to go through months of training to do the simplest task, people will go back to how they did things before.
Pay attention to customer service: You might be a technical-minded customer who doesn't personally need a lot of support, but the quality of service is still a reliable indicator of good culture. You want to know that your service provider will be reliable and put your needs first. It's worth sending over some questions just to see what the response is like.
Confirm how it'll fit in with your existing stack: We all rely on multiple tools in our daily lives, and the best results occur when they all play nicely together. Unless you want to spend half your day copy-pasting data from one app to another, you'll want a solution that integrates with the other tools you use. For example, if you run an eCommerce business on Shopify, be sure to use Shopify apps, as they're already well integrated with the core platform of your business. If you run a B2B business, make sure your marketing automation system plays well with your CRM (Customer Relationship Management tool).
Comparing marketing automation tools for SMBs
1. HubSpot is a market leader with an 'all-in-one' solution, starting with a free tier all the way up to $5,880/month for enterprise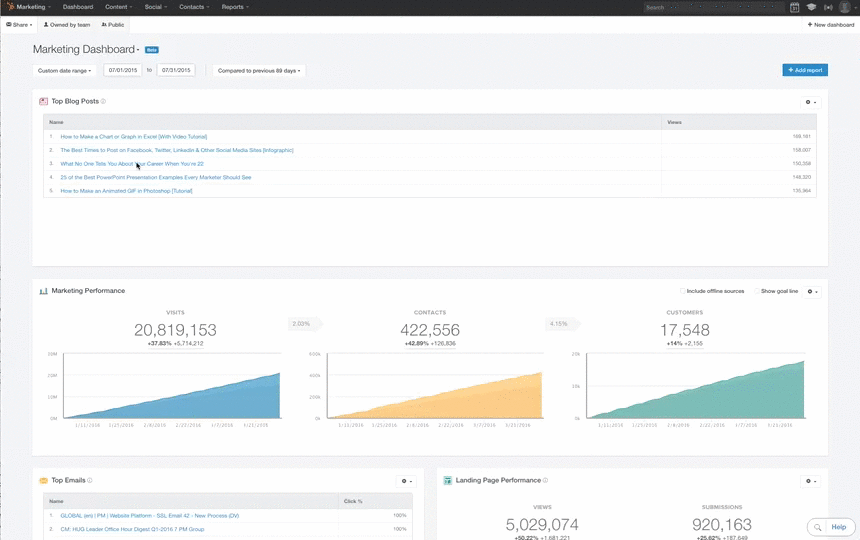 If you Google "marketing automation" and scroll past the ads, the top result is a Hubspot page, "What is marketing automation" – which, if nothing else, is an indicator of how effective HubSpot's own marketing team is.
With over 56,000 regular customers, their inbound marketing, sales and service software is one of the most well known. And, significantly, it's also generally regarded as one of the most expensive.
What's on offer?
HubSpot says that they offer an 'all in one marketing automation tool', which on further investigation is divided neatly into 'hubs' — a Marketing Hub, a Sales Hub, and a Service Hub.
What they can offer is indeed incredible—email templates, landing pages, integration with Gmail, YouTube, a list of your customer activity, meeting booking bots… the list is endless!
What's the cost?
"We had a call with one of their Account Managers some time ago – they wanted to convince us to start using HubSpot – gave us lots of recommendations, Honestly, most of the things we were already using and have other service providers, who are way cheaper. They are great in terms of content — I like reading them, but I'm not ready to pay for their services."
– /u/Kate_SW [source]
HubSpot says that you can get an all-in-one solution for free. However, this is more of a starter pack to get all of your leads into a pipeline and to start tracking your customer data. You won't get most of the cool features on offer in the Marketing Hub, and you won't be able to remove the HubSpot branding from your communications.
They divide the HubSpot Marketing Hub levels of features into Starter, which is $42 a month, right up to Enterprise, which is $2,624 a month.
The growth suite allows you to have the entire HubSpot experience; however, it's only for those who can afford it.
Alternatively, you can set up your sales pipeline in HubSpot CRM for free and pick-and-mix HubSpot CRM integrations to build your own tech stack, instead of opting for the whole HubSpot Marketing package.
2. ActiveCampaign has noteworthy onboarding, good tracking features and users seem to love the CRM – though some find it has a steep learning curve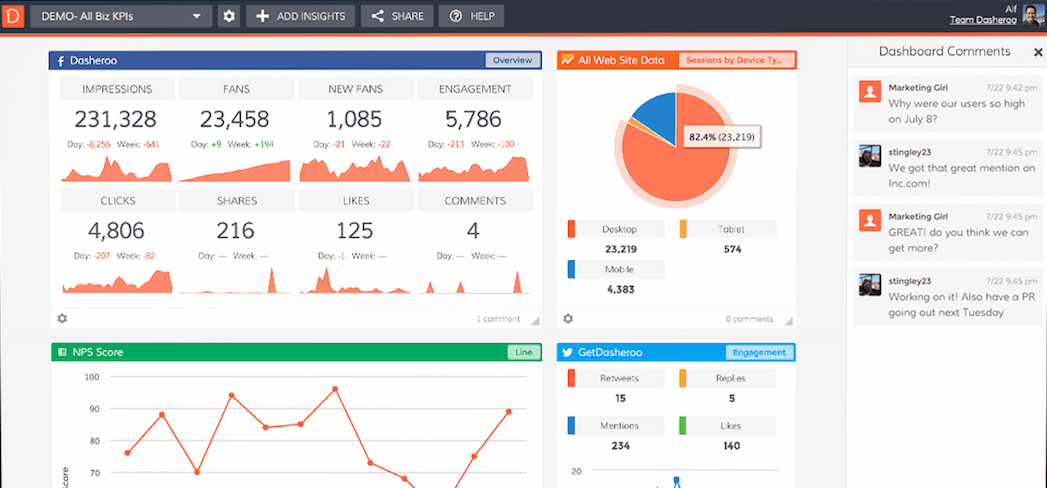 "I just put together a budget option for one of my freelance clients and it consists of Active Campaign integrated with Thrive Themes. It does most things that HubSpot does at a fraction of the cost.
– /u/PreSuccessful [source]
What's on offer?
ActiveCampaign offers an impressive array of email marketing, marketing automation, sales and CRM, and messaging. In fact, these days, ActiveCampaign calls itself a Customer Experience Automation (CXA) platform, putting focus not just on sales and marketing efforts but the entire customer journey, from lead generation to customer engagement.
They say that their marketing automation 'gives you back your time', and each of the four sections on offer includes dynamic features such as email segmentation, split testing, event tracking, attribution, Gmail extension, machine learning, SMS and more.
VentureHarbour has a very comprehensive review that really digs into the specifics of what you can do with ActiveCampaign.
What's the cost?
Pricing is tiered, ranging from a 'Lite' $9 a month version to a $229 a month Enterprise package. They offer FREE migration, transferring you from any other platform onto theirs. Similarly to HubSpot, ActiveCampaign offers a ton of app integrations through their app marketplace, ranging from simple connections to deep integrations for elaborate workflows.
The cool thing is that they offer a 20% discount for nonprofits, which may swing you if you're in the charity sector.
3. Constant Contact has been focused on email marketing automation since 1996 – it's known to be very easy to use, but the trade-off is that it's not super customizable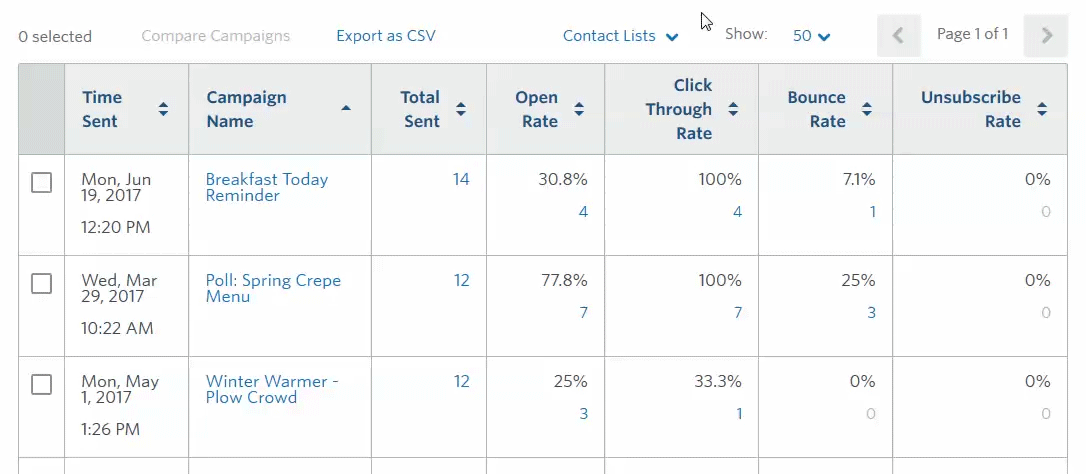 Constant Contact is more email focused, and is one of the grandfathers of marketing automation software, having been around for a long time – since 1996, to be exact! As such, it is often highlighted as an alternative to the email marketing giant Mailchimp.
The general consensus on Constant Contact seems to be that it's super easy to use, but not very customizable.
What's on offer?
As email marketing experts, they have developed a huge list of features for customers that include email scheduling, custom lead import, marketing calendar, subject line A/B testing, polls, and online donations.
They've also partnered with Shopify to give you an e-commerce element to your marketing automation, which means you can directly insert Shopify products into your newsletters.
What's the cost?
There's a simple two-level pricing model – 'email' at $20, and 'email plus', at $45 a month.
If you prepay for a year, you can save up to 15%. Nonprofits get up to 30% off their plan.
When it comes to other types of software, there are also some more less known marketing automation tools on the market. You might not have heard of these as they are newcomers, but they could be more suited to what you are looking for.
4. Outfunnel (that's us!) connects sales and marketing tools, deeply and easily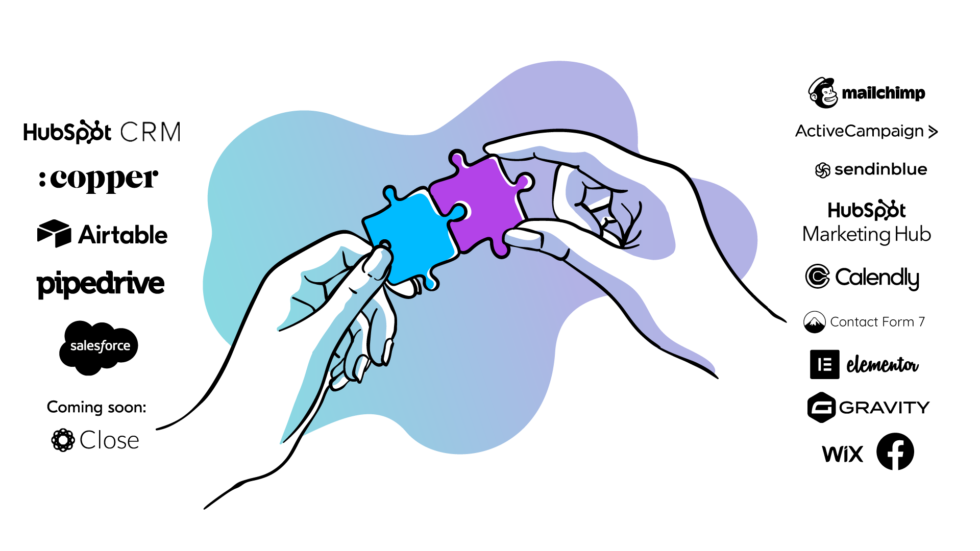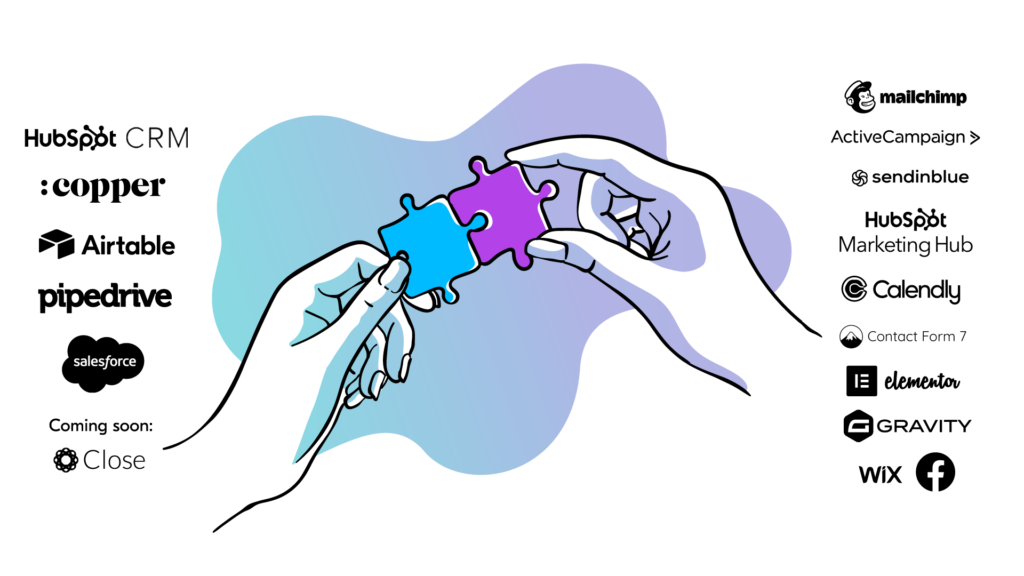 Outfunnel makes it incredibly easy to connect sales and marketing tools. Keep customer data in sync across your tools, and record all marketing engagement in your CRM. Helps marketers save time and lets sales focus on the right leads.
Works with Copper, Pipedrive, Salesforce, Airtable, HubSpot CRM, and a number of marketing tools, with new integrations added every month.
What's on offer?
Here's what you can do with Outfunnel:
Sync your sales contact lists and marketing email lists 24/7 to save you time—set up your campaigns once and they will run automatically based on data changes in the CRM.
All marketing engagement data (opens, clicks, unsubscribes, etc.) gets recorded in your CRM, so sales reps have full context of your hottest leads and can sell smarter.
Capture leads from your web forms and sync them to your sales CRM automatically, so they're immediately visible to sales reps in the sales pipeline.
Identify your hottest opportunities with Web tracking and Lead scoring.
Use our simple email campaigns tool to send one-off or automated drip campaigns to your CRM contacts.
What's the cost?
Pricing starts as low as $59/month and is very scalable, so you'll always have great ROI.
We offer a free trial, so you have two full weeks to see if our product is right for you. What's more, we're a small, friendly team, always on hand to help with any questions relating to your service.
And you don't have to just take our word for it. Outfunnel is the #1 top-rated Pipedrive integration (according to their app marketplace) and has glowing reviews on Capterra.
5. EngageBay is an affordable and scalable all-in-one solution with a comprehensive collection of tools for small to medium businesses.
Enter EngageBay. EngageBay is a one-stop solution for all your marketing, sales, and service automation needs. Trusted by over 28,000 customers (and counting), the platform provides a comprehensive set of tools to cover every step of your marketing and sales process.
What's on offer?
EngageBay's features are neatly divided into three Bays: the Marketing Bay, the CRM & Sales Bay, and the Service Bay—along with free built-in CRM, onboarding session, and migration.
The Marketing Bay offers an incredible array of tools to create and automate campaigns – sequences, multichannel marketing, design tools, and broadcasts.
The Sales Bay lets you capture, track, and engage with potential customers seamlessly. Your sales team has everything they need to close deals quickly and efficiently with scintillating features such as lead scoring, calendar, leaderboards, and targets.
The Service Bay lets you track and solve customer tickets effectively. It includes features such as canned responses, support groups, and automation to help your service agents serve your customers better.
What's the cost?
EngageBay adopts a four-tiered pricing structure for both their standalone products and the All-in-One Suite. Pricing for the All-in-One Suite is as follows:
The Free plan costs $0 and includes email marketing, autoresponders, and CRM.
The Basic plan starts at $19.99 a month per user and offers tools such as email templates, social suite, and canned responses.
The Growth plan starts at $49.99 a month per user and offers advanced tools, including leaderboards, custom domains, and A/B testing.
The Pro plan is the most advanced package and offers a robust set of tools, including custom reporting, web analytics, call scripting, and unlimited contacts. This plan is custom priced.
6. Customer.io has very powerful and flexible automation options, but has been described as having relatively unattractive template tools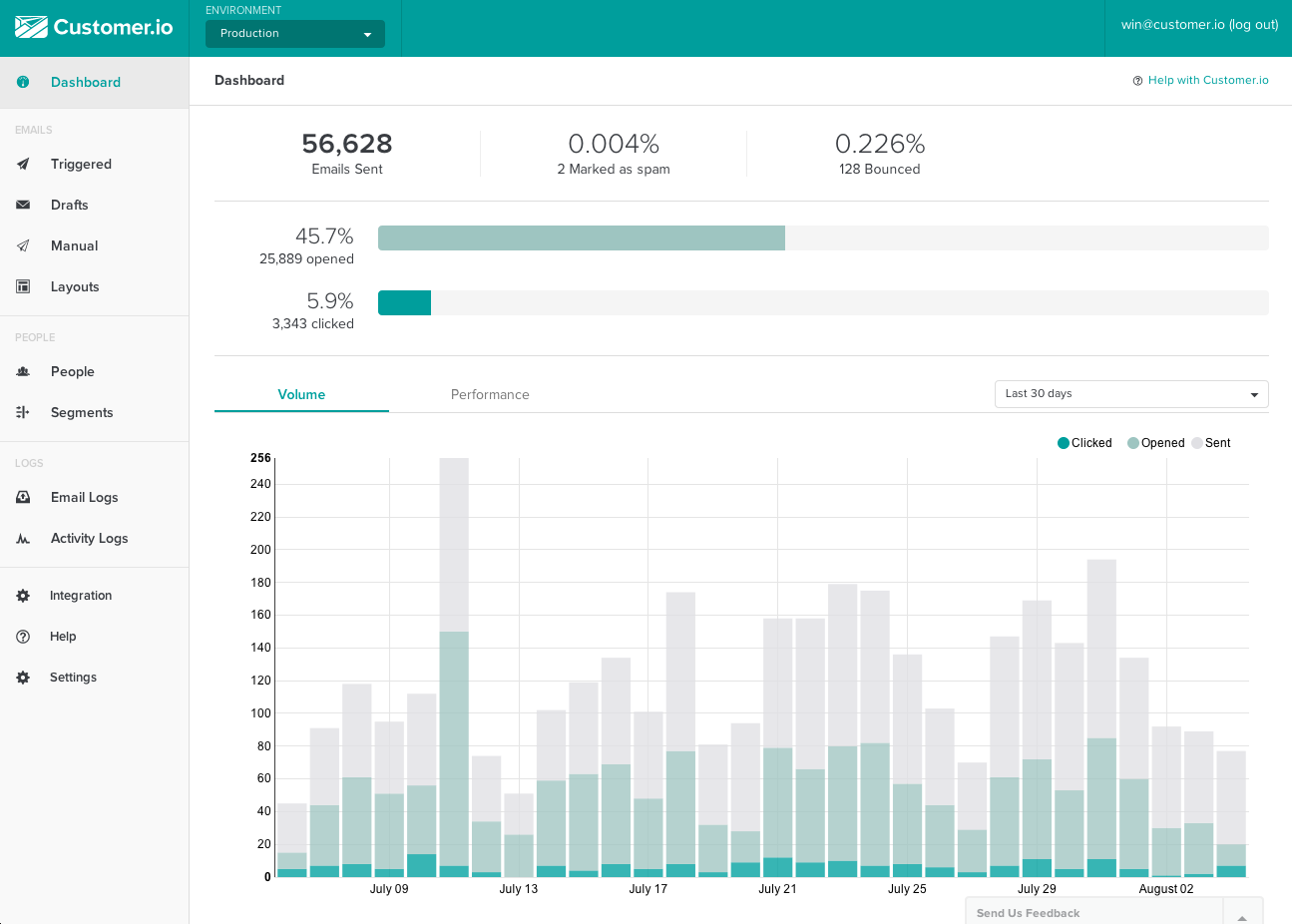 Customer.io is an automated messaging service covering email, push and SMS messaging. It can trigger messages so that your customers receive relevant and timely content to onboard people to your app or win them back after a period of inactivity.
What's on offer?
With your email campaigns can create segments from any type of data you have, from page views to attribution, to events. There's also a huge range of tracking and measurement available, from A/B testing and learning about user behavior.
You can also use SMS messaging to target your customer, sending them a push notification to their phone one minute after they have signed up, for example.
What's the cost?
Customer.io isn't cheap. It starts from $150 per month to a whopping $995 a month, so it's not for one-man bands and startups. However, the good news is that you can have a 30-day free trial to see if it's right for your needs.
7. Drip is an ecommerce-focused marketing automation tool that integrates with top platforms like Shopify, WooCommerce and Magento
Drip is a marketing automation tool specifically designed for e-commerce businesses. From first glance, it appears to offer every solution for a business owner – from personalization to landing pages, to native integrations to a wide range of e-commerce platforms such as Shopify and WooCommerce.
What's on offer?
Drip offers a five-part solution: integrations, tracking, marketing automation, personalization and analytics, and reporting.
This means that all aspects of your marketing can be automated seamlessly with your online store – so when your customer abandons your shopping cart, for example, a nicely timed email can woo them back into converting.
What's the cost?
Drip's pricing is more flexible than other marketing automation software and works on a sliding scale, dependent on your customer base.
For example, up to 2,500 subscribers to your list will cost you a mere $49 a month, but if that figure grew to 100,000, it would be $1,300 a month. This means you won't be penalized for having a service you won't be able to pay for with your subscribers.
8. Omnisend is a multi-channel marketing platform for e-commerce businesses, but you'll need an enterprise plan to use all channels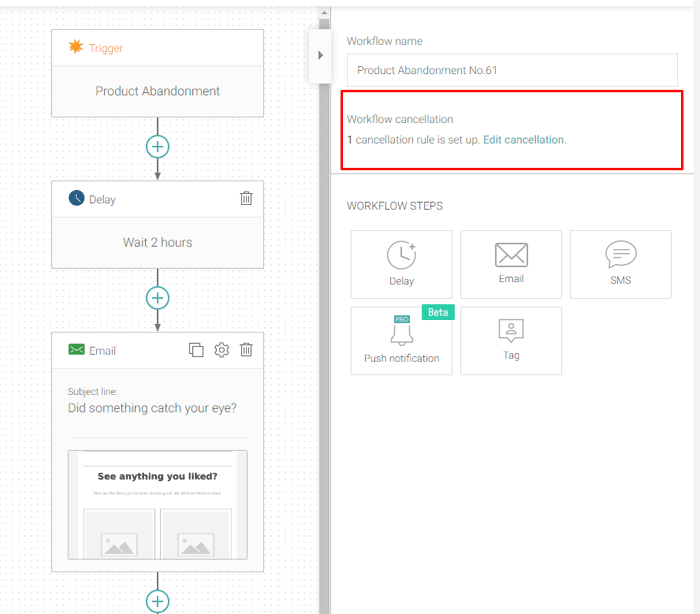 As a complete platform, Omnisend covers more than just email. If you're interested in reaching people through different channels such as SMS, Facebook messenger, or even Whatsapp, you can automate all of that with Omnisend.
What's on offer?
While I just called it a multi-channel platform, it would be more accurate to describe Omnisend as an omnichannel platform, one where messaging is integrated and harmonized across different channels, rather than blasted out independently. This opens up a lot of opportunities for marketing initiatives that would be impossible without that connectivity.
Omnisend is primarily aimed at e-commerce businesses and has lots of integrations for the different e-commerce platforms out there. All the big names like Magento, WooCommerce, and Shopify are included, along with plenty of lesser-known names too.
Controlling all the different marketing channels from the same platform makes it easier to keep track and deliver highly personalized messages in the most appropriate channel at the right time.
What's the cost?
Omnisend has a number of different plans available, along with a sliding scale for pricing based on the number of contacts you have. Their free plan includes unlimited contacts and up to 15,000 emails a month.
However, if you want to use more than just email (which, based on Omnisend's focus, you presumably are), you'll have to go for one of the paid plans. The Standard plan allows you to to create automated email and SMS campaigns (starting at $16/mo), the Pro plan allows push notifications (starting at $99/mo), and Enterprise allows you to use Facebook Messenger and Whatsapp (but you'll have to get in touch for custom pricing).
It's worth noting that you'll have additional charges for SMS messages on the standard plan, but they're included in the higher plans. Whatsapp also incurs extra charges.
9. SharpSpring is one of the most comprehensive marketing automation platforms, but the cost will put smaller companies off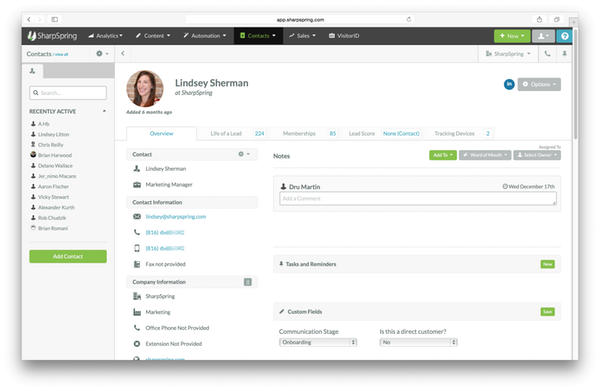 SharpSpring is a comprehensive marketing automation platform, with features and tools covering every step of the marketing process.
What's on offer?
You're looking at an all-singing, all-dancing platform here, with everything from emails and social media to landing pages and blog posts. Each of those tools comes with its own range of features, from management and scheduling to automation and analytics.
Among those features is the ability to write dynamic emails and landing pages that'll adapt to your prospects (making it easier to create highly-personalized marketing materials) and Visitor ID, that allows you to track customer behavior without even knowing their name.
What's the cost?
SharpSpring markets itself as an affordable option, claiming to be less than a third of the cost of the competition. However, compared to the other options in our list, you'll need a significantly bigger budget to get started, which will put them out of reach for most small businesses.
The cheapest tier is $550 a month, based on an annual contract that covers 1,500 contacts. At the other end of the scale, a list of 20,000 contacts will set you back $1,250 a month. You'll also need to pay for an onboarding package at $1,800.
10. Aritic PinPoint is another full-stack solution, but you'll have to pay more for all the features.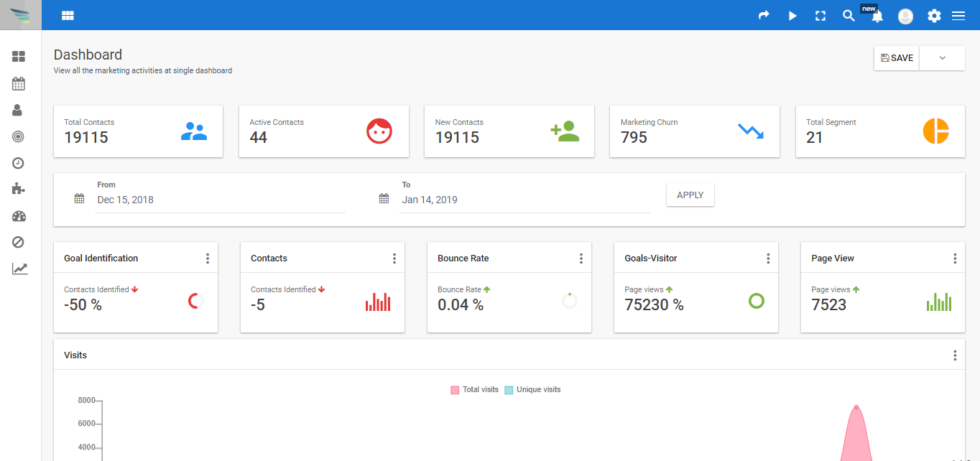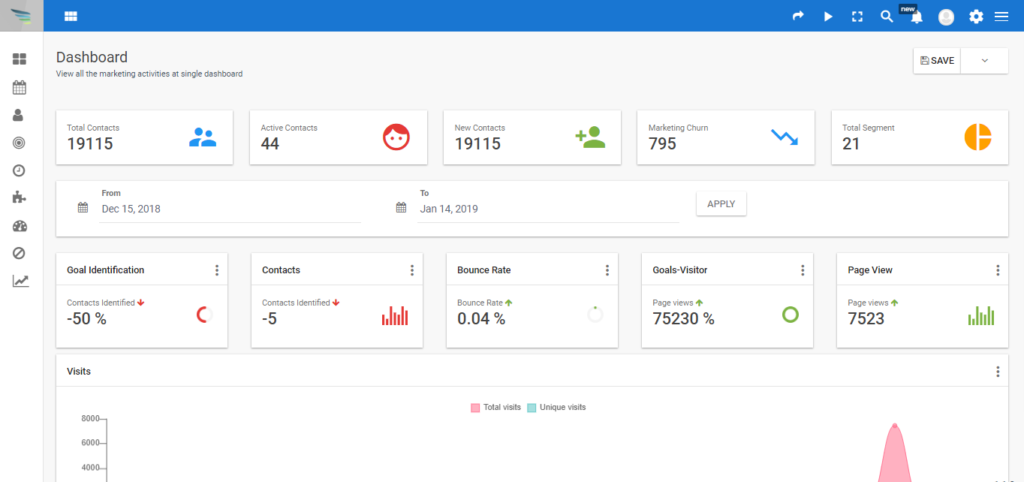 Here we have another full-stack marketing platform, covering every step from the initial contact to retaining existing customers.
What's on offer?
As you'd expect from a full-stack platform, Aritic PinPoint can help with all the different aspects of your marketing campaign. Email campaigns? Check. Social campaigns? Check. Landing pages? Check.
Once you've acquired those leads, it also helps you out by providing the tools you need to nurture and convert those leads, such as lead scoring and pipeline management. Going a step further, Aritic enables you to delight existing customers, helping ensure customer satisfaction as well as implementing upselling/cross-selling.
What's the cost?
Considering all the features on offer, it's possible to get started at a reasonable price. If you have less than a 1,000 contacts and are willing to pay upfront on a 24-month plan, the lite plan costs $13 a month.
However, more contacts or advanced features such as dynamic content and team management will mean a more expensive plan. The professional plan with 25,000 contacts will set you back $449 a month (paid monthly), with enterprise options available on request.
11. VBOUT is a flexible solution where you can choose the features that matter most to you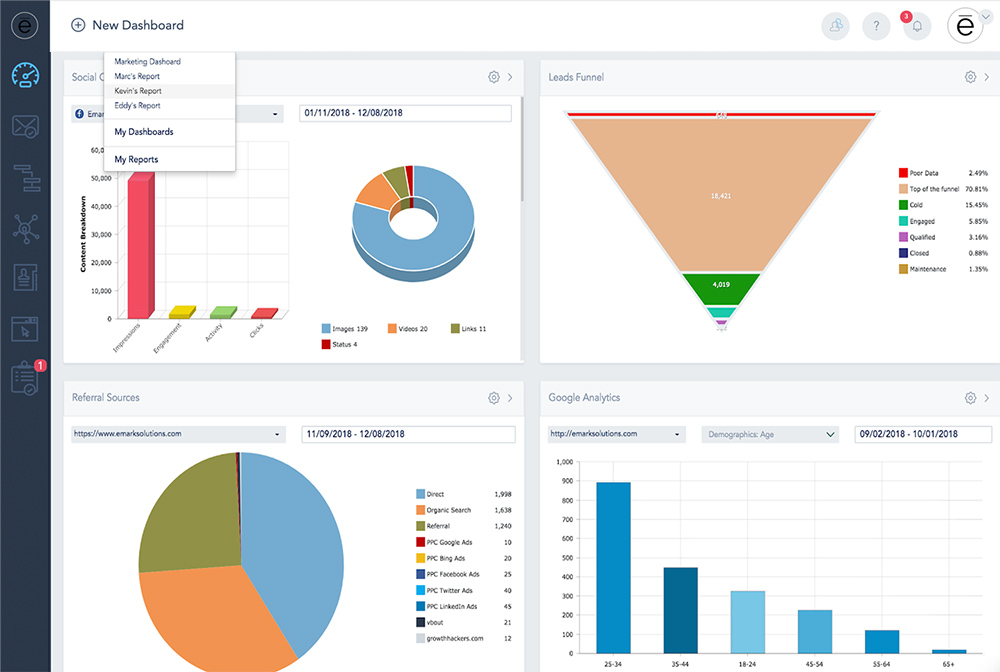 VBOUT is an all-in-one solution that is suitable for businesses of different models, such as e-commerce or SaaS, and that's flexible and easy to setup.
What's on offer?
While VBOUT markets itself as an all-in-solution, it's really more of a pick-and-mix. They've divided their solution into five key categories:
Automation
Lead Management
Email Marketing
Landing Page Builder
Social Media Management
Analytics
Apart from the lead management and email marketing modules, everything else is optional, making the system as bare-bones or comprehensive as you want. What I found particularly impressive is that, whichever modules you choose, they'll be unlimited. That means unlimited contacts for your emails, unlimited profiles for your social media campaigns, unlimited landing pages, and so on. The only limit is the number of emails you actually send.
What's the cost?
The price you pay depends on which features you choose. For the cheapest option, you'll pay $60/mo for the lead management and email marketing modules, with 5,000 emails per month.
Each additional module you choose (from social media, automation, analytics, and landing pages) each adds a further $10/mo, and there's a sliding scale for more emails. So with all features enabled and sending 500,000 emails, you'll be paying $900/month (although that can be reduced by paying for a year upfront).

Summary
Choosing marketing automation solutions is a rather intimate decision for your business – look for good "Product DNA" and what best serves your customers
On the surface, all marketing automation tools basically have the same features. But in practice, each tool has a different product DNA – they are built differently, with different priorities. Some all-in-one solutions like HubSpot Marketing are more complex but can be harder to use, while other tools are simpler but can't do as much.
Ultimately, choosing a marketing automation tool for your business is like choosing a business partner. Who suits your needs best? Who do you want to work with? Who do you trust most to continue to update and develop their tool to continue to suit your needs?
Picking the right partners for your business can make all the difference in the long run, so choose wisely!
If you're looking to connect your sales and marketing data, Outfunnel is designed for you. Register for a free 14-day trial today—no credit card required—and try it out for yourself.