Last updated: March 25, 2022
For years it seemed that Mailchimp was the de-facto email marketing tool of choice, but more recently, lots of Mailchimp alternatives have started to make themselves known.
Where the marketing monkey has expanded its list of features, others have been busy carving out niches for themselves in the cut-throat world of email marketing.
Why is Mailchimp so popular?
Aside from being on the email tools market for the better part of two decades, Mailchimp has offers lots of advanced features that many email marketers want. Things like pre-built email templates, A/B testing, reporting and audience segmentation tools spring to mind.
There's also the free plan, which is potentially a big draw to many. Particularly small businesses.
Finally, they put a lot of resources into visibility. Running a lot of niche sponsorship campaigns. In 2014 they ran a 20-second ad alongside a true crime podcast series, that got a lot of press.
Why you might want to take a look at Mailchimp alternatives
As any product adds more customers, so too does the demand for new features. Both to keep existing customers happy and to continue to attract new ones.
But as the feature list has grown, so has the complexity.
This makes it harder for some, particularly small businesses and solopreneurs to get the most value from Mailchimp, especially if they are beginners when it comes to marketing automation.
Don't get me wrong, it's great that Mailchimp offers so many marketing features, like a landing page builder and social media ad campaign manager. But if you have no real use for it or simply don't have the resources to create that content, you can end up paying extra for stuff you're not likely to use.
There's also the issue of pricing. In mid-2019 the Mailchmp pricing structure got an update. As they pivoted away from being "just" email marketing and evolving into a full-service marketing platform. This change drew a reasonable amount of criticism and prompted some to look for cheaper alternatives.
Most email marketing platforms charge based on subscribers but Mailchimp updated their pricing model to charge based on audiences. This seemingly innocuous change in wording meant that Mailchimp customers got charged for every contact—including unsubscribed contacts.
Furthermore, Mailchimp has made list management quite complex with their unusual naming system. Typically marketing automation tool users are used to talking about subscribers as their lists, but in Mailchimp you have audiences, segments, tags and groups. We don't blame you if you get confused.
See a comprehensive Mailchimp review for more on the pros and cons of Mailchimp.
An overview of the best Mailchimp alternatives
So, let's take a look and see how the big gorilla compares to other email marketing software.
The three main areas I'll review are:
Focus: what or who is each option us best for.
Features: what features they offer.
Pricing: how much they cost.
#1 Mailchimp alternative: Sendinblue
What's Sendinblue's "thing"?
All-in-one marketing automation for small businesses
What features does Sendinblue offer?
Email campaigns
Transactional emails
SMS marketing
CRM functionality for sales pipeline
Live chat
Signup forms, landing pages and A/B testing tools
Facebook ad tool and retargeting
So, what about the pricing?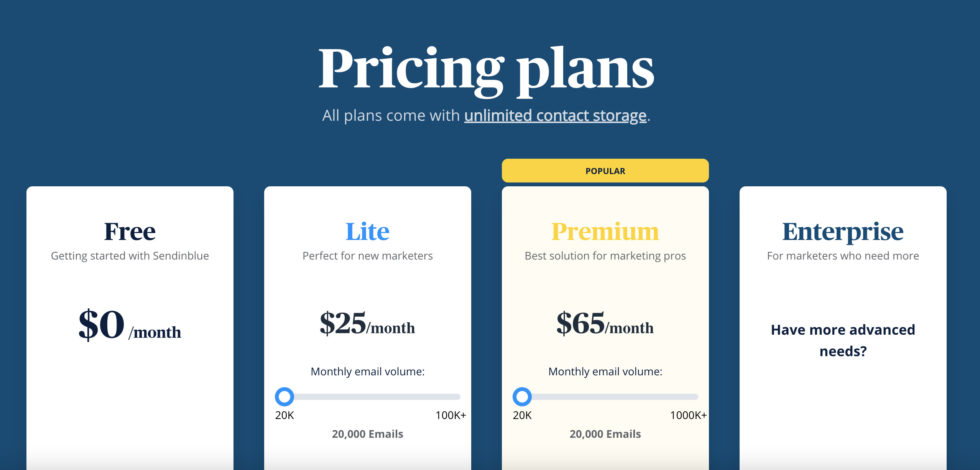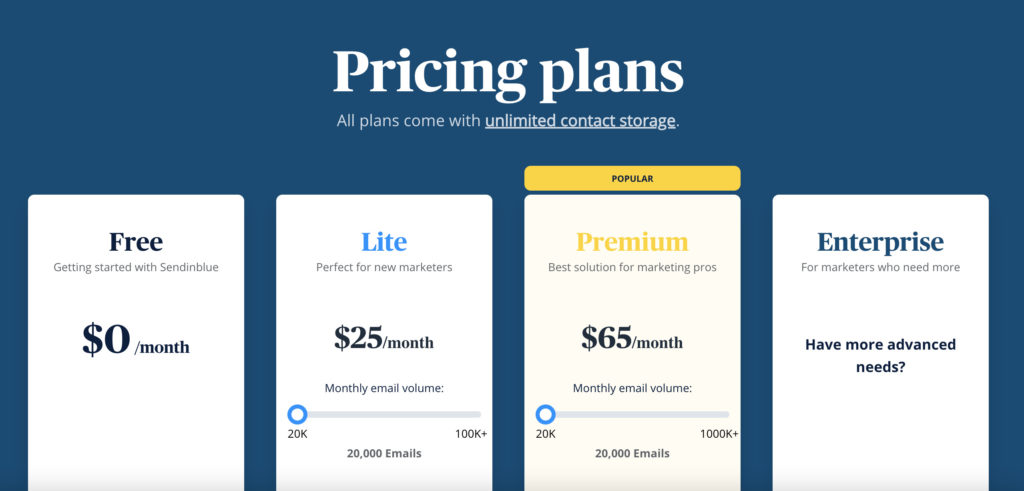 Sendinblue offers plans for those who are looking for a reasonable price. First off, they have a Free plan, that has a limit of sending 300 emails per day. The cheapest plan Lite removes that limit and instead switches to a pretty generous 20,000 emails per month.
The cheapest of the monthly plans, Lite, costs $25/month ($20 per month if you switch to an annual subscription) but to get access to any of the cool features listed above, you need to go all the way up to $65/month.
Worth noting: all Sendinblue plans come with unlimited contact storage.
P.S: If you decide to go with Sendinblue, and your salespeople use a full-functionality CRM like Pipedrive or Copper, be sure to connect your tools with Outfunnel (yes, that's us!). See our Sendinblue CRM integration announcement for more info.
#2 Mailchimp alternative: Omnisend
What's Omnisend's "thing"?
A focus on e-commerce businesses
What features does Omnisend offer?
Visual drag-and-drop marketing automation workflows with split automation
WYSIWYG email editor with beautiful email templates for abandoned cart, welcome, order confirmation emails, etc
Advanced segmentation for easy targeting & relevant messaging
Workflows that accommodate email, SMS, Facebook Messenger, push notifications and more
Email & phone number capture with signup forms, popups, landing page editor with landing page templates, etc
Ecommerce-friendly features to boost conversions: gift boxes, discount codes, product picker, and more to really support your eCommerce marketing efforts
Integrations with hundreds of eCommerce platforms and tools like Shopify, Magento, WooCommerce, BigCommerce and more.
So, what about Omnisend's pricing tiers?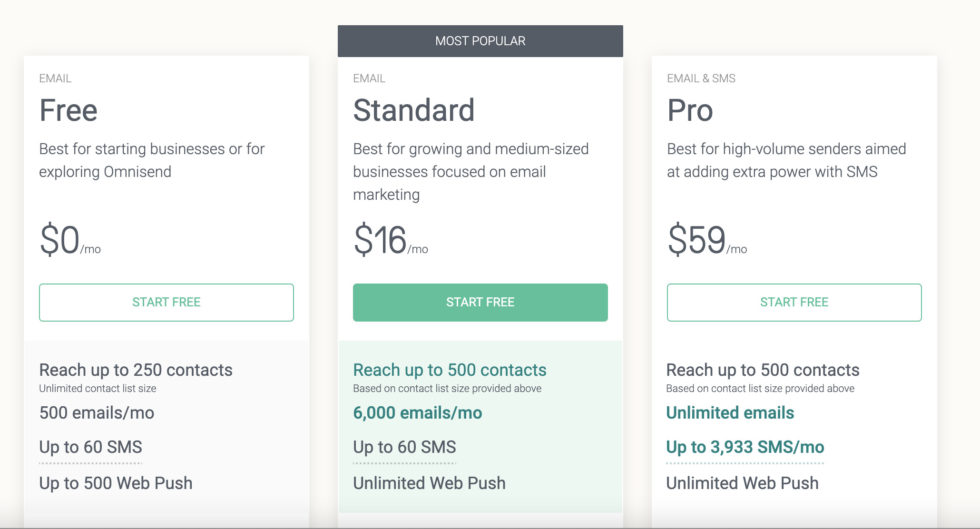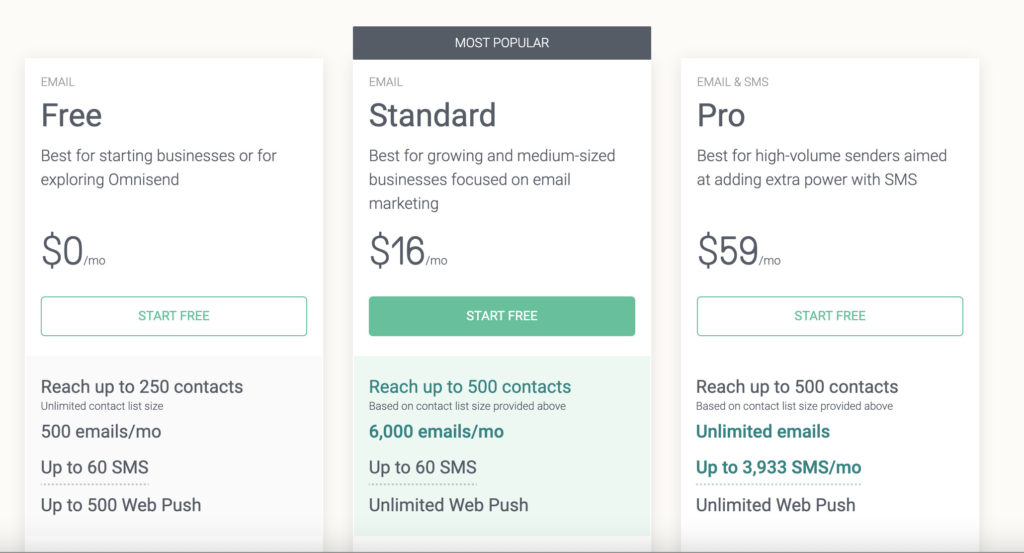 Omnisend offers a free plan for basic email marketing, but unlike other Mailchimp alternatives, there is no maximum subscriber count for that plan. It's limited to 500 email sends per month. 
Omnisend's paid plans start at just $16 per month for the Standard Plan and adjust based on how many subscribers you have. Their Pro Plan starts at $99 and includes free SMS credits based on the amount you pay for your plan. Enterprise is custom pricing, and includes the most channels and features, as well as a dedicated account manager for deliverability.
All paid Omnisend plans come with a 14-day free trial, and all plans regardless of paid or not come with 24/7 availability of their customer support team.
#3 Mailchimp alternative: Moosend
What's Moosend's "thing"?
User-friendliness
What features does Moosend offer?
Simple drag-and-drop email builder
Email marketing automation
Free email templates
Advanced segmentation options
Real-time analytics
Sign up forms to power up your lead generation
So, what about the pricing?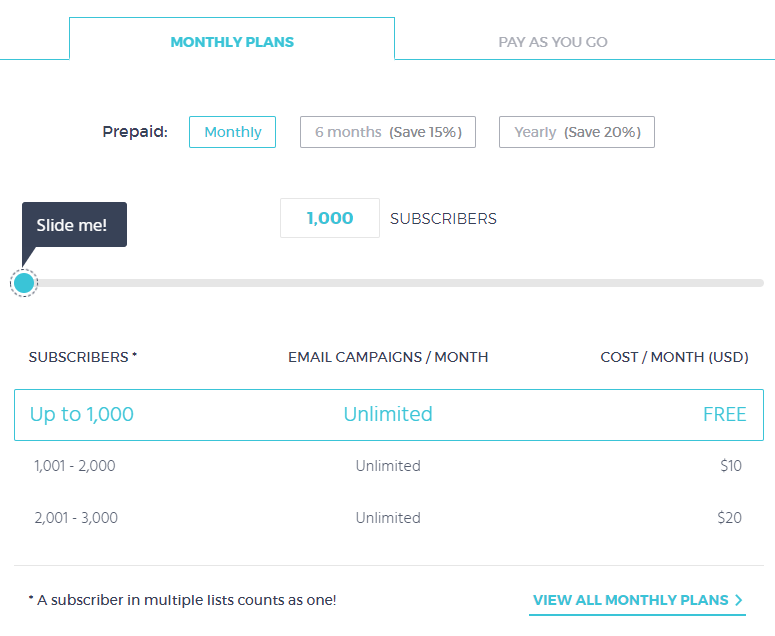 Moosend is a great Mailchimp competitor, as it includes all the same functionality, regardless of whether you have a free or paid plan. The only exception to that is a dedicated IP address.
And it's famously user-friendly as a marketing automation platform.
The free account gets you up to 1,000 subscribers, then the first step is 1001-2000 for $10. They also offer a pay-as-you-go option, where you can pay for credits upfront and then use them as you need them.
What's Constant Contact's "thing"?
Tools to grow your audiences and reach
What features does Constant Contact offer?
Drag and drop editor
eCommerce integration, with platforms like Shopift
Basic segmentations
Social posting and ads support
Surveys and polls*
Donation collection and events tools*
*Only available on the Plus plan
So, what about the pricing?


Constant Contact has been one of the most popular email marketing services on the market.
When it comes to pricing, it offers two tiers: Email and Email Plus, with Email starting price at $20 and Email Plus at $45.
The word "starting" is doing a lot of work here.
Constant Contact's pricing page is one of the more, shall we say, opaque examples in this list. In the image above you'll notice that, beneath the price it states:
"Price based on number of contacts."
Which is fine. Expected, even. The problem is, there's no mention of how many contacts you'll be getting for your money, nor how the pricing scales as you add more.
From some googling, I was able to find a number: 500 contacts included on both Email and Email Plus. But that was from a third-party review site, so it's difficult to know whether that number is even still current.
On the plus side, Constant Contact comes with a 30-day free trial.
What's ActiveCampaign's "thing"?
Advanced automation workflows
What features does ActiveCampaign offer?
Marketing automation, including some kick-ass email sequences capabilities
Contact and lead scoring*
SMS marketing*
Predictive sending and win probability with machine learning*
* Not available on the "lite" plan
So, what about the pricing?

ActiveCampaign's cheapest plan, Lite, comes in at $15 per month if you're paying monthly. Yes, you get access to their marketing automation feature, but you'll only have 500 contacts.
You also won't be able to use any of their native integrations or, well, most of their features other than email. If you don't need those features, and are just looking for email automation tools, and have a list of 5,000 contacts, you'll be looking at $89 per month.
And, if you do want those features, the Plus plan will set you back $169 per month.
Brazen pitch: Outfunnel is one of the newest ActiveCampaign integrations, allowing you to connect your CRM of choice (Pipedrive, Copper, Airtable or HubSpot CRM) with ActiveCampaign, deeply and easily. Keep sales contacts and email lists in sync and record marketing engagement in the CRM. See more info about each integration: Pipedrive-ActiveCampaign, Copper-ActiveCampaign, Airtable-HubSpot CRM integration, HubSpot CRM-ActiveCampaign integration.
#6 Mailchimp alternative: Sender
What's Sender.net's "thing"?
Affordablity, user-friendliness and feature-rich email marketing campaigns
What features does Sender offer?
Drag & drop email editor
Email marketing automation
Forms and popup builder
Integrations with 3rd party platforms, like Zapier, WordPress, and advanced API.
*Free users get complete access to features.
So, what about the pricing?
Sender doesn't discriminate. Free users get complete access to each feature and the most significant monthly quota of 2500 email subscribers and 15 000 emails with no daily limits.
While it does have somewhat limited features, it certainly is an affordable option and features 24/7 customer service regardless of the plan.
Sender has repeatedly proved to be the most innovative and most effective email marketing platform compared to competitors. The fact that it only cost $11 to maintain 5000 email subscribers makes me say wow.
Sender pretty much undercuts all competitors in pricing, features, and ease of use.
#7 Mailchimp alternative: AWeber
What's AWeber's "thing"?
A focus on email (which really in fact sets it apart in comparison with the rest of Mailchimp competitors!)
What features does AWeber offer?
Automated email campaigns
Drag and drop builder
Integration with Canva for creating beautiful designs
Email templates
Detailed insights and analytics*
Split testing*
*Only in paid version.
So, what about the pricing?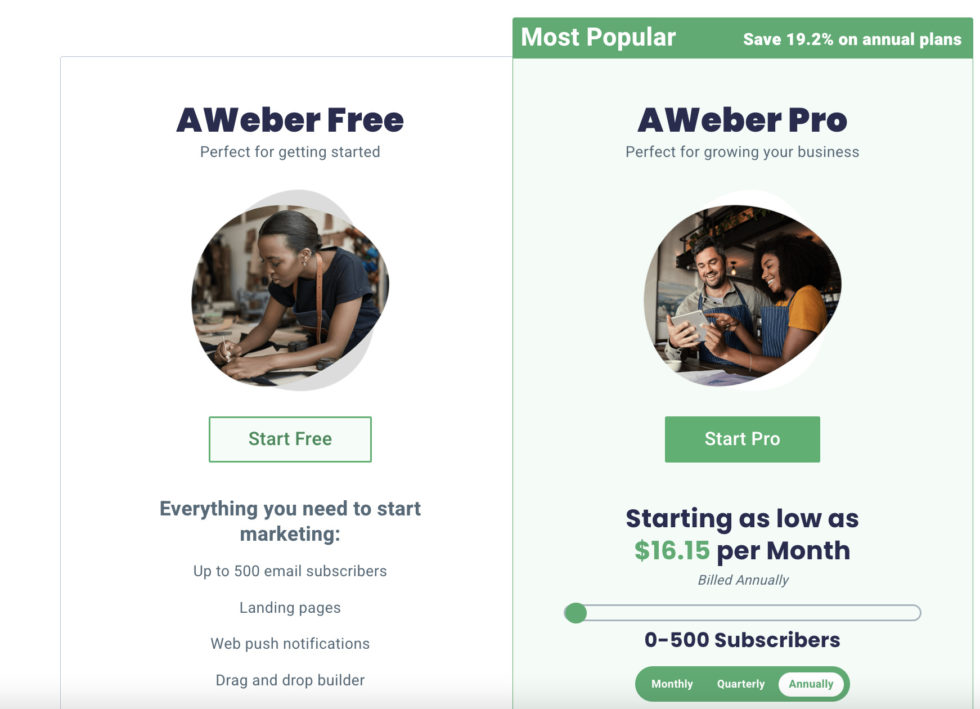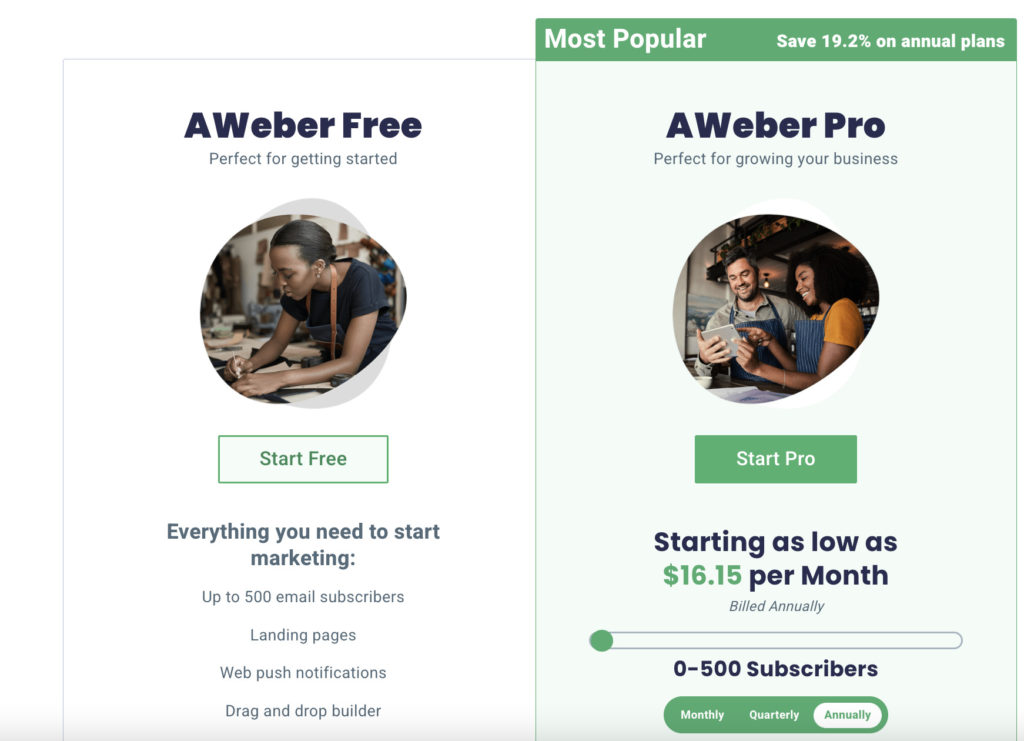 AWeber has really straightforward pricing, as there are only two plans: Free and Pro.
The Free gives you basic functionalities to get started and you're limited to 500 subscribers. In the paid plan called Pro, you get more advanced functionalities and volumes of subscribers – the price will depend on how many subscribers you have. Simple, isn't it?
In practice, the Pro plan starts at a very competitive $20/month, which makes AWeber great for anyone starting out with marketing automation, but especially for small business owners.
#8 Mailchimp alternative: Drip
What's Drip's "thing"?
Ecommerce
Less an email marketing tool, more an eCommerce CRM
What features does Drip offer?
Behavior-based automation and deep segmentation
Advanced customer data management, with custom fields and tags
Facebook and Instagram integration
SMS and direct mail integration
So, what about the pricing?

Drip's focus is less of an email marketing tool and more as a whole eCommerce CRM. This is largely reflected in their pricing too, so it will be expensive to use just for basic features like sending email newsletters and email drip campaigns.
Whatever you pay, you get access to all of their features – $49/month for up to 3000 contacts. This goes all the way up to $1,740/month for 140,000 before it goes all "let's talk".
That's a big chunk of cash, but, if you're in the market for an enterprise-grade eCommerce CRM, Drip is definitely worth a look.
#9 Mailchimp alternative: Mailjet
What's Mailjet's "thing"?
Collaboration
What features does Mailjet offer?
Unlimited contacts
Email analytics
Multi-user collaboration*
A/B testing*
Marketing automation workflow*
*Not available on free or basic plans
So, what about the pricing?

Mailjet offers a free plan that includes a generous 6,000 emails per month, with unlimited subscribers. On top of that you don't need to hand over your credit card details to get started. Another welcome touch.
Their subscription plans do offer some pretty affordable pricing. From their monthly plans, Basic is a thoroughly reasonable $8.69 per month for 30,000 emails per month.
On the other hand though, if you want to get your hands on one of the key features at the heart of the main selling point, multi-user collaboration, you'll need to go for their Premium plan at $18.86 per month.
The same is also true for email marketing automations and A/B testing.
Both the basic and premium plans scale based on how many emails you want to send. The base option is 30,000 all the way up to 900,000. Anything after that and you're well into Enterprise territory.
#10 Mailchimp alternative: Convertkit
What's Convertkit's "thing"?
Bloggers and content creators
What features does ConvertKit offer?
Marketing emails tool
Customizable sign up forms
Subject lines testing
API support, WordPress integration plugin and a ton of native integrations
Quick migration
Unlimited emails
So, what about the pricing?

Convertkit doesn't offer a free plan, just a free trial. Pricing for their "basic" plan (which doesn't have a name on the pricing page, by the way, it's a picture of a sprouting plant — a personal bugbear of mine) comes in at a comparatively pricey $29 per month.
But that price does have some merit. The only thing that varies between their pricing plans is the number of subscribers, with the exception of their "enterprise" or "picture of big plant" plan.
With the enterprise plan you get free concierge migration thrown in too.
All jokes about the naming of the plans aside, the actual pricing structure offers a lot of clarity that is sorely missing from many SaaS tools in 2021.
#11 Mailchimp alternative: GetResponse
What's GetResponse's "thing"?
Integrated CRM
What features does GetResponse offer?
Marketing email platform
Access to free stock photos
Simple CRM*
Webinars*
Sales funnel(s)
Multi-user*
*Not available on the Basic plan
So, what about the pricing?

GetResponse is another email marketing service provider on this list of Mailchimp alternatives without a free plan.
Their Basic package starts at $15/month with the option to try free for 30 days. For this price you do actually get some pretty neat key features: Facebook ads, a single sales funnel (you'll need to go up a step, plan-wise for more) and landing page creator.
All of their plans also scale based on your list size, like many other Mailchimp alternatives.
Once again though, we see that, if you want to get your hands on their main selling point, their simple CRM, you'll need to opt for the Plus plan. Plus starts at $49/month for 1000 contacts.
All of GetResponse's prices also feature list-based scaling. As an example, if you want to go for the Basic plan, and 5000 contacts, you'll be looking at $45/month if you pay monthly.
P.S. If GetResponse's own simple CRM doesn't cut it for you, then consider signing up for early access of these connections we're planning to build soon:
#12 Mailchimp alternative: Mailerlite
What's Mailerlite's "thing"?
"Beautiful email design and exceptional customer support."
What features does Mailerlite offer?
Drag and drop email editor
Lead gen tools, like landing pages and pop-ups*
Surveys*
Automation and segmentation
Optimization tools, like A/B split testing and auto resend*
* Pop-ups, surveys, and auto resend only available on Premium plans
So, what about the pricing?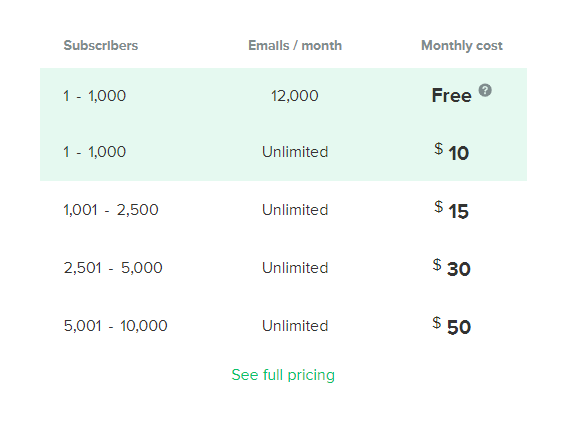 Mailerlite offers a fairly intuitive pricing system: free, up to 1000 subscribers and sacrifice some features. If you want access to those features and only have 1000 subscribers, you'll pay $10/month and then scales from there.
Take a look at the pricing chart above to get an idea.
In terms of features absent from the free plan, there are a couple of biggies, including Custom HTML editing and newsletter templates. You'll also need to get your wallet out if you want click maps and surveys, among other things.
Worth noting: we have heard great things about MailerLite's email deliverability.
#13 Mailchimp alternative: EmailOctopus
What's EmailOctopus' "thing"?
Email marketing that's simpler and more affordable.
What features does EmailOctopus offer?
Customizable landing pages and sign-up forms
Drag and drop email editor with a library of templates
Time-based autoresponders for setting up welcome emails
List segmentation based on custom fields and campaign activity
Multi-level user accounts with unlimited team members
So, what about the pricing?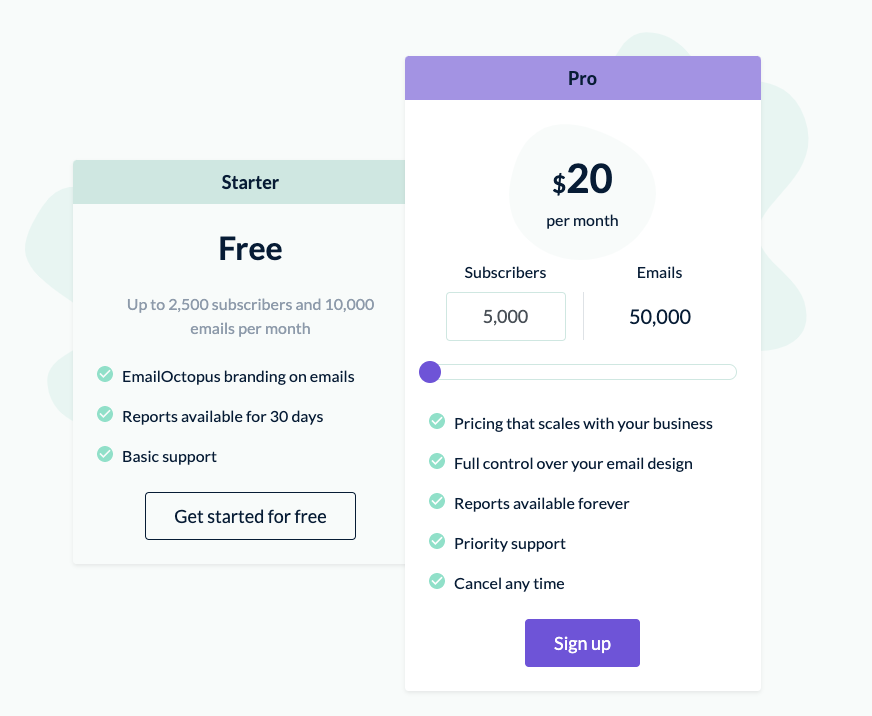 EmailOctopus has two plans – a free Starter plan and a Pro paid plan with prices that scale with the number of subscribers in your list.
The free Starter plan is one of the most generous on the market with up to 2,500 subscribers and 10,000 emails each month. And on the free plan, users have access to all the same advanced features as paid plan customers. Thanks to such flexibility, it's a popular choice among startups.
The Pro plan starts from as little as $20/month for up to 5,000 subscribers with 10x the number of emails each month.
So, which of these Mailchimp alternatives is the winner?
In the email marketing apps war, there are no winners.
While we've covered a whole 13 product recommendations in this post, there are a ton of other options such as HubSpot Marketing Hub, Klaviyo, Campaign Monitor… The list goes on.
It really comes down to a) what you need your email marketing solution to do and b) how much you're willing to spend.
There are some platforms where the benefits are more clearly defined and, in particular, I applaud the transparency in features and pricing from Sendinblue and Moosend.
If you run online stores, you may want to look into Omnisend.
And if you're a content creator, then ConvertKit will likely be the best choice for you.
The main takeaway here is this: figure out what you want first. What are the one or two things that are holding you back with Mailchimp?
Focus on those, and find the one that best caters to that need at the best price point.
Whichever email service provider you end up choosing, connect it to your CRM with Outfunnel. Get started with a free 14-day trial, no credit card required.