Marketing automation. It's the key to really scaling your business in a short amount of time.
Not only do marketing automation tools allow you to take a step back and get a bird's eye view of your email marketing campaigns, but they can also free up valuable time, allowing you to work on more important aspects of your business.
In this piece, we'll compare three of the more well-known marketing automation tools with three that you might not have heard of, and suggest things that you should consider when looking for marketing automation software.
What should you be looking for when selecting a marketing automation tool for your business?
You will never have all of the information you need in order to make a perfect decision for your business. What should you be looking out for, so that you can make good decisions?
Look for the right product DNA: Lots of different tools have very similar features listed on their respective feature pages. To tell them apart, you want to get a sense of the priorities of the company.
Be mindful of time and ROI: Cheaper is generally better, but not always. You want to be clear about how much time you're spending on your marketing tasks, and how much time you will save automating them. A slightly more expensive tool that saves you time is a good deal.
Pay attention to customer service: You might be a technical-minded customer who doesn't personally need a lot of support, but quality of service is still a reliable indicator of good culture. You want to know that your service provider will be reliable and put your needs first. It's worth sending over some questions just to see what the response is like.
Comparing marketing automation tools
1. Hubspot is a market leader with an 'all-in-one' solution, starting with a free tier all the way up to $5,880/month for enterprise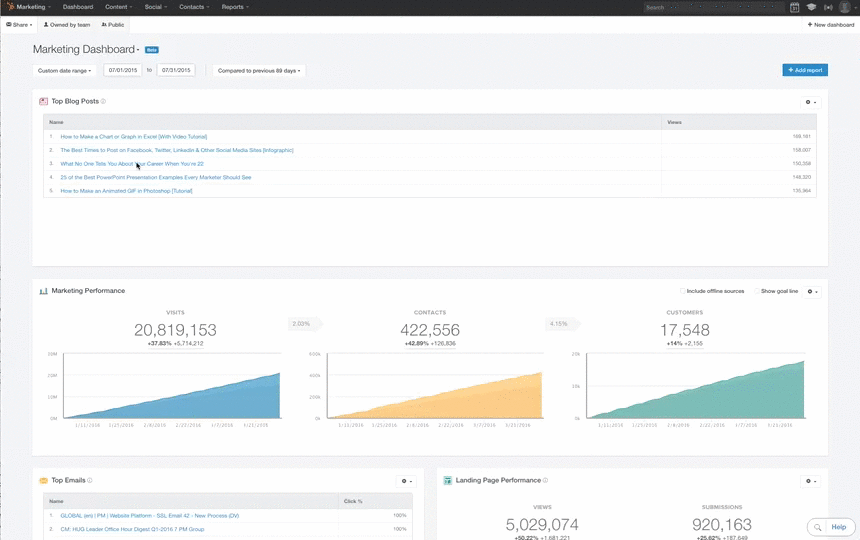 If you Google "marketing automation" and scroll past the ads, the top result is a Hubspot page, "What is marketing automation" – which, if nothing else, is an indicator of how effective Hubspot's own marketing team is.
With over 56,000 regular customers, their marketing automation tool is one of the most well known. And, significantly, it's also generally regarded as one of the most expensive.  
What's on offer?
Hubspot says that they offer an 'all in one marketing automation tool', which on further investigation is divided neatly into 'hubs' – a free Hubspot CRM, a Marketing Hub, a Sales Hub, and a Service Hub.
What they can offer is incredible – email templates, landing pages, integration with Gmail, youtube, a list of your customer activity, meeting booking bots… the list is endless!
What's the cost?
"We had a call with one of their Account Managers some time ago – they wanted to convince us to start using Hubspot – gave us lots of recommendations, Honestly, most of the things we were already using and have other service providers, who are way cheaper. They are great in terms of content — I like reading them, but I'm not ready to pay for their services." – /u/Kate_SW [source]
Hubspot says that you can get an all-in-one solution for free. However, this is more of a starter pack to get all of your leads into a pipeline and to start tracking your customer data. You won't get most of the cool features on offer, and you won't be able to remove the Hubspot branding from your communications.
They divide their levels of features into Starter, which is $42 a month, right up to Enterprise, which is $2,624 a month.
The growth suite allows you to have the entire Hubspot experience; however, it's only for those who can afford it.
2. Active Campaign has noteworthy onboarding, good tracking features and users seem to love the CRM – though some find it has a steep learning curve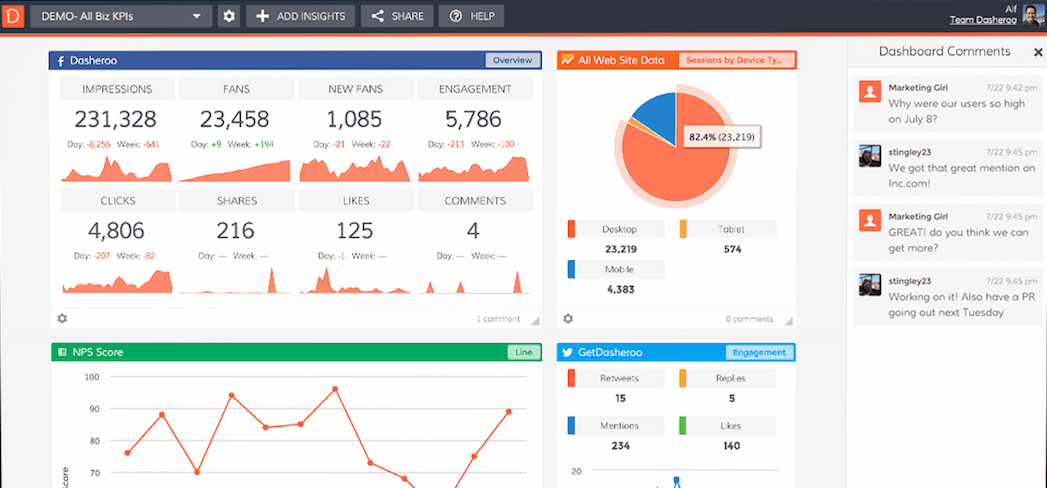 "I just put together a budget option for one of my freelance clients and it consists of Active Campaign integrated with Thrive Themes. It does most things that Hubspot does at a fraction of the cost. – /u/PreSuccessful [source]
What's on offer?
Active Campaign offers an impressive array of email marketing, marketing automation, sales and CRM, and messaging.
They say that their marketing automation 'gives you back your time', and each of the four sections on offer includes dynamic features such as email segmentation, split testing, event tracking, attribution, Gmail extension, machine learning, SMS and more.
VentureHarbour has a very comprehensive review that really digs into the specifics of what you can do with Active Campaign.
What's the cost?
Pricing is tiered, ranging from a 'Lite' $17 a month version to a $229 a month Enterprise package. They offer FREE migration, transferring you from any other platform onto theirs.
The cool thing is that they offer a 20% discount for nonprofits, which may swing you if you're in the charity sector.
3. Constant Contact has been focused on email marketing since 1996 – it's known to be very easy to use, but the trade-off is that it's not super customizable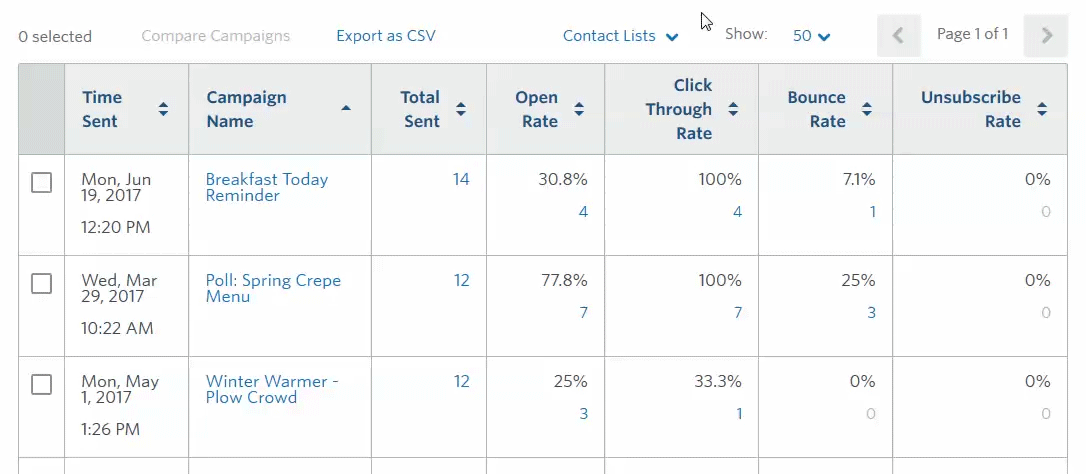 Constant Contact is more email focused, and is one of the grandfathers of marketing automation software, having been around for a long time – since 1996, to be exact!
The general consensus on Constant Contact seems to be that it's super easy to use, but not very customizable.
What's on offer?
As email marketing experts, they have developed a huge list of features for customers that include email scheduling, custom lead import, marketing calendar, subject line A/B testing, polls, and online donations.
They've also partnered with Shopify to give you an e-commerce element to your marketing automation, which means you can directly insert Shopify products into your newsletters.
What's the cost?
There's a simple two-level pricing model – 'email' at $20, and 'email plus', at $45 a month.
If you prepay for a year, you can save up to 15%. Nonprofits get up to 30% off their plan.
When it comes to other types of software, there are also some more other less known marketing automation tools on the market. You might not have heard of these as they are newcomers, but they could be more suited to what you are looking for.
4. Outfunnel (that's us!) is an affordable, sales-centric tool that focuses on integrating well with modern CRMs like Pipedrive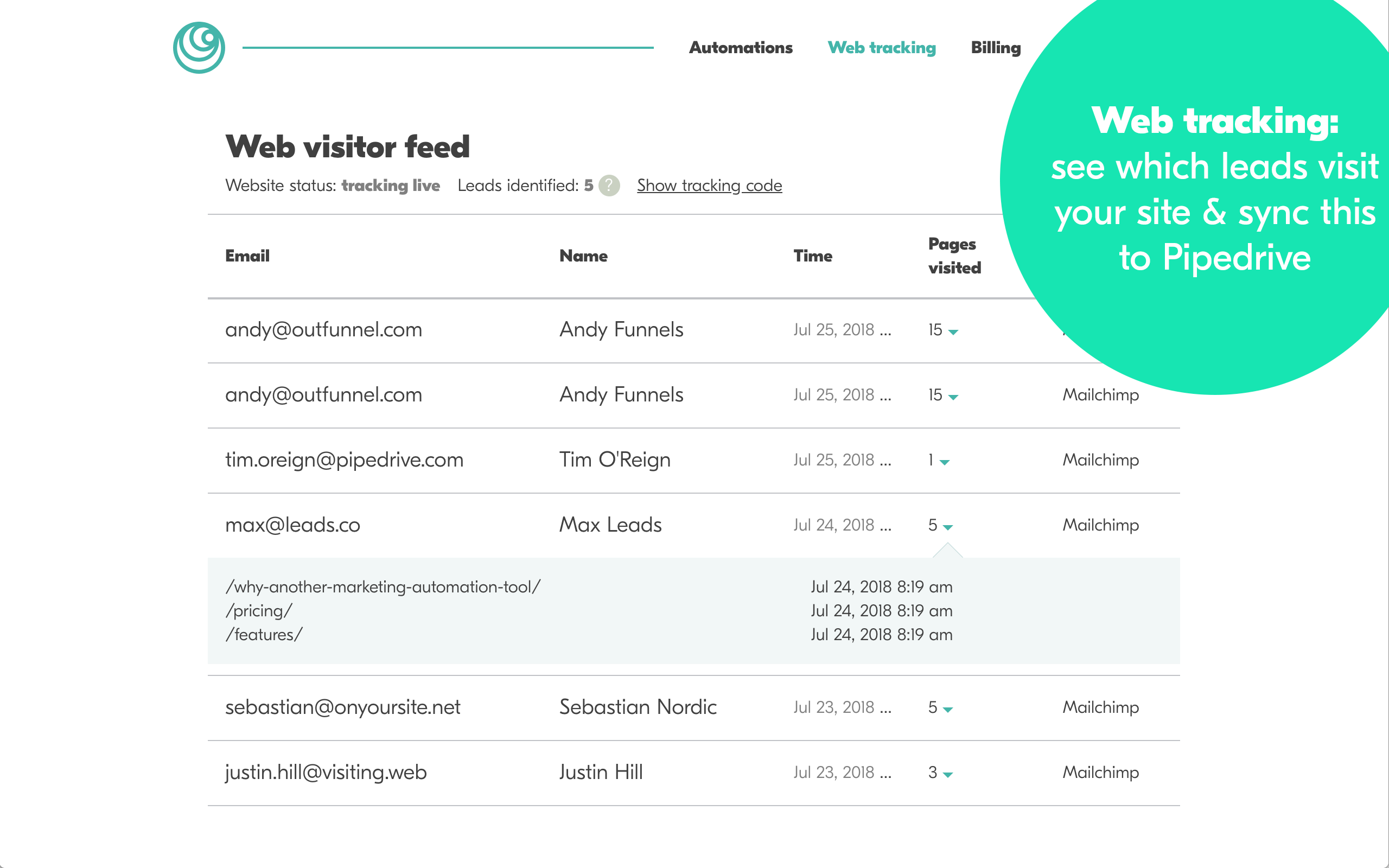 Here at Outfunnel, we offer a sales-centric marketing tool that tightly integrates with modern CRM's like Pipedrive. You can automate your email campaigns, track email and website behavior from click to conversion, as well as gaining useful insights and data.
What's on offer?
Our marketing automation tool has fewer features than many other tools on the market. Why do we do this? To keep it simple for our clients.
Sometimes this will mean building a deep integration instead and sometimes this will mean finding novel solutions to problems one would typically solve by building a new view or a feature.
We sync our automation in two ways:
We connect Pipedrive to manage your customer success pipeline, which syncs with Mailchimp to do automated email marketing and newsletters.
It also works in reverse, meaning that the customers that sign up to your email list automatically get added to your CRM system.
What's the cost?
Pricing is as low as $15 a month, and you'll only ever go up to $99 a month for up to 50,000 contacts, which is a great ROI.
We offer a free demo, in which you have a full two weeks to see if our product is right for you, perfect for trialing it on a small campaign. What's more, we're a small, friendly team, always on hand to help with any questions relating to your service.
5. Customer.io has very powerful and flexible automation options, but has been described as having relatively unattractive template tools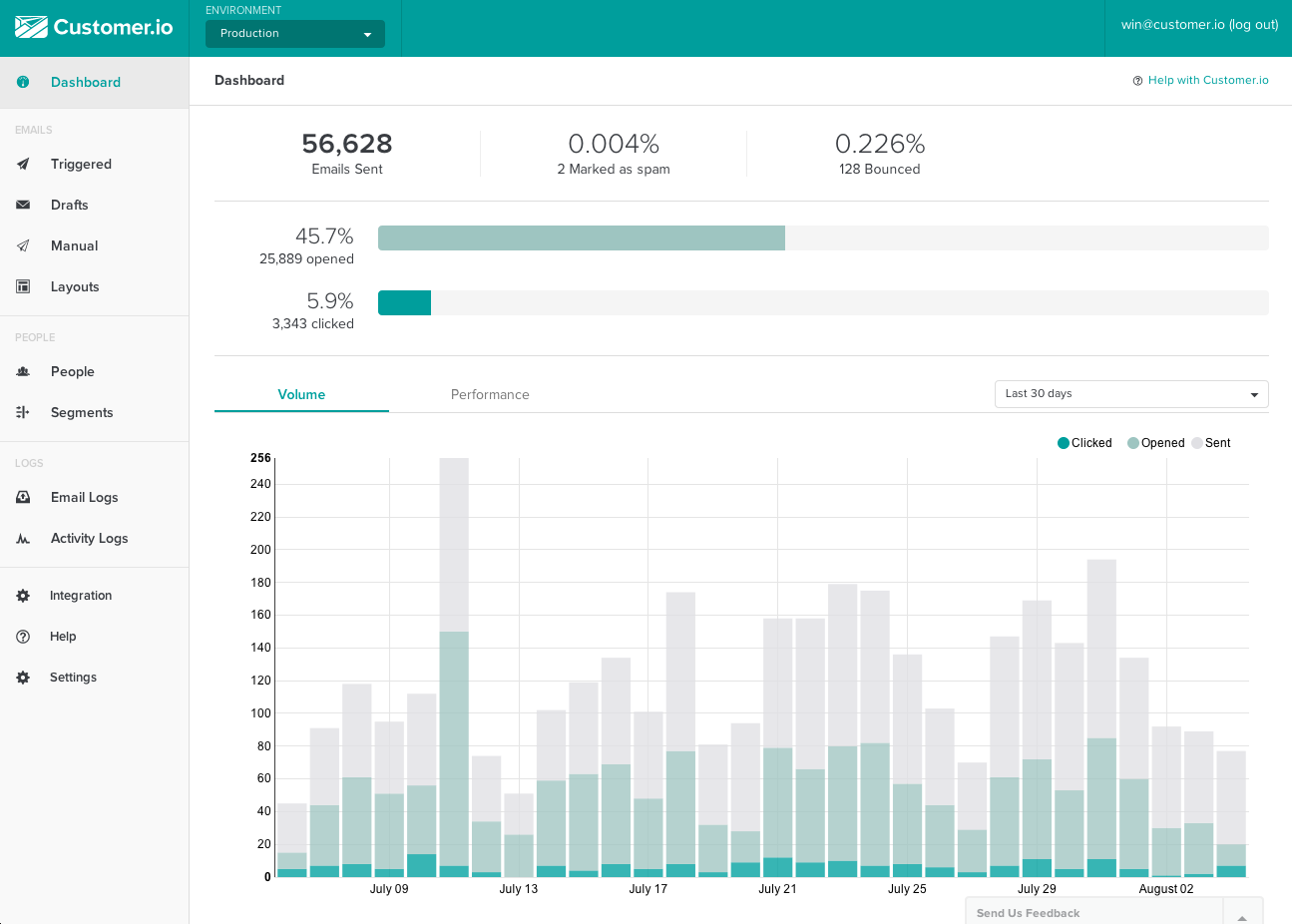 Customer.io is an automated messaging service covering email, push and SMS messaging. It can trigger messages so that your customers receive relevant and timely content to onboard people to your app or win them back after a period of inactivity.
What's on offer?
With your email campaigns can create segments from any type of data you have, from page views to attribution, to events. There's also a huge range of tracking and measurement available, from A/B testing and learning about user behavior.
You can also use SMS messaging to target your customer, sending them a push notification to their phone one minute after they have signed up, for example.
What's the cost?
Customer.io isn't cheap. It starts from $150 per month to a whopping $1,000 a month, so it's not for one-man bands and startups. However, the good news is that you can have a 30-day free trial to see if it's right for your needs.
6. Drip is an ecommerce-focused marketing automation tool that integrates with top platforms like Shopify, WooCommerce and Magento
Drip is a marketing automation tool specifically designed for e-commerce businesses. From first glance, it appears to offer every solution for a business owner – from personalization to landing pages, to native integrations to a wide range of e-commerce platforms such as Shopify and WooCommerce.
What's on offer?
Drip offers a five-part solution: integrations, tracking, marketing automation, personalization and analytics, and reporting.
This means that all aspects of your marketing can be automated seamlessly with your online store – so when your customer abandons your shopping cart, for example, a nicely timed email can woo them back into converting.
What's the cost?
Drip's pricing is more flexible than other marketing automation software and works on a sliding scale, dependent on your customer base.
For example, up to 2,500 subscribers to your list will cost you a mere $50 a month, but if that figure grew to 100,000, it would be $1049 a month. This means you won't be penalized for having a service you won't be able to pay for with your subscribers.
Summary: Choosing a marketing automation tool is a rather intimate decision for your business – look for good "Product DNA" and what best serves your customers
On the surface, all marketing automation tools basically have the same features. But in practice, each tool has a different product DNA – they are built differently, with different priorities. Some tools are more complex but harder to use, while other tools are simpler but can't do as much.
Ultimately, choosing a marketing automation tool for your business is like choosing a business partner. Who suits your needs best? Who do you want to work with? Who do you trust most to continue to update and develop their tool to continue to suit your needs?
Picking the right partners for your business can make all the difference in the long run, so choose wisely!
Latest posts by Brit Tammeorg (see all)