Last updated: March 25, 2022
To start this article off, here's the obligatory big, impactful number:
According to the folks at Salesforce, marketing sees a 25% ROI increase when adopting a CRM with marketing automation.
As I'm sure you're aware by now, there are literally thousands of choices out there. So how do you know which one to go for? First, before exploring CRM options, ask yourself some basic questions:
What problems do I need to solve for my entire sales funnel?
What software or services does it need to play nice with?
How much can I spend?
Once you know that, you can start exploring the different CRM solutions out there.
Marketing automation will power up your entire customer journey with nifty things like lead capture, segmentation, lead nurturing, relationship marketing, and customer retention.
If you're looking to use a CRM with marketing automation systems you've got two options:
All-in-one: that is, drop a chunk of change a single platform that handles everything.
Pick-and-mix: connect several specialized tools and connect them yourself. And also potentially drop a chunk of change.
Why would you want to use marketing automation with your CRM?
Before we take a look at those options though, let's understand why you might want to even bother with marketing automation tools for your CRM, other than that potential uptick in marketing ROI.
(I get it though, a lot of people reading this are probably already sold on the idea of a CRM with marketing automation. So, if you're in that group, here's some arguments you can use to help get your stakeholders on board.)
Benefits of marketing automation in sync with your CRM:
Help marketing teams understand marketing's revenue contribution, by allowing to link marketing efforts with outcome.
Help sales teams close deals faster by scoring and filtering leads based on engagement and interest.
Prioritize your resources by tracking customer engagement and engaging those potential customers that are most likely to buy.
Keep customer data in sync, so your marketing database "knows" when sales converts leads into customers or lost deals.
Easily eliminate duplicate data to make sure you're not using false reporting and avoid compliance issues.
And from the other side of the table? Done well, using marketing automation in connection with your CRM helps you build an entire customer journey that is seamless, giving the prospect a smooth experience of the buying journey / sales process.
Pitch-friendly arguments aside, here's my personal take on the matter.
I'm a freelancer/consultant-person. A one-man band, if you will. Before that, I was an in-house marketer, often in a department-of-one. I use CRM with a marketing automation platform out of sheer necessity: I cannot afford to not have these two functions exist together. And I know you're likely the same, or perhaps haven't realized it just yet.
But enough of me. Let's figure out what CRM and marketing automation platforms might be the best fit for your business.
CRM and Marketing Automation: The Pick-and-Mix Method
There are, quite literally, thousands of different customer relationship management software out there, let alone combinations of tools to sync marketing processes and sales data. So, this list is by no means exhaustive. Instead, I'm going to take a look at some of the approaches I've had hands-on experience with.
There's something for every price point on this list. For sake of clarity, each solution is listed with price 💰 and functionality ✔️ scores on a 5-point scale. So, let's jump in!
1. HubSpot CRM + Outfunnel + Mailchimp
Price: 💰💰💰
Features: ✔️✔️✔️
Super-simple cost calculation (3 users): $175.99/month
HubSpot offers a great CRM, but it can get really expensive as soon as you want to add in even basic marketing automation functions. Combine HubSpot's sales CRM with Outfunnel and Mailchimp, and you get access to all the marketing automation you need and some super-handy sales automation capabilities to boot.
With HubSpot being one of the most popular CRMs out there, it makes sense to have it right at the top of this list. One of the reasons it's so popular is it's arguably the most feature-rich, intuitive free CRM software out there.
But free doesn't always mean free, as I'll explain soon.
HubSpot actually appears twice here, once as a pick-and-mix option, and again as a standalone solution. That's because HubSpot is in fact many different products, all living under one umbrella.
So, here we're looking at just Sales Hub, and more specifically, HubSpot's sales CRM with the Starter pricing plan.
Even at this price point, it's pretty well specced. You've got your deal pipeline, some simple automations, and quotes. Some nice reporting functionality comes in handy too, plus live chat really sweetens the deal.
It lacks pretty much any marketing-related functionality though. HubSpot does offer automation through their Marketing Hub product, but the price point may be eye-watering for some (more on that later).
That's where Outfunnel and Mailchimp step in. In a short, bulleted form, these are the workflows that are in your arsenal with a HubSpot + Outfunnel + Mailchimp pick-and-mix setup:
Sync HubSpot CRM contacts to Mailchimp audiences automatically, along with default and custom fields, keeping email lists up to date 24/7.
Send automated marketing campaigns to HubSpot CRM lists with Mailchimp (or Outfunnel's email tool).
Record email sends, opens, clicks and more in the contact's profile in HubSpot CRM.
Track user behaviour on your website with Outfunnel's web tracking, and log the web visits in CRM.
See engagement-based lead scores in HubSpot CRM. Your sales reps will love this.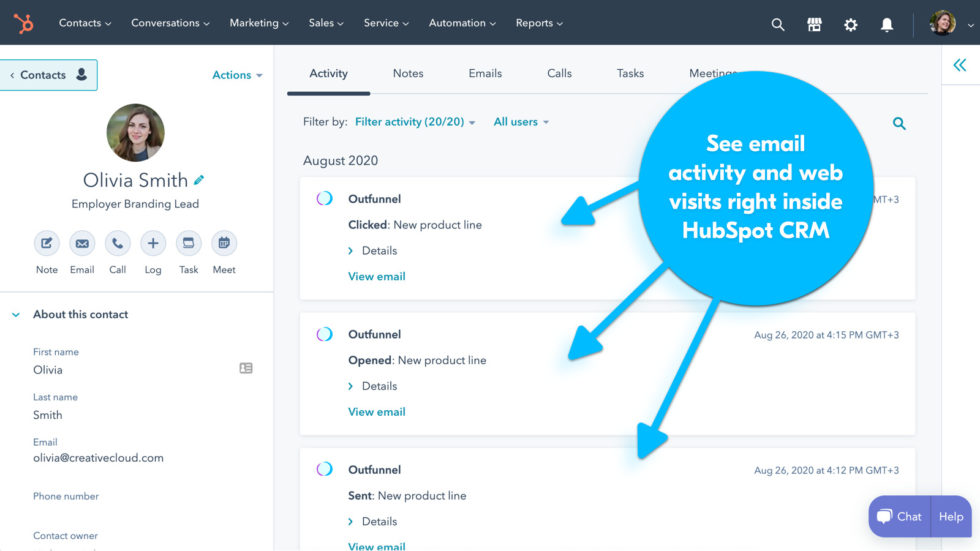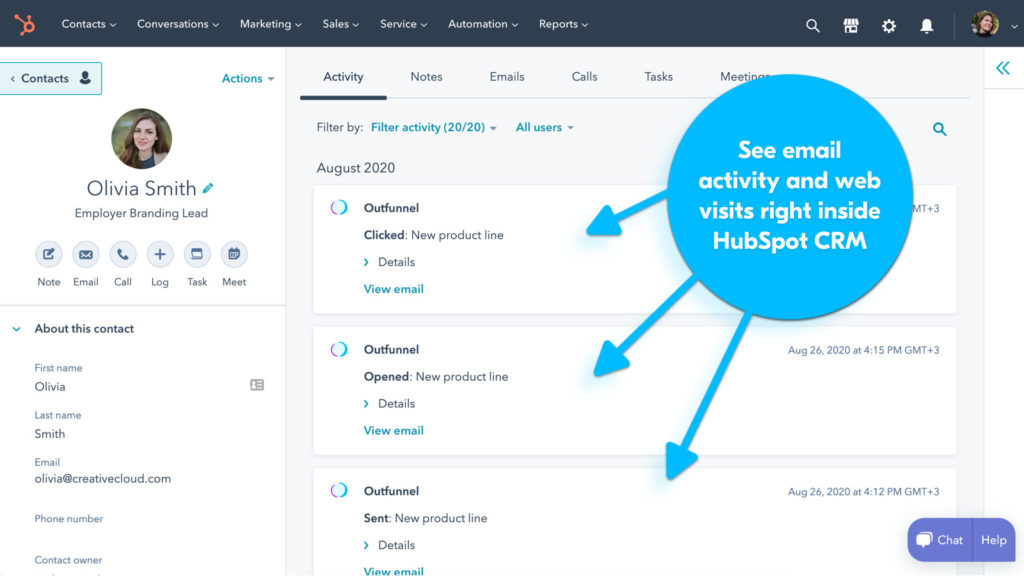 By connecting Outfunnel to HubSpot you get your first layer of marketing automation solution (with web tracking and lead scoring), and then you can add to that further by connecting Mailchimp via Outfunnel.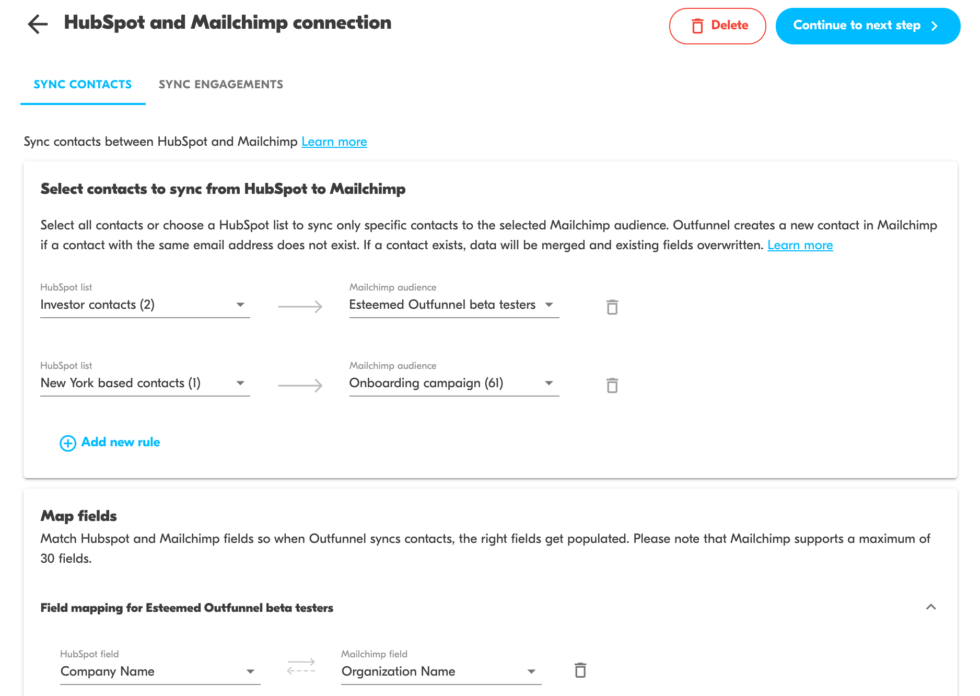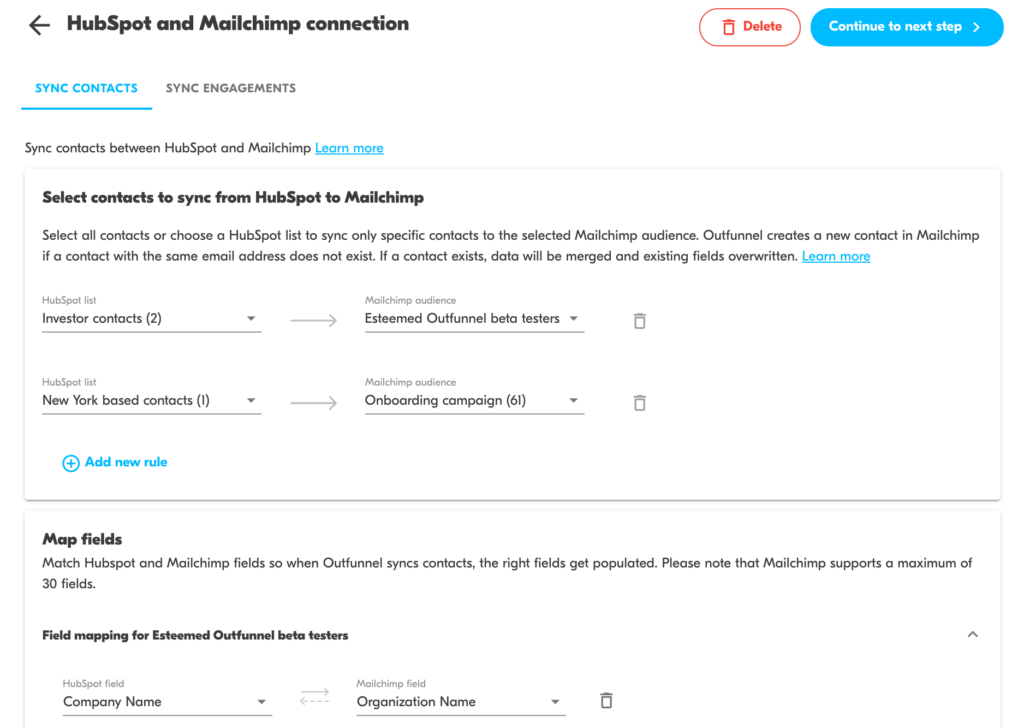 Now, you've got your sales CRM sending contacts to your marketing automation platform, which in return syncs email engagement and website visitor data to contacts in HubSpot, to support sales efforts. This allows you to build super personalized marketing campaigns, in sync with the sales cycle and easily identify high-quality, sales-ready leads in the CRM.
Further, you can have Outfunnel sync new marketing contacts, i.e. Mailchimp subscribers to HubSpot CRM as contacts, so sales do not miss any marketing qualified opportunities.
Outfunnel also combines the user behaviors and engagement data to generate lead scores, which it then syncs back to HubSpot.
So, now you've got a system that automatically keeps customer data in sync across your tools, shares marketing engagement data with sales, and prioritizes your leads for you.
Alternatively, you can mix up this setup with another CRM or marketing automation tool of choice. Outfunnel's App connector will work similarly (and in a similar budget range) for Pipedrive-marketing integrations as well as for CRM to ActiveCampaign integrations for example.
Read more about the HubSpot + Outfunnel + Mailchimp solution.
2. Pipedrive + Outfunnel
Price: 💰💰
Features: ✔️✔️
Super-simple cost calculation (3 users): $139/month
A powerful, elegant combination of tools that gives you the key information you need to understand revenue-driving action, without the need for multiple, complex platforms. First off, the CRM: for most small-medium scale businesses, "Pipedrive vs HubSpot?" is an easy question with an easy answer. Pipedrive is simply more affordable and better suited for SMBs. And the marketing automation software provider: Outfunnel is #1 top-rated app on Pipedrive's App marketplace.
If you're looking for a deceptively simple CRM and marketing automation software pairing, look no further than Pipedrive (as your sales CRM) and Outfunnel's simple email marketing tool.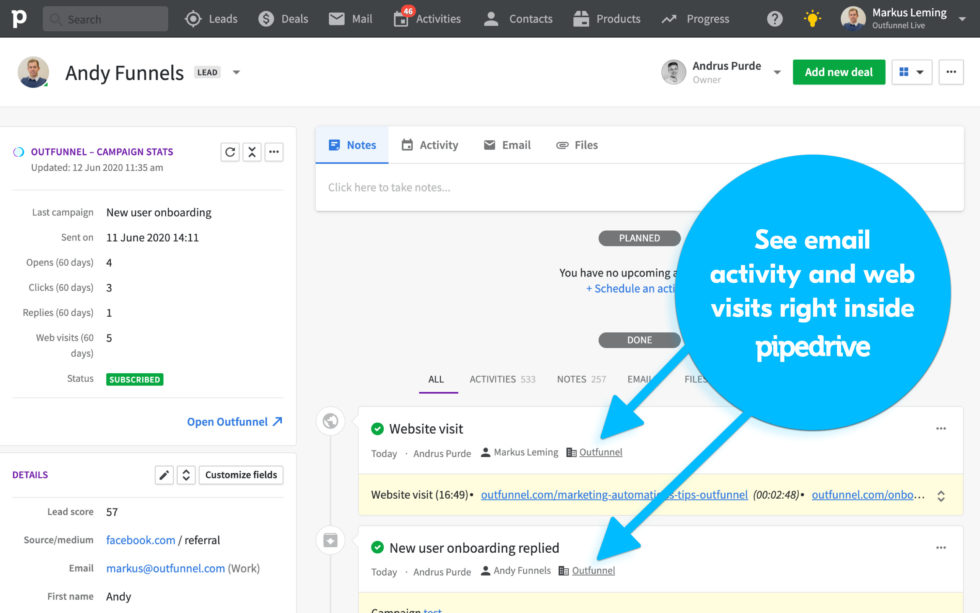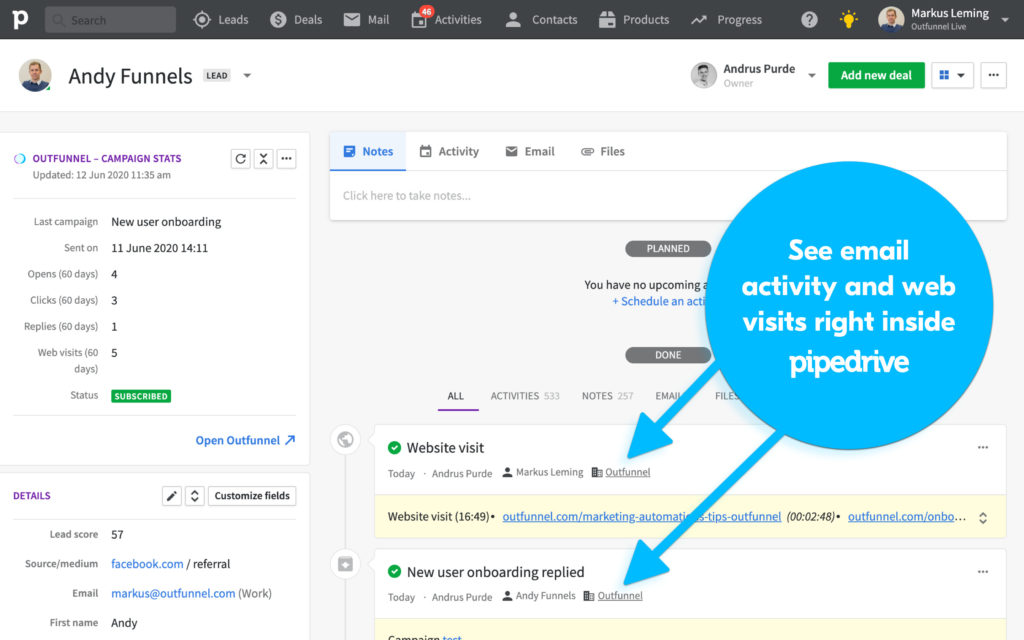 I say "deceptively" because at this price point, the Pipedrive Outfunnel combo is way more powerful than it has any right to be.
When it comes to Pipedrive CRM and email marketing software, Outfunnel is more than capable of handling email duties. In fact, I would go so far as to say in many cases, you don't even need a standalone email marketing platform, like Mailchimp.
You see, one of the things Mailchimp has over Outfunnel (in terms of email) is its fancy email builder. But, the reality is, for B2B sales these kinds of design-heavy marketing emails often don't correlate with better sales performance. (If you didn't know this already, it's high time you sign up for this free B2B email marketing crash course. Thank me later.)
B2C emails, such as eCommerce marketing, sure. Show off your products, make them look nice.
But B2B often benefits from a more conversational tone and style. So why fork out extra for a tool that might detract from that?
And marketing automation isn't just about email.
While Pipedrive offers some neato marketing features, like their LeadBooster lead gen toolset, it's lacking in a few areas. To really understand what marketing activity is driving results, you need to see what content is driving conversions, for example. Pipedrive on its own can't do this.
With Outfunnel, though, you can link content to conversions, assign automated lead scores based on marketing activity, and do everything else you need to power an automated revenue marketing powerhouse.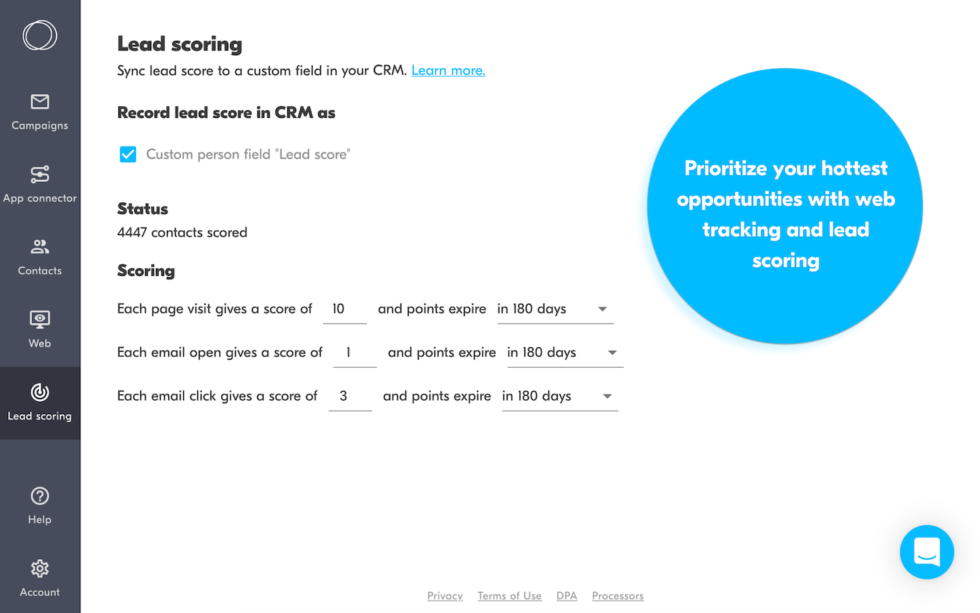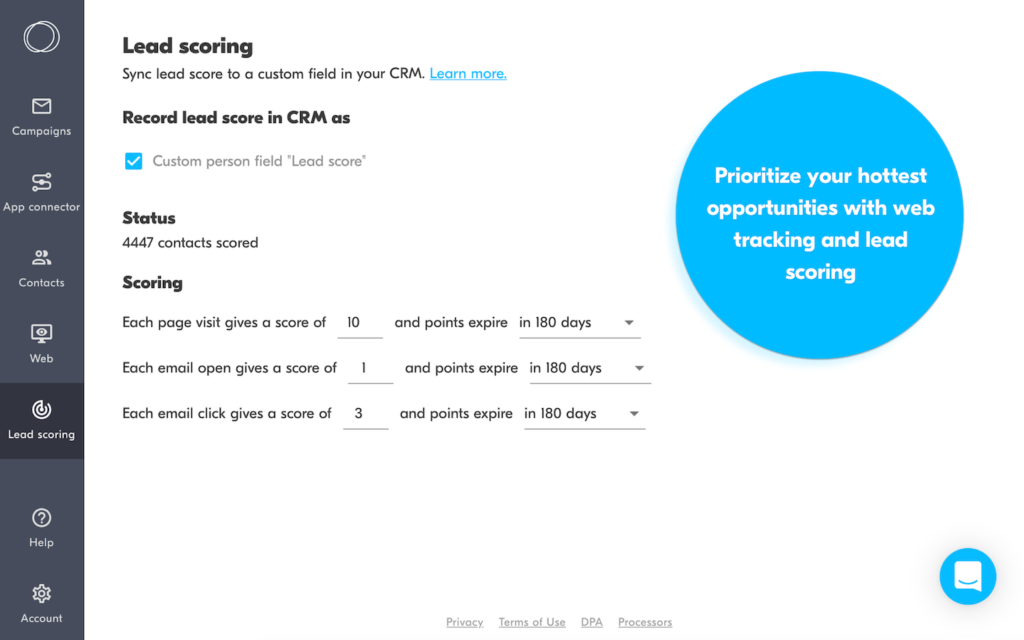 And just in case you still aren't convinced, Outfunnel is rated as the #1 best Pipedrive integration on their app marketplace.
Read reviews from real users on Pipedrive's App marketplace or see how Outfunnel automated their entire user onboarding automation with this simple and affordable setup.
3. Airtable + Zapier + Mailerlite
Price: 💰
Features: ✔️
Super-simple cost calculation (3 users): $75.99/month
Looking for a CRM solution but don't fully understand what you want it to do just yet? Pair Airtable with Zapier and Mailerlite and build your own CRM with basic marketing automation functionality for less than 100 bucks a month.
This is an article about marketing automation for CRMs.
But this pick-and-mix solution doesn't include a CRM. At least, not specifically. You see, Airtable is, in some ways, a relic from a bygone era. I like to think of it as something like a cloud-based FileMaker Pro, or something similar.
Build your own CRM with a basic, Kanban pipeline and some simple automation inside Airtable
Basically, it's a database platform and, fundamentally, that's all a CRM is. The neat thing about Airtable is its flexibility. You can use it to create task boards, calendars, and of course, CRM. This means you can build something to suit your specific use case, whatever that may be and, to get you started quickly they have an extensive library of templates.
Airtable itself can handle a lot of internal automations, like updating or adding records when certain conditions are met.
While Airtable itself can handle emailing, it's not ideal as it lacks any real tracking functionality. You can't monitor deliverability and open rates, for instance.
For this, you can let Mailerlite handle the email campaigns, and then join the dots with Zapier.
There already exist Zaps to handle things like:
Adding subscribers to Mailerlite when a new Airtable record is created, so you can automatically sync your complete sales CRM in Airtable with your mailing lists.
Syncing campaign activity, so you and your salespeople can get access to email marketing data in Airtable, without having to switch platforms.
While this approach certainly isn't the most feature-rich and, if you're looking for true revenue marketing solutions, you'll be left wanting, it's very cost-effective to get started and the flexible nature of Airtable means you can explore different approaches.
P.S. If you're a fan of Airtable, we've got something for you. Namely, Outfunnel is a great Zapier alternative for sales-marketing integrations and we offer a number of Airtable-marketing tool integrations.
Follow the links and sign up to try it today: Airtable-Mailchimp integration, Airtable-ActiveCampaign integration, Airtable-Contact Form 7 integration, Airtable-Wix Forms integration and Airtable-Elementor forms integraion.
CRM and Marketing Automation: The All-in-One Approach
1. Salesforce
Price: 💰💰💰💰💰
Features: ✔️✔️✔️✔️✔️
If you need a platform that does everything, a pressing need for advanced reporting, and very deep pockets, Salesforce is worth a look. It's probably overkill for many small businesses, but there's no denying its power. P.S. See our "Salesforce vs HubSpot?" guide for a comprehensive comparison between the all-in-one approach market leaders.
Without a doubt, Salesforce is the biggest name in the CRM business and has been for a while. After a string of acquisitions, Salesforce has consolidated its position to become an absolute leviathan. But that approach, of bolting on new bits here and there, has led to a product that, while very feature-rich, is also a bit of a Frankenstein's monster.
When it comes to business intelligence and development, you can do pretty much anything inside the Salesforce ecosystem: marketing, eCommerce, analytics, automation, customer service, retention.
There are a few key features that really make Salesforce the industry leader for enterprise-level budgets: custom reports, onboarding, and extensive integration options.
Some would even argue that Salesforce is too reporting-centric, but it's certainly become more intuitive for salespeople over the years.
Then there are the Salesforce integrations. Not only does Salesforce lead the pack when it comes to pre-built 3rd party integrations (Salesforce claims there are 2,500+ solutions on their AppExchange marketplace and, to be honest, I have no reason to doubt them), you can build your own integrations, through MuleSoft Anypoint, which is essentially a management-tool for custom API integrations.
To get you really "in" to the platform, Salesforce has put a lot of effort into customer onboarding and education. For example, Trailhead, their education, and certification program. There's also the Salesforce "Jump-Start" implementation program, for a cool $5,000.
The reason why is simple: the platform is so customizable and functional that it can be overwhelming to get started with. (We've also put together a Salesforce for Dummies guide to help you get started!)
For the longest time, Salesforce has really been geared towards big business and enterprise-level customers, and that's always been born out in one, key area:
Pricing.
Pardot Marketing Cloud, Salesforce's "high-end" marketing product starts at $1250 USD a month. For up to 10,000 contacts. If you pay annually.
That's an upfront cost of $15,000 USD. For just this the marketing cloud product.
So, in real terms, if you want to have enough Salesforce to cover yourself and say two other users, and you want to be able to handle very basic marketing and sales automation, you're looking at an annual cost of $16,000.
That's $1,500 for the sales tools and $15,000 for the marketing automation. And at this price level, you start digging through the complex feature set and you'll quickly find that some pretty key stuff, like automated lead scoring requires you to jump to the next pricing level, taking you to a total cost of $17,700 per year.
So, while Salesforce's all-encompassing approach to CRM and marketing automation has created a thriving business for them, for you it comes at the cost of some usability and $$$'s.
If you're sold, and now looking to migrate to Salesforce—be sure to check this handy guide to Salesforce data migration.
P.S. We are working on Salesforce-ActiveCampaign and Salesforce-Mailchimp integrations for those who like the leading CRM, but not necessarily the price tag on Pardot.
2. HubSpot
Price: 💰💰💰💰
Features: ✔️✔️✔️✔️✔️
These days it's pretty hard to split Salesforce and HubSpot. Their key features are pretty much on par with one another, but as with Salesforce, if you want to use HubSpot's own marketing automation options, be prepared to pay the price (you can, of course, choose a third-party HubSpot marketing automation solution instead).
HubSpot often gets looked at as the default sales CRM solution for many small-medium-sized businesses. And, to be honest, that's understandable.
The free version of Sales Hub – HubSpot's sales CRM – is, pretty much, everything you need to get started.
You get nice Kanban-style pipeline management, some basic business intelligence features, email tracking and notifications (this is actually pretty neat and you don't need to use HubSpot CRM to take advantage of it), meeting scheduling, and lots more.
It's a very well-featured sales CRM. And an embarrassingly well-featured free sales CRM.
But, you're here to look beyond just the sales CRM functionality. Lots of sales features doth not a revenue marketing-friendly platform make, after all.
Before we dive into what HubSpot's marketing automation looks like, let's talk for a moment about what they offer in terms of marketing features in general.
The word I'd use to describe the features is "robust". You've got everything from web forms, to ad management, to messenger integration, content management systems for your website and blog, landing page builder, and everything in between.
As I said, robust.
HubSpot's marketing automation features are, as to be expected, very well specced. You can build automated email marketing workflows to handle tasks like rotating leads from inbound marketing to sales and make sure the right internal and external messages get sent out. You can also add delays and some conditional logic as well.
Something that I've found particularly useful is the visual workflow builder. It's a really elegant way of creating workflows, from how to capture leads to turning qualified leads to customers. When I'm brainstorming any process like a marketing funnel, I typically start it on paper, on a whiteboard, or in something like Whimsical (highly recommend this, by the way).
All visual approaches. So, being able to transpose that visual thought process into a similarly visual end product is really nice.
HubSpot's marketing automation software comes at a pretty significant cost, though. It's not available on the free or starter tier. So, the professional tier is where you'll be looking for HubSpot marketing automation.
And how much is the professional tier?
It starts at $890 a month. And that's just for the marketing hub. HubSpot does offer some bundling of solutions at a reduced price, which is nice of them. So, for the Professional Growth Suite (which gets you Sales Hub Pro, Marketing Hub Pro and some other useful goodies) you'll be handing over a cool $1343 per month.
Read customer feedback for HubSpot's all-in-one solution on Capterra.
Wrapping it all up
At the end of the day, it comes down to finding the best setup that suits your budget, team's needs and allows you to set up an excellent customer experience for your leads.
For many, the big ticket prices of the all-in-one solutions are perfectly reasonable. The benefit of having everything under one roof outweighs the dollar cost that comes with it.
But really, for a lot of us, the primary need is having all of the data in one place, rather than necessarily the advanced features we use to aggregate that data.
Both HubSpot and Salesforce often run their own comparisons by looking at how much it'll likely cost for teams of 50+.
So, personally, I'd follow their lead on that. If your marketing and sales teams add up to fewer people than that, chances are you likely aren't going to have enough hands (not to mention time) to really make use of all the extra features.
You're going to risk spending money on technology that just kind of sits there.
If you decide to go with Pipedrive, Copper, Salesforce, HubSpot or Airtable CRM be sure to connect your sales and marketing data with Outfunnel. Get started with a free 14-day trial (no credit card required).
Latest posts by Ben Billson
(see all)